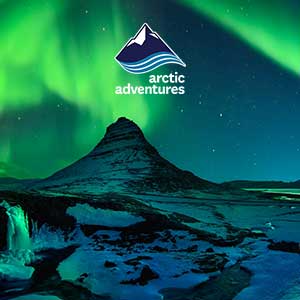 Join us on a icelandic whale watching tour from the old harbor of Reykjavik. Be prepared to capture a photo of the giant whales of Iceland. The perfect day tour from Reykjavik old town.
INSTANT BOOKING CONFIRMATION
Want to do this trip for free? Tag us @arcticadventures on your social media stories and photos during your trip and enter a chance to win a full refund. The winner will be picked once a month!
---
Whale watching from Reykjavík is a great way to spend the day with the whole family. In Faxaflói bay the most frequently seen animals are Humpback whales, Minke whales, Porpoises and Dolphins.
Suitable for most people in fair condition.
Tour highlights

Minke Whales
Humpback Whales
Dolphins / Porpoises
Included

Whale watching in Faxaflói bay
Information provided by guides
Warm floatable overalls to keep you warm and safe
WiFi, Souvenirs and Café on board
This tour has different starting times depending on day and season from one to six departures a day.
Pick-up is not included but it is possible to get picked up to your accommodation for an extra charge.
The animals most frequently seen on tours are the Minke whales, Humpback whales, Dolphins, and Porpoises. Our qualified guides do an excellent job of providing you with information and giving you the best opportunities to see and learn all about wildlife. Learn all about sea life while coasting through Faxaflói bay.
Please understand that weather and sea conditions play a big role in how much we actually see. However, each experience is unique and well worth booking! No two whale watching trips are ever the same. Due to unreliable impending forecasts and such, we take sea conditions and weather into account when booking the trips. We will put you in the best situation possible.
We rarely have to go further than 15 km from the harbor. For your comfort and warmth, we offer special suits on board. We do advise that you wear your warmest clothes  – hats, scarves, gloves etc – as it can get very cold (even on the warmest days) when the boat is in motion. We also offer hot drinks and soup in our onboard café.
Our boats are built so that you have the option to watch the whales from inside as well. With the large windows and inside warmth, you can enjoy the animals of the North Atlantic from a very comfortable view. Each trip takes about 2,5 – 3,5 hours. This is a great trip for the whole family!
Remember to bring: Warm outdoor clothing.
Book this tour
Price from: 10.990 ISK
NO BOOKING FEES
FAST & SECURE PAYMENT
OPERATED BY OUR TRUSTED PARTNER
Loading...