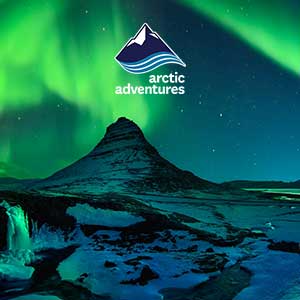 Landmannalaugar is every hiker's wonderland and every photographer's dream. Join our day tour to see one of the ultimate highlights of the Icelandic highlands with your own eyes.
INSTANT BOOKING CONFIRMATION
Want to do this trip for free? Tag us @arcticadventures on your social media stories and photos during your trip and enter a chance to win a full refund. The winner will be picked once a month!
---
Landmannalaugar is a unique bubbling geothermal wonderland with caramel color peaks, soothing hot springs, rambling lava flows and clear blue lakes.
Landmannalaugar is home to Laugahraun lava fields, Mount Brennisteinsalda and Bláhnjúkur, forming a beautiful and colorful setting for our hiking tour. Landmannalaugar is located in a place called Fjallabak Reserve in the remote highlands of Iceland, here you can find some of the most stunning hiking trails in the country as well as being the starting point for the famous Laugavegur trail. We end our day of hiking with a nice soak in the natural hot pool.
The tour is offered either as a meet on location from Landmannalaugar or with a Reykjavik pick-up. Please specify which option you prefer in checkout.
Availability

Jun. - Sept.
Duration

5 hrs from Landmannalaugar / 14 hrs from Reykjavik
Duration Overwrite

5 hours
Suitable for those in good condition.
Departs from

Landmannalaugar
Price from

12.990 11.042 ISK
Tour highlights

Landmannalaugar
Small group experience
Brennisteinsalda mountain
Hekla volcano
Laugahraun lava fields
Hot spring bathing
Included

Guiding service
Hiking
Bathing in a natural hot pool
English Speaking Tour Guide
Landmannalaugar facility fees
Transportation can be purchased with your tour
Landmannalaugar
Landmannalaugar is located in a place called Fjallabak Nature Reserve in the Icelandic Highlands. Landmannalaugar is geothermally active, a fact that is displayed with incredibly colorful mountains, steam rising from the ground, and of course the natural hot pool that is popular for bathing.
The landscapes are extremely diverse ranging from the black lava of Lagahraun lava field, Mt. Brennisteinsalda multicolored by sulphur, steaming hot springs, green moss and red iron. In front of Brennisteinsalda, we find a field of obsidian and nearby Bláhnúkur volcano, with black and blue sides. All of this and much more create a unique color flow that is almost painting-like. A wonderful setting for a great day hike in Iceland.
This secluded area has been a favorite among adventure seekers for years and now you have the chance to visit this magnificent place.
---
The Tour
The tour is available with or without pick up from Reykjavík. Please be sure to add pick up to your booking if you are not planning on meeting us in Landmannalaugar for the tour. If you plan to meet us in Landmannalaugar then please keep in mind that you will need a 4*4 jeep that is permitted on F-roads to drive to Landmannalaugar.
Your hiking adventure will start from the main hut in Landmannalaugar and take off for about four-hours where you will hike around this gorgeous place. The total hiking distance is approximately 8-10 km. The route goes over Laugahraun lava field, through Vondugil canyon and up to Mt. Brennisteinsalda a multicolored peak that is highly characteristic of the area. On the way down you will walk down Graenagil gorge, called Green Gorge in Icelandic because of the dominant green color of rhyolite in the area. If time allows, we will summit Blahnukur Volcano before soaking in the hot pool in Landmannalaugar and take in the spectacular surroundings of this phenomenal place!
---
Practical Information
Remember to bring: It is extremely important to have warm outdoor clothing, waterproof jacket & pants, headwear and gloves. Good hiking shoes are essential on this tour.
Sturdy hiking shoes, waterproof jacket, and pants can be rented beforehand if you contact us or book online. Last but not least, don't forget your bathing suit and towel!
What if I don't own all of these necessaries?
Don't worry, you can always rent the necessary items in the booking process.
---
Pick-up Information
 Pick up times and places (if you purchased the pick up):
---
Meet on location
Meet us at 11:30 am in front of the Main Hut in Landmannalaugar – Please keep in mind that you need a 4*4 jeep that is permitted to drive on F-roads to drive to Landmannalaugar.
Special Offer Save 15% - Discount added at checkout
Discount works for bookings any travel time
Special offer ends 30.04.2020 at midnight (GMT)
Promotional code: EARLYBIRD15
Book this tour
Price from: 12.990 11.042 ISK per person.
NO BOOKING FEES
FAST & SECURE PAYMENT
You have chosen: +Reykjavik Pick-up
Loading...
You have chosen: Hiking Tour only
Loading...
"Day Hike to Landmannalaugar"
Brilliant day had with artic adventures. Both tour guides were informative and sound. Our day tour guide was Inga and she was great. The hike wasn't too strenuous but unless you have proper gear renting boots and waterproofs is required. It was raining and snowing and the luminous orange overalls I got were more than handy. We also got to bathe in the natural hotspring at the base camp which was handy after the hike! The journey from Reykjavik is about 3.5 hours each way so if I was to go again I would do the multi day tour but for a day trip it is still worth the travelling times as most of it is through the highlands!