All about
ICELAND
Insider info to adventuring in Iceland
Unique Experiences in Iceland
Iceland is definitely not an ordinary country. Did you know that Reykjavík is the Northernmost capital on Earth? This country is home to many once in a lifetime experiences that will completely blow your mind. In Iceland, nothing is impossible. You can explore the inside of a volcano, you can swim between two continents and even attend a concert into a glacier! How is that possible? Don't worry, I will explain everything!
---
---
Discover the museum about phalluses
This is a funny way to begin a post, but I will start talking about males genitals. The Icelandic Phallological Museum in Reykjavík is the world's only museum dedicated to phalluses. There, you can observe a huge collection of phallic specimens belonging to all the various types of mammals found in Iceland. In total, the museum has 282 specimens from 93 different species of animals, as well as one human phallus. No, I am not joking. If you feel generous, you can sign a paper to donate your sexual organ for when you die. An American man is even currently fighting to be the first donor alive. Isn't that tempting? I told you, Iceland is far from being boring.

Kayak in a Glacier Lagoon
Kayaking among icebergs is something truly magical, a once in a lifetime experience that no one could forget. The breathtaking kayak tour is only available from May to September and it is quite a popular one that sells out quite fast, so if this is on your bucket list, you better book some time in advance. The tour allows you to explore Vatnajökull, Europe's largest glacier, from all angles. During this amazing experience, you will navigate in a stable kayak in the wonderful views surrounding you. Once you are slowly moving forward on the calm lagoon, you will feel like becoming part of the quiet environment.

Walk behind a waterfall
Located near from the Ring Road on the South Coast of Iceland, Seljalandsfoss attracts many people. In addition, to be a beautiful waterfall, the stunning falls offers the possibility for its visitors to go behind the waterfall and see it from a totally different point of view. It is so impressive to observe the powerful flow of water cascading down just in front of you. Don't forget to bring your raincoat as you can get a little bit wet. During winter, it is highly recommended not to walk around the falls because the path can get really slippery. Just a five minute walk from Seljalandsfoss, you will find a well hidden beauty gem that tourists often miss because they don't know its existence: Gljúfrabúi Waterfall. The 40 meter high waterfall is partially hidden away between huge cliffs and you will have to walk into a canyon to be able to see it fully.
---
Do you want to enjoy a guided South Coast tour, including a visit to Seljalandsfoss? Book your tour here
---
Enjoy a Beer Spa
About 25 minutes of driving North from Akureyri in Árskógssandur, the Bjorbodin Beer Spa is a new attraction which opened in July 2017. There is a total of seven wooden tubs in private rooms. However, do not try to drink the liquid in the tub as it is a mixture of young beer, hops, yeast and distilled water for a temperature around 38 degrees. This is said to nourish the skin, make your hair stronger and replenished in addition to relaxing your whole body. Don't worry about tasting some beer. There is a keg of fresh Kaldi beer with a tap right beside the tub to be able to enjoy some fresh beer in a hot beer tub with the splendid Icelandic landscapes. Beer lovers' paradise right? Plus, there is no age restriction to bathe in beer as the liquid is not drinkable, but children under 16 years old should be accompanied by an adult.

Take a dip in a Secret Hot Pool
Seljavallalaug is a true gem in Iceland. There, you can bath in a hot pool in the middle of nowhere, which is a totally unique experience. Located in a narrow valley below Eyjafjallajökull, the pool was built in 1923, making it one of the oldest pools in Iceland. The hot water directly comes from a natural hot spring not far from there. Swimming in the wonderful pool with spectacular surroundings is free of charge, just remember to not leave anything behind. Seljavallalaug is 25 meters long and 10 meters wide. It is located 10 kilometers East of Ásólfsskáli. To go there from Reykjavík, take the Road 1 eastward and turn left on Road 242 marked Raufarfellsvegur. If you continue straight you will find the parking lot and a pool right beside it, but this is not Seljavallalaug. To swim in the waters of Seljavallalaug you will have to walk 15 to 20 minutes towards the bottom of the valley. Don't forget to read the important rules you have to follow while going to a natural pool.

Witness some of the Game of Thrones backstages
Iceland has been a great place for film directors during the last decade. As every Game of Thrones fan knows, many scenes of the show were shot in Iceland. The country served as a setting for seasons 2,3,4,6 and 7 for now. For example, there is Svínafellsjökull, also called the Hollywood glacier because it has been featured in many famous movies such as Batman Begins and Interstellar. An important location of Game of Thrones is Grjótagjá cave, the Love Cave of Jon Snow and Ygritte from season 3. It is an inspiration to the cave you can see in the show, which was actually built in a studio because the water there was too hot to take a dip. Grjótagjá is located in the North of Iceland, in the region of Mývatn.

Kirkjufell in Snæfellsnes Peninsula can be seen in season 6 & 7 when the heroes go North of the Wall. It is described as the Arrowhead Mountain when the children of the forest created the first White Walker. Another beautiful Icelandic place shown in GoT is Thingvellir National Park, where Brienne and the Hound fought in season 4. Join a Game of Thrones tour to see some amazing locations starred in your favorite show!
---
If you want to know more about movie locations in Iceland you can see our ultimate guide here.
---
Meet wild (and cute) friends
Brought to Iceland by early settlers or native to the country, the animals you might meet in Iceland are all friendly and also really cute. Most of them are wild and living free in the nature so be aware that they can be quite shy when it comes to human interactions. Here are some of the animals you may spot on your trip. Check out our Guide to Iceland's wildlife.
Puffins
Iceland is one of the best places in the world to see puffins. You can get extra close to them during puffin tours as the guides know exactly where to find them. If you are going to see them by yourself, make sure to NEVER touch them, it can be really harmful to those cute little guys as their feathers have special properties that deflect water. Petting them can ruin it so please be careful and responsible. Feeding them is also a bad idea, these animals are wild and they are able to feed themselves. The best places to see puffins in Iceland are Akurey and Lundey Islands near Reykjavík, the Vestmannaeyjar Islands in South Iceland and Dyrhólaey cliffs in South Iceland. To know everything about the cutest birds on Earth, you can read this really complete article.

Arctic Foxes
Arctic foxes, or Polar foxes, are Iceland's only native mammals. Indeed, horses, sheep, and cattle were deliberately brought to the island by early settlers. The foxes' fur color changes along the year from white in winter to brown in summer, which makes the perfect camouflage to hunt and not being hunted. You can see Arctic Foxes where there is a big birdlife, as birds are their main preys. The little furry cuties are located mostly around the Westfjords, more particularly in Hornstrandir Nature Reserve. Other good spots to see arctic foxes are Þórsmörk and Snæfellsjökull National Park. However, be armed with patience and perseverance if you want to have the chance to see one.

Icelandic Horses
Despite their small size (80-120cm) Icelandic horses are really strong, they can cross rough terrain and are used for farm works. You should never call them "ponies" in front of an Icelander if you want to stay on good terms. Icelandic people are proud of their friendly, cute and powerful horses. All along the ring road and many of the main roads around Iceland, you will be able to see the horses and sometimes get really close to them. There are also many horseback riding tours to explore Iceland with a faithful companion.

Seals and Whales
Although you can see seals and whales in other countries, Iceland is one of the easiest places to observe those wonders of the sea.
Seals can be spotted on Vatnsnes Peninsula in the North of Iceland. They are also known to hang around Ytri-Tunga in Snæfellsnes Peninsula, West Iceland. Eyjafjörður (North Iceland) is also a great place to see seals as well as Jökulsarlón in the South Coast. To see them really close you can take an amphibian boat tour, a kayak tour or a zodiac tour on Jökulsarlón lagoon.

Whales love swimming around Iceland because of the plentiful food supply as the cold Arctic Sea mixes with the warmer North Atlantic Ocean on the Icelandic coasts. The North of Iceland has the best success rate to see those giants from the ocean while on a boat trip from Dalvík, but it is also possible to spot them during a boat tour from Reykjavík.

Delight your taste buds
If you are an adventures eater who likes to explore different food cultures or someone who prefers the simple dishes, Iceland has it all. Except for all the great restaurants and cafés around Reykjavík and the rest of the country, there are a few things Iceland is famous for.
---
Join a food tour to explore the food culture in Iceland
---
Eat the Best Hot Dog in Europe
Hot dogs are a big deal to Icelanders. Bæjarins Beztu is the name of what the newspaper The Guardian named as "The best hot dog stand in Europe". The Clintons as well as the Kardashians were spotted queuing there to order the famous hot dog "one with everything", which includes ketchup, sweet mustard, remoulade, fried and raw onions and of course lamb meat. Trust me, once you tried one you will want another one!

Try some of Iceland's specialties
What would you prefer between eating sour ram testicles (Súrsaðir Hrútspungar) or a whole sheep head (Svið)? Icelandic cuisine is not usual and can shock many people. But you have to understand that these long-established specialties helped people survive back in the old times. It was such a waste of food to slaughter an animal and just throw some parts of the body away whereas everything can be eaten.
Downtown Reykjavík you can also taste fermented shark (hákarl). Greenland shark meat is toxic to human if fresh, so people had to discover a safe way to eat it. The traditional way of fermenting shark is to bury it and urinate on it before letting it ferment for some months. Fortunately, the fermentation process improved over the years and now they just bury and hang the meat to dry for about 5 months.
Of course, nowadays Iceland has many "regular" specialties. Icelandic cuisine is being recognized worldwide and there are tons of gastronomic restaurants where you can eat fresh, normal food. Join a Local Food Tour to know more about Icelandic cuisine.
Celebrate like nowhere else
Winter or Summer, no matter the season, there is always something to celebrate – and in Iceland, the celebration is quite special!
Celebrate Christmas with 13 Santas
In Iceland, Christmas begins on December 24 and ends on January 6. The reason why is that Iceland doesn't have one but thirteen Santas, called Jolasveinar. They live in the mountains with their ogress mother and her giant black cat and only go to town for the Christmas period. There are many opportunities to meet the Yule Lads around Iceland. In addition to the Christmas villages, each year in mid-December, you can join the Yule Lads for their annual bath in Mývatn Nature Baths, North Iceland. In fact, the trolls take one bath per year and they are not usually happy about that.

Party for 96 hours of daylight at the Secret Solstice Festival
The Secret Solstice Festival is one of the biggest festivals of the year in Reykjavík. For the duration of the festival (96 hours), the sun will never set and people will party under the midnight sun. Each year over 150 foreign and local artists perform at the festival in the park at Laugardalur.
What makes this festival even more unique are the three main side events: the Lava Tunnel, Into The Glacier and the Geothermal Pool Party. Neither of these are included in the ticket price of the festival and each can accommodate a limited number of participants.
The Lava Tunnel is a magical music experience in a 5,200 year-old lava tunnel. The Raufarhólshellir cave is a breathtaking phenomenon of nature as the lava walls display many different colors. The event allows 50 guests to enjoy a guided tour of the cave, and to witness one of the most unique concerts on the planet inside the lava tunnel.
Into The Glacier is the world's only party inside a glacier, where just 120 guests will get a chance to experience a unique party within the ice of majestic Langjökull, Iceland's second largest glacier. If you consider going to this concert, don't forget to pack warm and water-resistant items among your summer clothes for the festival.
A new special event has recently popped up on the program – the Geothermal Pool Party, this year with Lee Burridge, a great DJ from the UK. Only 82 tickets will be sold, this party at a geothermal pool out the countryside will be amazing and a great privilege. This is such an incredible and unique event you won't want to miss out on it!

Explore the land of ice and fire
Being a home to both glaciers and volcanoes, Iceland is often called the land of Ice and Fire, making the number of adventures endless.
Icy wonders, explore one of many Ice Caves
Iceland has many natural ice caves with wonderful ice formations and colors. The most famous is the Crystal Ice Cave in Vatnajökull, Europe's largest glacier. What makes it particular is its brilliant jewel blue crystal ice with great swirls of strong jewel blue turquoise. You can visit this wonder of nature from November to March due to safety reasons.
Each ice cave is different from the others and the same ice cave can even change itself through the seasons: new stalactites, stalagmites or other ice features can appear.
There are of course other ice caves around Iceland. Vatnajökull glacier provides ice caves which can only be reached by a 20-minute glacier hike. There, pale blue ice contrasts with darker, anthracite gray ice, a perfect photo spot! An ice cave was recently discovered in Langjökull, Iceland's second largest glacier, with a very deep blue "ice river" tracing its way across the roof. It also has layers of white ice and zebra like gray stripes from the ash deposits of volcanic eruptions. Completely mesmerizing!

Glacier Hiking and Ice Climbing
Hiking on a glacier is definitely among the most amazing and unforgettable adventures you can have in Iceland. But there is something more: you can actually climb on the glacier to the top of a crevasse! This unique experience is possible on Sólheimajökull, an outlet glacier of Mýrdalsjökull ice cap, home to the tremendous Katla volcano. The volcanic eruptions formed the glacier with ash and crevasses, making the contrasting landscape amazingly photogenic. Never try to venture onto a glacier by yourself without a certified guide, it can get really dangerous.

Inside a Volcano
Iceland is known to have many active and inactive volcanoes (about 130 in total). Everyone knows what a volcano looks like, but do you know how it is inside?
Þríhnjúkagígur volcano in the South of Iceland is the only place in the world where you can actually go inside a volcano. Inactive since the second century BC (so basically inactive for about 4,000 years), Þríhnjúkagígur is totally safe to enter. This volcano offers the possibility to go inside the magma chamber, which is 213 meters (700 feet) deep. To get to the chamber you will have to board a specially constructed elevator that will take you all the way down to the bottom.
Þríhnjúkagígur is a true wonder and a must-see while visiting the country, for some authentic adventures. It is the second largest lava chamber in the world. And the best part is that inside the volcano, there is another chamber about 80 extra meters. If we combine the two chambers, Þríhnjúkagígur becomes the deepest lava chamber in the world.

Let your imagination speak with weirdly shaped rock formations
Sometimes your mind can play tricks on you when you see a familiar shape in clouds and rock formations. Or does it?
Many mysterious places are host to weirdly shaped rock formations.
First, there is Hvítserkur offshore Vatnsnes Peninsula in North-West Iceland. The 15-meter high monolith or sea stack looks like an animal drinking in the sea. Some people think that it is an elephant, other guarantee that it is a dinosaur or also a rhino. During the summertime, a lot of fulmars are nesting on the majestic rock which really looks alive. The legend says that Hvítserkur is a petrified troll who lived in the Westfjords and wanted to tear down the bells at Þingeyrakirkja church, as trolls are not Christian and don't like the sound of church bells. However the troll didn't have time to do so because he got caught by daylight and as we all know, trolls turn into stone when this happens. Actually, Hvítserkur was a volcano back in the day and has been eroded by the sea. The base of the plug had to be strengthened with concrete to save it from the erosion.
Then, the Elephant Rock is a natural rock formation in Vestmannaeyjar, approximately 7.4 kilometers off Iceland's South coast. As the name indicates, this giant rock just looks like the head of a huge elephant trying to quench its thirst in the Atlantic Ocean. However, some people claim that it looks like the face of the cosmic daemon Cthulhu, a monstrous sea creature with an octopus face. The rock is entirely made of basalt, making the elephant "skin" looks wrinkled. It is believed to have been formed during one of Mt. Eldfell eruptions.

Learn About Trolls
Iceland is a country rich in folklore, trolls are really part of the local culture as well as the landscape.
Álfhóll (Elf Hill) is located in the suburb of Kópavogur and is considered an elf settlement according to Terry Gunnell, a professor in folkloristics at the National University. In the 1930s, workers were trying to build a road through Álfhóll but the equipment kept breaking down. They decided to build it around the hill rather than through it and the equipment worked again. They tried again in the 1980s but the same thing happened and workers didn't want to go back near the hill.
In 1978, roadworks were also disturbed by several accidents at Tröllaskarð, in the North of Iceland. The Icelandic Road Administration attempted to negotiate with the elves, helped by a noted seer. Later on, plans to detonate part of a rock-belt were abandoned because it was believed that elves lived there.
Examples of such magical stories are numerous around Iceland. The Road Administration takes the Hidden People issue really seriously to avoid accidents and other unfortunate events.
---
Join a multi-day tour to know everything about Icelandic folklore and beliefs
---
Experience unique natural phenomenon
Iceland is located on the northern hemisphere, close to the polar circle. Giving the benefits of having midnight sun in the summer and northern lights during the winter time.
Midnight Sun
The Midnight Sun is a natural phenomenon occurring between May and August, with a peak around the Summer Solstice, 21st of June. This surprising phenomenon is due to the tilt of Earth's axis towards the sun during Icelandic summer. This tilt, along with the Earth revolving around the sun, is also responsible for the different seasons during the year. In fact, each year the North part of the Earth tilts towards the sun between April and September and vice versa for the South between September and April. As a result, the season is reversed between the Northern hemisphere and the Southern one. The closer you are to the North or South Pole, the more drastic the change is between summer and winter.
Although the midnight sun can be seen in all countries nearby the Arctic or Antarctic Circle, in Iceland you can enjoy those additional hours of daylight to party all night long in the Northernmost capital of the world: Reykjavík. The Icelandic capital is the closest to the Arctic Circle, making the city the most accessible location to see the midnight sun.
Other people like to spend their night of daylight exploring unique landscapes Iceland has to offer, with fewer people. During this time of the year, there is also the famous Secret Solstice festival, with performers from all around the world. There, you can party all day and all night long, dancing and singing on your favorite songs.

Northern Lights
Northern Lights are caused by collisions between electrically charged particles from the sun that enter the Earth atmosphere. The lights can be seen above the magnetic poles of the Northern and Southern hemispheres. They are also called Aurora Borealis in the North and Aurora Australis in the South. Pale green and pink are the most common colors you can observe, the variations of colors depending on the type of gas particles that are colliding.
In Iceland, Northern Lights are visible for 8 months a year, from September to April. Other Nordic countries have to face more challenging issues when it comes to watching auroras such as cloud cover. Iceland is the ideal destination to observe those magnificent lights dancing in the sky.
During this wonderful time of the year, many northern lights tours are organized so that you can enjoy this natural phenomenon and make the most out of your trip to Iceland. Therefore, you can join a Super Jeep excursion to track the lights down. While you are enjoying a hot chocolate, the guide will make sure to find the best spots to take pictures of the magical wonders. A good way to see Northern Lights is to go offshore, as there is no artificial "light pollution". That is why there are northern lights boat tours, to be able to see strong and bright auroras. Note that Iceland is the best place to see pink and red auroras. What an extraordinary gift of nature!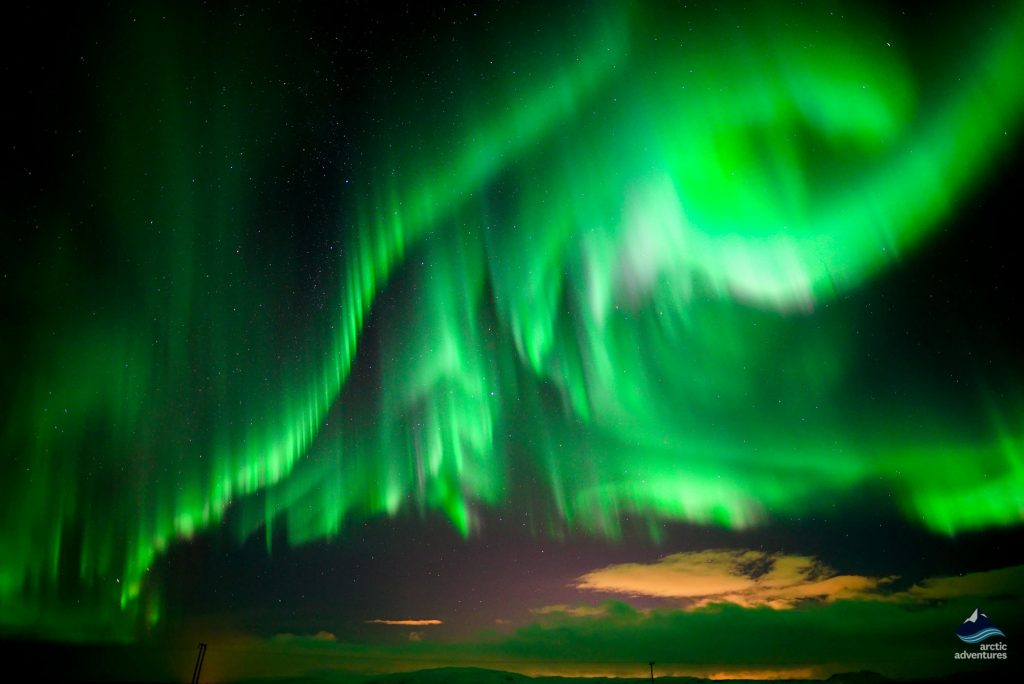 Swim between two continents
Silfra fissure is the only place in the world where you can snorkel between two continental plates, and guess what? It is located in Iceland! This unique experience inside Þhingvellir National Park is unforgettable and magical. The water there is so clear that it really feels like you are flying between two huge rocky walls, while you are floating and slowly moving forward with the current. It is also possible to scuba dive there if you have a dry suit certificate.
Iceland is the result of a strong movement between two tectonic plates drifting apart continually: The Eurasian and the North American. Silfra is a newly opened rift which appeared after a big earthquake in 1789. The plates keep moving farther apart by about 2 centimeters (0,80 inches) per year.
Swimming at Silfra is a special experience with unique geological and hydrological features. It has the clearest fresh water with the longest underwater visibility on Earth. Plus, Silfra is easily accessible for anyone.

Crossing a bridge between North America and Eurasia
I know that it seems crazy, but it is possible! Thanks to the Bridge Between Continents at Sandvík, in Reykjanes Peninsula, you can leave Europe and go to North America (or reverse) in only a few seconds!
This bridge was built as a symbol for the connection between Europe and North America, the new world and the old one. It is called Midlina, Leif the Lucky Bridge but is more known as The Bridge Between Continents. It is possible to ask for a personalized certificate after crossing the bridge at Reykjanes Information Center to prove that you went all the way from Europe to North America or vice versa. In the middle of the bridge, there is a plaque which serves as the borderline between Europe and North America. The two sides are marked ″Welcome to America″ and ″Welcome to Europe″, so basically you can step on both continents at the same time. The bridge is about one hour drive from Reykjavík.
Ride a Super Jeep
Coming to Iceland, you will be really surprised about how many of these monster trucks there are in Iceland. Super jeeps and their huge tires are invading the country over the years as it is the best way to drive safely during winter, especially when you want to go to the countryside. It is not possible with any other cars to take mountain roads during the tough winter time.
If you don't feel comfortable with driving one, you can simply join a super jeep tour and have fun safely with expert guides. The tours are for everyone as it is really secure. Thanks to your certified guide, you will be able to discover Iceland's most remote places, adventuring on a glacier or far away in the Highlands.

Cruise an Icelandic River at High Speeds
There is just one whitewater jet boat company in Europe, and it is in Iceland. Let your experienced guide take you on a River Jet tour through the whitewater rapids of Hvítá River as you will fly and jump on waves. This is a great opportunity to discover the wonderful rugged Gullfoss Canyon if you like high speed and adrenaline. The basalt-cliff canyon beneath Gullfoss waterfall is surrounding Hvítá River, which literally means the "White River". The water directly comes from Langjökull Glacier and has sculpted over time some magnificent rock formations. It is possible to join a tour from May to October, the best time period to observe the rich local birdlife which is present there.

Relax in one of the 25 wonders of the world
There are so many hot pools in Iceland that you could never try them all.
Blue Lagoon is the single most popular tourist attraction in all Iceland, and if you see the color of the water, you will definitely know why. As it is only a 20-minute drive away from Keflavík International Airport, people often go there right after their arrival in Iceland or just before leaving the country, take a look to see if Blue Lagoon tours suits your schedule.
Blue Lagoon was formed in 1976 during operation at the nearby geothermal power plant Svartsengi, which provides now about 90% of the electricity in Reykjanes peninsula. One day, Valur Margeirsson, a man with the severe care of psoriasis (a skin inflammation disease) working at the power plant, noticed some change on his skin while handling the water and steam. He wanted to bathe in the water and was the first one to do so. After some days he saw a real difference on his skin and dermatologists started to address the issue. Special clinics for this disease were created and still today doctors give prescriptions for their patients to go to the Blue Lagoon.
Later on, the owners of Blue Lagoon decided to create a line of skincare so that everyone from the entire world can purchase what is known as the best treatment for psoriasis in Iceland.
---
Find out if Blue Lagoon really ruins your hair.
---
Related blogs
The 7 wonders of Iceland, the land of Ice and Fire. This was not an easy choice, it took time, research and thinking but here it goes. The list of the lists, what you NEED to see while visiting Iceland. A tough choice but here goes, enjoy the ride!
July 14, 2017 , By Ragnheidur
Getting that post-Iceland blues is a common thing. But how do the locals feel when they have been away from the land of ice and fire for a while? What do Icelanders miss when they are away?
May 15, 2017 , By Ragnheidur
Icelanders are an interesting nation. We were isolated here on this island of ice and fire away from everyone else for a very long time and sometimes I think we didn't fully get the memo when things went out of style or weren't the right way to behave anymore. Here I will go over the super Icelandic cultural things that still exist here!
July 18, 2017 , By Ragnheidur
Boasting the same awe-inspiring views and scenery, but without the crowds, here are some of Iceland's best lesser-known beauty spots. With our guide, you can venture off the beaten track and go to places where very few people have been - the perfect way to enjoy the land of ice and fire from a unique perspective.
April 6, 2018 , By Ragnheidur