Gljúfrabúi waterfall is one of Iceland's most ravishing hidden gems. Located just off the famous Ring Road, this natural wonder has managed to stay somewhat unknown until recently. Gljúfrabúi waterfall is 40 meters (131ft) and runs from the Gljúfurá River.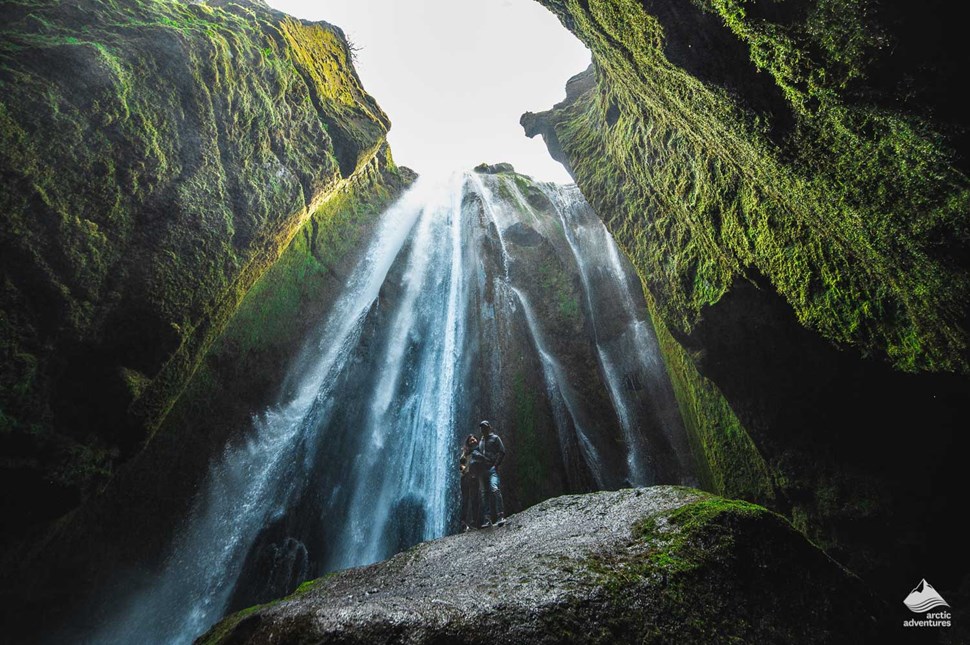 The South Coast in Iceland is packed with outstanding sights visited all around the clock by nature enthusiasts. Gljúfrabúi always stayed under the radar even though the beautiful Seljalandsfoss waterfall is right next to it and the road to Þórsmörk Valley is nearby.
However, Gljúfrabúi is surely one of the most memorable waterfalls. It can easily be named one of the most beautiful waterfalls in Iceland. Falling down from the green hills of Eyjafjöll mountains and into a gorge, the waterfall truly has a unique look.
Remember: when visiting, you might get soaked! Bring waterproofs, maybe even rainboots. Watch your camera or phone!
What does the name Gljúfrabúi mean?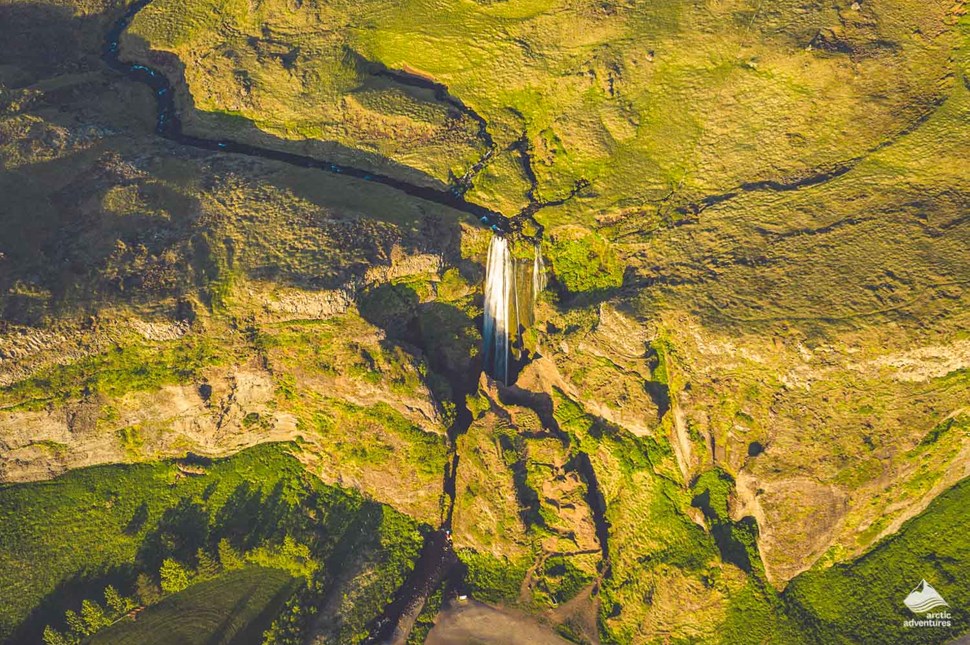 Gljúfur is a gorge, a ravine or a canyon and "-búi" is an inhabitant. Roughly translated, the name means "the inhabitant of the gorge." This might sound a bit bizarre for those who haven't visited, but once you have, you'll understand the naming.
Are Gljúfrabúi and Gljúfrafoss the same?
Yes, they are – These are just two different names for the same waterfall. The name Gljúfrabúi is more widely spread and we recommend using that instead of Gljúfrafoss if you are, for example, asking directions.
Where is Gljufrabui located?
Gljúfrabúi waterfall is located only a minute's walk away from the legendary Seljalandsfoss waterfall. You really can't miss it when visiting the later mentioned waterfall, the one you can walk behind.
You can almost see Gljúfrabúi from the Ring Road 1 on the South Coast. It is located 128 kilometers (79,5 mi) away from Reykjavík and 60 kilometers (37,2 mi) away from the town of Vík.  
GPS coordinates of Gljufrabui: 63.6209° N, 19.9864° W
How to get to Gljufrabui?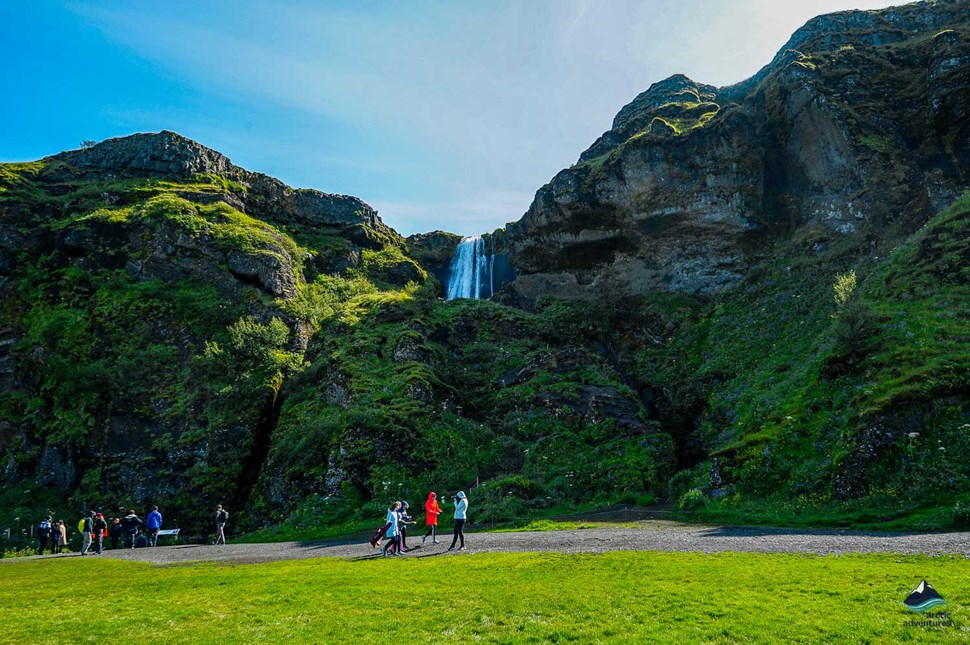 Driving to Gljufrabui
Driving to Gljúfrabúi is easy and doesn't require a specifically altered automobile. Driving from Reykjavík to Gljúfrabúi takes about 1 hour and 30-40 minutes and will take you through the towns of Hveragerði, Selfoss, Hella and Hvolsvöllur (in this order).
After having passed Hvolsvöllur (where you find the Lava Center and N1 Gas Station) you continue through fields of farmland heading East. After about 15 minutes of driving the Road 1 from Hvolsvöllur, you will cross a bridge over a river.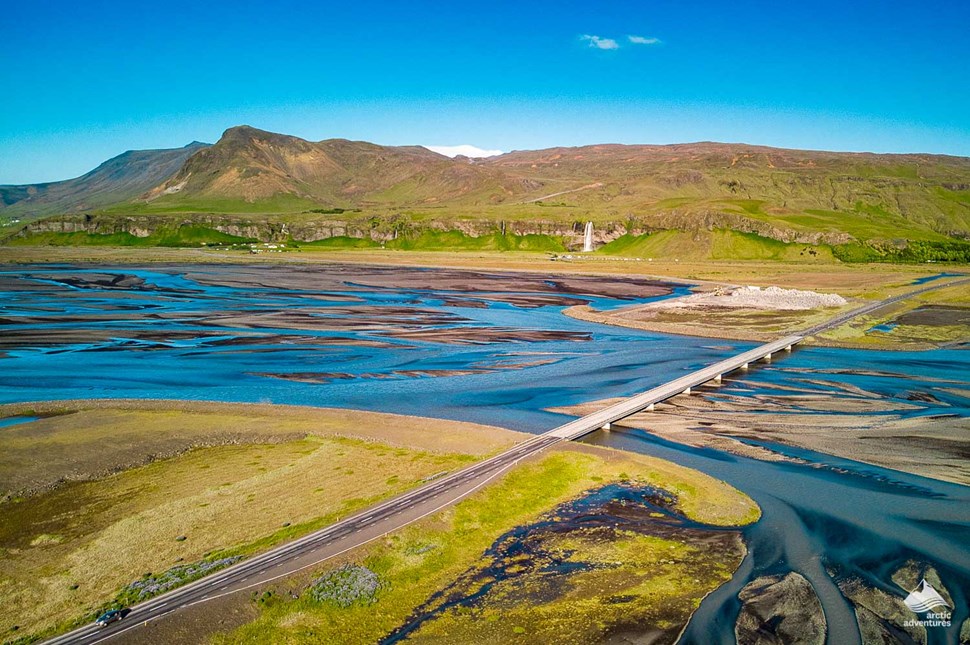 At this point, start looking out for a left sign marked "249" – this is the sign towards Seljalandsfoss. Make the turn inwards towards Seljalandsfoss. Now you drive past the crowds at Seljalandsfoss and park at the next parking lot, where the campground is, it should be marked Gljúfrabúi.
Parking at Gljufrabui
Parking at Gljúfrabúi is free but finding a spot can often be a bit tricky. Be sure to park in marked areas so that other cars can easily pass you.
Walking around near Gljufrabui
Walking from the parking lot to the waterfall takes about 4 minutes and is an easy walk. You just follow the small river running from the vertical drop that seems to be appearing from nowhere.
You can admire the waterfall from the banks of the river, but from this point, you will only be able to view parts of the drop.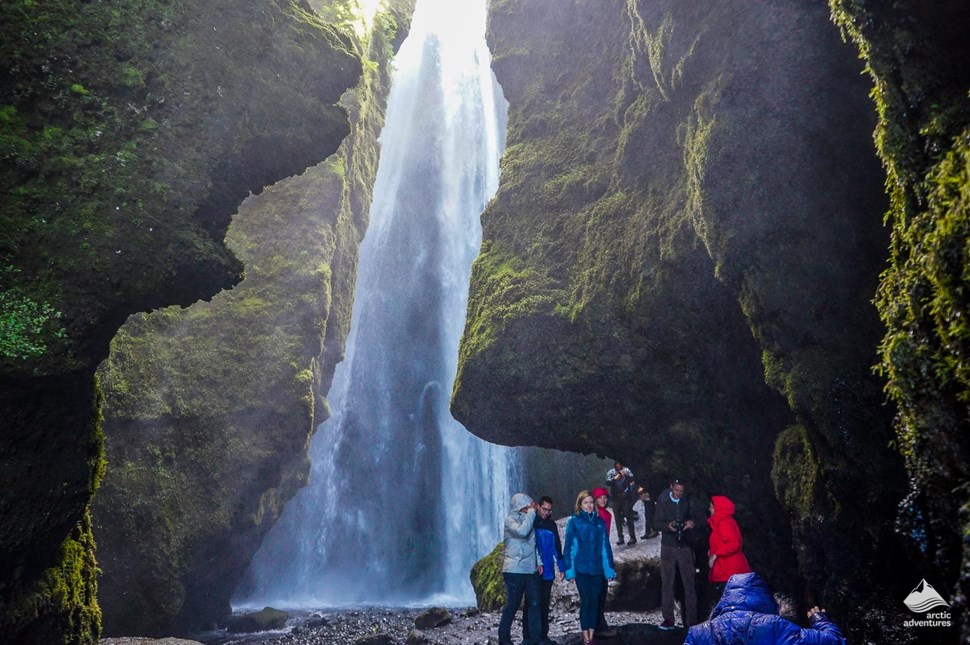 Going into the Gljufrabui gorge
Going into the gorge will give you an opportunity to really get up close and personal with the stunning water bewilderment that awaits you but we don't recommend going in there unless you are willing to get wet. During the windiest of days, the spray from the waterfalls is similar to a shower!
Note: Bringing rain boots or waterproof shoes are great to explore this waterfall inside the ravine and make sure your camera and/or electronics are in waterproof casings.
Closures at Gljufrabui
The path up in the hillside of the falls has been closed permanently due to damage to the vegetation. Please respect the signs and don't ignore the closure.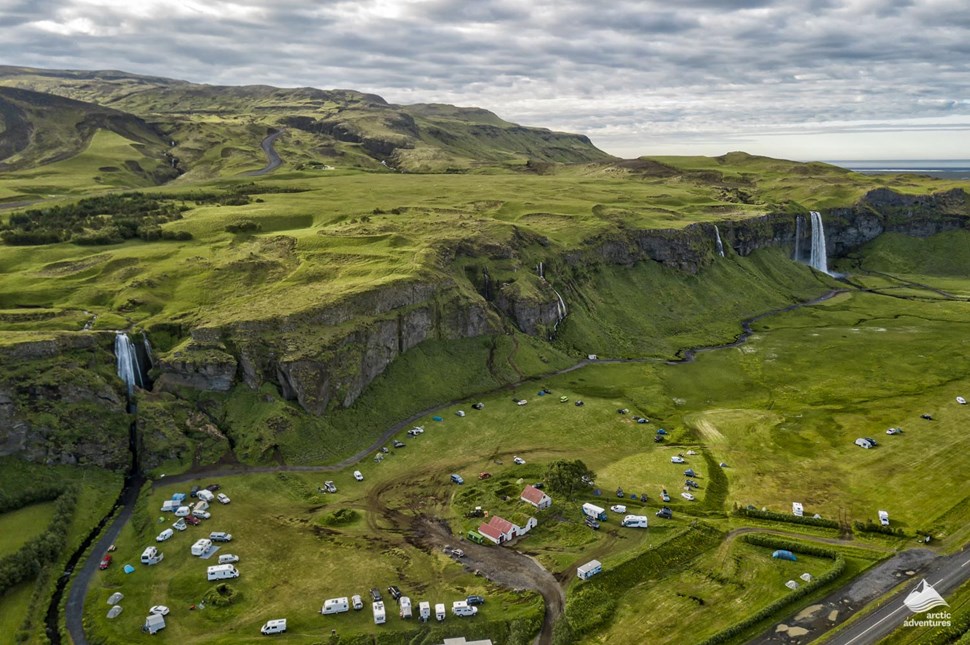 Accommodation or Hotels near Gljufrabui
The area around Gljúfrabúi is a very popular area for travelers from all over the world. A road trip on the South Coast is one of the best activities to do in Iceland and to answer the demand a lot of accommodation options have appeared in recent years.
Here are the best rates accommodation options near Gljúfrabúi waterfall:
Hotels
Hostels
Guesthouses and B&B
Cottages or Cabins
Ásólfsskáli Cottage

Bryggjur, Hvolsvollur

Mið-Mörk
Camping near Gljufrabui
Luckily, there is a camping ground right next to the waterfall. The camping ground at Gljúfrabúi is called Hamragarðar and is situated right in front of the falls.
The facilities are excellent and well equipped with stoves, food preparation stations, sinks with running hot and cold water, tables, a washer and more!
GPS Coordinates: N63 37.240 W19 59.362
Gljufrabui in Winter
During winter, the rocks that are used to wading through the river are icy and extremely slippery. We don't recommend you go in when it's freezing as the conditions are unsafe.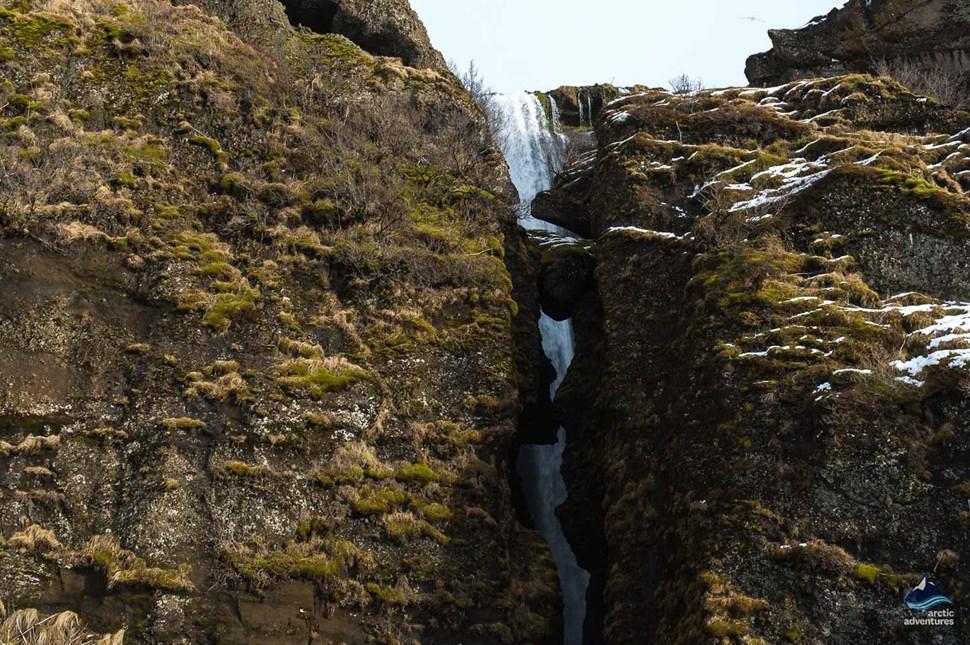 Interesting Places Near Gljufrabui