---
---
Reykjavík is the world's northernmost capital, with a population of only 123,000 (approx..), but what it lacks in terms of the populace, it makes up for in culture and excitement. Reykjavík has a vibrant cultural and design scene, with plenty of exciting adventure tours, museums, galleries, shops, bars and clubs for you to explore throughout your stay.
Iceland's capital city provides a great base from which to experience some of the island's breathtakingly beautiful natural wonders, such as the famous Blue Lagoon geothermic spa, The Northern Lights or The Golden Circle; where you'll witness spouting geysers, waterfalls, rift valleys and more. Whatever way you choose to spend your time in Reykjavík, this is one city break that is truly unique.
---
Traveling to and from Keflavík International Airport
Despite being quite small for a capital city, Reykjavík actually has two airports; Reykjavík Domestic Airport and Keflavík International Airport (KEF), with the latter, obviously being the destination most global travelers will encounter first. Over 1.5 million visitors here every year, which is about five times the nation's population. Famous visitors to arrive recently include Beyoncé and Jay-Z. A three-time winner of The Best Airport in Europe Award (ACI), Keflavík Airport is modern, compact, and easy to navigate. Flying to Keflavík takes less than six hours from New York City, or under 2 hours from London, but as soon as you touch ground, it's apparent that you've arrived in a very different world. Iceland's roads are almost always clear, with breath-taking views stretching in every direction.
On exiting Keflavík Airport, you can catch the shuttle bus service which is waiting to greet passengers from each flight. This will transport you directly to Reykjavik's town center in about 45 minutes. Conveniently, this bus drops visitors directly to their individual hotels dotted around the city, so there is no need to waste money on taxi fares or spend time looking at maps when you could be checked in and relaxing in your hotel room.
Pro tip: Buy alcohol at the airport before leaving – ATVR and Vínbúðin are stores which sell alcohol, BUT they are quite expensive and have limited opening hours, especially when you are outside of Reykjavík, so purchasing your alcohol at the airport is generally a much better option.
Best Places to Stay in Reykjavík
Reykjavík offers a broad and varied range of accommodation to suit every budget and preference, but during the summer months can tend to be on the pricier side, so a bit of planning and online digging may be required to find your perfect place. There are some cheaper alternatives to Reykjavík hotels which are listed below.
Airbnb has become a very popular choice of accommodation among people visiting Iceland as they are available pretty much everywhere and offer great value for money. Just make sure to book well in advance to avoid disappointment, as a lot of Airbnb leasers have very long waiting lists, especially during peak tourism months.
Couchsurfing
If you are okay with sleeping on a random person's coach then go for it! While the idea of couch surfing may not be for everyone, this is the ultimate cheap option for those no-nonsense travelers who need to make do on a limited budget.
House Swap
House Swap is fast becoming a very popular means of offering affordable accommodation amongst Icelandic people and there are several Icelandic House Swap communities out there who are more than happy to help facilitate you in terms of this option.
Reykjavik's Best Hotels
For something that little bit more luxurious, we recommend trying out the Alda Hotel. A relatively new hotel (completed in 2014), the Alda is stylish and contemporary with a Nordic-inspired design which will leave you with a dilemma; whether lounge in your spacious room, have a tasty beverage or beer in their beautifully designed bar/lounge area or go forth and explore everything that the city of Reykjavik has to offer. The hotel is conveniently located close to the city's main shopping and nightlife street, Laugavegur, with many rooms having views over Faxaflói Bay or toward Mount Esja (be sure to specify in your booking that you want one of these views, as such rooms are in high demand and limited supply!). There's even a barber's shop in the lobby if you feel like sprucing up so you can look your best before hitting the city streets.
Centerhotel Arnarhvoll is another popular choice with visitors, and for good reason. It's gray, the austere exterior may not seem all that welcoming at first, but once inside the Arnarhvoll, you're in for a real treat. The hotel's top floor has a Sky Lounge and a Sky Bar (which is open to all, meaning you can pay it a visit even if you are not staying at this particular hotel) and its views of the adjacent Harpa Concert Hall, Faxaflói Bay, and the nearby mountain range are sublime. The hotel staff is welcoming and chatty; double rooms can be a bit on the small size but are bright, minimally designed, and some of the views are wonderful, particularly if you have a sea view to gaze out at. Arnarhvoll's rate includes breakfast and the hotel has a hot tub and sauna in their luxury spa area.
Pro tip: Some hotels that offer better rates are located quite far from the city center, so unless you're willing to undertake a 30 minute plus walk, or willing to pay for a cab to take you downtown every day, make sure to check your intended hotel's location on Google Maps or similar, before booking.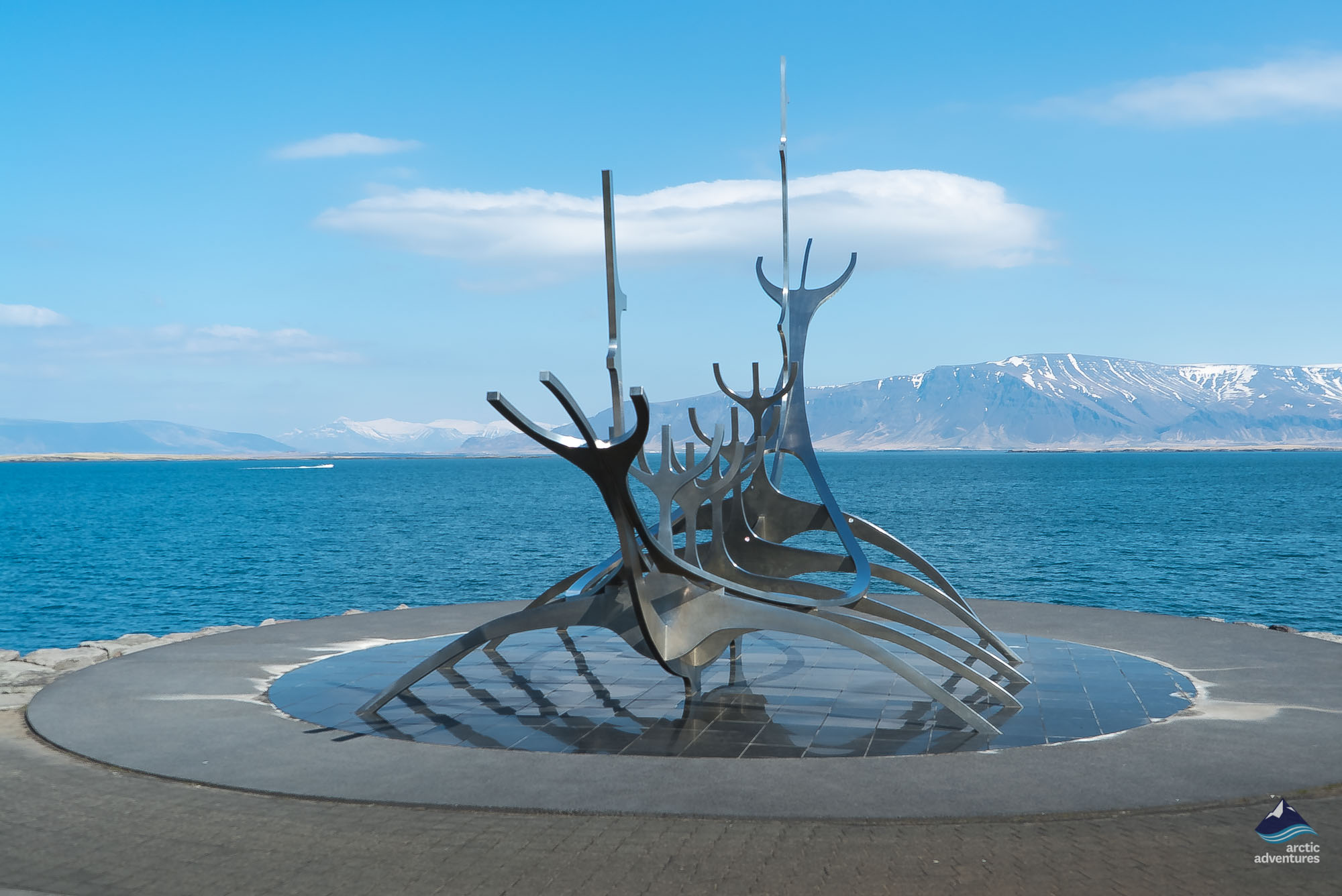 ---
Things to do in Reykjavík – By Day
Reykjavík has a lot to offer during the day. Below we've outlined some of the more popular things to do and we always encourage people to go out and find their own Icelandic adventure.
Reykjavik Town Centre
Reykjavík's town center is relatively small, which makes it easy to explore on foot. Laugavegur and Skólavörðustígur are the city's main shopping areas, with the latter being ultra-trendy and increasingly popular. This area is decorated with very cool and alternative street art and leads up to Hallgrimskirkja Church. The church itself is one of the most iconic and instantly recognizable buildings in Iceland and reminiscent of something you might see in Lord of the Rings. Inside, modern art furbishes the foyer, iPads offer a wealth of additional information and an elevator takes visitors to the top of the building, where they can enjoy awe-inspiring panoramic views of the city.
Architecture, Museums & The Arts
For all the culture vultures out there, Reykjavík's Harpa Concert Hall is a nailed on must see experience. The impressive contemporary structure cost $164 million to build over a four-year period. The glass and steel work is nothing short of breathtaking, and the designs' impressive detailing will keep those that way inclined entertained for hours.
The Harpa Concert Hall offer year-round cultural events as well as daily exhibitions during the summer months.  The award-winning architecture of the Harpa plays host to everything from classical concerts and local poetry readings to traditional Icelandic folk songs and hymns sang and performed by talented local singers and pianists. There are even regular stand-up comedy shows on offer which give a great insight into the funny side of Icelandic culture and at the nation's unique sense of humor.
If exploring the history of the building and fully experiencing its award-winning architecture is your thing, the Harpa Centre provides tours that grant access to areas that are not generally open to the public. Your guide will share some of Harpa's secrets, stories of odd incidents and the struggles they faced during the economic crisis.
Pro Tip: When booking your flights, pick out and book your show of choice in order to avoid disappointment, as many of the these will sell out in advance.
Adventure tours leaving from Reykjavik
Arctic Adventures has a wide and varied selection of adventure and sightseeing tours which will suit every budget and level of ability, available all year round. Hiking, caving, diving, snorkeling, glacier hiking, whale watching, super jeep tours, volcano tours, snowmobiling, food & drink tasting tours and much, much more await you – the only problem you will face is trying to figure out which tours you want to do in the time available to you!
All sorts of adventure and activity tours run from Reykjavik on a daily basis. We also offer meet-on-location tours for those who have a rental car. Whale watching in Northern Iceland, boat tours on the glacier lagoon, ice cave, and volcano exploration trips… all of these can be accessed from Reykjavík. Below are some of our favorite choices:
Iceland's Famous Ice Caves
Some incredible sights that you can quickly experience from your base in Reykjavík include the stunning man-made ice caves inside Langjökull Glacier – Europe's 2nd largest glacier, Hraunfossar Waterfall and Deildartunguhver – Europe's most powerful hot spring. Lunch is included in most of these tours and travel to the cave includes a trip inside an 8-wheel monster truck!
Pick-ups commence from 8.30 to 9 am and warm clothing and footwear are advisable – even during the summer months. Browse our selection of Ice Cave Tours for more information on what Arctic Adventures has to offer in terms of ice cave tours.

Glacier Snowmobile Tours
An adrenaline fuelled, high powered snowmobile trip is a must for anyone with a thrill-seeking bone in their body. The day starts off with pick-up from your Reykjavík hotel or hostel location at approx. 10 am, and from there it's on to Langjökull Glacier for a 1-hour white knuckle ride across Europe's second largest glacier. These snowmobile rides are perfect for both novices and more experienced riders alike. Instructions are available for first timers, and all snowmobiling gear is provided, but you are still advised to wear warm clothing, including a thermal shirt or fleece, warm pants (thermal if you have them) and boots as opposed to shoes/trainers, as wind chill can really pick up when riding a snowmobile!
See our Snowmobiling Tours for more details about these thrill-seeking adventure tours.
Landmannalaugar Hiking Tour From Reykjavík With Hot Spring Dip
Any hiking or hill walking enthusiasts will enjoy taking a hike across Landmannalaugar Nature Reserve to witness the devastatingly beautiful untouched landscape which will live long in the memory. An 8-10km hike usually takes around 4 hours to complete, so be sure to allocate yourself plenty of time to get through it. The typical Landmannalaugar route goes over Laugahraun Lava Field, through Vondugil Canyon and up to Mt. Brennisteinsalda. On the way back, you will descend down Graenagil Gorge, locally known as Green Gorge due to the dominant and vibrant green colour of rhyolite in the area. The final leg of the trip will see you reach the summit of Blahnukur Volcano before taking a dip in the in the hot spring pool of Landmannalaugar to sooth your body and soul.
Pick-up from hotels and hostels around Reykjavík start from 7.15 until 9.15am, depending on your location. Just don't forget your bathing suit and towel!
See our page about Hiking Tours in Iceland for more details.
Things to do in Reykjavík – By Night
Reykjavík has an abundance of exciting things to do at night which will cater for all different types of night owls, thrill-seekers and culture vultures. Below we've listed some of our favorite parts of the city's bustling nightlife:
Northern Lights Explorer Tour
This excellent 4-hour round trip tour takes in the wonder show that is the Northern Lights, otherwise known as the Aurora Borealis, one of nature's most mesmeric sights which will leave you utterly awestruck. The name Aurora Borealis is Latin and can be translated into "the dawn of the north." Aurora was a Roman goddess of dawn and Boreas is the Greek God of the north wind. During the 13th century, Norwegians used the name "Northern Lights" for the first time.
The best times of the year to witness this stunning natural light show are February through March and August to November when cloud cover tends to be more limited. While it is impossible to be 100% certain of good weather, between 9 pm and 2 pm is generally the best time to see the Northern Lights
The tour starts with a VIP pick up in one of our custom built 4×4 super jeeps which will whisk you away from the bright lights of the big city and advance into the darkness of the Icelandic wilderness in style. The super jeep gives us the flexibility to go off the beaten path to locations big tour buses cannot reach, meaning you can experience the Northern Lights in all their wonder without the discomfort of large crowds. In the cold, there is nothing like some hot chocolate to keep warm and brave ones can even add some Icelandic Brennivín into theirs!
See our Northern Lights Explorer Tour for dates, prices and more.
Reykjavík's Nightlife
People often ask us, what is the nightlife in Reykjavík like?
Well, it's pretty amazing, to be perfectly honest. In more recent times, Reykjavík has become renowned for its vibrant nightlife and is near universally praised by tourists and travel journalists alike.
The nightlife in Reykjavík centers around the main shopping street; Laugavegur. There is plenty of life on neighboring Hverfisgata and Laugavegur as well. Adjacent to Austurstræti is Hafnarstræti, with a few bars located on Naustin also.
Walking from bar to bar, you're not going to break into much of a sweat as they are less than 20 paces from one another, which means the streets are as lively and entertaining as the bars themselves, weather permitting of course.
Bar hopping is the norm in Reykjavík, and it's rare for locals to stay in one place for the full night. All of this makes for a hugely entertaining evening of delicious bite-size samples of varying vibes and multiple music genres. Very few of these bars charge entry fees (unless there is a live band playing or something very special going on), meaning you can hop from one bar to another, changing your location if you don't like the music or surroundings (or if you're looking for love!).
If you're looking for a more insightful tour of the nightlife through the eyes of a local or to experience the best bars/clubs and sample some of Reykjavík's finest beers and delicious Icelandic cocktails, then our famous Reykjavík Pub Crawl is for you. This tour is ideal for anyone who is traveling by themselves, with friends or in a group. It starts with a whistle-stop tour of Reykjavík's trendy bars where you will enjoy our famous 'off-menu' Coco-Puffs Cocktail and local beers. Next up, try the famous Brennivín schnapps (Iceland's signature distilled beverage, sometimes known as 'The Black Death' due to its high volume of alcohol) and the fermented shark (only for the most dare-minded).
After this, the tour moves on to another hugely popular Icelandic past time, hot dogs! The humble hot dog is so beloved in Iceland that it is now regarded as the unofficial national food of choice. And nowhere are they more celebrated than in Reykjavík, where the most renowned place to get one is at Bæjarins Beztu Pylsur (which directly translates to "best hot dogs in town"), which opened in 1937 and has fed famous visitors like Bill Clinton and the heavy metal band Metallica. The stand even has its own signature hot dog called "ein með öllu" hot dog (that's "the one with everything", where the lamb-based hot dog is covered in ketchup, mustard, fried and raw onion and remoulade, a type of sweet mayonnaise dressing), but unadventurously, Bill chose one with just mustard (AKA the American classic)!
Pro tip 1: Be prepared to wait, they are just that popular, day and night.
Pro tip 2: Have your money out & ready when at top of the line. Each Hot Dog costs around $3
Pro tip 3: Order 2. You'll thank us later!
The tour officially ends with VIP entry to the Reykjavík's largest nightclub, but only truly ends when you wish to call it a night, or morning for that matter!
Where to Eat in Reykjavík
Once you've sampled the fermented shark and "best hot dogs in town", you'll find Iceland has an abundance of fantastic eateries to choose from. For anyone looking to combine some sightseeing highlights and a foodie paradise then The Golden Circle & Local Food Tour is a wise choice. The tour offers a pick-up service at 9.00 am from most known hotels, hostels, and guesthouses around the city of Reykjavík. Once en route, the tour takes in Thingvellir National Park, Gullfoss Waterfall, and the beautiful geothermal Geysir area. The meals on offer are from carefully selected locations so you can enjoy the local food offered by Icelandic farmers and their families. They include the delicious farm to fork Efsti-Dalur Estate, Fridheimar Greenhouse and some exquisite traditional Icelandic food at the Icelandic Turf House.
Pro tip: Don't forget warm clothing, hiking boots, and your appetite!
As for restaurants in the city, The Fish Market has an array of beautifully crafted seafood dishes and expertly selected wines to choose from. The platter of king crab legs comes highly recommended as does their sushi selection. They also serve more meaty meals for non-seafood lovers and a tasting menu is available for those who want to try it all. The restaurant also serves smoked Puffin breast which we're told was one of the Icelandic people's dietary staples in centuries past.
For people on a tighter budget, Reykjavík has a great range of mid-price range places to eat, with none better than Vegamót – Bistro/Bar. Vegamót has been a bistro of choice for locals for many years. It has a warm and welcoming atmosphere where many young people meet up to socialize and enjoy good food before advancing out into the night. The menu is constantly changing, with the price for most dishes in the $20 range, although having a steak will bump the price up to around $30.
---
Important Things to Know About Reykjavík
Reykjavík is renowned for its constantly changing weather, no matter the time of year. Below we've listed some ways to help prepare for it and also some other helpful (and perhaps not so helpful) bits of information to try and make your trip a pleasant one.
Music & Festivals
Iceland has a rich musical history and is the place that shaped Bjork, Sigur Ros and Of Monsters and Men. Bjork was born and raised in Reykjavík, with the experiences she had here shaped her music. "I used to walk outside on the outskirts of Reykjavik—it was a 40-minute walk to school through winter in the dark, and in blizzards sometimes. This is where I started writing my melodies," she has said. "This is where I come from, what I'm made of."
Such rich tradition is what prompted Enric Palau, the founder of Barcelona music festival Sonar to launch an Icelandic version of one of Europe's most revered music gatherings – Sónar Reykjavik which is held in February / March each year. The Iceland Airwaves in another one of Iceland's premium music festivals and you can experience it around early November.
Other festivals that take place in the Icelandic capital are the Winter Lights Festival, the International Festival of Children's Literature, the Reykjavik International Film Festival, the Reykjavik Fashion Festival, Design March, and the Ingólfshátíð Viking Festival—where Vikings from around the globe gather to celebrate their heritage (don't worry though – it's totally safe – modern-day Vikings are a friendly folk!). There truly is a festival to suit every taste in the city of Reykjavik!
What is the Weather Like in Reykjavik?
The weather in Iceland is fickle all year 'round, but especially during the winter months when travelers run the risk of having well-laid plans ruined by Mother Nature if weather forecasts are ignored. A couple of weeks before departing, you should check the road and weather conditions via official government websites. Packing your clothing for your trip should also be tailored around the forecast and conditions that await. As a renowned Icelandic scholar once told us, "There is no such thing as bad weather, only bad choice of clothing."
How to Know When the Sun Rises and Sets
During the winter season, you'll need to plan your excursions carefully as daylight is at a premium during the colder months. Likewise, if you're visiting during the summer, you can expect near constant daylight. While this does allow for a lot more sightseeing, it can be exhausting if you don't keep track of time. Although most hotels and guesthouses have light blocking shades, you should consider bringing an eye mask just in case, especially if you're a light sleeper.
Abandoned Babies!?!
If you happen to spot a seemingly-abandoned baby napping outside, don't panic! For generations, Icelanders have believed in letting infants sleep in the fresh air—even in cold temperatures—and routinely leave their precious cargo in their strollers while they run errands.
For more facts and super helpful tips see our What to Know About Iceland post.