The Best Time to Visit Reykjavik
The short answer is: anytime! Every season has its own benefits. The best time for you to visit only depends on your own personal interests.
If you would like to see the Northern Lights, you should come between September and March. If the Aurora are the only reason for your visit, come between November and February when the nights are the darkest and longest.
If you would like to hike and camp, take long road trips, enjoy the benefits of the midnight sun, and see Reykjavík at its busiest, summer is the best option. Spring and autumn are the season's edges and are the best for budget travelers and for those who want to get a little bit of every kind of weather and experience.
A Brief History
Reykjavík was the location of the first permanent settlement in Iceland. It was established in 874 AD by a Norseman named Ingólfr Arnarson with his family and slaves. There was no urban development in the area during the following centuries. In 1225, an Augustinian monastery was founded on the offshore island of Viðey, which was later destroyed during the 16th-century Reformation period.
In the late Middle Ages and the early modern period, the country went through a civil war and was first absorbed into the Kingdom of Norway before later being absorbed into the Scandinavian Kalmar Union. After the union dissolved, Iceland became subject to the Danish Crown.
In the early 17th century, the Danish king declared a trade monopoly on Iceland, leaving the country starving. Around this time, in the 1750s, local sheriff Skúli Magnússon, the "Father of Reykjavík", established wool workshops in the area allowing it to quickly become a hub of wool production. Thanks to these workshops, Reykjavík started to grow significantly as a port and slowly transformed into a regional – and later national – center of commerce, population, and governmental activities. This growth was further boosted when the Crown declared free trade for Iceland with all nationalities. This year, 1786, is regarded as the foundation of Reykjavík.
In 1874, the Icelandic Parliament gained limited legislative power and, in essence, became the institution that it is today. In 1904, home rule was given to Iceland and the office of Minister for Iceland was established in Reykjavík. The biggest step towards independence was taken on December 1, 1918, when the Kingdom of Iceland became a sovereign country under the Crown of Denmark.
During WWII, with the rest of the world at war, there was a huge demand for sources of fish among the fighting nations. This was a service which Iceland could provide. Because of its strategic location in the mid-Atlantic, Britain invaded Iceland in 1940, helping to protect its fisheries, and then the US took over this protective occupation in 1941. When the war ended in 1944, Iceland declared its complete independence from Denmark. From that point on, Reykjavík became the capital city of this newly independent country.
After WWII, during the Cold War, some US troops remained in Iceland. During their stay, the Americans dramatically pushed Reykjavík towards development. They wanted to eat, drink, go out, attend cultural events, and to be entertained. They also had a large social impact on the locals who started to feel the need to extend their social lives as well. To fulfill these new needs, Reykjavík started to develop new infrastructures. Bars and restaurants opened and the city began to invest in sports and the arts.
A once simple village rapidly transformed into a modern city. During the last decade of the 20th century, cultural interest in Iceland grew rapidly due to pop bands and musicians such as Björk, Ólafur Arnalds, Múm, Sigur Rós, and Of Monsters and Men; the poet Sjón; and the visual artist Ragnar Kjartansson. Reykjavík was chosen as one of the European Cities of Culture and one of the UNESCO Cities of Literature. Today, it is at its peak as more and more visitors come to visit the northernmost capital. In 2018, approximately 2.6 million people visited Reykjavík.
Where to Stay in Reykjavik
Reykjavík offers a broad and varied range of accommodation to suit every budget and preference, but during the summer months can tend to be on the pricier side, so a bit of planning and online digging may be required to find your perfect place. There are some cheaper alternatives to Reykjavík hotels which are listed below.
Airbnb has become a very popular choice of accommodation among people visiting Iceland as they are available pretty much everywhere and offer great value for money. Just make sure to book well in advance to avoid disappointment, as a lot of Airbnb leasers have very long waiting lists, especially during peak tourism months.
Couchsurfing
If you are okay with sleeping on a random person's coach then go for it! While the idea of couch surfing may not be for everyone, this is the ultimate cheap option for those no-nonsense travelers who need to make do on a limited budget.
House Swap
House Swap is fast becoming a very popular means of offering affordable accommodation amongst Icelandic people and there are several Icelandic House Swap communities out there who are more than happy to help facilitate you in terms of this option.
Reykjavik's Best Hotels
For something that little bit more luxurious, we recommend trying out the Alda Hotel. A relatively new hotel (completed in 2014), the Alda is stylish and contemporary with a Nordic-inspired design which will leave you with a dilemma; whether lounge in your spacious room, have a tasty beverage or beer in their beautifully designed bar/lounge area or go forth and explore everything that the city of Reykjavik has to offer. The hotel is conveniently located close to the city's main shopping and nightlife street, Laugavegur, with many rooms having views over Faxaflói Bay or toward Mount Esja (be sure to specify in your booking that you want one of these views, as such rooms are in high demand and limited supply!). There's even a barber's shop in the lobby if you feel like sprucing up so you can look your best before hitting the city streets.
Centerhotel Arnarhvoll is another popular choice with visitors, and for good reason. It's gray, the austere exterior may not seem all that welcoming at first, but once inside the Arnarhvoll, you're in for a real treat. The hotel's top floor has a Sky Lounge and a Sky Bar (which is open to all, meaning you can pay it a visit even if you are not staying at this particular hotel) and its views of the adjacent Harpa Concert Hall, Faxaflói Bay, and the nearby mountain range are sublime. The hotel staff is welcoming and chatty; double rooms can be a bit on the small size but are bright, minimally designed, and some of the views are wonderful, particularly if you have a sea view to gaze out at. Arnarhvoll's rate includes breakfast and the hotel has a hot tub and sauna in their luxury spa area.
Pro tip: Some hotels that offer better rates are located quite far from the city center, so unless you're willing to undertake a 30 minute plus walk, or willing to pay for a cab to take you downtown every day, make sure to check your intended hotel's location on Google Maps or similar, before booking.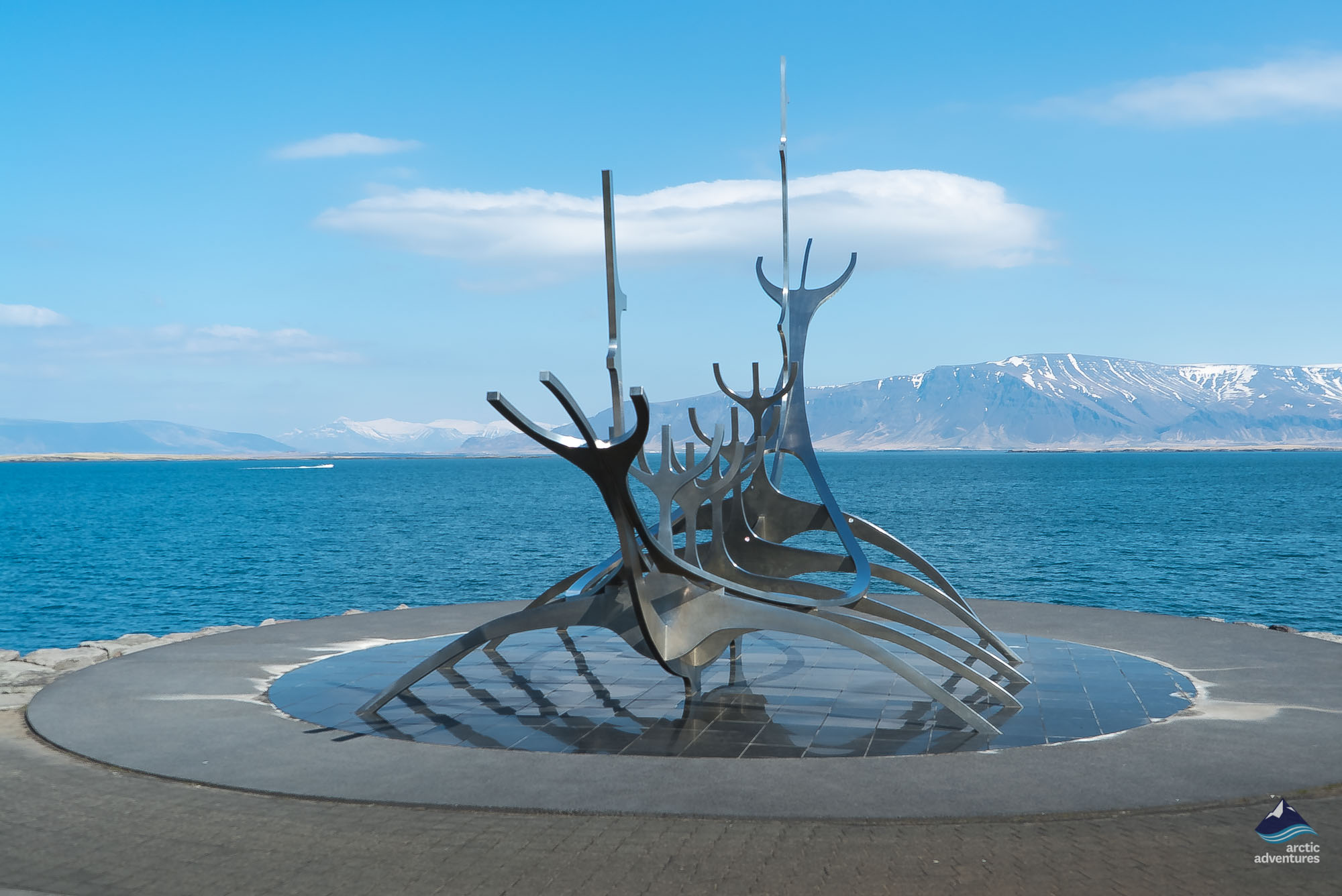 ---
What to do in Reykjavik – By Day
Reykjavík has a lot to offer during the day. Below we've outlined some of the more popular things to do and we always encourage people to go out and find their own Icelandic adventure.
Reykjavik Town Centre
Reykjavík's town center is relatively small, which makes it easy to explore on foot in 2-3 hours. Laugavegur and Skólavörðustígur are the city's main shopping areas, with the latter being ultra-trendy and increasingly popular. This area is decorated with very cool and alternative street art and leads up to Hallgrimskirkja Church. The church itself is one of the most iconic and instantly recognizable buildings in Iceland and reminiscent of something you might see in Lord of the Rings. Inside, modern art furbishes the foyer, iPads offer a wealth of additional information and an elevator takes visitors to the top of the building, where they can enjoy awe-inspiring panoramic views of the city.
The Sun Voyager is a metal statue resembling a Viking longboat which sits on the seashore in Reykjavík. This piece of artwork by Jón Gunnar Árnaso is one of the most visited sights in Reykjavík and makes a great photo location with its view of Mount Esja on the other side of the bay.
The Flea Market is open every weekend and offers an amazing variety of handmade artifacts, jewelry, and knitted wares among the many interesting antiquities and secondhand items.
The Old Harbor area offers a stunning selection of fish and steak restaurants, cafés, and a lovely atmosphere which resembles the city's close relationship with the sea. All of the whale watching, fishing, puffin watching, and Northern Lights boat tours depart from here.
The Parliament Building hosts the meetings of the Icelandic parliament (Alþingi). It was built in 1880-1881 and has the oldest public garden in Iceland. The modest parliament building is also home to the National Library, the Antiquities Collection (a precursor of the National Museum), and the National Gallery.
The City Hall and the Pond, called Tjörnin, and the nice park that surrounds them is another of the most commonly recommended places in Reykjavík to explore. The prominent lake is home to 40-50 bird species and the park is one of the locals' favorite recreation areas.
The Cabinet House was originally built to accommodate vagabonds in the 18th century but then the Danish government decided that the house should serve as a prison, which it did until 1816. In 1904, when Iceland was granted home rule, this announcement was read publicly on the steps of the Cabinet House and then the official flag of the country was hoisted for the first time in front of this building. Consequently, the house was occupied by the ministers of the Icelandic government and got its present role.
Laugavegur is the main shopping street in Reykjavík. It is famed for its boutiques, souvenir stores, restaurants, and bars. It is one of the oldest streets in Reykjavík and is considered to be the heart of the downtown area.
Hallgrímskirkja church, with its height of 74.5 meters (244 feet), is the largest church in Iceland and one of its tallest structures. It is visible from everywhere in the city as it sits at the top of a small hill. Hallgrímskirkja is a Lutheran parish church designed to resemble the trap rocks, mountains, and glaciers of Iceland.
Perlan, a distinctive glass dome resting on five water tanks on the top of a hill, now serves as a museum, café, and restaurant. It offers one of the best views over Reykjavík and is surrounded by a beautiful, small, forested park.
Harpa Concert Hall. For all the culture vultures out there, Reykjavík's Harpa Concert Hall is a nailed on must-see experience. The impressive contemporary structure cost $164 million to build over a four-year period. The glass and steel work is nothing short of breathtaking, and the designs' impressive detailing will keep those that way inclined entertained for hours. The Harpa Concert Hall offer year-round cultural events as well as daily exhibitions during the summer months.  The award-winning architecture of the Harpa plays host to everything from classical concerts and local poetry readings to traditional Icelandic folk songs and hymns sang and performed by talented local singers and pianists. There are even regular stand-up comedy shows on offer which give a great insight into the funny side of Icelandic culture and at the nation's unique sense of humor. If exploring the history of the building and fully experiencing its award-winning architecture is your thing, the Harpa Centre provides tours that grant access to areas that are not generally open to the public. Your guide will share some of Harpa's secrets, stories of odd incidents and the struggles they faced during the economic crisis. Pro Tip: When booking your flights, pick out and book your show of choice in order to avoid disappointment, as many of the these will sell out in advance.
Sightseeing Tours
Organized sightseeing tours, food and beer tours, walking tours have the benefit of being guided by locals who know all the history, folk tales, fun facts, and secrets of the city. There are a number of guided activities in Reykjavík, starting with the Hop-On Hop-Off buses, small group tours, and private tours.
Self-Guided Walking Tours
If you prefer to explore the city by yourself, you can easily walk around the downtown area in just a few hours. We created a Reykjavík city walk map for your self-guided walking tour that includes all of the must-see locations within walking distance from the downtown area.
---
Reykjavík Street Art
Reykjavík is famous for its vibrant street art scene. Urban graffiti and sophisticated wall poems appear on every third building in the downtown area, but there are probably hundreds of pieces scattered all over the city.

What to do in Reykjavik – By Night
Reykjavík has an abundance of exciting things to do at night which will cater for all different types of night owls, thrill-seekers and culture vultures. Below we've listed some of our favorite parts of the city's bustling nightlife:
Northern Lights
For most visitors, one of the main sights in Reykjavík during the winter months are the Northern Lights. If the Aurora is strong enough, you will be able to see the lights from anywhere in the city. The best is, however, to seek a place where light pollution is at its lowest and where there are no large buildings around to block the view of the horizons.
The best place for Aurora hunters in Reykjavík is probably the Grótta Lighthouse. It is located quite far from the downtown area (1 hour on foot), but the light pollution is close to zero and you have almost a 360-degree view. Other good options include the coastal walking area next to the Harpa Concert Hall, any larger city park, or the Perlan.
Northern Lights Explorer Tour
This excellent 4-hour round trip tour takes in the wonder show that is the Northern Lights, otherwise known as the Aurora Borealis, one of nature's most mesmeric sights which will leave you utterly awestruck. The name Aurora Borealis is Latin and can be translated into "the dawn of the north." Aurora was a Roman goddess of dawn and Boreas is the Greek God of the north wind. During the 13th century, Norwegians used the name "Northern Lights" for the first time.
The best times of the year to witness this stunning natural light show are February through March and August to November when cloud cover tends to be more limited. While it is impossible to be 100% certain of good weather, between 9 pm and 2 pm is generally the best time to see the Northern Lights
The tour starts with a VIP pick up in one of our custom built 4×4 super jeeps which will whisk you away from the bright lights of the big city and advance into the darkness of the Icelandic wilderness in style. The super jeep gives us the flexibility to go off the beaten path to locations big tour buses cannot reach, meaning you can experience the Northern Lights in all their wonder without the discomfort of large crowds. In the cold, there is nothing like some hot chocolate to keep warm and brave ones can even add some Icelandic Brennivín into theirs!
See our Northern Lights Explorer Tour for dates, prices and more.
Reykjavík's Nightlife
People often ask us, what is the nightlife in Reykjavík like? Well, it's pretty amazing, to be perfectly honest. In more recent times, Reykjavík has become renowned for its vibrant nightlife and is near universally praised by tourists and travel journalists alike.
Reykjavík is famous for having a thriving nightlife scene and for hosting some of the best music festivals in Northern Europe such as Iceland Airwaves. Thanks to its size, the downtown area is ideal for bar crawls. Breweries can be found everywhere and the craft beer selection is just stunning.
The nightlife in Reykjavík centers around the main shopping street; Laugavegur. There is plenty of life on neighboring Hverfisgata and Laugavegur as well. Adjacent to Austurstræti is Hafnarstræti, with a few bars located on Naustin also. Walking from bar to bar, you're not going to break into much of a sweat as they are less than 20 paces from one another, which means the streets are as lively and entertaining as the bars themselves, weather permitting of course. Bar hopping is the norm in Reykjavík, and it's rare for locals to stay in one place for the full night. All of this makes for a hugely entertaining evening of delicious bite-size samples of varying vibes and multiple music genres. Very few of these bars charge entry fees (unless there is a live band playing or something very special going on), meaning you can hop from one bar to another, changing your location if you don't like the music or surroundings (or if you're looking for love!).
Cocktail bars and dance clubs are numerous and one can find a good place to enjoy any party style in the downtown area, for sure. To the joy of bar crawlers, some hot dog stands are open around the clock downtown. Check out our recommendations and our ultimate guide to Reykjavík's nightlife.
If you're looking for a more insightful tour of the nightlife through the eyes of a local or to experience the best bars/clubs and sample some of Reykjavík's finest beers and delicious Icelandic cocktails, then our famous Reykjavík Pub Crawl is for you. This tour is ideal for anyone who is traveling by themselves, with friends or in a group. It starts with a whistle-stop tour of Reykjavík's trendy bars where you will enjoy our famous 'off-menu' Coco-Puffs Cocktail and local beers. Next up, try the famous Brennivín schnapps (Iceland's signature distilled beverage, sometimes known as 'The Black Death' due to its high volume of alcohol) and the fermented shark (only for the most dare-minded).
After this, the tour moves on to another hugely popular Icelandic past time, hot dogs! The humble hot dog is so beloved in Iceland that it is now regarded as the unofficial national food of choice. And nowhere are they more celebrated than in Reykjavík, where the most renowned place to get one is at Bæjarins Beztu Pylsur (which directly translates to "best hot dogs in town"), which opened in 1937 and has fed famous visitors like Bill Clinton and the heavy metal band Metallica. The stand even has its own signature hot dog called "ein með öllu" hot dog (that's "the one with everything", where the lamb-based hot dog is covered in ketchup, mustard, fried and raw onion and remoulade, a type of sweet mayonnaise dressing), but unadventurously, Bill chose one with just mustard (AKA the American classic)!
Pro tip 1: Be prepared to wait, they are just that popular, day and night.
Pro tip 2: Have your money out & ready when at top of the line. Each Hot Dog costs around $3
Pro tip 3: Order 2. You'll thank us later!
The tour officially ends with VIP entry to the Reykjavík's largest nightclub, but only truly ends when you wish to call it a night, or morning for that matter!
Where to Eat in Reykjavik
Once you've sampled the fermented shark and "best hot dogs in town", you'll find Iceland has an abundance of fantastic eateries to choose from. For anyone looking to combine some sightseeing highlights and a foodie paradise then The Golden Circle & Local Food Tour is a wise choice. The tour offers a pick-up service at 9.00 am from most known hotels, hostels, and guesthouses around the city of Reykjavík. Once en route, the tour takes in Thingvellir National Park, Gullfoss Waterfall, and the beautiful geothermal Geysir area. The meals on offer are from carefully selected locations so you can enjoy the local food offered by Icelandic farmers and their families. They include the delicious farm to fork Efsti-Dalur Estate, Fridheimar Greenhouse and some exquisite traditional Icelandic food at the Icelandic Turf House.
Pro tip: Don't forget warm clothing, hiking boots, and your appetite!
As for restaurants in the city, The Fish Market has an array of beautifully crafted seafood dishes and expertly selected wines to choose from. The platter of king crab legs comes highly recommended as does their sushi selection. They also serve more meaty meals for non-seafood lovers and a tasting menu is available for those who want to try it all. The restaurant also serves smoked Puffin breast which we're told was one of the Icelandic people's dietary staples in centuries past.

For people on a tighter budget, Reykjavík has a great range of mid-price range places to eat, with none better than Vegamót – Bistro/Bar. Vegamót has been a bistro of choice for locals for many years. It has a warm and welcoming atmosphere where many young people meet up to socialize and enjoy good food before advancing out into the night. The menu is constantly changing, with the price for most dishes in the $20 range, although having a steak will bump the price up to around $30.
There are plenty of vegan and gluten-free options as well as cozy cafés, bakeries, confectioneries, and ice cream shops. Check out our food blog for our recommendations on where to eat and drink in Reykjavík!
---
TOURS IN DOWNTOWN REYKJAVIK
We offer fun and exciting ways to experience Reykjavik like a local. Have a look at our selective tours for more information.
---