All about
ICELAND
Insider info to adventuring in Iceland
Festivals and Events in Iceland by Months
Icelandic people like to celebrate a lot. Every month, every season, basically every change in the year and every special day they can come up with is an opportunity to celebrate and enjoy life with family or friends. Between traditional holidays and festivals, Iceland doesn't get much time to rest. Ancient Norse and Christian traditions are all celebrated, together with some other international holidays, such as Labor Day. Some holidays are peculiar to Iceland, such as Women's Day and Men's Day, so as you can see there are very many holiday and festival days! When international holidays, such as Christmas are celebrated, the Icelanders blend in their own unique traditions.
Here is a list of the biggest events in the country during the year to help you choose the best period to come to Iceland.
---
---
Note: With some holidays the dates can change from one year to another, but they normally fall within the same period. For more precise dates, don't hesitate to consult the official website for the event you are interested in.
January Events and Festivals in Iceland
6 January: Þrettándinn, Thirteenth Day of Christmas
It seems impossible, but Christmas celebrations in Iceland last until Early January. In fact, on the 6th of January, Iceland celebrates the end of Christmas, which really does last 13 days because there is not one but thirteen Santas (lucky them, I know). On that day, the last of these Yule Lads returns home and it is believed that the Hidden People of Iceland will go out once more. Most Icelandic towns light a bonfire and organize a parade with elves, trolls and the famous Yule Lads. The night usually ends with a firework display which heralds the official end of Christmas celebrations. This night is traditionally thought of as a liminal time, or the dreaming time – the final evening between the magical or holy consciousness around Yule and the everyday world as the New Year gets under way. Folklore stories refer to cows speaking and seals taking on human form on this magical night!
Mid-January–mid-February: Þorri
Þorri, or Thori, is the name of the coldest month of the year in the Old Norse calendar. At that time, there was usually a sacrifice (blót) followed by a festival to please the Gods and ensure the return of summer. This tradition disappeared with the conversion to Christianity before being resurrected in the 19th century in a different way. The sacrifice has been replaced by eating old-fashioned food. These foods seems incredibly strange to those who are unfamiliar with them, such as svið (singed sheep head), súrsaðir hrútspungar (pickled ram's testicles), kæstur hákarl (fermented shark), and many other ancient specialties. I admit that the names are not really appetizing, but let me assure you, the appearance of these foods is even more astonishing, as you literally look your food in the eye, when you gaze at the sheep's head on your plate! Would you try these delicacies?
You are probably wondering why people used to eat such things as sheep's heads? Well, simply at that time, the Icelandic people could not afford to let any part of an animal they had slaughtered go to waste, these were very hard times. Plus, as many Icelandic people will assure you, the taste is actually very good.
During earlier centuries it was very hard to preserve food but people found ways to smoke, salt or dry their food so they could keep it to eat at a later time. Fermented shark had a very peculiar preservation method in the olden days: the shark meat would be buried, it was then urinated on, and left to ferment for months before it was eaten. This was not just about food preserving food, the meat of Greenland sharks is particularly poisonous if it is eaten when it is fresh. You can be reassured, pouring urine on the shark meat is no longer part of this preservation process – modern culinary techniques have taken over!
Late January: Myrkir músíkdagar – Dark Music Days, Reykjavík
This has nothing to do with hard-rock or metal music as many people imagine. The Dark Music Days is a contemporary music festival which takes place annually at Harpa, the majestic concert hall on the seafront in Reykjavik, during the darkest period of Icelandic winter. The festival was founded in 1980 as a platform for Icelandic composers to present their work, but today, international artists also participate, so people can discover and enjoy their music too. The festival is usually held during the last weekend of January, when a wide variety of concerts go on throughout the day.
Late January – early February (10 days): WOW Reykjavík International Games (RIG)
RIG is a multi-sport event which takes place at Laugardalur, the valley which is home to Reykjavík's best sporting facilities. The best Icelandic athletes compete with international ones. WOW, the Icelandic low-cost airline, proudly sponsors the event, but the Reykjavík Sports Union, together with various national sports associations and clubs organize it each year, about 20 individual sports are included. This year, anyone could participate in the off-venue program, the special events included a Northern Lights Run, where the participants were rewarded with illuminating bright prizes such as glasses, bracelets and lights for being part of this run. So, get ready for next year!
February Events and Festivals in Iceland
Early February (first weekend): Reykjavík Winter Lights Festival
Every year, the Winter Lights Festival celebrates both the winter and the lengthening daylight after the long period of darkness. Colorful light installations projected onto building facades are the main event, a lot of people are attracted to the magical atmosphere. There are also culture and outdoor activities such as the Museum Night, where the majority of the city's museums open their doors to everyone and entertain them with dance, theatre, live music, movies, book reading and much more – all free of charge. The following evening is Pool Night where you can enjoy most of the city's geothermal pools for free, with music and illuminations, and if you are lucky enough, the Northern Lights dancing above your head.
Photo by Norris von Niman
This is a huge event for the Icelandic people. It is a great moment to enjoy with your family or friends as you will have the privilege of discovering many museums during the evening and / or enjoying outdoor bathing in blissfully hot water during the cold month of February, in the middle of winter.
Mid-February (weekend): Rainbow Reykjavík Winter Pride
If you like having fun, you should go out for a stroll to and watch the Winter Pride, the biggest LGBTQI event of the season. Over three days, Rainbow Reykjavík offers tours around South Iceland, parties every night, outdoor activities such as geothermal bathing and Northern Lights watching tours. This is the perfect way to discover Iceland whilst meeting new people, visiting geysers and waterfalls and dining in world-class restaurants – not forgetting the great bonus of partying until the early morning with LGBTQI people from around the world.
In terms of tolerance, Iceland stands in front of nearly every other country in the world. Discrimination on the basis of sexual orientation is forbidden by law, and the equality of LGBTQI people is celebrated and accepted by almost everyone. In 2009, Jóhanna Sigurðardóttir of Iceland became the world's first, and to date only, openly gay prime minister.
Mid-February (weekend): List í ljósi, Art in the Light, Seyðisfjörður
The return of the sun is an important moment for Icelandic people, after spending four months of the year living almost in shadow. They hold various events to celebrate this and one of them is Art in the Light, a festival held in Seyðisfjörður, East Iceland. The celebrations consist of illuminating the town by transforming it into a brightly lit hub of activity. This free family-friendly outdoor event displays illuminated art installations from international and local artists which are shown all around the town. There are also indoor entertainments such as performances, movies and parties which are held throughout the beautiful mountain-flanked town of Seyðisfjörður.
March Events and Festivals in Iceland
1st of March: National Beer Day:
Coming to Iceland if you don't like beer is a little like going to the pool when you dislike getting wet. Indeed, beer holds its place as the favorite beverage of the Icelanders, as well as one of the most often consumed. There are lots of varieties of beer, so it should be easy to find one you like.
Icelandic people celebrate beer once a year because for a long time they couldn't drink it. Indeed, for a big part of the 20th century (from 1915 to 1989), beer was illegal in Iceland, and the most surprising thing is that it was the people themselves who voted for this prohibition. But many Icelanders missed their beer, so they found various ways to bring beer into Iceland or made illegal beer at home. Many people drank 'bjórlíki', which translates to 'Beer Likeness', this kind of beer substitute was fully legal because it contained less than 2,25% alcohol – of course, people wanted the right to drink normal beer! The prohibition ended on 1 March 1989, however, even today, you cannot buy normal strength beer in a supermarket, liquor shops called 'Vínbúðin' are the only places permitted to sell alcoholic drinks in Iceland.
On Beer Day, bars and pubs offer special prices on beers so that everyone can enjoy this sparkling fresh and immensely popular beverage.
Early March: Reykjavík Folk Festival
Every year, Icelandic folk music is celebrated throughout this three-day musical fiesta, giving the opportunity to really experience the diversity and breadth of this special musical genre. Artists of all ages from around the country reunite for this annual event and there is a great family-friendly atmosphere. Exciting contemporary bands will get you dancing during their concerts and haunting musical stories and ballads will transport you back in time.
Early March: Food and Fun
The Food and Fun festival brings together exceptional chefs from all over the world to cook with a selection of quality Icelandic ingredients. In addition to meeting the chefs, the public can taste the food masterpieces created by these culinary talents at the restaurants which participate in the festival. Local and international chefs are required to prepare a three-course meal using only Icelandic ingredients.
Photo by Jon Åslund
The seven-day festival was created in 2002 with the help of Icelandair, the Icelandic Hotel, the Gastronomy School and the City of Reykjavík. They wanted to give tourism a boost during the late winter months of February and March, when tourist numbers were dropping quite low. Since the first year, Food and Fun has gained worldwide recognition, chefs from the USA and Europe have come to Iceland to take up the challenge.
Early March: Carnival: Bolludagur, Sprengidagur and Öskudagur
Each country has its own way to celebrate during its carnival season. For Iceland, this is a great opportunity to eat special dishes over three days.
First, on Bolludagur (Cream Bun Day), children try to playfully spank their parents with the Bun Day paddles they spent time decorating at school. The tradition, originally from Denmark, is that they will get a delicious bun each time they manage to spank their parents.
Then, on Sprengidagur (literally 'Bursting Day in Iceland – this day is celebrated with Shrove Tuesday pancakes in many lands) people usually eat salted meat, normally lamb but occasionally horse, and bean stews. This day is dedicated to eating as much as you can, as the old Christian custom was to fast during the coming season of Lent, although, this is not really done anymore in Iceland, or in so many in other countries. Sprengidagur certainly continues, though! Who doesn't like to eat until they burst?
Finally, on Öskudagur (Ash Wednesday), most of the children have a day off from school and dress up in costumes, wandering into shops and businesses to sing for candy. They must sing songs to earn this precious reward, a bit like an Icelandic version of Halloween.
Mid-March (weekend): DesignMarch, Reykjavík
Created in 2008, Iceland's most important annual design festival, DesignMarch, has around 100 events in its program. The festival explores all kinds of design, from fashion to architecture, furniture to food, renowned designers come from around the world to participate.
The opening event is DesignTalks, a day of lectures led by international designers as well as local design thinkers about current topics and challenges, the power of design is always emphasized. This year the Prime Minister, Katrín Jakobsdóttir, opened DesignTalks.
Another important event during the festival is DesingMatch, where local designers get the opportunity to meet international design producers, retailers and journalists to talk about their work and projects.
Mid-March: Sónar Reykjavík
Since 2013, the worldwide Sónar electronic music festival added Reykjavík onto its list of annual destinations. Stars of electronic music, hip hop and advanced music perform at Harpa, the concert and culture hall in Reykjavík with four indoor stages and a total capacity of 3,500 guests per night. Famous artists such as Major Lazer, Skrillex or Fatboy Slim have performed at Sónar Reykjavík. This international event takes place in many other cities such as London, New York City, Stockholm, Buenos Aires, Seoul, and many others. The chance to see the Northern Lights from inside the concert hall is unique to the Reykjavík version, if you get lucky they can be seen through Harpa's glass structure.
In addition to renowned international artists, Sónar Reykjavík wants to put the spotlight on the Icelandic music scene, established, rising and soon-to-be rising artists are given the chance to perform at Harpa.
Late March: Iceland Winter Games, Akureyri
The IWG gathers outdoor and winter sports people together in a breathtaking landscape: Akureyri, the ski capital of Iceland. This northern city is the biggest in Iceland outside of the capital area with a population of around 20,000 inhabitants, which is pretty small for a city in other countries. Located on the longest fjord in the country, Akureyri is surrounded by mountains which rise to around 1,500 meters, it is located around 60 kilometers below the Arctic Circle.
From ski competitions to the National Dog Sledding Championships, snowboarding to Arctic horseback riding, or even snowmobile riding, there are a large variety of competitions. Iceland Winter Games hosts events that you can't find anywhere else, such as the 'Volcanic Big Air' snowmobile show and the free-ski and snowboard competition.
Late March / Early April:

Aldrei Fór Ég Suður, Westfjords
Aldrei Fór Ég Suður, literally 'I never went South', is a free music festival taking place in the Westfjords every year, and yes, I did say free!
You may well wonder how can a music festival can be free? Well, this event is highly supported by various local and foreign companies, besides the municipality, Ísafjarðarbær, assists quite a lot. The organizers also raise funds by selling food, beverages and souvenirs during the festival.
This project was first on the table in 2003, following a conversation in London between a son and his father. Through the festival, they wanted to spotlight local musicians, both established and up-and-coming Icelandic bands. The name of the festival refers to the tendency for performers to head south to Reykjavik in their quest for success.
April Events and Festivals in Iceland
Early April: Easter weekend
Páska is the Icelandic word for Easter, this five-day weekend is celebrated in Iceland from Maundy Thursday to Easter Monday, with all schools and offices closed, as well as many shops and restaurants, although most of the latter are open for business as usual on the Saturday. It doesn't matter from what religion people are, Easter is a national holiday in Iceland.
Skírdagur (Maundy Thursday) is the first day of the Easter holiday period.
On the next day, Föstudagurinn langi (Good Friday), the Icelandic law forbids or constrains many activities. Bars and clubs must close at midnight on the Thursday and can only open again after midnight on Good Friday. Recreational gatherings such as lotteries and card games are also prohibited by law.
Páskadagur (Easter Sunday) is the most important part of this holiday for children. This is the day when they can hunt for their Easter Eggs, the delicious chocolate eggs stuffed with candy and a proverb. Liquorice-chocolate eggs have also become very popular in recent years. Usually there is a family dinner at the end of the day where roast leg of lamb is served with sugar-glazed potatoes and gravy, the famous páskalambalæri or 'Easter leg of lamb'.
The last holiday is Annar í páskum (the Second Day of Easter). This has no special significance, it is dedicated to finishing the chocolate eggs, eating up the  leftovers and recovering from all the food ingested during the holiday.
During Easter, it is also popular to go skiing. The closest ski slopes to Reykjavík are called Bláfjöll, located about 30 minutes driving-time from the center of Reykjavík. You can rent all the necessary equipment for skiing at Bláfjöll, but you do need to bring your own warm clothing.
Early April:

AK Extreme – Akureyri
The four-day festival AK Extreme offers many events around Akureyri and at the nearby mountain, Hlíðarfjall. The main event is the Eimskip Container Big Jump on the Saturday night, when fifteen shipping containers are set out. This is so unique it is broadcasted on national television, only fearless top riders are allowed to participate in front of the 7,000+ spectators.
Amateurs compete in the Origo Downhill Competition where they start at the top of the mountain and race to the bottom, the only difficulty being posed by the randomly placed poles on the slope as they speed down. The winner is the one who manages to snag one of the poles without spilling too much of the open can of energy drink they are carrying with them. After the race you can relax and go to the on-hill barbecue party where a DJ keeps things lively.
Every night, participants can enjoy special parties and concerts in downtown Akureyri with many famous Icelandic artists, from electronic to metal music.
Mid-April: Children's Culture Festival, Reykjavík
This festival, launched in 2010, is exclusively dedicated to children and young people up to 16 years old. The event aims to introduce young people to arts through various workshops and performances. The Children's Culture Festival is unique as it emphasizes participation and gives children the chances to be artists, bringing different kinds of activities together, such as theatre workshops, circus, visual arts, storytelling, music, film, puppetry and dance activities. Many institutions take part in the event including nursery schools, music and art schools, museums and theaters among others.
Mid-April: EVE Online Fanfest
Photo by Kuba Bożanowski
Each year, EVE Fanfest reunites fans of this science fiction online multiplayer game about a virtual universe. Taking place at Harpa, the concert hall and cultural center in Reykjavík, players come to socialize, have fun, attend lectures and take part in many activities related to the game. A large number of foreign guests take part in the festival every year, the game can count more than 500,000 players around the world.
This event is the opportunity to celebrate the virtual world of EVE, as well as the only chance for allies and rivals to set aside in-game differences, sharing drinks and forging friendships. Plus, the players can meet the game developers (CCP), who are always happy to chat and get to know them.
First Thursday after 18th April: Sumardagurinn fyrsti
The First day of summer on the old Norse calendar is an official holiday which is celebrated in contemporary Iceland. It is held on the first Thursday after 18th April, so it happens between the 19th and the 25th. It corresponds to the first day of the month known as Harpa on the ancient Norse calendar. The year was then divided into only two seasons: winter and summer, which explains why this holiday is so early!
For this special occasion, street parades are organized, heralded by Icelandic flag bearers. The scouts and other organizations march through the streets of Reykjavík and music bands play in these acclaimed parades. In the capital and in other big towns around Iceland, sporting events and entertainments are organized for the day. Even if the temperatures are not so warm yet, Icelandic people will enjoy ice creams and dress in summer shorts and T-shirts.
End of April: Fossavatn Ski Marathon
Fossavatnsgangan is the oldest ski race in Iceland. Occurring around Ísafjörður in the Westfjords, this ski race reunites many cross-country skiing athletes from around the world. Created in 1935, the race was originally 20-kilometers long, but in 1987 10 kilometers were added to the challenge. Two years later, the organizers decided to create an additional 7-kilometer race suitable for children and beginners, so now both professionals and amateurs can participate.
Nowadays, the main attraction is the 50-kilometer race, which has taken place since 2004. The skiers have to travel at a minimum speed or they will not be allowed to finish, they must pass the 35-kilometer mark within 5 hours.
May Events and Festivals in Iceland
Labor Day, or May Day, is the 'holiday of the proletariat' as everyone gets a day off and marches in the streets to protest about anything. People are exercising their right to protest and voice their disapproval or frustrations about the year before. The marches are happening in the whole country but the most important one is in the Icelandic capital. Brass bands accompany the protesters on their lengthy walk around Reykjavík.
The first protest march in Iceland was held in 1932, fighting for an 8-hour work day and 5-day working week. Many people come with their own homemade signs to protest about random things or just to enjoy taking part in the long walk.
The two-day festival, Saga Fest, takes place near Selfoss at Stokkseyrarsel farm, about an hour from Reykjavík. The creator of Saga Fest wanted a festival dedicated to connecting people to each other and to nature via the media of storytelling. Around 750 people are going to this annual music and arts festival based on the Icelandic Sagas. There are no hierarchies at Saga Fest, which means that the artists, the organizers and the volunteers are on the same level as the public, they even work collaboratively together.
This progressive festival highlights sustainability and community building. For example, the entry tickets contain seeds to be planted on the spot, hopefully, these will later grow into a tree.
One of the opening events is a guided modern meditation to ground the spirit. Other activities include dancing in the dark, designing skateboards, participating in Icelandic Shamanism, Acro Yoga, poetry reading and many other things.
Late May-Early June: Vaka Folk Festival, Akureyri
Located in Akureyri, known as the Capital of North Iceland, the Vaka Folk Festival gives a unique opportunity to meet the very best folk musicians and performers from Iceland and Northern Europe. The city of Akureyri is full of traditions and folklore, making it the ideal place for this festival and giving the public the chance to discover North Iceland.
This four-day festival will transport you back in time with the beautiful traditional songs performed by people deeply attached to their roots. The public can chat with and play along with the artists at the workshops and open jam sessions – a great way to learn a lot from them.
There are activities for everyone, from children to the elderly. Listen to the Icelandic rimur ballads and the old instruments such as the langspil and fiðla, then go to singing and instrumental workshops to learn more about the traditional songs. Finally, try the informal song and tune sessions along with social dancing, where everyone can participate.
June Events and Festivals in Iceland
1–17 June: Listahátið – Reykjavík Arts Festival
Every two years, Listahátíð í Reykjavík takes place over two weeks in the capital of Iceland. This multidisciplinary festival focuses on the creative intersection of different forms of art through exhibitions as well as performances of contemporary and classical works.
Created in 1970, the Arts Festival occupies unconventional spaces throughout the city, and also major cultural venues. Hundreds of artists from around the world come to this festival to perform and show their work to the national and international public. This festival also helps to forge connections between local and non-local artists and it has contributed a lot to the development of cultural diversity in Iceland.
First weekend in June: Sjómannadagurinn
Photo by Bjarki Sigursveinsson
Sjómannadagurinn, or Sailor's Day, is a festive family-friendly day dedicated to those who are involved in Iceland's fishing industry, but especially those who are working at sea. Throughout the coastal towns and villages around the island, Sjómannadagurinn honors the role that fishermen have played in the history of Iceland. It has been celebrated annually on the first weekend of June since 1938 and it became a legal holiday for Icelandic fishermen in 1987.
Photo by Bjarki Sigursveinsson
Some people like to spend Sjómannadagurinn in small working fishing village. Grindavík, a fishing town not far from Keflavík Airport, is a great place to celebrate the special day, just 45 minutes away from the capital. Various events are taking place in the village, there are great walks and there is a campsite. The scenery around Grindavík is incredibly diversity and beautiful, the sea cliffs all around the peninsula are home to up to 60,000 bird pairs of various species. The village is also very close to the Blue Lagoon, offering a great opportunity to enjoy taking a dip in the lagoon, it is, though, important to book this in advance.
First weekend in June: Festival of the Sea
Part of Sailor's Day, the Festival of the Sea is the biggest event held at Reykjavík's harbor to honor the sailors (but similar festivities happen all around the country). The festival offers local parades, art and craft activities for children, food tastings and sailing competitions. The festival spotlights traditional Icelandic culture and the nation's dependence on fishing. It reminds us how important the sea and the sailors have been for the history and economy of Iceland. The Festival of the Sea celebrates every aspect of the sea such as fishing, shipping, seamanship, mermaids and legends and so on. You can observe some sea creatures on display in tanks on the harbor.
The main goal of the festival is that families can come to the Old Harbor and enjoy a day full of events without any cost. Most things offered by the festival are free of charge, so you can sail, enjoy free food tastings, go to the playgrounds, watch the competitions and enjoy the entertainments – all for free. Local restaurants and cafés offer special dishes at a fair price.   
The festival starts on Saturday morning at 10 am and ends late on Sunday afternoon. During this whole weekend you can get the opportunity to visit the Maritime Museum, take a ferry trip to Viðey, an island just off the coast, participate in the bottled-message factory, taste delicious herring, or watch ocean rescue demonstrations and so much more at the Old Harbor of Reykjavík.
Mt. Esja Ultra was created in 2012, since then it has become the most popular mountain trail race in Iceland. Mount Esja is located about 25 minutes from Reykjavík by car (20 kilometers), many Icelanders from the capital enjoy hiking, climbing and running at Esja. This annual event is limited to only 100 participants, who must be at least 20 years old. It is recommended that all runners have experience of long distance trail running, and it is very important to be physically fit for this event, considered to be the most difficult trail race in the country. Indeed, the participants run a 7-kilometer loop, easy peasy I hear you say? They have to run this loop eleven times, making this a race over 77 kilometers, the technical ascent and descent sections of the trail add difficulty to this endurance sapping challenge. At the end of each loop, participants will be cheered on by the public and grab food and drinks to rehydrate and refuel before completing the next loop. The record time for this race is 10 hours and 41 minutes, set in 2014 by Friðleifur Friðleifsson, Iceland's best trail runner.
Mount Esja is not a single mountain, it is a 914-meter high volcanic mountain range made from basalt and tuff-stone. You can choose between various hiking paths, but the most famous ones are Þverfellshorn (780 m) and Kerhólakambur (851 m).
9 June: Color Run Reykjavík
The Color Run in downtown Reykjavík is a 5-kilometer race with no time limit. During the whole race, after each kilometer, runners are splashed with colorful powder. About 10,000 participants start out with plain white t-shirts – when they cross the finish line they all resemble brilliant rainbows. After the race, color bombs and various entertainments are awaiting the runners at the finish line beside Tjörnin, the historic pond near Hljómskálagarðurinn, a park in Reykjavík's downtown area. The run usually starts at 11 am and the entertainments last until 2 pm.
The Color Run by Alvogen is known worldwide, it already takes place in more than 300 cities and over 50 countries around the world. This event supports local charity organizations for children rights and welfare. Last year, it raised 6,000,000 ISK (about 60,750 dollars) for the Icelandic Red Cross and The Benefit Society for Children with Disabilities. A Color Run also takes place on 7th July in Akureyri, North Iceland.
Second weekend of June: Viking Festival, Hafnarfjörður
Photo by Helgi Halldórsson
The Viking Festival is the oldest and largest event of its kind in Iceland. Located in Hafnarfjörður, a neighboring town of Reykjavík, it will from this year be held in a part of Hafnafjörður which is slightly closer to the capital, in Víðistaðatún Park. This five-day long festival first took place in 1995, the sights and atmosphere will transport you back one thousand years in time.
The Viking Festival aims to demonstrate most aspects of Viking culture and traditions such as ships, cuisine, handcrafts, storytelling, archery, games, music, without a doubt the battle reenactments are the main attraction for most people. Indeed, the participants stage mock fights and battles at numerous moments during the festival. The spectators need to keep their distance because these displays can be a little scary, especially for kids, as it gets truly realistic. However, the Vikings thought about the children too, they even organize special battles where they play-fight with the children.
You can also learn how to throw spears and axes, shoot with bows and arrows, go to see a fortune-teller and try out wood carving. Some Viking baptisms and weddings have taken place during the Festival, offering the happy participants an unforgettable and very beautiful celebration. Many artists come every year from Europe and America to join in the festival, to perform or to show their craftsmanship, and to celebrate the memory and ways of their ancestors.
The Festival operates a Middle Ages-style market at the Viking Village during the festival, where Vikings fight, dance, roast lamb, sell handmade crafts, tell stories and so on. You can truly get an experience of how the Viking way of live looked and felt. You can also enjoy the Viking atmosphere and food at the Fjörukráin Restaurant which is actually open all year – during the Viking Festival, with some many Vikings the atmosphere is really authentic.
17 June: Icelandic National Day
A little bit of History now. In 1262, Iceland was placed under Norwegian rule until it became a Danish colony in 1380. It was only on 17 June 1944, quite a few centuries later, that the Republic of Iceland was formally established and became fully independent once again. This date was chosen because it is the birthday of Jón Sigurðsson (1811-1879), the leader of the country's independence movement. He fought so long and hard that, even though he was no longer alive, the Icelandic people honored him in this way. Ever since that date, the National Day of Iceland has been celebrated on 17 June.
On National Day, parades led by marching bands take place around the country. The biggest celebration takes place in Reykjavík in the city center between 10 am to 6 pm. To herald the start of the celebrations, all of the church bells in Reykjavík are rung in unison. The Icelandic Government holds a ceremony outside Alþingihúsið, the Icelandic Houses of Parliament in the square at Austuvöllur. There is then a grand parade from Austuvöllur to the cemetery at nearby Suðurgata, where the Chairman of the City Council places a wreath on Jón Sigurðsson's grave. The celebrations are then more oriented towards family entertainment with a wide range of activities taking place from 1 pm. There are playgrounds for kids, pop-up stalls selling cotton candy, hot dogs and ice-cream, live music, a puppet show and circus and dance entertainments keep children of all ages enthralled.
If the weather is nice, people will be filling the streets of Reykjavík and creating a fun and carnival atmosphere. Each year, a young woman Icelandic woman is chosen to be Fjallkonan, 'The Mountain Woman'. Dressed in the Icelandic National Costume, Skautbúningurinn, she recites poetry as part of the ceremony. The Icelandic National Costume represents the Icelandic spirit and nature, this dramatic and elegant costume was a very powerful symbol in the country's fight for independence. Later, between 2 pm to 6 pm, there is a concert with Icelandic artists at Austurvöllur. An accordion ball is also held in the City Hall.
The Summer Solstice is a celebration of the longest day of the year when you can observe the midnight sun, a natural phenomenon occurring from May to July, when the sky remains bright at midnight. It seems crazy right? You have to see it to believe it. This seasonal event is celebrated a lot in Iceland as people have waited for the sun to increase throughout the long winter. Solstice means the day of the year when the sun is the farthest away from the equator. This can be seen if you are north of the Arctic Circle or south of the Antarctic Circle. Iceland is just south of the Arctic Circle, but the midnight sun is still visible here due to atmospheric refraction. The farther north you go, the more you are affected by this phenomenon, and, of course, the more daylight you get. This is a great opportunity to enjoy Reykjavík's nightlife, or should we say daylife?
This day is also a great opportunity join to go exploring through Iceland's magnificent natural landscapes very late in the evening, under the beautiful and inspiring glow of the midnight sun, with not so many people around.
Mid-June (this year: 21–24): Secret Solstice Festival, Reykjavík
The Secret Solstice Festival is one of the most longed for festivals of the year in Reykjavík. Everybody speaks excitedly about it and can't wait for this day to come. For those 96 hours, the sun will never set, and people will party at this unique festival under the midnight sun. Since the first Secret Solstice in 2014, this Icelandic festival has won accolades from the national and international press, such as "One of the top festivals on Earth" by Time Magazine. Many international famous artists such as Foo Fighters, The prodigy, Big Sean, Radiohead and so many more have performed at the festival, as well as the most talented Icelandic performers. Many of the Icelandic artists are not known worldwide just yet, but it is only a matter of time before you start hearing them playing on your car radio while you are heading to work, then their songs will really get stuck in your head! Kaleo, the Icelandic band, is a good example of rising stars, you should know this band from their song "Way down we go".
The Secret Solstice Festival was attended by 8,000 people on the first year, when 2,000 people came from overseas. Each year over 150 acts perform at the festival in the park at Laugardalur, a glorious valley close to the historic center of Reykjavík. Secret Solstice takes place at the brightest period of the year, the festival takes place on six grand stages, all with names taken from Norse mythology: Valhalla, Gimli, Askur, Fenrir, Ragnarök and Hel. The four-day festival has really become the Coachella of the Arctic.
What makes this festival even more unique are the two main side events: The Lava Tunnel and Into The Glacier. Both are not included in the ticket price of the festival and each can accommodate a limited number of participants.
The Lava Tunnel is a magical music experience in a 5,200 year-old lava tunnel formed during a volcano eruption. The Raufarhólshellir cave is a breathtaking phenomenon of nature as the lava walls display many different colors. The event allows 50 guests to enjoy a tour of the cave with a guide, and to witness one of the most unique concerts on the planet actually in the lava tunnel. Two drinks and transportation from Reykjavík are even included.
Into The Glacier is the world's only party inside a glacier, where just 120 guests will get a chance to experience a unique party within the ice of majestic Langjökull, Iceland's second largest glacier. Transportation, two drinks and a short tour of the glacier are also included in the special event ticket. If you consider going to this concert, don't forget to pack warm and water-resistant items among your summer clothes for the festival – oh, and, post a lot of pictures on the social networks to make all your friends jealous!
23 June: Midnight sun run
The Jónsmessuhlaup Midnight Sun Run is a good challenge for those who like running in a beautiful and unusual landscape, with sunlight still illuminating the landscapes at midnight. This unique event takes place in Laugardalur, Reykjavík. There are three different races, the half marathon (21-kilometers) for those above 15 years of age, a 10-kilometer race for young people over 12 years old, and, finally, a 5-kilometer race which is open to all age groups. The half marathon race has a time limit of three hours, the race begins at 9 pm, so the runners must arrive at the finish before midnight. After the race, all the participants are invited to bathe at Laugardalslaug, the beautifully warm geothermal swimming pool close to the finish. The runners can relax their tired legs in the hot tubs and enjoy the steam baths – completely free of charge after the race. The Suzuki Midnight Sun Run is organized every year by the Reykjavík Sport Union.
Jónsmessa, The Mass of John, is an Icelandic holiday named after John the Baptist, a Christian figure in the New Testament – interestingly the festival blends in quite a few older Icelandic beliefs! Certainly, it has been celebrated since the Viking times and is also known as the Midsummer Night. A few legends connect this particular day to mystical powers. It is believed that Jónsmessa is one of four nights in the year when the Huldufólk, the hidden people of Iceland, come outside. It is said that if you stop and sit for a moment at a crossroads where the four roads lead to separate churches, elves will come to you and try to seduce you with gifts and food. But pay attention, you should never ever follow the elves, or you could go crazy. However, the fable says if you are strong enough to resist the temptation until dawn, the elves will vanish and you get to keep all of the treasures they brought. To know more about elves and Icelandic folklore, you can join a multi-day tour with an experienced local guide.
Another Icelandic folklore belief says that on this special day, seals take off their skins to take on the form of humans and cows gain the ability to speak. It is said that the surreal healing powers of nature increase on Jónsmessa, and that healing stones will float up to the surface on lakes and ponds. Part of the Jónsmessa tradition is to take off your clothes and roll around naked in the dew-covered glass, it is said that this will benefit your health a lot.
Late June: WOW Cyclothon Around Iceland
The WOW Cyclothon is the largest cycle race in terms of the number of participants as well as the longest road race in Iceland. The cyclists ride all around the island, a distance of 1358 kilometers within 72 hours. This cycling event has taken place annually near the end of June since 2012, the participants ride through splendid and diverse nature as they compete. WOW Cyclothon seeks to advocate the qualities of unity, persistence and teamwork through the race.
The race has four different categories: A, B, Solo and Hjólakraftur.
In the A, B and Hjólakraftur category, team members operate a relay system during the race. The only difference between categories A and B is the size of the teams, which is 2-4 people in the A category and 5-10 people in the B category. Those who are not riding stay in the support vehicle, waiting for their turn. The B category has been the most popular over the past few years. You can also choose between three subcategories: All men, all women or mixed, depending upon with whom you decide to team up. The Hjólakraftur category (Cycling Power category) is for children and young people only, where the race is designed especially for them. This is a health promotion project to empower kids and teens to undertake cycling as an activity. There are also teams who raise money for Hjólakraftur which is given to hospitals.  
The Solo category offers the greatest challenge, it really is a great test of endurance to live this experience alone and prove yourself capable of riding around the whole island.
WOW Cyclothon is not just a race it is also a great fundraising opportunity, a different charity is chosen each year. Last year, it was the ICE-SAR, the Icelandic search and rescue association who benefited, the work of this association has prevented a lot of accidents and saved the lives of many people in difficulty. These funds are really important enabling more volunteers to be trained and professional equipment to be purchased, the WOW Cyclothon raised a total of 20,655,210 ISK (about 209,000 dollars).
July Events and Festivals in Iceland
1 – 8 July: Icelandic horse convention, Reykjavík
The National Icelandic Horse Competition, Landsmót, started in 1950 at Þingvellir National Park (Thingvellir). The competition showcases the country's best horses and riders and the bi-annual festival has been held at different locations through the years, in 2008 14,000 people attended. This is the meeting place for all horse lovers from Iceland and other countries around the world. Icelandic horses are not so tall, being rather squat but they are certainly muscular.
The main event is Gæðingakeppni, a horse riding competition where riders have to demonstrate all five gaits of their Icelandic horse: tölt (a gait specific to Icelandic horses), trot, walk, gallop and flying pace, the last of which is incredibly spectacular to watch. Different breeds are entered into another competition and the best stallions are rated according to a specific criteria. Each year, over 100 volunteers are required to ensure the smooth progress of this seven-day festival – a lot of work goes on behind the scenes.
4 – 8 July: Siglufjörður Folk Festival
Photo by Maxim Panteleyev
This five-day folk music festival in Siglufjörður is an important event for Icelandic and Scandinavian traditional music, world music and folk dances. It is held in one of the northmost towns in Iceland and provides up to 19 concerts throughout the town. Created in 1999, the annual event received a special award for outstanding cultural events around Iceland.
During the whole festival you can find music and traditional handicraft workshops as well as lectures about folklore from around the world. You can witness traditional artists playing old Icelandic instruments whilst taking a class about folk dances. The little town of Siglufjörður is surrounded by magical scenery and spectacular mountain peaks, giving a magical backdrop to the festival.
In 2005, the first year of Eistnaflug festival, it was a small one-day metal event. Since then, it has grown into the four-day festival that it is today, with many musical genres such as punk, rock, metal, hardcore and indie. The festival welcomes international artists every year, as well as Icelandic ones, since 2015 Eistnaflug has featured more than 60 bands from all over the world.
The festival is located in Neskaupstaður, a small town in East Iceland. Going to Eistnaflug gives you a great opportunity to visit this remote and little-known part of Iceland. Note: the lower age limit for the festival is 18 years old.
Also, situated in the eastern part of Iceland, LungA Art Festival takes place annually in the middle of July. The little town of Seyðisfjörður, with only around 700 inhabitants, hosts the festival for a week. The program includes exhibitions, concerts and a celebration at the end of the festival. LungA wants to strengthen awareness and knowledge about art and culture among people of all ages – this festival is a must for all art students. The festival has gained a strong reputation over the years both in Iceland and abroad for its wide variety of high quality workshops and activities.
Third weekend of July: Medieval Trading Weekend, Gásir
Over a whole weekend, Gásir offers its visitors the chance to experience medieval Iceland through guided tours around archeological sites, archery, arts and crafts, pottery and many other entertainments – a lot of fun is always guaranteed! Fortune-telling and parchment making are especially popular.
Gásir is located 11 kilometers north of Akureyri, North Iceland, on the shore of Eyjafjörður. This is the only place where you can find such a collection of artifacts, information and activities related to the Middle Ages in Iceland, Gásir was the main trading post in Northern Iceland during that period. In fact, this place is mentioned many times in Old Icelandic Sagas from the 13th and 14th centuries.
Last weekend of July: Bræðslan
Bræðslan is a music festival which focuses on providing a friendly atmosphere and an enjoyable experience for the guests and the participating artists alike. It is held annually in Borgafjörður Eystri, a small village with just 110 inhabitants, on the west coast of Iceland. The surrounding colorful mountains and the beautiful landscapes around the town makes it this the perfect venue. Since 2005, the festival has taken over the town operating in a big fish factory, which is turned into a music wonderland for the occasion. Only 900 tickets are available each year – so it is good to buy one early!
In their pursuit for success, the famous group Of Monsters and Men have performed at this festival, as well as many established Icelandic and foreign artists. The festival offers a broad mix of Indie, rock and pop artists. Here you can see them practicing before their show in a hill above the village
August Events and Festivals in Iceland
First weekend of August: Bank Holiday Weekend
There is some important Icelandic social history behind this holiday of the Icelandic tradesmen. In 1894, the managers the biggest shops in Reykjavík and the representatives of the labor unions met to organize an extra day off for those workers who were engaged in trade. Frídagur Verslunarmanna, in English "Commerce Day", or "Shop Workers' Day Off", is always on the first Monday of August. However, many festivities are held over the whole weekend in different places all around the country.
During the holiday, many Icelanders living in Reykjavík will travel to the countryside. However, for those who are staying in the capital, Innipúkinn Festival in Reykjavík is a great place for a good time. Every year this annual music festival attracts many people over the whole weekend. Over three nights, from Friday to Sunday, downtown Reykjavík's nightlife will be amazingly strong and crazy thanks to the festival. The name Innipúki describes someone who prefers to stay inside rather than to venture outside, for example, to travel to other festivals out in the countryside.
In the Westman Islands, another totally different kind of festival takes place on Bank Holiday. Þjóðhátíð, the 'National Festival', in Herjólfsdalur, is the biggest festival held during this weekend. Located in South Iceland, the Westman Islands (Vestmannaeyjum in Icelandic) have a lot to offer. With their magnificent landscapes and the renowned hospitality of the locals, this little group of islands are just off the south coast. The festival was created, unbelievably in 1874, by the Vestman Islanders. It was never easy for them to sail the short distance to the mainland to participate in festivals if the weather was bad, so they decided to create their own. Nowadays, the festival attracts around 16,000 people each year – quite a success story.
Usually, the islands have a population of 4,000 inhabitants, this, of course, means that about 12,000 people arrive from the mainland and overseas to attend this festival. As well as beautiful scenery and all-day music there are beautiful fireworks on the Saturday night as well as bonfires and activities for people all ages. On Sunday, there is the famous sing-along event with Árni Johnsen, who is a quite celebrity on the Westman Islands, his performance of beautiful Icelandic folk songs is greatly looked forward to each year.
In Akureyri, the capital of the North of Iceland, a family-oriented festival named Ein með öllu ('One with everything'), which is what Icelanders usually say to order a delicious hot dog, is held over three entire days packed with fun. Young and older people will certainly have a great time at this festival, with open air concerts every night, circus tricks, yoga classes and the funniest event: a race up the church steps (about 110 steps), the participants in the contest wear fancy dress, the crazier the better. The festival also raises money for charity with a muffin sale in the Botanical Gardens.
Photo by David Lee
Swamp soccer is one of the funniest sports ever! Said the Originate in Finland, it consists of teams of six people playing soccer in bogs or swamps, which makes it very physical, and seriously muddy. In Ísafjörður in the Westfjords the Icelanders have wholeheartedly adopted this activity, hosting the annual Swamp Soccer European Championship. Instead of yellow and red cards, a pink one can be shown for a foul, when the perpetrator will have to kiss the injured party to continue the game. Players even have to tape their shoes on, so they don´t lose them in the mud.
The teams compete during the day, but at night everyone puts their competitive spirit aside, getting together to enjoy great parties beneath the midnight sun and enjoying the breathtaking landscapes of the Westfjords. Around 3,000 people (including about 1,200 participants from all over Europe) crowd into Ísafjörður for the first weekend of August and live music can be heard all around the town.
The Herring Adventure in Siglufjörður, North Iceland, is a festival dedicated to fishing. During the 40s and 50s, the town blossomed when the herring industry expanded massively, this is still a fishing town, but the huge shoals of herring are long since gone. The Herring Era Museum in Siglufjörður, showing the history of fishing in this area, has won a prestigious European Museum Award. During this holiday weekend, circus and concerts transform the little town into a place filled with joy and fun.
Every year the National Center of Addiction Medicine organizes the Annual Sober Festival at Laugaland, near Hella in South Iceland, for people who want to enjoy a weekend of fun without drinking any alcohol or using drugs. This offers the perfect weekend for anyone who wants to enjoy themselves without any temptations – it is great place for parents and children to come together. This family festival offers live music, sporting contests and meetings all day long. During the whole weekend, you can take Zumba courses, have a massage, do some yoga, go to a bonfire and so much more. Everybody needs to bring their own tent to sleep at the camping ground. The festival has a restaurant, a swimming pool and a sports hall to keep everyone happy.
There are no excuses for being bored on this busy Bank Holiday Weekend, you have many options to consider, whether you travel with your family, with friends or just go solo.
7 – 12 August: Reykjavík Pride
Reykjavík Pride is an important event for the LGBTQI community in Iceland. The festival allows this community to be more visible and to manifest their pride in who they are. It has been celebrated annually since 1999 to support universal human rights. More and more tourists are coming to the Pride to celebrate with the LGBTQI community and show their solidarity. During the first years, the event could count about 1,500 participants. Nowadays, the number of visitors has increased to over 100,000, and many of those people are coming from all around the world.
In addition to marking the great success of the LGBTQI struggle, the Pride is a vibrant and popular cultural event in this open-minded and very tolerant country, where every community is accepted, and every cause is heard.
Photography exhibitions, talks, concerts, lectures and meetings are a key part of the weekend as well as games, movies, readings and sports. On the first day, painting a rainbow on the streets of Reykjavík has become an established tradition. Every night, big parties are organized and there is special concert. The George Michael Tribute Concert was an event which no one wanted to miss – each year there is a different concert and they are all fabulous.
Second weekend of August: Fireworks at Jökulsárlón
Photo by Hali country hotel 
You read it right, Fireworks at Jökulsárlón are a big thing here in Iceland! Each year during the second weekend of August, the icebergs in this Vatnajökull glacier lagoon are illuminated by 150 candles and a magnificent firework show. This magical event is definitely something you want to add to your list of things to do in Iceland. When the show was created in the year 2000, it was originally to celebrate the end of the season for those employed at Jökulsárlón. Now, about 1,500 visitors come to watch this surreal firework display each year. There is a small entrance fee of 1,000 ISK (approximately 10 dollars) for people over 12 years old, these fees all support a very worthy local cause, the Hornafjörður Search and Rescue Team. The fireworks show starts at 11 pm, when technicolor lights burst out from every corner of the lagoon, decorating the sky with explosions of vivid color.
Second week of August: Fiskidagurinn mikli, Dalvík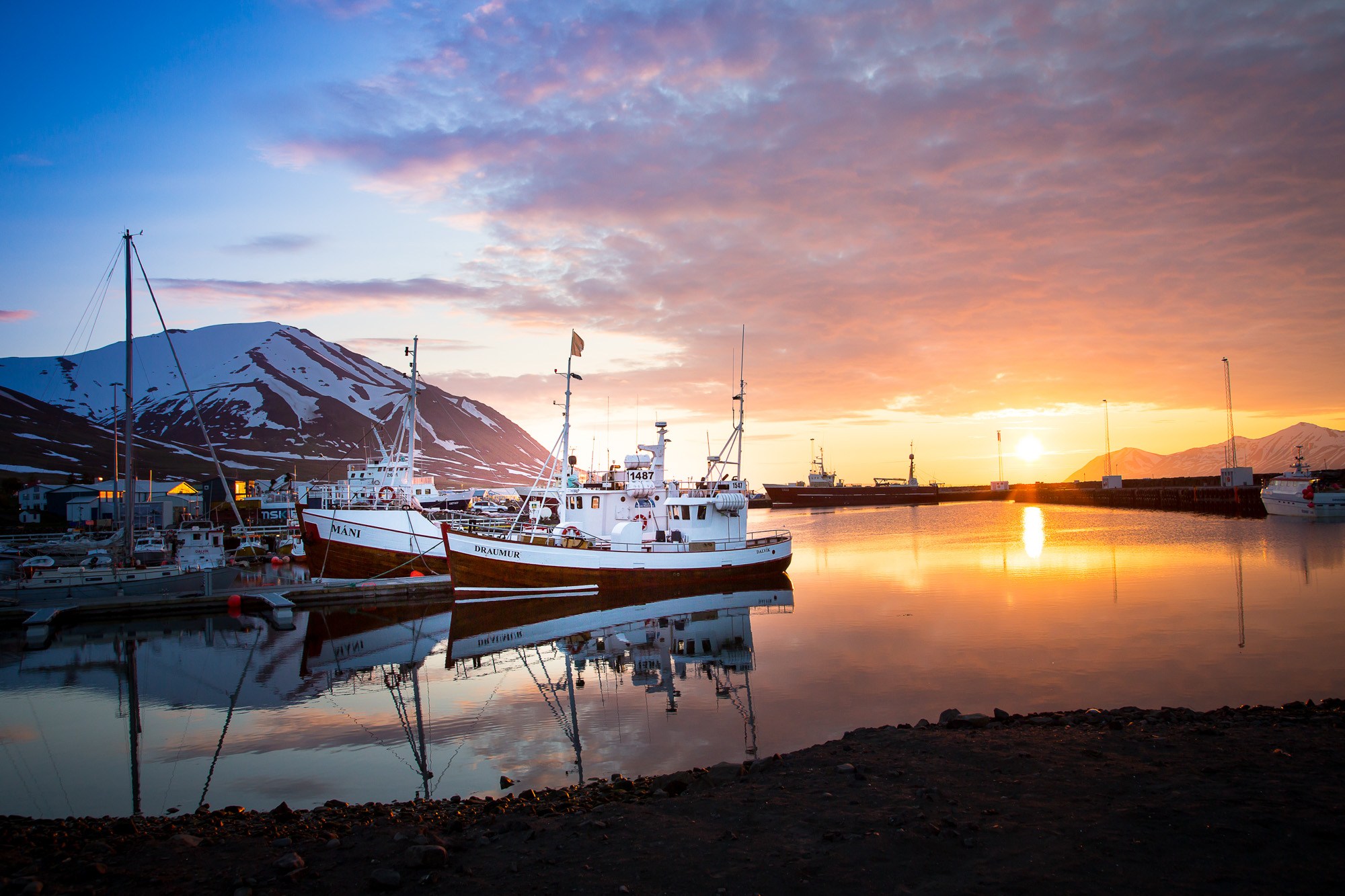 The Great Fish Day is an annual festival in Dalvík in North Iceland, which is held during the second week of August. Originally, the festival lasted for one day, but due to its success, it now extends over a few days. It starts on the Wednesday evening with the two-hour Fish Day Family Walk and ends on Saturday night with a big concert and a firework show at midnight, in between time there is always something going on.
Between 11 am and 5 pm the local fishing companies invite guests to a grand seafood buffet at the harbor to taste the best local fish and enjoy a fabulous day in Dalvík. This famous village feast attracts many people from around the country, fish lovers and, of course, tourists who are traveling around North Iceland. The longest barbecue in Iceland is set up, with 20 gas burners it is 8 meters long, ready to grill hundreds of fish burgers, haddock, cod, salmon, trout, char, plaice and just about every kind of fish you can find in Iceland – other ingredients are added but the fish takes center stage. Traditional and new dishes are served all day long. Among the traditional Icelandic ones, you can taste plokkfiskur (a fish stew), herring on homemade dark rye bread with Icelandic butter, raw minke whale, or dried fish with Icelandic butter.
Various entertainments around the harbor fill the day, such as exhibitions showing many species of fish, take a cruise on the fjord to appreciate the magnificent Eyjafjörður (Island Fjord) scenery, or enjoy art shows, street theatre and live music of all genres in the center of the town. The festival is all about hospitality and most events, entertainments and even some of the food are free of charge. Kids usually take their fishing rods to catch their own fish in the harbor then take them home to cook. Horse rides, puppet shows, and face painting are just a few of the things which keep the children entertained.
This festival mostly wants to show the importance of fishing in Iceland, one of the biggest industries of the country, fishing played a huge role on the development of Dalvík, which today is still a charming and active fishing community.
While you are in Dalvík, where you have great chances to see whales off the coast, why not go on a whale watching tour to observe these giants of the sea?
16 August: Reykjavík Beikon Festival
Let's take a minute to talk about Bacon Day. This is an important day for all bacon lovers, every year they head in great numbers to this festival to celebrate this tasty delicacy. During the afternoon, the aroma of good quality grilled bacon floats on the breeze. You  will be rewarded with a great taste of Icelandic bacon, many samples are free of charge. You will also discover other bacon products and some inspiring bacon recipes.
The festival is held annually on Skólavörðurstígur, one of the liveliest streets in the city center, between 2 pm and 5 pm. However, to find the festival, you don't need a map, just follow your nose then join one of the lengthy but fast moving queues. Many family-friendly activities are offered with lots of music, competitions, lectures about bacon and of course a lot of tasting opportunities. This is surely paradise for all bacon fans!
Have you ever tried bacon ice cream or chocolate covered bacon? The answer is most likely to be no, unless you have already been to this Reykjavík festival dedicated to bacon. You can be sure your taste buds will be satisfied with some innovative dishes. If you ever feel guilty about eating so much bacon, you may like to know that a portion of the proceeds from the festival is used to support local charities, such as the local hospital and children's organizations.
18 August: Menningarnótt, Reykjavík
Reykjavík Culture Night takes place in many locations across the city, it is celebrated by museums, libraries and businesses, in gardens and galleries, and, of course, in the city streets. This festival marks the start of the capital's cultural year, when museums, theaters and every other cultural institution launches their annual program of special events. Reykjavík Culture Night offers a wide variety of cultural events from 1 pm to 11 pm with free admission to many museums and a lot of free activities. Places stay open late into the evening, for instance, the city library, Borgarbókasafnið, offers a stream of entertainment completely free of charge. Straetó buses are free for the whole day, and many streets are closed. So, just leave your car, and take the Strætó!
Photo by Örlygur Hnefill
Some people even open their houses, offering waffles to the public. The open air concert, which attracts a lot of people, is broadcast by Rás 2 (an Icelandic radio station). The festival slogan, "Come on in", is a symbol of Icelandic hospitality. From concerts to art shows, theater performances to guided tours, the festival operates all around the city. Culture Night ends with a beautiful firework display by the harbor.
18 August: The Reykjavík Marathon
Over 15,000 people from Iceland and abroad participate in the annual Reykjavík Marathon. Created in 1983 with the goal of attracting a few more tourists to Iceland, the event has grown massively since then. There are now many options, so everyone can find the right race for them, whether they are a gentle jog around the park person, an international endurance athlete, or, like many participants, somewhere in between:
1 km and 3 km fun runs for children and adults

10 km race

Half marathon

Half marathon wheelchair race

Full marathon (which must be completed in under six hours)

Full marathon wheelchair race

A 42.2 km team relay race
The wheelchair races are only operated if at least 3 male and 3 female participants have registered.
The start and finish point is always at Lækjargata in the center of Reykjavík, the full marathon begins early in the morning at 8 am, with the half marathon setting off at 10 am. The other races have various start times during the morning. At the end of the race, the runners are entitled to free entry at any of the city's geothermal swimming pools. If you would like to take part you can find more details about the races and registration here. It is easy to register online, your last opportunity to register is the day before the race at the event Expo.
The Reykjavík Marathon is a non-profit organization and about 400 volunteers take part in the organization and execution of the event. In 1984, Reykjavík Marathon became a member of AIMS (the Association of International Marathons and distance Races), which includes more than 300 distance races in more than 85 countries.
September Events and Festivals in Iceland
Throughout September: Réttir – The annual sheep round-up
The annual sheep round-up is one of Iceland's oldest cultural traditions which is carried on all around the countryside. During the summertime, Icelandic sheep are left to graze freely in the mountains and valleys, but in September the farmers go out on their horses, accompanied by their sheep dogs to find them and bring them home. It can take several days to locate all of the sheep and to sort them all out. The farmers invite family, friends and anyone who is interested to help them out during the rounding-up process. The sheep round-up demands horse riding skills and a lot of outdoor activity but there is a reward for those who help out! A celebration, known as Réttaball, is held to mark the successful sheep round-up, there is a nice meal, traditional singing and dancing and the drinking of Brennivín (an Icelandic beverage also known as 'the Black Death'). Bringing the sheep back from the mountains is a very important event throughout rural Iceland.  
Most farmers look forward to Réttir as it reveals the results of their efforts over the year. Young people love to take part in the sheep round-up and an increasing number of tourists are participating in this old age tradition.
Early September: Reykjavík Jazz Festival
The five-day Jazz Festival in the Icelandic capital presents performances of traditional and contemporary jazz in different venues around the entire city. International stars as well as up-and-coming local artists play, giving people the opportunity to enjoy the full spectrum of Jazz styles. The festival is an increasingly prestigious event on the international jazz scene, from Nordic and Latin jazz to gospel and big bands. Created in 1990, the Reykjavík Jazz Festival attracts every year many jazz lover and those who want to discover this beautiful music genre.
Early September: Reykjavík International Literary Festival
In 2011, Reykjavík was designated a UNESCO City of Literature. Every two years the capital of Iceland has hosted the biannual Reykjavík International Literary Festival (RILF) since 1985. This is one of the most important literary festivals in Northern Europe. At the festival, you can get the chance to meet famous authors, attend readings and seminars, or you can also go to the Literary Ball and try to invite your favorite author to dance.
Both international authors and local ones attend the festival, participating in panel discussions and giving presentations. On a lighter note stand-up comedy is sometimes on offer. Some of last year's guests were Nobel Prize Winners, such as Herta Müller and J.M. Coetzee. There is no festival in 2018, the next one will be held in 2019.
Late September / early October: Reykjavík International Film Festival
Reykjavík International Film Festival (RIFF) is to Iceland what the Academy Awards are to the United States. It is one of the biggest and most diverse cultural events in the country. RIFF is a non-profit and independent organization. Since 2004, the staff and volunteers from all over the world have worked throughout the year to organize this eleven-day festival. RIFF was founded by a small group of film professionals and enthusiasts who wanted to show new and progressive quality films, giving support to innovation in the industry.
Locals and tourists flock to the cinema to enjoy the cream of the newest international movies. There is the chance to meet and chat with some of the movie makers about their work. You can also attend panel discussions and workshops as well as concerts and exhibitions. The festival also offers some very unusual movie watching possibilities, for example, a film shown at a swimming pool, or even at a filmmaker's home.
In total, the festival shows movies from over 40 different countries and highlights independent filmmaking from all over the world, emphasizing up-and-coming filmmakers. The main prize is the Golden Puffin, isn't that totally Icelandic and so cute?
If you want to attend every screening, the fee is 14,900 ISK (about 150 USD) for the entire festival. Some of the categories include the Youth Program, Icelandic Panorama, New Visions, Emerging Masters, and many more.
October Events and Festivals in Iceland
October is not a busy month in Iceland when it comes to events and festivals. The days are getting shorter, and temperatures are dropping lower even though it is not quite winter yet. Maybe, the Icelandic people had so many events over the spring and summer they just deserve a break!
9 October: Lighting of the Imagine Peace Tower, Viðey Island, Reykjavík
Created by the legendary artist and peace advocate Yoko Ono in memory of her husband, John Lennon, the Imagine Peace Tower is a work of art conceived as a beacon to world peace. It is designed in the form of a wishing well from which a shimmering and powerful tower of light arises when this is illuminated. On the base of the white structure the words 'IMAGINE PEACE' are displayed, these words are translated in 24 languages.
Photo by Reykjavik.is 
The tower of light is actually composed of many individual lights blended together to form a single beam. The varied Icelandic weather combined with the unique atmospheric conditions ensure the light never looks quite the same. The inauguration of the Imagine Peace Tower took place during a private ceremony on 9 October 2007, the date which would have been Lennon's 67th birthday had he lived, on Viðey Island, just to the north of Reykjavík. Since that day, the tower is lit annually from 9 October to 8 December (the anniversary of Lennon's death). It is also lit from the Winter Solstice on 21 December to New Year's Eve, and for the Spring Equinox from 20 to 27 March, and, finally, it is illuminated for Yoko's birthday on 18 February.
The two main reasons why Yoko Ono chose Iceland to build this work of art are that the electricity used for the light comes from renewable geothermal sources and Iceland is a peaceful country without an army. For seven years in a row, Iceland ranked as the most peaceful country in the world according to the annual Global Peace Index – quite an achievement. Through this work of art, Yoko Ono want to communicate an awareness to the world that peace and love is what connects us all in life, wherever we may live on earth. The Peace Tower symbolizes the couple's relentless campaign for world peace which began in the sixties and will continue forever.
November Events and Festivals in Iceland
7 – 10 November: Iceland Airwaves Music Festival, Reykjavík
The four-day Airwaves Music Festival showcases both new international bands and the best up-and-coming Icelandic artists. Airwaves is a real career springboard for those artists who come from all over the world to perform at the festival. In 1999, the festival took place in an airplane hangar at Reykjavík's airport with only 5 bands performing, this was its home for a few years. Nowadays, thousands of visitors from around the world come to what is now one of the hippest music festivals in Iceland.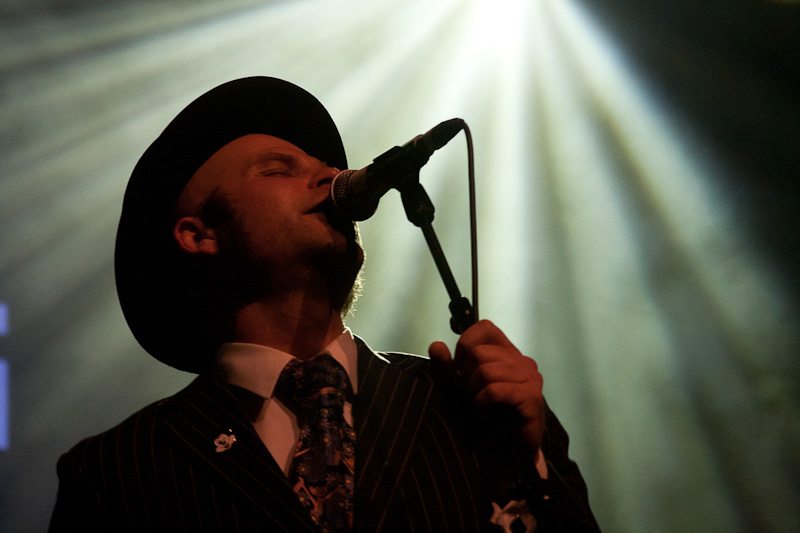 Photo by Þorsteinn Völundarson 
Both established and promising artists perform in unique venues such as tiny record stores, art museums, beautiful churches, bars or even shops and cafés. During the festival, you can taste yummy Icelandic cuisine and sample local beers, relax in the hot pools and look out for the Northern Lights.
Mid-November: Iceland noir
Iceland's festival of crime fiction 'Iceland Noir' takes place every year at IÐNÓ, an elegant cultural center by Tjörnin, the pond behind the Icelandic Parliament in Reykjavík. This young festival was created in 2013, by crime fiction fans who were wondering why Iceland never had its own crime fiction festival. To begin with this took place over a single day but it is now a two-day event, which is very important for the crime fiction fans. During the festival, you can attend panel discussions, readings and on the Saturday night there is the Icelandic Crime Disco to look forward to.
Mid-November: Everybody's Spectacular
Everybody's Spectacular is an annual contemporary performance festival bringing talented artists from all over the world to Reykjavík every year. Over 5 days, the festival brings together both local and international artists from theater and dance. There will be discussions about the current issues within our society, parties and, of course, the most incredible shows to enjoy. The Reykjavík Dance Festival and LÓKAL International Theater Festival actually blended together to create Everybody´s Spectacular, which is truly a theater and dance extravaganza.  
December Events and Festivals in Iceland
Late November – Mid-December: Christmas markets
Many Christmas markets throughout Iceland open their doors.
Heiðmörk Christmas Market: Only 20 minutes away from the center of Reykjavík by car, a great annual Christmas Market is held at Heiðmörk, a beautiful woodland area on the perimeter of the city. The market is open every weekend from 25 November until Christmas. The 13 Icelandic Yule Lads will be there imbuing the event with a magical and seasonal atmosphere, there is live music, Icelandic Christmas traditions and a great Christmas spirit. Yule-related readings and stories keep everyone entertained as they peruse the craft and design market, the Christmas tree sale always attracts a lot of people. At 2 pm everyday a small bonfire is lit, and Christmas stories are read to the children.
The Children's Christmas Workshop: At the Reykjavík City Hall from early December to early January. During this period you and your family can come to make your own Christmas decorations, there is also Christmas Cave which children love to explore.
Yule Town at Ingólfstorg square, Reykjavík: A wide choice of handcrafted gifts, decorations, yummy food including wonderfully scented roast cinnamon almonds. The centerpiece is the wonderful ice skating rink, Christmas music is played giving a wonderful Yule ambiance. Skating boots are available to hire. The market and the skating rink are open from Mid-December until Christmas.
Jólakrás Street Food Christmas Market: This is held on the weekend immediately before Christmas at Fótgetagarðurinn, by Aðalstræti right in the heart of Reykjavík. The market operates in collaboration with Reykjavík's finest restaurants, who create their own special brand of Christmas themed fine dining street food. Open between 1 pm and 7 pm on the Saturday and Sunday before Christmas.
The Christmas Village in Hafnarfjörður, near Reykjavík: This charming market is open every weekend afternoon during Advent. The Christmas tree lights are always switched on at the start, so everyone can be immersed in the warm and welcoming Christmas spirit. As well as arts, crafts and Christmas-themed goodies you can meet with Santa Claus and his elves, visit the cozy little Christmas houses and enjoy the storybook scenes.
1 December: The Centenary of Icelandic Independence
On 1 December 1918, Iceland became independent from Denmark. This year will mark the 100th anniversary of the momentous occasion. The centenary is sure to be celebrated in a big way by the Icelandic people, no doubt with tremendous emphasis on the Icelandic culture and language. Full details of the celebrations have not yet been published, although an important event is planned for the 18 July. This was the date a century ago, when Alþingi, the Icelandic Parliament signed the treaty which would give Iceland independence on 1 December 2018. On 18 July the Icelandic Parliament will hold a special celebratory session at Þingvellir National Park (Thingvellir), where the historic Icelandic Parliament was formed in the year 930. This grand celebratory session will be shown live on television.    
As the Union Treaty which officially made Iceland independent took effect on 1 December it is certain very special celebrations will be organized on that day in collaboration with universities and the people. At this time these are yet to be determined. This is kind of exciting, anyone can visit the official website and propose a project.
Mid-December: Yule Lads Bath, Mývatn Nature Baths
The Thirteen Icelandic Yule Lads only take one bath each year, and this happens in Mývatn Nature Baths, in North Iceland. Guests can join them for this special occasion and have some fun, while some of the Lads are grumpy because they don't like water. This Yule bathing session is always held two weeks before Christmas at around 5 pm. Throughout the afternoon the local people sell homemade goods and crafts, this is a great place to buy that perfect gift from Iceland.
December 24: Christmas Eve
Photo by Elizabeth Ellis
Like nearly every other country, Iceland celebrates Christmas Eve. Usually shops and businesses close at noon or soon after on this special day to allow families to get together, enjoy good food and exchange presents. The bells of Hallgrímskirkja and the churches around Reykjavík are rung ceremoniously to announce the official beginning of Christmas.
One big tradition on the night of Christmas Eve is Jólabókaflóð, translated as 'Christmas Book Flood'. It is an Icelandic tradition for people to give books to their loved ones, which they then read for most of the night. This tradition is fabulous for all book lovers, and for those who are too excited to sleep on the night before Christmas. Jólabókaflóð comes from World War II, when the importing of foreign good was greatly restricted. Paper was cheap, but the population of the country was not large enough to maintain a year-round publishing industry. Knowing other gifts were hard to come by the Icelandic publishers flooded the market with new books in the month before Christmas.
December 25–26: Christmas Day and Second Day of Christmas
Christmas is taken really seriously in Iceland. This special day is influenced by both folklore and Christianity. An old Icelandic legend says that every Icelander must receive a new piece of clothing for Christmas or they will be eaten by an enormous black cat, known as the Christmas Cat. People don't want to be eaten so the Icelanders tend to follow this unwritten rule – but who doesn´t want to get something nice and new to wear at Christmas?
Popular Christmas dishes in Iceland include hamborgarhryggur (glazed rack of ham), rjúpa (rock ptarmigan) or, particularly in recent times, roast turkey. Hangikjöt (smoked lamb), the traditional Christmas meal for centuries, is still eaten. Note: Public services such as buses, museums, swimming pools, shops and restaurants cease operating, or operate in a limited way from early afternoon on Christmas Eve. With more tourists around hotel restaurants and some others are open over Christmas nowadays.
The Second Day of Christmas, or Boxing Day, is a major extra holiday which families love to spend together, although, with more public services in operation a few more people have to work. The Icelanders love this extra holiday, which give them the chance to rest and recover from Christmas Day!
December 31: New Year's Eve
During New Year's Eve, you have many opportunities to see firework shows all around the city. They are 100% organized by the inhabitants of Reykjavík and not funded by the city. They usually begin around 10:30 pm and people buy their fireworks from ICE-SAR, the Icelandic Search and Rescue Service, which raised a lot of money for this association. To see the most amazing fireworks, Hallgrímskirkja, the iconic church is one of the best places to go, a great spot to observe the magnificent explosions of color and light shows. This is the one night of the year when the Northern Lights are totally eclipsed, with the smoke from so many fireworks lingering in the air you don´t have much chance of seeing them from Reykjavík.
During the evening there are also many official bonfires around Reykjavík. The closest one to the city center is Ægisíða, on the seafront, this is lit around 8:30 pm. Bus services cease early in the afternoon, so unless you have a car, you should plan to visit a bonfire you can walk to. Shops and quite a few restaurants will also close early in the day.
The traditional dinner on New Year's Eve is lobster or shrimp cocktail for the starter, roast turkey and caramelized potatoes with a Waldorf salad for the main course and ice cream, or some other light and refreshing dessert to finish.
Related blogs
August is one of the best months for visiting Iceland. Here's our complete guide to what's on, where to go and what to do!
July 16, 2019 , By Ragnheidur
What are the pros and cons to traveling to Iceland during summer? What is there to see, to know and to do? Inga takes on the Icelandic summer in an excellent way.
June 13, 2017 , By Inga
Iceland is a land of contrasts, of glaciers and hot springs, of darkness and eternal light. When planning your trip to Iceland you should ask yourself, what is the best time to visit?
August 9, 2017 , By Ragnheidur
Spending Christmas in Iceland? Or just casually traveling to Iceland in December? This blog will go over all the basic info you need for mid-winter traveling to Iceland, which tours to do and what to see in Reykjavík. Let this be the ultimate guide to how to spend December in Iceland.
December 4, 2017 , By Ragnheidur