The Golden Circle consists of three of the most popular tourist sites in Iceland; Þingvellir (Thingvellir) National Park, Geysir hot spring area and Gullfoss waterfall. Golden Circle takes you from Reykjavik one way, and after visiting the sites, another way back to the city, making it into a 300 km circle.
Þingvellir National Park is one of UNESCO'S world heritage site both for its geological uniqueness and its historic significance. At Þingvellir the Eurasian and North American tectonic plates meet and you can clearly see the rift valley that is caused by the drift of the plates. Icelanders regard Þingvellir almost as a holy place. It was here that Althingi, parliament was founded in the year 930 ad, making it one of the oldest in the world.
Geysir hot spring area takes its name after the Great Geysir that found there. Although the Great Geysir has been dormant for some time now, the area is highly active. Fumaroles, bubbling hot springs and Geysir's successor, Strokkur erupts every 5-10 minutes, sending boiling water up to 20 meters up to the air.
Gullfoss waterfall was heroicly saved from utilization by a one women environmental army in the early 1900's. Once you have been there we are sure you will be just as thankful to her as the rest of us. We recommend to everyone visiting Iceland to do the Golden Circle.
Golden Circle on Multi-day tours
---
About the Golden Circle
Gullfoss, Geysir and Thingvellir
The Golden Circle tour is without a doubt the most popular tour to do while visiting Iceland and there are great reasons for it being so. Once you step out to explore the extraordinary history, the gushing geysers and roaring waterfalls you will see what Iceland and its powerful nature is truly all about. The Golden Circle tour can be done on a self-drive mission but if you join a tour your guide will tell you the story behind each location and that will up the experience by many levels.
The Golden Circle consists of three stops located in the South West of Iceland. The first usually being Þingvellir National park, located only 45 minutes from Reykjavík and the second Geysir and third Gullfoss waterfall. These three locations form the circle all though many like to add locations such as Kerið, Laugarvatn, Hellisheiðarvirkjun geothermal power plant or Skálholt to the route.
Fun Fact about the Golden Circle: It isn't actually a circle, not even close, but if you do a few extra stops, add Flúðir and drive the South Coast back to Reykjavík you have made a circle. Don't let this confuse you!
Thingvellir National Park
Þingvellir which is often spelled Thingvellir and sometimes even misspelled Pingvellir is not only a place of great geothermal wonderment but also one of Iceland's most historic locations. It is where the Icelandic parliament was founded in the year 930, making it one of the first democratic parliaments in the world and a location where Viking gathered to settle arguments and fight amongst themselves. It is where stunning waterfalls plunge down lava cliffs and where the continental plates drift apart in a stunning matter clearly visible to the naked eye.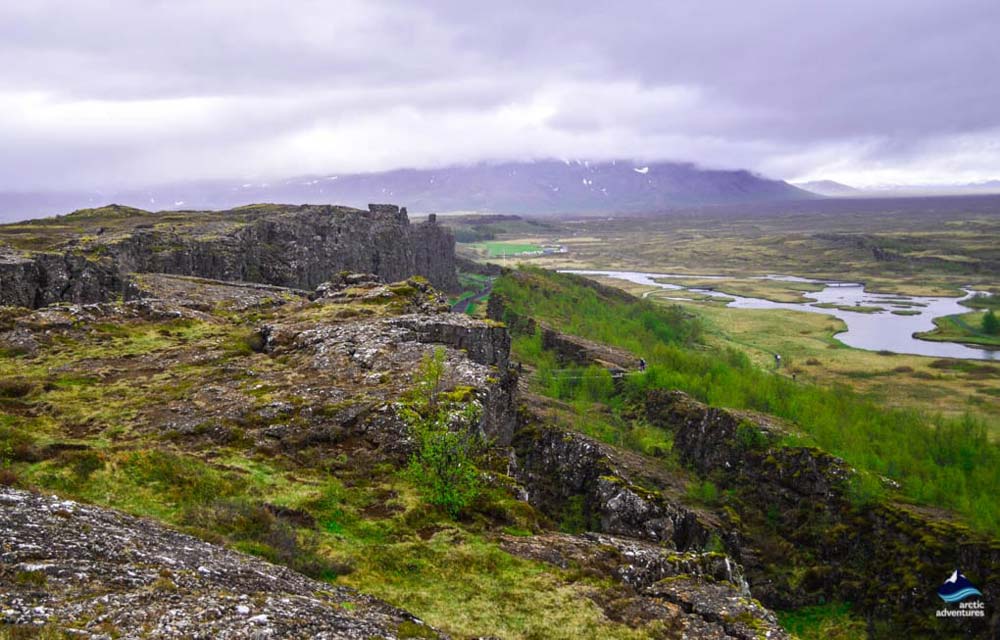 This place is truly unique and the reasons you should visit are endless. Walking in Almannagjá við Lava Rocks closing in on both sides is a feeling you will never forget and seeing Lögberg e. Lawrock where men used to stand tall above the crowd and recite their cases and verdicts. There are crystal clear waters and lakes including Peningsgjá e. Money Pond, Drekkingarhylur e. Drowning Pond and the famous Silfra fissure where you can go on guided tours snorkeling or diving in between the continental plates.
Thingvellir's history is something you will want to get to know and learn. This place is truly one of the rocks in Icelandic culture and for many a true totem of the Icelandic nation. It is where many of the biggest decisions have been made and where some of Iceland's most significant events took place, something that still today is taught all through the school system in Iceland. Thingvellir is a place you will not want to miss out on!
Geysir
The Great Geysir in Haukadalur is the first thing that really got Iceland famous. When travelers first started coming to Iceland they would visit the Great Geysir and the first mention of the word geyser in literature is in an English travel description from 1763 when describing the Geyser. The second oldest sample of the word can be found in the travel book "Uno von Troils" from 1780 but there the word is being used overall geysers in Iceland. From there the word caught on and is today used for all geysers.
The name Geysir is taken from the Nordic verb "að geysa" meaning to gush and was very fitting when Geysir was at its best and could spout into the air like a water rocket reaching up to 170 meters (557.7 ft).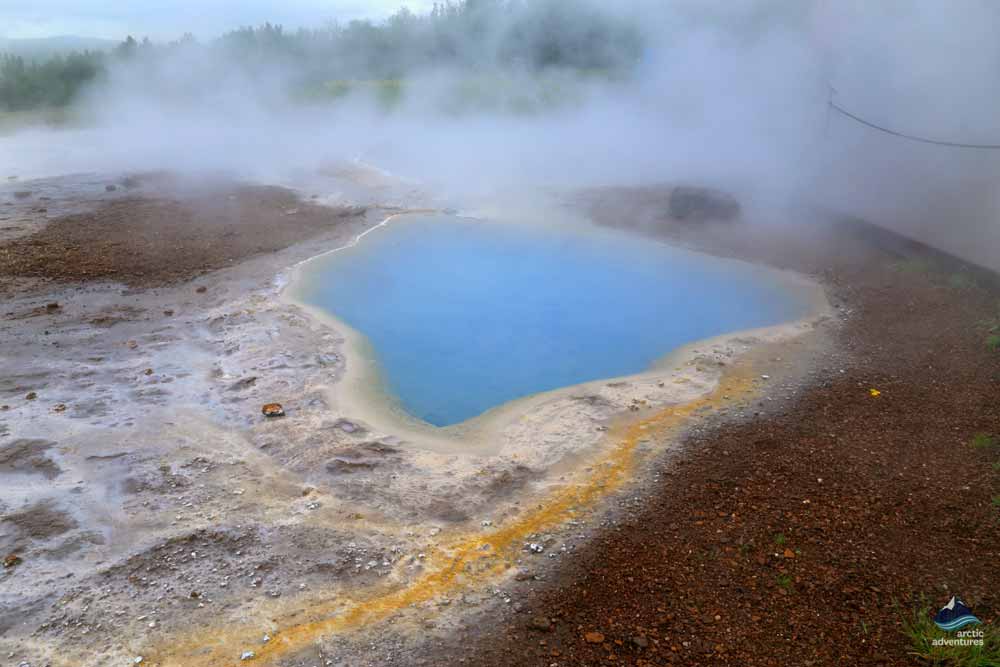 Geysir has through the centuries been very sensitive to any geothermal and earthquake activity and has shut down a few times in living memory. Researches have shown that geyser has been active for approximately 10.000 years so you can only wonder how high is his actual record.
The oldest account of the hot springs in Haukadalur valley dates back to 1294 and in it, the writer describes new hot springs that recently formed in an earthquake. Sometimes though it was vise versa, in 1630 records state that Geysir erupted so violently that the region shook and resembled an earthquake.
In the year 1845 Geysir was at a record high reaching 170 meters (557.7 ft) but only a year later it the geyser was only reaching about 43-54 meters (141 to 177.1 ft) and by 1896 it was almost dormant until an earthquake woke the beast and it started off again this time reaching 60 meters (196.8 ft) and lasting up to an hour each time!
From the beginning of the 19th century, Geysir started cooling down rapidly and in only 6 years the gap between eruptions went from 30 minutes to 6 hours. In 1936 the locals dug a man-made tunnel to release the silica that was closing the geyser's vent and off it went again but then completely clogged again and the locals again jumped into action and unclogged the Geysir in 1981 but this time special soap needed to be used to get it going. This was done at special occasions but was later stopped due to environmental concerns.
When the big "Suðurlandsskjálfti" or South Iceland Earthquake then occurred in 2000 Geysir randomly went off on its own and even reached 122 meters (400.6 ft) for 2 days but then continued going off about 8 times a day but by 2003 had gone down to about 3 times a day. Today Geysir doesn't erupt but since it stopped Strokkur has gotten all the attention.
But what is Strokkur?
Strokkur
Strokkur is Geysir's baby brother and the geyser that you will see going off while visiting the Golden Circle. Strokkur has the unbelievable ability to erupt every 4-10 minutes going up to 15-20  meters (49.2 to 65.6 ft) into the Icelandic sky resulting in an unintentional but synchronized awe of the crowd watching. Strokkur's name is quite humorous as it actually means churn like the ones that were used to make butter in the old days. We are not completely sure why the name was given but it might have to do with how quickly the geyser goes up and down like a butter church.
The first mention of Strokkur is in 1879 after an earthquake unblocked the channel of the geyser and it started going off. In 1815 the height was at a record high at 60 meters (196,8 ft) but today reaches highest about 40 meters (131.2 ft), and it happens very rarely.
It got blocked again in the 1960s but the locals missed it so much they cleaned out the conduit and it has been spouting its waterworks ever since!
It is very important to be careful when visiting  Strokkur as the water is extremely hot and at only 1 meter (3,2 ft) depth the temperature is 90-95°c (194 to 203 Fahrenheit). 
Gullfoss Waterfall
Gullfoss or the Golden Falls is usually the last stop on the Golden Circle tour. It is a mesmerizing two story, 32 meters (104.9 ft) high waterfall that originates at Langjökull glacier, the second largest glacier in Iceland and makes its way through a rough canyon creating an awesome scene. The waterfall is one of the most popular attractions in Iceland and many don't know but the river Hvítá that runs through it is also a local's favorite for whitewater rafting trips.
Gullfoss waterfall is extremely powerful and the average amount of water that runs down the waterfall is 140 cubic meters per second or 4.900 cubic feet. The waterfall has two drops first an 11 meter (36 ft) one and then the second one 21 meters (105 ft) which make the waterfall even more scenic and photographic.
You can view the waterfall from a few different angles, a viewing platform from above and then down by the lower parking lot or by walking all the way down to the platform of the first drop. We recommend trying them all as the vista is different every time!
From some angles, the water seems to fall and disappear into an opening in the ground but the further down you go the more you see and it the water supply truly seems to be endless.
---
How long does the Golden Circle take?
Driving the Golden Circle route from Reykjavík and back without stopping would take about 3 hours and 20 minutes but we certainly don't recommend doing it like that. Each location deserves at least 20-30 minutes and at Thingvellir, you will need even more time if you are going to walk through the National park and get to know the history!
The Golden Circle is a half day tour but done properly with food stops and maybe some other attractions you should reserve a full day. To make the most of the Golden Circle we recommend adding to it some adventures such as snorkeling between the continental plates at Silfra Fissure or relaxing in the hot water of Iceland's oldest swimming pool at the Secret Lagoon.
---
Road Conditions on the Golden Circle
The road conditions are great for the Golden Circle and you will not need to get a 4×4 wheel car when exploring it on your own. During wintertime, it is still important to check the road conditions online at www.road.is and make sure you know what type of weather is to be expected. When driving the Golden Circle in winter you need to have good winter tires.
Can you do the Golden Circle in Winter?
The Golden Circle is a great day trip for all times of year and most certainly doable in Winter. The sights and surroundings are stunning when decorated with snow and ice. Still, it is important to dress well, have proper good hiking shoes (some even like to have ice grips under their shoes, which you can purchase at any gas station) and to have some experience in driving in snow and ice. However, those that would rather not drive in winter needn't worry as the golden circle tours are by far the most popular tours in Iceland.
---
Activities on the Golden Circle
The Golden Circle in Iceland has something to offer everyone, everything from rafting to enjoying homemade ice cream, you are sure to have a good time exploring this famous part of Iceland.
Read more about the Golden Circle