Join us for this great two-day tour along the south coast and enjoy all the best sites the south has to offer. This tour offers the unique opportunity to see a natural ice cave and a great chance of catching the northern lights!
INSTANT BOOKING CONFIRMATION
On this two-day winter tour in Iceland, you have the best option to explore the South Coast, a natural ice cave and Jokulsarlon Lagoon. It's a group tour where you explore all the highlights of the Icelandic South Coast and visit a magical ice cave in Vatnajökull Glacier, making the most of your short holiday in Iceland.
Suitable for most people in fair condition.
Tour highlights

Small Group Experience
Natural Ice Cave
Seljalandsfoss Waterfall
Skogafoss Waterfall
Vatnajökull - Europe's biggest glacier
Skaftafell Nature Reserve
Jökulsárlón Glacier Lagoon
Diamond Beach
Vík - a coastal village
Reynisfjara - basalt columns & black sand beaches
Northern Lights*
Eyjafjallajökull - glacier volcano views*
Hekla - volcano views*
*Jökulsárlón Glacier Lagoon Boat Tour - optional (May-Oct)
Included

Pick-up & drop off from Reykjavík
Hotel Accommodation with a Private or a Shared Bathroom
Breakfast at the Hotel
Guided Group Tour in a Minibus
Visit to all main highlights of the South Coast
Guided Ice Cave Tour
English Speaking Tour Guide
All Necessary Safety Equipment
Free WiFi on Board Your Bus
South Coast Highlights
This tour will show you the scenery and highlights along the south coast of Iceland and take you into the shimmering blue/white interior of a magical ice cave. The drive along the coast will take you through farmlands and a few small towns on your way to visit Seljalandsfoss Waterfall, here you can walk behind the cascade to look out through the 'curtain of water'. Next up, is Skógafoss Waterfall, you can also view this waterfall from an unusual point if you wish, a pathway with many stops leads up the eastern side!
We will head on to the black sand beach at Reynisfjara, with the dramatic Reynisdrangar basalt sea stacks rising off-shore. The basalt column cave and formations here are stunning, just make sure you stand well back from the powerful Atlantic waves when you are exploring. We stop for lunch at the town of Vík, with the picturesque church standing high on the hill.
We drive onwards through breathtaking lava and volcano mountain landscapes to Kirkjubæjarklaustur, an attractive village with an interesting history, the name means 'Church Town Monastery'. You will spend the night at a country hotel or guesthouse in the Skaftafell area, arriving early evening. If the forecast is hopeful your guide will show you the best spot to watch out for the northern lights, we can never promise, hopefully, glittering jewel-bright swirls will ripple across the night sky.
Vatnajökull, Jökulsárlón and Diamond Beach
After a good breakfast we get on the road, today is centered on Vatnajökull National Park and the majesty of the glaciers. We visit Jökulsárlón Glacier Lagoon, one of the most surreal sights in the world, let alone Iceland. Huge icebergs which were once part of the glacier float on the enormous lagoon as they slowly make their way towards the open sea at the nearby Diamond Beach. Some icebergs float ashore, where they sit glittering like diamond jewels on the black sand. The extraordinary vistas here have been very popular with the makers of famous action movies, including James Bond.
You will explore a natural ice cave in Vatnajökull, the largest glacier in Europe with a qualified glacier guide, with light flooding through blue ice an ice cave is one incredibly photogenic. Your experience and knowledgeable guide will safely and confidently guide you through the wonders of the glacier with fascinating information, including how ice caves are formed each year and the story of the cave you are visiting. 
Heading back to Reykjavík a stop is made at Skaftafell National Park, in good visibility there will be fabulous views of jagged-toothed mountains and famous glaciers. We will keep an eye out for the Northern Lights on our way back and will make a short stop if conditions allow for it.
---
Arrival in Reykjavík is expected around 21:00 pm. The infamous Icelandic weather can sometimes influence the schedule a little in winter, but don't worry, our expert travel planners always have a plan B – it's all a part of the exciting Iceland experience.
---
Here you can find a detailed list of information about everything you need to know about this tour:
2 Day South Coast Guide
---
Pick-up Information
Pick up is at 09:00 am from your hotel or a nearby meeting point in Reykjavík. Picking everyone up can take up to 30 minutes, your patience is much appreciated.
Available pick-up points: Arctic Adventures's pick-up list.
---
Practical Information
What to bring: Warm outdoor layers (wool, fleece or synthetic are best, not cotton), a waterproof jacket and pants, headwear and gloves. Good hiking shoes are recommended.
---
Please note
If you do not choose the single supplement you will be paired in a twin room with another participant of the same gender. 
Our main ice cave to visit is the Crystal Ice Cave. At times it is inaccessible however and in that case we will visit another ice cave. During the summer months (April-October), we will go to The Ice Cave Under the Volcano ice cave. If it is inaccessible, we will do a glacier hike instead.
DAY 1: The Grand South Coast & Northern Lights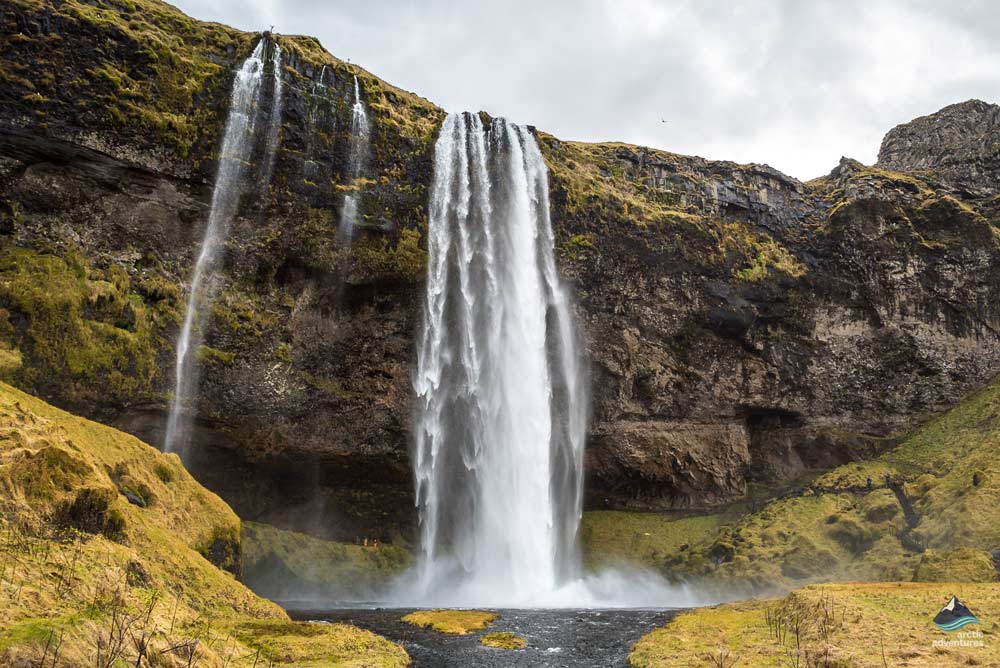 Pick up is at 09:00 am from your hotel or the Reykjavík meeting point you have chosen. Please note: picking everyone up can take up to 30 minutes but you do have to be ready and waiting at 09:00 am.
This jewel of Iceland tour packages will take you south before continuing to the east as we whisk you away for two days of amazing adventure sightseeing. We drive towards the slowly rising sun on the way to our first stop, the very unusual Seljalandsfoss waterfall, you can actually walk behind the gracefully falling cascade. It is well worth getting a little damp for such an exciting experience!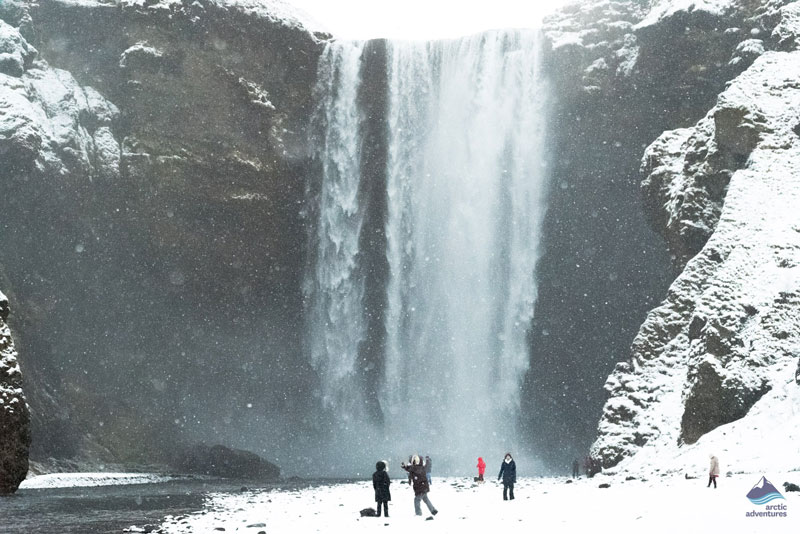 Our next highlight is another waterfall, Skógafoss, located at the foot of a very famous volcano, Eyjafjallajökull.  On a clear day, you will also get a great view of another volcano mountain glacier, Mýrdalsjokull. As we continue on, we come to Reynisfjara, a black beach where some fantastic sights, such as the picturesque basalt column formations and the famous Reynisdrangar peaks, will greet us. We will drive through the charming small town of Vík on our way to our accommodation. Throughout the entire day, you can expect to see breathtaking landscapes consisting of vast lava fields, waterfalls, black sands and glacier tongues. We will enjoy a relaxing evening, if the conditions are right we will hunt for those northern lights! The countryside close to Vatnajökull glacier, away from the city lights, is perfect for spotting this natural phenomenon. Your hotel will be in the Skaftafell area.
Day Highlights

Seljalandsfoss Waterfall
Skógafoss Waterfall
Reynisfjara Black Sand Beach
Villages of Vik
Northern lights search
Included

Pick-up in Reykjavik
Guided Tour in Minibus
Visit to Highlights of the South Coast
One night in a country hotel in the Skaftafell area
Private or Shared Bathroom
Accommodation
Hótel Geirland
or Similar
Day 2: Land of Ice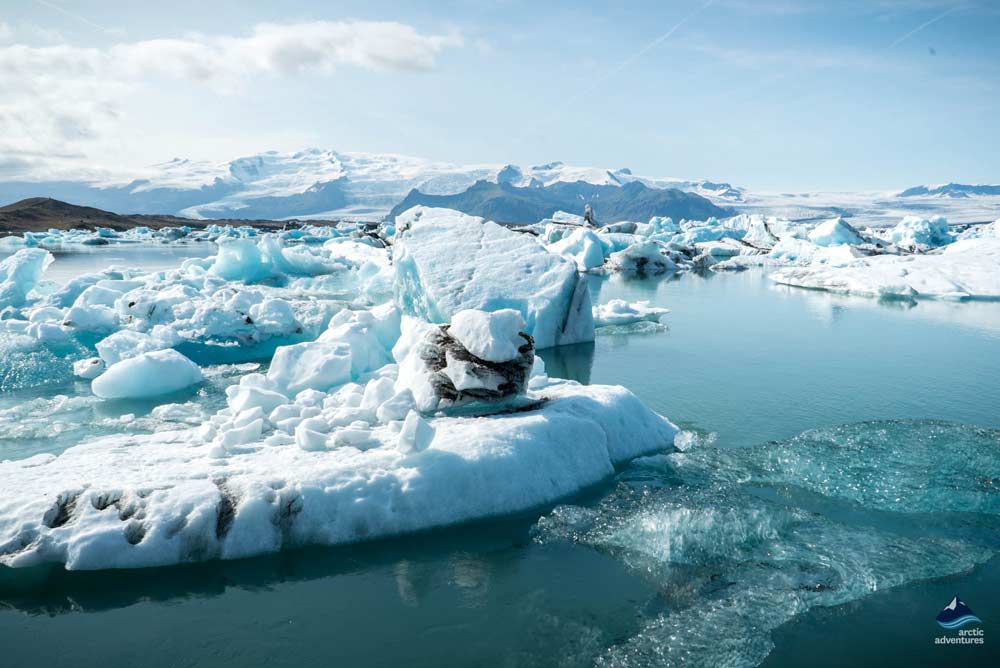 Today you will really get to know the glacier, venturing into the sparkling, blue/white world of an ice cave with a qualified guide, and visiting the extraordinary glacier lagoon, Jökulsárlón. Getting up close and personal with a vast glacial tongue of the great Vatnajökull glacier does not get any better than this!
The renowned Jökulsárlón Ice Lagoon, made famous by several blockbuster movies including Batman Begins and The Secret Life of Walter Mitty, to name just a couple, is a totally mind-blowing place. Splendid icebergs of amazing shapes, some incredibly large, have calved off the receding Breiðamerkurjökull glacier. They jostle one another in the huge lagoon before gliding on their surreal and stately journeys to the Atlantic ocean. Many of these natural ice sculptures are washed onto the nearby Diamond Beach, you will see them glittering like diamonds, as they rest on the dramatic coal blackness of the beach.
Next, you go into the glacier with a qualified guide! Ice caves are fascinating. New caves are formed each winter by the melt/freeze cycle of the glacier, they are always changing, both from year to year and within each winter. The journey into an ice cave will give photographers the most amazing opportunity to capture the shimmering blue light which passes through the glacial ice. Surprisingly deep shades of jewel blue will surround you, these tones are caused by ice compression, the way we perceive light and color, and the blueness can sometimes be intensified by algae.
After visiting the ice cave we head towards Reykjavík. We stop at Skaftafell Nature Reserve in Vatnajokull National Park, a green area in the midst of amazingly jagged mountains and glacier-topped peaks, the splendid scenery of Skaftafell is certain to be a highlight of your tour. We will keep an eye out for the Northern Lights on our way back to the city and will make a short stop if conditions allow for it.
We return to Reykjavík around 21:00 pm.
Day Highlights

Jokulsarlon Glacier Lagoon
Natural Ice Cave
Vatnajökull Glacier
Diamond Beach
Skaftafell Nature Reserve
Northern Lights search
Included

Hotel breakfast
Visit to Jokulsarlon Lagoon
Safely guided tour in a natural ice cave
Certified Glacier Guide
Necessary glacier equipment
Drop off in Reykjavik
Book this tour
Price from: 54.990 ISK
NO ADDITIONAL FEES - BUY
DIRECTLY FROM THE OPERATOR
FAST & SECURE PAYMENT
You have chosen: Private Bathroom
Loading...
"Incredible 2 Day Tour of the South Island!"
Outstanding tour and our guide Erla was excellent. She was bubbly, fun, attentive and drove us to our destinations smoothly and quickly.

This tour showed us waterfalls, black sand beaches, iceberg lagoon, walked a glacier, explored an ice cave, viewed the glaciers and volcanoes from afar, and saw the Northern Lights. It was everything we wanted, packed into 2 full days.

These are busy days, you will have things to do all day and end the evening around midnight (if you want to see Northern Lights) well worth the price.

We stayed the night at a pleasant hotel overlooking the mountains, outstanding dinner and breakfast, very comfortable clean accommodations.

If you want the South Island highlights in a quick couple days this is the tour for you. Not very challenging hiking, moderate on the glacier, my mother is 72 years old and she did it with minor difficulty.
"2 Day - South Coast, Ice Cave, Skaftafell, and Jokulsarlon Ice Lagoon"
This was the best part of our trip. The Ice Lagoon is beautiful and awe-inspiring. We had a fantastic guide in Hugrun, she was great and if you are offered the chance at a nighttime glacier hike, take it! With the full moon lighting the way it was something I won't soon forget.
"2 Day - South Coast, Ice Cave, Skaftafell & Jokulsarlon Ice Lagoon"
This was the highlight of my trip to Iceland in winter! Our guide, Adolf, was amazing and so knowledgable. Every stop was gorgeous and it was so nice to experience more than just Reykjavik and the places nearby. The hotel we stayed in was also very nice and clean. We were able to stay up and watch for northern lights right outside the hotel – the hotel will do a wake up call if they see some action! Overall, I thought it was a little pricey at first, but definitely worth every cent and made my trip a wonderful experience. I suggest everyone go.
2 Day South Coast - Ice Cave, Skaftafell & Jokulsarlon Ice Lagoon | Average rating: 4.9/5 based on 21 customer reviews
"tour guide" |
By Radha Vallabhaneni 01/02/2018
The tour guide was patient , informed and very helpful all the way. Highly recommneded.
"Best excursion ever!!!" |
By Dounia 01/02/2018
"I write this as I'm sitting in front of my departure gate leaving the breathtaking Iceland! My most vivid memory is the tour that I did with Arctic adventures. Everything about it was fantastically well done: from the timing and pick up location, to the perfect-timed stops and cozy guest house booked for our stay. The only thing that tops their back-office service is the wonderful WOOOONDERFUL guide we had!! Oliver, if you re reading this, please know that you made my Icelandic journey a life-changing experience!! Thank you for your patience, knowledge and most importantly: your positive energy and good spirits throughout the trip (btw: I did catch the Auroras on the evening of Jan 31st!! WHUHOUUUU!!)! Oliver shared with us his favorite spots, which made us feel less than tourists and more like locals!! His driving was flawless, even with the tough snow storm we had to go through on our way back. His food recommendations are the best! In other words: best money I've ever spent! Shout out to all of AA team and a huge Cheers to Oliver!! #Onwards"
"Excelente" |
By Diana 01/02/2018
Nuestro guía, Oliver, fue fantástico. Nos explicaba todo con mucha amabilidad y siempre nos hizo sentir cómodos. Manejó con tormenta de nieve con mucha pericia y nos enseñó cómo configurar la cámara. Realmente hizo un trabajo excelente. Sería mejor si el vehículo fuese más espacioso.
"Whirlwind of an Adventure!" |
By Gem 01/02/2018
Thank you for the time of my life!
"Excellent 2-day South Coast tour with Oliver" |
By Christine 05/02/2018
We had a fantastic time on our 2-day South Coast tour with guide Oliver. Excellent value, this tour was packed with 2 days of amazing sights. Oliver was well-informed on the sights and presented the information with good humour. Plenty of time at each site, with tips (and crampons) to ensure we got the most out of our visit. Would recommend this company (and Oliver as a guide) without hesitation.
"Great tour and guide" |
By Reem 06/02/2018
We had a fantastic trip! Highly recommend doing this tour and save yourself the trouble of driving yourself around, especially in the winter weather. All the locations were amazing and we had sufficient time in each. There were plenty of stops along the way to eat and use the bathroom. Our guide was a guru of knowledge with a great sense of humour. The hotel we stayed at was nice and comfortable.
"We had the most fantastic time" |
By Lin Lefevre 16/03/2018
We had the most fantastic time. Our guide Ivan went out of his way to make sure the group had the best experience. He was so proud of his country and made lots of extra stops so we could see as much as possible. We stayed overnight and he booked a table for us all to eat together. He entertained us the whole evening with his funny tales. I will never forget the experience and beautiful scenery. Thank you
"Great guide and wonderful tour" |
By Fred Lott 19/03/2018
We had Linas as our guide for the two-day South Coast tour, and had a wonderful time. The pacing was well-done, with enough time at each major stop, as well as good opportunities for comfort breaks or food. He provided lots of interesting and informative background and stories en route, which I appreciated. We had a third-party tour operator cancel, but our guide was able to seamlessly find a replacement and schedule a fantastic hike in the morning (which ended up being one of my favorite things on the tour). Then, even at the end of a long two-day trip, we were stuck in a backup from a road closure and he kept a positive attitude and good humor, which was truly impressive. We stayed overnight in Hof, and the hotel was clean, modern, and very comfortable, with a good restaurant for dinner and breakfast. Communication with Arctic Adventures was easy and the there were no issues with any other logistics. Thanks for a great experience!
"Breathtaking sights, great guide" |
By Judith 19/03/2018
I don't believe there are many places on earth in which you can experience so many different bombastic natural sights in two days as on this breathtakingly beautiful tour. Gorgeous waterfalls and driving though lunar lava fields, blue icebergs in the lagoon, diamond bergs on a black beach, basalt rock formations, glaciers, volcanoes - really, it's awe-inspiring. Our guide Ævar was great. He explained so much, gave us really good insights into what we were looking at and I really learned quite a bit about Icelandic history and natural history. Due to poor weather conditions, the ice-cave part of our tour was cancelled, but this was a good thing: we had heard some other tours were going out but I and the others on my tour were grateful that Arctic Adventures put our safety first, and offered us other options that were really good. Bring your camera! Thank you Ævar and Arctic Adventures for an amazing two days.
"An experience for a lifetime" |
By Alfonso Sandoval Rosas 05/03/2018
I am very satisfied with the tour ""2 DAY SOUTH COAST - ICE CAVE, SKAFTAFELL & JOKULSARLON ICE LAGOON"". The transport was very comfortable, the pickup and drop-off were on time, and we succesfully covered all locations of the itinerary. Our guide was really nice and attentive. She even managed to solve issues which came up, such as our melting ice cave (she was able to find an alternative tour for us which visited another ice cave in proper status). The only detail I would add is the reaching to the actual icelandic culture with local people in between destinations. Although our guide was not icelandic, she provided us with cool cultural tips (stories, sagas, etc). However, being able to know icelandic people at the locations would really add up to the overall experience. The folk would absolutely complement the tour.
"Great experience!" |
By Francesco 07/03/2018
- Well organized tour - right time for all the attractions - friendly guide - comfortable seats - lots of fun!
"Once in a lifetime" |
By Tina 08/03/2018
Once in a life time experience that everyone's gotta make.
"My husband and I really enjoyed our two day/one night adventure" |
By Carla 24/03/2018
My husband and I really enjoyed our two day/one night adventure with Artic Adventures. Our guide and the group were an absolute pleasure. The guide was a safe driver and even went out of his way to accommodate everyone in our group. I asked at dinner any chance of getting close to some of the miniature horses. The next day he stop by an area where we were able to pet the beautiful horses. It made the entire group so happy. Thanks for the fun two days!
"We enjoyed the tour in more than what we can say" |
By Victorhong 24/03/2018
We enjoyed the tour in more than what we can say. The tour guides were exceptionally helpful,professional and clearly expaining the details during the travel. I would strongly recommend this Artic Adventure tour to my friends.
"2 days South coast" |
By Nikola Perosevic 25/03/2018
I just want to say that I spend 2 amazing days on Iceland thanx to Arctic adventure. Initialy we were supposed to arrive to Iceland 2 days prior to tour but our flight was cancelled since we had storm in Boston. Despite that, company agreed to provide us another 2 day tour ( deapite cancelation policy) since we did not have a time for 3 days tour. My expirience with AA was the best. Our guide Becca ( originaly from UK) made suprahuman effort to expain us everything and she was so aproachable to ask her for anything and seek for any help. I would definitely come again to see Jokulsarlon glacier and to do half day glacier hiking. And will strongly recommend this company for everyone who is planning trip on Iceland Nikola from USA
"2 day south coast tour" |
By fergal seeballuck 25/03/2018
This was a really good and fast way to see the highlights of the south coast - our guide was excellent and very knowledgeable. She was a geologist, so this was a fantastic insight to get into the heart of Iceland. I really enjoyed everything I saw, and was impressed by the efficiency and economy of all of our lunch/ break stops. The group was small, which made it easy to get out and about at each stop. We had very bad weather, which is out of our control, sadly, so I would like to return at a better time of year. The only down side to taking a tour was that I felt I would have liked longer at some of the stops, especially on the first day. I felt quite rushed at times and always with one eye on the watch to not be late - when I return I will rent and take my own time. But if you are pushed for time (like was this time) or visiting in bad weather, then this is a really nice option and I would highly recommend the company.
"Great guide" |
By Nicolaj 04/02/2018
From all of our 4 trips with Arctic Adventures we had some very nice guides, however our guide, Micah from Canada was the best! He was very caring all the time and wanted to make sure that we saw as much as possible during the two days. He was very professional towards the whole group and went beyond the expectations with the tour by showing us more than what was officially on the tour.
"A fantastic tour with Arctic" |
By Sophie 01/03/2018
A fantastic tour with Arctic: despite terrible weather wonditions, we managed to make it to all advertised destinations. Our guide was super nice and funny, provided us with extensive background on Iceland and even took extra time to show us Northern Lights! I definitely recommend choosing Arctic Adventures!
"Friendly guide and good tour" |
By Alain J 08/04/2018
Thought the amount of time at each stop was perfect. Not too long, not too short. Improvement area: The guide is really more like a driver.. It would have been nice if he had given more information about Iceland or about the sites we were going to see. He did give some info but it wasnt much. The glacier hike was a little too easy, would have prefered to do another type of hike, a little bit more intense. Overall very happy with the tour!
"One of the best days of my life!" |
By Philippa Parmar 08/04/2018
An absolutely fantastic tour! This isn't one of those "let's stop an hour and a half for lunch" tours - it was go go go - and well worth the money! The scenery along the south coast is simply stunning. And to top it off, our amazing guide Aaron (sorry if I spelt that incorrectly!) stopped off at the Black Diamond Beach right at sunset - magical! Thank you!
"South Coast tour, March 2018" |
By John 28/04/2018
I took the South Coast, Ice Cave, Skaftafell & Jökulsárlón Ice Lagoon tour at the end of March 2018. The trip covered all the main highlights and Becca was a fantastic tour guide, combining a mixture of history, facts and humour throughout the two days to make the trip even more enjoyable (and despite a largely unreceptive tour group!). When she learned that the Jökulsárlón experience might be less than expected due to weather conditions, she made a detour to another glacier lagoon to compensate, and then stopped at the Yoda cave on the way back too. My only comments re improvements would be that the time on the glacier felt a bit underwhelming, and the stops after we came down down from the glacier could be extended (by maybe 30 minutes to give time to take the path to the foot of the glacier along the walking trail) and similarly at Seljalandsfoss (by maybe 30 minutes to give time to see the secret waterfall). But overall, highly recommended.