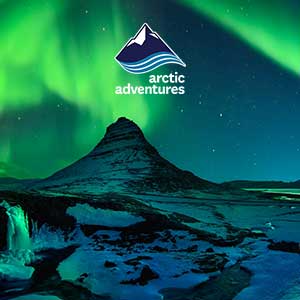 The Golden Circle small group tour has all the highlights of the famous Golden Circle route with a more personal touch.
This is the optimal Golden Circle tour – Thingvellir national park, Gullfoss waterfall and Geysir hot spring area in a small group setting with some added flare. This is the perfect way to spend a day in Iceland as your will be exploring some of the most beautiful sites the country has to offer. We will also stop at some more "off the beaten track" spots, for example, the Hellisheiðarvirkjun Power Plant, Efsti-dalur farm, the stunning Faxi waterfall and the crater Kerið and we'll even stop and say hi to some horses on the way!
Be amazed by gushing geysers, powerful waterfalls, and historical sites. Visit a World UNESCO Heritage site where the tectonic plates meet and explore the best Iceland has to offer.
Suitable for most people in fair condition. You have to be able to walk on uneven surface and hike for at least 2 – 3 hours at a slow pace, with breaks. Trails are generally of good quality and glacier travel at a relatively low angle.
Tour highlights

Small group experience
The Golden Circle sightseeing
Þingvellir national park (Thingvellir)
Geysir hot spring area
Gullfoss waterfall
Hellisheidarvirkjun Power Plant
Faxi Waterfall
Efstidalur - Icelandic farm
Kerið Volcanic Crater
Laugarvatn Geothermal Area
Icelandic horses
Included

Transfer to/from Reykjavik
A guided tour of the Golden Circle
A certified guide
Entrance fee to Kerið Crater
Entrance fee to Hellisheidarvirkjun Power Plant
From Reykjavik you will drive towards Iceland's three most famous attractions that make up the popular Golden Circle; Thingvellir National Park, Geysir hot spring area and Gullfoss Waterfall.
The Golden Circle is one of the most popular routes visitors take in Iceland. The circle consists of three major attractions; Thingvellir National Park, Geysir hot spring area and Gullfoss waterfall. We make sure that you get enough time to take in the magnificent landscape and the rich history that is found at every footstep.
Þingvellir e. Thingvellir national park is strongly rooted in the Icelandic history and is famous for numerous reasons. It's a UNESCO heritage site, it's where Iceland's first Althing (e. parliament) was founded in the year 930 and it's where the tectonic plates drift apart. It's the home to the magical Silfra and this place is simply stunning. The waters, pond, and fissures are extraordinarily clear and the history of the place is endless.
This UNESCO world heritage site is a place that should not be missed.
Geysir hot spring area is located in Haukadalur valley. It's where the Geysir which all other geysers are named after is located and the area is filled with steam and magical geothermal phenomena. This most active geyser at the moment is Strokkur, it goes off every 4-10 minutes and treats us to a show that gives you that tingly feeling in your stomach.
Gullfoss or the Golden Falls are next up on the itinerary. It's one of the most powerful waterfalls in Iceland. It drops little over 30 meters and has two drops. It has been a local's favorite since the Viking times and now it's your time to explore it.
The extra stops will be at:
Hellisheiðarvirkjun Power Plant will be the first stop that will be made on this tour. There they have an exhibition that recently opened and houses an interactive exhibition centering on the development of geothermal energy in Iceland. This part will give you a better look into the geothermal energy of Iceland, how we make and use the energy. This is all presented in an accessible and fun way through informative and entertaining multimedia exhibits.
Kerið is a volcanic crater lake. Craters are usually formed by volcanic explosions but researched has shown that this might not have been the case for Kerið. It formed when a cone volcano erupted and emptied its magma reserve. The cone has since then collapsed into its magma chamber and by that created a crater. Due to the formation, the colors are very different and unique.
Faxi waterfall is next up. This beautiful blue fall is a quite hidden and for that wonderful reason, not a busy site. This stunning location is covered with birch and has a sweet charm about it. This is one of those waterfalls you would stare at all day and actually a popular kayaking spot for many of our guides.
Efstidalur farm is a perfect stop after the Golden Circle.  Efstidalur is a family farm located close to Laugarvatn lake. There's an ice cream barn at the farm and the concept is really alluring, you can enjoy different flavors of ice cream produced from the milk of the cows living at the farm. It really doesn't get more local than this and the taste of the ice cream is otherworldly!
Laugarvatn is a small village with a population of only about 200 people. It's known for its natural warmth and hot springs. It's also home to the stunning lake Laugarvatn which many of the hot springs are connected to. One of which is the Vígðalaug which was used as a baptism pool when the Icelandic nation became Christian.
Pick-up: Your Golden Circle small group sightseeing tour starts with pick up from your selected location in Reykjavik. Please note, that the pick up can take up to 30 min.
Available pick-up points: Arctic Adventures's pick-up list.
Remember to bring: Warm and waterproof outdoor clothing, headwear, gloves and sturdy shoes.
What if I don't own all of these clothing necessaries?
Don't worry, you can always rent the necessary clothing in the booking process.
Disclaimer
All our tours are undertaken on the responsibility of its participants. Arctic Adventures does not assume any responsibility for accidents that are caused by its customers or can be traced to their own actions. Participants have to sign a waiver before undertaking all trips stating that they realize that all outdoor activities carry an inherent risk.
Book this tour
Price from 11.990 ISK per person.
"Great tour guide!"
Our tour was all the more interesting and fun because of the tour guide we had. Gilly really made our trip fun and interesting telling us all sorts of interesting facts and tidbits and had a great sense of humor. He was well organized and very efficient. The stops along the Golden Circle was so beautiful and simply amazing. It's a must do!
"Best experience in Iceland"
My husband and I booked the Golden Circle tour with Arctic Adventures and it was the best experience! Our tour guide Jónas was amazing, so friendly, welcoming, informative, and just all-around phenomenal. We love small group tours because of how personalized the guides are, and it really made our first experience and impression of Iceland one that we will never forget! I would book all my tours through this company the next time I visit Iceland. Highly recommend it- you won't regret it!!!
"Small Group Golden Circle Tour - First class experience!"
We used Artic Adventures to complete a small group tour of the Golden Circle in Iceland, and the experience we had was first class. The driver was knowledgeable and friendly, and her English was far better than our Icelandic! The tour takes in the highlights of the famous Golden Circle, taking in sights such as Gullfoss, Geysir, the Thingvellir National Park and much much more. Definitely recommend and would use again.
Golden Circle Superior - Small Group Tour | Average rating: 4.7/5 based on 6 customer reviews
"Golden circle tour" |
By Julie Mercer 05/02/2018
What started as a dull dark cold & very windy snowy day turned out to be a great day! Due to weather conditions the tour had to change, the mountain road was closed we waited (to long really) before the guide took a different direction (this could have been gone sooner) but nevertheless we enjoyed our tour, got to see everything, other ppl from our hotel missed a lot out, due to bad weather, so we were very lucky. It's a long tour but very interesting I'd recommend Artic Tours.
"Beautiful but uncomfortable" |
By Sam Silva 05/02/2018
Our guide was amazing. Iceland is amazing. The bus/van was terrible. The seats hurt your back pretty bad and the leg room is not very good at all. It's a shame because it doesn't have to be that way! Despite that, the tour is worth it. Just try to be shorter than 5'6"" or do a lot of yoga and you'll be fine.
"Golden Circle Tour" |
By James 08/02/2018
This was a first class tour with an excellent and knowledgeable tour guide in Thomas. I'd recommend this tour to anyone as the smaller group means you get much more time at each stop and have the ability to ask more questions and learn more about each of the things you're seeing. The mini bus was very comfortable and whilst the back seats on the bus are small, if you're sitting anywhere else there is plenty of room to get a great view of each of the sights. The stops are just the right amount of time, some around 15-20 minutes with the longer stops around an hour. One of the final stops gives you the change to walk around and meet the bus further up the trail which is a great touch. All in all very good and would both do this tour again and do others with Arctic Adventures.
"Small-Group Golden Circle Plus Tour" |
By Family Baron 08/02/2018
Weather has been against us all week. Tour was delayed by 2.5hrs due to a storm but we were notified and kept up to date. Johannes picked us up at the new time, collected a few others and off we set. Unfortunately some roads were still closed, due to the weather, so we waited a little while longer and were off again. The mountain road was still closed but Johannes took this in his stride and took us a different way. Rain, hail and wind plagued us on and off all day but gave us a few breaks while we stopped at the various locations (Gullfoss, geysir, Þingvellir national park, farm with ice-cream, Kerio volcanic crater, waterfall, Icelandic horses etc). Food at the Geysir was extremely expensive (£50 for 4 soup and bread) so take a picnic. The (very old and battered) mini-bus broke down on us at our last stop but while we were in the National Park a replacement (new, comfy and shiny) minibus was brought to us - so timing was perfect as it didn't affect our schedule. It would have been nice to have had the nice minibus the whole day however. Johannes was a lovely guy and very knowledgeable. All locations were amazing to see so I'd definitely recommend this tour.
"Nicola King" |
By Nicola King 22/03/2018
We were lucky to take two Arctic Adventures trips last week; one for the Golden Circle and one for the South Coast. Both were the small group tours. Our guide for both trips was Bjord, hope I spelt the name right. She was very friendly, chatty, informative and happy to answer any questions we had. A great driver especially when we had a bit of a snow shower. Bjord always explained where we were going, what was next and where we needed to meet. The tours were so much fun and we got to see some of the amazing sights of Iceland. The golden circle tour was our favourite as it included a few extra special stops too. Would definitely book again with Arctic Adventures and recommend to friends. Kind Regards Mr and Mrs King
"Golden Circle Tour" |
By fergal seeballuck 25/03/2018
I really enjoyed this tour - I know that every tour more or less goes to the same stops, so you will see the same sites, but I was very satisfied with the organisation, efficiency and comfort of our tour. I felt that I had enough time and freedom at each stop to enjoy everything without feeling rushed, the group was small enough to keep the 'convenience' stops short and sweet. Our guide was 100% Icelandic -surprisingly rare, I discovered on my tours - and he was really helpful and informative. I felt like a guest rather than a tourist. As with the other Arctic Adventures tours, we were able to grab lunch on the go and avoid expensive, time consuming sit-down lunches - in Iceland this is very much appreciated. If I needed to take a tour, I would not hesitate to pick this one - but I think the beauty of Iceland would be best appreciated with a camper van:-)