Experience the most stunning and legendary places in Iceland, from great waterfalls to Jökulsárlón Glacier Lagoon, from erupting geysers to Snæfellsnes Peninsula.
INSTANT BOOKING CONFIRMATION
Want to do this trip for free? Tag us @arcticadventures on your social media stories and photos during your trip and enter a chance to win a full refund. The winner will be picked once a month!
---
The very best of sensational Iceland in just 7 days. We will show you the most stunning and legendary places… from great waterfalls to Jökulsárlón Glacier Lagoon, the Golden Circle, an erupting geysir and Snæfellsnes Peninsula. Whale watching, glacier hiking, ice caves, hot springs, steaming geothermal areas, Northern Lights and much more. 
Snæfellsnes – West Iceland in the Winter destination of 2019
Nominated Best Tour of 2019 in Iceland by TourRadar
Suitable for most people in fair condition.
Price from

214.991 182.742 ISK
Tour highlights

The Ring Road
The Golden Circle (Gullfoss, Geysir, Þingvellir)
Vatnajökull Glacier
South Coast (Seljalandsfoss, Reynisfjara)
Skaftafell National Park
Jökulsárlón Glacier Lagoon
Mývatn (Lake Myvatn)
Dettifoss and Goðafoss Waterfalls
Barnafoss and Hraunfossar Waterfalls
Snæfellsnes Peninsula Sights
Crystal Ice Cave
Northern Lights
Included

Hotel Room with Private Bathroom - 6 Nights
Breakfast Each Morning at Your Hotel
Guided Minibus Tour
Glacier Hike on Vatnajökull Glacier
Hike at Egilsstaðir
Whale watching at Dalvík
Crystal Ice Cave Tour (November-March)
This tour will show you the most majestic sights and scenery to be found around the famous Ring Road and the delights of Snæfellsnes peninsula. We will take you to steep fjords with ragged-toothed mountains reaching into the sky, black sand beaches, lava fields, charming fishing villages, whose histories are deeply woven into the fabric of Icelandic life and far more.
On the first day we will take you to the most popular waterfall in Iceland, Gullfoss on the roaring Hvítá river, and Þingvellir National Park (Thingvellir), the most significant historical site in Iceland, which is also a geological wonder. The cliff of the Almannagjá ravine runs right through Þingvellir, straddling two continents where the North American and Eurasian tectonic plates have been slowly moving apart. Þingvellir is a UNESCO World Heritage Site for very good reasons! Next up is an erupting geyser, at the Geysir geothermal area. Strokkur, the most active geyser, nowadays, is very obliging, spouting torrents of scalding water every 5 to 10 minutes. Then it is onwards to the best known black sand beach in Iceland, Reynisfjara.
Full details of the places you will see on other days can be found in the itinerary. Each night you will stay at a different country hotel or guesthouse, putting you in the perfect location every time. From September to April, slip away from your hotel each night to hunt for the elusive Northern Lights. Your guide will give you exclusive advice on the best ways to find them! 
We have some amazing activities for you, including an easy glacier hike on an outlet glacier of Vatnajökull, the biggest glacier in Europe. From November to March, we replace the glacier hike with an incredible journey through Vatnajökull's sparkling ice caves. Watch the procession of giant icebergs floating lazily by at Jökulsárlón Glacier Lagoon, the glacier is not quite a pure white world, prepare to be amazed by bright blue ice! During winter, we will visit an ice cave instead of going glacier hiking.
A three hour hike will take you to Hengifoss, one of the highest waterfalls in Iceland, the falls drop into a dramatic deep gorge, you will be hiking at an easy pace through the most sensational scenery. We take you to explore otherworldly geothermal areas with technicolor mudpots oozing steam and show you natural hot springs. There is the chance to bathe in the geothermal water at Mývatn Nature Baths (*extra fee). A whale watching boat tour from Dalvík, searching for whales on Eyjafjörður, is a never to be forgotten experience. These tours have a 98% success rate when it comes to spotting whales and purposes, seals and dolphins are often seen too. Try your hand at sea angling, and even cook and taste the catch of the day!
Your final day is spent exploring the Snæfellsnes peninsula with its wild ocean waves, crazily shaped cliffs and black pebble beach at Djúpalónssandur, atmospheric fishing villages and little towns, the Berserkjahraun lava field of Pagan Viking legend. In Snæfellsnes National Park you will, in clear visibility, get great views of Snæfellsjökull, the Icelandic glacier made famous by Jules Verne´s novel, Journey to the Centre of the Earth. You could explore Vatnshellir, an 8,500 year old lava tube cave with a qualified and caving guide (*extra fee). See fascinating stalagmites, stalactites and bizarre lava formations in the magic world beneath your feet!   
The tour returns to Reykjavík on day 7 at around 20:00 in the evening. In Iceland the weather can sometimes influence schedules.
---
Flybus Transfer
Book your transfer to & from Keflavik International Airport and Reykjavik Capital.
---
Pick-up Information
Pick-up is at 08:00 am from your hotel or a nearby meeting point in Reykjavík. Picking everyone up can take up to 30 minutes, your patience is much appreciated.
Available pick-up points: Arctic Adventures's pick-up list.
---
What to bring: Warm layers, waterproof top layer, headwear, gloves, scarves and hiking boots, camera, swimsuit and a towel. Strong hiking boots are essential for glacier hiking, we provide ice crampons for this activity, it is not possible to fit these to any other kind of footwear.
What if I don't own all of these clothing items?
Don't worry, you can always rent sturdy hiking boots, waterproof jacket and pants in the booking process. It must be ordered in advance as we do not rent gear from locations.
Save
Please note
*Bathing in the geothermal water at Mývatn Nature Baths will cost extra. You can book bathing as an extra when you arrange your tour or pay when you arrive at the baths. *A caving tour to the Vatnshellir lava tube cave will cost extra. You can book this when you arrange your tour, or add it as an extra later on.
Sometimes we may need to change glaciers or glacier outlets on this tour due to various reasons, including weather conditions. Glacier outlets used on this tour include Svínafellsjökull, Falljökull and Sólheimajökull, all amazing and unique glaciers, equally as beautiful. From November to March, we replace the glacier hike with a tour through the Vatnajokull ice caves.
Day 1 - The Golden Circle & South Coast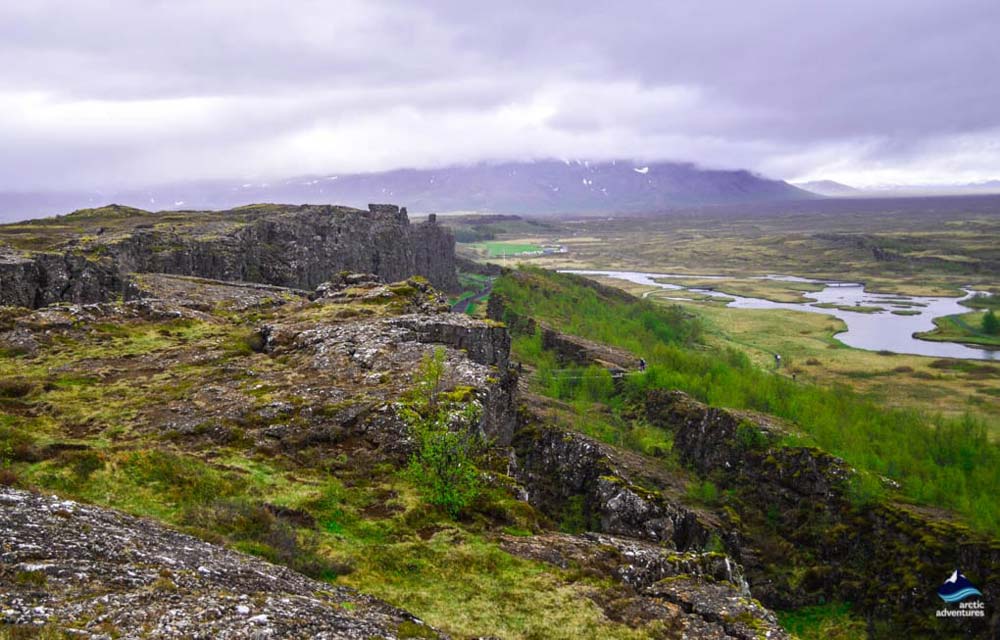 The day starts with pick up from your accommodation, or a nearby pick up point in Reykjavík. The three attractions of the famous Golden Circle are first up on the agenda. Þingvellir National Park is a very important place in the heart of every Icelander. In the year 930 CE/AD the Icelandic people established their parliament here, this is the oldest continually operating parliament in the world. There is more to Þingvellir than great history, this place is listed by UNESCO as a World Heritage Site, for  its historical, geological and cultural importance. You will see Þingvallavatn, home to Silfra fissure, which delves down between the Eurasian and North American tectonic plates. The cliff of the rift valley runs right through the National Park.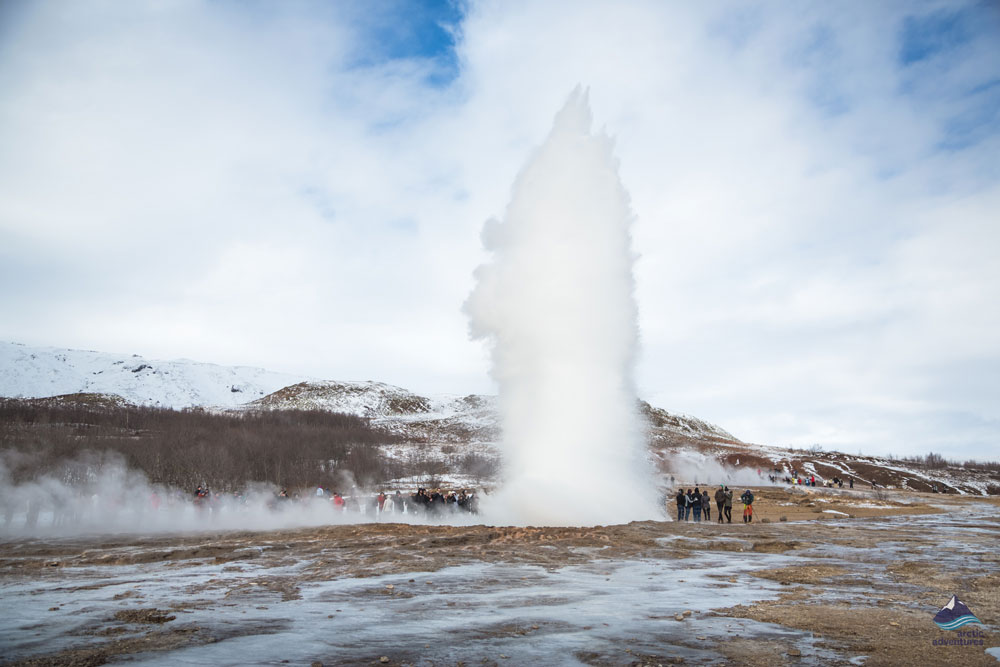 The geothermally active hot spring area at Geysir is another Golden Circle attraction. Great Geysir, which gave us the English word geyser to describe this sort of hot spring, is no longer active. Strokkur, a nearby hot spring, spouts spectacular torrents of superheated water every 5 to 10 minutes. A visit to Gullfoss waterfall will complete our Golden Circle, feel the force as the falls thunder through the high rugged canyon dropping 32 m in two stages.
Next, we take a scenic drive along the beautiful south coast, stopping at Seljalandsfoss Waterfall. Here you have a unique opportunity to experience the power and wonder of nature. Don´t just view these falls from a distance – walk the pathway which takes you right behind the elegantly falling cascade. We head onwards to the scenic Skógafoss waterfall, here the water crashes down over the former sea cliffs, those cliffs extend for many kilometers marking the coastline of long ago. Watch out for rainbows – the incredible spray makes Skógafoss an ideal spot to catch single or double rainbows! The final stop of the day is at Reynisfjara black sand beach, home of the legendary Reynisdrangar peaks, said to be the figures of two trolls who were turned into stone when they faced the morning sun! You will also see the incredible basalt column cave as you wander along the beach.
After a full day of sightseeing we make our way to a country hotel in the area around Kirkjubaerklaustur, a charming South Coast village. From September to April, your guide will give you special tips to find the Northern Lights in the area. 
Save
Day Highlights

Þingvellir National Park (Thingvellir)
Geysir
Gullfoss Waterfall
Seljalandsfoss Waterfall
Skógafoss Waterfall
Northern Lights (September-April)
Included

Guided Minibus Tour
Visits to Golden Circle Highlights
Visits to the Most Famous Waterfalls on the South Coast
One Night Hotel Accommodation (Vík area)
Accommodation
Booking a hotel in Iceland has become increasingly difficult. By booking with us you are guaranteed an accommodation at a nice country hotel in one of the most popular parts of Iceland. The hotels we have partenered with are all of the same standard and among them are Hotel Katla, Hof Adventure hotel & Hotel Smyrlabjorg, Hotel Gerdi and others.
Hótel Geirland
or Similar
Day 2 - Vík - Skaftafell - Jökulsárlón Glacier Lagoon - Höfn
We enjoy breakfast and check out. Today, we continue our journey along the south coast in the direction of Skaftafell and Vatnajökull National Park. Vatnajökull glacier, Hvannadalsnúkur, the highest peak in Iceland, Skaftafell and Jökulsárlón Glacier Lagoon, and many other natural treasures can be found within this 13,600 km2 protected wilderness area. Iceland has three national parks: Þingvellir, Vatnajökull and Snæfellsjökull – on this tour you will see them all.
We will stop at Skaftafell for a glacier hike led by one of our certified glacier guides. Equipped with crampons and all the necessary glacier equipment you are led onto a Vatnajökull outlet glacier. These glacier tongues/outlet glaciers are amazing places, with crevasses, moulins which can drill down to the base of the glacier and a plethora of amazing vistas for you to explore. Our guides love to be asked questions, so don't be too shy to ask!
From November to March, we replace the glacier hike with an exhilarating journey through Vatnajökull's crystal ice cave. Each winter, the glacier meltwater freezes into new ice caves that wind their way through the heart of the glacier. See Iceland's mighty ice caps from the inside! 
After your bracing glacier hike, our cozy minibus will whisk you away to experience yet more glacial magic at Jökulsárlón Glacier Lagoon. As we approach from the main highway you will glimpse a procession of mystically floating icebergs, these often towering and amazingly shaped chunks of ice broke free from the edge of the retreating Breiðamerkurjökull glacier. Occasionally, you will see seals frolicking in the enormous lake in between these stunning ice sculptures. So, you feel as if you are in a film scene? Well, actually you are! Footage of a couple of James Bond movies and other films has been shot here.
Those icebergs, some with glittering blue ice, make their way to the sea at the Diamond Beach, a black sand beach just a few minutes walk from the Glacier Lagoon. The icebergs which been brought ashore by the tide come to rest here. Usually, you will see quite a few sitting like translucent diamond jewels or giant shining clear quartz crystals on the coal-black sand. Some people call this the Crystal Beach!
In the evening we will lay down our heads at a comfortable accommodation in Höfn, a very pleasant seaside town and the lobster capital of Iceland. In winter, search for the Northern Lights near the hotel. 
Save
Day Highlights

Reynisfjara Black Sand Beach
Vatnajökull National Park
Crystal Ice Cave (November-March)
Jökulsárlón Glacier Lagoon
The Diamond Beach (Crystal Beach)
Höfn, the lobster capital of Iceland
Northern Lights (September-April)
Included

Hotel breakfast
One night hotel accommodation (Höfn area)
Guided minibus tour
Guided Glacier Hike on Vatnajökull Glacier (summer)
Ice Cave Tour (winter)
Certified Glacier Guide
All glacier hiking equipment
Visit to Jökulsárlón and the Diamond Beach
Accommodation
Booking a hotel in Iceland has become increasingly difficult. By booking with us you are guaranteed an accommodation at a nice country hotel in one of the most popular parts of Iceland. The hotels we have partenered with are all of the same standard and among them are Hotel Katla, Hof Adventure hotel & Hotel Smyrlabjorg, Hotel Gerdi and others.
Day 3 - East Fjords - Djúpivogur - Egilsstaðir
We leave the Vatnajökull National Park area behind but the sensational scenery certainly continues! We follow the twisting and turning roads, flanked by the coast on one side and majestic mountain peaks on the other, through the East Fjords to Egilsstaðir. This picturesque town on the banks of the Lagarfljót River is home to the legend of Largarfljótasormurinn, the Largarfljót worm. Tales of the giant Largarfljót worm, which is said to reside in the lake and show itself from time to time, are firmly established within Icelandic folklore tales.
Along the way we stop off at Djúpivogur, a small and really remote fishing village. The North Atlantic waves wash over the black sandy beach and a rich birdlife thrives, most Icelandic birds can be spotted around the area. There are more birds than people, Djúpivogur is home to just over 1100 people, as a community they have a reputation for being welcoming and strongly committed to eco issues.
We also do a 3 hour easy hike to Hengifoss, one of the highest waterfalls in Iceland, the falls drop into a really striking gorge. Look out for the layers of red strata threading their way through the cliff walls around the waterfall. This cliff was forged in the fire of many mighty volcanic eruptions, those layers of volcanic ash and basaltic lava developed over thousands of years. On our hike today we have not one, but two scintillating waterfalls for you to enjoy! The towering cascade of the Litlanesfoss waterfall is framed by giant hexagonal basalt columns, a truly impressive and photogenic sight.  
After our hike, we make our way to the Wilderness Center of Iceland or Óbyggðasetrið. Run by historian, Arna, and Icelandic movie set designer Denni, this peaceful hideaway transports you back to the 19th century. We will get the chance to explore the center museum exhibit, named the 'best museum in the whole world' by Cosmopolitan Magazine, and learn the history of the area's nature and inhabitants. Our visit includes some light refreshments of coffee/tea and waffles.
Our accommodation for the night is located in the picturesque area of Egilsstaðir. Scout out the Northern Lights in winter.
Day Highlights

Djúpivogur Fishing Village
Hengifoss Waterfall
Icelandic Wilderness Center
Litlanesfoss Waterfall
The town of Egilsstaðir
Northern Lights (September-April)
Included

Hotel breakfast
Guided minibus tour
Visit to the fishing village of Djúpvogur
Guided hike to Hengifoss Waterfall
Admission to Wilderness Center Exhibit (optional)
One night hotel accommodation (Egilsstaðir area)
Accommodation
Hotel Valaskjalf
or Similar
Day 4 - Dettifoss, Lake Mývatn, Goðafoss - Akureyri
Today is filled with stunning North Iceland highlights. The drive up from Egilssaðir will take us through wild and remote landscapes, we will show you Möðrudalur, at 469 m the highest farm in Iceland, on our way to visit the magnificent Dettifoss waterfall. This is the most powerful waterfall in Europe, with an awesome flow rate of 193 m3/s (6,816 cu ft/s). The thundering Jökulsá á Fjöllum River drops 44 m (144 ft) through the rugged canyon. There is a vastness and a rawness to the nature around Dettifoss, where this great river and the glacial floods of the past have carved out imposing ravines.
Next, we head to the surreal Námaskarð geothermal area, filled with colorful mud pools and fumaroles wafting clouds of steam and hot gases. Staying on the theme of geothermal heat we will make a stop at Mývatn Nature Baths, giving you the opportunity to bathe in the hot spring pools. Bathing is an optional extra activity but we highly recommend you book it beforehand to reserve your spot! The entrance fee to the baths can be added when you book your tour or it can be paid on site. Those who don´t want to bathe can enjoy a stroll around this extraordinary lunar-like landscape or relax in the cafeteria. The geothermally heated water in the baths wells up through the earth, it is very rich in minerals, alkaline, and skin-soothing. No chlorine or other chemicals are added, they are just not needed.
Refreshed from the baths we continue to Hverfjall, a volcano crater, caused by an eruption 2500 years ago. We will also visit the Dimmuborgir lava formations, known as the 'dark cities', some of these lava forms will tower above us like fairytale giants. Dimmuborgir was formed when the roof of a giant lava tube collapsed. Although entirely natural, some formations may remind you of certain things. Can guess which one is known as The Church (Kirkjan)? We continue our drive around picturesque Lake Mývatn on the way to Akureyri, making a stop at the stunningly beautiful Goðafoss Waterfall.
We will stay at a country hotel in Akureyri, the second-largest city in Iceland. The clear skies around Akureyri make for great Northern Lights hunting in winter. 
Save
Day Highlights

Dettifoss Waterfall
Lake Mývatn
Námaskarð Geothermal Area
Hverfjall Volcano Crater
Dimmuborgir lava formations
Goðafoss Waterfall
*Bathing at Mývatn Nature Baths is a Bookable Extra
Northern Lights (September-April)
Included

Hotel breakfast
Guided minibus tour to all highlights
Time to explore the magnificent attractions
One night hotel accommodation (Akureyri area)
Accommodation
Icelandair Hotel Akureyri
or Similar
Day 5 - Whale watching from Dalvík - Siglufjörður -Tröllaskagi - Laugarbakki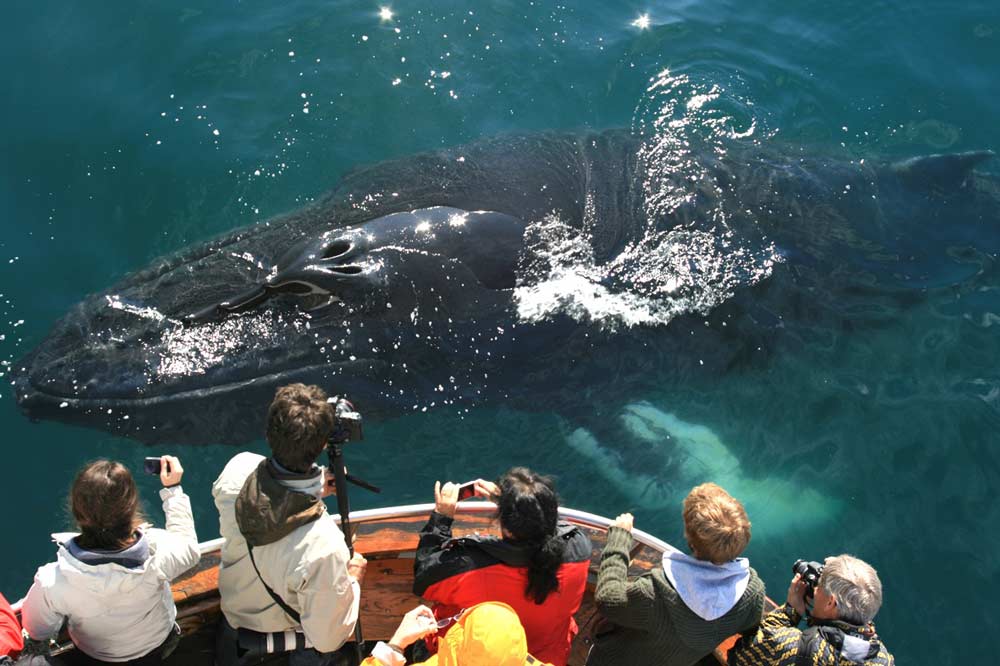 We start the day with a drive through Akureyri, the capital of North Iceland, on a few departures, there is time to make a shortstop. On your way to the picturesque fishing town of Dalvík, you will, in good visibility, get fabulous views of Eyjafjörður, the longest fjord in Iceland.
Your whale watching boat tour from Dalvík will take you across Eyjafjörður Fjord, chasing after whales, dolphins and other wonderful ocean life. Humpback whales, dolphins and porpoises are usually seen, occasionally we see seals and blue whales. You get the chance to try a little sea angling if you want! When we get back to beautiful Dalvík, we barbecue the catch right on the harborside, giving you a taste of fish straight out of the ocean.
For a small extra fee, you can upgrade your whale watching tour from a regular boat to a speedboat or RHIB boat (between April and October), which allows you to travel faster and get even more closer to the whales! 
We continue to drive the scenic road sandwiched between the towering mountains of Iceland´s best ski resorts and the glorious fjord, taking us around the Tröllaskagi peninsula. We pass through charming villages and hamlets before stopping at Siglufjörður, in the early part of the twentieth century this village was known as the herring fishing capital of the Atlantic. People rushed to cash-in on the boom, and the town acquired a klondike-style gold-rush atmosphere.
Today, the great shoals of herring are long gone, but the rich history and character of those times in Siglufjörður are very well-preserved. The villages around this peninsula will give you a wonderful feel for the kind of life lived in Icelandic places which seem to be falling off the edge of the world.
We travel onwards through farmlands with many fields of Icelandic horses, to Laugarbakki. Your accommodation for the night will be at a country hotel in this area. Your guide will help you search for the Northern Lights at night from September to April. 
Save
Day Highlights

Akureyri - Capital of the North
Whale Watching from Dalvík
Trollaskagi Peninsula
Siglufjörður Fishing Village
Northern Lights (September-April)
Included

Hotel breakfast
Guided minibus tour to all highlights
3 hour Whale Watching boat tour
Opportunity to try sea angling
Eyjafjörður and Akureyri scenery
One night hotel accommodation
Accommodation
Hotel Laugarbakki
or Similar
Day 6 - Borgarfjörður - Reykholt - Hraunfossar - Borgarnes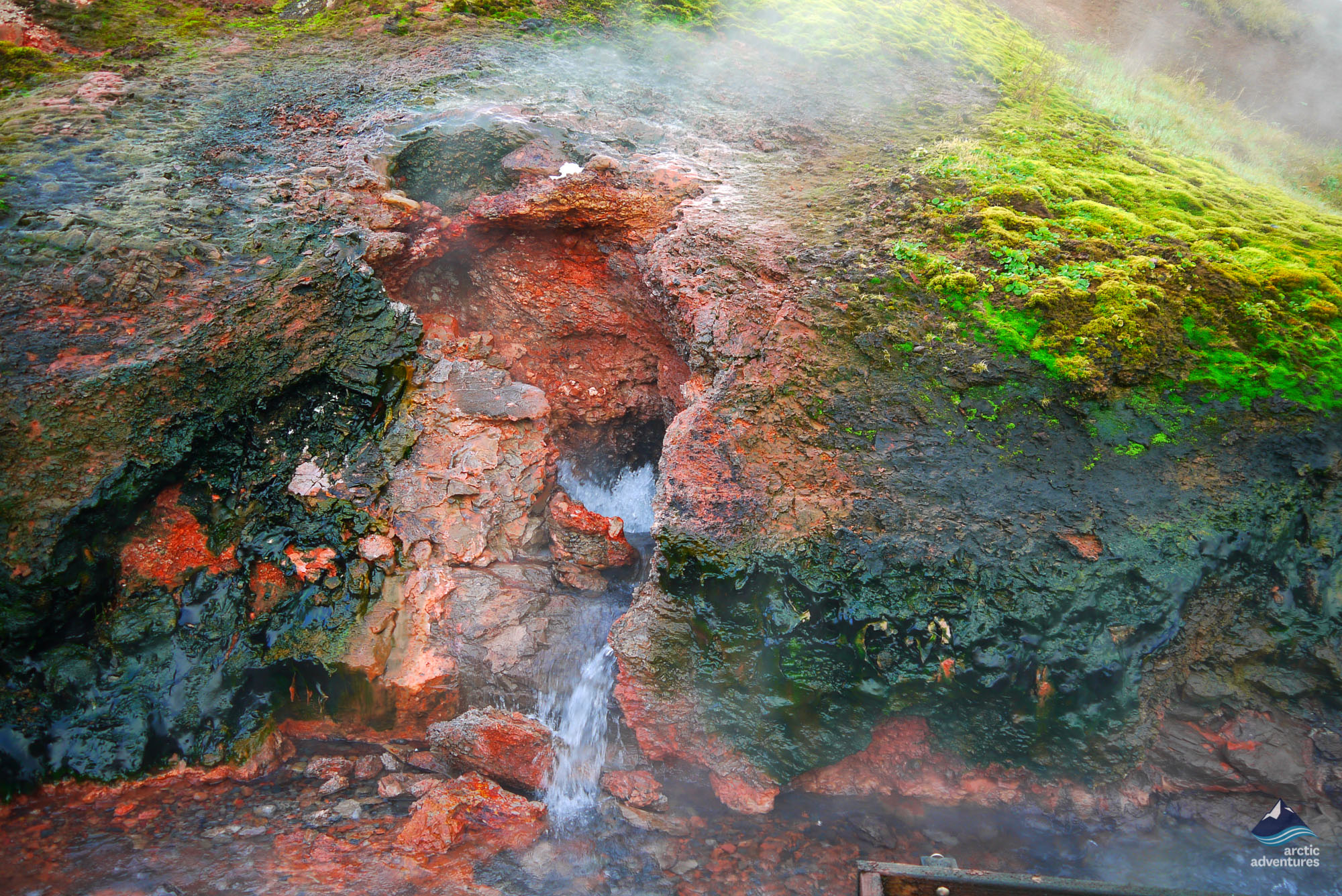 Today we focus our attention on the area around Borgarfjörður in West Iceland. This area was voted one of the best travel destinations by lonely planet in 2016. Our first stop is at Grábrók, a volcano crater. Where we take a short hike to the top, in good visibility there are stupendous views over the lava fields, and the landscapes stretching way into the distance.
Your next interesting stop is very different! We make a visit to Deildartunguhver hot spring, this Borgarfjörður jewel is the most powerful hot spring in Europe, supplying most of the hot water utilised in the area. We will also take you to see Hraunfossar waterfall where the ice-cold water pours out of the lava in many thousands of rivulets, forming the very wide and picturesque falls. Onwards to a very different nearby waterfall, Barnafoss. The name of this very attractive waterfall means 'Children´s Falls', your guide will tell you all about the legend.
Your final stop of the day is at Reykholt, an important place in the history of Iceland, particularly in medieval times. We will show you Snorralaug, the hot spring pool which bears the name of Snorri Sturluson, the 12th/early 13th century scholar, lawyer, historian and saga writer. Stand by the pool where Snorri is reputed to have bathed and contemplate the threads of Icelandic history which were woven together here.
After a day of wonders you are driven through the very pleasant Borgarfjörður countryside, you are dropped off at your hotel in Borgarnes. Spend the night chasing the Northern Lights in the winter months! 
Save
Day Highlights

Borgarfjörður
Deildartunguhver Hot Spring
Barnafoss Waterfall
Hraunfossar Cascades
Reykholt
Hike up to Grábrók, a volcano crater
Northern Lights (September-April)
Included

Hotel breakfast
Guided minibus tour
Visits to the highlights of Borgarfjörður
Visit to the historic site of Reykholt
One night hotel accommodation (Borgarnes)
Accommodation
Hotel Borgarnes
or Similar
Day 7: Borgarnes - Snaefellsnes Peninsula - Reykjavík  
Today, our expert Snæfellsnes guide will pick you up around 10:00. Embark on a whole day exploring the magical Snæfellsnes Peninsula, its craggy cliffs, black pebble beaches, seabirds and glacier mountain.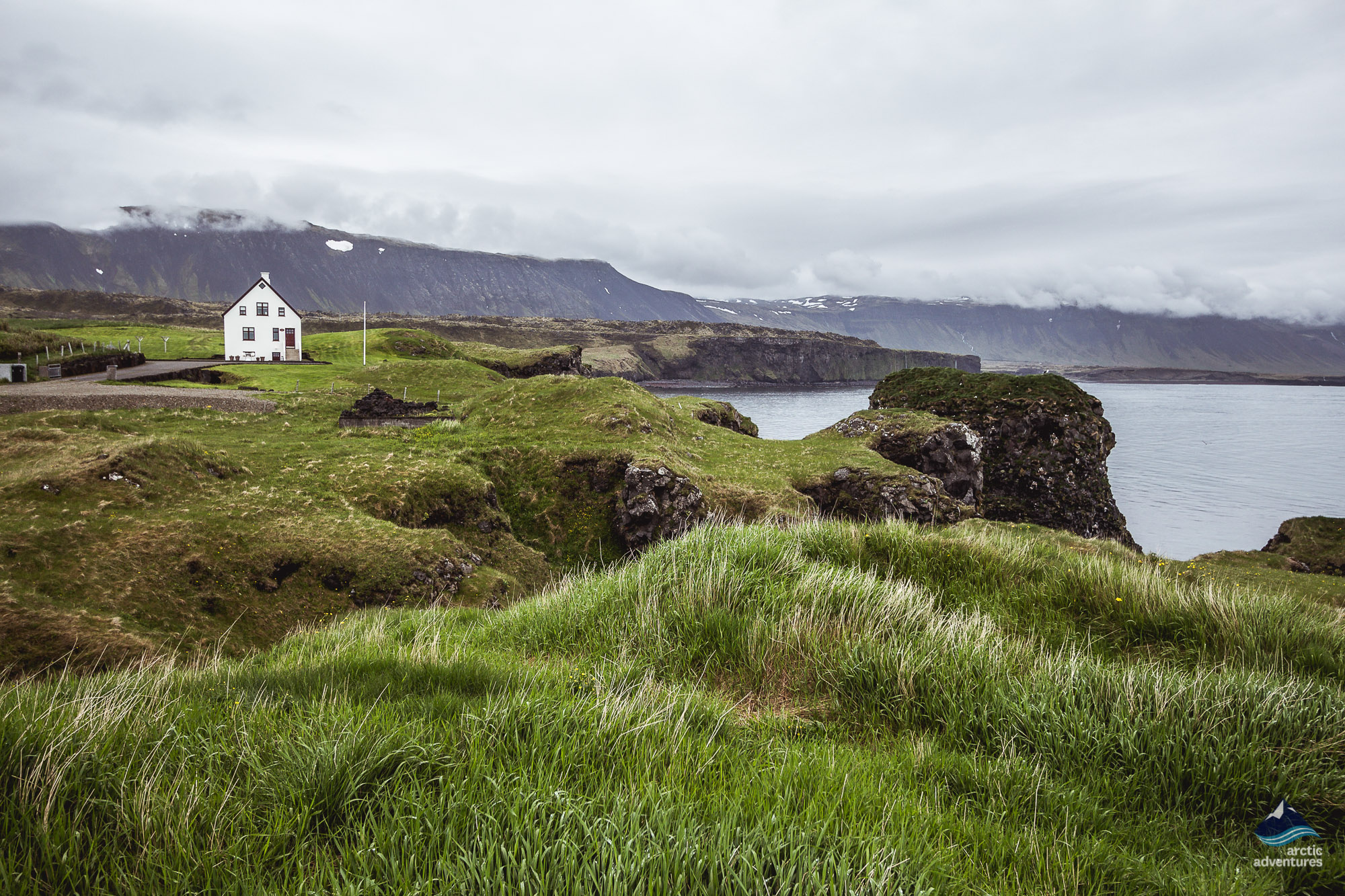 We will drive you through spectacular countryside with breath-taking mountain and coastal views. Stop at the charming coastal village of Arnarstapi, where you'll have the chance to visit the natural Miðgjá rock arch, then the 19th-century Búðakirkja church.
For lunch, we'll stop at the village of Hellnar (food and drink not included).
Next, we head into Snæfellsnes National Park, stopping at the 8,000-year-old Vatnshellir lava tube cave for a caving tour with a specialist caving guide. This tour needs to be booked as an *extra. Explore an incredible subterranean world with some scarcely believable natural lava formations, your guide will share some fascinating lava cave info with you.
The caving tour is short and easy. Those who don´t want to go caving have the chance to stroll around the moss-covered lava landscapes and admire views of Snæfellsjökull Glacier. This is the glacier made famous by the novelist, Jules Verne. He chose this glacier for the entry point into the underworld when he wrote Journey to the Center of the Earth.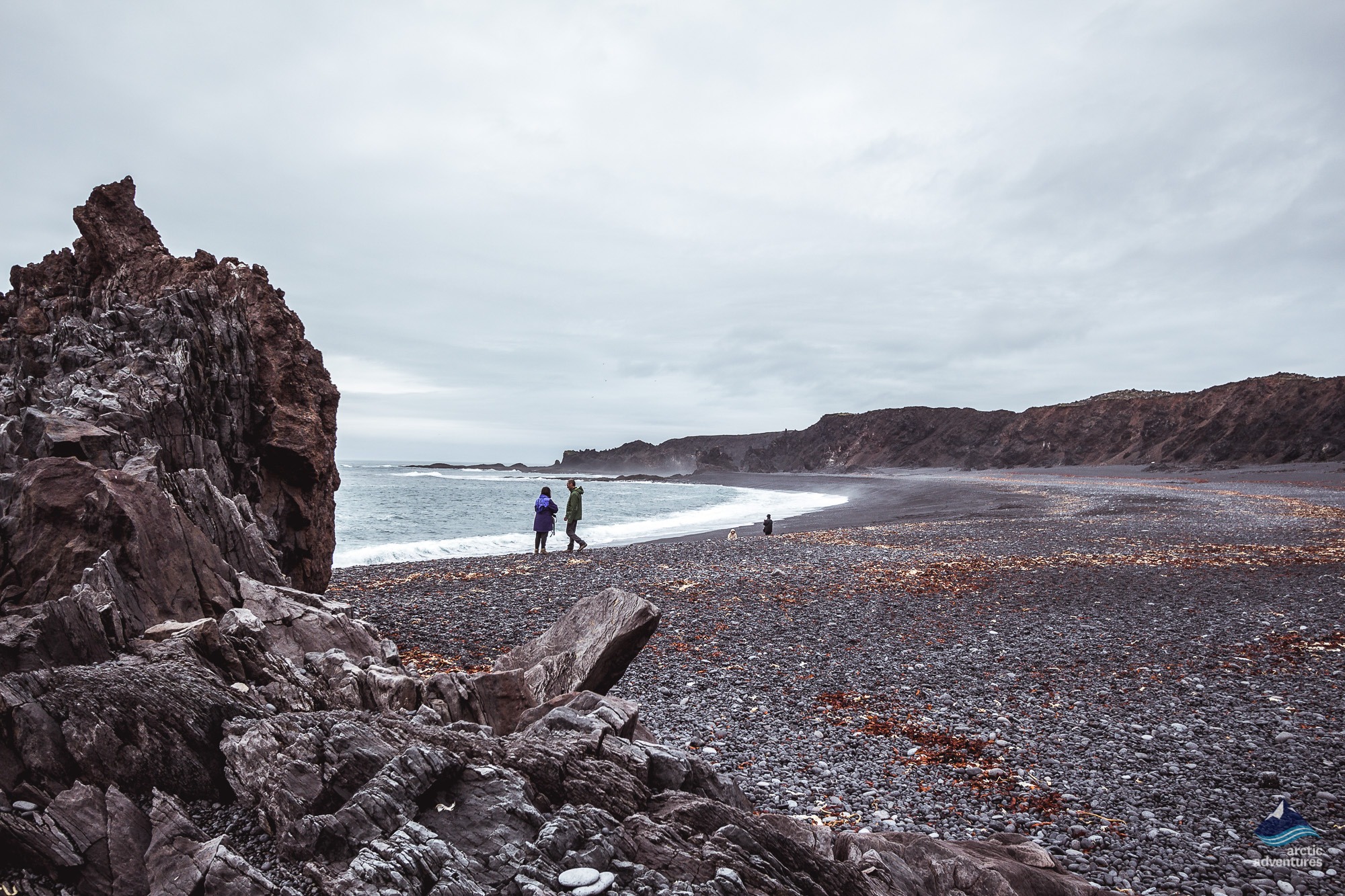 Onwards to the magnificent black pebble beach at Djúpalónssandur, framed by crazily shaped cliffs. You get time to explore the beach and even to try your hand at the 'lifting stones', the fisherman used to lift these boulders to proclaim their strength.This coastline is very beautiful but it can be treacherous, evidenced by the remains of the British Trawler, Epine, which was shipwrecked here.
On the way back to Reykjavík you are driven through legendary scenery, your next stop will be at Kirkjufell, many people say this is the most photographed Icelandic mountain. In the evening, after a week of sensational sights and exciting adventures, we drop you off in Reykjavík. We return back to the city at around 20:00 in the evening. We will drop you off at your original pick-up location.
Save
Day Highlights

Snæfellsnes Peninsula
Village of Arnarstapi
Vatnshellir Lava Cave (*entry fee extra)
Djúpalónssander Black Beach
Mount Kirkjufell
Included

Hotel breakfast
Guided minibus tour to all highlights
Snæfellsness specialist guide
Lava Caving with specialist Caving Guide (*extra)
Lunch stop at a local restaurant (Food not included)
Special Offer 15% OFF PLUS FLEXIBLE CANCELLATION POLICY (You Can Cancel The Booking Up To 72 Hours Before The Tour Starts And Get A Full Refund)
Sale ends on 15.06.2020 at midnight (GMT)
Discounts work for travel time March-December, 2020
Promotional code: MULTIDAY15
Book this tour
Price from: 214.991 182.742 ISK per person.
NO BOOKING FEES
FAST & SECURE PAYMENT
Loading...
7 Day Complete Iceland | Average rating: 5/5 based on 4 customer reviews
"Amazing Experience!!" |
By Natalia Olij 25/02/2019
"Hi guys! just wanted to thank you for the amazing experience we had! The tour was INCREDIBLE, we went to amazing places. Vignir, our tour guide was super nice, knew a lot and explained many things to us. He made our adventure even greater! The experience is great, you go to different places in just a few days. It is a great tour, I already recommended it to many friends and I´ll definitely go back when I´m back in Iceland."
"Wonderful trip" |
By Chris 12/02/2019
During the 7 days we enjoyed the tour with our wonderful guide Saga. We managed to visit all the places accordingly and we get to see the northern lights!
"Great Tour!" |
By Keena DeLay 03/01/2019
We had a great time on our complete Iceland tour! Sindri was an excellent guide! We really enjoyed the entire tour. Thank You!!!!
"7 day tour of Iceland with Arctic Adventures" |
By Edy softer 15/09/2018
"Well organized tour, great guide and I enthusiastically recommended to friends, a few of them already plan to take the same tour next year. Accommodations varied in quality but overall quite satisfactory. The one in Dalvik was very basic. On the 7th day, the new van arrived without a trailer, and some of us were not comfortable leaving luggage with valuables in the hotel for later delivery (eventually luggage was loaded on a trailer that was connected later on). These are such minor issues that actually highlight how well the tour was conducted"