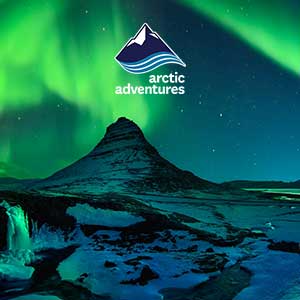 Travel the famous Ring Road of Iceland in a small group. Visit some of the most amazing destinations around Iceland!
INSTANT BOOKING CONFIRMATION
TOUR OF THE YEAR - 2017 & 2018
Want to do this trip for free? Tag us @arcticadventures on your social media stories and photos during your trip and enter a chance to win a full refund. The winner will be picked once a month!
---
This six-day Iceland tour is a fabulous option for people who really want to make the most of their time in Iceland.
You go further, explore more, straying off the beaten track. Get up close and personal with a glistening glacier, gushing geysers, majestic volcanoes and awesome waterfalls. Relax in the Nature Baths at Myvatn, watch the whales of the north, meet travelers from all over the world and craft incredible memories. In winter, climb through ice caves and marvel at the Northern Lights.
We also offer this tour with 2 nights in Reykjavík extension with accommodation. Please have look at our 8 Day Iceland Ring Road Tour
Best tour of 2019 in Iceland by TourRadar
Suitable for most people in fair condition.
Price from

189.990 161.492 ISK
Tour highlights

Small Group Experience
The Ring Road
Golden Circle (Þingvellir, Gullfoss, Geysir)
Vatnajökull Glacier
South Coast (Seljalandsfoss, Skógafoss, Reynisfjara)
Skaftafell National Park
Jökulsárlón Glacier Lagoon
Mývatn (Myvatn)
Dettifoss & Goðafoss Waterfalls
Blue Lagoon (Optional extension)
Crystal Ice Cave
Northern Lights chase
Included

Pick-up & drop off from Reykjavík
Accommodation with Private Bathroom - 5 Nights
Breakfast Each Morning at Your Hotel
English Speaking Adventure Tour Guide
Guided Tour in Minibus
All Required Safety Equipment
Glacier Hike on Vatnajökull Glacier
Hike at Egilsstaðir
Whale Watching in Dalvík
Free WiFi on Board Your Bus
"Life is meant for good friends and great adventures."
This around Iceland tour will give you the best possible experience.
Golden Circle & Icelandic Waterfalls
Day 1: Pick up at 08:00 am in Reykjavík – see itinerary for location options. Enjoy the majestic Golden Circle attractions of Gullfoss, Geysir and the UNESCO World Heritage Site of Þingvellir. See Seljalandsfoss and Skógafoss waterfalls on the way to your accommodation near Vík.
Vík Village, Glacier Lagoon & Diamond Beach
Day 2: Reynisfjara black sand beach, the Reynisdrangar peaks and dramatic black basalt columns. Cross Eldhraun lava field, then go to Skaftafell in Vatnajökull National Park for a glacier hike. From November to March, climb through crystal ice caves. Visit Jókulsárlón, the surreal glacier lagoon with floating icebergs, and the nearby Crystal Beach. Spend the night in Höfn.
East Fjords, Djúpivogur & Egilsstaðir Hike
Day 3: Visit the fishing village at Djúpivogur, the charming Hengifoss and Litlanesfoss waterfalls, then to Egilsstaðir where you will stay at a country hotel.
Mývatn, Akureyri & Waterfalls
Day 4: See Dettifoss, the waterfall with the highest flow rate in Europe, the majesty of Goðafoss waterfall, Mývatn Nature Baths and Akureyri, your accommodation will be nearby.
Whale Watching Tour & Siglufjörður
Day 5: Explore Akureyri then off to Dalvík for whale watching, sea angling is an option, then explore Siglufjörður. Your hotel is at Bifröst.
Hraunfossar, Reykholt & Reykjavík
Day 6: Deildartunguhver hot spring, Barnafoss waterfall, see the water pouring straight out of the lava at the Hraunfossar cascade. Visit Reykholt, home of Snorri Sturluson, historian and writer of many Icelandic Sagas.
---
These spectacular attractions form the central core of your itinerary, but Iceland has something amazing to offer at any time of year. Here are these tour's seasonal extras:
From late August until April, search for the magical Northern Lights as dance across the sky. In winter from November to March, we replace the glacier hike with a thrilling journey through the Crystal Ice Cave.
In summer the Arctic midnight sun reigns supreme and puffins are often spotted along the coastline, so we make time to enjoy these. In the East, we could be lucky enough to cross paths with reindeer. In September there is often time to go to a sheep round-up somewhere in the countryside – learn how real farming people do things. This is when small group Iceland guided tours have a huge advantage, we can make the most of the opportunities which come up!
Here you can find a detailed list of information about everything you need to know about this tour:
6 Days Around Iceland Adventure Guide
---
Pick-up Information
Pick-up is at 08:00 am from your hotel or a nearby meeting point in Reykjavík. Picking everyone up can take up to 30 minutes, your patience is much appreciated.
Available pick-up points: Arctic Adventures's pick-up list.
---
What to bring: Warm outdoor clothing, a waterproof jacket and pants, headwear and gloves. Good hiking boots are recommended. See the 6 Days Around Iceland Adventure Guide for more information.
What if I don't own all of the necessary clothing items?
Don't worry, you can always rent sturdy hiking boots, waterproof jacket and pants in the booking process. We do not rent these items from the location, they must be ordered in advance.
Please note
solo travelers are required to choose the single room supplement when booking if they want a guaranteed private room. If the single room fee is not paid, they might be roomed with another solo traveler of the same gender.
Blue Lagoon Extension (optional): After the 6-day tour around Iceland, you will be dropped off at your chosen drop-off location, at around 17:00 pm. You will have time to have dinner, and then you are picked up at the same location for the Blue Lagoon transfer at 18:30 pm. After relaxing in the Blue Lagoon, you will be dropped off at the same location.
Sometimes we may need to change glaciers or glacier outlets on this tour due to various reasons, including weather conditions. Glacier outlets used on this tour include Svínafellsjökull, Falljökull and Sólheimajökull, all amazing and unique glaciers, equally as beautiful. From November to March, we replace the glacier hike with a journey through the Crystal Ice Cave.
Day 1: Golden Circle and South Coast
Please be ready at your pick-up location in Reykjavík at 08:00 am. The pick up process takes up to 30 minutes, so depending on where you are located in Reykjavik you may have to wait a few minutes. The first day of this round trip is mostly focused on exploring the attractions of the famous Golden Circle.
We visit Þingvellir National Park which is recognized as a World Heritage Site by UNESCO for its geological and historical significance. It was here that the Icelanders founded their historic Parliament in 930 CE, Alþingið, one of the first democratic governments in the world. The Law Speaker had one of the most dramatic 'platforms' in the world from which to proclaim the law, the cliff of the mighty rift valley stood at his back. The Mid-Atlantic Ridge runs right through Þingvellir, the Eurasian and North American tectonic plates continue to edge apart, slowly widening the rift valley. The Geysir hot spring area will be our next destination.
Geysir is the spouting hot spring which gave its name to this phenomenon when the English word 'geyser' was adopted. Watch the Strokkur hot spring erupt great jets of hot water and steam every few minutes and see the bubbling fumaroles. The mighty Gullfoss waterfall is the final Golden Circle attracted. See the dreamy golden-hued mist rising from the spray as the Hvítá (the White River) pours down from Langjökull (the Long Glacier) roaring through the rugged canyon. Gullfoss drops 32 m in two stages.
On the way to our accommodation at a country hotel near Kirkjubæjarklaustur, we will visit both Seljalandsfoss and Skógafoss waterfalls. Seljalandsfoss is a very unusual waterfall because it is possible to walk behind the cascade, giving a unique vantage point.
After you stop at your hotel for the night, from September through April you can go out searching for the Northern Lights with the help of your guide.
Day Highlights

Þingvellir National Park
Geysir Hot springs
Gullfoss Waterfall
Seljalandsfoss Waterfall
Skógafoss Waterfall
Included

Guided tour in minibus
Visit to the highlights of Golden Circle
Visit the most famous waterfalls of the South coast
One night at Hotel close to Vík
Accommodation
Hótel Geirland
or Similar
Day 2: Vík - Skaftafell - Glacier Lagoon - Höfn
We explore the atmospheric Reynisfjara black sand beach with the glorious Reynisdrangar peaks and visit the basalt column cave. Then it is over to the glaciers!
We pass the great Mýrdalsjökull glacier, which houses one of the most famous and feared volcanoes beneath its ice, the capricious Katla. In good visibility, you will get a glimpse of the great fire maestro!  Witness the results of previous volcanic eruptions as we drive across the Eldhraun lava field to Skaftafell in Vatnajökull National Park. Skaftafell is a true oasis, with green birch forests and lush vegetation, a verdant jewel in the midst of the rough black sand desert.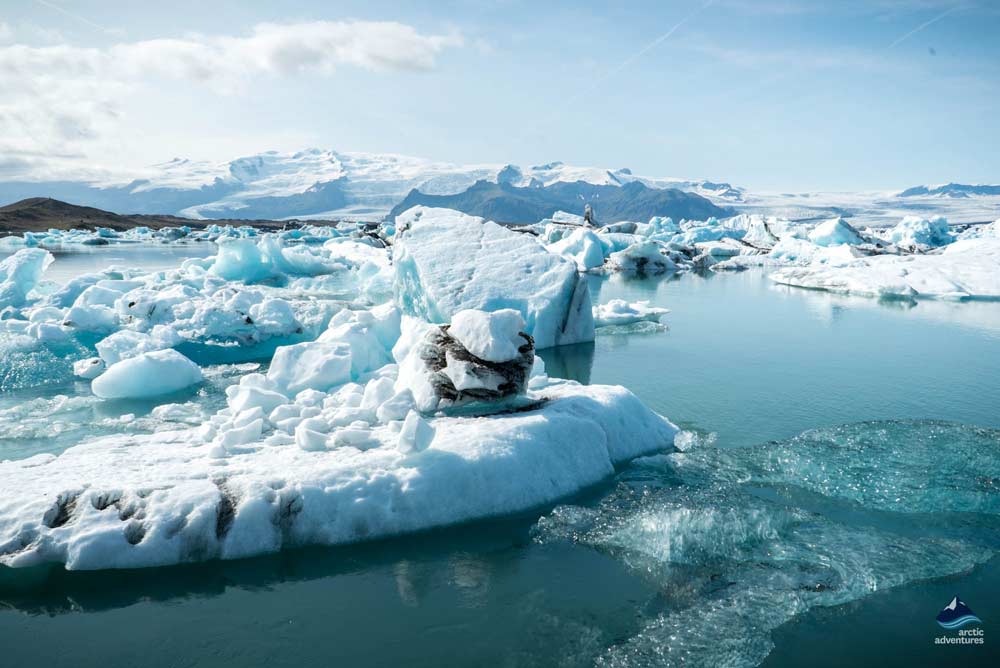 Floating icebergs in Jokulsarlon Glacier Lagoon
We will take a three-hour glacier hike, guided by our specialist glacier guide, on an outlet glacier of Vatnajökull, the largest glacier in Europe. From November to March, we replace the glacier hike with a magical journey through the Crystal Ice Cave.
Next on the agenda is the famous Jökulsárlón Glacier Lagoon. Gaze in wonder at the magical iceberg-filled lagoon and see the famous Diamond Beach, its coal-black sands peppered with the glittering crystal, blue/white icebergs which have been washed ashore. You will feel you are in a film scene, and in a way you will be – footage of James Bond and other movies has been shot here.
Our accommodation for the night will be at a guesthouse in Höfn, known as the lobster capital of Iceland. From September to April, slip away from the guesthouse at night to chase the Northern Lights.
Day Highlights

Reynisfjara Black Sand Beach
Vatnajökull National Park
Jökulsarlón Glacier Lagoon
The Crystal Beach (Diamond Beach)
Höfn - Lobster capital of Iceland
Included

Breakfast at Hotel close to Vík
Visit to Reynisfjara
Guided Glacier Hike on Vatnajökull Glacier
Certified Glacier Guide
Specialized glacier gear
Visit to Jökulsarlón and the Diamond Beach
One night at a guesthouse in Höfn
Accommodation
Day 3: East Fjords - Djúpivogur - Egilsstaðir
Today we will explore the East Fjords of Iceland. We continue threading our way along the coastline, driving some narrow roads around Hvalnes, a very beautiful and remote peninsula, and the stretch around the Þvottárskriður landslides between Lóns and Álftafjarðar.
Hengifoss Waterfall in Winter
We will stop at Djúpivogur, a traditional small fishing village which is also home to a fine outdoor sculpture, Eggin í Gleðivík (meaning The Eggs of Merry Bay). There is then an invigorating hike to Hengifoss, Iceland's second highest waterfall (128 m), we will also see the towering Litlanesfoss waterfall, the cascade is framed by giant hexagonal basalt columns. The hike takes about three hours in total. You will see a beautiful gorge where the layers from volcanic eruptions in ancient times can be seen in the colorful rock face.
Following our hike, we'll stop for a visit at the Iceland Wilderness Center or Óbyggðasetrið. Located at the edge of Northern Europe's biggest wilderness area, this tranquil escape offers accommodations, activities and a museum. Tour the wildness exhibit, named the 'best museum in the whole world' by Cosmopolitan Magazine, which showcases the history of the area's past inhabitants. The night will be spent in a country hotel in Egilsstaðir. Spend winter nights chasing the Northern Lights.
Day Highlights

Djúpivogur Fishing Village
Hengifoss Waterfall
Litlanesfoss Waterfall
The town of Egilsstaðir
Icelandic Wilderness Center
Included

Breakfast at the guesthouse in Höfn
Visit to the small fishing village of Djúpvogur
Guided hike to Hengifoss Waterfall
Admission to Wilderness Center Exhibit (optional)
One night at a Hotel in Egilsstaðir
Accommodation
Hotel Valaskjalf
or Similar
Day 4: Dettifoss - Mývatn - Goðafoss - Akureyri
Today we are on our way to the north of the country. From Egilsstaðir, we drive over the wilderness around Möðrudalur, the highest farm in Iceland for generations and now the highest inhabited place and restaurant, at 469 m. We will stop at Dettifoss, Europe's most powerful waterfall, the voluminous flow is truly awesome!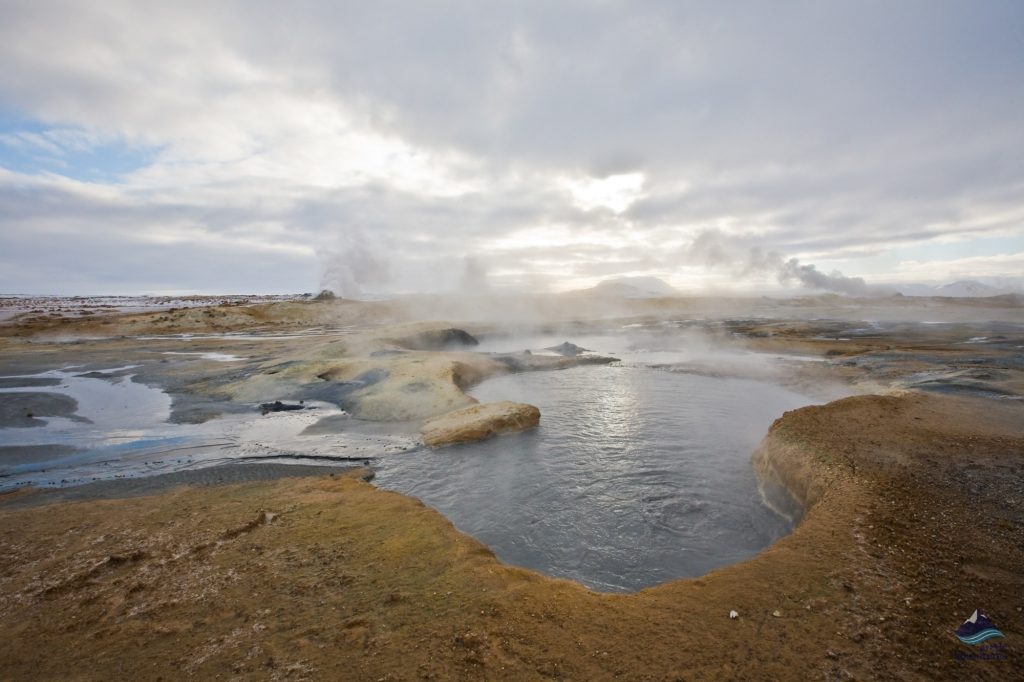 We then explore the mystical landscapes around the lake at Mývatn – from here it just gets more surreal – we head to the steaming lunar landscapes of the Námaskarð geothermal area. See boiling hot springs, steaming fumaroles and technicolor bubbling mud pots. The wonders continue when we visit the Hverfjall crater and the amazing Dimmuborgir formations, known as the Dark Castles!
The next stop is at Mývatn Nature Baths, in Icelandic these are called Jarðbóðin because the hot water comes straight up out of the earth. Mývatn Nature Baths, giving you the opportunity to bathe in the hot spring pools. Bathing is an optional extra activity but we highly recommend you book it beforehand to reserve your spot! Here you can bathe in the mineral-rich alkaline water (36 – 40 C), the entrance fee can be added when booking or paid on site. For those do not wish to bathe, there is the option to stroll around and enjoy the exceptional views or relax in the cafeteria, there is a sun terrace for fine days! The wide and dreamy crescent-shaped waterfall, Goðafoss, is the last stop of the day before we journey to Eyjafjörður, an outstandingly beautiful fjord with high mountains.
Our accommodation for the night will be at a country hotel in Akureyri. You will also have a chance to explore the fishing town in the north. From November to March, your guide will help you find Northern Lights viewing areas near the hotel.
Day Highlights

Dettifoss Waterfall
Mývatn Lake
Námaskarð geothermal area
Hverfjall Crater
Dimmuborgir formations
Goðafoss Waterfall
Included

Breakfast at Hotel in Egilsstaðir
Guided visit to all the highlights
Time to explore the magnificent landscapes
One night at a hotel close to Akureyri
Accommodation
Icelandair Hotel Akureyri
or Similar
Day 5: Whale watching in Dalvík - Siglufjörður -Tröllaskagi - Laugarbakki
Occasionally there is time to make a short stop at Akureyri, the Capital of the North. We always drive through this charming town, passing through the really mesmeric scenery along Eyjafjörður (the Island Fjord) on the way to the little fishing town of Dalvík.
Your whale watching boat trip departs from the traditional working harbor. During the 3-hour boat trip, you can expect to spot humpback whales, white-beaked dolphins, minke whales, and sometimes even a majestic blue whale shows up in the bay. If you are lucky, you might see one! You will also get the chance to try your luck at sea angling, and a taste of the freshest fish imaginable.
For a small extra fee, you can upgrade your whale watching tour from a regular boat to a speedboat or RHIB boat (Apr-Oct), which allows you to travel faster and get even more closer to the whales! Whales are spotted on 98% of tours.
Whale watching in Dalvík
When we step ashore, we drive to Siglufjörður, a charming fishing village with a rich history, in the early 20th century there was a gold rush atmosphere when the remote community became the herring fishing capital of the Atlantic. Your journey around Tröllaskagi (the Troll Peninsula) will show you some of the best ocean scenery and skiing areas in Iceland. The characterful small villages on this peninsula will really give you a good insight into how life was/is lived in the remote Icelandic villages. Our drive will take us through some thriving agricultural areas on our way to Laugarbakki.
Your accommodation for the night will be at a small hotel in Laugarbakki. Chase the Northern Lights on winter evenings (September-April).
Day Highlights

Akureyri - Capital of the North
Whale Watching from Dalvík
Siglufjörður Fishing Village
Included

Breakfast at a Hotel close to Akureyri
Akureyri & Eyjafjörður Fjord
3 hour Whale Watching sail tour
Opportunity to try out sea angling
Visit to Siglufjörður
One night at a hotel in Laugarbakki
Accommodation
Hotel Laugarbakki
or Similar
Day 6: Borgarfjörður - Reykholt - Hraunfossar - Hvalfjörður - Reykjavík
On this, our final day, we will find ourselves in West Iceland – an area which Lonely Planet voted as one of the best destinations in 2016. Your day will begin with a short hike up to Grábrók, a volcano crater. On a clear day, there are fabulous views over the lava field and the whole area. Borgarfjörður has many splendid sights and we will focus on these today. We stop at Deildartunguhver hot spring, the legendary waterfall, Barnafoss, (the Children´s Waterfall), and the Hraunfossar cascade, the atmospheric very low and wide falls where the water emerges, literally straight out of the lava field.
Hraunfossar waterfall
Next on the agenda is the historic and picturesque site of
Reykholt
, home to Snorri Sturluson, the Icelandic historian, lawyer, politician, poet and the author of some Icelandic Sagas. See Snorralaug, Snorri´s pool, dabble your fingers and feel the temperature of the water in the place where Snorri is likely to have bathed! We will drive around the scenic fjord,
Hvalfjörður
(Whale Fjord), on our way to back Reykjavík. We expect to arrive in the city around 5 – 6 pm.
Day Highlights

Borgarfjörður
Deildartunguhver hot spring
Barnafoss Waterfall
Hraunfossar cascade
Reykholt
Hike up to Grábrók, a volcano crater
Included

Breakfast at hotel
Visit to the highlights of Borgarfjörður
Visit to the historic sight of Reykholt
Drop off in Reykjavík
Special Offer 15% OFF PLUS FLEXIBLE CANCELLATION POLICY (You Can Cancel The Booking Up To 72 Hours Before The Tour Starts And Get A Full Refund)
Sale ends on 15.06.2020 at midnight (GMT)
Discounts work for travel time March-December, 2020
Promotional code: MULTIDAY15
Book this tour
Price from: 189.990 161.492 ISK per person.
NO BOOKING FEES
FAST & SECURE PAYMENTS
You have chosen: Classic Tour
You have chosen: +Blue Lagoon
"Best part of my three month solo trip"
I do not know where to begin writing this review, after three months solo travelling this was the perfect way to end my trip and the best week of the last three months. I knew going into this tour that February was not ideal the best month to visit Iceland however I went in with an open mind and ready for anything. I was always the skeptic when it came to group tours however this tour has completely changed my mind. Iceland as a country is breath taking and beyond phenomenal, and without gong on a tour I wouldn't have seen as much as we did. The weather the first few days was not ideal which was to be expected but also meant a few of our activities such as the Glacier Hike and Ice Cave Tour couldn't go ahead, however our Tour Guide Adolf organised extra activities for us to do including visiting a traditional Icelandic farm with horses and sheep. Adolf was a superb guide, friendly, outgoing and somebody who you could tell really enjoyed their job, even taking us to a lot of "off the beaten track" places and those that only locals tend to frequent. There aren't enough words or the right words to describe how truly amazing this country is and all it has to offer. Being a solo traveller also I was unsure about the age demographic of the group before it began however I was pleasantly surprised and made some awesome friends from all over the world. The standard of the tour was fantastic, there is not one thing I could fault about it. The accomodation exceeded my expectations – a few had hot tubs where we could chill at night and have a few drinks underneath the Northern Lights. The staff at every place we visited an every hotel was of a high level of customer service and extremely helpful. The people of Iceland are also friendly, approachable and always willing to help. For someone who was so anti-tour this trip has changed my opinion completely and would not hesitate to visit Iceland again one day and tour through this company.
"Awsome Guide, Wonderful Trip"
We took a 6 Day tour around Iceland with Artic Adventures and it turned out to be a trip of a lifetime. Iceland is a truly diverse and beautiful country and for someone who loves nature it was a sensational experience. Our guide Juan Oliveros was truly amazing and he made our trip fun and fabulous with his dramatic story telling and quirky sense of humour. It was a great group and we had a wonderful time. It was overall an incredible vacation.
"Amazing Tour & Great Tour Guide"
My sister and I joined Arctic Adventures for a "6 Day Around Iceland Adventure" tour on May 1, 2017. The weather was pretty intense on the first 2 days, especially the 1st, but luckily, none of our scheduled tours were canceled. Even under the extreme weather of Iceland, our tour guide still did his very best to make things work. We felt very lucky to travel around Iceland with those amazing new friend we met on our journey. Thank You Arctic Adventures for this unforgettable experience!!
"Amazing Ring Road Tour"
I did the 6 days around Iceland on the Ring Road this July. It was truly the perfect trip. Our guide was fun, accommodating, and informative. Our hotels and meals were great and considering the cost of Iceland this trip was pretty economical. If you are looking to see all of Iceland and get out of Reykjavik this trip is perfect. It was a great combination of seeing all the amazing sights and a bit of adventure. I would highly recommend this tour!
"Great tour"
Review of: 6-Day Small-Group Adventure Tour Around Iceland from Reykjavik

This tour was a great short overview of the most spectacular parts of Iceland. It was non stop, full on, go go go! Our tour guide, Jun was great. And we were lucky to have a great group on our bus. The smaller bus was really good. Everyone got to know each other, I have made some great friends out of it. I would have liked to have more time at some of the stops, especially the towns, to have a look around. But overall, a very good tour.
"6 Days around Iceland, once in a lifetime experience"
The trip was beyond my expectations, everything is well organized. Thanks to Francois Dennis( we had the best guide), he is very helpful and knowledgeable. Also our group was terrific- all great folks who we truly enjoyed, they made the trip so much more enjoyable 🙂 – Had a chance to see northern lights for 2 nights -Explore Iceland for 6 days with awesome people, those memories I will never forget -Our guide stopped by some cute coffee shop in Iceland which I think is extra 😉 -I also went to different tours with different companies but will choose Arctic Adventure again if I come back to Iceland.
6 Days Around Iceland Adventure | Average rating: 4.7/5 based on 28 customer reviews
"Six days around Iceland with the experts" |
By Sefton Warner 09/09/2018
"Arctic Adventures pulls together a fantastic six-day tour around Iceland on the ring road. They get all the easy things right, like a small group (so you get to know your fellow travelers), include all the major and scenic attractions and provide comfortable accommodation. Our guide, Arnar (aka Eagle the Guide), also did an outstanding job at the more difficult aspects, like making sure that individual interests were drawn out on the first few days and additional observations or stops included to feed that interest. In addition to touring us around the sights and attractions, Arnar really made us feel like we were being hosted in Iceland, offering us interesting stories about life in Iceland and the additional excitement of staying in his home town in the North. You can't control the weather in Iceland, but if you choose Arctic Adventures and you are lucky enough to have Arnar as your guide, then you will have a fantastic, hilarious, scenic and entertaining tour of Iceland guaranteed."
"Everything we hoped for!" |
By Katy McSurdy 18/08/2018
We loved our tour and Holly was really fun and knowledgeable, especially about the geology. It was really unforgettable. She was always game to stop for pictures and I really appreciated her ability to use the weather to her advantage and be strategic when it was going to rain a lot. It was great to have someone who was so in awe of Iceland as we were! All the hotels were really nice as well and we were surprised the quality of the food was so good. Thanks for an amazing time!
"Absolutely loved the trip!" |
By Wendy 11/08/2018
We had a fantastic experience! Our tour guide, Ricky, was full of information and stories and was a great driver too! We fell in love with Iceland - so many beautiful places to see. Very well planned and organized. Basic comfortable charming hotels to stay at along the way. I would recommend this trip to everyone!
"Six-day tour great way to see Iceland" |
By Martha Lee 07/08/2018
I really enjoyed your 6-day tour. The glacier walk, the whale-watching tour, the hikes to waterfalls, and all the stops along the loop of the island made me feel like I was getting the complete Iceland experience. Our guide, Hodei, was knowledge about Icelandic history and geology, and about where to get the best food in town. A big thanks to him for being an awesome tour guide. I would highly recommend Arctic Adventures.
"Great great experience even for a "not a tour person"" |
By Rene Bravo 05/08/2018
"I was a little bit concerned about taking a tour trip because for many years we have always gone on ourselves with our own agenda. There were 13 persons on the bus (of which 5 were us). The truth is that we really were amazed every day of the tour. First, it is very well planned. Every day has enough of everything (nature seeing, trekking, culture,...) to leave you excited and wanting more. Hotels and logistics are fine. Second, and most importantly, our guide Palli was great. He made the tour to be fantastic. He has a great attitude, knows a lot (of everything related to Iceland, not only about the tour), manages the group very well... he just makes it interesting and fun. We visited a lot of stuff. Many waterfalls, each one better than the previous. All stops were worth it."
"Amazing Iceland!" |
By Carolyn Reynolds 16/07/2018
My ten year old son and I cannot speak highly enough of this tour! We managed to see more in six days than we ever could have managed by ourselves, learnt more than we could have imagined was possible about Iceland's history, geology, fauna, flora and quirks, and had great fun the whole way. Our guide, Hjalti, was welcoming, knowledgeable, flexible and funny. He made my boy feel capable of doing everything that the tour required, and made sure he was included at all times. This is the perfect introduction to Iceland and well suited to those who like an active holiday - perfect for the ten year old who loved the physical aspects of the tour. We will be back!
"6 Day Around Iceland Adventure" |
By Kerstin Schmidt 13/07/2018
The 6 Day Around Iceland Adventure tour was an all around great experience. Micah, our guide, did an awesome job leading our tour. He is very knowledgeable and we learned a lot about Iceland's geology, history, fauna and flora. Every day offered new highlights, we got to experience Islands awe-inspiring natural beauty and participate in fun activities like glacier hiking,swimming in the wolrd's most beautiful pool and whale watching. Traveling with a small group of great people from various parts of the world added to making this trip very pleasant and fun. I would highly recommend this tour to all my friends and family.
"Best.Tour.Guide.Ever!" |
By Bil and Valerie Pentony 22/07/2018
We loved our tour guide, Sindri G. He was informative, helpful and very funny. He was willing to answer any question that came up on the tour. We really had a great time and would recommend it to anyone who asks. We loved the combination of scenic stops and the hikes as well. While we saw a lot of large bus tours, we preferred the small group (18) which, I believe, helped us to see more of Iceland because we didn't have to wait for a whole bus full of people to get off the bus then back on. We both feel as though we saw the best sights of the country and enjoyed the scenery and history of Iceland, as told by Sindri.
"6 day tour with Arnar" |
By Paul Greenwood 17/07/2018
Arnar was a really fun guide, fiercely proud of his Viking heritage and hometown of Dalvik. As he repeatedly told us, the North is indeed more genuine, more wild and less touristy that Reykjavik and even seems to have better weather. Arnar also helped us choose good places to eat which we would probably not have found on our own. Our small group of nine spread in age from 20 to 68, and although our interests were different, we bonded really well and everyone enjoyed it. Nothing in Iceland is inexpensive, but considering what was included, I feel the tour was good value.
"Fantastic Tour of Iceland" |
By Gordon Yamate 12/07/2018
Our trip to Iceland exceeded our expectations due in large part to our knowledgeable and entertaining tour guide (goes by Diddy). Diddy's knowledge of Icelandic culture and history provided a thoughtful context for understanding what goes on in Iceland. Our tour covered so many natural sites, including waterfalls, the Mid-Atlantic Rift where you can see the North American and Eurasian tectonic plates divide, the black sand beach and volcanic cliffs, a glacier lagoon, a glacier trek, hot springs and mud baths, a whale watching tour that included fishing for (and catching) local seafood. The accommodations were generally modest but clean with one exception and our last night was at Hotel Laugarbakki with a great restaurant and rooms. The physical activities offered (hiking) were geared for both those who were interested in getting a good workout, but also accommodated those less physically inclined. Diddy made our tour personal and meaningful with his family stories and humor and gave us a good sense of the Icelandic sensibility, which we thoroughly enjoyed. We don't normally do tours, but felt we experienced so much more than if we had done this trip on own.
"Everything went smoothly as planned..." |
By lai ah eng 04/07/2018
Everything went smoothly as planned (except the weather of course but it was still good on the whole). The sceneries were simply amazing. And we were fortunate to have Mikka as our guide as he was well informed. We were also lucky to have a mixed group of travellers (2 solo travellers, 3 sets of 1parent-1 young adult child, 2 sets of friends, and 2 older couples) who were generous, considerate and helpful to each other, e.g. we looked out and waited for the slightly slower ones, helped with luggage, we were on time, and there were no prolonged vanity photography shots. We also enjoyed our dinner conversations. At the same time, those who preferred to be on their own could do so. Wish we could have included an underground glacier tour and a short boat ride among the icebergs in the tour, and given a bit more time to do the local museums.
"Great experience with Arctic Adventures" |
By Chatsamorn Tiraganant 04/07/2018
Overall of the 6 days Iceland complete is great. The views were fantastic and amazing everyday. The guide was good and informative. The weak point was the minibus which the seat was inconvenient to sit for a long distance.
"6day ring" |
By shirley levine 30/06/2018
Briggi was brilliant. i was with my 16 year old grandson and briggis info and sense of humor was perfect, our group was a terrific mix of people from all over the world and added to the experience. lodging and meals were very good. my only night that was wanting was at farm stay gerdi. lobster meal was poorly prepared and room substandard. also the 7th day to the peninsula wasn't as good a tour. all was great the hight in borgannes but the new guide and passengers provided a different and not as great an experience. would not have booked if had originally known it was a separate trip. would highly recommend the 6 day and would be better if you offered a 7 day with same guide and group
"Great guide/ Great companionship" |
By Teresa 27/06/2018
Our tour in Iceland would have not been possible on our own. Fortunate to have an experienced guide like Hafi ( If his name is spelt correctly) who showed great showmanship/ and a great host. Thank you for making this trip unforgettable.
"Artic Adventure Trip a real adventure!" |
By Mary Ellen and Chuck Early 26/06/2018
My husband and I are over 65 years old, but we still enjoy an active vacation. This one was perfect. Every day, there was at least some hiking to scenic waterfalls, a beach or lava field. We would categorize the hikes as moderately difficult rather than "easy," which as used in your trip description. The highlight of our trip was the glacier walk, followed by whale watching from a small zodiac boat (an upgrade from whale watching in a large boat included in the tour package). Our guide (Becca) was very informative, professional and helpful. She had good suggestions for restaurants and kept us on pace with the planned itinerary. Hotels were adequate, and food, although expensive, was generally very good to excellent. The fish soup we had for lunch one day was out of this world. It rained every day so raingear is a must. The only negatives about the trip was the sound system on the bus. It was not easy to regulate so it was either too loud or not loud enough. In addition, there wasn't any spare room in the van so make sure your backpack is small.
"6-Day Around Iceland Adventure" |
By John D. 25/06/2018
My wife and three sons immensely enjoyed every aspect of our trip. Alvaro, our tour guide, has over six years experience and knew not only the mandatory bigger things but also the interesting and complementary smaller facts, places and things to do. Alvaro was a huge plus and made everyone feel like he had a personal interest in making the most out of your trip. Our tour size was excellent at only 18 people and the accommodations used by Arctic Adventures were not only clean and comfortable but were more representative of Iceland than a big chain could be. On this trip we were able to see as much as you can possibly see in six days from glacier hikes and waterfalls galore, to thermal features, thermal baths, craters, volcanoes, whales, seals and a million sheep. The hikes were designed to be as much or as little as you want. We highly recommend.
"Arctic Adventures Tour" |
By Carla loher 13/06/2018
My family and I chose the 6 day tour. Our tour guide was Sindri Gunnarsson. The Tour was packed with activities each day with lulls of driving in between. Our guide on our bus was an Icelander, however, others on the tour (Glacier walking) were not. Our guide was very knowledgeable and interesting and made all of the sites interesting to learn about. The country is beautiful and unspoiled and it was wonderful to see it through the eyes of our guide. By the end of the week, our group of 12 had become friends, enjoying each other's company, helping each other up mountains, eating meals together and exchanging contact information. The guesthouses in each little town were interesting and the hosts even more so. The country has adapted well to tourism and technology. I would recommend this tour for all ages.
"Awesome trip, great guide" |
By Yosef Al-Jasem 20/05/2018
One of the most organized trips in professional structure I ever been to. If you want to see most of Iceland wonders then this 6 days tour is the optimal. I did not prepare any plan. The trip is well organized, hotel/guesthouses are nice. Iceland is expensive country so bare in mind. The tour guide ""Sinduri"" is one the best guides I ever met. He took us through the history of iceland since the early settlers. He is knowledgeable with history (has such great memory of dates), precise in his words and statements. He has great technical knowledge as I am engineer myself. With him, the traveler dives in history, engineering, geology and energy of Iceland and norse countries. He is very humble, respectful and down to earth. I enjoyed listening to him over the six days. I traveled solo, however with partner would add great fun cuz the country is so romantic. Overall, I recommend this trip to any one trying to see Iceland wonders. Couple of improvement opportunities """"""from my lenses"""""" (safety brief at the beginning of the tour on what can encounter in the trip, checking if anybody has medical issues might need attention, emergency numbers..etc). Also, at everyday briefing the passengers on what we will see during the day. Complementary items (e.g. post cards; or water bottles that can be filled later on at the trip start, will also show more care to travelers..simple things you know). You also may add gallery to your website with photos of the groups you host. lastly, I loved iceland and loved icelandic people. They are humble and respectful. God bless this country and its visitors. Do not miss it. Think of going either in July or winter. and enjoy to the max. Regards Yosef
"The Only Way to See Iceland in February" |
By Demery Robinson 28/02/2018
We took the 6 Day Around Iceland Tour in February 2018. Our guide was Ragnar Hermannsson. Ragnar's knowledge, wit, sense of adventure, and unabashed love of Iceland made the trip for me. My initial thoughts were to self-drive the ring road, but after a few you-tube videos of winter white-outs and icy roads we went with Arctic Adventures and it was absolutely the right decision. There were 18 people on our tour, average age about 50, Ragnar was attentive to everyone's abilities and limitations and paced the tour accordingly. Iceland is a photographers dream, so bring a camera but use your phone to capture pics to send instantly to friends and loved ones. (Wi-fi is provided on the bus) The highlight of the trip was seeing the Northern Lights twice during the tour, the first night they lasted almost two hours and were absolutely stunning. I would like to return to Iceland for a summer tour some day, but I'm glad we did the winter tour first. If you go in winter dress in layers, use wool, and invest in a good pair of waterproof hiking boots. Wear the crampons (provided by Arctic Adventures) when you get off the bus, the ice is treacherous, especially in parking lots. One last thought, if your guide offers your group the opportunity to go to a local pool, or to a restaurant other than the hotels, do it. These little side trips brought our group together and made the tour that much more enjoyable. You can rest when you get home.
"Arctic Adventures 6 Day Tour - Awsome!" |
By Murray Connor 06/03/2018
An amazing country, shown to us by an amazing tour guide. A tour like this requires adaptability because of the weather, and other circumstances. Our itinerary had to be varied from that advertised because of the weather, but there were no disappointments. The fact that we ended up using 4 different coaches in 6 days was all part of the adventure, and was taken in good spirits by all. Our guide's passion for his country was infectious, and we would love to return in the future in the summer to see Iceland in a different light.
"Brilliant tour" |
By Bianca 17/03/2018
This was a brilliantly organised tour. The tour guide, Francois, was informative and fun, keeping the energy of the group up at all times. The experiences we had on the tour were great, and there really wasn't anything to critique. It all went brilliantly!
"Tour was fantastic" |
By Lisa 24/03/2018
Tour was fantastic, it's too bad we couldn't do some activities due to the weather (ice cave and glacier walk) but everything was great.
"The best 6 days of my life!" |
By Natalia 31/03/2018
Thank you thank you thank you! That was the best trip Ever!! I had so much fun! it was unforgettable experience for me. I fall in love with Iceland and with the best tour guide in the world:Crazy Sven?œHe is fantastic, so funny and kind. I will definitely recommend this tour. ?-️?
"Awesome experience" |
By Matthew Kwan 14/04/2018
Wonderful experience! Professional tour guide Thor just simply brought us an amazing trip! Thanks for a memorable journey!
"Trip of a lifetime!" |
By Michele Pechnik 15/04/2018
We are a family of four, with two girls, aged 11 and 14. If we were going to go to Iceland, I wanted to SEE Iceland. This 6 day tour was the way to go. Our tour guide, Thor, was kind, knowledgeable, and a good driver! Not only did we have to not worry about navigating around, basically, the whole country, we could enjoy the scenery along the way. We saw so many wonders: geisers, waterfalls, caves, craters, icebergs, glaciers, beaches, mountains, northern lights, craggy landscapes. Beyond beautiful. A lot of our stops were hours driving distance away, but the amazing part is that it is pretty much awe inspiring scenery the whole way in between. There is no way we could have really soaked it all in if we tried to do this on our own. There is wifi on the bus, which was great for immediately sharing pictures with friends and family back home, but don't forget to look out the window!
"Limited Success" |
By Wendy Lahr 17/04/2018
I went on the 6 Days Iceland Adventure during the 1st week of April. Our guide was well-informed and interesting, and gave lots of information about Iceland's history, geology, and his own personal experience. However, the weather was against us, and it snowed almost every day of the tour. Because of snowy conditions and road closures, our group was unable to visit many of the places and sights listed on the itinerary for days 3 and 4 of the tour. In hindsight, instead of enduring long hours on the bus and seeing nothing but snow in the northern part of the country, it might have been better to stay in Reykjavik and go on day tours to more accessible locations in the south. I think the 6 day tour around Iceland might be better taken during the summer months. Some of the highlights for me were seeing and hiking at many waterfalls, visiting geothermal pools and geysers, seeing wild reindeer, driving past beautiful fjords and snow-covered peaks, and stopping at an Icelandic horse farm. The small group of 18 was nice, and our multi-ethnic group from 5 different countries was quite compatible. However, with the small group size came a small bus to transport us. The seats in the bus were narrow, crammed tightly together, and had very little leg space. These buses would be quite uncomfortable for passengers who are tall or plus-sized. Just a few personal notes: I thought 4 1/2 hours was much too long to spend on the glacier walk on day 2. We spent over an hour just waiting on the bus and standing around during the hike. By the time we arrived at the glacier lagoon and Diamond Beach later in the day, it was quite late and too dark to see much. I particularly enjoyed staying at country hotels out in the middle of nowhere, and thought the service and spacious rooms were nicer than that of the hotels we stayed at in towns. Don't count on seeing whales on Day 5; I endured 3 hours of freezing wind and choppy seas and never saw anything except sea birds. On some days we traveled on the bus for over 4 hours with no restroom breaks; it would have been nice if we had been warned ahead of time so that we could limit our liquid intake. Iceland is an incredibly beautiful country, and I would love to visit again when the weather is better.
"Magnificent Country" |
By Loher Brian H. 09/06/2018
Sindri was an excellent tour guide as he was very knowledgeable about Iceland and its history. He kept us entertained with stories, facts and an occasional joke. Iceland is a marvelous country with so many natural wonders. This 6-day tour was a perfect introduction to Iceland. I would not hesitate to us Arctic Adventures for future trips.
"Very good sites and arrangements" |
By falstrom 13/06/2018
Very good sites and arrangements. guide erla fun and competent as well as considerate. when the trailer tire blew, she didn't hesitate but dealt with it smartly. she's even got me reading independent people (english).