All about
ICELAND
Insider info to adventuring in Iceland
September in Iceland | All you need to know
Traveling to Iceland in September? You must have a lot of questions: What to do? What to wear? What to pack? What is the weather like in September in Iceland? How to drive in September? Can you see the Northern Lights in September in Iceland and so on but fear not, we are here to help. This Ultimate Guide to September in Iceland should get you all the information you need to do September in Iceland the best way!
Weather in September
September is the month that we welcome colder temperatures but during the last couple of years the month has linked well with the Summer and sunlight is never too far away. We will most likely see an increase in rain and you should prepare to dress accordingly.
The reason I say likely is because you will never truly know with Icelandic weather, it really is a fickle thing and you can never actually count on it to act a certain way. What I can say is that snow is unlikely, wind and rain are not and sun and warm weather can definitely happen but don't count on it.
Temperatures in September in Iceland are around 5°c – 10°c (41-50 Fahrenheit).
Check out for more information about the Iceland weather.
---
Daylight in September in Iceland
At the beginning of September, the daylight will be a little over 14 hours, giving you plenty of time to explore and enjoy but still having no trouble getting a good night sleep with dark nights. At the end of the month, we stand at 11 hours and 35 minutes of daylight, but even though the light varies approximately 3 hours both at the beginning and in the end will give you plenty of time to go around and explore.
Good to know before visiting September in Iceland
The fall colors are starting to show and a camera is essential!
This is the pretty wet month, bring waterproofs.

Puffins mostly leave the island in late August but arriving early September might still bring some hope. During late September you are unlikely to see puffins.

One of the best things about September is that the Gulf stream brings in some warm ocean waves and sea swimming, surfing, and other ocean activities can be done in the warmest water possible in Iceland.
What to wear in September in Iceland | What to Pack for September in Iceland
September is the month to be prepared for wet weather. Bring with you some good thermals to keep close, the second layer should be a sweater + pants and then the waterproofs, jacket and pants. Rainproof hiking shoes or rainboots are your best bet when traveling out from the city. In Iceland, the saying "there is no bad weather just bad dressing" has proven itself over and over again and we suggest you think comfort over looks!
Packing list for September in Iceland
Thermals

Hat, scarf and gloves

Waterproof pants and jacket

Rainproof footwear, boots or hiking shoes

Good warm socks, more than you would usually bring

Swimwear

Sunglasses
Best things to see in September in Iceland
Visiting Iceland in September invites you on an adventure of stunning fall colors in lively Icelandic nature and whale watching wonders. It is the perfect time to catch the first glimpse of the Northern Lights season and the perfect in-between of summer and winter. September in Iceland is pretty much the only month that shows you any sign of fall and there is plenty of ways to enjoy it.
Whales in Iceland
The Gentle Giants, the Royalty of the Seas, the Ocean's Pride, the, the, I could go on forever. These mystical and enormous creatures are a true fascination for any wildlife lover and catching even a glimpse of their presence will get you in the I heart Whales club. The best way to see the whales is by joining a Whale Watching tour, which can be done from Reykjavík or from the Whale Paradise at Dalvík.
Northern Lights or the Aurora Borealis
September is the first month that you really start to see the lights dance in the night sky again. Some lucky August travelers have told stories of spotting them in late August in the Highlands and they are almost guaranteed on the Laugavegur trail in August but September is a much safer bet. This is when the great Northern Lights tours start operating and one of the most popular times to visit Iceland for the Northern Lights hunters. The lights are often said to be stronger in the beginning and end of the season so September is a fantastic month catch a light show!
The Epic fall colors
This needs no explanation, visit Þingvellir, Hraunfossar waterfalls, Heiðmörk or any area with moss and birch and you will be in an awe. Make sure you bring your camera – the visual is immense!
Best things to do in September in Iceland
September is, like mentioned above, the month that best brings together the summer and winter in Iceland. If you are planning a trip to Iceland and want to cut the crowds and be more alone with the island of ice and fire, the odds will be in your favor in September.
Get your cozy on
September lighting, candles, a warm cup of hot cocoa or coffee and some hot Icelandic lamb soup. This sounds just about perfect to me. Dishes in Iceland is quite seasonal and for most Icelanders fall time is when you should have lamb soup, drink warm beverages and treat yourself to a slice or two of a homemade rhubarb pie. Cafés I can recommend for this experience in Reykjavík: Stofan, Julia & Julia, Mokka Kaffi, Café Babalú and Íslenski Barinn.
Réttir – Icelandic Sheep or Icelandic Horse Roundups
Réttir or the Annual Sheep or Horse Roundups is a huge social gathering in Iceland. Those events are hosted all over the country and the purpose is to collect the farm animals that have been settling in the highlands over the summertime. People assemble from all over the country to join in helping and observing these ceremonies.  Don't miss out!
For Horse Roundups, they are mainly held in North of Iceland:
Auðkúlurétt

near Lake Svínavatn, East-Húnavatnsssýsla

Árhólarétt

in Unadalur Valley, Skagafjörður.

Deildardalsrétt

in Deildardalur valley, Skagafjörður.

Flókadalsrétt

, Fljótum, Skagafjörður.

Hlíðarrétt

near Bólstaðarhlíð, East-Húnavatnsssýsla

Laufskálarétt

in Hjaltadalur Valley, Skagafjörður (personal favorite).

Melgerðismelarétt

in Eyjafjarðarsveit.

Miðfjarðarrétt

in Miðfjörður, West-Húnavatnssýsla.

Skrapatungurétt

in East-Húnavatnsssýsla

Staðarrétt

in Skagafjörður.

Tungurétt

in Svarfaðardalur Valley, Eyjafjörður.

Unadalsrétt

in Unadalur near Hofsós.

Víðidalstungurétt

in Víðidalur Valley, West-Húnavatnssýsla.
For Sheep Roundup they are all over the country:  
Oddstaðarétt

in Borgarfjörður,

 West-Iceland.

Rauðsgilsrétt

in Borgarfjörður,

West-Iceland.

Þverárrétt

in Borgarf

jörður,

West-Iceland.

Hítardalsrétt

in Borgarfjörður, West-Iceland.

Kjósarétt

in Kjós.

Hrafnkelsstaðarétt

in Grundarfjörður, the town below Kirkjufell.

Kirkjufellsrétt

in Haukadalur near the Golden Circle.

Fossárrétt

in East-Húnavatnassýsla.  

Undirfellsrétt in Vatnssdalur, East-Húnavatnssýsla.
Pick berries
One of the ultimate perks of Iceland. Here in the island that keeps giving, us volcanic eruptions and earthquakes we have found an upside. We don't have any animals to be afraid of. No bears, no poisonous spiders, no snakes, no nothing. So, pick all the berries you want and dwell in the hills while doing it. September is the best berry picking months and you are looking for blueberries and crowberries.
Visit a natural pool or nature baths
September is a beautiful month to visit any pool natural or man-made. The natural ones that can only be comfortably visited during summer are best to visit from May to September so this is just about your last chance to really enjoy the ones that get too cold in winter. Examples of good ones are Hrunalaug, Krossneslaug and Birkimelur swimming pool.
Events in Iceland in September
Ljósanott – the Night of Lights Festival
Ljósanótt is held in the town of Keflavík on the Reykjanes peninsula. It is a whole day and night of concerts and art shows and the town is lit up by lights, hence the name. Many travel from all over Iceland to join for this night of celebration and we encourage you to do so as well! The night will end with a great firework show!
Find out more information on Ljósanótt.
Reykjavik International Film Festival – RIFF
The Reykjavík International Film Festival or RIFF is one of the biggest and most diverse cultural events in Iceland and the perfect way to spend your time now that the midnight sun is past us. Cuddle up to a great film when the night gets dark or even watch a movie from one of the local swimming pools, the inventiveness and originality of the event planners never cease to amaze.
Find out more about the RIFF festival.
Oktoberfest at the University of Iceland (yes, in September)
Oktoberfest, which is mainly a German tradition has traveled to Iceland and we love it!
The only con is that the festival is an outdoor event and the Icelandic October weather has often proven to be quite ruthlessly.  So the event planners have resorted to hosting the party in the month prior. Two to three huge tents are placed in the parking lot at the University (located only a walking distance from downtown) and almost every single star number in Iceland is in the program. The perfect local experience!
Find out more about SHÍ's Oktoberfest.
Tours to do in September in Iceland
Blue Ice Glacier Hiking and Climbing
September is the month the glacial ice is at it's bluest! This means that you will not believe your eyes when exploring this wonderment of nature. This tour is, and has been for a long time, one of our most popular tours and for a good reason. The glacier, Sólheimajökull,  is located only 2 hours from Reykjavík, you can do the tour with pick up in Reykjavík or meet us there AND last but not least, the tour is a combo of both a glacier hiking and ice climbing. Add to it the expert guide, all the super cool glacier equipment and then the fact that September is the bluest month and you have yourself a winner. Blue Ice glacier hiking and ice climbing tour is an experience you will never forget.
Golden Circle and Sightseeing Tours
With the fall colors at their best, a visit to Thingvellir National Park is truly a magical trip. This is also a splendid time to beat the crowds, as you are in between the summer and winter seasons. Do the Golden Circle with an add-on activity or explore the uprising Snæfellsnes Peninsula. You will not be disappointed!
This is pretty much your last chance to explore the geothermal wonderland in the highlands before the snow starts hiding its ravishing rhyolite color scheme. Join a bus through amazing terrain as you make your way past Hekla volcano and other unique natural wonders. Arrive at the moss and lava covered lowlands before hiking up to the colorful mountains and volcanoes surrounding. Finish it off with a dip in the natural hot pool that rests in the foothills. Find out more about Iceland'sd best hikes.
September is a relatively easy month to get around in Iceland, its right before the "real" winter months and the Ring Road is usually open 24/7 without any exceptions. The only thing you might want to be on the lookout is a fog. September is quite a foggy month, a mystical time really and that could be the biggest obstacle.
Can you see the Northern Lights in September in Iceland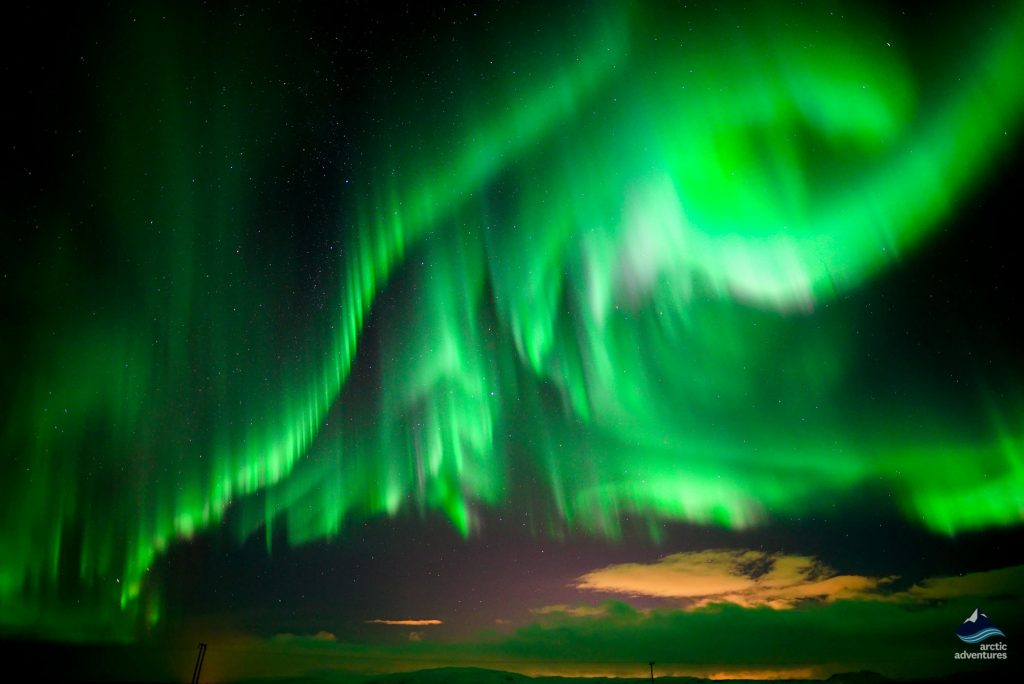 YES! Actually, the Northern Lights are excellent in September and many say that this month is the absolute best for Northern Lights hunting. It is almost like they have been waiting for you to see their show again and shine twice as bright in excitement. The Northern Light tours all start around this time as September marks the true beginning of the Northern lights season.
Related blogs
For most Icelanders, August month marks the end of summer and we try to make the ABSOLUTE most of it. Because of this, there is a lot going on everywhere. Here I will tell you all about where to go and what to do in August in Iceland
August 3, 2017 , By Ragnheidur
The Aurora Borealis, the beautiful, colorful, dancing lights in the sky. What are they? Where can you see them and when is the best time to do so? We share our guide to spot this once-in-a-lifetime phenomenon.
August 17, 2017 , By Ragnheidur
November is a beautiful month to visit Iceland. It might be cold but there are endless options for great activities and fun!
Here are some ideas on what to do in Iceland when visiting in November.
November 1, 2017 , By Ragnheidur
Our three-day itinerary is perfect for those who are visiting Iceland in the summer, and who would like a good balance between hiking and sightseeing. It is great for those who want to go to both Landmannalaugar and visit the South Coast.
August 15, 2017 , By Sanna