Trekking Tours in Iceland offer some of the best scenery in the world. Our trails take you from moss-carpeted lava fields to mighty glaciers. You name it and Iceland has it — challenge yourself, step off the beaten path, and see places of exquisite natural beauty on Iceland's amazing trails!
Is Iceland a good place to trek?
Simply put, yes, Iceland may well be the best place to trek in the world. It has some of the most diverse landscapes on Earth: encompassing glaciers, rising mountains, lava fields, black sand deserts and much, much more. Iceland's trekking trails offer beautiful nature, peace, tranquility, fascinating history, plenty of challenges, and incredible diversity.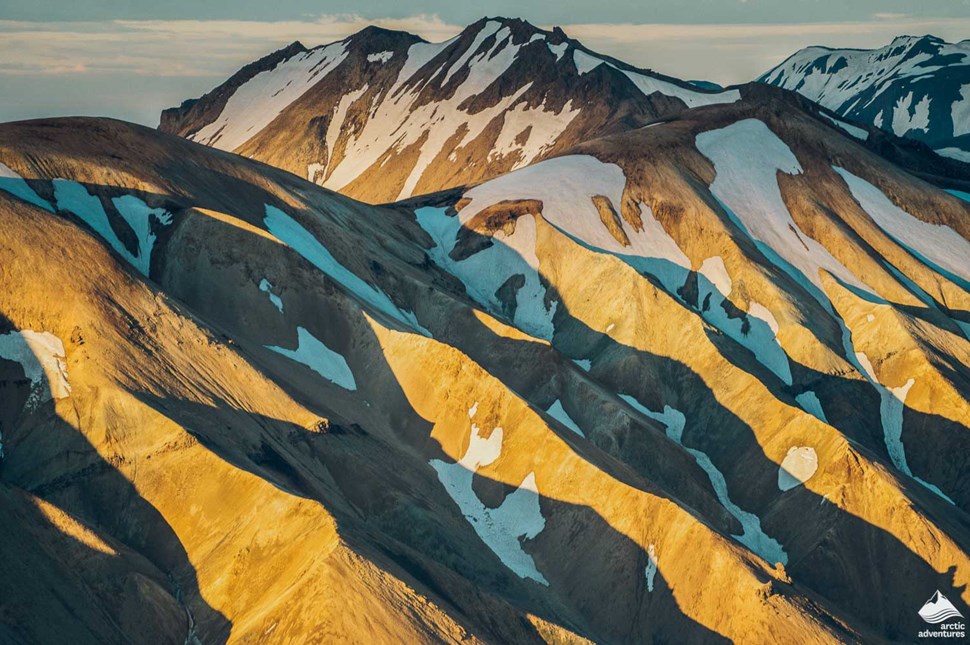 Iceland is also much smaller than other great trekking destinations like Canada, meaning that its treks are much closer to each other, allowing you to do more without traveling vast distances. 
Where do the trekking tours take place?
Our most popular destination is trekking across Iceland's Highlands. These trails extend from the multicolored Landmannalaugar area to Thórsmörk and the Fimmvörðuháls Mountain Pass. You can choose from single day hikes to multi-day treks through the entire stretch of the Laugavegur Trail. 
We offer treks in the shadow of Europe's largest glacier through Vatnajökull National Park, the chance to explore Hornstrandir in the North, and a journey into Iceland's distant East Fjords. All treks offer stunning scenery, tranquility, and plenty of opportunities to test your limits. 
When is the best time for a trekking in Iceland tour?
Trekking is a summer activity, so July and August are probably the best months for your trekking adventure. May, June, and September are also good for some trails, but many don't open until late June. 
The date that a trail opens is usually determined by the amount of snow that has fallen during the winter and how long it takes to thaw, meaning that the low altitude trails are more accessible during early and late summer. We don't recommend trekking during the winter, but experienced hikers can do and have done it with the help of a guide. 
What is the weather like during your trekking tours?
Iceland is renowned for its unpredictable weather. It's a popular joke among locals that you can experience all four seasons in one day. This is especially true in the Highlands, where most of our trekking tours take place. 
We can't tell you exactly what the weather will be like, but you should be prepared for snow, sun, rain, fog and pretty much everything else. You should prepare for temperatures of around 50° Fahrenheit (10° Celsius), but the temperature may feel significantly cooler due to windchill. 
What should I bring?
It's important to strike a balance between traveling as light as possible and bringing the right equipment. You should avoid bringing unnecessary items since you'll have to carry your backpack for the duration of most of our trekking tours. You'll receive a full packing list with your booking confirmation and can find more information on what to pack on the dedicated page for each tour. 
As a general rule, we recommend bringing warm and waterproof clothing that is easy to alter according to the weather. Layering is vital in the Highlands because it allows you to adjust to the constantly changing weather conditions. 
Sturdy hiking boots are an absolute must and, depending on the trail, they may need to be able to attach crampons to the soles. 
Other essential items include sunglasses, sunscreen, a water bottle, and any important personal items. You may need a sleeping bag for camping tours, and sometimes we recommend a bag of a specific temperature rating. You will find the recommended temperature of your sleeping bag on the tour page if it is necessary. 
You can rent many of these items from us, but you must specify what you need during the booking process. We cannot lend items on the day of your tour. If you're planning a longer stay in Iceland, you may be able to leave unnecessary items and bags at our booking office in Reykjavik. We also sometimes bring a support vehicle, which will move your bag from campsite to campsite, please check the dedicated tour page for more information on the subject.  
Food and Drink
If you join one of our recommended guided tours, then your tour guide will arrange most meals during your trek. That being said, it's still not a bad idea to bring snacks for the journey. If you're planning to do a trek by yourself, then you'll need to arrange your own food before your trip. There are a couple of small shops along the Laugavegur trail but they won't cover you for your entire journey. 
There are plenty of places to fill your water bottle, though. It's also important to note that you'll have to eat more than you usually would, due to the increased amount of exercise that you'll be doing during the trek. Full details about the meals provided and what you should bring yourself are provided on each tour's dedicated page. 
The Best Treks in Iceland
Iceland is blessed with some of the best treks in the world. Below are some of the most popular treks in the land of fire and ice:
Laugavegur Trail
The Laugavegur Trail is Iceland's most famous trek and was rated as one of the best hikes in the world by National Geographic. It begins in Landmannalaugar, a multi-colored, geothermal wonderland riddled with rhyolite mountains and steaming hot springs. The trail continues through black sand deserts, rugged lava fields, tranquil lakes, mighty glaciers, and uniquely shaped mountains until it reaches the verdant Thórsmörk Valley.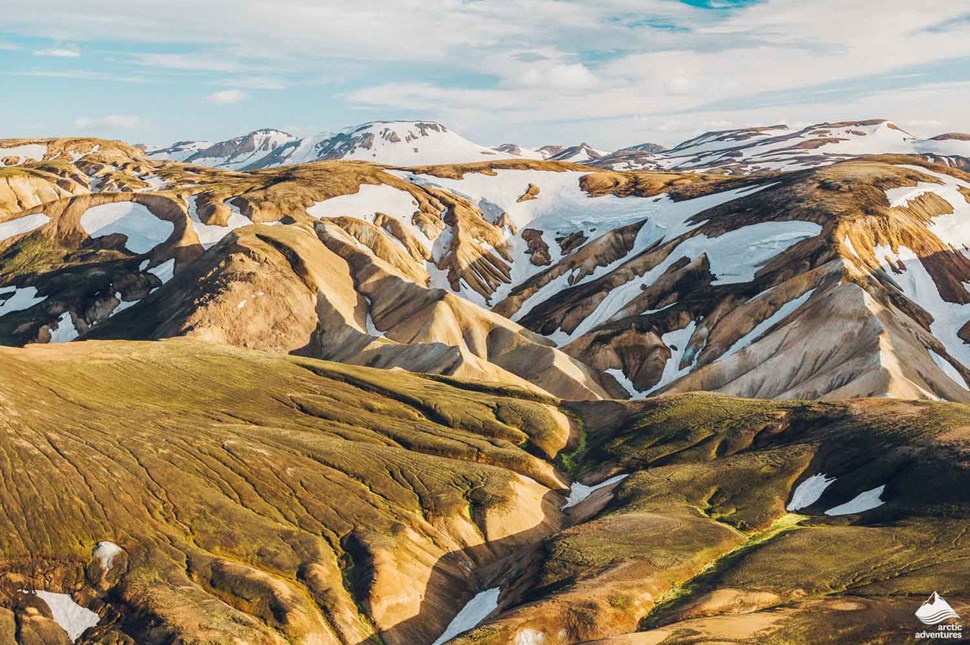 Laugavegur ends at the Fimmvörðuháls Mountain Pass, where you will see an ever-evolving volcanic landscape that was drastically changed by the notorious 2010 Eyjafjallajökull eruption.
We offer a wide selection of Laugavegur treks to suit every possible need: 
The traditional 4-day Laugavegur trek in huts or a cheaper option with camping in tents between Landmannalaugar and Thórsmörk. Those interested in seeing Fimmvörðuháls should check out this 6-Day Laugavegur and Fimmvörðuháls trek. 
Solo travelers are covered with this 6-Day Laugavegur and Fimmvörðuháls tour. 
If you really want to push yourself to the limit, then our 8-Day Grand Laugavegur Trek is the one for you.
Treks in Vatnajökull
The glacially carved landscape of Vatnajökull National Park offers some of the best wilderness treks in Iceland. Our Vatnajökull Wilderness Backpacking Expedition begins at the glacier-fed Djúpá River, passing glaciers, hot springs, and birch forests on its way to Skaftafell National Park. These tours feature glacier trekking in Iceland beneath Europe's largest glacier and is ideal for people who want to see a different side of Iceland's Highlands.
If you really want to challenge yourself then our Hvannadalshnúkur Summit and South Coast trek is an excellent choice. It takes you on a hiking adventure from Europe's largest glacier to the summit of Iceland's tallest mountain and includes all the natural wonders of the South Coast. It's an action-packed 4-days that will provide you with memories that you'll treasure forever. 
Treks in Hornstrandir
The Hornstrandir Nature Reserve is perched on a peninsula in the northernmost part of Iceland. It's the most remote part of the country and is ideal for people who want to escape the crowds and explore a less traditional tourist track. Our 6-day Hornstrandir Hike will show you the nature reserve in all of its glory — encompassing rolling hills, fjords, waterfalls and much, much more. 
Treks in the East Fjords
The East Fjords offer some of the more relaxing trekking trails in Iceland. They're steeped in history and are less intense than some of the other treks that we offer. Check out our in the footsteps of elves trek, featuring stunning nature, stories from the sagas, and the warm hospitality of the local people.
How do I know if a trek is too difficult?
We break our treks down into four distinct levels, making it easy to understand if a trek is too challenging for you. 
Easy.

 

Suitable for most people in reasonable condition. You'll need to be able to hike for at least 2-3 hours and be able to walk on uneven surfaces. Trails are usually of good quality and the elevation gain is gradual. 

Moderate.

 

Suitable for people in good condition. You'll need to be able to walk for around 4 hours. Trails are usually of good quality and the elevation gain is gradual. 

Challenging.

 

Suitable for people in good hiking condition with experience. Trails are usually in fair condition, but some parts of the trek may be off path. Ground conditions may be challenging, uneven, or icy. You should be able to cover around 7.5 mi (12 km) a day.

Demanding.

 

Suitable for people in excellent hiking condition. Trails are sometimes fair, but much of the trek may be off track. You should be able to cover 12.5 mi (20 km) a day on uneven trails and snow. Sharp increases in elevation and technical challenges should be expected.