Iceland's Natural Hot Springs — What Are They?
Iceland has over 600 hot springs. This natural phenomenon is created when deep, underground rocks are heated by magma and pass on their heat to the surrounding groundwater. The 212 °F (100 °C) water then searches for cracks and fissures to escape through. If the heated groundwater manages to find cracks in the earth's surface, it creates a steaming hot spring. Otherwise, the steam and geothermal energy build up in pooling chambers, eventually spouting like geysers.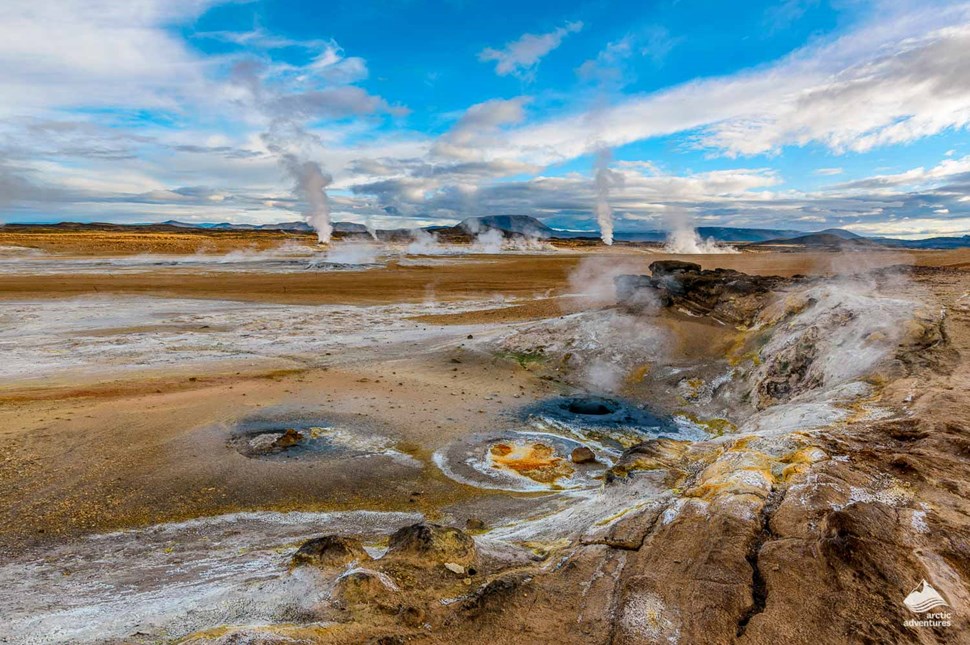 On its way to the surface of the earth, groundwater sometimes cools down to 100-04 °F (38-40 °C). This temperature is perfect for a dip. However, beware that some hot springs are too hot for humans, such as those in the Myvatn area.
In Myvatn Geothermal Area you'll also spot mud pots and fumaroles. Mud pots and hot springs are essentially one and the same except that mud pots mix with dirt on their way through the earth's crust. Fumaroles are outlets of gaseous steam rising from the earth without an apparent water source.
How do Icelanders make use of Natural Hot Springs?
Besides bathing in hot springs, Icelanders also use their geothermal energy to heat houses and streets and produce electricity. In fact, more than 99% of Iceland's energy is completely renewable, making Iceland one of the greenest countries in the world. Icelanders enjoy a hot shower on a cold winter's day — and why shouldn't they, if their water source is natural and never-ending. Learn more about Iceland's renewable energy. 
Hot Springs in Iceland
Iceland's hot springs are spread throughout the country. The most concentrated spots are in Southwest Iceland and on the northern shores. 
Natural Hot Springs in North Iceland
Grettislaug Hot Spring. This hot spring was named after an outlaw, Grettir, who was cast out of the society to live on Drangey Island. He was so strong that he used to swim from the island across the sea to the hot spring to warm up. The hot spring is located on the shores of Skagifjordur Fjord in the North and is surrounded by breathtaking views of the mountains, Dragney Island, and the ocean.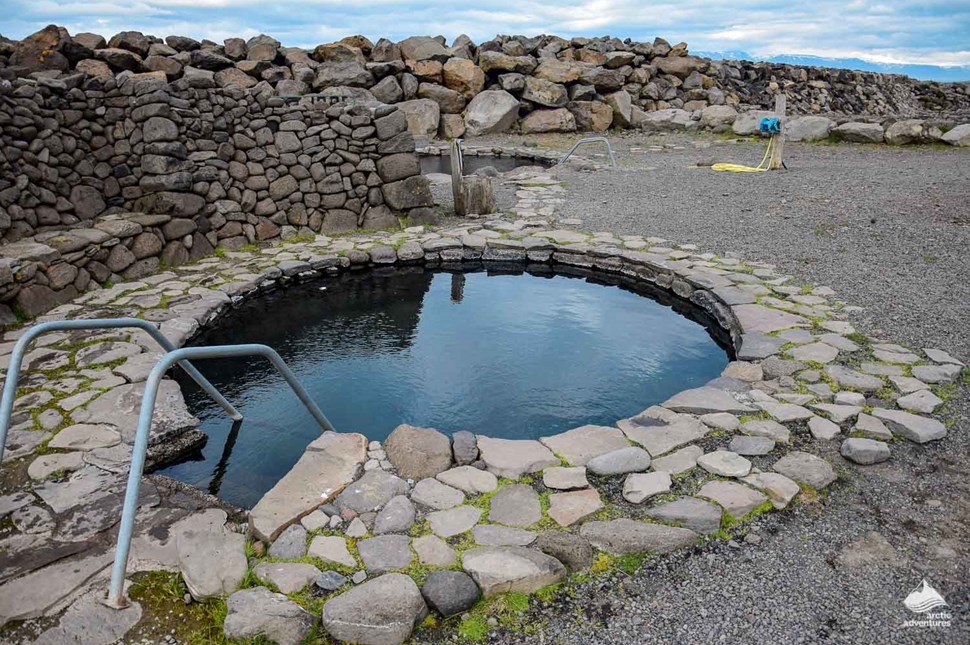 Geosea Geothermal Sea Baths. What do you do when geothermal underground seawater has too many minerals? Open a geothermal seawater spa, of course! At Geosea, man-made pools are filled with mineral-rich geothermally heated seawater at a constant temperature of 100-102 °F (38-39 °C). Equipped with showers and restaurants, the spa also provides a unique chance to observe sea animals right off the edge of the pools. Whales, orcas, dolphins, and other wildlife are known to roam the shores right by the baths.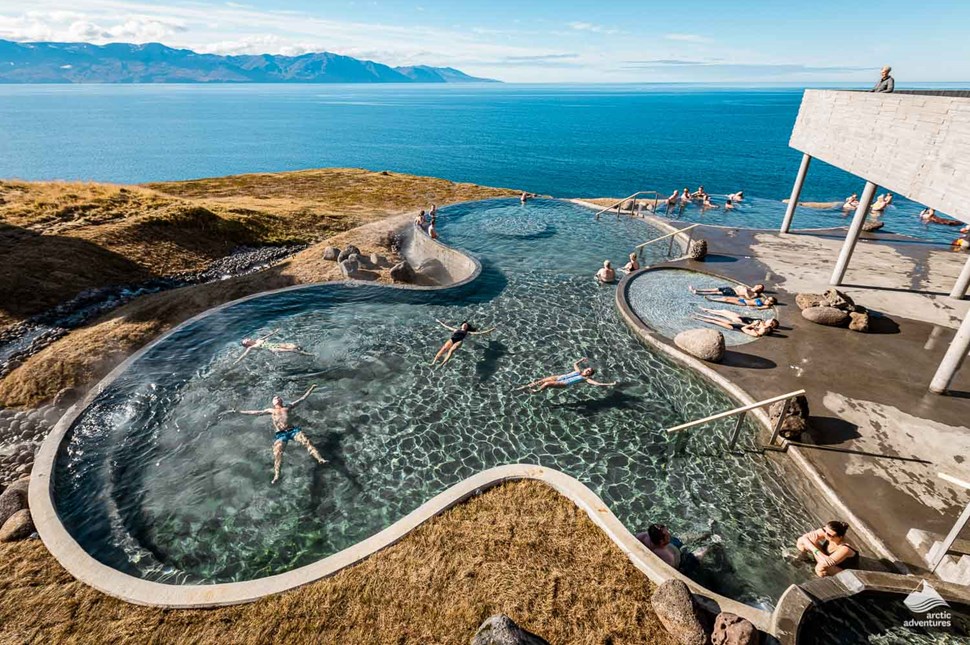 Myvatn Hot Springs in Iceland
Myvatn Nature Baths. The Myvatn Hot Springs are the Blue Lagoon of Northeast Iceland — but less expensive and crowded. The hot springs are filled with azure mineral-rich water from the depths of the Earth and sit in man-made surroundings.
The facilities include changing rooms, showers, and a cafe. After a soak in the hot spring, you have a chance to visit the steam baths. The baths are similar to a steam sauna, but they're built right on top of the hot spring so that steam seeps through the cracks of the wooden sauna.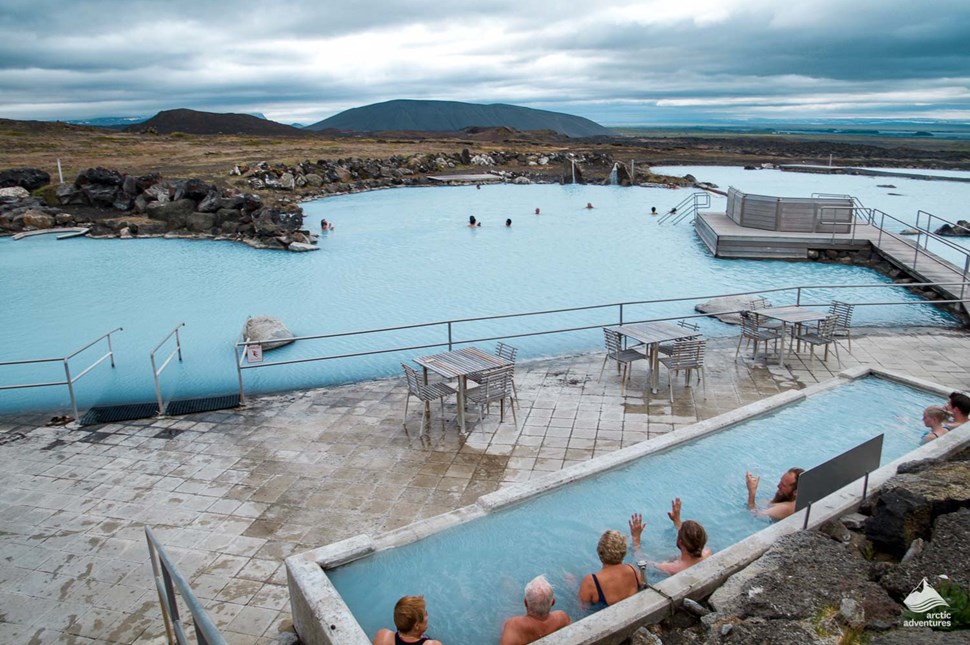 Námafjall Geothermal Area. Namafjall, also known as Hverir, is a highly active geothermal area dotted with fumaroles and bubbling mud pots. The area is famous for smelling like rotten eggs due to high levels of sulfur in the water. Besides the stunning Mars-like scenery, the area is colored with different shades of blue, yellow, and red sulfur crystals. Although this area is beautiful, the water should not be bathed in as its temperature is way too high for humans.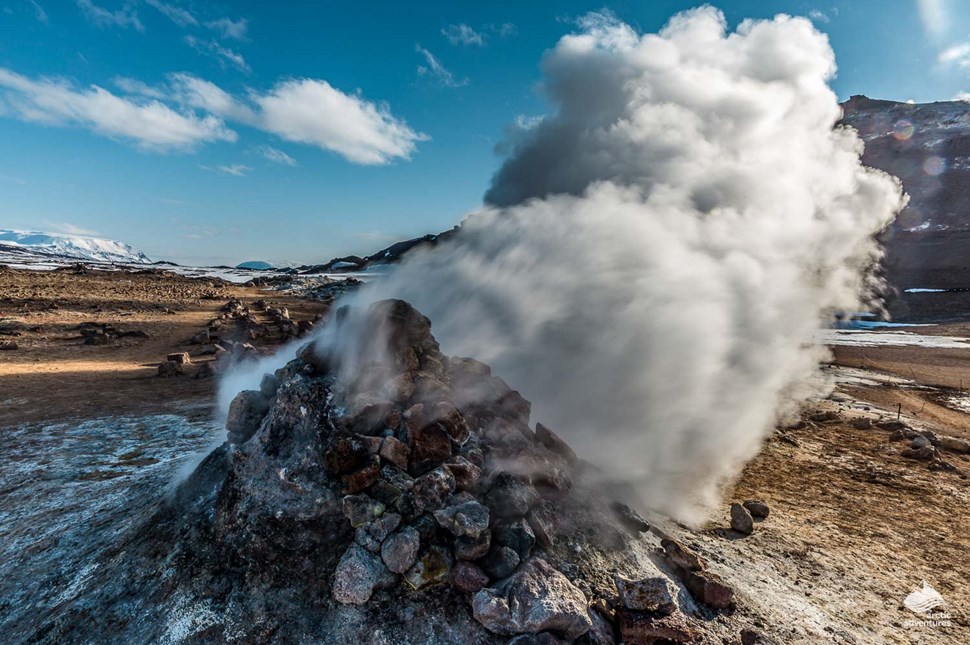 Natural Hot Springs in Iceland's Southwest
Hvammsvík Hot Springs. Hvammsvík, located 45 minutes away from Reykjavik, consists of eight naturally heated pools on the ocean's edge. Situated in a 1200-acre private estate, these natural baths provide a perfect environment for relaxation. Here you will find pools of various temperatures, a steam bath, an on-site bar and restaurant, and outdoor showers. You can even combine visiting Hvammsvík Hot Springs with an exciting kayaking trip.
Reykjadalur Hot Springs. The Reykjadalur Hot Springs are located close to Hveragerdi Town, a small town, located 27 mi (45 km) from Reykjavik. The town is known for its geothermal activity and incredible volcanic hot springs. To access the hot springs you'll have to first hike up Reykjadalur Valley. Down the valley flows a  geothermally heated river, providing easy access to steaming water and baths. The hike is around 45 minutes one way and a wooden path leads around the bathing area.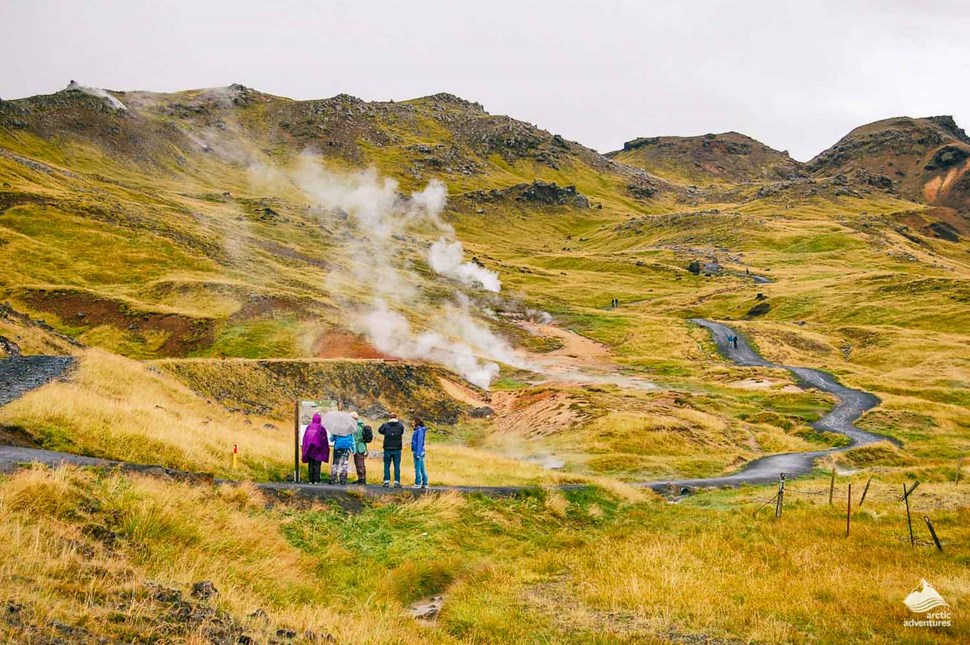 Gunnuhver Geothermal Area. Slightly dangerous and a little haunted, Gunnuhver is geothermal heaven. Unlike other hot springs in Iceland, this hot spring is filled with seawater from the ocean nearby and is surrounded by huge multi-colored rocks.
As if that's not enough, there's also a ghost story that gave the hot spring its name. It says that a woman died and started to haunt the whole town. Villagers couldn't bare the ghost anymore, so following the priest's advice, they left a ball of twine with a loose end near the hot spring. When the ghost grabbed the loose end, the ball rolled into the hot spring together with the ghost, trapping it there forever.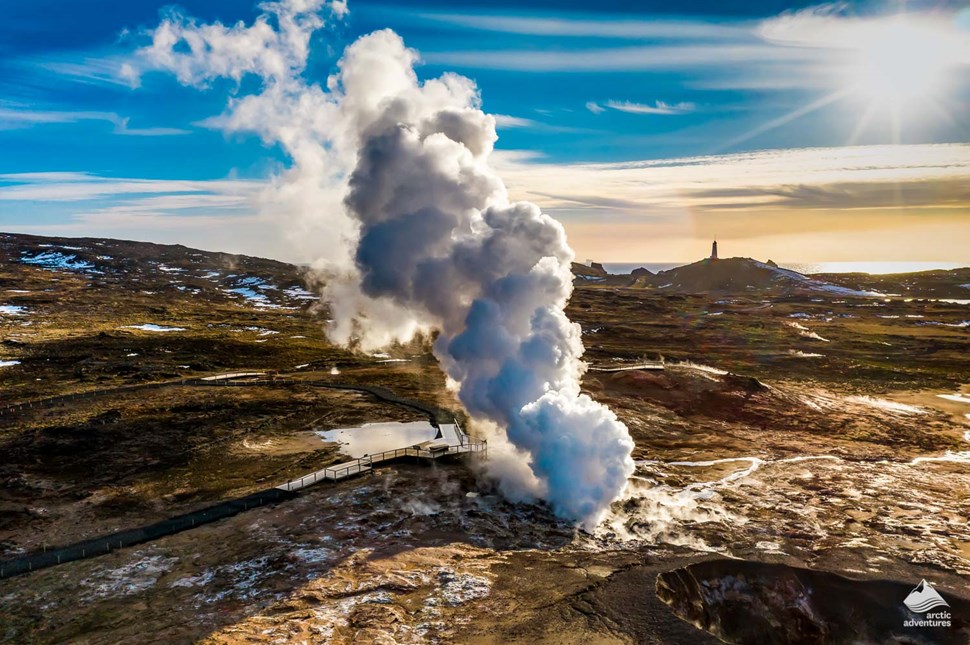 Gunnuhver is one the few hot springs that is too hot to bathe in. However, it can be admired from a safe distance and on man-made platforms. Explore Gunnuhver, Kleifarvatn Geothermal Lake, and Krýsuvík Geothermal Area on a tour of the Reykjanes Peninsula.
Secret Lagoon. The Secret Lagoon is Iceland's oldest man-made pool filled with geothermally-heated spring water. While it is no secret anymore, the hot spring is still much less crowded than the iconic Blue Lagoon on the Reykjanes Peninsula. Even though the Secret Lagoon has expanded in size a few times since its founding in 1891, you still need to book in advance if you want to get in during the summer. Book your Secret Lagoon tickets or join us on a Secret Lagoon and Golden Circle tour.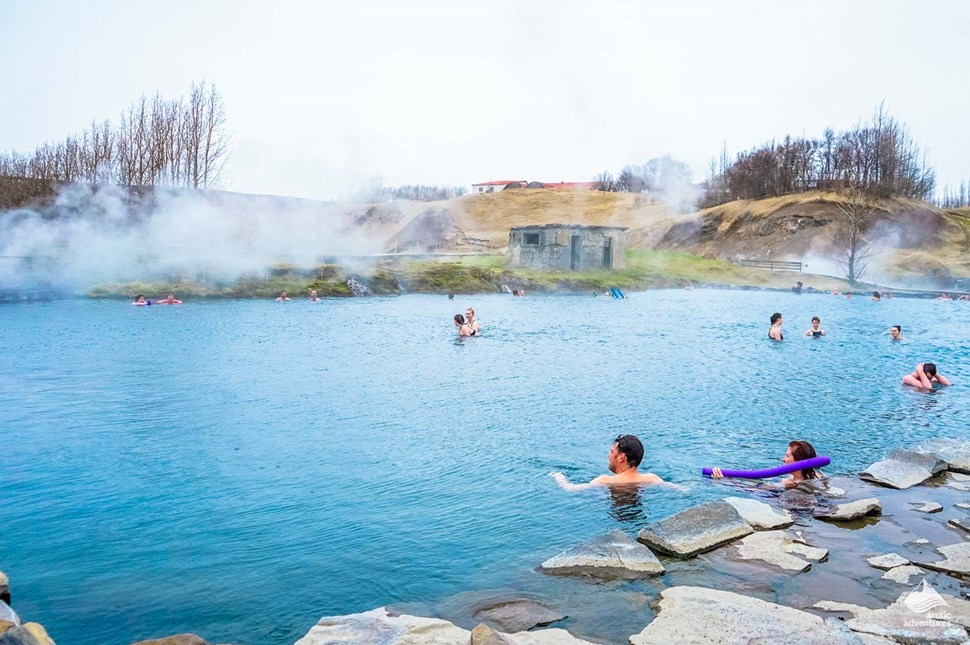 Natural Hot Springs in Iceland's Highlands
Landmannalaugar Hot Springs. The Icelandic Highlands may not be famous for their hot springs, but they certainly pack a few hot ones. The Landmannalaugar Hot Springs is located right at the edge of a moss-covered lava field and is formed by a river that flows through the heart of it. The river cools down the hot spring to regular bathing temperature.
What better way to enjoy a hot spring than surrounded by colorful rhyolite mountains, expansive lava fields, and epic hiking trails? Join us on a Landmannalaugar hiking tour and explore the area like a local.
Hveravellir Hot Springs. Located right at the heart of the Highlands, the Hveravellir Hot Springs are famous for their breathtaking surroundings. Hveravellir has been a bathing spot since the year 900 CE when Vikings settled in Iceland. The natural pool is filled with both geothermally heated water and fresh river water, creating the perfect bathing temperature. Hveravellir Hot Springs is a true wonder of nature and thus has no man-made facilities in the area.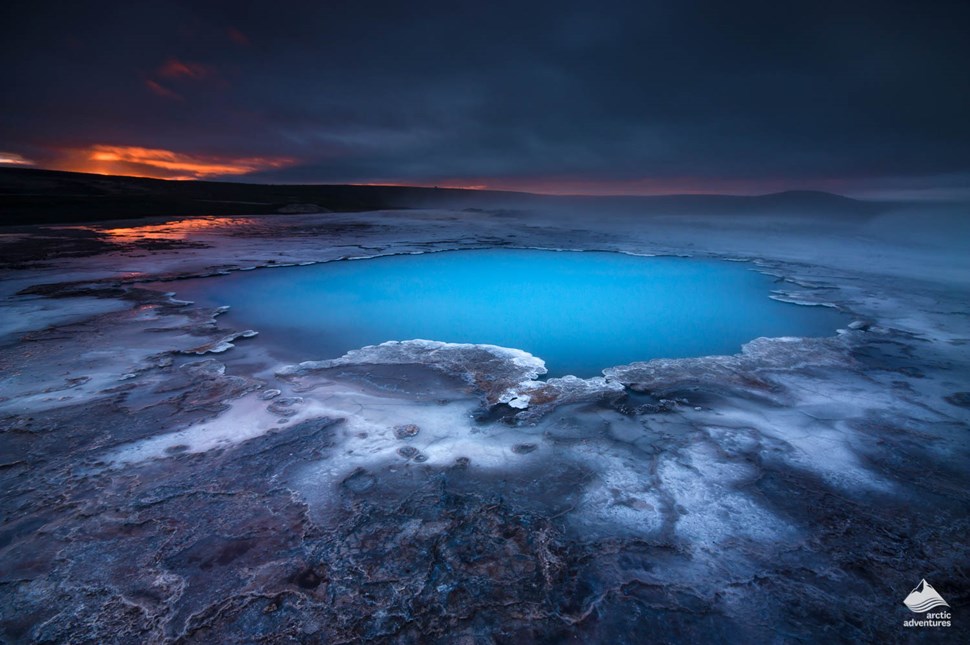 Natural Hot Springs and Spas in Iceland's East
Hoffell Hot Tubs. If you're looking for a hidden gem to dip into, look no further than Hoffell. Located close to Hoffell Farmland in Southeast Iceland, the hot spring is loved by locals and travelers alike. Man-made stone decorated pools are filled with bubbling natural hot spring water. Don't be surprised if arctic foxes, reindeer, or a few tiny field mice decide to approach you, as the area is filled with wildlife. Be sure to take a shower before you dip in and to donate a few pennies to those who look after the baths before you leave.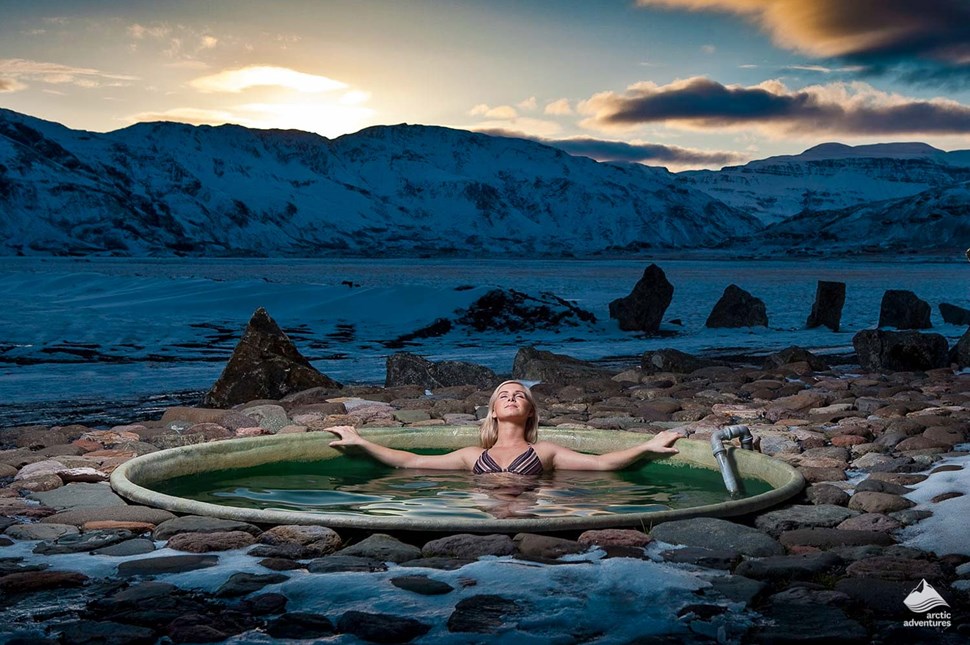 Vök Baths. Unlike the rest of the country, the eastern shores of Iceland are scarce in natural hot springs. So your visit to East Iceland is not complete without exploring the newly opened Vök Baths, famous as the first and only floating pools in Iceland. The pools are man-made and filled with nature's purest hot spring water. The baths and the surrounding areas are breathtaking in winter and summer alike, so dive in regardless of the season. There are showers, a bar and a restaurant, steam baths, and a cold tunnel with a mist shower.