Landmannalaugar Hikes – What Makes Them so Unique?
Landmannalaugar is a part of Fjallabak Nature Reserve and is blessed with obsidian and rhyolite mountains displaying dazzling colours ranging from red to green. This vivid area offers a plethora of excellent hiking trails and some natural thermal pools, making it a true hiker's paradise.
Sitting beside the petrified Laugahraun Lava Field, Landmannalaugar defies the notion that beauty is in the eye of the beholder. With colorful mountains overlooking the dark medieval lava field, which formed during a volcanic eruption in 1447, the striking upland plateau is just too surreal not to be admired.
One of the most popular hiking routes is the rewarding 34-mi (55-km) Laugavegur Trek from Landmannalaugar to Þórsmörk ("Valley of Thor"). Listed as one of the world's best hiking trails by the National Geographic, it goes through soaring peaks, moorlands, steaming hot springs, green hills, and rushing rivers. Depending on the stops, the route can take 4-5 days.
There are, of course, several shorter hikes that rival those in Þórsmörk. For a 360-degree aerial view, climb up the remarkably colorful Mt. Brennisteinsalda or "Sulfur Wave." The mountain takes its name from the sulfur that paints its slopes in various hues of yellow, making it look like right out of the pages of a fairy tale.
Another favorite route goes to Mt. Bláhnjúkur, with high-altitude views of surrounding glaciers.  Also known as "Blue Peak," it's a fascinating volcano covered in blues and blacks. The unusual coloring is due to lava flows and volcanic ash.
A day hike will take you to the crater lake known as Ljótipollur, meaning 'Ugly Puddle', which is a classic example of a misnomer. Surrounded by rusty-red lava rocks and green vegetation, the volcanic crater is an extraordinarily beautiful site.
You can also opt for an easier hike to the tranquil lake Frostastaðavatn. Here, below towering peaks, experience nature in its rawest, barest form.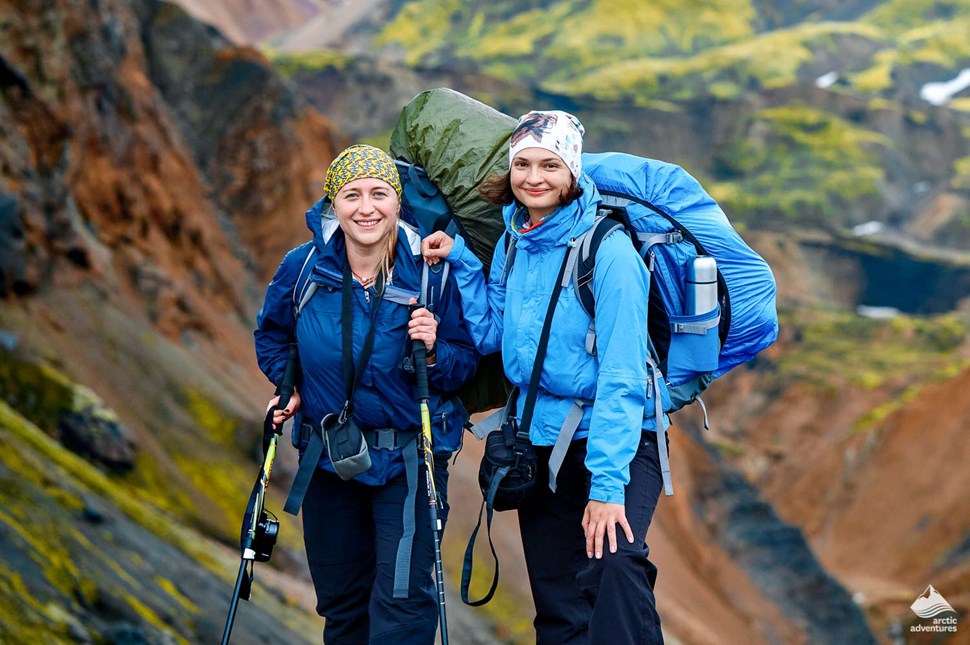 Landmannalaugar Hot Springs
A visit to Landmannalaugar wouldn't be complete without a replenishing dip into the warm waters of a natural hot spring. For decades, the area has been known as a warm oasis for sheep gatherers and visitors traveling to the Highlands, hence the name 'People's Pools.'
Today Landmannalaugar remains one of the most authentic places to experience Iceland's hot springs culture. Since they first settled in this geothermally rich country, Icelanders have loved to soak in hot springs for their restorative properties. Even today, a common pastime is to gather in a local pool at the end of the day to relax and have long talks about the ever-changing weather. Summer, autumn, winter, spring – it makes no difference: you're always welcomed to bathe in some of the most beautiful natural settings imaginable.  
The most famous natural geothermal pool emerges from underneath the Laugahraun Lava Field, where it mingles with a cooler creek, resulting in an ideal temperature of 96-104°F (36-40°C). As everything is heated by the magma boiling below Earth's crust, you can expect warm waters even in winter.
The area is packed with steaming hot springs, allowing hikers to relieve sore muscles and rejuvenate the senses en route. During your trip, you'll have loads of opportunities for a relaxing soak amidst the wilderness, so don't forget to bring your swimsuit and towel!
Best Time to Visit Landmannalaugar
The most popular time to visit Landmannalaugar is summer when the days are long and you'll have plenty of time to savor the beauty of this pristine wilderness. From a day tour to a more challenging multi-day expedition, experience Landmannalaugar in all its glory.
In winter, visitor numbers drop dramatically, making Landmannalaugar a perfect getaway for solitude-seekers or space lovers alike. Located far away from city lights, the region is known for the spectacular Northern Lights displays. Your guide will hunt for an open area with clear skies for the best viewing opportunities of the Aurora Borealis. With nothing to tarnish the view, revel in the ethereal light show against a backdrop of the secluded Highlands.
Please note, if your tour is a Meet on Location, you'll need a 4×4 vehicle to safely reach the Highlands. Roads to Landmannalaugar are mountain roads (marked as F-roads, as in F225), meaning they are not paved and require a slow speed.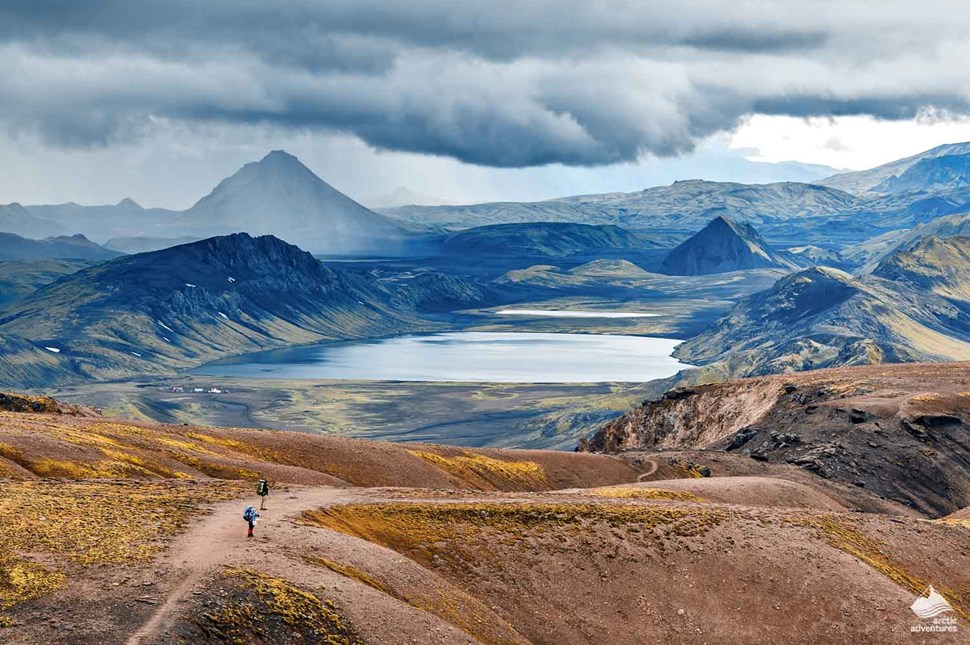 How to get to Landmannalaugar
If you're wondering how to get to Landmannalaugar from Reykjavik, there are few ways to do it.
You can rent a 4×4 vehicle and self-drive by taking Route F225, which turns east off Route 26. However, keep in mind that F-roads aren't paved and are only open during the summer.  
If self-driving through gravel roads isn't for you, you can take a bus or join one of our Landmannalaugar tours.
Camping in Landmannalaugar
Ferðafélag Íslands (Iceland Touring Association) is the main accommodation provider in the area. Next to a popular geothermal pool, their cozy mountain hut onsite offers showers, toilets, and roomy kitchen space.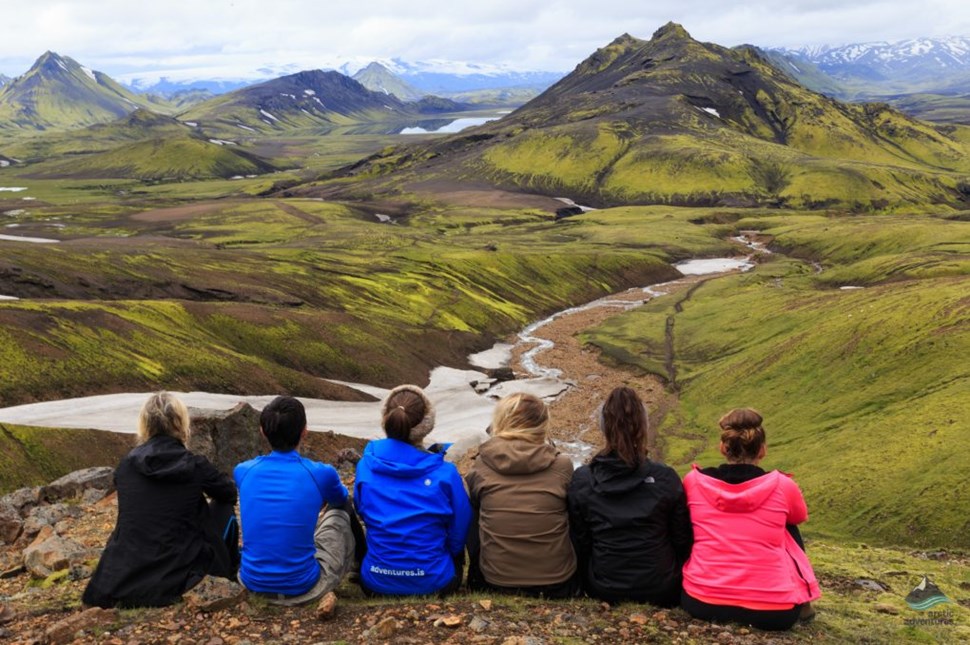 There is also a well-laid campsite nearby with access to toilets and running water. If your tour includes camping, don't forget to bring a sleeping bag, as well as warm clothing and sturdy shoes. The weather in Iceland is temperamental, so you'd better be well prepared!
Which Landmannalaugar Tour is Right for me?
Since there are so many Landmannalaugar tours to choose from, you might wonder which one is the best fit for you. Here is a quick questionnaire to help you find the tour tailored to your needs.
Looking for a Landmannalaugar day tour with shorter hikes?
Want to spend a few days exploring the region?
Interested in more challenging options?
Eager to experience Iceland off-the-beaten-path but don't want to miss out on seeing some of the country's most famous landmarks?
Looking for the ultimate Iceland experience with a variety of invigorating activities?
Want to trek the famous Laugavegur Trail?