All about
ICELAND
Insider info to adventuring in Iceland
April in Iceland: Everything you need to know
April in Iceland offers amazing opportunities. For the most part the weather is still quite wintery. However, spurred on by increasing daylight hours and a few warmer days, nature is springing into life.
Fabulous contrasts can often be experienced, the bud-leaves of springtime, snowy mountains, and the Northern Lights can still paint their visions of colour above scenery which is often dusted in beautiful frost and snow.
Great tours to do in Iceland in April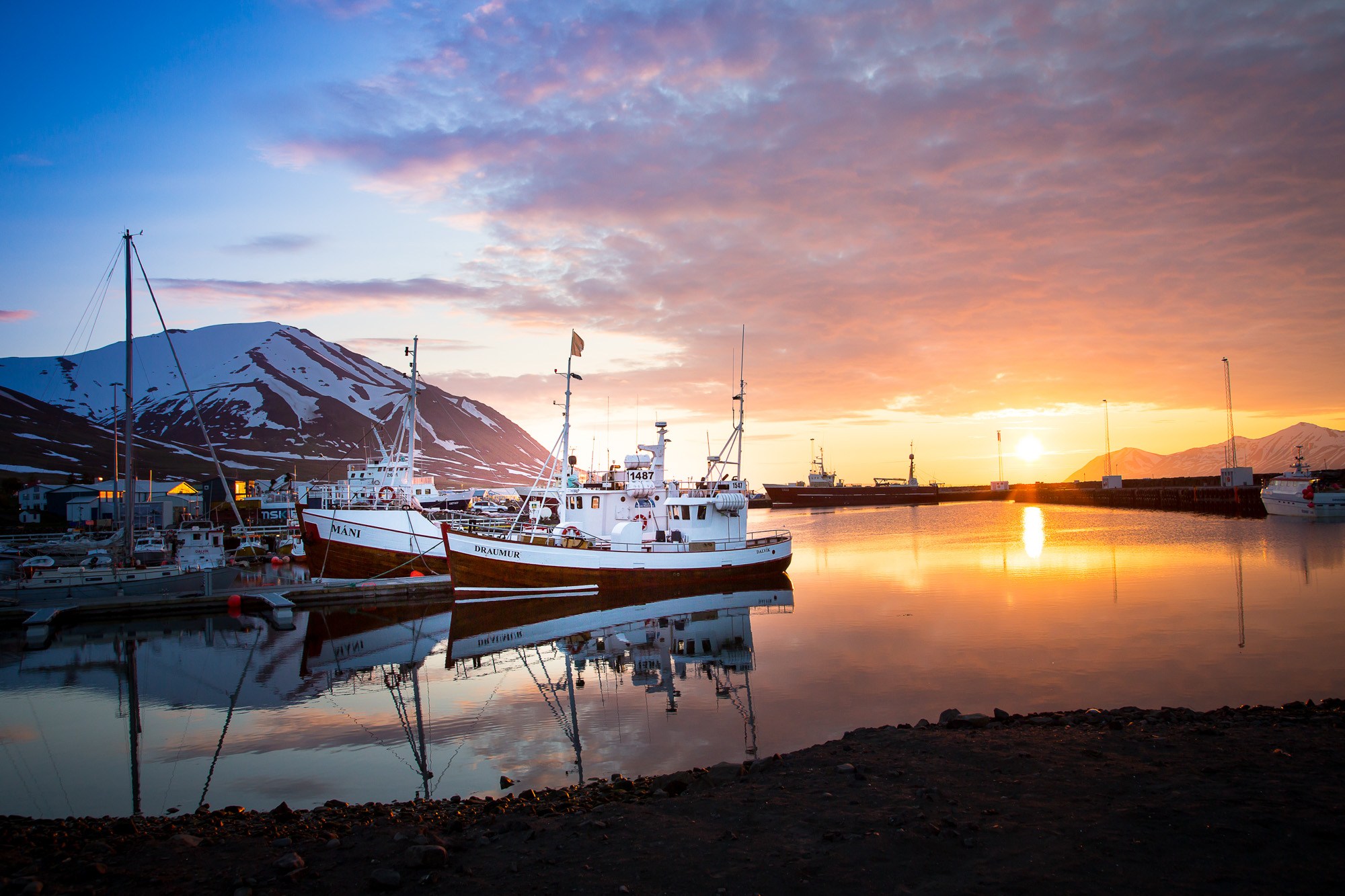 Is April a good time to visit Iceland?
In a word, yes. This is the time between winter and summer, when attractions are opening up, the atmosphere is improving in bars and restaurants, it's not too crowded and some sites are still cloaked in beautiful snow.
April in Iceland – Fast Facts
Accommodation is cheaper than in summer or winter: you can save as much as 30-50%.
In Reykjavík you get more 13.5 hours of daylight on April the 1st and more than 16.5 hours on 30th April. This is fabulous for seeing the sights and traveling around the country. In North Iceland, you get even more hours of daylight.
Evening sightseeing and photography can be really special.
On average there is less ice and snow than in winter, so driving conditions are often better.
Frost-glistening winter scenes can usually still be seen.
The major attractions are all open, with the exception of some remote museums.
With the feeling and smell of spring in the air swimming outdoors is particularly fabulous.
Can you see the Northern Lights in April in Iceland?
The Northern Lights are seen at night-time. And, as you've probably heard, daylight lasts longer in summer in Iceland. So, the best chances to see the Northern Lights in April is early in the month.
In fact, while some winter months have the benefit of darkness for Northern Lights tours, they're also colder, snowier and wetter than spring/summer months. And inclement or overcast weather can put a dampener on a Northern Lights tour (no pun intended).
What's the weather like in April?
The average high in Reykjavík is 7° C, with the average low being 1° C, and there is rain or snowfall on fewer days than in the winter.
April often brings quite a variety of weather from minus temperatures to days which are quite warm, with sunshine, rain or snow. With temperatures usually rising and falling quite a lot, snow does not normally lay on the ground for very long, although there are exceptions.
Dressing in layers is the best way to go in Iceland, never more so than in April. We'd also recommend you to check out the weather in Iceland before your trip.
Things to do around Reykjavík in April
There's no shortage of fabulous things to do in our capital at this time of year. Here are some of our favourites:
Walking the coastal pathways around Reykjavík will show you the Icelandic nature springing into life. Seltjarnarnes, a fabulous peninsula and suburb on the edge of Reykjavík should not be missed.
Look and listen out for the golden plover, known in Iceland as the "lóa". This bird arrives in Iceland in Spring and the first sighting is always in April. When you spot your first lóa you know spring has arrived.
Visit Grasagardur, the Botanical Gardens. Whether you can see nature starting to flower, or the ground is still snow-covered, this place always feels so magical in April.
On sunny days find a café or bar with a sheltered outdoor seating area. You will be surprised how lovely and warm it feels when you are out of the wind. Enjoy a local artisan beer, a great coffee or a lazy meal outdoors. There are many great places, like Messinn at Grandadardur 8 or 101 Reykjavík, a fabulous fish restaurant offering outdoor or indoor dining.
Wander between the parades and events on the First Day of Summer, Sumardagurinn fyrsti.
Hire a bike and explore the many kilometres of designated cycle paths which lead around and out of Reykjavík.
Enjoy the art at Kjarvalsstadir and get yourself a coffee or lunch. On sunny days the sheltered area outside the café is very pleasant.
Make the most of the longer daylight to explore in cityscapes and Reykjavík harbour and waterfront in the evening.
Photograph the magnificent sunsets. Those giant canvases of colour will really enhance your shots.
Events in April in Reykjavík
Eve FanFest on 12th to 14th April brings together fans of hugely popular online game.
Reykjavík Children's Culture Festival is held on the 17th to 22nd April. That means art, workshops, and performances connected to the theme of youth, events in libraries and many other public places. Check out the nearest library (Bókasafnid) for more details.
Wildlife in April – The Cutest Time to visit Iceland
Can you see puffins in Iceland in April?
Yes! In fact, this is one of the best times of the year to see these adorable birds.
Iceland has a huge and world-famous puffin habitat, the Látrabjarg bird cliffs. April is the month when the puffins begin to return to Iceland after spending the winter out on the ocean. South Iceland, West Iceland, East Iceland and North Iceland all offer wonderful puffin watching locations. Our Puffin tours are a great way to see the adorable little birds in their natural habitat.
You can read more about puffins in Iceland on our blog.
Lambs
Newly born lambs are drop-dead gorgeous. In Iceland, the lambing season begins in April and continues into May. The best way to enjoy the lambs, and to collect some cute moments to cherish, is to stay on a sheep farm out in the countryside.
Birds in Iceland in spring
Apart from puffins, whooper swans, geese, white wagtails and many other bird species who migrate to Iceland for the summer, return in April, sometimes even at the end of March. You won´t miss out on wildlife if you visit Iceland in April.
Icelandic Public Holidays in April
Public holidays have a small effect on holidaymakers in Iceland, because it sometimes means shops will be closed or have reduced opening hours. Some public services (such as public transport) might be marginally reduced too.
It's worth it, though, as these public holidays also bring lovely events with them, many of which are free.
Easter
Easter is always special.
In the capital, the iconic glass-faceted concert hall by the harbour, Harpa, holds an annual concert at this time of year. Top Icelandic opera singers and musicians always feature in this recital. Visitors and locals are welcomed at Easter Masses and Church Services.
The Icelandic flag is suspended at half-mast on Good Friday, and the Christian Churches hold special Easter Masses and Services. Although not many Icelanders are regular church goers nowadays, Easter is one of those occasions when a few more people like to go. This is a very busy weekend for Icelandic choirs, so if you like choral music, it's a great opportunity to hear these wonderful singers.
Easter is a movable feast, meaning that dates change every year, but it tends to take place in April. Maundy Thursday (known in some other countries as Holy Thursday), is the Thursday before Easter Sunday and it's a public holiday in Iceland.
The First Day of Summer
Also known in Iceland as "Sumardagurinn fyrsti", it is the first Thursday after the 18th April. So, it will be between the 19th and 25th April, with the date changing depending on the year.
First Day of Summer street parades are held to mark the occasion. This is usually heralded by an Icelandic flag bearer or several brass bands along with scouts and other organizations marching through the streets of Reykjavík.
This is one of our country's "Icelandic Flag Days", which means you will see all of the Icelandic flags at full mast.
Many visitors are surprised when they discover Icelanders celebrate the first day of summer so early in the year. After all, this is not a country famous for its balmy summer weather. However, the settlers of Iceland followed the Norse calendar which was divided into just two seasons, winter and summer. This explains why summer would be celebrated so early.
In ancient times April was known as "Harpa", which has feminine associations, perhaps linked to the fertility of the earth beginning to manifest new growth in northern climes. And in many ancient cultures, the first days of summer heralded the beginning of the new year.
The First Day of Summer has quite often been graced by falling snow, although, sunshine and chilly temperatures are also common.
Tradition says a hard frost the night before the First Day of Summer is an excellent omen: Apparently it means that the approaching summer will be pleasant and long.
Opening Hours on Public Holidays
Tourist attractions are normally open on public holidays. But some, particularly in the countryside, will have reduced opening hours. Most places post these details on their websites and Facebook pages. If you still can't find the information you need, just phone or message them.
Swimming pools often have different opening hours during public holidays. In the capital, you will find many pools which are open on public holidays in April. Even in the countryside, you should find a pool open at some point over Easter. Icelanders love to go to the pool whenever they have extra leisure time.Most regular grocery stores, such as Bónus, never close for the whole of the Easter weekend, they will always be open as normal on Saturday. In Reykjavík and Akureyri, you will find other grocery stores, such as Hagkaup, which are open on Maundy Thursday too. 10 to 11 stores are open far more, but they offer less choice and are more expensive.
AK Extreme – April in Akureyri and North Iceland
AK Extreme, a spectacular snowboarding and music festival, takes place in Akureyri over a weekend early in April.
If you want your trip to this beautiful city to be enlivened by great music and incredible snowboard acrobatics – this is the place to be. The big snowboard hill is built right in the centre of the town beneath the high mountains.
Top international snowboarders come to participate, so invitations to this event are a hot property in the snowboarding community. The festival also includes musical events throughout the town.
This far north, you can expect temperatures to be lower than they are in Reykjavík. And yet, spring-like days pop-up unexpectedly in April, usually sandwiched between far colder, but often very bright days.
Related blogs
Wondering how to spend your time in Iceland in March? Or wondering if you should even visit Iceland during that month?
March 5, 2018 , By Ragnheidur
What is the weather like in February in Iceland? All info about traveling to Iceland in winter. Find out what to do in Iceland in February.
January 13, 2019 , By Viktoria
August is one of the best months for visiting Iceland. Here's our complete guide to what's on, where to go and what to do!
July 16, 2019 , By Ragnheidur
Spending Christmas in Iceland? Or just casually traveling to Iceland in December? This blog will go over all the basic info you need for mid-winter traveling to Iceland, which tours to do and what to see in Reykjavík. Let this be the ultimate guide to how to spend December in Iceland.
December 4, 2017 , By Ragnheidur