More About Into the Glacier
Langjökull, or "the Long Glacier" as its name translates in English, is the second-largest glacier in Iceland and covers an area of about 950 km². It is on average about 1200 to 1300 m above sea level and sits on a massive plateau of hyaloclastite mountains.
Until only recently, what lies beneath the surface of the glacier remained a mystery known only to a few glaciologists and scientists. But today you can visit the blue ice wonderworld that awaits inside the glacier.
Into the Glacier is a glacier adventure tour where you take a monster truck ride up onto a glacier, dress in your warmest, and literally step into the glacier. Inside the largest man-made ice tunnel in the world, you'll find different layers of ice and volcanic ash, incredible crevasses, ice sculptures, and even an ice chapel!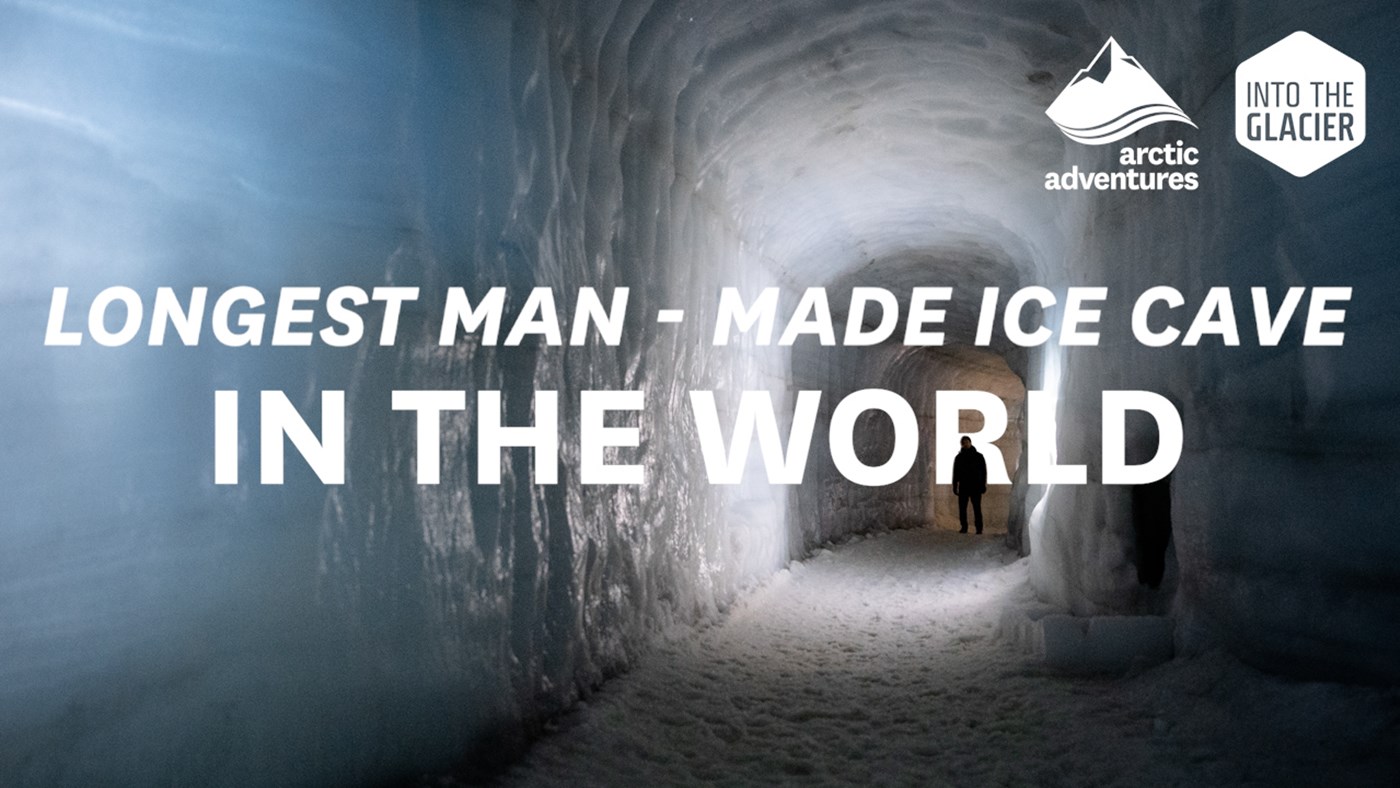 Langjokull Glacier cave tour is truly an adventure to remember. The tunnel has been lit up to show you the geological wonders and the history of the ice cap. As a welcomed extra, you'll have plenty of photo opportunities!
The History of Into the Glacier
The story of the Into the Glacier adventure begins in 2010. Two men by the name of Baldvin Einarsson and Hallgrímur Örn Arngrímsson started to dream about an ice cave in the glacier. Before that time, no ice cave had ever been found in the glacier, so any ice cave would have to be man-made.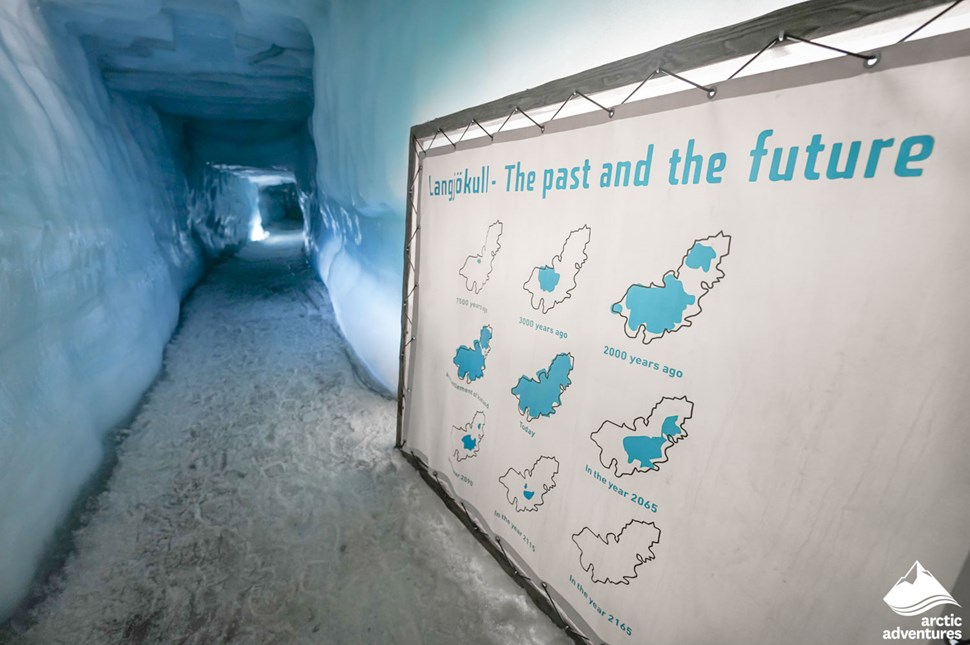 People, especially tourists, had already started to explore the glacier on glacier hiking or snowmobiling tours. But Baldvin and Hallgrímur had a vision of taking the glacier experience in the North Atlantic to a new level. They wanted to take people to the heart of the glacier and knew that Langjokull, which is very often snow-covered, possessed a captivating array of blue-colored ice and that they wanted to share.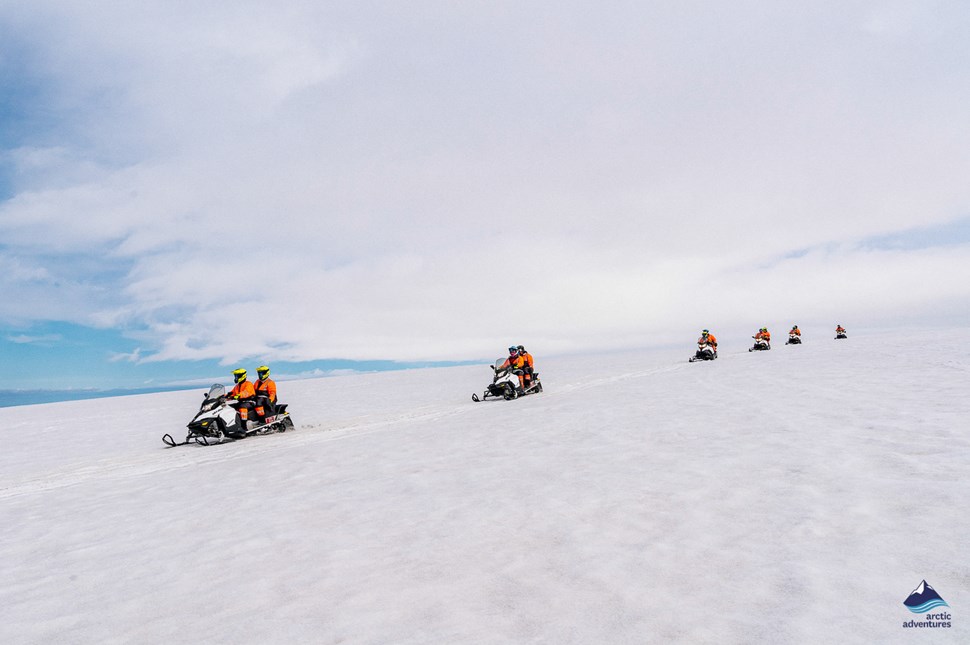 With this bold vision, they set sail and gathered a team of top engineers and a geophysicist. They were to study the glacier, plan, model and prepare the construction. With a whole lot of determination, the dream started to take shape. These experts, along with their scientific expertise and some financial and political support, were able to turn the dream into the largest man-made ice cave in the world.
Fun Facts about the Langjökull Ice Cave – Into the Glacier
The glacier Langjökull was once called Baldjökull due to its rounded ice cap. The word means "a ball" in English. 





There is a chapel inside the ice tunnel and weddings have been held there!





Some believe that Langjökull was once two or more glaciers that then merged together to form one big one.





Langjökull glacier reached record size in 1840. 





Close to Langjökull is an icecap called Ok, which was once a glacier but lost its place on the list due to its shrinking size. This is often referred to as the Icelandic version of Pluto.
Where is Into the Glacier Located?
The Into the Glacier cave is located on Langjokull Glacier at the southwestern corner of the glacier. Its closest recognized attractions are Deildartunguhver Hot Springs and Krauma Baths. The distance from Reykjavík is about 150 kilometres or 93 miles.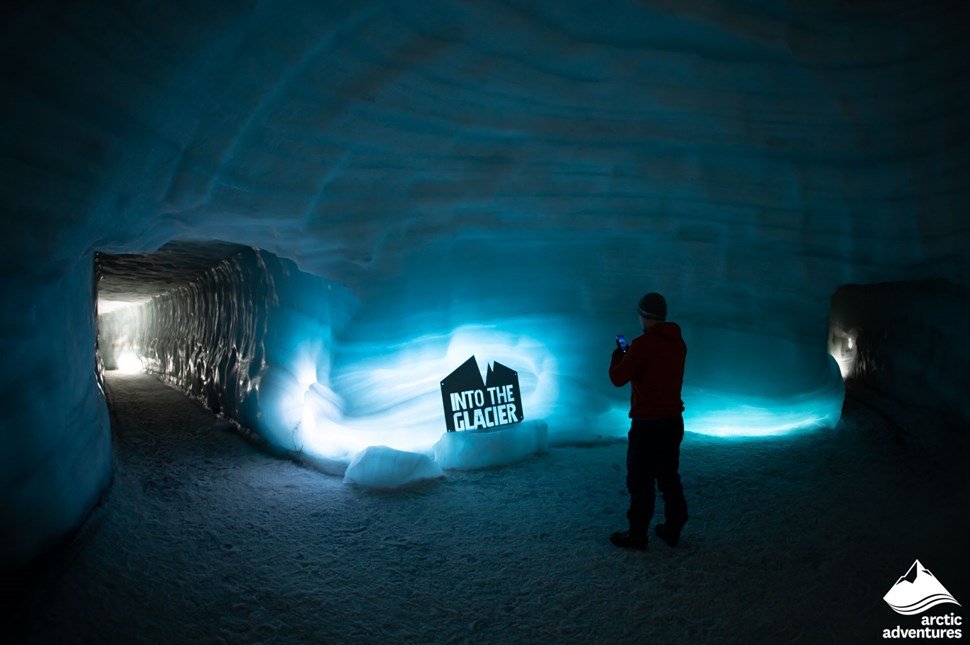 You can easily get picked up in Reykjavík for the Into the Glacier experience, but those who have a car on their own can meet up closer to the cave. The tour departs from two different locations, Húsafell and Klaki Base Camp.
How to Get to Húsafell Center and/or Klaki Base Camp?
During winter (October 16 – May 31), the meeting point is at the Húsafell Center. At Húsafell you'll be picked up in a monster truck and brought by expert drivers to the cave's mouth via Klaki Base Camp.
Driving over rough terrain in a gigantic vehicle will be an adventurous experience on its own. Besides, it's safer for those driving in a smaller automobile or those who don't have driving experience in this sort of terrain. That's why the road leading to the glacier is closed off from regular traffic in winter, with the exception of the monster trucks of course.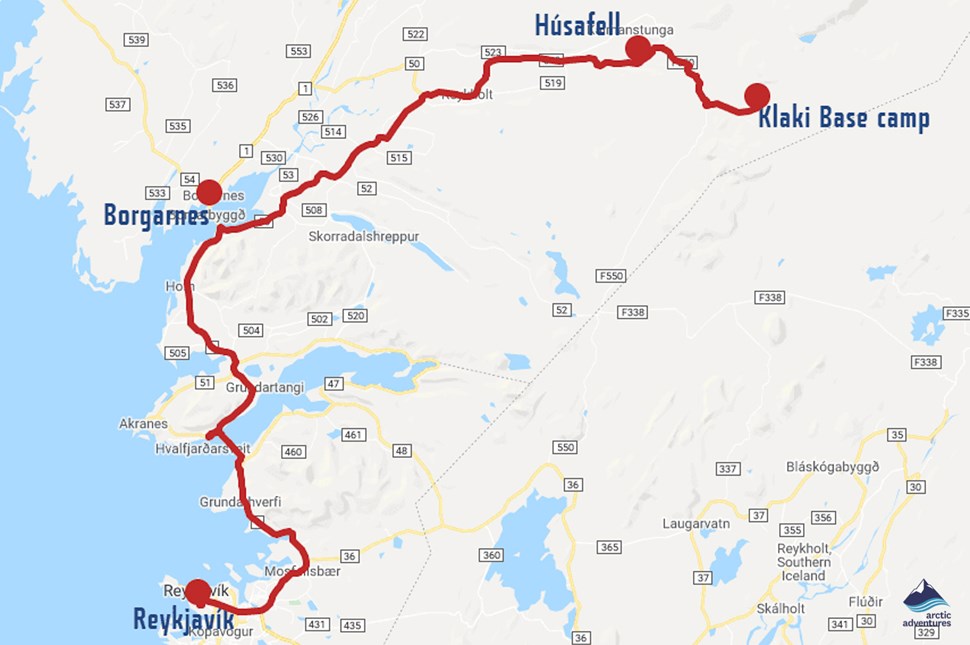 The drive from Reykjavík to Húsafell Center should take about 1 hour and 40-50 minutes. Note there is another Húsafell in the South, so you need to be extra careful to follow us to the right one. Follow the Ring Road (Route 1) northwards past Mt. Esja and onwards through the undersea level tunnel Hvalfjarðargöng.
Just as you are about to drive over the bridge to Borgarnes, you'll see a sign on your  right pointing onto Road 50. Take that turn and continue onwards to the beautiful Borgarfjörður. Continue on Road 50 for 33 km (20,5 mi), even though the road number will change to 518 at Deildartunguhver Hot Spring intersect.
Finally, make a left turn off the 518 to Húsafell Center where your guide will be waiting for you.  The Into the Glacier super trucks are hard to miss!
During summer (June 1 – October 15) participants meet at Klaki Base Camp. Note that 4×4 vehicles are required to get to Klaki Base Camp.
The drive from Reykjavík to Klaki Base Camp starts out the same as the drive to Húsafell. Out from Reykjavík via road 1, through the undersea tunnel in Hvalfjörður and right before reaching Borgarfjörður you make a right turn to Road 50. Continue on this road. After a few miles, it will change to 518, but you should carry on past Deildartunguhver, Reykholt and Húsafell.
Then make a right turn onto road number 550 just as you are passing out from a small forest. About 20 minutes driving on 550 will have you at Klaki Base Camp, a white hut marked with Into the Glacier signs.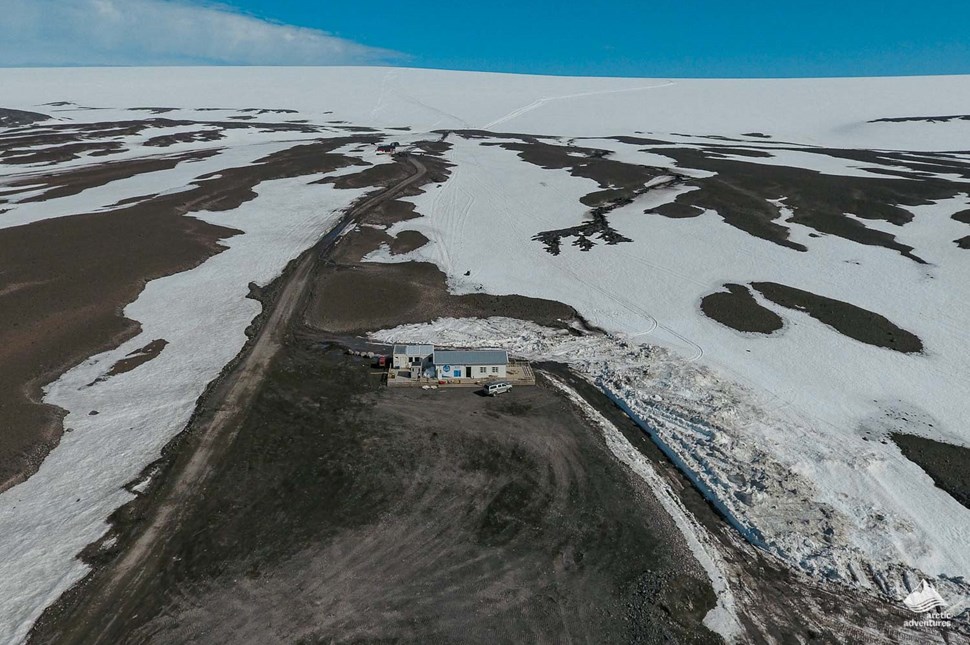 Note that road 550 is a gravel road and only suitable for 4×4 vehicles. Make sure your rental is allowed on F-roads. If not, we urge you to book pickup from Húsafell.
The tour departs from Klaki Base Camp approximately 40 minutes prior to the scheduled departure time from Húsafell. Please check in at Klaki Base Camp at least 15 minutes before your tour.
Húsafell and Klaki Base Camp Departure Times
Húsafell 10:00 OR from Klaki 10:40
Húsafell 10:30 OR from Klaki 11:10
Húsafell 12:30 OR from Klaki 13:10
Húsafell 13:30 OR from Klaki 14:10
Húsafell 15:00 OR from Klaki 15:40
A Monster Truck Takes You to Langjökull Ice Cave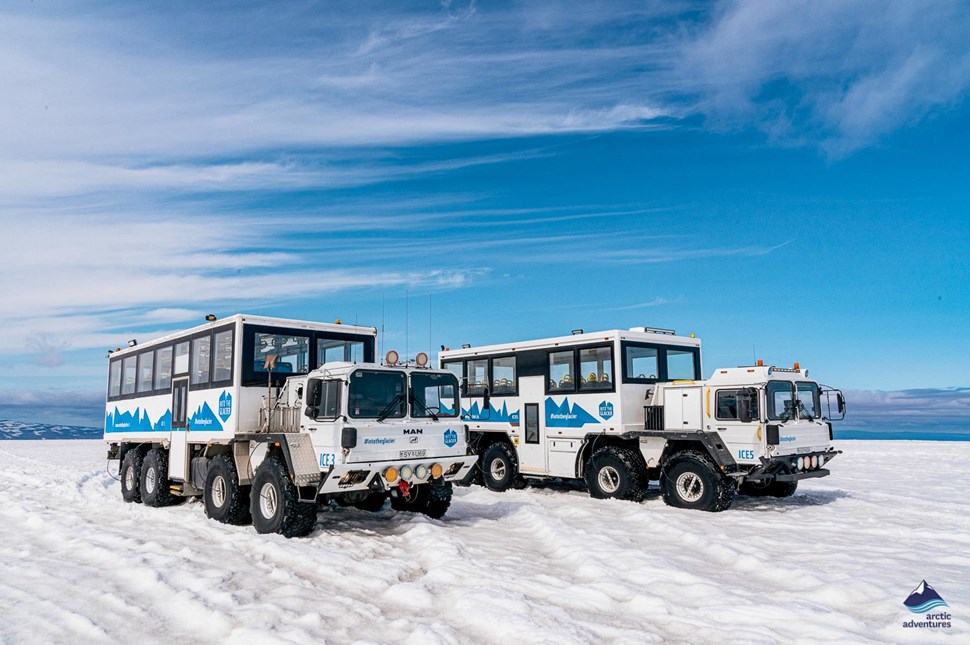 Once in Húsafell or Klaki Base Camp, you'll hop on a 8×8 monster truck for a ride across Langjokull Glacier and up to its peak. The 20-ton truck is a former NATO cruise missile launcher that has been heavily modified for glacier driving. Hence its name "Ice Explorer."
The specially modified glacier vehicle features tires that can be inflated and deflated while driving, allowing it to traverse rocky glacier ice with ease. Without the help of this machine, it would be impossible to take visitors to the man-made Langjokull Glacier ice cave.
Along the way, you'll admire eye-popping glacial landscapes. Ready to roll?
How to Be Dressed for an Into the Glacier Tour?
Warmly! No matter the season, you are still visiting the inside of a glacier and will need to dress accordingly. Dressing in wool is advised and thermal underwear and thick socks are also great!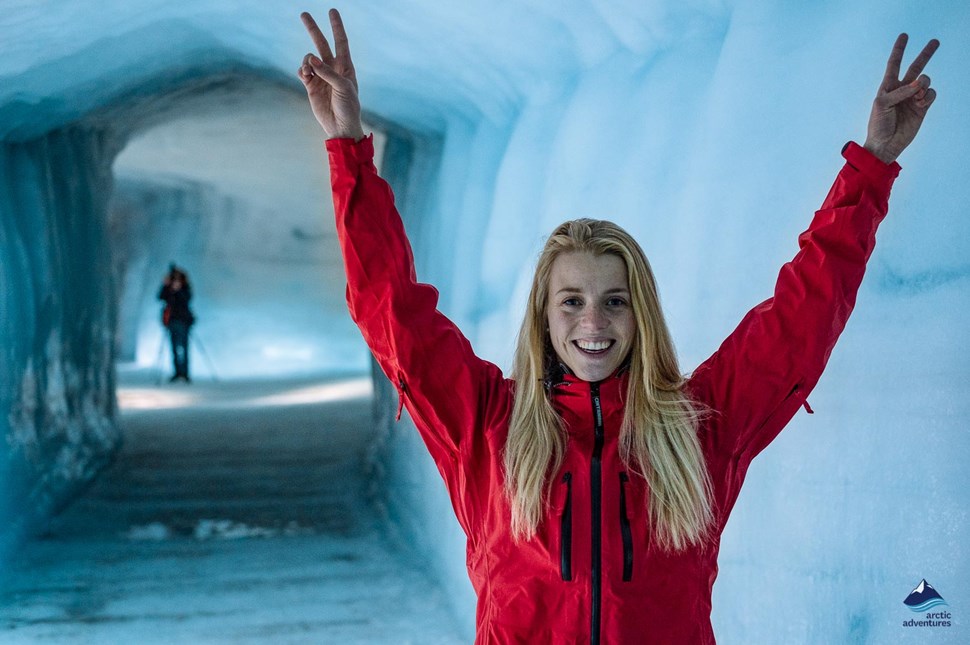 Inside the tunnel, you will be provided with ice spikes for your shoes. Make sure to wear boots with sturdy soles so you won't feel the spikes through them.
Where to Stay Near Langjökull Glacier – Into the Glacier
If you want to spend the night close to Langjokull Glacier, there are plenty of options to choose from. Here are the best accommodation options nearby. 
Hotels
Hotel Húsafell

Hotel Á

Hotel Gullfoss
Guesthouses, B&B and Farmstays
Cabins and Cottages
Gljásteinn Gíslaskáli Mountain Hut Kjölur

Kerlingarfjöll Mountain Resort

Geysir Cottage

Úthlíð Cottages
Camping Near Langjökull Glacier – Into the Glacier
The closest camping grounds to the Into the Glacier cave in Langjökull are at Húsafell. There are a few different camping grounds at Husafell.
The main campsite is located in between summer cottages and only a few steps away from the swimming pool, golf course, playground, shop, and restaurant. The facilities at the campground include showers, bathrooms, electricity, running water (hot and cold), cooking stations, washers, and tumble dryers.
Price: Adults pay per night 1500 ISK with an additional cost of 400 ISK for each tent.
Open: 20th of May to the 20th of September.
Price: Adults pay per night 1100 ISK and children (7-17 years of age) pay 600 ISK. There is an additional cost of 400 ISK for each tent.
Open: 20th of May to the 20th of September.
Into the Glacier in Winter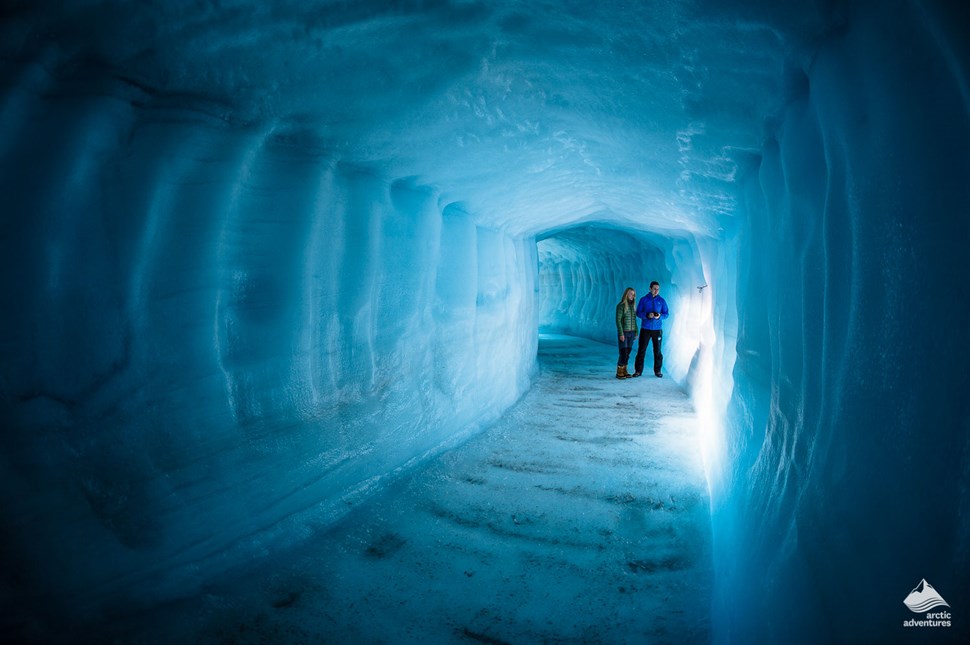 The Into the Glacier tour runs all year round and can be done at any time. The fact that it is man-made works to our advantage here, as the weather gods don't control the operation of the tour like with natural glacier ice caves.
The main difference is where you can meet up for the tour. During winter you cannot meet at Klaki Base Camp as the road leading to it is closed off to regular traffic. Your options in winter are meeting the tour guide at Húsafell or having the guide pick you up from Reykjavík.
Looking for more adventures in winter, check our winter tours!