The attractions of West Iceland are every traveler's dream. From glacier-capped volcanoes and lava tunnels to breathtaking bays and waterfalls, you will be hard-pressed to choose between once-in-a-lifetime experiences.
But with so much to see and do, where do you begin? To provide an outline of the options, we've put together a list of 10 of the most incredible things to do on Iceland's west coast so you can experience the best of the region.
Best Things to Do in West Iceland
1. Explore the Snæfellsnes Peninsula
Lined with rocky cliffs, black sand beaches, waterfalls, volcanoes, glaciers, and villages, Snæfellsnes Peninsula is "Iceland in Miniature." This Snæfellsnes Peninsula tour will take you through the Berserkjahraun lava field, down the epic Kirkjufell mountain, along the dramatic black pebble beach of Djúpalónssandur and more. If you are pressed for time and would like to experience all of Iceland's beauty in one location, then the Snæfellsnes Peninsula is the place to be. 
Did you know that the Snæfellsjökull volcano has 10 confirmed Holocene eruptive periods?
2. See the Hraunfossar Waterfalls
These spectacular lava waterfalls in Borgarfjördur will leave you spellbound. The Hraunfossar Waterfalls are cold and clear, seeping through the Hallmundarhraun lava field before flowing into the Hvítá River. Stemming from Langjökull - the second largest glacier in Iceland - you cannot miss these majestic blue glacial waters in West Iceland!
With a 2-day tour option, you will be able to experience the best of West Iceland in a short amount of time without feeling rushed.
3. Witness Lóndrangar's Majesty
Have you heard of the Rocky Castle of Iceland? These are actually the basalt cliffs of Lóndrangar, which dramatically rise out of the sea. Originally a crater, this unique site was formed by the sea's erosion. Stretching over 200 feet (61 meters), these volcanic plugs are towers that have withstood the forces of nature and make for an unforgettable view in West Iceland.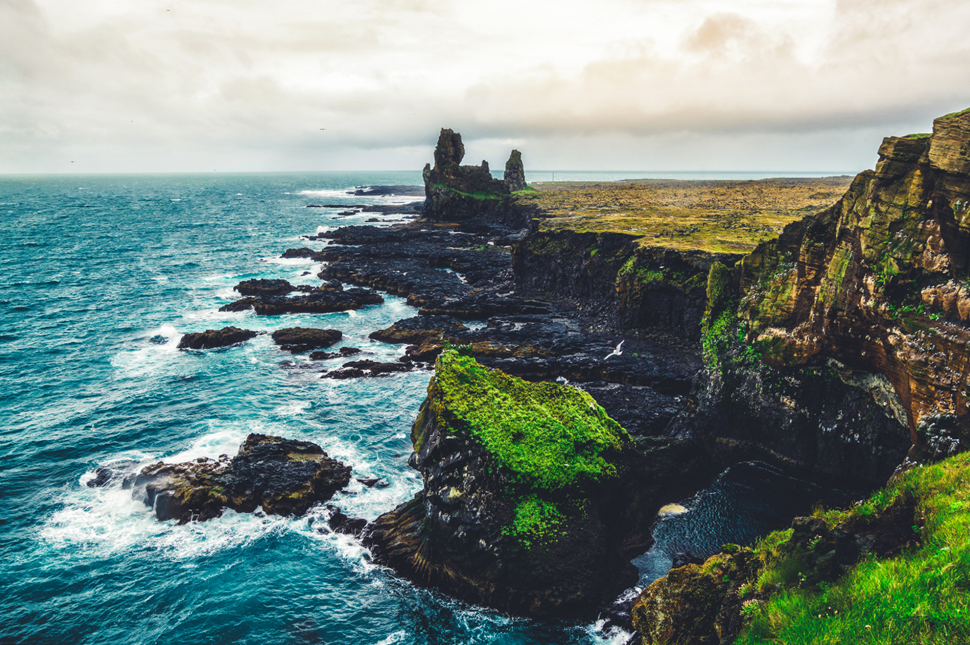 4. Visit the Icelandic Settlement Center
At this museum in Borgarnes, you can gain a unique insight into Iceland's history with fascinating interactive exhibits. Housed in two of Borgarnes's oldest buildings, the museum has two exhibitions: one on the Age of the Icelandic Sagas,  and the other on the Viking poet, Egil Skalla-Grimsson. You can also browse the delightful finds at the souvenir shop and fill up with some Icelandic treats at the café and restaurant.
Be it a 2-day tour to Borgarfjörður fjord or 7-day Complete Iceland Tour covering Borgarfjörður, you can soak up ample Icelandic culture at your own pace.
5. Hike through the Glymur Waterfall
Nestled in a narrow canyon, Iceland's second-highest waterfall, Glymur, has a charm of its own. The river Botnsa, which feeds the waterfall, stems from Iceland's glaciers, making for clear, cascading waters rushing down the cliff face. Falling from an impressive height of 650 feet (198 meters) into the fjord of Hvalfjordur, the waterfall can be easily accessed by foot.
A Glymur Waterfall Hike is perfect for a quick escape from the city. In 3 to 3.5 hours, you will experience the thrill of making it to the top of the breathtaking falls. Lace up your hiking boots and get ready to walk through lava caves, pass rocky roads, and cross some rivers!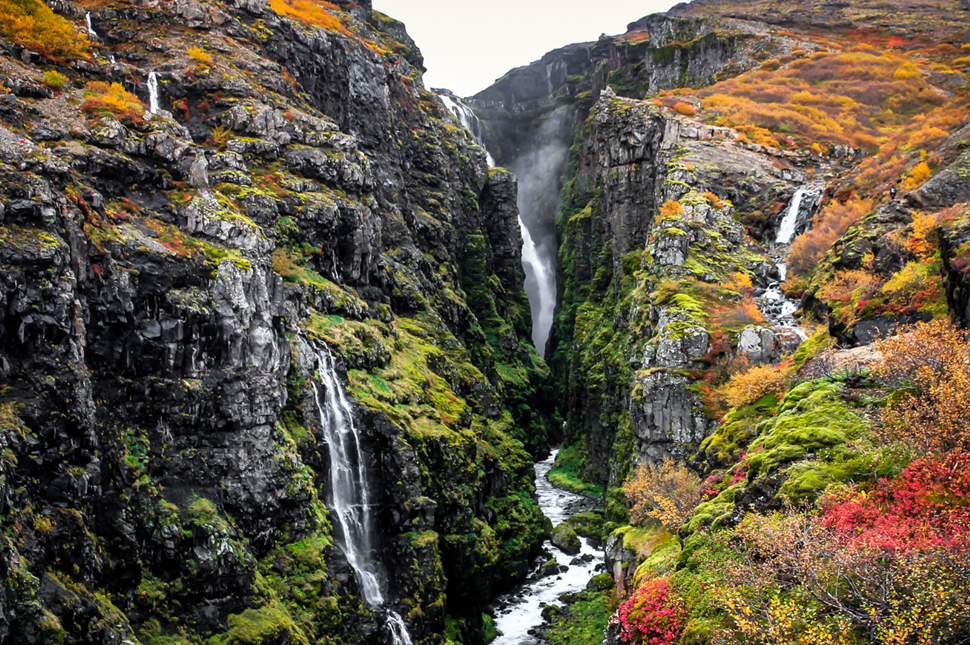 6. Go Whale Watching
For many visitors, the chance to see Iceland's majestic giants gliding through the waters simply can't be missed! With Iceland's unique geography attracting hordes of whales, the creatures have been a significant part of the country's history. The minke and humpback whales might be easy to spot, but you might also find the enormous blue whale, as well as fin whales, and maybe even orcas (also known as killer whales).
Our whale watching tour in Ólafsvík will allow you to experience the best of marine life in the Snæfellsnes Peninsula. Keep your camera on hand so you're ready to capture an image of one of Iceland's whales on your tour.
7. Stop by Budir Black Church
Iceland is well known for the unique architecture of its churches. They range from towering modern buildings, like Reykjavík's Hallgrímskirkja, to more humble, though no less beautiful, small churches dotting the more remote regions of the country. The Búðir Black Church, located on the Snæfellsnes Peninsula, is a wonderful example of the latter.
Black churches are a common occurrence in Iceland, and they make for unique photography opportunities against Iceland's wild landscape. If you're eager to snap unique photos or simply visit a peaceful and special spot, Búðir is a must-see.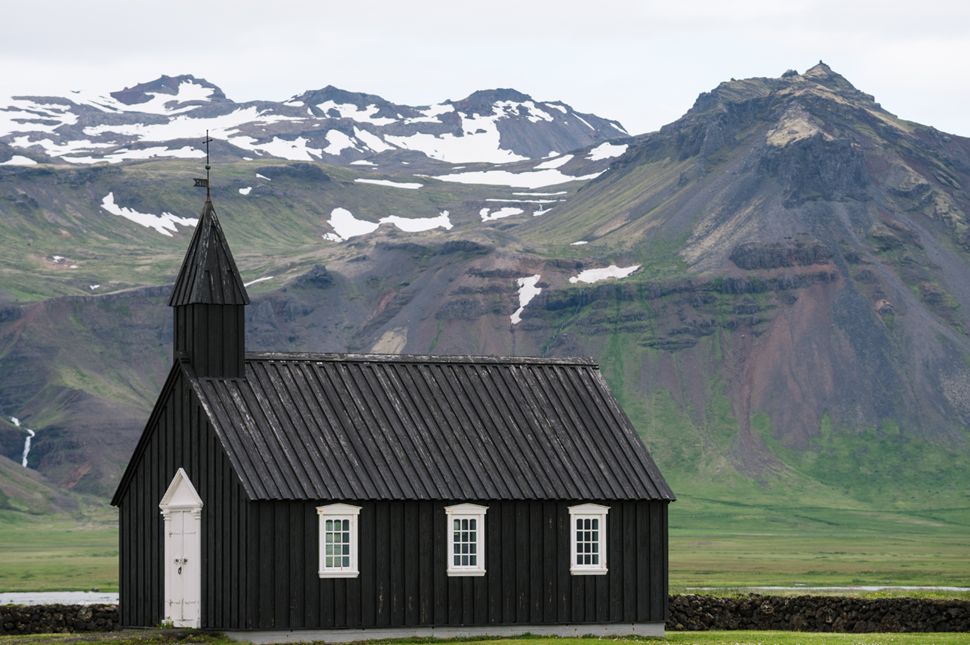 8. Explore the Vatnshellir Cave
Journey to the center of the earth by stepping into the 8,000-year-old Vatnshellir Cave. Formed from a molten rock river as a result of the Purkhólar crater family eruption, this natural wonder must be on your West Coast bucket list. This 656 ft (200 m) long cave will fascinate you with stalactites stretching from the roof and vividly colored rocks. 
The Northern Lights, Blue Lagoon, and the Snæfellsnes Peninsula are only a few of the additional perks on our Vatnshellir Cave tours, making them the best value for your money. Experience what total darkness feels like as the guide momentarily switches off the torch!
9. Bathe in the Krauma Geothermal Baths
Heading a bit further inland will reward you with an amazing opportunity to soak in some warm and relaxing waters of Krauma Geothermal Baths. The rapid flow of the hot springs means that no chemicals are required for cleaning its 6 tubs. Located near Deildartunguhver, Krauma offers luxurious geothermal bathing in a modern facility. There is a spacious changing room with separate lockers, large mirrors, and magnificent dressing tables. You can even dine at the indoor restaurant or terrace where Icelandic dishes are prepared with the freshest farm ingredients.
Starting only from $43 USD, our Krauma Geothermal Bath and Spa tickets make for a perfect relaxing day visit to Iceland.
10. Sail across the Breiðafjörður Bay
With over 3,000 islands and islets, visiting Breiðafjörður Bay is one of the best things to do along the west coast of Iceland, especially for nature lovers. Its rich ecosystem supports numerous breeding birds such as the puffin, common shag, and white-tailed eagle. The islands dotting the large, shallow bay of Breiðafjörður not only have hotels and summer houses but are often used by locals, especially by farmers for harvesting.
With our Viking sushi tour, you can feast on some fresh sushi while sailing into Breiðafjörður Bay.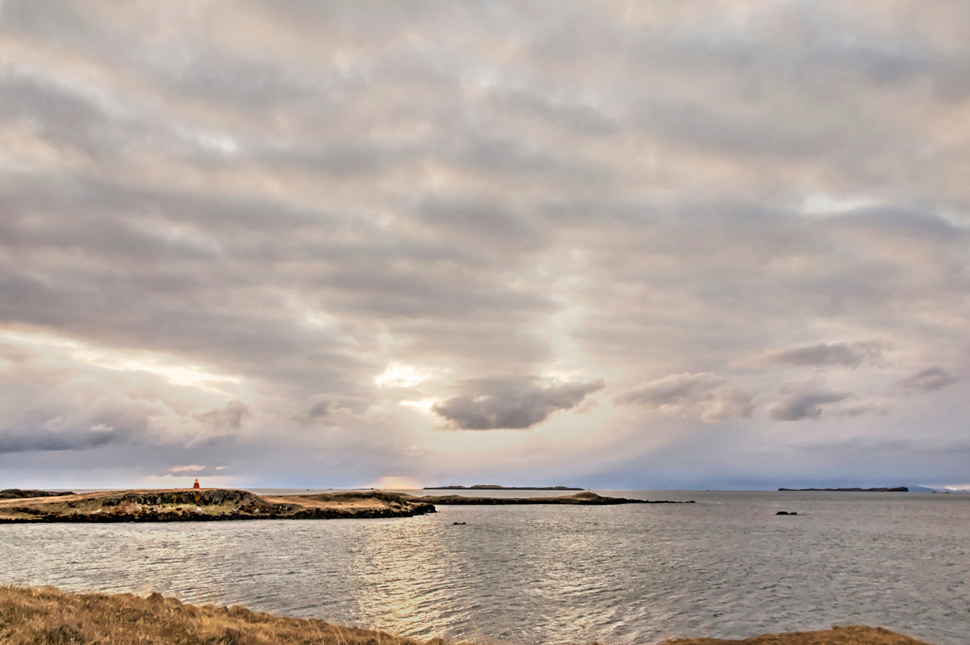 The West Coast of Iceland is a magical place. The number of things to do here is never-ending, which is why we have compiled 10 incredible things that will give you a comprehensive experience of the region.
Are you ready to tick off the boxes on your West Coast Iceland to-do list? Let the adventures begin!