This very special tour package will give you a full tour of Iceland with a night in Reykjavík before and after your 6 days Around Iceland Adventure.
INSTANT BOOKING CONFIRMATION
Want to do this trip for free? Tag us @arcticadventures on your social media stories and photos during your trip and enter a chance to win a full refund. The winner will be picked once a month!
---
We put together this amazing eight-day tour for people who really want to make the most of their time in Iceland and enjoy Reykjavík. Visit a shimmering glacier, spouting geysers, awesome volcanoes, stunning waterfalls and whale watch in the north. Enjoy the Nature Baths at Myvatn and stray off the beaten track building unforgettable memories. In winter, climb through ice caves and chase the Northern Lights. Your first and last nights are spent in Reykjavík, giving you the chance to explore this amazing city on your own.
We also offer this tour without accommodation in Reykjavík. Please have look at our 6 Days Around Iceland Adventure
Nominated Best Tour of 2019 in Iceland by TourRadar
Suitable for most people in fair condition.
Price from

219.990 186.992 ISK
Tour highlights

Small Group Experience
Ring Road
Golden Circle (Þingvellir, Gullfoss, Geysir)
Vatnajökull Glacier
Crystal Ice Caves (winter)
South Coast (Seljalandsfoss, Reynisfjara)
Skaftafell National Park
Jökulsárlón Glacier Lagoon
Whale watching in Dalvík
Mývatn (Myvatn)
Dettifoss and Goðafoss Waterfalls
Northern Lights (September-April)
Included

Hotel Room with Private Bathroom - 7 Nights
Breakfast Each Morning at Your Hotel
Guided Minibus Tour
Glacier Hike on Vatnajökull
Ice Cave Tour on Vatnajökull (November-March)
Hengifoss Waterfall Hike
Whale Watching in Dalvík
Free Wi-Fi Onboard Our Bus
Before and after your 6 Days Around Iceland Adventure, you will spend a night in Reykjavík, the Capital of Iceland, giving you the opportunity to explore by yourself.
Day 1: First day in Reykjavík: Your comfortable accommodation will be located in the capital area making it easy for you to reach all of the attractions. Visiting museums and galleries, exploring the quirky Laugavegur shopping street, swimming in a thermal pool, chilling in a café or sampling the theater and nightlife are a few options. More things to do in Reykjavík here.
Day 2: You will be picked up at your accommodation before heading to the Golden Circle, see Gullfoss, Geysir and Thingvellir (Þingvellir), a UNESCO World Heritage Site. We stop at Seljalandsfoss and Skógafoss waterfalls on the journey to your accommodation in the Vík area.
Day 3: Visit Reynisfjara black sand beach and see the incredible Reynisdrangar basalt formations, then enjoy a glacier hike at Skaftafell in Vatnajökull National Park. See the mystical iceberg-filled glacier lagoon at Jókulsárlón, and more glittering icebergs at The Diamond Beach. Your hotel is at Höfn.
Day 4: We stop at Djúpivogur, a remote fishing village, before a 3-hour hike to the picturesque Litlanesfoss and Hengifoss waterfalls. You spend the night at a country hotel in the Egilsstaðir area.
Day 5: We stop at Dettifoss, the most powerful waterfall in Europe, before heading to the glorious Goðafoss waterfall. We enjoy Mývatn Nature Baths and Akureyri, your accommodation will be in this area.
Day 6: Take a look at Akureyri then head to Dalvík for whale watching and the chance to try sea angling on Eyjafjörður, the longest fjord in Iceland. Visit Siglufjörður, a town with an amazing fishing history, before traveling on to your hotel at Bifröst.
Day 7: A short hike to the top of the Grábrók volcano crater, stops are made at Deildartunguhver hot spring, Barnafoss waterfall, the Hraunfossar cascade and the historic site of Reykholt. In the evening you are dropped off at your accommodation in Reykjavík.
Day 8: Final day in Reykjavík: You enjoy breakfast at your hotel and make the most of your second chance to enjoy vibrant Reykjavík, the capital on the edge of the Arctic.          
These spellbinding attractions form the central core of the itinerary. On this tour we like to make the most of the opportunities Iceland offers in different seasons:
From late September to April, chase the elusive Northern Lights painting the sky with vivid swirls of color.
During winter, we'll swap out the glacier hiking for a natural ice cave visit.
On our way through East Iceland, we might spot some reindeer roaming around in their natural habitat.
During September we sometimes fit in a sheep round-up in the countryside. Huge numbers of puffins nest along the coast in summer and the midnight sun extends its magical rays, so we enjoy these.
Here you can find a detailed list of information containing everything you need to know about your tour around Iceland: 6 Days Around Iceland Adventure Guide
What to bring: Warm outdoor clothing, a waterproof jacket and pants, headwear and gloves. Good hiking boots are recommended. See the 6 Days Around Iceland Adventure Guide for more information.
What if I don't own all of the necessary clothing items?
Don't worry, you can always rent sturdy hiking boots, waterproof jacket and pants in the booking process. We do not rent these items from the location, they must be ordered in advance.
---
Pick-up Information
Pick-up is at 08:00 am from your hotel or a nearby meeting point in Reykjavík. Picking everyone up can take up to 30 minutes, your patience is much appreciated.
Available pick-up points: Arctic Adventures's pick-up list.
---
Please note
Solo travelers are required to choose a single room when they make their booking.
Sometimes we may need to change glaciers or glacier outlets on this tour due to various reasons, including weather conditions. Glacier outlets used on this tour include Svínafellsjökull, Falljökull and Sólheimajökull, all amazing and unique glaciers, equally as beautiful. From November to March, we replace the glacier hike with a journey through crystal ice caves.
Day 1 - Arrival Day - Reykjavík City Sightseeing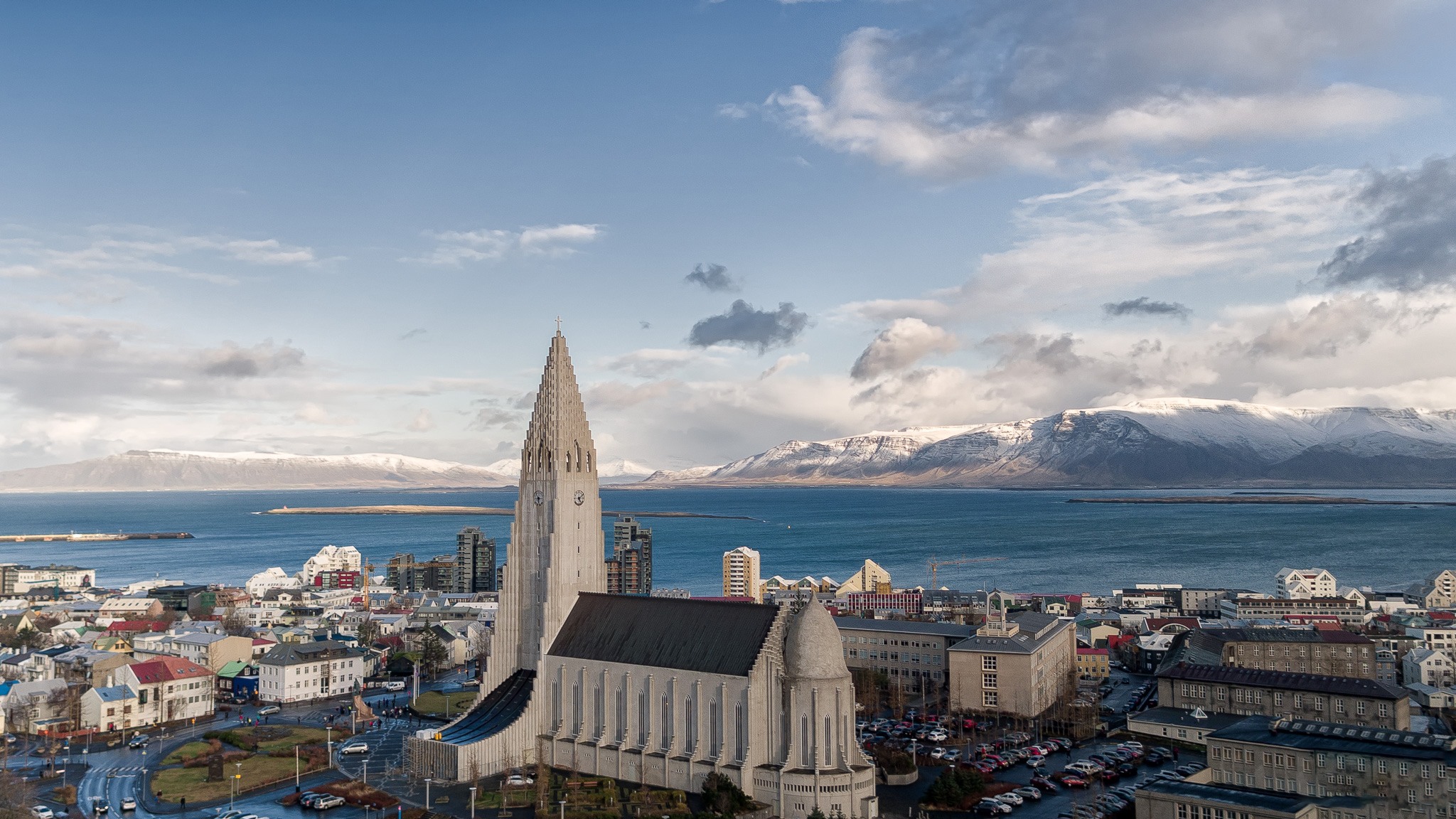 Building your own exciting itinerary from the possibilities on offer in the City of Reykjavík is easy!
Walking Laugavegur and Skólavorðustígur is a great way to capture the essence of Reykjavík, both are amazing shopping streets. Browse in shops, often the tiniest places sell the more unusual items, relax in a charming café then wander some more. You will come across local crafts, the iconic tall white Hallgrímskirkja church, its design is inspired by Svartifoss waterfall at Skaftafell. For a grandstand view over the city go to the top of the tower, it is well worth it!
There are a few fabulous museums, covering everything from history and the building of the Icelandic nation at the National Museum to photography at the Reyjavík Museum of Photography, or Icelandic culture at the Culture House. If you love art, there are quite a few galleries including the National Gallery of Iceland, Reykjavík Art Museum and Kjarvalstaðir.    
Rekjavík's thermal swimming pools are open early and into the evening. The largest open air pool, Laugardalslaug, has great hot tubs where you can relax with the locals and tourists. All year round outdoor bathing is very big in Iceland! There are a few other pools close to the city center, all have hot tubs.
Your accommodation in Reykjavik Lights Hotel is within easy reach of the attractions in the city. All districts are served by a regular bus service to the city center. Local buses are operated by Strætó, timetables and information in English can be found here.
More ideas for making the most a short time in Reykjavík, including money saving tips, can be found in the article about things to do in reykjavik in 2 days.
If you want a guided tour around the city, please check out our Reykjavik City Walking tour
Day Highlights

The delights of Reykjavík
Today you pick your own highlights!
Included

One night accommodation in Reykavík
Private bathroom
Accommodation
Reykjavik Lights Hotel
or Similar
Day 2: Golden Circle and South Coast

Your first day is mostly focused on visiting the fabulous and very famous Golden Circle attractions.
We visit Þingvellir National Park, an incredible UNESCO World Heritage Site with huge geological, historical and cultural significance. The historic Icelandic Parliament was founded here in 930 CE/AD, called the Alþing, this is the oldest still existing democratic parliament in the world. The Mid-Atlantic Ridge, where the Eurasian and North American tectonic plates continue to move apart, runs right through Þingvellir. You will see the rugged plate-edge of the gorge, this must have been a really dramatic backdrop to the ancient parliamentary sessions! Your next stop is at the Geysir geothermally active area, home to Great Geysir, the famous spouting hot spring which gave us the English word 'geyser'. You will witness Strokkur, the most active hot spring in recent times, blasting powerful torrents of superheated water every 5 to 10 minutes. Steaming fumaroles and hot springs can also be seen around the area. The final Golden Circle attraction before we head along the south coast is the thundering Gullfoss waterfall. Gullfoss means 'Golden Falls', you will see golden-toned mists rising around the waterfall as the mighty Hvítá river crashes through two drops of 11 m and 21 m. Hvítá means 'White River', this raging glacial torrent originates at Langjökull, the second biggest glacier in Iceland.
On our way to your country hotel, situated near the village of Vík, we will stop to enjoy two legendary and very beautiful waterfalls, Seljalandsfoss and Skógafoss. Both are around 60 m high, they are, otherwise, very different. Skógafoss waterfall cascades gracefully from the former sea cliffs. Seljalandsfoss is sometimes referred to as "the unusual waterfall", a pathway leads behind the curtain of falling water, offering you a unique experience and views.
After you settle into the country hotel in Kirkjubæjarklaustur, slip away for a couple of hours to chase the Northern Lights from September to April.
You will be picked up in Reykjavík at 8:00. Picking everyone up takes up to 30 minutes, depending where your accommodation is located in Reykjavik you may have to wait a few minutes, your patience is much appreciated.
Day Highlights

Þingvellir National Park
Geysir Hot springs
Gullfoss Waterfall
Seljalandsfoss Waterfall
Skógafoss Waterfall
Northern Lights (September-April)
Included

Breakfast at your accommodation in Reykjavík
Hotel with private bathroom close to Vík
Guided tour in minibus
Visit to the highlights of the Golden Circle
Visit the most famous South Coast waterfalls
Accommodation
Hótel Geirland
or Similar
Day 3: Vík - Skaftafell - Glacier Lagoon - Höfn
Our first stop today is at Reynisfjara black sand beach. A walk along the beach will bring you to the extremely impressive and unusual basalt column cave. You will also see the troll-like and atmospheric Reynisdrangar peaks rising just off-shore. Now to the glaciers!
We travel through some extraordinary landscapes and other-worldly scenery on the way to Skaftafell in Vatnajökull National Park. You will see views of the stunning Mýrdalsjökull glacier, home to one of the most feared volcanoes of all, the notorious Katla. You will also see another great fire maestro, Eyjafjalljökull. Our journey will take us over the Eldhraun lava field to Skaftafell, a lush green oasis in the midst of black volcanic sand areas. Skaftafell is quite sheltered with flourishing vegetation and birch forests.  
Our specialist glacier guide will lead you on a three-hour glacier hike, giving you the opportunity to explore a stunning glacier tongue of Vatnajökull, the biggest glacier in Europe. You will learn all about this sensational blue/white ice world.
From November to March, we explore Vatnajökull's crystal ice caves instead of the glacier hike. Each winter, new ice caves form and freeze through the heart of the glacier. Walk through with your guide to see ice caps from a whole new angle!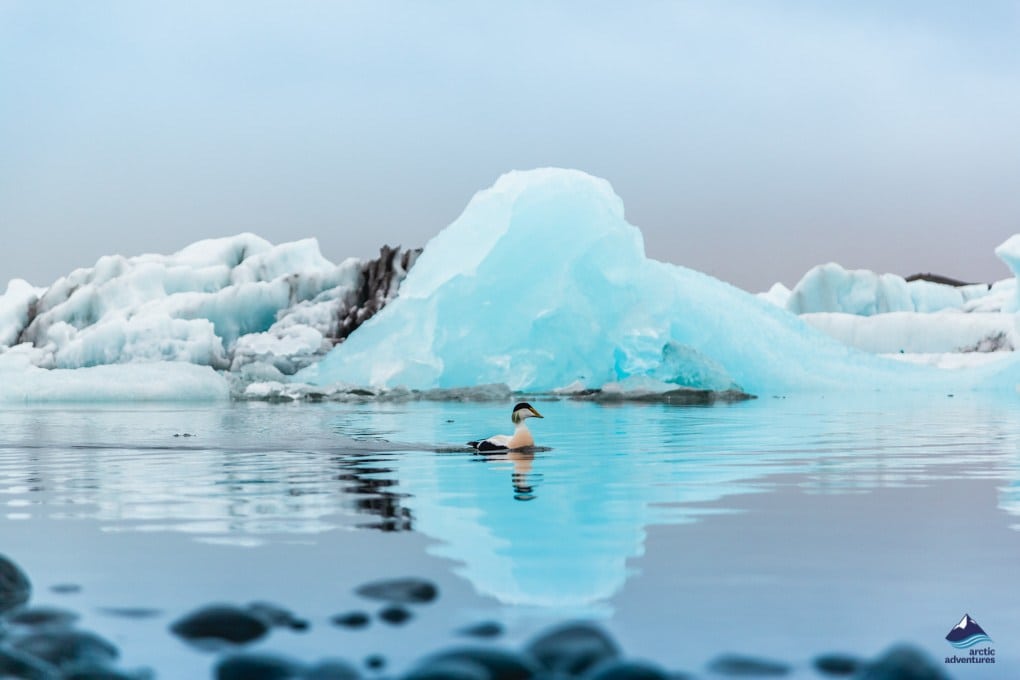 We continue with the theme of ice, onwards to Jökulsárlón Glacier Lagoon, action scenes from James Bond and other movies have made this the most famous ice lagoon in the world. Feast your eyes on the jaw-droppingly beautiful iceberg filled lagoon and visit the fabulous Diamond Beach. This coal-black beach glitters with shimmering blue/white icebergs washed ashore by the tide, these opalescent forms are extraordinary shapes. You will feel as though you have stepped through a magic doorway into a mystical ice realm with magic landscapes.
Your accommodation will be in Höfn, a charming town known as 'the lobster capital of Iceland'. Search for the Northern Lights at night from September to April. 
Day Highlights

Reynisfjara Black Sand Beach
Vatnajökull National Park
Jökulsarlón Glacier Lagoon
The Crystal Beach (Diamond Beach)
Höfn - Lobster capital of Iceland
Northern Lights (September-April)
Included

Breakfast at Hotel close to Vík
Visit to Reynisfjara
Guided Glacier Hike on Vatnajökull Glacier
Certified Glacier Guide
Specialized glacier gear
Visit to Jökulsarlón and the Diamond Beach
One night accommodation in Höfn
Private bathroom
Accommodation
Day 4: East Fjords - Djúpivogur - Egilsstaðir

Today we head to Iceland´s sensational East Fjords. You will travel the narrow roads which thread their way between the mountains and the ocean, passing through the very remote peninsular of Hvalnes. Continuing onwards you will see the really dramatic and contrasting scenery around Lón, the Þvottárskriður landslides and Álftafjarðar, a really beautiful fjord.      
We'll stop at Djúpivogur, a small traditional fishing village. The friendly village community is known for its eco-conscious and welcoming ways. Take a look at Eggin í Gleðivík (The Eggs of Merry Bay), a splendid outdoor sculpture. 
At our next stop we'll enjoy an exhilarating three-hour hike to Hengifoss, the second highest waterfall in Iceland (128 m). Then marvel at the towering Litlanesfoss Waterfall framed by giant hexagonal basalt columns. You'll pass by a sensational gorge where ash layers left by ancient volcanic eruptions can be clearly seen. 
Our final stop is at the Iceland Wilderness Center or Óbyggðasetrið. Named the "best museum in the whole world" by Cosmopolitan Magazine, the center museum exhibit tells the  history of the past inhabitants. The center is run by historian Arna, and Icelandic movie set designer Denni, who designed every detail of the building in the original 19th-century style. We'll enjoy refreshments of coffee/tea and waffles during our visit.
Your accomodation for the night will be a country hotel in Egilsstaðir. Chase the Northern Lights at night from September to April.
Day Highlights

Djúpivogur Fishing Village
Hengifoss Waterfall
Litlanesfoss Waterfall
Icelandic Wilderness Center
The town of Egilsstaðir
Northern Lights (September-April)
Included

Breakfast at the guesthouse in Höfn
Visit to the small fishing village of Djúpvogur
Guided hike to Hengifoss Waterfall
Admission to Wilderness Center Exhibit (optional)
Private bathroom
One night at a Hotel in Egilsstaðir
Accommodation
Hotel Valaskjalf
or Similar
Day 5: Dettifoss - Mývatn - Godafoss - Akureyri

Today we will explore North Iceland. Our journey from Egilsstaðir will take us through the wilderness area around Möðrudalur, the highest inhabited place in Iceland at 469 m, this farming community now hosts the highest coffee house in the land.
Our first destination is Dettifoss waterfall, these falls have the most powerful flow rate in Europe. Believe us, this roaring torrent is truly awesome – you really will feel humbled by the power of Icelandic nature. Your next attraction, the mystical landscapes around Lake Mývatn, has an altogether different character.
The scenery will keep getting more surreal! We are heading to the steaming lunar landscapes and bubbling technicolor mud pots at the Námaskarð geothermal area. The steaming fumaroles and sizzling hot springs waft clouds of steam across these other-worldly vistas. There are more extraordinary scenes to come when we take you to see the Hverfjall crater and the unbelievable Dimmuborgir lava formations, known as the Dark Castles!
Now for some relaxation!  Mývatn Nature Baths, the Icelandic name for these baths is Jarðbóðin – unsurprisingly, the hot water comes straight up out of the earth. Bathe in the mineral-rich alkaline water (36 – 40 C), the entrance fee can be paid when booking or on site. Bathing is an optional extra activity but we highly recommend you book it beforehand to reserve your spot! Otherwise, you could take a stroll to enjoy the wonderful views and take a break in the cafeteria. Goðafoss, a dreamy crescent-shaped waterfall, is our last stop before we continue to Eyjafjörður, the longest fjord in Iceland, rimmed by high mountains.
Your accommodation will be at a country hotel in Akureyri. At night, your guide can help you chase the Northern Lights during the winter months.
Day Highlights

Dettifoss Waterfall
Mývatn Lake
Námaskarð geothermal area
Hverfjall Crater
Dimmuborgir formations
Goðafoss Waterfall
Northern Lights (September-April)
Included

Breakfast at Hotel in Egilsstaðir
Guided visit to all the highlights
Time to explore the magnificent landscapes
One night at a hotel close to Akureyri
Private bathroom
Accommodation
Icelandair Hotel Akureyri
or Similar
Day 6: Whale watching in Dalvík - Siglufjörður -Tröllaskagi - Laugarbakki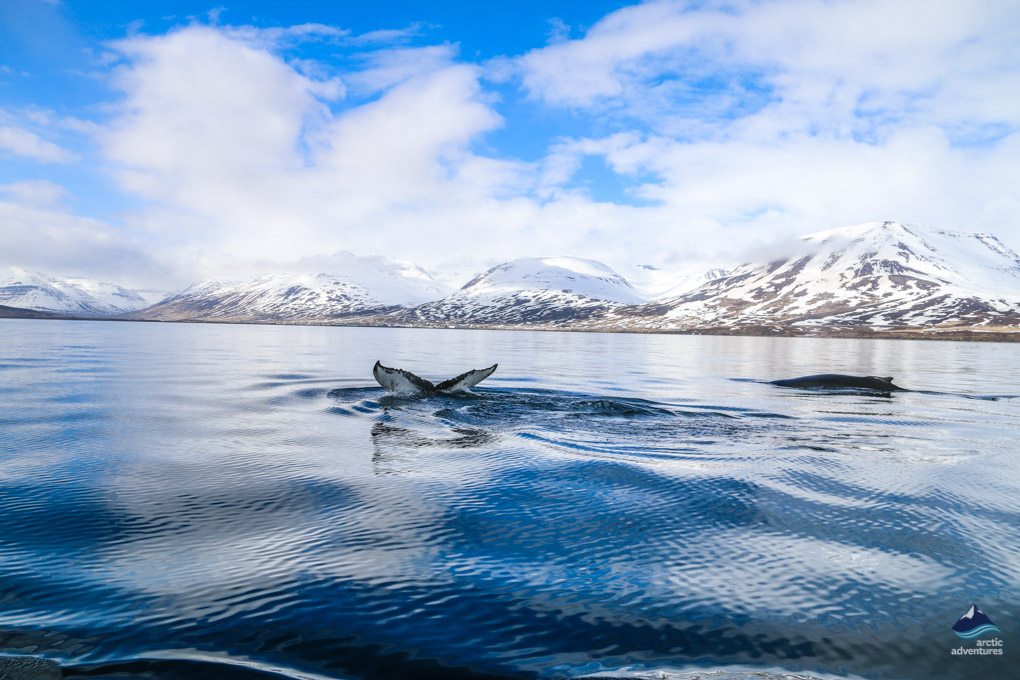 Sometimes we can fit in a short stop at the Capital of the North, Akureyri. Our journey will always take us through this beautiful little town in the midst of the mountains close to the apex of the mesmerizing Eyjafjörður Fjord (the Island Fjord). We are heading for the absolutely charming and still traditional fishing town of Dalvík, with its busy working harbor and fabulous views over Eyjafjörður and Hrísey Island.
The dramatic high mountains, home to some of the best ski slopes in Iceland will be at your back. Your three-hour whale watching boat trip starts at Dalvík harbor. You will skim over Eyjafjörður, going in whichever direction is best to see humpback whales, white-beaked dolphins, minke whales, and occasionally even blue whales.
These tours are really successful when it comes to spotting whales, they are seen on 98% of tours. You are surrounded by the incredible natural beauty of Eyjafjörður, the longest Fjord in Iceland, every view is totally spectacular. You will get the opportunity to try sea angling, as soon as we come ashore that fish is cooked and you can taste the most amazingly fresh fish.
For a small extra fee, you can upgrade your whale watching tour from a regular boat to a speedboat or RHIB boat (between April and October), which allows you to travel faster and get even more closer to the whales!
Next on the agenda is a drive to Siglufjörður, a beautiful fishing village with an incredible history. This town was overtaken by a Klondike-like gold rush atmosphere in the early 20th century when the tiny and isolated community became known as the herring fishing capital of the Atlantic.
Traveling around Tröllaskagi (the Troll Peninsula) you will see stunning ocean scenery and incredibly steep mountains. Your visit to Siglufjörður will give you a fabulous insight into how life was lived in tiny and isolated Icelandic villages. On the way to your hotel for the night, you will pass through the farming heartland of Iceland, this is also a big horse farming area.
Your small hotel will be in Laugarbakki. Hunt the Northern Lights on winter nights. 
Day Highlights

Akureyri - Capital of the North
Whale Watching from Dalvík
Siglufjörður Fishing Village
Northern Lights (September-April)
Included

Breakfast at a Hotel close to Akureyri
Akureyri & Eyjafjörður Fjord
3 hour Whale Watching sail tour
Opportunity to try out sea angling
Visit to Siglufjörður
One night at a hotel
Private bathroom
Accommodation
Hotel Laugarbakki
or Similar
Day 7: Borgarfjörður - Reykholt - Hraunfossar - Hvalfjörður - Reykjavík
The final day of your 6 day trip around Iceland will be focused on the delights of West Iceland – Lonely Planet voted this area as one of their best destinations in 2016. Your first stop of the day is at Grábrók, a volcano crater surrounded by lunar-like lava. Your guide will lead you on a short hike to view the crater from the top – there are magnificent views over the whole area. We will enjoy the fabulous and extremely diverse sights of Borgarfjörður today. Stops are made at Deildartunguhver hot spring, the most powerful hot spring in Europe, you will also see the incredible Hraunfossar cascade, these wide falls are composed of thousands of tiny rivulets which tumble out of the lava field – a truly incredible sight! Then there is Barnafoss waterfall, the name means 'the Children´s Falls' a rather tragic folklore tale is associated with the naming of this particular waterfall.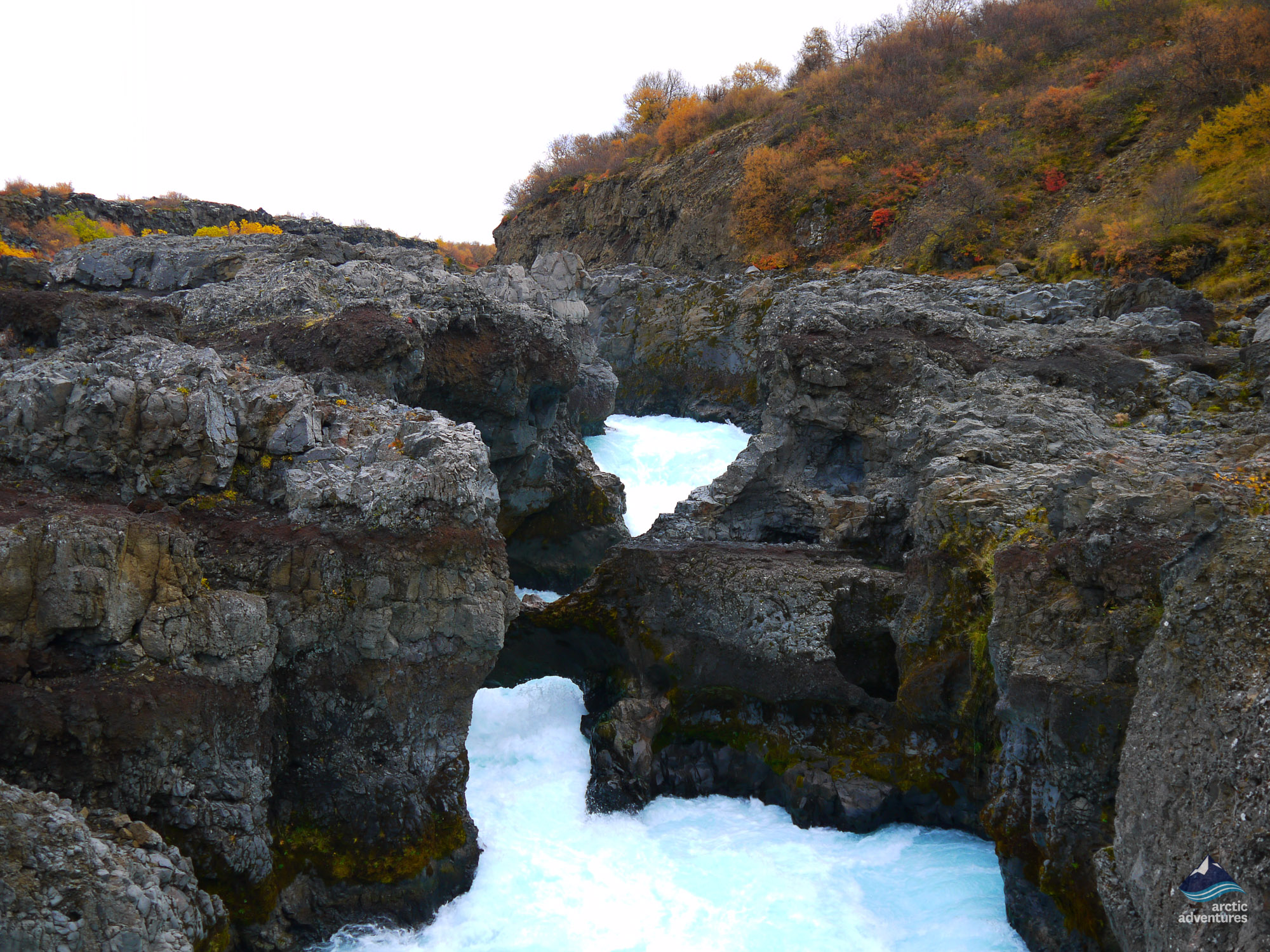 Now for some history and the gentle landscapes around Reykholt, home to the famous Icelandic saga writer, historian, lawyer, and poet, Snorri Sturluson. You will see the pool where Snorri is reputed to have bathed, Snorralaug. Nowadays, this pool is still filled with naturally warm water. Our drive back to Reykjavík will take us around, Hvalfjörður (Whale Fjord), a really scenic fjord. We should arrive back in the city at approximately 5 – 6 pm. You are dropped off at Reykjavik Lights Hotel.
Day Highlights

Borgarfjörður
Deildartunguhver hot spring
Barnafoss Waterfall
Hraunfossar cascade
Reykholt
Hike up to Grábrók, a volcano crater
Northern Lights (September-April)
Included

Breakfast at hotel
Visit to the highlights of Borgarfjörður
Visit to the historic sight of Reykholt
Drop off in Reykjavík
One night at a hotel in Reykjavík
Private bathroom
Accommodation
Reykjavik Lights Hotel
or Similar
Day 8 - Final Day - Reykjavik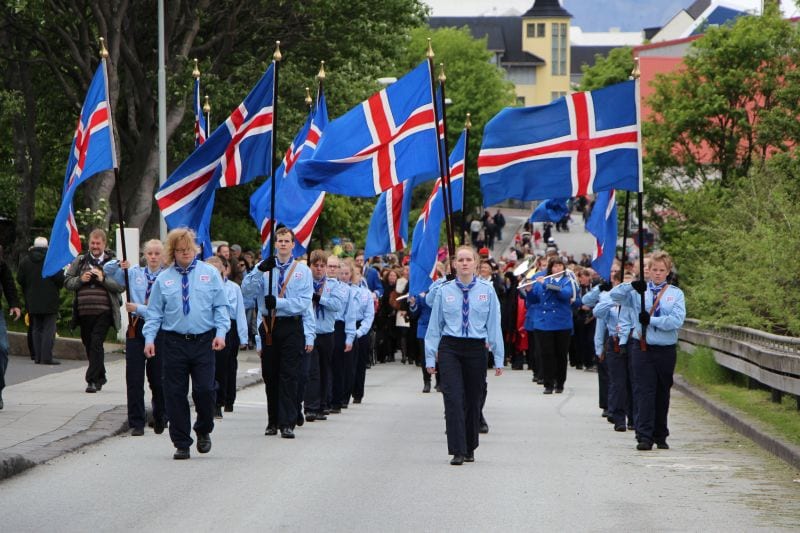 You have another day to make the most of being in Reykjavík, the stunning capital of Iceland. Check off a few more things on your Reykjavík bucket list – there are plenty more options. Maybe, explore the network of cycling and walking paths which thread around the coast and cross-cross the city. The coastal scenery is spellbinding from places such as Seltjarnarnes and Mosfellsbær, both are easily reached by Strætó buses, although it is easy to walk to Seltjarnarness. Grasagarðurinn, the Reykjavík Botanical Gardens, are well worth a visit. See the area where the women of Reykjavík used to do their laundry in the hot spring pools. These beautiful gardens are situated next to Laugardalslaug, the largest swimming pool in Iceland. Shop and browse some more, laze in coffee shops or restaurants, visit another museum or gallery, or squeeze in one last amazing adventure activity tour – the choice is for you to make!
Day Highlights

Reykjavík delights - your choice!
Included

Breakfast at hotel/guest house in Reykjavík
Special Offer 15% OFF PLUS FLEXIBLE CANCELLATION POLICY (You Can Cancel The Booking Up To 72 Hours Before The Tour Starts And Get A Full Refund)
Sale ends on 15.06.2020 at midnight (GMT)
Discounts work for travel time March-December, 2020
Promotional code: MULTIDAY15
Book this tour
Price from: 219.990 186.992 ISK per person.
NO BOOKING FEES
FAST & SECURE PAYMENT
8 Day Iceland Ring Road Tour | Average rating: 5/5 based on 6 customer reviews
"Fantastic way to see Iceland" |
By Barbara Gilmore 26/09/2018
Everything about our tour was perfect. Diddi, our guide, was wonderful...sharing his love of his country with all of us. We met great people both on the tour with us and everyday Icelanders. A fun week.
"A wonderful travel experience" |
By Robert Becu 07/09/2018
My daughter and I had a great time on this tour. The places we went to and the things we saw were amazing. The accommodations provided were all of a good, comfortable standard. Best of all was our tour guide, Juri, who went over and above to ensure all of the tour guests were safe and comfortable. His good humour and friendliness, along with his insights into the Icelandic culture and history, added greatly to the experience.
"Wonderful tour with Siggi and Arctic Adventures!" |
By Lori Pbert Etzel 26/08/2018
Our family toured Iceland with Siggi, our guide from Arctic Adventures, and a wonderful group of companions the week of August 13th. Siggi was incredibly knowledgeable and accommodating. We enjoyed the fascinating history and stories about Iceland he shared with us, providing a fuller, more informative picture of the island than we would have had on our own. The tour hit the main attractions Iceland has to offer in an efficient manner, without feeling rushed: we saw innumerable waterfalls, each one unique, hiked on a glacier, saw the lunar landscapes and mud pots in a geothermal area, thoroughly relaxed in the Myvatn Nature Baths, and saw magnificent hunchback whales on a whale watching boat trip. It was a visit we will all remember fondly. We have already recommended Arctic Adventures to friends and family since our return.
"8 day around Iceland" |
By Lori Pbert Etzel 29/07/2018
My family had an absolutely fantastic time during our tour. From the beginning of planning the trip to the last second of the adventure. Arctic Adventures is a model of efficiency and streamlined operations. Our experience was simply one without any complaints I can think of. This was a trip of a lifetime for us and doing with Arctic Adventures made it all the better
"Jason Hinkley" |
By Linda Joyce 11/07/2018
Our guide Pauly was the most informed man on Islandic history, geography,culture and daily life. A good sense of humor quick witted and helpful. He was very patient with all of our questions. Our group became like a big family. A great experience!
"6 day around Iceland tour with extra nights in Reykjavik" |
By Eileen 28/06/2018
Fantastic tour. We saw a great range of Iceland's spectacular attractions. Despite a busy schedule the atmosphere was always relaxed and fun. The bus was of a high standard. The accommodation was always adequate and sometimes excellent. Our guide and driver Birgir was professional, knowledgeable, helpful and entertaining and gave us a fascinating insight into the country's culture, language, history and ecology. It was an expensive trip but well worth it. HIGHLY recommended.