Magnificent waterfalls, Snæfellsjökull glacier and the northern lights are among the things you can expect to see on this adventure tour to the wonders of West of Iceland.
The Snæfellsnes peninsula was picked as the best winter destination in Europe and on this tour you get to explore the wonders of the peninsula on fantastic a two-day winter adventure. Inspire the traveler within you exploring the most amazing sight including the famous Mt. Kirkjufell, Djúpalónssandur pebble beach, the most powerful hot spring in Europe and the charming little fishing village of Arnarstapi. Get in touch with the true power of Icelandic nature and grab this unforgettable opportunity to see Icelandic diversity in it's truest form!
Availability

October 1st - April 30th
Suitable for most people in fair condition. You have to be able to walk on uneven surface and hike for at least 2 – 3 hours at a slow pace, with breaks. Trails are generally of good quality and glacier travel at a relatively low angle.
Tour highlights

Deildartunguhver hot spring
Hraunfossar waterfall
Barnafoss waterfall
Gerðuberg basalt columns
Snæfellsnes peninsula
Vatnshellir cave
Djúpalónssandur beach
Mt. Kirkjufell
Small group experience
Included

Pick up from Reykjavík accommodation
Guided tour in a minibus
Visit to the highlights around Snæfellsnes area
One night in hotel room with a private bathroom
Breakfast at the hotel
This tour will show you the very best of West Iceland and the famous Snæfellsnes peninsula.
We head out past Mount Esja, Reykjavík´s iconic mountain on our way to see the sights of Borgarfjörður. You will see Reykholt, the famous home place of the 12th/early 13th century historian and saga writer, Snorri Sturluson. Reykholt certainly featured very strongly in the history of Iceland. Visits are also made to Deildatunguhver, the largest volume hot spring in Europe, and two beautiful but very different waterfalls. Hraunfossar is unique, thousands of rivulets stream out through the edge of the lava, forming a dramatic and very wide crescent shape. An Icelandic legend is linked to the picturesque Barnafoss Waterfall, explaining how it came to be so-named. In English the name is 'Children´s Falls', your guide will tell you all about the legend!
Leaving Borgarfjörður, you are driven towards Snæfellsnes peninsula. A final stop will be made to see the wonderful Gerðuberg basalt columns. Your accommodation will be at a country hotel in the Snæfellsnes area. Away from the light pollution of the city, you will have the best chance of seeing the glittering northern lights. As with any natural phenomenon, so we always have to hope and cross our fingers a little, but let´s hope those shimmery jewel-bright swirls will ripple across the night sky!
Snæfellsnes has amazingly diverse scenery, with the Snæfellsjökull glacier as the crowning glory. This has been one of the most famous places in Iceland since Jules Verne featured it in his novel, Journey to the Centre of the Earth. Our optional (extra fee) guided tour of an 8000 year old lava tube cave will take you a little closer to the core of the earth! On your journey through the peninsula, you will see the beautiful mountains, amazingly picturesque cliffs, black beaches and traditional fishing villages. You will certainly appreciate how diverse Icelandic nature is on Snæfellsnes!
We stop at the photographers favorite, Mount Kirkjufell, and Djúpalónssandur a black pebble beach with crazily-shaped cliff formations. Those black pebbles are known as Djúpalóns Perlan, meaning 'deep pool pearls', the white-tipped waves crashing on these glossy black pearls is an amazing sight. Just make sure you stand well back, those waves are powerful and unpredictable as well as stunning!
After two days filled with sensational and extremely varied sights and experiences, we return to Reykjavík in the evening between 19:00 and 20:00.
What to bring: Warm layers and waterproof outdoor clothing, headwear, gloves. Good hiking shoes are recommended.
What if I don't own all of these clothing items?
Don't worry, you can always rent sturdy hiking shoes, waterproof jacket and pants when you book your tour. Please note, we do not rent gear from locations, it must be booked in advance.
Please note
Meals are not included in this tour other than breakfast.
Single supplement is required for solo travelers.
We cannot promise you will see the northern lights, whether they are seen depends on the atmospheric and cloud conditions.
Your safety is our number one priority! Keeping this in mind, Arctic Adventures reserves the right to adjust the itinerary and/or take different routes. Please read more information in our cancellation policy.
Day 1: Exploring the west of Iceland
You will be picked up from your hotel in Reykjavík in the morning. We will drive along the scenic west coast of Iceland to West Iceland. Our fist stop of the day is at Deildartunguhver, the most powerful hot spring in Europe. It provides 180 l/sec of 100°C hot water and it's used for heating all the neighboring towns. Thereafter, we visit the historic site of Reykholt. Here the famous author Snorri Sturluson lived in the medieval.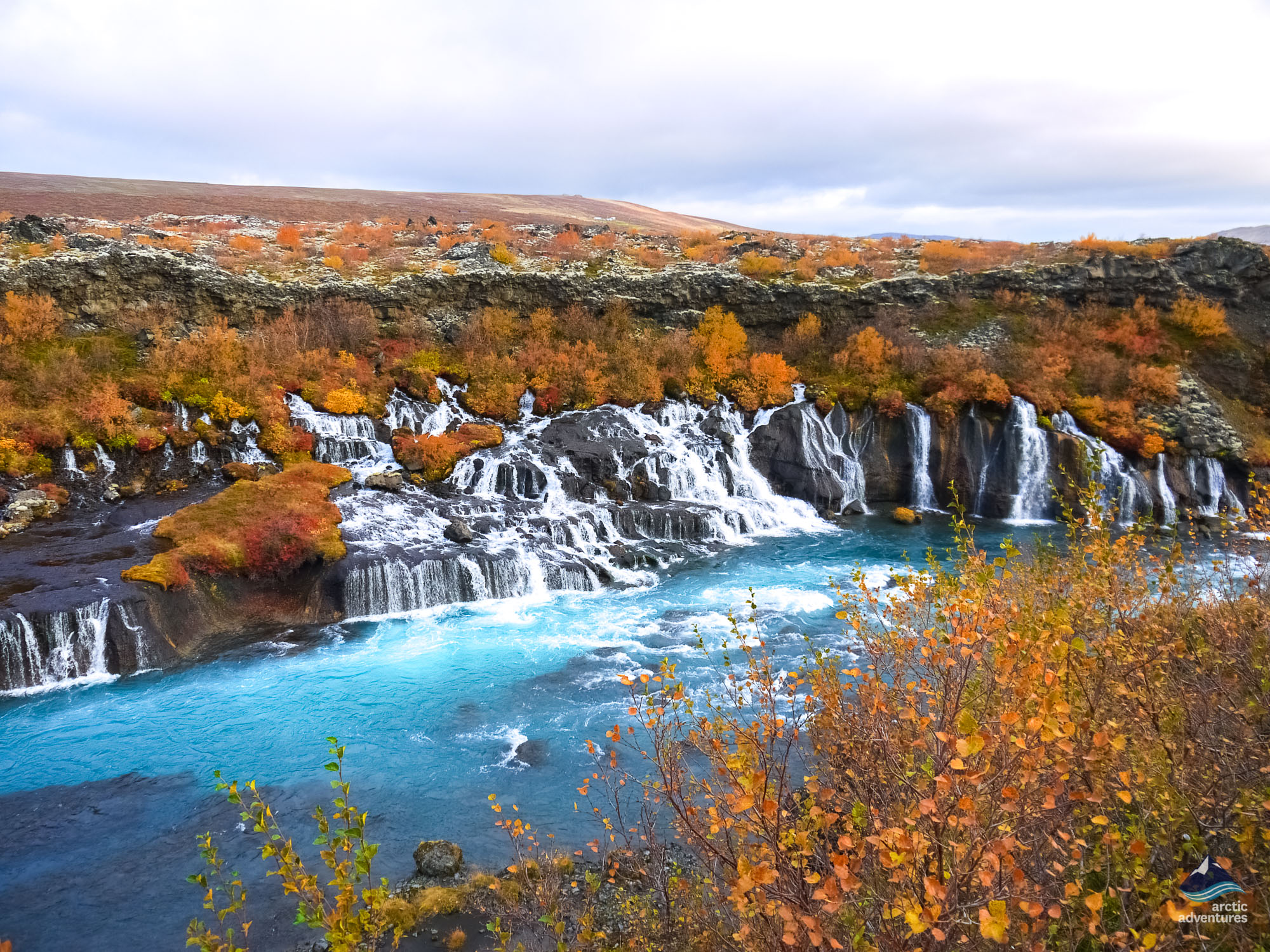 The waterfalls Hraunfossar and Barnafoss is our next stop. There you can see how the water flows from underneath the lava fields and hear the story about Barnafoss waterfall. We leave the beautiful Borgarfjörður area behind and continue to Snæfellsnes peninsula. Before we reach our hotel for the night we will stop at the stunning basalt columns Gerðuberg. In the evening we will hunt for the northern lights.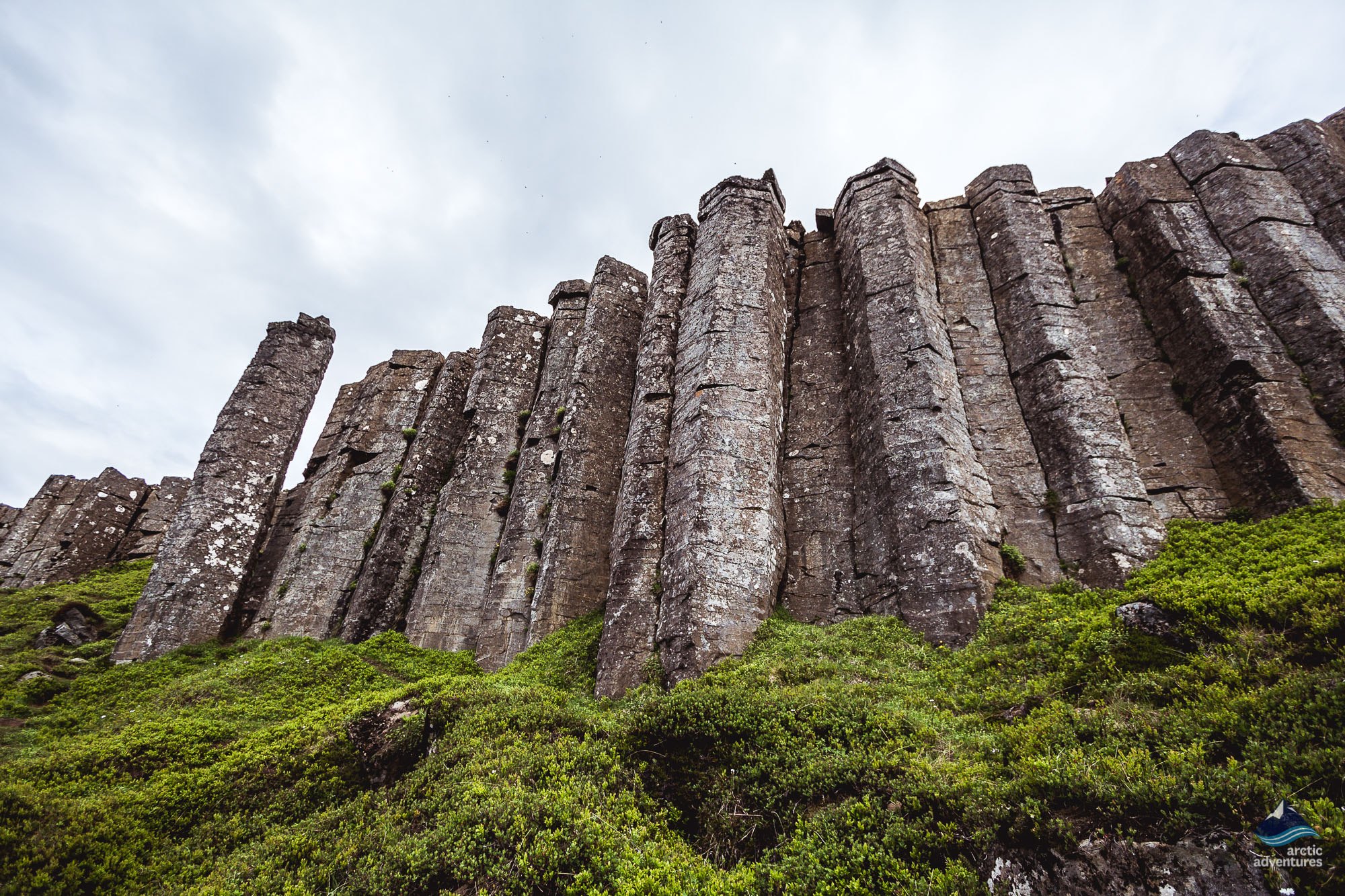 Day Highlights

Deildartunguhver hot spring
Historic site of Reykholt
Hraunfossar and Barnafoss Waterfalls
Borgarfjörður area
Snæfellsnes Peninsula
Basalt columns Gerðuberg
Northern Lights hunt (if conditions are right)
Included

Pick up from Reykjavik
Guided tour in minibus
Visit to all highlights of the day
One night at hotel room
Day 2: Snæfellsnes area and Vatnshellir Cave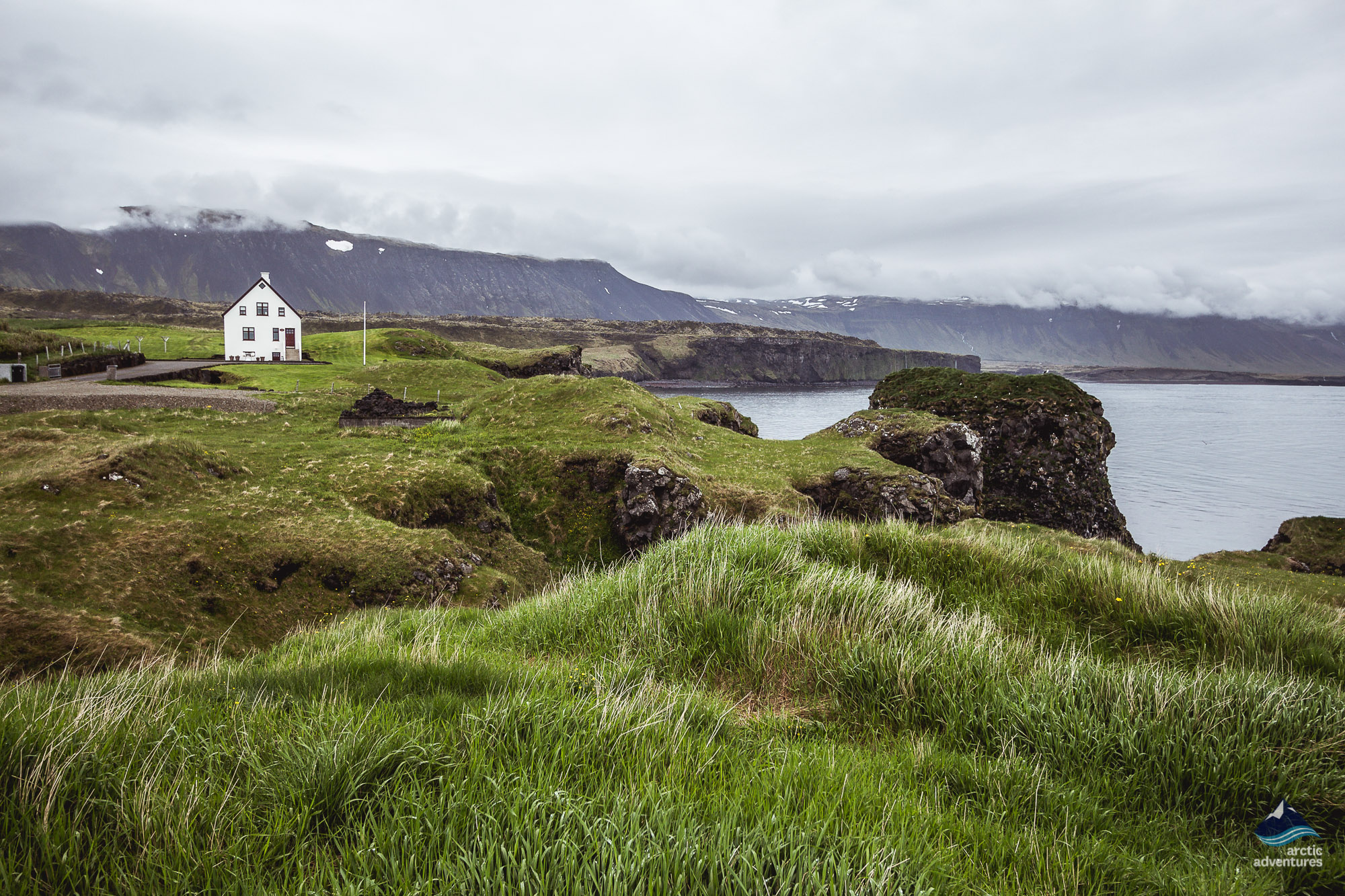 After breakfast, we drive west from the hotel, along the coastline of Snæfellsnes peninsula. The first stop of the day is at the small fishing village of Arnarstapi, where we walk around the surrounding area. From there we go underground, where you have an option to go into Vatnshellir cave which is located inside the Snæfellsnes National Park at an extra cost. The cave is about 8000 years old lava tube tunnel. This experience is as close you will get to the Jules Verne story, A Journey to the Center of Earth. If you are not joining the caving part, then the guide will take you walking around the area.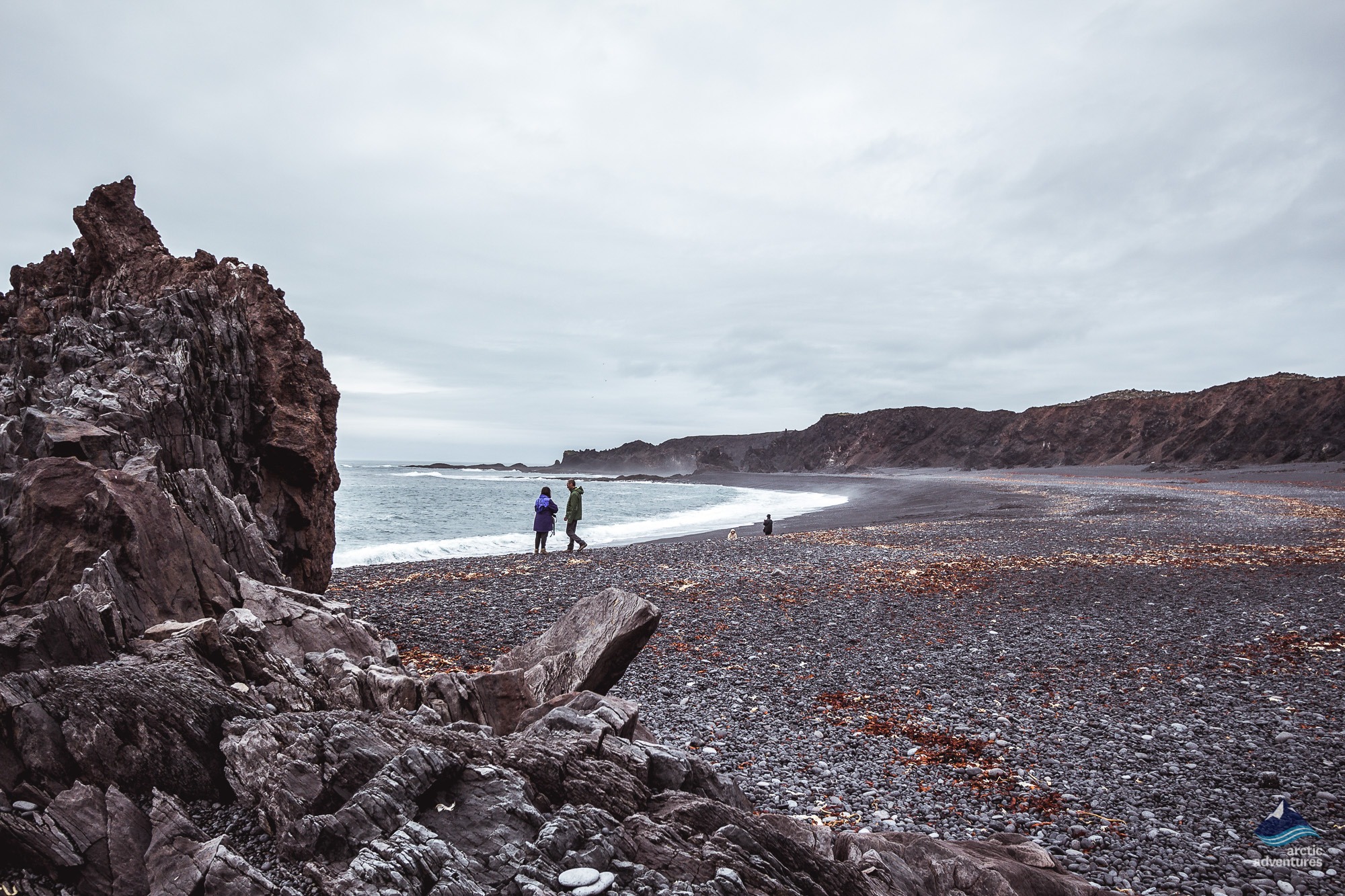 Next, we have a stop at Hellnar for lunch before we continue to the beautiful Djúpalónssandur beach. Here we will have a short hike on the pebbles stone beach and explore the remains of the ship wreckage. On the beach, you may also find the lifting stones, where you can test your strength like the fishermen used to do in the old days.
From Djúpalónssandur, we continue our journey around Snæfellsnes peninsula and our next stop is at the famous Mt. Kirkjufell, a favorite spot for many photographers.
On our way back to Reykjavík in the evening, we'll make sure to make an extra stop if we spot the Northern Lights so you can step out and enjoy the show.
We will be returning to Reykjavík around 9-11 PM.
Day Highlights

Arnarstapi Fishing Village
Vatnshellir cave (optional)
Snæefellsnes National Park
Djúpalónssandur beach
Mt. Kirkjufell
Northern Lights hunt (if conditions are right)
Included

Breakfast in hotel
Guided tour in minibus
Visit to all highlights of the day
Lunch break at Hellnar
Drop off in Reykjavik
Our multiday tour include accommodation during you tour which is often booked far in advance and expensive so by booking with us you don't have to worry about that.
The tours take you further away from the capital to explore some of the most beautiful highlands Iceland has to offer.
You will have a guide for the whole time who will tell you about everything you will see along the way and know where to stop to get the absolute best experience.
The hotels we have partnered with are all of the same standard and offer nice hotel rooms with private bathrooms.
Breakfast is included.
Disclaimer
All our tours are undertaken on the responsibility of its participants. Arctic Adventures does not assume any responsibility for accidents that are caused by its customers or can be traced to their own actions. Participants have to sign a waiver before undertaking all trips stating that they realize that all outdoor activities carry an inherent risk.
Book this tour
Price from 39.900 ISK per person.