Magnificent waterfalls, Snæfellsjökull glacier and the northern lights are among the things you can expect to see on this adventure tour to the wonders of West of Iceland.
INSTANT BOOKING CONFIRMATION
The Snæfellsnes peninsula was picked as the best winter destination in Europe and on this tour you get to explore the wonders of the peninsula on fantastic a two-day winter adventure. Inspire the traveler within you exploring the most amazing sight including the famous Mt. Kirkjufell, Djúpalónssandur pebble beach, the most powerful hot spring in Europe and the charming little fishing village of Arnarstapi. Get in touch with the true power of Icelandic nature and grab this unforgettable opportunity to see Icelandic diversity in it's truest form!
Suitable for most people in fair condition.
Tour highlights

Small Group Experience
Deildartunguhver Hot Spring
Hraunfossar Waterfall
Barnafoss Waterfall
Gerðuberg Basalt Columns
Snæfellsnes Peninsula
Vatnshellir Cave
Djúpalónssandur Beach
Mt. Kirkjufell
Krauma Geothermal Baths (optional)
Included

Pick-up & drop off from Reykjavík
Guided Tour in a Minibus
English Speaking Tour Guide
Visit to the highlights around Snæfellsnes area
One night in hotel room with a private bathroom
Breakfast at the hotel
Free WiFi on Board Your Bus
This tour will show you the very best of West Iceland and the famous Snæfellsnes peninsula.
We make our way towards Snæfellsnes Peninsula, along Iceland's west coast. Snæfellsnes has amazingly diverse scenery, with the Snæfellsjökull glacier as the crowning glory. This has been one of the most famous places in Iceland since Jules Verne featured it in his novel, Journey to the Centre of the Earth. Our optional (extra fee) guided tour of an 8000 year old lava tube cave will take you a little closer to the core of the earth! On your journey through the peninsula, you will see the beautiful mountains, amazingly picturesque cliffs, black beaches and traditional fishing villages. You will certainly appreciate how diverse Icelandic nature is on Snæfellsnes!
We stop at the photographers favorite, Mount Kirkjufell, and Djúpalónssandur a black pebble beach with crazily-shaped cliff formations. Those black pebbles are known as Djúpalóns Perlan, meaning 'deep pool pearls', the white-tipped waves crashing on these glossy black pearls is an amazing sight. Just make sure you stand well back, those waves are powerful and unpredictable as well as stunning!
A final stop will be made to see the wonderful Gerðuberg basalt columns. Your accommodation will be at a country hotel in the Snæfellsnes area. Away from the light pollution of the city, you will have the best chance of seeing the glittering northern lights. As with any natural phenomenon, so we always have to hope and cross our fingers a little, but let´s hope those shimmery jewel-bright swirls will ripple across the night sky!
Leaving the Snæfellsnes area, you are driven towards Borgarfjörður. You will see Reykholt, the famous home place of the 12th/early 13th century historian and saga writer, Snorri Sturluson. Reykholt certainly featured very strongly in the history of Iceland. Visits are also made to Deildatunguhver, the largest volume hot spring in Europe, and two beautiful but very different waterfalls. Hraunfossar is unique, thousands of rivulets stream out through the edge of the lava, forming a dramatic and very wide crescent shape. An Icelandic legend is linked to the picturesque Barnafoss Waterfall, explaining how it came to be so-named. In English the name is 'Children´s Falls', your guide will tell you all about the legend!
---
Pick-up Information
Pick up is at 09:00 am from your hotel or a nearby meeting point in Reykjavík. Picking everyone up can take up to 30 minutes, your patience is much appreciated.
Available pick-up points: Arctic Adventures's pick-up list.
---
Return time
After two days filled with sensational and extremely varied sights and experiences, we return to Reykjavík in the evening around 18:00 (6 PM).
---
Practical information
What to bring: Warm layers and waterproof outdoor clothing, headwear, gloves. Good hiking shoes are recommended.
What if I don't own all of these clothing items?
Don't worry, you can always rent sturdy hiking shoes, waterproof jacket and pants when you book your tour. Please note, we do not rent gear from locations, it must be booked in advance.
Please note
Single supplement is required for solo travelers.
Day 1: Snæfellsnes area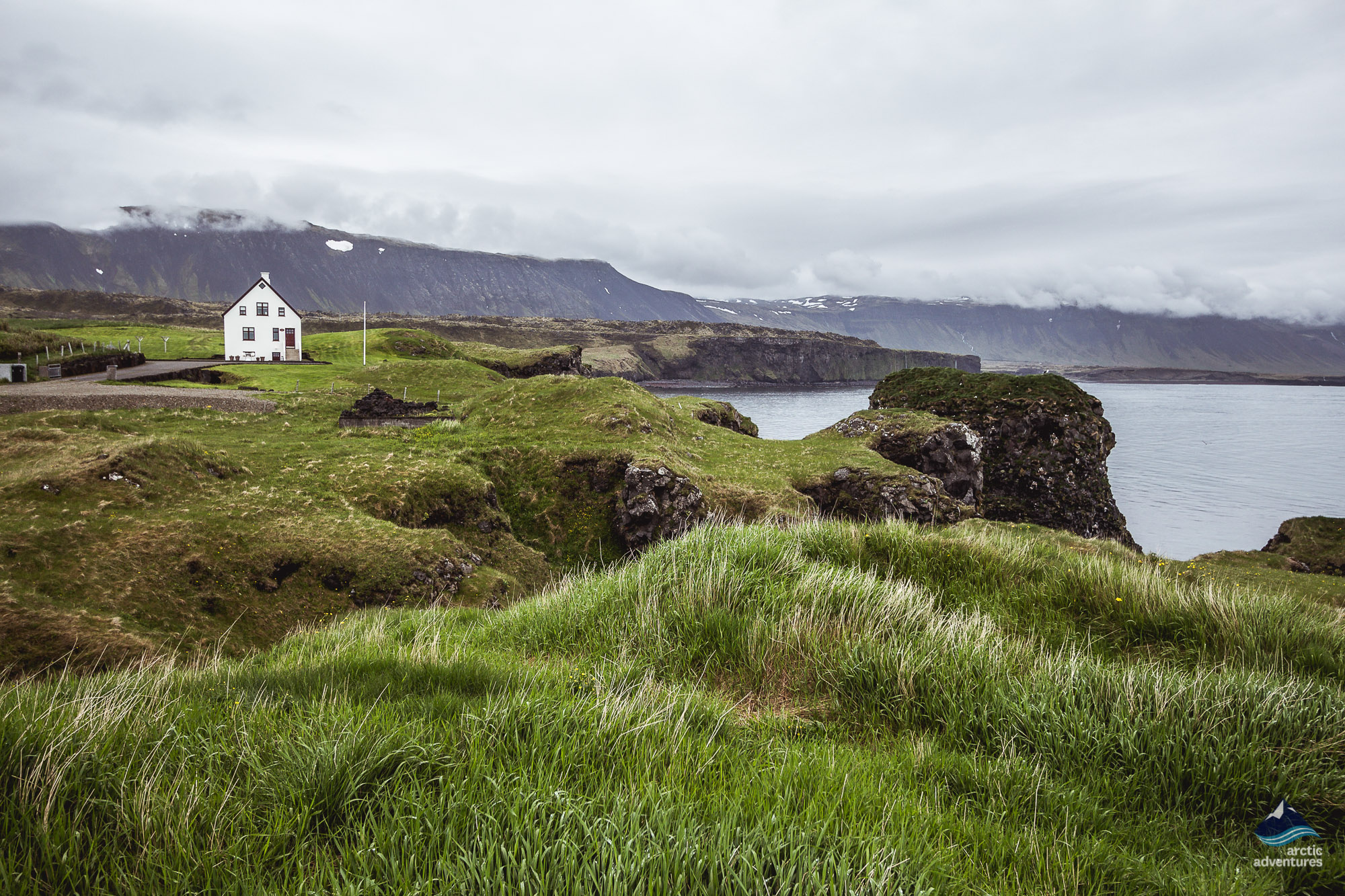 You will be picked up from your selected pick-up locations in Reykjavík in the morning, we drive along the coastline of Snæfellsnes peninsula. The first stop of the day is at the small fishing village of Arnarstapi, where we walk around the surrounding area. From there we go underground, where you have an option to go into Vatnshellir cave which is located inside the Snæfellsnes National Park at an extra cost. The cave is about 8000 years old lava tube tunnel. This experience is as close you will get to the Jules Verne story, A Journey to the Center of Earth. If you are not joining the caving part, then the guide will take you walking around the area.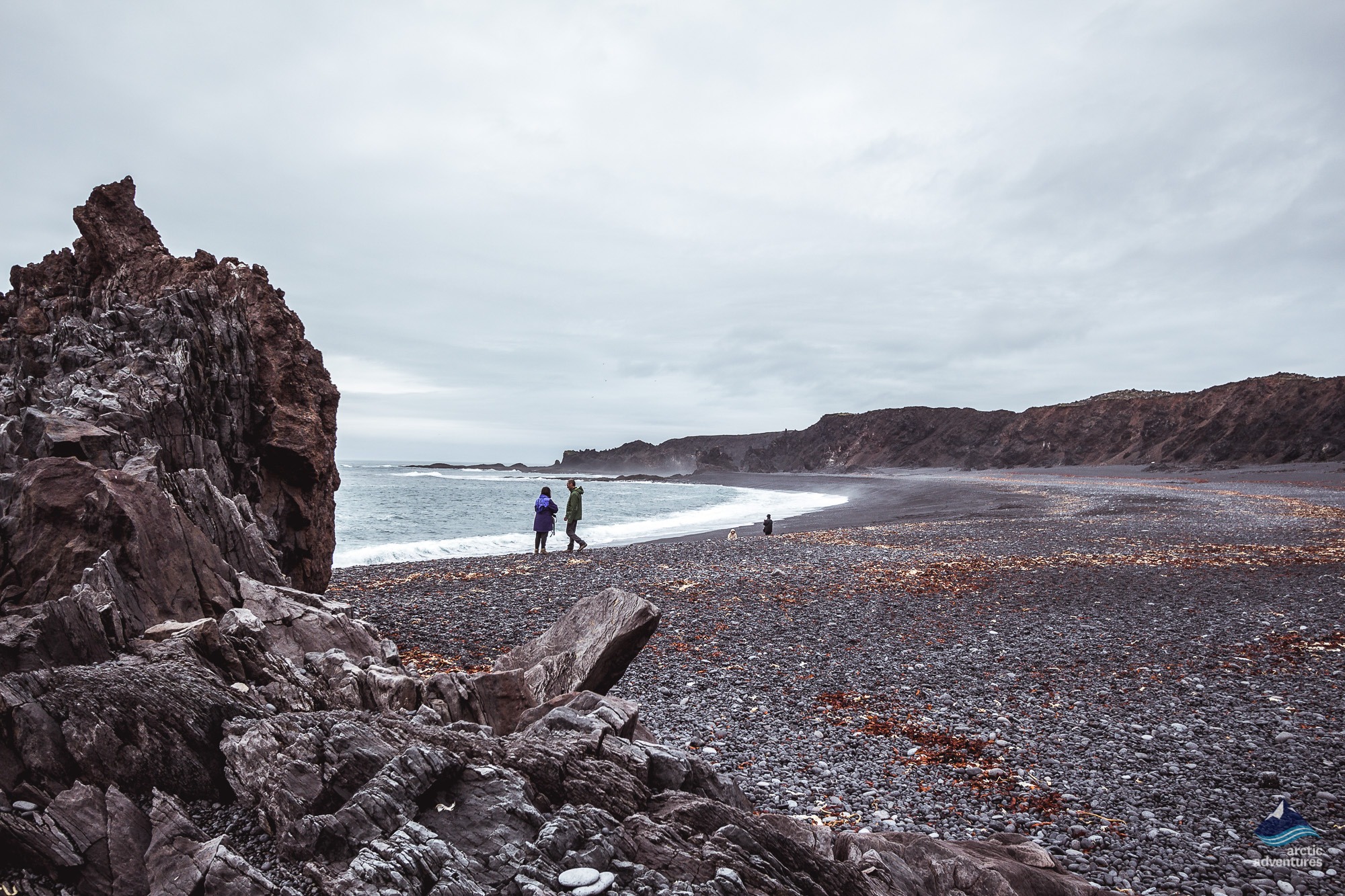 Next, we have a stop at Hellnar for lunch before we continue to the beautiful Djúpalónssandur beach. Here we will have a short hike on the pebbles stone beach and explore the remains of the ship wreckage. On the beach, you may also find the lifting stones, where you can test your strength like the fishermen used to do in the old days.
From Djúpalónssandur, we continue our journey around Snæfellsnes peninsula and our next stop is at the famous Mt. Kirkjufell, a favorite spot for many photographers. Afterward, we will make way to our hotel for the night.
Day Highlights

Pick up from Reykjavik
Arnarstapi Fishing Village
Vatnshellir cave (optional)
Snæefellsnes National Park
Djúpalónssandur beach
Mt. Kirkjufell
Northern Lights hunt (if conditions are right)
Included

Guided tour in minibus
Visit to all highlights of the day
One night in a hotel room
Accommodation
Hotel Rjukandi
or Similar
Day 2: Exploring the west of Iceland
After breakfast, we will drive along the scenic west coast of Iceland to West Iceland. Our first stop of the day is at Deildartunguhver, the most powerful hot spring in Europe. It provides 180 l/sec of 100°C hot water and it's used for heating all the neighboring towns.
The option of stopping at the Krauma geothermal baths & spa is available to you. For those that choose not to visit Krauma, we will go and visit a nearby horse farm and pet some Icelandic horses!
Thereafter, we visit the historic site of Reykholt. Here the famous author Snorri Sturluson lived in the medieval.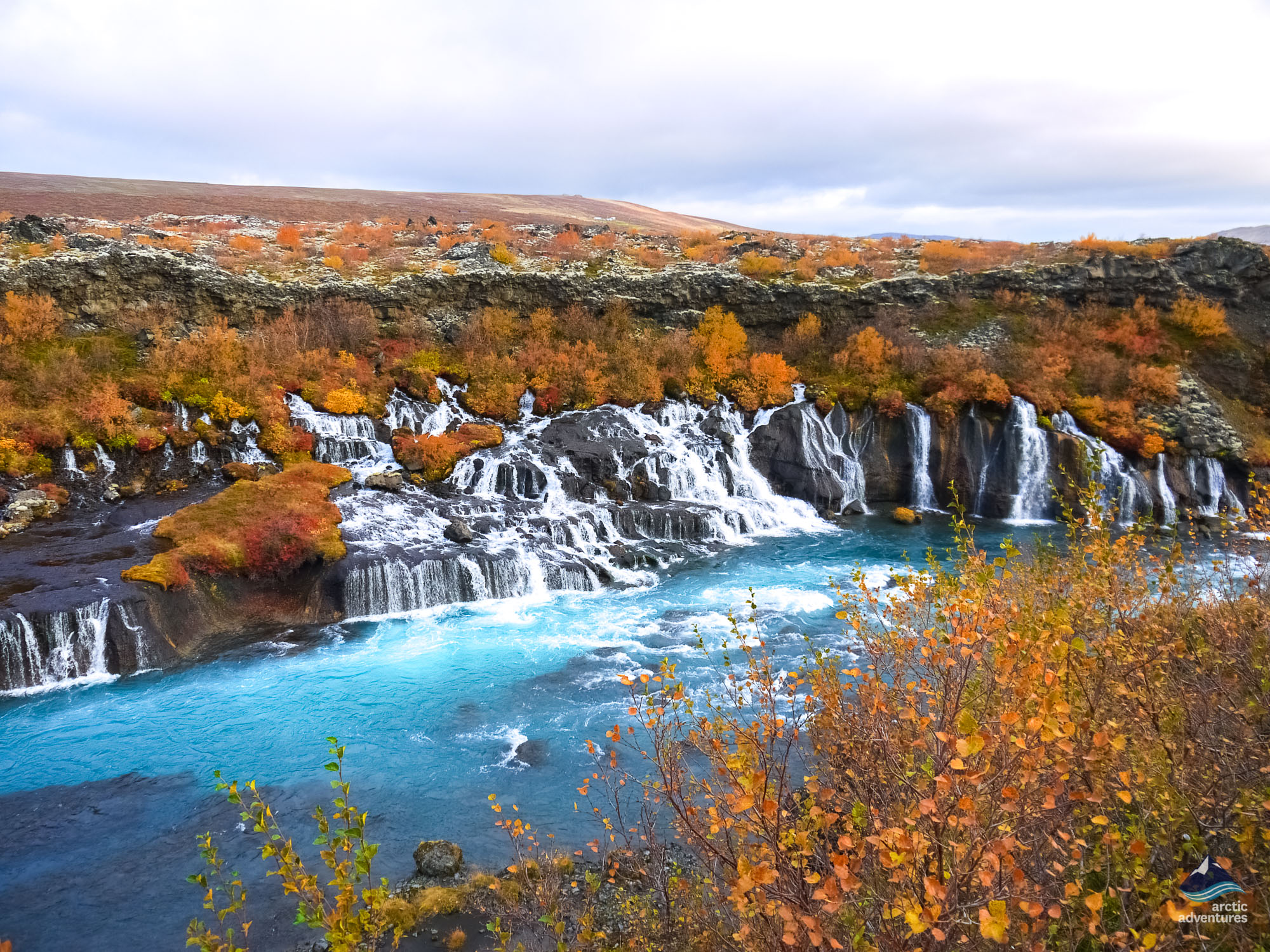 The waterfalls Hraunfossar and Barnafoss is our next stop. There you can see how the water flows from underneath the lava fields and hear the story about Barnafoss waterfall. We leave the beautiful Borgarfjörður area behind and continue to Snæfellsnes peninsula. There we will stop at the stunning basalt columns Gerðuberg.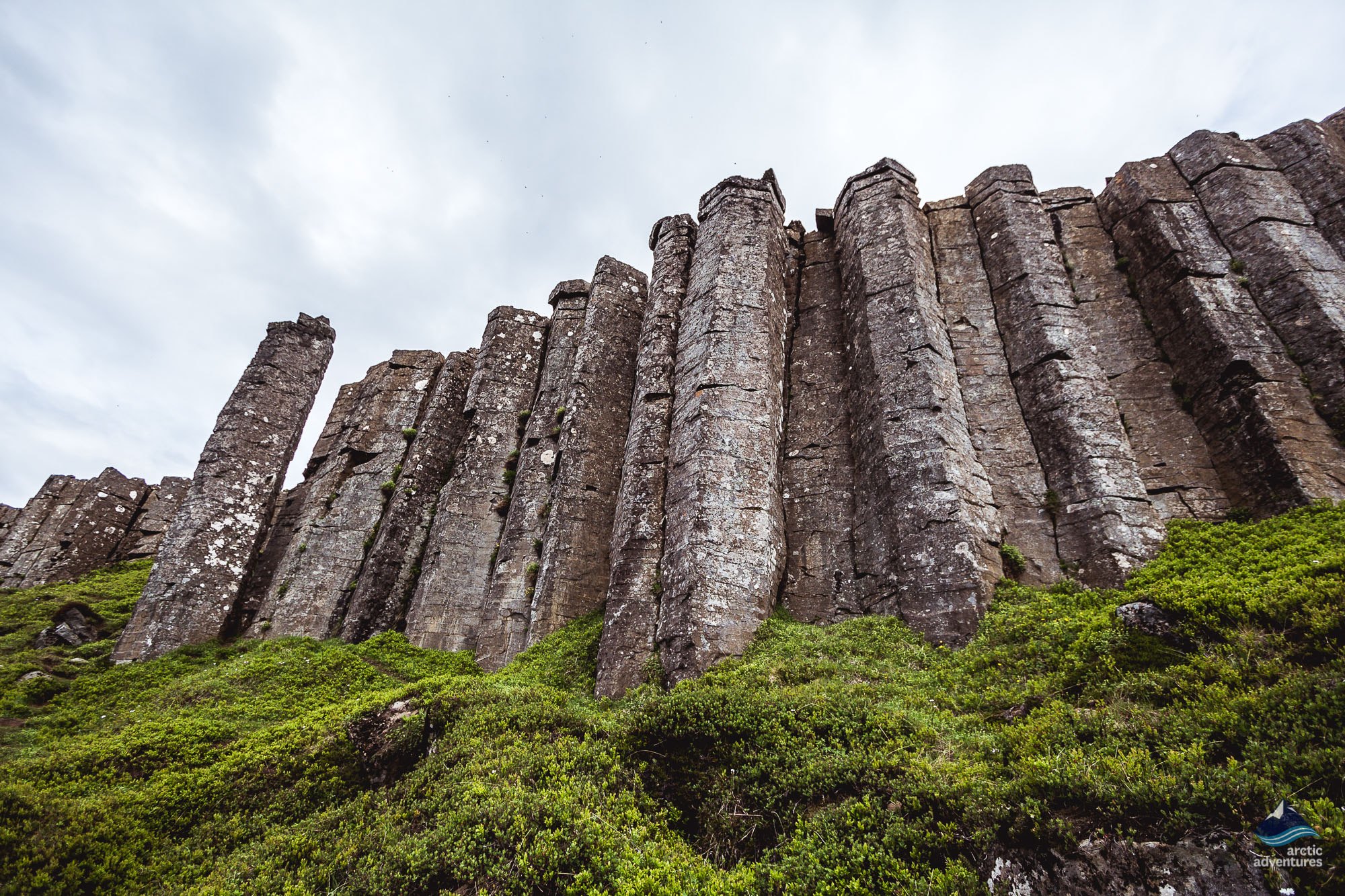 On our way back to Reykjavík in the evening, we will hunt for the northern lights.
We will be returning to Reykjavík around 18:00 (6 PM).
Day Highlights

Deildartunguhver hot spring
Historic site of Reykholt
Hraunfossar and Barnafoss Waterfalls
Borgarfjörður area
Snæfellsnes Peninsula
Basalt columns Gerðuberg
Northern Lights hunt (if conditions are right)
Included

Breakfast in hotel
Guided tour in minibus
Visit to all highlights of the day
Drop off in Reykjavik
Disclaimer
All our tours are undertaken on the responsibility of its participants. Arctic Adventures does not assume any responsibility for accidents that are caused by its customers or can be traced to their own actions. Participants have to sign a waiver before undertaking all trips stating that they realize that all outdoor activities carry an inherent risk.
Book this tour
Price from: 48.990 ISK
NO BOOKING FEES
FAST & SECURE PAYMENT
2 Day Northern Lights & Snaefellsnes Peninsula | Average rating: 4.5/5 based on 15 customer reviews
"All good, but a bit rushed" |
By Rick Au 28/01/2018
All good, but it was a bit rush in trip, it would be better if we can stay for longer time at each point. Anyway, it's nice!
"Well organized and covered a lot of ground" |
By Anna Lisa 28/01/2018
The two day trip was well organized and covered a lot of ground. The Snaefellsnes Peninsula was amazing with all the beaches, rock formations and ever changing weather. Our guide was extremely flexible trying to make changes due to weather and ensure our days were filled with interesting sites and activities. The visit to the horse farm was a nice touch and added a more personal experience with the locals. The warm bread and coffeee was a bonus! Arctic Adventures is always organized, on time, professional and wrap all and I love the smaller groups. A fun way to travel with others especially if you are travelling solo. I would highly recommend booking with this company fir any tour you do!
"I was desapointed with the northern lights hunting" |
By Andressa calasans 29/01/2018
I was desapointed with the northern lights hunting! Because the guide dont stay look for the northern lights like if you join the northern lights tour!!! And when you book the trip is writing that we would go for hunting! And also in the day that we slept in reykjavik we could have went to hunt!! So this was really desapointed! Other groups that did the same came to hunt in the night! So i think that you should change that! Or at least dont writ in the website that we are going to hunt! But the tours during the day was perfect!
"Excellent tour" |
By Nikhil 05/02/2018
Sor, our tour guide was knowledgeable and took extra effort to show us around, give us the history of the places we visited and the culture as well. He also took keen interest to explain to us the northern lights, the websites that can be used to track them. We were fortunate to witness them. The hotel that we stayed at was great as well! Overall, an excellent tour.
"We had a fantastic time" |
By Josh Bergman 11/03/2018
We had a fantastic time touring Iceland with our guide! We would definitely use Arctic Adventures again and look forward to a return trip to this beautiful country.
"just perfect!" |
By Andrea Schuler 12/03/2018
The tour and everything around was just perfect!
"Hotel in the city" |
By Alejandro 12/03/2018
We enjoyed Outlet trip a lot! Overall great experiencie. However, You should not use the 4th floor hotel, it is loud and dirty.
"We enjoyed the tour. " |
By Ma Aurora Venturina 19/03/2018
Our driver, Alvaro, was great. We enjoyed the tour. Unfortunately, the weather did not permit to do the ice cave tour. Hope to get a refund on it.
"Nice way to start off our Iceland Adventure" |
By Shannon Campbell 26/03/2018
The 2 day tour was a nice way to start off our 5 day tour. Siggi (?) was very friendly and added a personal touch with introducing us to his future puppy. The views were fantastic, the accommodations fine and safe driving. The things I would suggest change- 20 people on a tour that was advertised as a small group- is not 15 people. The bus was a bit cramped. Please know what to expect on the additional tour to the lava tube. This was a bit more scary for some than expected, as well as uneven terrain and at times just a soaker. When there is not going to be lunch or food, a more stern advisement of going to the grocery store is needed -with ample time to do so. Maybe a cooler in the van to store food would ease minds of those who feel food should not be left out for long periods of time. Make sure people know- there really is no time to see things and shop- it's just how it is and we were good with it, though I think others may like to know this.
"Waterfalls, horses, and auroras on the Snaefeln" |
By Glynnis Anne Bowman 28/03/2018
The overnight Snaefellsnes tour was fantastic and our tour guide Oliver really went out of his way to make sure that we had a wonderful experience. One of the passengers asked if we could stop so that she could photograph the Icelandic horses and Oliver made an unscheduled visit to a stable. After dinner, he took us out for auroras and gave some excellent advice on photography. The hotel was very nice and the restaurant was excellent.
"Overall Positive Experience" |
By Aniela 30/03/2018
We had a pleasant time during our 4 Day Tour with Arctic Adventures. Francois and Triger were very informative and fun guides. Some of the stopovers, particularly in the west side on the first two days could have been skipped (for example the empty town with a swimming pool and the small church). Despite this, it was an overall positive experience.
"Awesome experience" |
By Payal Bauva 31/03/2018
It was great and enjoyable experience. I went solo for the first time and it did not give me the feeling of being alone. The guide was so knowledgeable and friendly. I felt love and warmth being in this tour. Highly professional and kind. They took care of us in covering all the points mentioned plus some additional few if time permits. The hotels allowed were really good. Took care of our comfort and personally I would say they do take care of our health too. Overall, excellent experience with them. I miss being with them. And I would definitely recommend this to all. I would like to actually take my people in collaboration with this tour. Thumbs up ??»
"Nice tour" |
By Jaione 03/04/2018
The tour was nice eventhough the weather wasn't on our side. The guide was pleasant, shared a lot of interesting information and gave as a quick alternative when he had to take the van to the garage unexpectedly. Highly recommended.
"Amazing Trip" |
By Sydney 05/04/2018
So happy I picked this trip. Our tour guide Swen was incredible, he knew so much about Iceland and the places we were going, and how to keep us safe yet make the most of our trip in the tricky weather conditions. We managed to go to all the places on our itinerary despite the tricky weather, but additionally Swen knew good places to stop to see an amazing view or hidden treasure that was not part of the itinerary, which really made the trip special. Everywhere we went was beautiful and Swen was funny and engaging, it was also great to travel with a smaller group that you got to know. All around amazing trip.
"2 DAY Snaefellsness and norther lights tour" |
By Shajeel iqbal 09/04/2018
The tour followed the exact itinerary as it was mentioned. We got to do all the activities as planned. I think this tour should change its name and should not mention northern lights in its description (because we didnt even go to hunt it anywhere). Even though for us the conditions were not even close to good for viewing. But we did see northern lights on our 3 days tour. Overall it was a good tour with good guide.