This is a fantastic way to explore some of Iceland's most famous sights. Glaciers, waterfalls, hot springs and a good chance of seeing the northern lights.
This five-day tour is a great way to explore some of the most famous and sought-after sights in Iceland. The south coast is a sightseeing paradise with numerous waterfalls, glaciers, a black volcanic beach and other unique locations you just have to see. The west, the Snæfellsnes peninsula will then invite you on an extraordinary visual journey but Snæfellsnes has been picked as the winter destination in Europe by the US travel magazine Travel & Leisure!
Please note:  This combination tour blends together our immensely popular 2 Day Snaefellsnes & Northern Lights and 3 Day Golden Circle & South Coast tours, for a stunning Iceland guided tour showing you the most glorious sights.
Availability

October 1st - April 29th
Suitable for most people in fair condition. You have to be able to walk on uneven surface and hike for at least 2 – 3 hours at a slow pace, with breaks. Trails are generally of good quality and glacier travel at a relatively low angle.
Tour highlights

Golden Circle
Vatnajökull Glacier
Jökulsárlón Glacier Lagoon
Diamond Beach
A visit to a natural ice cave
Skógafoss Waterfall
Seljalandsfoss Waterfall
Reynisfjara black sand beach
Hraunfossar and Barnafoss Waterfalls
Snæfellsnes Peninsula
Northern lights
Small group experience
Fjaðrárgljúfur Canyon
Included

Pick up & drop off in Reykjavík
Guided tour in a minibus
Hotel room with a private bathroom for 4 nights
Hotel breakfasts on 4 mornings
Small group experience
Amazing stops
Ice Caving tour
Explore mind-blowing places by day and in the evening, if the forecast is good, you can spend your free time enjoying the Icelandic northern lights, hopefully, their glorious colors will swirl across the sky.
Taking off from Reykjavík early in the morning we begin with the sights of West Iceland including the dramatic Hraunfossar waterfall, where the water actually cascades out through the black lava in a graceful wide arc. Also on the agenda is Reykholt and Snorralaug, the pool where the historian and saga writer, Snorri Sturluson is reputed to have bathed. The night is spent at a hotel on Snæfellsness peninsula. Snæfellsness has a tremendous diversity of scenery, everything from the craggy sharp inlets and cliffs to the glistening glacier, jagged toothed mountains, soft farmlands and quaint towns and fishing villages. Go caving in an ancient lava tube, hike to a black pebble beach with the most stunning cliff formations, visit Kirkjufell, a favorite of photographers and so much more. Your hotel will be in the Reykjavík area.
The delights of the Golden Circle: Þingvellir, site of Iceland´s historic parliament, Alþingi, and one of the most geologically amazing places in the world. Visit Gullfoss, a truly majestic waterfall, and Geysir where you will witness Stokkur, spouting magnificent jets of steam upwards every few minutes. See Seljalandsfoss and Skógafoss waterfalls and far more along the south coast including the black sand beach at Reynisfjara. You will spend the night at a country hotel near Vík. Tomorrow is glacier day! You will explore a natural ice cave in Vatnajökull, the largest glacier in Europe. Our certified guide will lead through and share some fascinating information about these icy labyrinths. Next, Jökulsárlón Glacier Lagoon, you will be astonished by the amazingly shaped icebergs, many of them displaying startling shades of blue. Then for the Diamond Beach, to see, in the mystical light of twilight, sparkling ice-monoliths on the black sand beach. The night will be spent at a hotel at Skaftafell.
On your final day you go on a never to be forgotten glacier hike. An hour of power on the ice, your little group, a glacier guide and the forces of nature which created this white majesty. On the way back to Reykjavík there are more sights to be seen along the south coast. Return to the city is between 20:00 and 23:00 – as always in Iceland, nature is somewhat in charge of the itinerary!
Pick up is at 09:00 from your hotel or a nearby meeting point in Reykjavík. Picking everyone up can take up to 30 minutes, your patience is much appreciated.
Available pick-up points: Arctic Adventures's pick-up list.
What to bring: Warm outdoor clothing, a waterproof jacket and pants, headwear and gloves. Good hiking boots are recommended.
Day 1: West Iceland
Pick up is at 9:00 am from the Reykjavík meeting point you have chosen. Please note: picking everyone up can take up to 30 minutes but you do have to be ready and waiting at 9:00 am.
We will drive along the scenic west coast and explore West Iceland (Vesturland in Icelandic). The first stop of the day is at Deildartunguhver hot spring, this is the most powerful hot spring in Europe. It pumps out 180 l/sec of 100°C hot water, and the Icelanders certainly make good use of this vast quantity of hot water, using it to heat the homes and buildings in many neighboring towns. Our next stop will be at the historic site of Reykholt, here you will find a hot spring pool dating back to the medieval period, Snorralaug. This is the pool where the very famous Icelandic Saga writer, historian, and Law Speaker is reputed to have bathed, it has been preserved unchanged.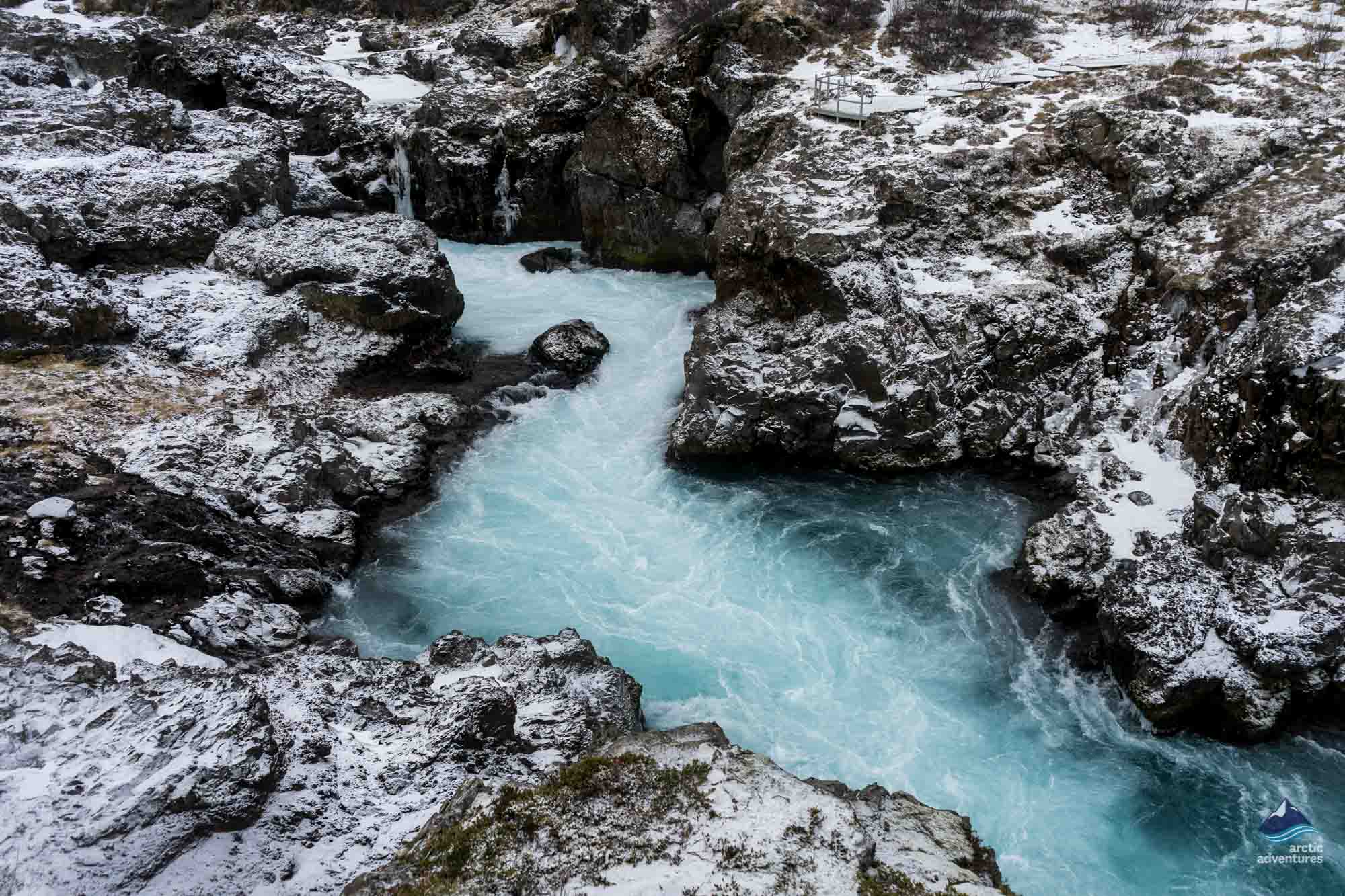 Our third stop of the day will be at the waterfalls, Hraunfossar (the Lava Falls) and Barnafoss (Children´s Falls). These waterfalls each offer something very different. You will hear the story of Barnafoss waterfall and learn how it acquired this name. At Hraunfossar you will see how the water flows out through thousands of little springs in the coal black lava. The falls form a very dramatic wide arc, that glacial water has traveled through the lava field all the way from Langjökull glacier.
We then leave Borgarfjörður behind and set our course towards Snæfellsnes peninsula. The Snæfellsnes peninsula has been picked as the winter destination in Europe by the US travel magazine Travel & Leisure and you will understand why in a heartbeat!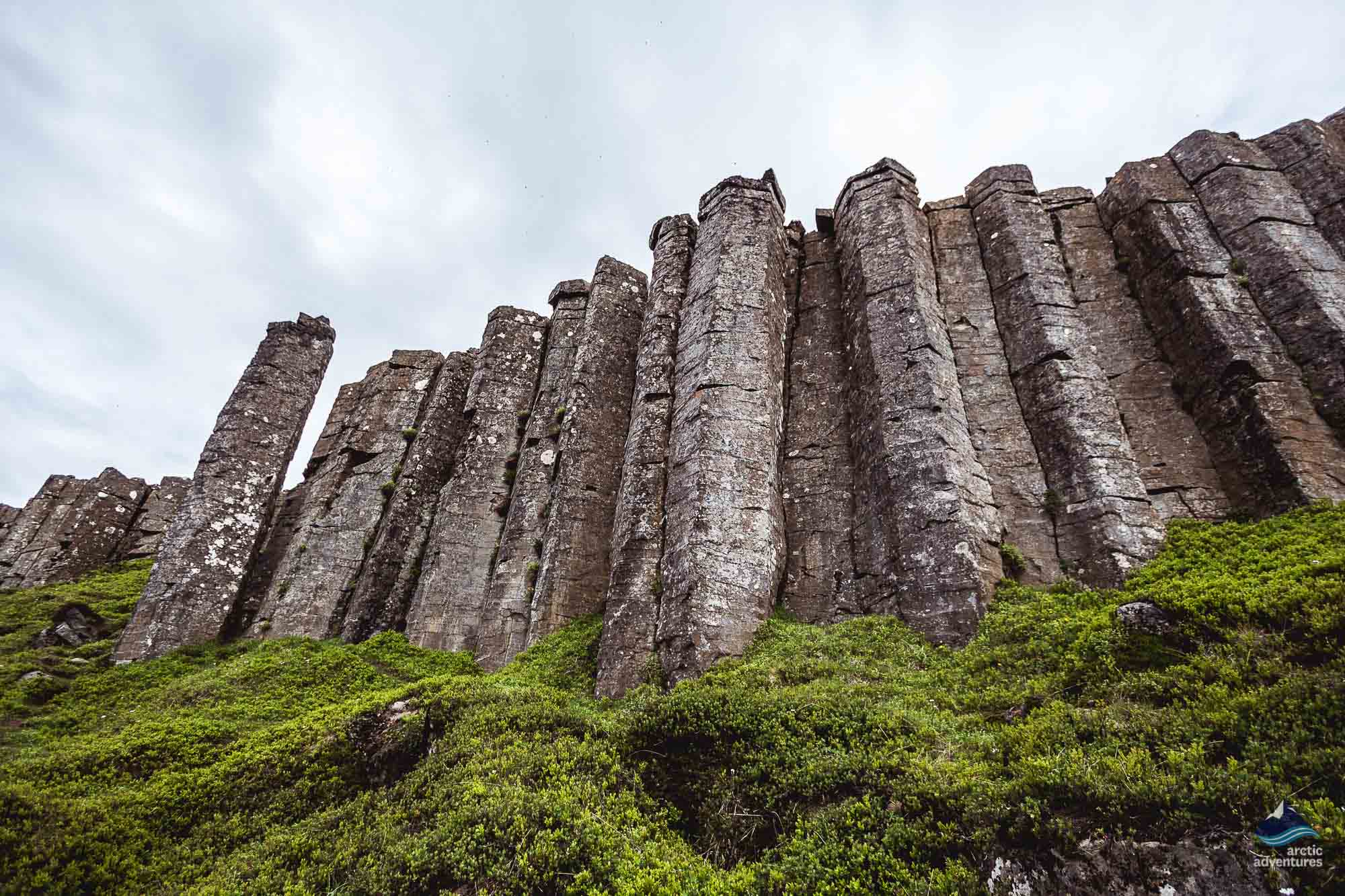 We will stop to view the unique Gerðuberg basalt columns before we arrive at our hotel for the night.
If the northern lights and cloud forecasts are favorable an evening northern lights hunt will be on!
*Please note that the order of the itinerary can change, we do sometimes start with the South Coast part of the tour and end with West Iceland. If the itinerary for your 5 day tour is arranged this way then pick up would be at 9:00 am.
Day Highlights

Deildartunguhver hot spring
Reykholt
Hraunfossar
Barnafossar
Snæfellsnes Peninsula
Northern lights
Included

Guided tour in minibus
Deildartunguhver hot spring
Highlights of Borgarfjörður
Highlights of Snæfellsnes Peninsula
One night in hotel
Day 2: Snæfellsnes Peninsula
After breakfast at our hotel we will drive to the western part of Snæfellsnes which will take us through some absolutely stunning coastal and mountain scenery. Our first stop of the day is at the small and charming fishing village of Arnarstapi, here we take a short walk to explore the surrounding area. You then have the option to explore beneath the ground at the Vatnshellir Cave, which is located inside Snæfellsnes National Park. This cave is a lava tube tunnel which is around 8000 years old, your specialist caving guide will explain its formation and fascinating features. This experience takes you about as close as you can get to the Jules Verne story, A Journey to the Center of Earth. If you wish to go caving you need to book this as an extra when you book your tour.

Your next stop will be at Hellnar, a really picturesque village where we stop for lunch. We then continue to the beautiful black pebble beach at Djúpalónssandur. Here we enjoy a short hike, as the shimmering silver-tipped Atlantic waves roll over the glossy black pebbles of this beach, which is framed by incredibly shaped cliffs. You will see the remains of the British trawler, Epine, which was ship-wrecked here. At the head of the beach, you will also find the famous 'lifting stones'. Maybe you would like to test your strength like the Icelandic fishermen did in the old days?
From Djúpalónssandur, we continue our journey around Snæfellsnes peninsula and our next stop will be at the famous and much photographed, Mount Kirkjufell, a favorite spot for many photographers.
Day Highlights

Arnarstapi fishing village
Vatnshellir Cave (optional/extra fee)
Djúpalónssandur Beach
Snæfellsnes Peninsula and Mount Kirkjufell
Included

Breakfast
Visit to Arnarstapi fishing village
Caving guide and caving equipment
Hiking at Djúpalónssandur Beach
Photo opportunities at Mount Kirkufell
One night at hotel in Reykjavík
Day 3: The Golden Circle
First, on the agenda today is the Golden Circle. Starting at Þingvellir National Park (Thingvellir), one of UNESCO'S world heritage sites due to its geology and history. The Icelanders founded their historic parliament, Alþingi, here in the year 930, making it one of the oldest parliaments in the world. The Eurasian and North American tectonic plates meet at Þingvellir, the rift valley clearly shows how these plates have drifted apart.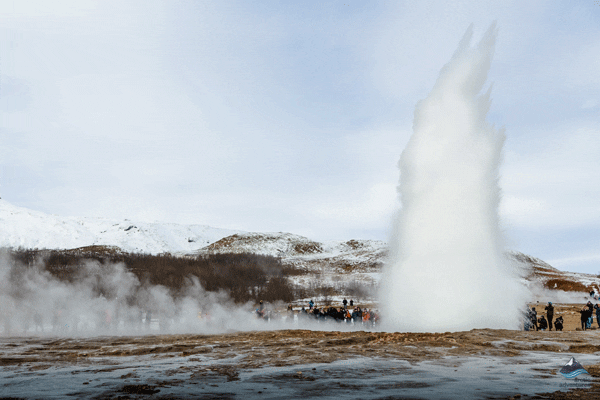 Haukadalur valley and the geothermal area of Geysir is next, we will see Strokkur, a geyser/hot spring which can be relied upon to erupt every few minutes, propelling boiling water up to 25 m into the air. The majestic waterfall, Gullfoss (the Golden Waterfall) is our final golden circle attraction. Watching huge volumes of water crashing and roaring through the rugged canyon is awe-inspiring. The cascade drops 32 m in two drops, turning a little as it does so.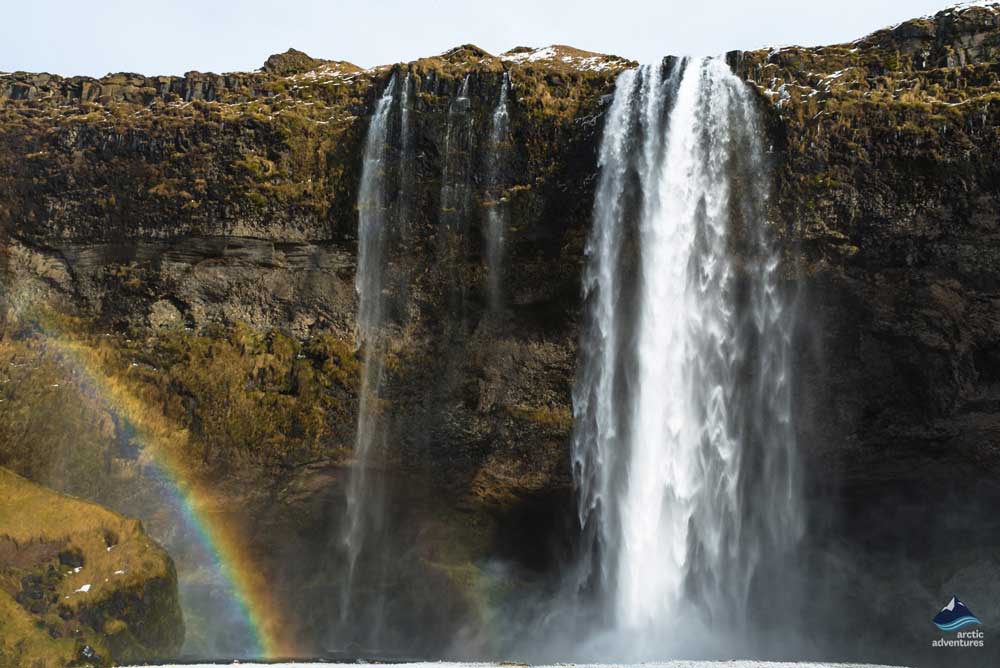 As we continue along the Ring Road we will get a view of the famous mountain volcano, Hekla, if visibility is good. We then visit Seljalandsfoss waterfall  – you can actually walk behind the tumbling falls for a unique vantage point. Another waterfall, Skógafoss is next, water from the great glacier, Eyjafjallajökull, flows through these falls. The impressive cascade drops 60 m into the calm Skógará (river) below. Your last stop on this magical day is at Reynisfjara, a black sand beach, to see the powerful Atlantic Ocean waves – make sure to stand well back! You will see the Reynisdrangar basalt peaks rising like trolls from the sea, giving you a good idea where some of the Icelandic folklore sprang from. We spend the night in a country hotel near the small coastal town of Vík. Maybe conditions will be ripe to see some northern lights?
Day Highlights

Þingvellir National Park
Geysir hot springs
Gullfoss Waterfall
Seljalandsfoss Waterfall
Skógafoss Waterfall
Reynisfjara Black Beach
Hotel accommodation
Hotel breakfast
Northern lights
Included

Breakfast
Visit to all highlights of Golden Circle
Waterfalls of the South Coast
Reynisfjörður black beach
Hotel near Vík
Day 4: Ice caving and Jökulsárlón glacier lagoon
We continue our journey towards the east through enchanting lava fields and glacial desert sands, really wonderful contrasting scenery. Our main objectives today are glacier adventures, exploring a natural ice cave* in Vatnajökull glacier and the magnificent Jökulsárlón Glacier Lagoon. We equip ourselves and get a thorough safety briefing before spending about 45 minutes exploring the magical blue ice and taking photos. Your certified glacier guide will lead you through the ice cave, making sure you are safe. New ice caves are formed each winter, they are continually changing and totally reliant upon the forces of nature. The blue color appears when the air is pressed out of the ice and it becomes very dense.
There is a degree of flexibility with this tour. The weather in Iceland is unpredictable and we want to ensure you will have an optimal travel in Iceland experience. Your guide will, therefore, decide the best way to organize the tour each time, you might, therefore, visit the cave on day three, this depends on which day your guide feels the conditions will be best. The temperature inside the ice cave is well below freezing point so please dress warmly. Your guide may decide to combine the ice cave and glacier hike into a single activity depending on conditions.
Finally, we visit Jökulsárlón Glacier Lagoon and the nearby Diamond Beach where you will see icebergs of many shapes and sizes floating on the lagoon or resting on the beach in the dream-like fading late afternoon light.  Seals can sometimes be seen in the lagoon. Your hotel will be in the Skaftafell area, of course, we hope conditions will be right for some northern light spotting!
Please note: ice caves are an ever changing natural phenomenon and, therefore, unpredictable. We will visit one ice cave during the tour and the choice of cave is based purely on conditions and safety considerations.
Day Highlights

Vatnajökull National Park
Natural ice cave in Vatnajökull Glacier
Jökulsárlón Glacier Lagoon
Diamond Beach
Northern lights
Included

Breakfast at hotel in Vík
Guided Ice Cave tour
Certified Glacier guide
Specialized ice caving gear
Jökulsárlón Glacier Lagoon
Hotel in Skaftafell
Day 5: Glacier Walk and the South Shore
After breakfast, we head off to the glacier again. The splendid Vatnajökull is the biggest glacier in Europe, thus, it has many outlet glaciers or glacier tongues which reach out from its huge white icy hub. These tongues are just perfect for glacier hikes – our specialized glacier guides will pick the best possible outlet glacier for your hike. You will be provided with all necessary glacier equipment including ice crampons and a helmet. Then let the excitement on the ice commence! Your guide will provide some fascinating insights into the glacial wonderland beneath your feet.
Proper hiking boots are absolutely essential, it is not possible to fit ice crampons to any other kind of footwear. If you do not possess these you can hire them when you book your tour. Hiking boots cannot be rented on the day. There are no special physical requirements for the glacier hike other than the ability to hike for at least an hour. If you are capable of doing this you will be able to fully enjoy the glacier hiking tour.
After the hike, we begin the journey back to Reykjavík. This gives us a chance to visit more sites as we travel through the south on our way back to the city. There will also be possibilities for some additional stops – all in accordance with the weather and conditions, for we know that the forces of nature are always in charge during the winter months in Iceland. We get back to Reykjavík between 20:00 and 23:00, again the timing depends upon the weather conditions on the day.
Day Highlights

Vatnajökull National Park
Glacier hike on Falljökull glacier Tongue
South Coast
Fjaðrárgljúfur Canyon
Included

Breakfast at hotel in Skaftafell
Guided glacier hike
Specialized glacier gear
More south coast highlights
Drop off in Reykjavík
Disclaimer
All our tours are undertaken on the responsibility of its participants. Arctic Adventures does not assume any responsibility for accidents that are caused by its customers or can be traced to their own actions. Participants have to sign a waiver before undertaking all trips stating that they realize that all outdoor activities carry an inherent risk.
Book this tour
Price from 129.990 ISK per person.
"Top tour, top company. Very happy we went for Arctic Adventures."
We booked the 5 Day Snaefellsnes, South Coast & Northern Lights and couldn't be happier.

The tour was well organised and included a lot of the amazing things Iceland has to offer, with the added bonus of being in a small group (c. 15 people) which helps logistics and creates a friendlier atmosphere.

The standard of accommodation was good as was the transportation, even if the mini-bus we used in the Snaefellsnes leg of the tour could have been a bit more spacious.

I wouldn't think twice before recommending Arctic Adventures or booking another tour with them.

A special shout out is due for our amazing guide, Arni. Knowledgeable, approachable, very professional and at the same time warm and flexible. It was as if you had a local friend showing you around. Arni always looked after our best interest and made this an amazing tour.
"Fantastic tour!"
We have just had a 5-day tour on the West and South coasts of Iceland. The tour was amazingly well organized and François and Svenni have been the best guides ever! François is in love with Iceland and was able to pass on his passion to us. Svenni is a true Icelander and is an icon of the spirit of this country. The accomodations, transport, guided tours, Q&A sessions have been all very well handled. We are already thinking about reserving another tour with Arctic Adventures to see Iceland in summer. Recommending this tour to anyone who wishes to have a smooth and landscape-intensive journey. The price is worth it.
"Great tours!"
I've booked a 5 days tour which was a combination of a 3 days tour in the south and 2 days in the peninsula. I had two guide that were fantastic (Frìmann and Olivier). They were able to answer all our questions, give interesting information and make the tour more personal. Also they were able to change the itinerary according to the weather to make the best out of it. We visited a lot of Island highlight and even more. We had enough time at each stop. They also took pictures of us when we asked which was super nice ( Thanks to Olivier for the great picture of us in front of the northern light)! I had a great time in Island.
5 Day South Coast Tour, Snaefellsnes and Northern lights | Average rating: 5/5 based on 1 customer reviews
"Great way to see a lot of Iceland" |
By Thomas Michaels 18/03/2018
The 5 day tour was great for my wife and I. We saw a lot of Iceland with knowledgeable Guides and drivers. The small bus comfortably held 14 people and also had usable wi-fi for trip. Which was an unexpected bonus. I would highly recommend for your Iceland trip.