This 5-day tour is a fantastic way to explore some of Iceland's most famous and well-known attractions. Glaciers, waterfalls, hot springs, and Northern Lights are just a few out of many natural wonders that'll leave you stunned on this trip.

INSTANT BOOKING CONFIRMATION
WINTER DESTINATION OF 2019
Want to do this trip for free? Tag us @arcticadventures on your social media stories and photos during your trip and enter a chance to win a full refund. The winner will be picked once a month!
---
Our five-day tour from West to East is a great way to explore some of the most staggering and coveted sights in Iceland. Snaefellsnes Peninsula, named the ultimate winter destination by Travel & Leisure, invites you on a journey through unique and offbeat rural landscapes. Besides, the South Coast is a sightseeing paradise with a vast amount of marvels: waterfalls, glaciers, national parks, and black volcanic beaches – sights that'll take your breath away.
West Iceland in the Winter destination of 2019
Best tour of 2019 in Northern Lights category by TourRadar

Suitable for most people in fair condition.
Price from

144.990 123.242 ISK
Tour highlights

Small Group Experience
Golden Circle
Vatnajökull Glacier
Jökulsárlón Glacier Lagoon
Diamond Beach
A Visit to a Natural Ice Cave
Skógafoss Waterfall
Seljalandsfoss Waterfall
Reynisfjara black sand beach
Hraunfossar and Barnafoss Waterfalls
Snæfellsnes Peninsula
Northern Lights
Fjaðrárgljúfur Canyon
Krauma Nature Resort (optional)
Included

Pick-up & drop off from Reykjavík
Guided Tour in a Minibus
Accommodation with Private Bathroom - 4 Nights
Breakfast Each Morning at Your Hotel
English Speaking Tour Guide
Amazing Stops
Ice Caving Tour
Free WiFi on Board Your Bus
Heading to the West
We'll take off from Reykjavík around 9:00 a.m. and start our thrilling adventure exploring the sights of West Iceland. First, we'll visit the dramatic Hraunfossar Waterfall, where the water cascades through a semicircular, arc-shaped stack of black lava rocks. Next on our agenda is Reykholt, a small, historic town that is pivotal to Iceland's past, and its famous hot spring pool, Snorralaug.
If the weather conditions allow us, we'll cap the day off with a pursuit for the Northern Lights. We'll spend the night at a hotel in Snæfellsness Peninsula where tomorrow's adventures await.  
Snæfellsnes Peninsula
Snæfellsnes has a tremendous diversity of scenery. Anything from jagged yet tranquil bays and rugged cliffs to lustrous glacier tongues can be found here. We'll go caving in an ancient lava tube cave, traverse a black pebble beach with the most stunning cliff formations, and visit that favorite mountain of photographers, Kirkjufell. At night we'll embark upon a hunt for the Northern Lights.
The Golden Circle
On the third day of our tour, we'll hit the Golden Circle route. There, you'll find the enchanting Thingvellir – one of the most geologically wonderous places in the world. You'll have a chance to stand right where two tectonic plates meet, explore the geothermal energy plant and dip a foot in Iceland's biggest lake, Thingvallavatn.
We'll also visit Gullfoss, a truly majestic waterfall, located in the Hvita River canyon. This magnificent torrent falls down 105 feet (32 meters), in surges of raw, untamed power. Neighboring hot spring Strokkur spouts magnificent jets of steam upwards every few minutes in a spectacle that will leave you slightly damp yet stoked, so make sure you bring waterproof clothes.
Afterward, as we travel deeper into the South of the country, we'll witness Seljalandsfoss and Skógafoss: two adjacent waterfalls that hide treasures in their depths. The day will be capped off with the famous black sand beach, Reynisfjara. As we wave goodbye to the trolls turned into stone in the water, the Sun sets, hinting that tonight might be a good time to get a glimpse of the Northern Lights.
Jökulsárlón Glacier Lagoon and Ice Cave
On the fourth day, once well-rested, we'll explore a natural ice cave in Vatnajökull, the largest glacier in Europe. Our guide will provide you with all the necessary equipment and instruct you on the safety guidelines before we head off. As he's leading us through the cave, he'll also share some fascinating information about the age and formation of the glacier.
Next, we'll continue our tour to Jökulsárlón Glacier Lagoon, where you'll be left awestruck by the icebergs of various shapes and colors, floating in the lagoon. Afterward, as the dusk takes over, we'll look for scintillating ice monoliths on the glistering-in-the-dark Diamond Beach. We'll spend the night at a hotel in Skaftafell.
Vatnajökull Glacier Hike
On the final day of your tour, unforgettable experiences await you as we'll go on a thrilling glacier hike. Glacier hiking is a bit more challenging than regular hiking as specific gear is required and the path is ever-changing. On-site and once equipped with necessary gear, your tour guide will lead you across the top of Vatnajokull Glacier. An hour of walking on ice between awe-inspiring glacier mountains is something you'll remember for the rest of your life.
On our way back to Reykjavik, you'll have a chance to soak in more of incredible landscapes of South Iceland. The bus will pass by remarkable moss-covered lava fields and snow-capped mountains.
Practical Information
Proper hiking boots are absolutely essential for glacier hiking, as it's not possible to fit crampons on any other kind of footwear. If you don't have hiking shoes, you can rent some from us when booking the tour. Please keep in mind that hiking boots cannot be rented on the day of the hike.
Have warm outdoor clothing, a waterproof jacket and pants, headwear and gloves with you at all times. Good hiking boots are recommended.
Day 1: Deildartunguhver Hot Spring Iceland
We'll pick you up at 9:00 a.m. at your hotel or your chosen pickup point. We'll drive along the scenic West Coast where you'll be able to soak in the beautiful rural scenery of Western Iceland.
The first stop of the day will be at Deildartunguhver, the most powerful hot spring in Europe. The hot spring keeps at a constant 206 degrees Fahrenheit (97 degrees Celsius) and pumps out a whopping 47.5 gallons (180 liters) of water every second. The hot spring is used to provide heating and hot water to neighboring areas. We will stop at Krauma Geothermal Baths where you can relax. The entrance ticket is an optional extra. For those that do not wish to visit Krauma, we will stop at a nearby horse farm where you will be able to pet Icelandic horses.
In the area around Deildartunguhver, there are a number of walking paths to protect you from getting too close to the hot spring. While the landscape is very picturesque, you should always stay on the pathways. Our next stop will be at the historic site of Reykholt, here you will find a hot spring pool, Snorralaug, treasured as the bathing spot of Iceland's most famous poet and politician, Snorri Sturluson.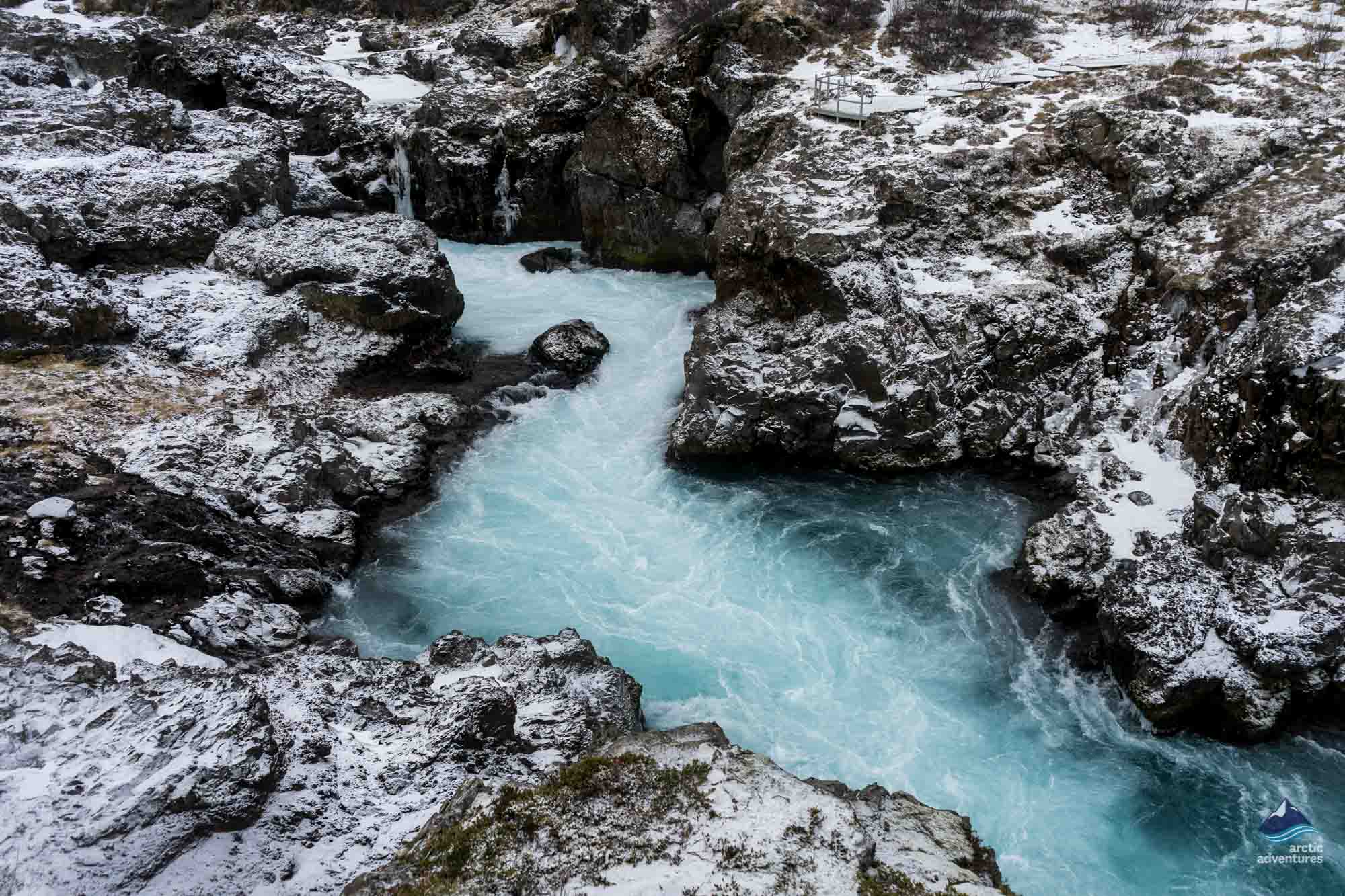 Hraunfossar and Barnafoss Waterfalls
Our next stop will be Hraunfossar and Barnafoss Waterfalls. Hraunfossar ("the Lava Waterfalls") is a vast collection of smaller waterfalls cascading through the cracks of lava formations. Barnafoss ("Children's waterfall") is known for a folk legend as the site where two children tragically drowned once upon a time.
The falls create a very dramatic landscape, cradling the waters that flow from Langjokull Glacier. Our day ends with a visit to Gerðuberg, a cluster of basalt columns. This majestic wonder of nature was formed by flowing lava that was perpetually cooled by the sea water.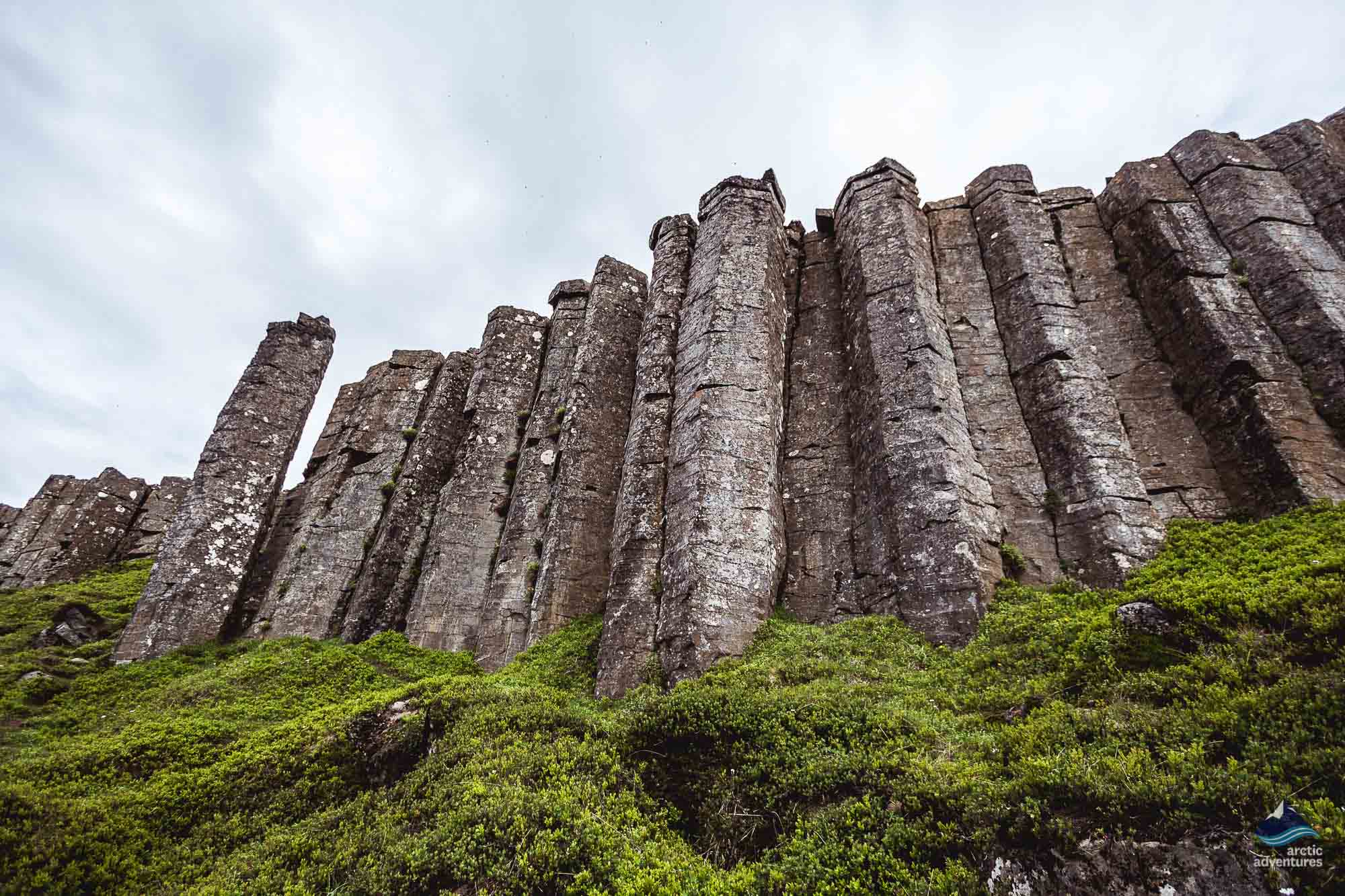 If the northern lights and cloud forecasts are favorable an evening northern lights hunt will be on!
Your accommodation for the night will be in Borgarnes.
*Please note that the order of the itinerary can change, we do sometimes start with the South Coast part of the tour and end with West Iceland.
Day Highlights

Deildartunguhver Hot Spring
Reykholt
Hraunfossar
Barnafossar
Snæfellsnes Peninsula
Northern Lights
Krauma Geothermal Baths (optional)
Included

Guided Tour in Minibus
Deildartunguhver Hot Spring
Highlights of Borgarfjörður
Highlights of Snæfellsnes Peninsula
One Night in a Hotel
Accommodation
Hotel Borgarnes
or Similar
Day 2: Snæfellsnes Peninsula
After a hearty breakfast at our hotel, we'll continue our tour towards the western part of Snæfellsnes. On the way there, you'll be taken back by stunning marginal and alpine scenery. Our first stop of the day is at the small and charming fishing village, Arnarstapi. Here, we'll take a short walk and explore the surrounding area.
Then, you'll have a chance to wander through Vatnshellir Cave, which lies under the ground in Snæfellsnes National Park. The cave is a lava tube tunnel around 8,000 years old. Your certified caving guide will explain its formation and fascinating features that lie in hidden spots. This experience takes you about as close as you can get to the story of Jules Verne's book A Journey to the Centre of Earth.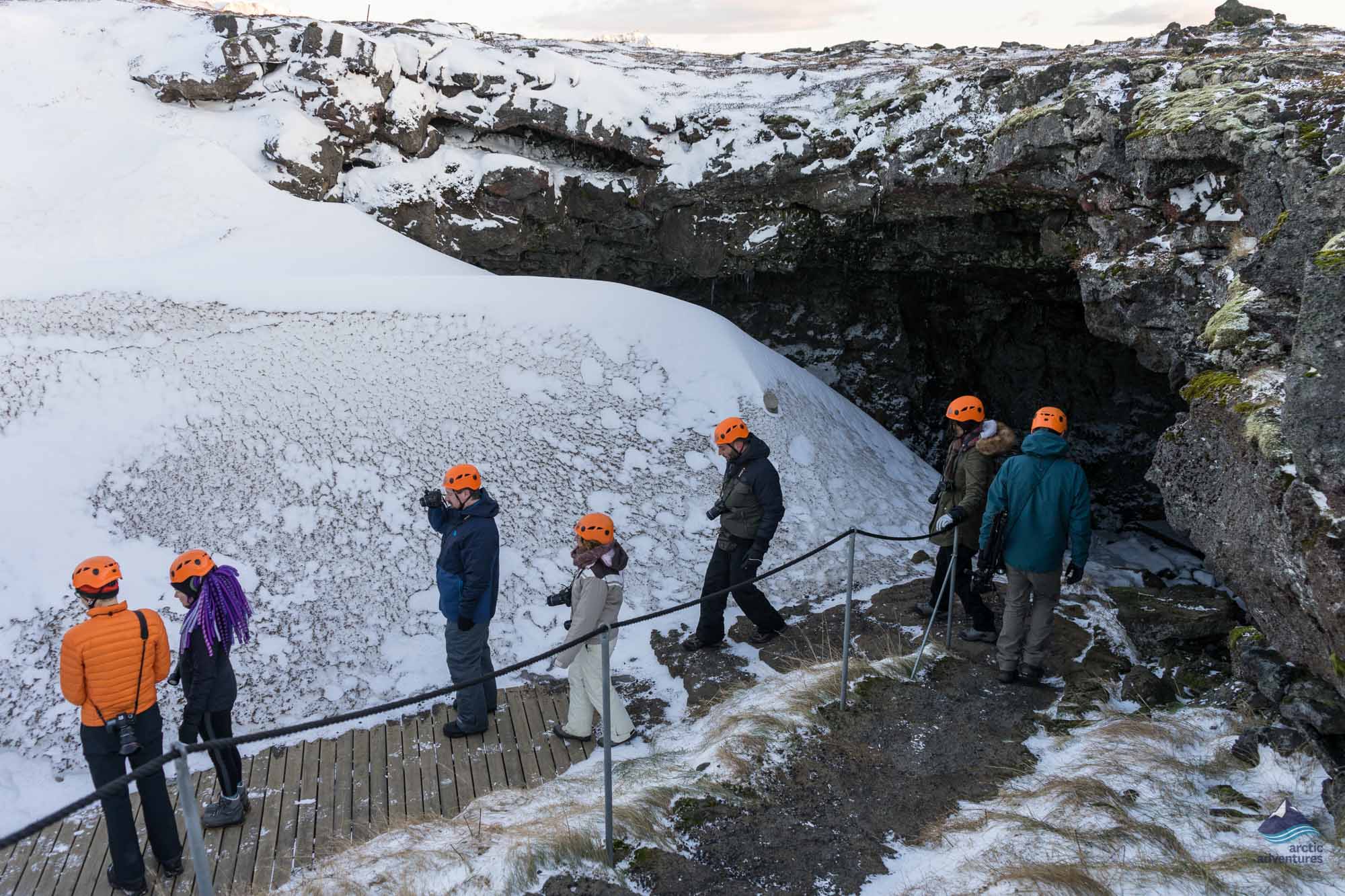 Djúpalónssandur Beach
Our next stop will be at Hellnar, a picturesque village where we'll have lunch. Then we'll continue to the beautiful black pebble beach at Djúpalónssandur. The beach is landlocked by tall, rugged cliffs that look outward to the Atlantic Ocean. There, you'll notice inky, sleek pebbles and the roar of waves as they wash the shore.
When traversing the beach, be careful not to be drawn into the ocean as the power of the water is truly majestic. Don't forget to keep an eye out for the remains of an antique British trawler Epine, shipwrecked in 1948.
At the end of the beach, you will also find famous lifting stones. Back in the day, men of a nearby fishing village were challenged to test their strength by lifting the stones. Would you be able to lift them? After the strength contest is over, we'll head to the photogenic Kirkjufell Mountain and cap off our day with a stunning view of the mountain. Then we return back to Reykjavik for the night.
Day Highlights

Arnarstapi Fishing Village
Vatnshellir Cave (optional/extra fee)
Djúpalónssandur Beach
Snæfellsnes Peninsula & Mount Kirkjufell
Included

Breakfast
One Night at Hotel in Reykjavík
Visit to Arnarstapi Fishing Village
Caving Guide & Caving Equipment
Hiking at Djúpalónssandur Beach
Photo Opportunities at Mount Kirkufell
Accommodation
Reykjavik Lights Hotel
or Similar
Day 3: The Golden Circle
First on our agenda for today is the Golden Circle. We'll start with Thingvellir National Park, one of UNESCO World Heritage Sites because of its complex geological nature and history. The unique landscape of the rift valley was created over time by continual turbulent interactions between the two tectonic plates underneath: the North American and the Eurasian plates.
It's also home to the world's longest-running parliament, the Althingi, established in 930 c.e. Don't forget to look out for the largest natural lake in Iceland, Thingvallavatn.
After exploring this marvelous rift valley, we'll continue southwest toward Haukadalur Valley and the geothermal area of Geysir. We'll spot Strokkur, a still-active geyser, which still erupts up to 25 meters every few minutes without fail.
Next, we'll visit the majestic waterfall, Gullfoss (the Golden Waterfall). At the beginning of the 20th century, a few Englishmen sought to acquire the waterfall and build a hydroelectric plant, taming the power of the Hvita River. Fortunately for everyone, due to lack of funding their plan fell through and to this day the waterfall remains untouched and in all of its natural glory.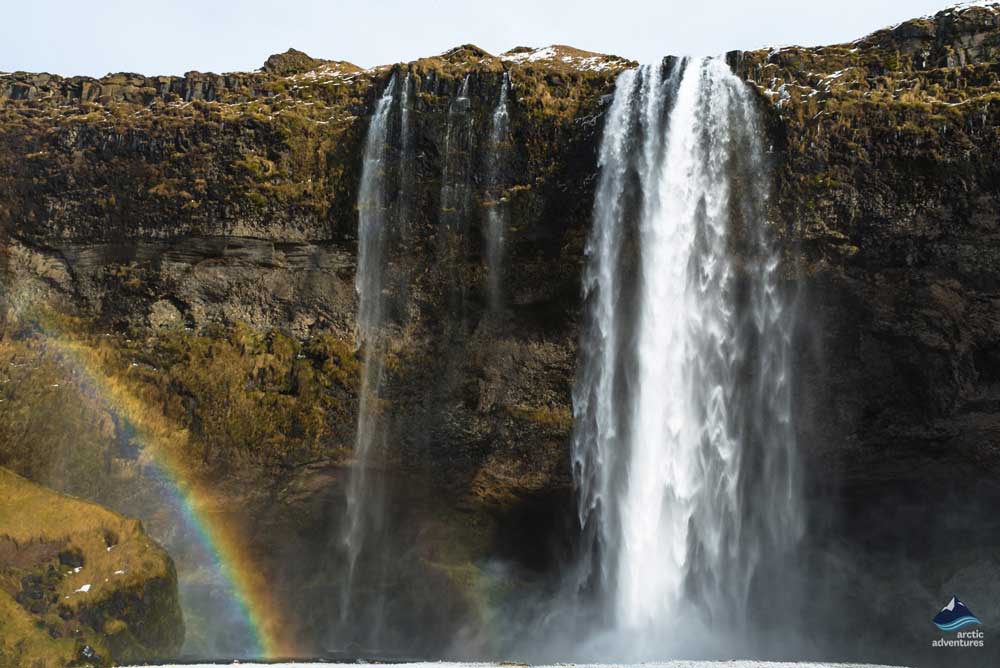 Seljalandsfoss and Skogafoss
As we continue along the Ring Road, a view to the infamous volcano Hekla opens up as we drive to our next stop, Seljalandsfoss Waterfall. The path leading up to the waterfall is brief and it takes us right behind it. There, breathtaking views of the surrounding areas are exposed and on a sunny day, a rainbow can be seen encircling the waterfall. Seljalandsfoss drops for about 196 feet (60 meters), so waterproof clothing is recommended.
Another waterfall, Skógafoss, is right next to Seljalandsfoss. Both of the waterfalls are fed by glacier water from Eyjafjallajökull and carry a sizable char and salmon population. Skogafoss is one of the biggest waterfalls in Iceland, and local folklore says that one of the first Viking settlers in the area, Thrasi, buried a chest filled with gold at its base.
Our last stop on this magical day is at Reynisfjara, where you'll witness the powerful Atlantic Ocean waves relentlessly washing this otherworldly black sand beach. Make sure you keep a watchful eye on the sea, as the ocean has been known to crash over unsuspecting visitors and draw them straight into the current.
Peeking over the shore to one side are the magnificent Reynisdrangar basalt peaks. Local legend claims that they were once trolls, turned into stone when the Sun touched their cheeks. We'll finish the day off with a hunt for the Northern Lights and continue to our hotel close to a small town, Kirkjubæjarklaustur.
Day Highlights

Þingvellir National Park
Geysir Hot Springs
Gullfoss Waterfall
Seljalandsfoss Waterfall
Skógafoss Waterfall
Reynisfjara Black Beach
Northern Lights
Included

Hotel Accommodation
Hotel Breakfast
Visit to all Highlights of Golden Circle
Waterfalls of the South Coast
Reynisfjara Black Beach
Hotel Near Vík
Accommodation
Hótel Geirland
or Similar
Day 4: Ice Caving and Jökulsárlón glacier lagoon
We continue through the rural landscapes, passing farms here and there, onward and eastward. On the drive, we'll pass magical, moss-covered lava fields.
Today we'll embark upon glacier adventures, exploring a natural ice cave in Vatnajokull Glacier and the magical Jokulsarlon Glacier Lagoon. Ice adventures are always somewhat flexible and very dependant on the local weather conditions, which can be unpredictable.
We want to make sure you have the best time exploring the glacier, so your certified glacier guide will decide when it's best to embark on your adventure. Also, keep in mind that the temperature inside the ice cave is well below freezing point, so please have warm clothes with you.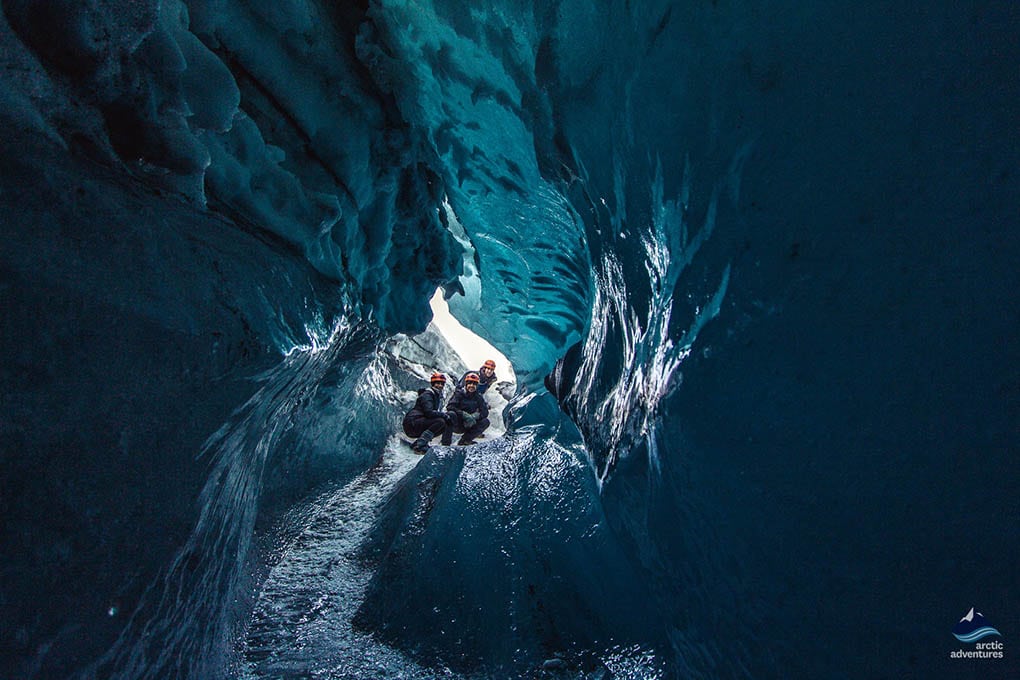 Vatnajokull Ice Cave
Once at the entrance to the natural ice cave, your guide will instruct you on the safety guidelines and provide you with all the necessary equipment. The ultimate stroll in the ice cave will take about 45 minutes. Your guide will point out some awe-inspiring features, you'll learn how the cave was formed and the story behind its brilliant blue color. Make sure you have your camera with you're sure to catch some truly inspiring photo opportunities throughout your hike.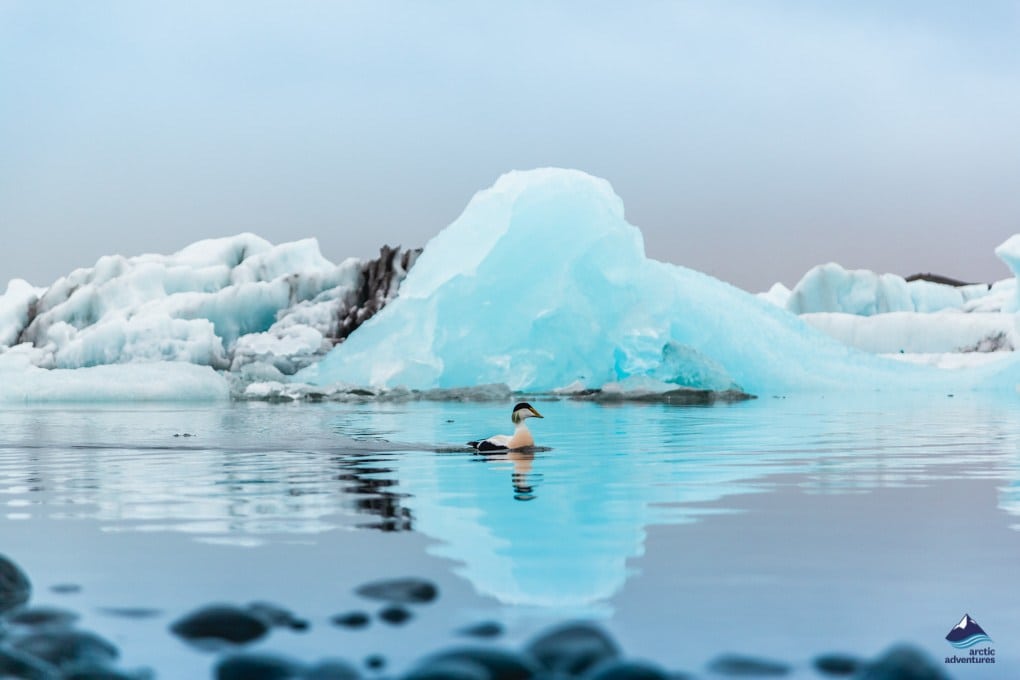 Jokulsarlon Glacier Lagoon
Finally, we'll visit Jökulsárlón Glacier Lagoon and nearby Diamond Beach. There, you'll encounter icebergs in many shapes and sizes floating in the lagoon or resting on the black sand beach in the elusive fading late afternoon shadow. If you're lucky, you might spy a seal bathing among the gilded grains of black sand. If the forecast is favorable, we'll keep our eyes out for the Aurora Borealis.
The accommodation for the night will be in Kirkjubæjarklaustur.
Please note: ice caves are an ever-changing natural phenomenon and, therefore, unpredictable. We will visit one ice cave during the tour and the choice of cave is based purely on conditions and safety considerations.
Day Highlights

Vatnajökull National Park
Natural Ice Cave in Vatnajökull Glacier
Jökulsárlón Glacier Lagoon
Diamond Beach
Northern Lights
Included

Breakfast at a Hotel in Vík
Guided Ice Cave tour
Certified Glacier guide
Specialized Ice Caving Gear
Jökulsárlón Glacier Lagoon
Hotel in Skaftafell
Accommodation
Hótel Geirland
or Similar
Day 5: Glacier Walk and the South Shore
After breakfast, we'll head off to the glacier lagoon for the final rendezvous. The imposing Vatnajökull is the biggest glacier in Europe, with many glacier tongues stretching out of its huge, lily-white hub. These outlet glaciers are perfect for hikes!
Our specialized glacier guide will pick the best feasible glacier tongue for your hike. Before the hike, you'll be provided with all the necessary glacier equipment, some of which you've already mastered in the ice cave. During the hike, your guide will provide some fascinating insights about the glacial wonderland beneath your feet.
Proper hiking boots are absolutely essential for glacier hiking as it's not possible to fit crampons on any other kind of footwear. If you don't have hiking shoes, you can rent it when booking the tour. Nevertheless, please keep in mind that hiking boots cannot be rented on the day of the hike.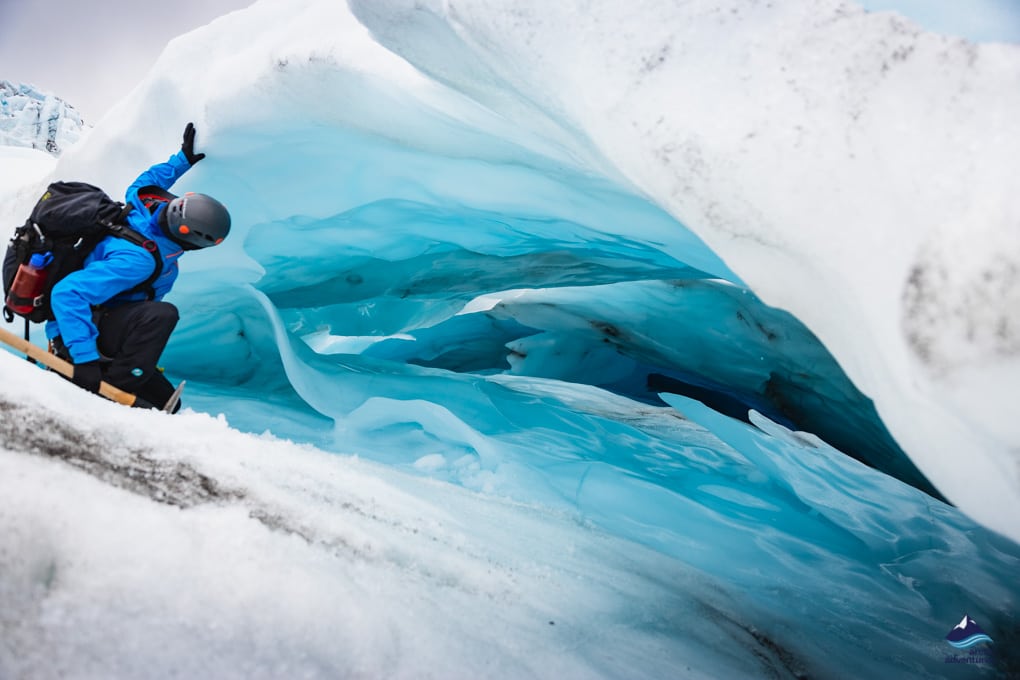 After the hike, we'll begin the journey back to Reykjavík. We'll have a chance to visit more sites as we travel through the south back to the city. We'll get back to Reykjavík between 16:00 (4:00 p.m.) and 19:00 (7:00 p.m.).
Day Highlights

Vatnajökull National Park
Glacier Hike on Falljökull Glacier Tongue
South Coast
Fjaðrárgljúfur Canyon
Included

Breakfast at Hotel in Skaftafell
Guided Glacier Hike
Specialized Glacier Gear
More South Coast Highlights
Drop off in Reykjavík
Special Offer 15% OFF PLUS FLEXIBLE CANCELLATION POLICY (You Can Cancel The Booking Up To 72 Hours Before The Tour Starts And Get A Full Refund)
Sale ends on 15.06.2020 at midnight (GMT)
Discounts work for travel time March-December, 2020
Promotional code: MULTIDAY15
Book this tour
Price from: 144.990 123.242 ISK per person.
NO BOOKING FEES
FAST & SECURE PAYMENT
Loading...
"Top tour, top company. Very happy we went for Arctic Adventures."
We booked the 5 Day Snaefellsnes, South Coast & Northern Lights and couldn't be happier.

The tour was well organised and included a lot of the amazing things Iceland has to offer, with the added bonus of being in a small group (c. 15 people) which helps logistics and creates a friendlier atmosphere.

The standard of accommodation was good as was the transportation, even if the mini-bus we used in the Snaefellsnes leg of the tour could have been a bit more spacious.

I wouldn't think twice before recommending Arctic Adventures or booking another tour with them.

A special shout out is due for our amazing guide, Arni. Knowledgeable, approachable, very professional and at the same time warm and flexible. It was as if you had a local friend showing you around. Arni always looked after our best interest and made this an amazing tour.
"Fantastic tour!"
We have just had a 5-day tour on the West and South coasts of Iceland. The tour was amazingly well organized and François and Svenni have been the best guides ever! François is in love with Iceland and was able to pass on his passion to us. Svenni is a true Icelander and is an icon of the spirit of this country. The accomodations, transport, guided tours, Q&A sessions have been all very well handled. We are already thinking about reserving another tour with Arctic Adventures to see Iceland in summer. Recommending this tour to anyone who wishes to have a smooth and landscape-intensive journey. The price is worth it.
"Great tours!"
I've booked a 5 days tour which was a combination of a 3 days tour in the south and 2 days in the peninsula. I had two guide that were fantastic (Frìmann and Olivier). They were able to answer all our questions, give interesting information and make the tour more personal. Also they were able to change the itinerary according to the weather to make the best out of it. We visited a lot of Island highlight and even more. We had enough time at each stop. They also took pictures of us when we asked which was super nice ( Thanks to Olivier for the great picture of us in front of the northern light)! I had a great time in Island.
5 Day Snæfellsnes Peninsula, South Iceland, and Northern Lights Tour | Average rating: 4.7/5 based on 25 customer reviews
"Great way to see a lot of Iceland" |
By Thomas Michaels 18/03/2018
The 5 day tour was great for my wife and I. We saw a lot of Iceland with knowledgeable Guides and drivers. The small bus comfortably held 14 people and also had usable wi-fi for trip. Which was an unexpected bonus. I would highly recommend for your Iceland trip.
"We had an incredible time" |
By Josh Bergman 11/03/2018
We had an incredible time and a wonderful guide; however, we weren't too crazy about Hotel Dyrholaey.
"Fantastic---we lucked out!" |
By Shannon Of Denver 26/03/2018
This was a good length of time with many nice little stops- unexpected waterfalls, hidden views and time to enjoy the sights. Combined with a tour guide who seemed to enjoy his job - made me glad I selected to pay a bit more --- no big buses for us! The Icelandic music, USB ports and WiFi were added pluses. This was the way to go. And we did get Northern Lights which was topping on our cake.
"Fun family trip!" |
By LynnP 07/04/2018
My 12 year old daughter and I took the 5 day tour along with my sister and her partner and we really enjoyed our experience. It was my first time doing a tour and it exceeded my expectations. The tour guides were really knowledgeable and engaging, especially our guide on the 3-day part, Simrin (spelling?). I learned so much from the tour guides and it's a great way to see the country. We did have two hiccups that I wasn't happy about. The first one was entirely preventable. When we booked, we requested to remain with my sister and her partner throughout the tour meaning on the tour buses, hotels, etc. After the 2-day tour and before the 3-day tour we went back to Reykjavik. Arctic Adventures didn't put us in the same hotel as my sister which I was very upset about as we had shared food items they had packed for us to accommodate my daughter's food allergies. The hotel where my sister ended up wasn't full so I don't know why they separated the group between two hotels in Reykjavik not to mention the one we ended up in was very basic in comparison to the other. The other thing happened at the end of our 3-day tour. Weather conditions necessitated them having to move some things around on the 2nd and 3rd day which was fine and unavoidable. Our guide kept us informed and we did alternate things. Given we had to cut some things short and moved things around, our guide told us we'd be done on the last night of the tour by 8 so most of us booked a northern lights tour which we all ended up missing and losing our money on, due to one of the tours we met up with earlier that day running almost 2 hours behind. AA wouldn't do anything for us since we didn't book the northern lights tour. We were all disappointed about how they treated us given it was everyone's last night in the country. Thankfully our guide was really accommodating and he offered to take us on a northern lights tour on his own time. We were all appreciative of it. Turns out the weather conditions changed and we couldn't see the lights but we were all moved by how our tour guide tried to make it right, unlike AA. That said, I wouldn't hold this against them as overall the tour was great and I'd recommend it to anyone who wants to see the beauty of that country.
"Fantastic trip to Iceland" |
By Roz DeKett 14/04/2018
This was my first trip to Iceland and I didn't know what to expect, and Arctic Adventures made it one of the best experiences I've had in any country. The guides were tremendous. And the tours of volcanoes, lava fields, farm hotels for the overnights, glaciers, beaches, cleffs - spectacular. I'd happily recommend you to anyone.
"Tour is very nice " |
By Vianca 21/04/2018
Tour is very nice and already covers West, Southwest, and South part of Iceland. Tour guides are very accommodating and do their best to make their guests comfortable and get their value for money. One suggestion to improve your service would be to clarify that chasing for the Northern Lights is not part of the tour. A separate tour should be booked for this. Reading the itinerary from your website, I thought that hunting for the Northern Lights is part of the tour already so I didn't book a separate one for this. However, we were told that after 7PM, the tour guides are not allowed to take us anywhere outside the hotel. I understand that in some hotels that we stayed at, we would be able to see the Northern Lights already if we go outside, but this assumes that the weather permits it.
"5 Days of Fun, some information might be needed on the description" |
By Dennis Subrata 26/04/2018
Overall great small group experience. Traveled with a group of 6 on a 5 days tour consisted of one elderly people. The tour description could be more descriptive regarding the activity of the tour itself. Traveled on a micro bus of 6 for the west peninsula, and another micro bus for the south coast.
"Well organized" |
By Gideon Gerzon 27/04/2018
Very well Organized compacting sites and activities and very good guides
"Great tour, saw and did a lot" |
By Eric Wong 19/10/2018
Our guide Sindri was the best kept us entertained the whole time with great stories, amazing how much he knew. Tour was excellent, saw a lot, everything I wanted to see and experienced a lot to, got to do a lot of different things, only downside wish we arrived at Diamond Beach a little earlier.
"5 Day - Snaefellsnes, South Coast and Northern Lights" |
By Betsy Willmont 20/10/2017
My sister and I just did this tour and had an amazing time. Our tour guide Sindri G. was amazing. Told great stories of Icelands history, was funny and just a wonderful guide. We were very lucky and were able to see the Northern Lights twice in Iceland. I would love to go back, and if I do I will definitely look into another tour from Arctic Adventures. With any luck I would have Sindri again. Thank you for an amazing adventure.
"Rika the best!!!!!!!!" |
By Luis Natera Sastre 02/11/2018
"Hi everyone, we just want to thank you for he amazing trip. We booked the 5 days tour in Island and we had the best time. Our Guide Rika (sorry if the spelling is wrong) was amazing. We really had a great time with him. He expanded everything so good and he answered all the question. We want to come again and for sure we try to get a new tour with Rika. Now we are in Love with Island. So thank you for the good organization and a special thank you to Rika the best guide we ever had. See you soon in Island all the best, Kim and Luis"
"Awesome trip!" |
By Kirsten Davis 03/11/2018
We thoroughly enjoyed our combined 2 and 3 day tour, our guide on the 3 day tour was Aron, who could not have been anymore knowledgeable! He is a passionate environmentalist who gave us a trip full of lasting memories. He was able to take us off the beaten path to see things we would never have seen on our own. The guest houses were so cute and comfortable. We highly recommend Arctic Adventures!!
"Lovely varied trio to Iceland" |
By C Lau 11/11/2018
The tour was very interesting with lots to see and do. The tour guide was friendly and very informative. Most of the accommodation were good, although one nights accommodation was a little below average. Overall, a trip worth going on.
"Amazing tour in Iceland" |
By Gina 19/11/2018
My 5 days tour with Arctic Adventures was great. Tour got split up with 3 days to Sounth Coast and Golden circle and 2 days to Snæfellsnes peninsular trip. So much attractions and activity along South coast which planned very smoothly executed by our guide. And more quiet road trip to west coast peninsular. I actually liked the mix of two get to see more of Iceland. From pick up to drop off till end, and everyday went really well with our guide. They were very professional and friendly. I was happy with this tour and I definitely will recommend my friends to try this company when they head to Iceland. :)
"Great Trip." |
By James Sloan 23/12/2018
Trip was made great because of our guide, Hjalti Björnsson.
"Amazing" |
By Heather Hutchison 26/12/2018
This was the first group tour that we had ever done, and it won't be our last! We did the five day tour (combo of the 2 day and 3 day- peninsula, Northern Lights and Golden Circle), and it was amazing! The tour guide made most of the day light we had, was very informative, and fun! This tour made our vacation to Iceland easy and stress-free. They take care of everything for you. If you don't trust yourself driving around Iceland, this tour is a must! Thanks for making our vacation to Iceland one we will never forget!
"Join local tour in Iceland" |
By David Wan 29/12/2017
"A good experience with very professional guide and driver, Thor. Will recommend to my friends wishing to travel in Iceland."
"5 Day Tour - Highly Recommended" |
By Andrew G 30/12/2018
I highly recommend this tour and this company to anyone. We opted for the 5 day tour and it was absolutely amazing. The driver, the vehicle used, and the hotels we stayed at were great and I have no complaints. When we return to Iceland we will definitely be using Arctic Adventure again.
"A great trip and a great guide" |
By Stacy Wallace 08/01/2019
My husband and I had a fantastic time on our 5 day tour. Biggie kept us entertained during the drive with interesting Icelandic stories, facts, and traditions. Even with the minimal daylight hours, Biggie ensured that we made it to all of the attractions and even some nice little out of the way places. Thank you for a great vacation!
"awesome experience!!!" |
By Lisa 01/02/2019
This was an incredible experience! Our guide, Hilmar, was amazing. By the end of the tour we all felt like family. I would definitely recommend this tour. So if you're thinking about it - do it!! And ask for Hilmar. He's great!!
"Wonderful Excursion" |
By Jessica 08/02/2019
This is an amazing trip. We had the best tour guide, Siggi, who knows so much and made this a very pleasant experience. We were lucky and got to see the Northern Lights, while they are not a guarantee, we had the perfect combination and we saw the most beautiful show. Every place we went was magnificent and the activities are definitely worth it.
"Fantastic Tour- beautiful country!" |
By Lesley 27/02/2019
We had a brilliant 5 day tour around this beautiful country. Our guides were friendly, efficient and very knowledgable. They were also very good drivers and we felt very safe even in some very harsh weather. The hotels outside Rejkavic were lovely and we saw so much. Thoroughly recommend this company- booking and communications were excellent.
"Amazing Experience" |
By Nicole Miranda 10/03/2019
The 5th day tour was a great experience, it is super complete, allows you to go to different places in Island. Each place has a magic combination, all of them are worth it. And Arctic Tours make everything perfect!!
"Great Adventure" |
By Edward and Ellen Nadeau 05/04/2019
My husband and I toured Iceland in March 2019. I recently read the United Nation's World Happiness list and Iceland was number 4. Not a surprise. Where do I begin? The incredible beauty and natural wonders, the food and native people. We were so delighted with the staff members of Artic Tours who were so well informed about the history, geology and the culture of the Icelandic people. Your group size limit of 18 is a winning strategy and the Mercedes Touring van is a good vehicle choice. Not only did that make for a manageable group of people to be "guided" through our adventures but, but our travel mates were from all the parts of the world and we immediately bonded with many of them and enjoyed the beautiful journey along the way. While Arctic Adventures could not promise us that we would see the Northern lights – we did! We would like to return someday to Iceland and bring along our friends and family and we know they will be just as impressed as we were. Give our best to our guide THOR! He made our journey most memorable. Ellen & Ed
"Beautiful memories" |
By shalaka desai 18/04/2019
"I would highly recommend this tour. You get to see the best of Iceland in these 5 days. The trip is not fast paced and gave us ample of time to explore the place. This trip was split into 2 tours - one was a 2 day trip to the Snaefellsnes plateau and the other one was the 3 day tour to the South of Iceland with the northern lights. Both the tours were very organized and the stay at the designated hotels was very comfortable too. Our guides, Pascal and Aaron, were very knowledgeable, patient and made everything very easy and simple. They made a big effort to show us around even when the weather was little unstable, on a few occasions. We had an amazing time. A big thank you to Artic adventures team for these beautiful memories !"