The History of Icelandic turf houses
When visitors first clap eyes on these beautiful buildings, two immediate questions spring to mind: What is their history in Iceland? And why were they built?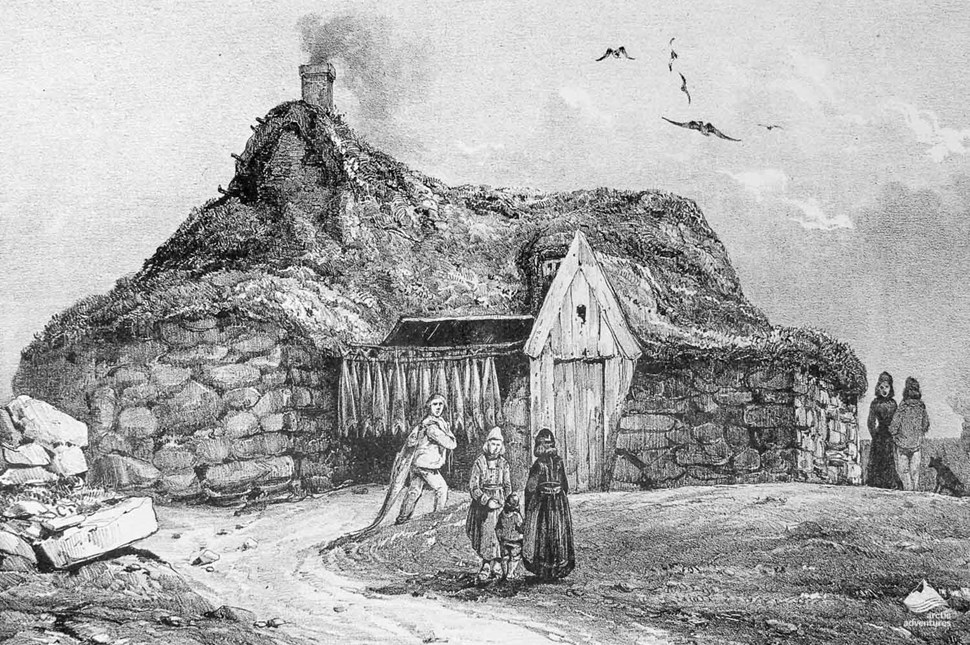 They date back over 1,000 years to the 9th Century. Iceland's resources then (as now) consisted of plenty of wetlands and volcanic stone, but relatively little woodland compared to settlers' home countries in Scandinavia.
So, using stone and turf was a logical step in building shelter. Like many traditions, turf houses survived, but evolved. In the 14th Century Viking-style longhouses (thin, long, communal spaces) gave way to individual, smaller buildings.
The late 18th Century saw the arrival of the "burstabær" – a turf house with wooden ends.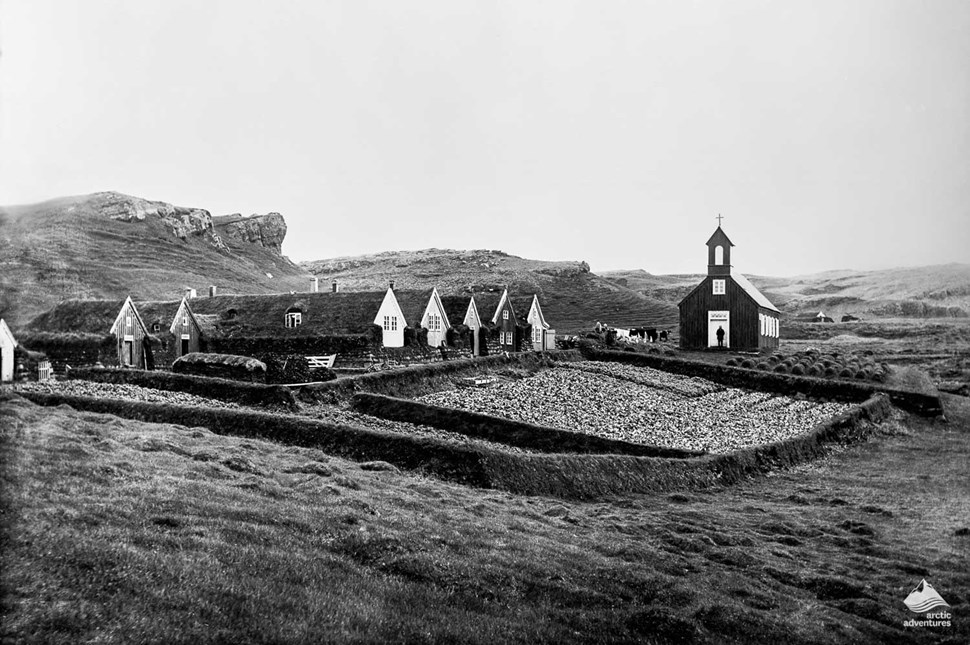 Turf houses made way to more modern, recognisable architecture in the 20th Century, but they still exist as museums and heritage buildings today.
Why were turf houses built in Iceland?
There's two main reasons why turf houses were built in Iceland. The first was the difficult climate and the second was the lack of availability of timber and the abundance of other suitable materials including lava rock and turf. Turf provides great insulation for buildings compared to those that are made of timber or stone alone. There was also a lack of oak trees in Iceland, which would have been the preferred timber of Scandinavian settlers. The abundance of turf however, made it a very suitable material to use instead.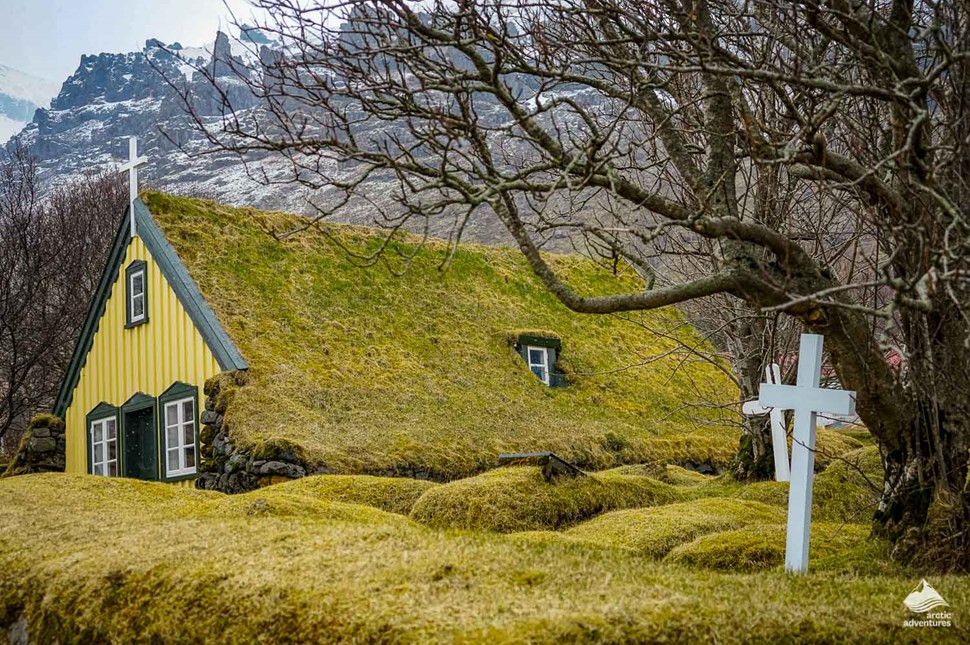 How are turf houses built?
The building technique for turf houses is as unique as the buildings themselves.
Choosing a location
With a climate such as Iceland's, dwellings can do with all the added protection they can get! That's why choosing a location is an important first step in the construction of a turf house. Many are built into the land; onto the side of a hill, for instance, to maintain insulation.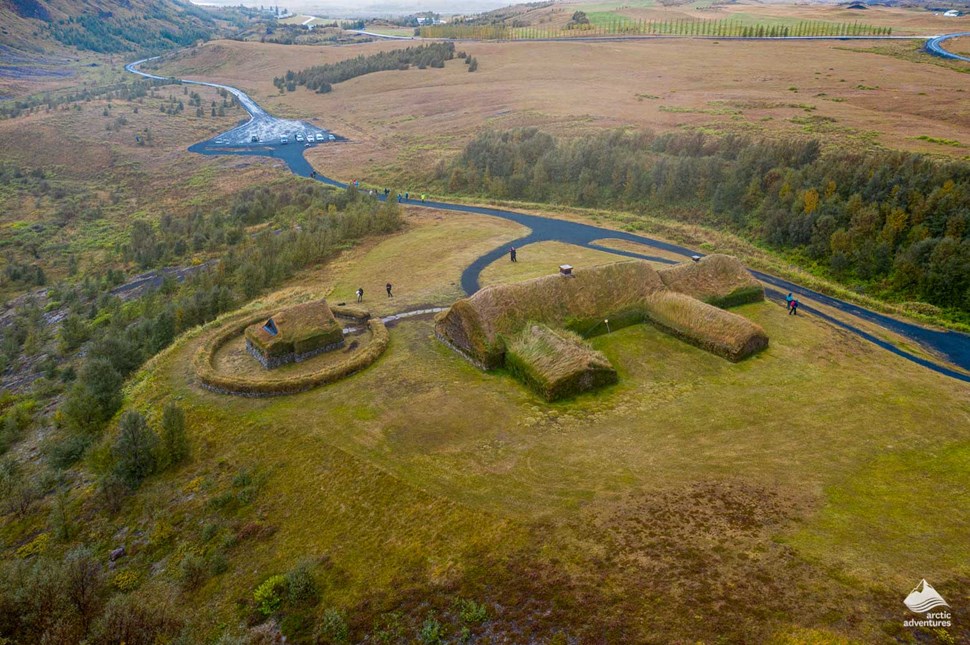 Foundations
The foundations of a turf house are made of lava stones. These are formed when hot lava erupts and then cools on the surface of the earth. It's a kind of natural brick and it's ideal for construction as it's light and offers high heat and sound insulation.
The lava stones are covered with a layer of turf and compacted down, followed by alternating layers of stones and turf to form the house foundations.
Frame
A timber frame is then constructed for the turf house. In Iceland, with oak difficult to source, native birch was the best option available.
Walls
Turf and stone bricks were then piled up and compacted in between the frame structure to form thick walls.
Roof
Similar to the walls, turf and grass is used to provide an insulated roof for the house. You'll notice that turf houses have sloped roofs. This is important. If the slope is too steep, the turf could crack during dry seasons, too flat, and the family inside could find themselves dealing with an indoor rain shower!
The turf walls and roof were living and breathing material, with grass that needed to be trimmed regularly.
What does the interior of a turf house look like?
The interior details of a turf house can vary depending on their original purpose and the resources and social class of the original owner. Some will feature a single room layout, with a fire pit in the middle of the room and one window, while others feature two, three or more rooms or compartments. The floors would be made of wood, stone or turf.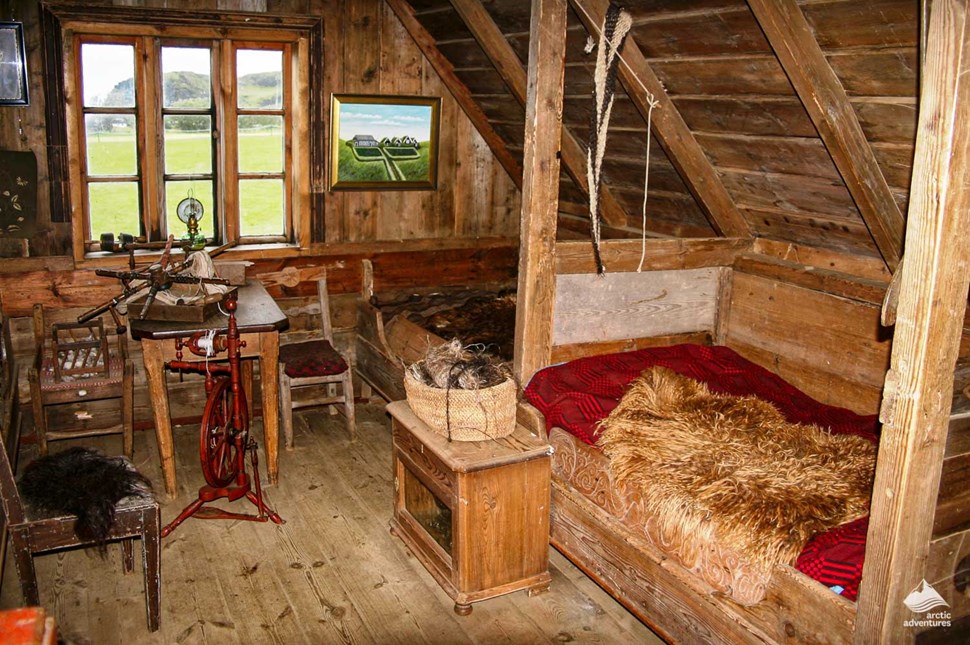 Where to see turf houses in Iceland today?
There's plenty more we could tell you about turf houses, but in truth, these magical and some would say, miraculous, buildings really need to be seen to be believed.
Icelanders don't tend to live in turf houses any more, and the number of turf houses has dwindled dramatically throughout the 20th Century. Thankfully, there are still opportunities to visit them and even sleep in them!
Turf houses in North Iceland
Grænavatn
The main house at Grænavatn was built in 1913, making it a good example of what a later stage turf farm looked like. You'll notice that there is more timber used in its structure than older turf houses.
It's worth noting that this attraction is also near Grænavatn Lake, a beautiful spot worth visiting in its own right. Incidentally, it's also near the beautiful, therapeutic Myvatn nature baths.
Laufás
Not far from there, the lovely turf house of Laufás looks like terraced houses from the outside, with wooden fronts and linking grass roofs. It's not far from the town of Akureyri, which you'll visit on a 3-day Northern Iceland tour.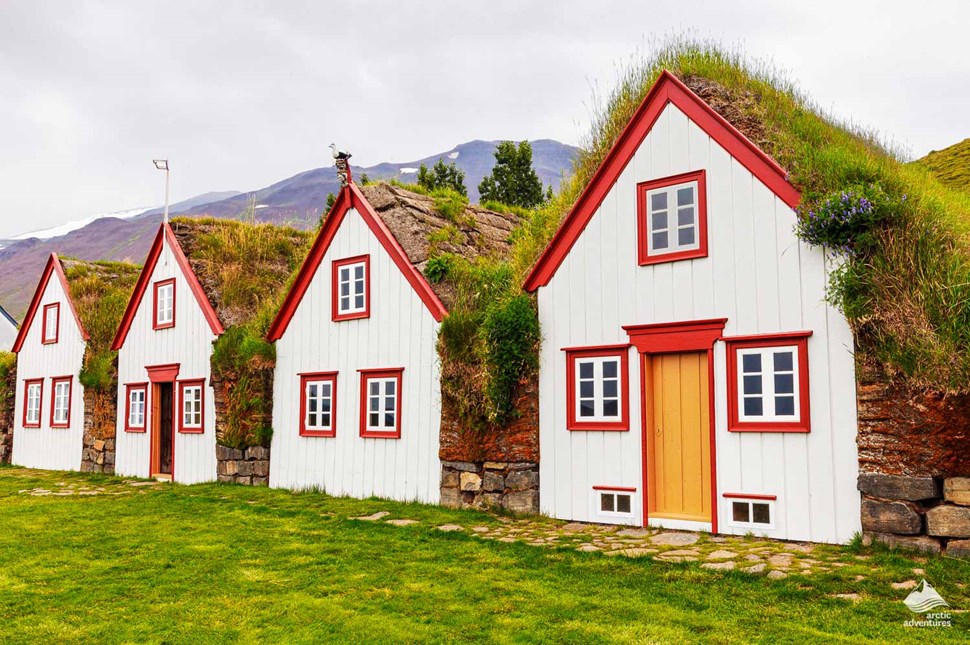 Glaumbær
Glaumbær is a great example of a large turf farm, made up of 14 clustered houses. The site is thought to have been inhabited since as far back as the 11th Century. It's now one of the best-known turf house museums in Iceland. You'll pass it when driving from Reykjavik to Asbyrgi – where you can visit the extraordinary glacial canyon.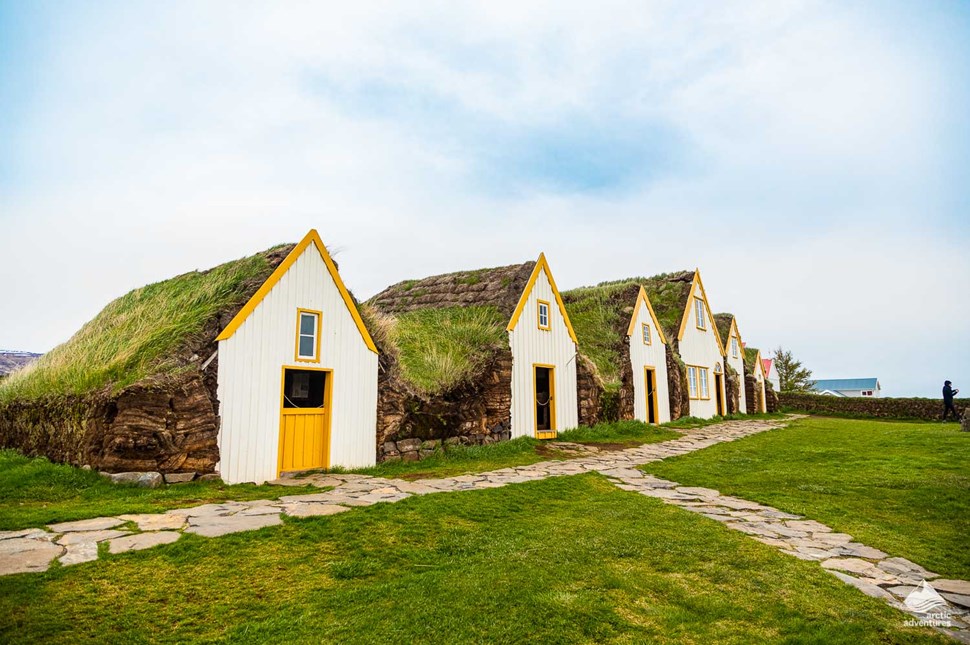 Arngrímsstofa
Finally, Arngrímsstofa is a small turf house in front of an old farm where the renowned Icelandic painter Arngrímur Gíslason lived in the 19th Century.
Turf houses in South Iceland
Keldur
Close to Mt Hekla is where you'll find Keldur. This is arguably the oldest turf house in Iceland and, because of its size and the thickness of its grass exterior, one of the cutest. At Keldur, there's so much more to see than just turf houses. Unique features such as a mill house and an old hall have also been well preserved, giving visitors a vivid picture of historical daily life in this area.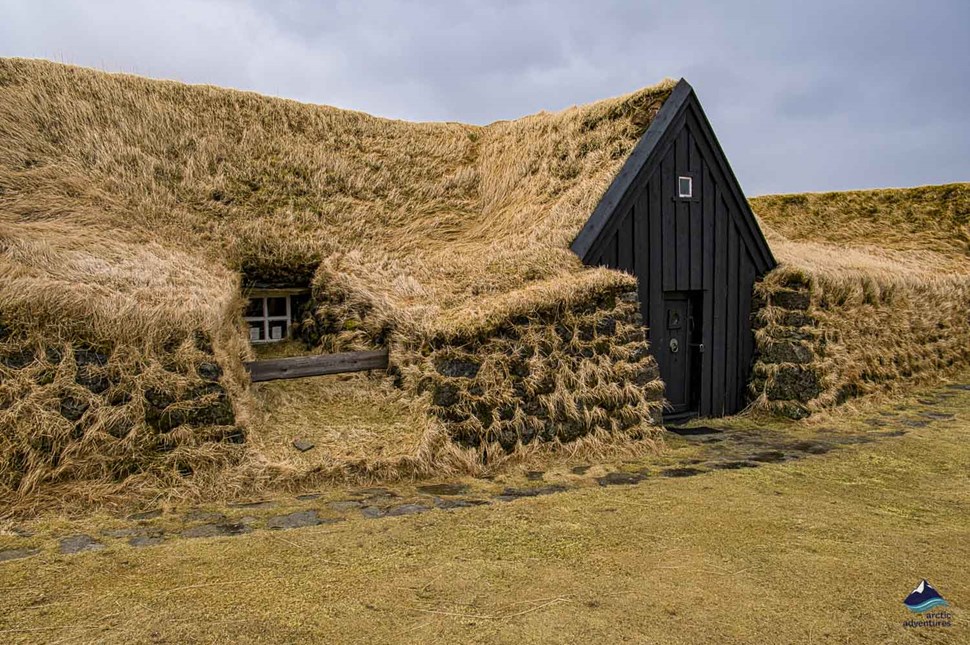 Þjóðveldisbærinn Stöng
Þjóðveldisbærinn Stöng is one of the most internationally famous turf houses, thanks to its status as a Game of Thrones location. It's easy to see why this caught the eye of the show's producers: Þjóðveldisbærinn Stöng has a beautiful, otherworldly and timeless appearance, looking like nature is in the process of reclaiming buildings.
Check out this location and many more in our Game of Thrones Iceland tours.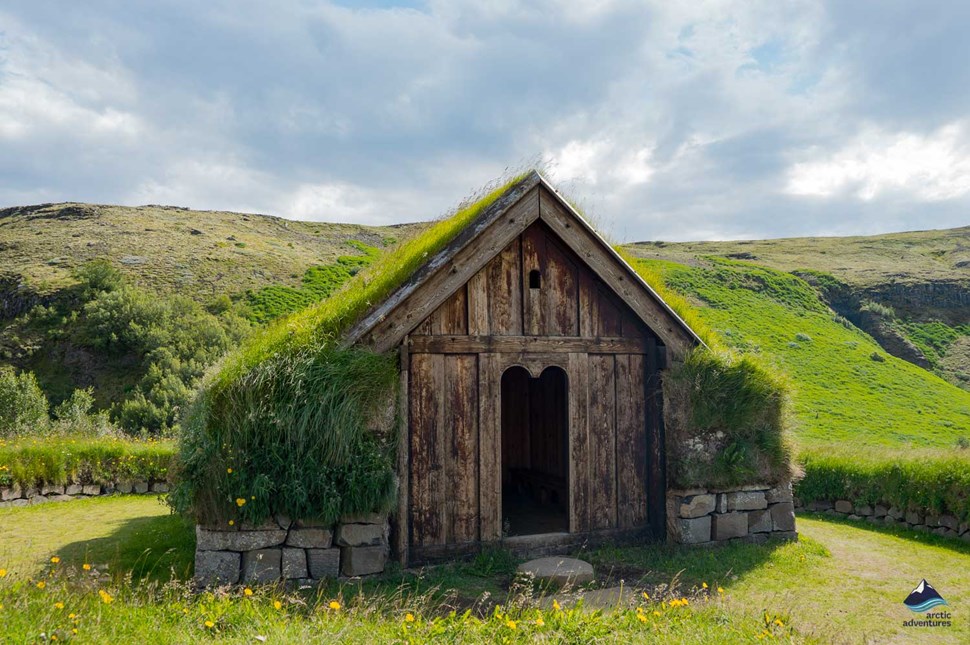 Selid
Getting closer to the oasis that is Skaftafell National Park, you'll find Selid. Beautifully perched on a hill overlooking the river, these houses are relatively modern, dating back to the early 20th Century. In the 1970s, they were restored by the National Museum.
Skogar
If you're interested to see the extent to which the architecture of turf houses in Iceland could vary, Skogar is an ideal spot to visit. Having been a museum since 1949, the turf houses here have actually been moved from other areas and reconstructed, giving great insight into the different styles of turf house dwelling. Also worth noting: Skogar is near to the 'must-see' Skogafoss waterfall and you can reach it by taking one of our renowned South Coast Tours.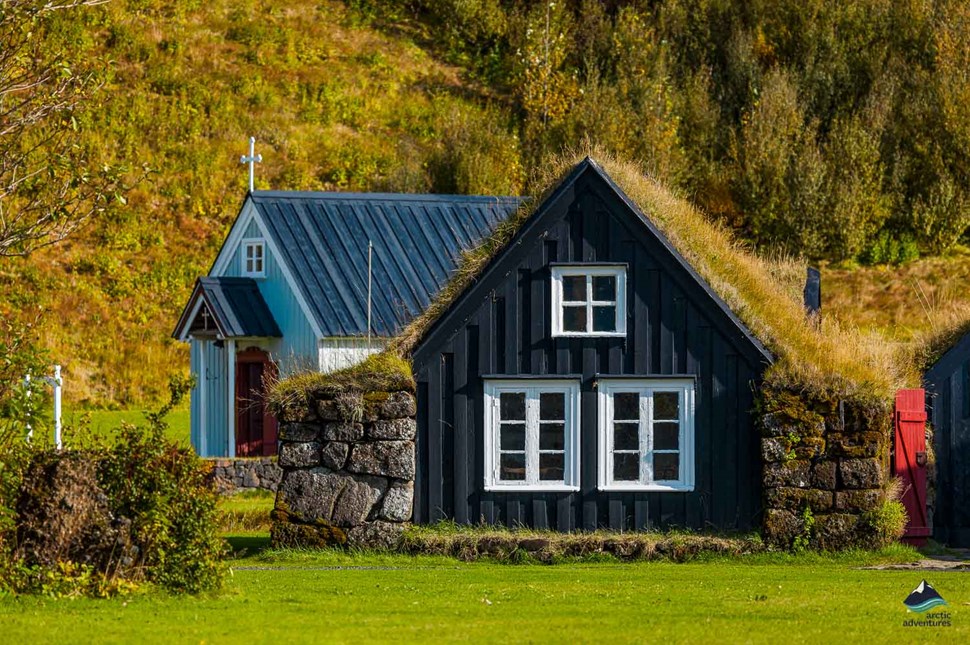 Turf houses in East Iceland
Bustarfell
East Iceland has relatively few turf houses left standing, but you will find them in Bustarfell, which is a museum that has captured farm life and turf house living from the 16th Century. These turf homes were lived in right up until the 1960s so you will gain an understanding of how turf houses were modernised with the addition of electricity and toilets. Bustarfell also features passageways between houses, which are quite unique.
Saenautasel
In the remote highlands, you'll find the rustic, enchanting Saenautasel. This home, now a museum, has one section that harks back to the original turf house design; a floor consisting of lava rock and earth.
Turf houses in West Iceland
Árbær
Arguably the most accessible way to find a turf house, Árbær is a district located in the south west of the country in Reykjavik. The Árbær Open Air Museum is where you'll find its delightful turf house.
Eiriksstadir
Not far away, Eiriksstadir is a turf house with a rich history. This is the former homestead of Eric the Red, the legendary Norse explorer and his son, Leif Erikson, who went on to discover the Americas.
Do people still live in turf houses in Iceland?
In short, not really. From the turn of the 20th Century, Icelanders increasingly moved out of the countryside and into larger city settlements, leaving turf houses behind.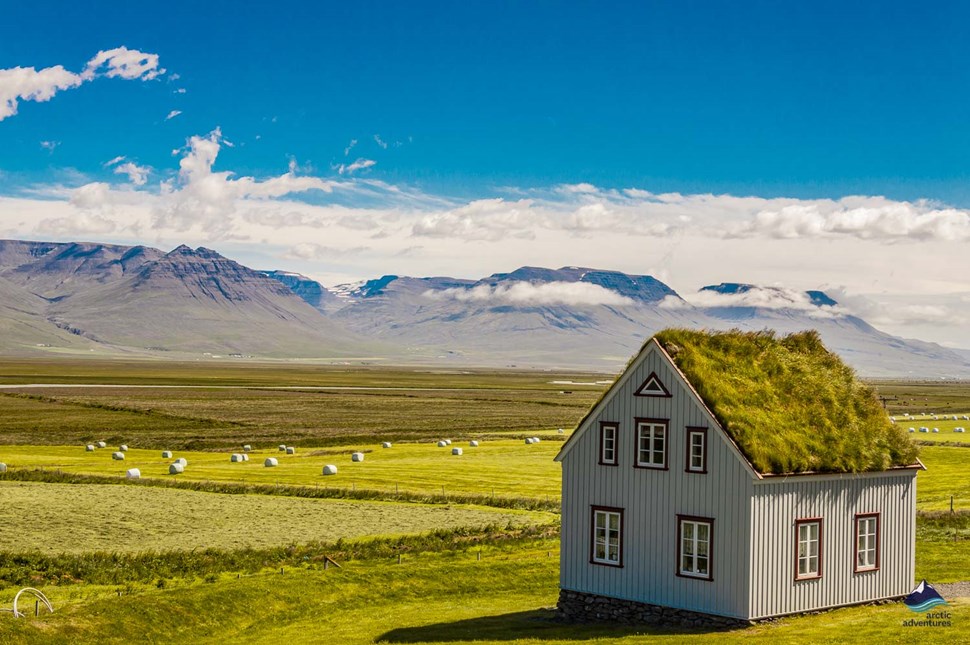 Modern turf houses tend to operate as museums, though some offer short-term holiday accommodation. In fact, there are a small number of turf houses in Iceland on AirBnB! We covered this in our guide to Airbnb in Iceland – check it out if you want to find out what it's like to sleep in a turf house!
Preserving the Icelandic turf house heritage
While the number of turf houses in Iceland declined massively in the 20th Century, Iceland's tourism boom of the last 20 years or so has revived the interest in these distinctive homes.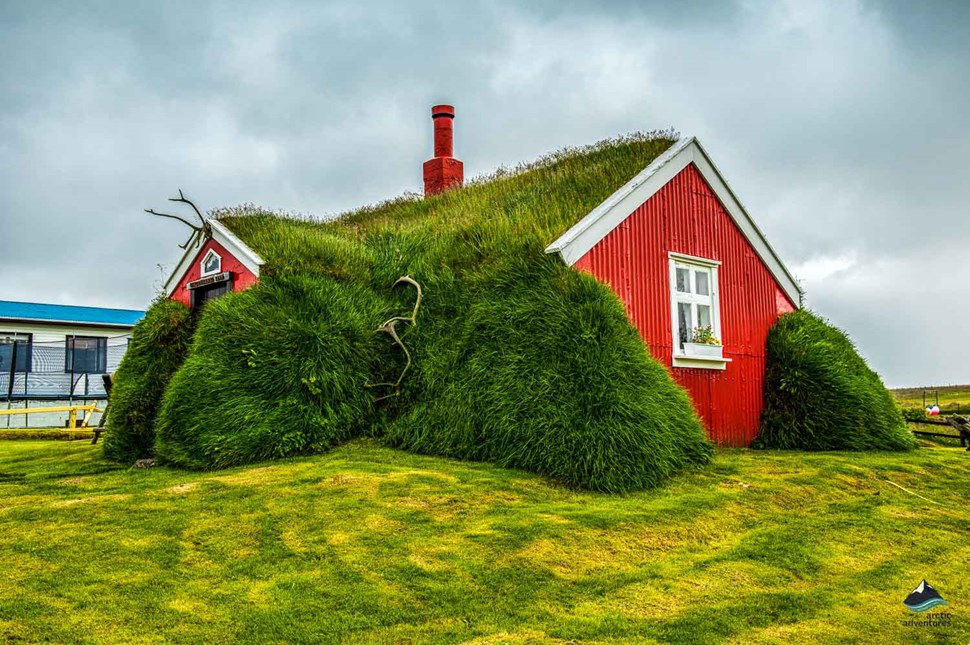 A big step towards preserving this architectural heritage was made in 2011 when The Turf House Tradition was one of just six places of importance listed as potential nominees for UNESCO World Heritage Sites in Iceland.
Find out more about Iceland's attractions.