All about
ICELAND
Insider info to adventuring in Iceland
Iceland in December: What to know?
Iceland in December is a magical place, filled with lights, laughter and thrilling activities. Don't let the cold scare you!
Updated: October 2019
---
---
What to Do in Iceland in December
Photo by Elizabeth Ellis
Reykjavík is a beautiful city every season but there is just something about Reykjavík in winter, especially December. When the decorations are all up for Christmas and everyone is walking out to find presents and to meet up with friends and family for a hot cocoa or something nice. It's a magical time and hopefully, you will get to experience it!
Christmas walk down Laugavegur
December in Iceland is just all about Christmas and New Years and everywhere you go you will see this. Starting at Hlemmur Mathöll to pick up a coffee or hot chocolate to go and then stroll down the famous Laugavegur street for some window shopping or even just the regular kind. You can pick up some roasted almonds where Skólavörðustígur street and Laugavegur meet and the atmosphere is just so alluring. Enjoy and let it all sink in!
Ingólfstorg Ice Skating Arena
In recent years the famous and historic Ingólfstorg square has been changed into a skating arena for the whole of December and it's simply amazing. Christmas lights hanging from the ceiling of the arena and huge smiles everywhere. Even just looking at the people go is fun. A real Christmas treat.
New years at Hallgrímskirkja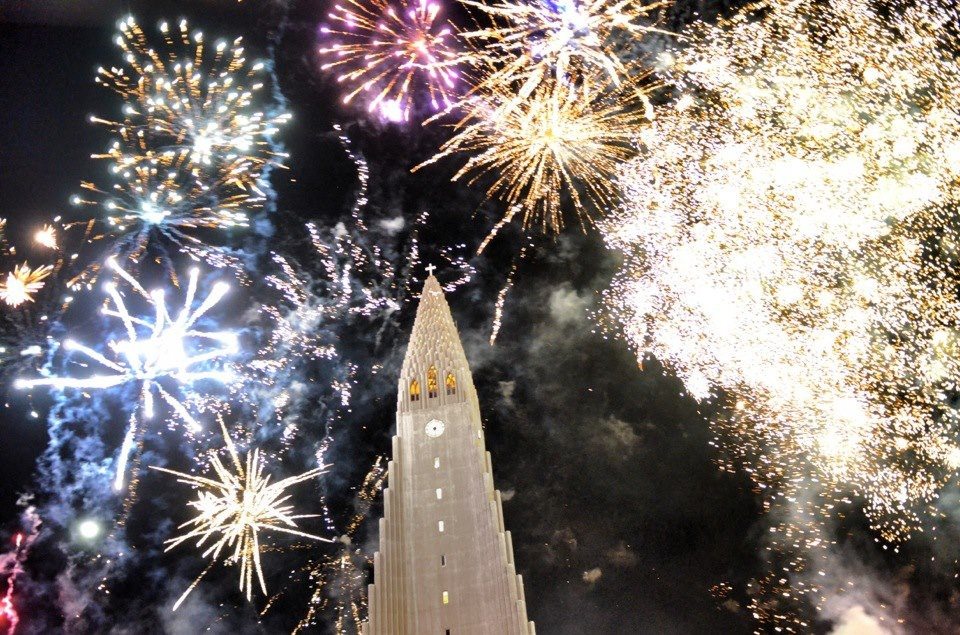 Photo by Matthias Schüssler
Hallgrímskirkja is the big church the towers the center of Reykjavík. You have probably seen it in pictures from Reykjavík and it's likely to be the first thing you spot when reaching the city. The buildings in Iceland are all built pretty low due to earthquake action so it really stands out.
For New Years many people gather at the church to watch the magic of the firework show that locals themselves orchestrate all over the capital area. At midnight the sky will completely blow up in multicolored glitter and you do not want to miss this. Trust me, this is an experience you will never forget!
More info on New Years in Iceland
Jólaglögg @ The Nameless Pizza place
Jólaglögg is the Icelandic name for Mulled wine and after trying a few places (oddly it's quite difficult to find in Iceland) I found this place to have the absolute best one! Listed as Spiced wine on the menu and comes with a homemade pepper cookie, it's just perfect! A real lifesaver in the cold Icelandic winter night.
Location: Hverfisgata 12
Iceland Weather in December
Photo by Fernando Garcia
Now enter full winter month. December is one of our coldest months in Iceland and the 21st of December the darkest day throughout the year. The sunrise takes place around 11:30 am and sunset is around 3:30 pm. In the Westfjords many say no light is seen as the high mountains cover the little light trying to shine through and the sun never reached high enough in the sky to go over them. To me, this is the coziest time and I welcome any snow since it adds light to the scenery.
Prepare for cooooold but amazingly beautiful settings. Like they used to sing "it's Christmas time there's no need to be afraid" enjoy the snow and enjoy Iceland in its true nature!
Daylight doesn't change a lot during December, on the 1st of November you will have about 5 hours of daylight but the 30th about 4 hours. This is very important to keep in mind in all travel plans in December in Iceland.
Temperatures in December in Iceland are usually very cold but like everything having to do with weather in Iceland it's quite hard to predict. The average low is about -2°c or about 28 F and the average high is about 4°c or 49 F. It's important to note though that these are numbers for Reykjavík and anything out of the city will be colder and windier. Even though these numbers might not sound freezing don't be fooled, when the constant breeze is added to it, it feels a lot colder!
Check out for more information about the Iceland weather.
---
What to Know before Visiting Iceland in December
Daylight is extremely limited, make plans around it.
Most of the shops are open until at least 10 pm until the 24th.
The 23rd of December is Þorláksmessa, then everyone walks down Laugavegur street, finish Christmas presents and have a drink. You simply must join!
The weird smell you will find on the 23rd of December is of the fish Skate that we cook in a very old-fashioned way and it smells A LOT.
The Liquor store is closed on the 25th of December and 1st of January.
What to See in December in Iceland
Northern Lights
December is a dark time in Iceland, which might at first sound like a bad thing but really it is not. The darker it gets the brighter the Northern Lights will show in the sky sooo really it's great. This is the time, join a tour!
Christmas in Reykjavik, Iceland
Christmas is a magical time in Iceland, and especially in Reykjavik! It usually snows in the capital, transforming the whole city in a winter wonderland. Prepare for ice and snowy days.
During this time, there are also loads of fun winter activities, winter day trips like snowmobiling, and Christmas markets.
Christmas Markets in Reykjavik are livelier affairs, usually indoors so people don't have to suffer the weather. Look out for pop-up, one-day mrakets, concerts and Christmas buffets from the first week of December to New Year's.
Ingolfstorg Ice Skating: A classic Reykjavik activity is to head to Ingolfstorg Square downtown to try some ice skating. The manmade ice rink is open to all ages and rents out ice skates and helmets. Bring your own and entry is free.
Hlemmur Matholl Food Hall: Since its grand opening in 2017, the lively food hall on Hlemmur Square hosts restaurants, bakeries, and cafes that go all out when it comes to Christmastime.
Christmas Town in Hafnarfjordur: Grab a bus to the nearby suburb of Hafnarfjordur, known for its annual celebration of Christmas. The town celebrates the holiday with lights, trees, festivities — and of course the Big Christmas Market.
Heidmork Forest Christmas Market: This delightful market is held each weekend from late November to mid-December in the nature reserve of Heidmork. Expect live author readings, children activities, local handicrafts and live music!
Christmas Concerts
Nothing rings in Christmas like concerts and during this time everyone is having one. Some are serious, other more upbeat and others might have nothing to do with Christmas but everything to do with dancing. Here are some of the ones you might enjoy 2017:
7th of December at Harpa at 7:30 pm
Advent Concert: Bach and Mozart
8th of December at 8:30 pm & 9th of December at 4:30 pm and 8:30 pm at Háteigskirkja church
Páll Óskar and Monica Christmas concert (one of the most popular duos in Iceland!
9th of December & 10th of December at 5 pm
The Motett choir Christmas concert in the mighty Hallgrímskirka church
10th of December at 3 pm and 8 pm at Iðnó
The band Eva, two wonderful girls with guitars and the coziest voices
14th of December at 9 pm at Gamla Bíó, Ingólfsstræti 2a
Jólastuð e. Christmas fun with Valdimar and Sammi's big band
16th of December at Húrra at 9 pm
The Icelandic band Sykur has a concert, it's time to put on your dancing shoes
28th of December at Gaukurinn at 9 pm
Burlesque Christmas – A newly formed group in Iceland worth checking out
30th of December at 10 pm at Gamla Bíó, Ingólfsstræti 2a
The Icelandic cover band Babies concert or dance – Get ready for some dancing!
Best tours to do in December in Iceland
Photo by Jim
Many of the hotels are filled up and it's quite challenging to know what is open when and roads are slippery and some even impassable. Joining a guided multi-day tour will prevent you from having to worry about any of this. All is taken care of and you just sit back, relax and enjoy the show. Your guide will know where to go, when to go and where to take you.
We offer anything from 2-6 day tours and here you can take a look at the variety of Multi-Day tours during December in Iceland.
At this time of the year, the horses are the most fluffy and the most adorable. Horseback riding in the snow on a friendly and hairy Icelandic horse is a unique experience you will never forget and it's something the whole family can enjoy together but is equally as fun to do as a solo traveler.
December is the coldest time in Iceland the ice caves are the most stable. The caves are absolutely stunning and you have a few options you can choose from. Read the All about Ice cave blog for some more info on Ice cave tours.

Photo by Damian Moore 
Þingvellir national park a historic paradise, Gullfoss waterfall king and the infamous Geysir are explored all before soaking in the oldest swimming pool in Iceland surrounded by natural hot springs and steam. The perfect day in Iceland.
Driving in December in Iceland
Get ready for some serious ice action. IF you have driven in icy conditions before you will be just fine but if you haven't I strongly recommend going for a guided tour where an experienced guide will leave you to worry less.
Inside the city, it's easier, less slippery but once you are out of the city you will find ice on roads, much snow and add darkness to it and you are in for a challenge.
Driving on your own in Iceland in winter is only for the brave-hearted.
More about driving in Iceland.
Can you see the Northern Lights in December in Iceland?
Yes, December is the darkest month in Iceland, with only a few hours of daylight. This means that you have a very good chance of seeing the Northern Lights during your holiday visit. Join a Northern Lights tour for the best chance of spotting them!
Where can you see the Northern Lights in December?
You have a chance to catch the Northern Lights all over Iceland, even downtown Reykjavik. The best places to glimpse them are outside the capital, away from the city lights. Book a Northern Lights tour and join our local guides who know the secret spots and best places to see the Northern Lights.
Related blogs
New Year is an incredibly popular time to come to Iceland. Reykjavík is one of the most amazing places to spend New Year, this little city on the edge of the Arctic knows how to celebrate big time! See in the New Year with the most stupendous firework show - glittering fire bursts reaching out across the sky. By day you explore the incredible winter landscapes and enjoy incredible winter adventures and in the night Fireworks or Northern Lights!
December 5, 2017 , By Kay
Christmas is a magical time spent with friends and family and often involves a lot of eating. Iceland isn't a very religious country but we love the traditions and have a ton of them and many of them are easy for you to join in on over this merry time! Let's do Christmas Iceland style!
December 6, 2017 , By Ragnheidur
On the morning of the 12th of December, Icelandic children will wake up with a smile on their face and butterflies in their bellies, the reason? Yule Lads or like we like to call them in Icelandic Jólasveinar! And not only are there 13 of them, but there is also Grýla (their mum), Leppalúði (the dad) and - the Christmas cat!
December 11, 2018 , By Ragnheidur
Icelanders are an interesting nation. We were isolated here on this island of ice and fire away from everyone else for a very long time and sometimes I think we didn't fully get the memo when things went out of style or weren't the right way to behave anymore. Here I will go over the super Icelandic cultural things that still exist here!
July 18, 2017 , By Ragnheidur