Dimmuborgir is a jagged lava field east of the Mývatn area packed with sky-high rock pillars and lava caves. The dramatic expanse formed in a volcanic eruption 2300 years ago. Today it stands still creating an opportunity for moss and other durable vegetation to flourish. Some of the caves in the area are large enough to fit several humans which is where the name comes from, Tiny Dark Castles. The area is located right off the famous Ring Road so it is an easy stop to add to your adventure in Iceland.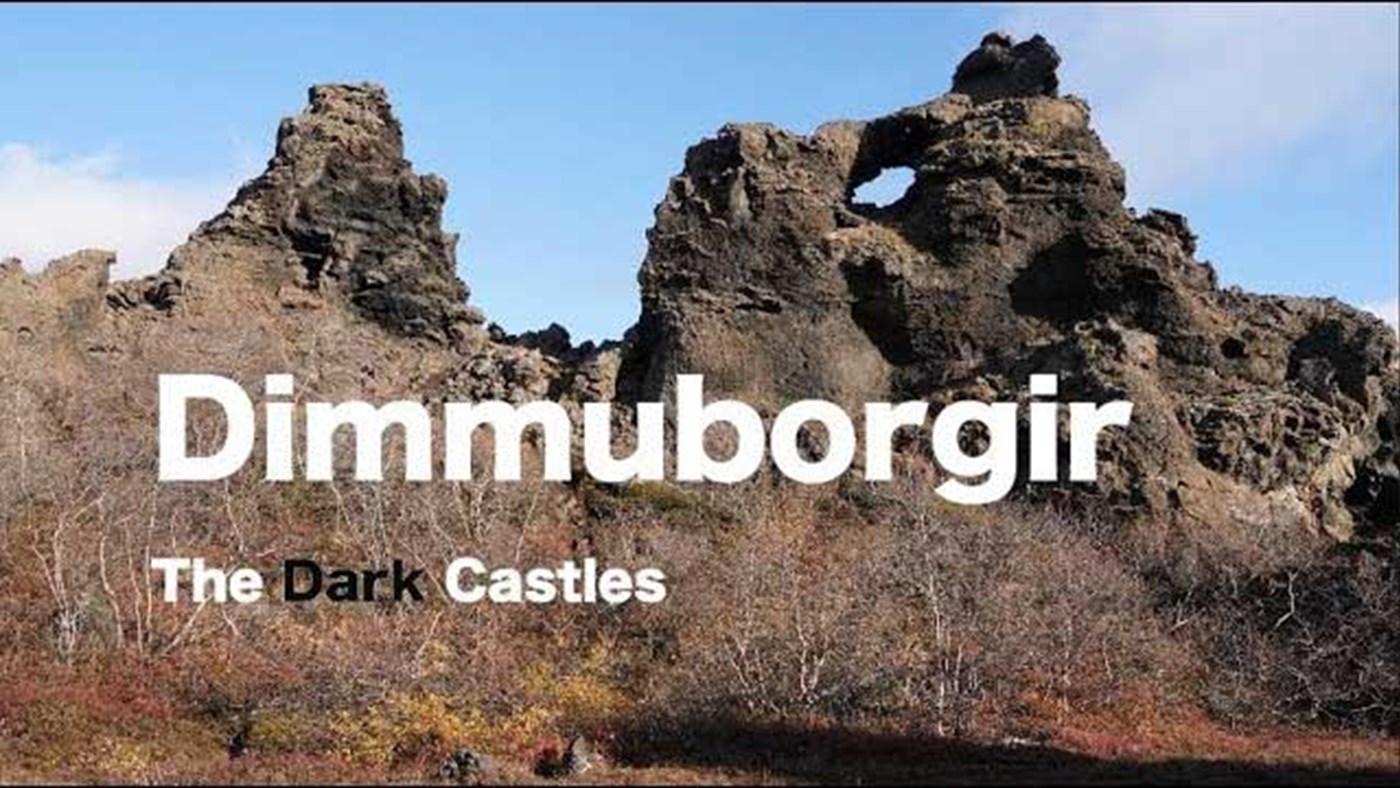 Dimmuborgir is truly an enchanting place with endless different ways to go about exploring it. The area is somewhat round with about a 2 km radius. It's tallest at the center where the rock formations rise up 20 m above the surrounding terrain. The rough landscape and unusual lava pillars and compositions set the scene for some magical moments for those who visit and a stop is greatly advised while exploring the North of Iceland.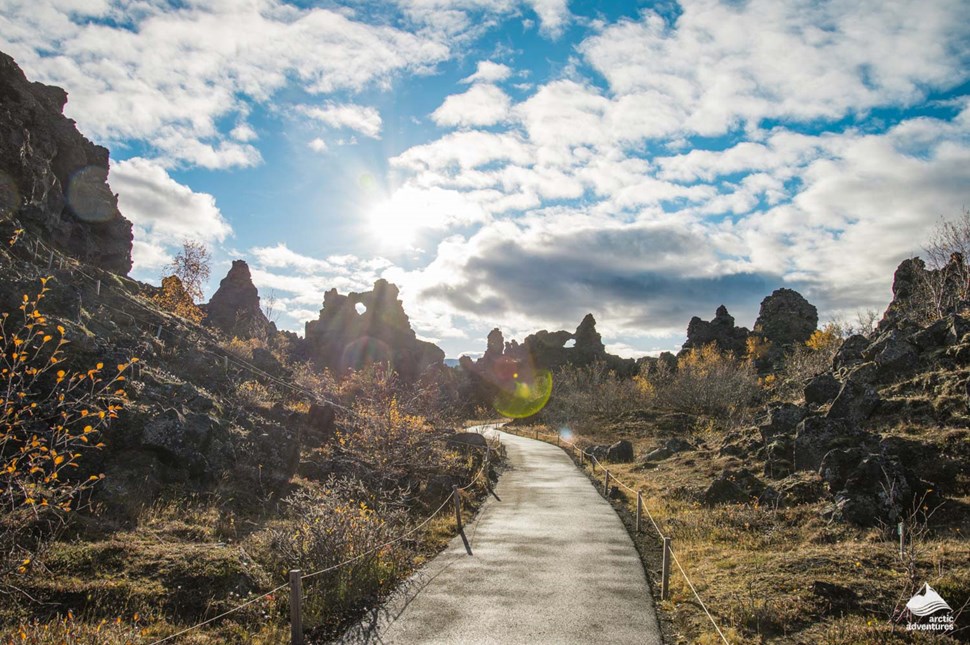 There is a great deal of Icelandic folklore that surrounds Dimmuborgir and some even say that the Icelandic Yule Lads (the Icelandic Santa Clauses, 13 in total) live in the area. In Nordic folklore, you can find tales of the dark lord in the area but this is believed to be the place where Satan landed when he was cast from heaven turning it into the catacombs of hell. This might have to do with the dark array of colors of the place.
Dimmuborgir's Unique Geology
About 2,300 years ago an eruption began in the Þrenglsborgir and Lúdentsborgir crater rows. That is the biggest eruption known to have occurred in the Mývatn area since the last ice age.
The volcanic ravine was 12 km (7,45 mi) long and had an even longer side crack which was about 5 km (3,2 mi) west. All together the open ravine in the ground that the eruption came from was 16,5 km (10,2 mi).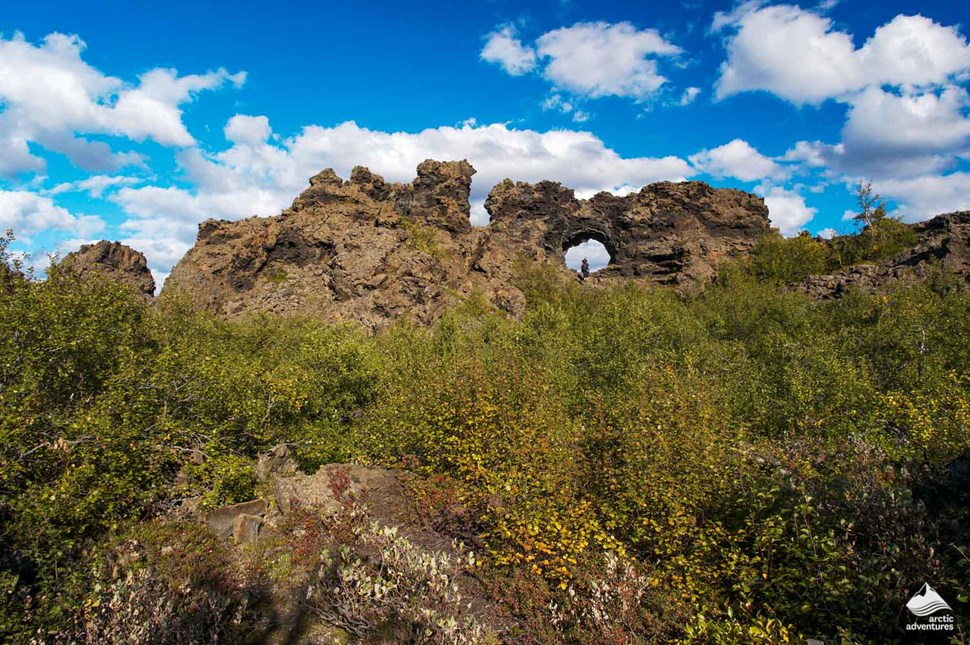 When the lava flowed down from the ravine it started reaching over a pre-existing lake that sat in the area. When this happened, the water and the wet terrain around it started to boil. This collision of extremes caused vapor to rise through the lava which formed lava pillars. As the lava continued to flow a part of the top crust collapsed but the area of Dimmuborgir remained partially intact. This is why the area you can visit today has so many different levels.
Dimmuborgir is distinguished by large yet hollow lava chambers that formed around the bubbles of the vapor and the towering rock pillars. These rock formations combined make up the most enchanting scene. Some lava pillars are only the height of a foot but others seek many meters into the sky.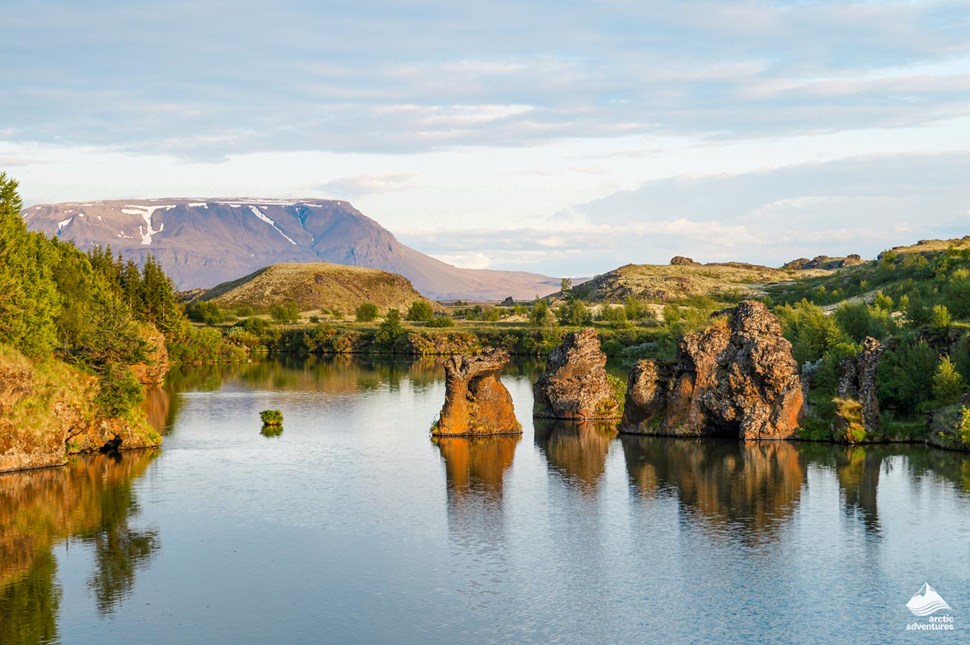 The lava field that formed was named Laxárhraun yngra or Salmon River Lava Field the Younger and was believed to cover about 220 sq km. This is the same lava that forms the bottom of Lake Myvatn. The field is covered with pseudocraters which are found all around Dimmuborgir and Myvatn down to Aðaldalur Valley.
Fun Facts about Dimmuborgir
There is a very famous Norwegian Black Metal Band called Dimmu Borgir, it will likely come up if you google the place

Lava formations such as the ones found at Dimmuborgir aren't found anywhere else in the world except at the bottom of the ocean offshore Mexico

Some say that the Icelandic Yule Lads live in the area

Nordic Christian lore tells tales of Satan being thrown from heaven and landing in Dimmuborgir and thereby creating the catacombs you see today

The famous television series Game of Thrones was filmed in Dimmuborgir
Where is Dimmuborgir?
GPS Coordinates: 65° 35′ 25″ N, 16° 53′ 58″ W
Dimmuborgir is located right under the black sand mountain Hverfjall within the powerful Mývatn geothermal area. The distance from Egilsstaðir is about 170 km (105,6 mi), from Akureyri about 82,3 km (51,1 mi) and from Reykjavík 470 km (292 mi).
How to get to Dimmuborgir?
Dimmuborgir can easily be reached, especially in summer. You can join a multi-day tour around Iceland or you can simply get your own rental car and drive there yourself. 
Driving from Reykjavik to Dimmuborgir will take about 6 hours but is not recommend to do in one go. There is simply far too much to see. Drive out from the city heading north following Route 1. Through the Hvalfjarðargögn tunnel and into the birch region of Borgarfjörður. Continue up and down heaths and into Húnavatnssýsla, the region famous for being a seal colony. Next up is the capital of the Icelandic Horse, Skagafjörður. Continue further east on the Ring Road. Drive into Akureyri, the capital of the North, and onwards towards Mývatn. Soon you will start to see the moon-like terrain and you are there!
Driving from Akureyri to Dimmuborgir will only take a little over an hour and is certainly a recommended stop while staying at Akureyri.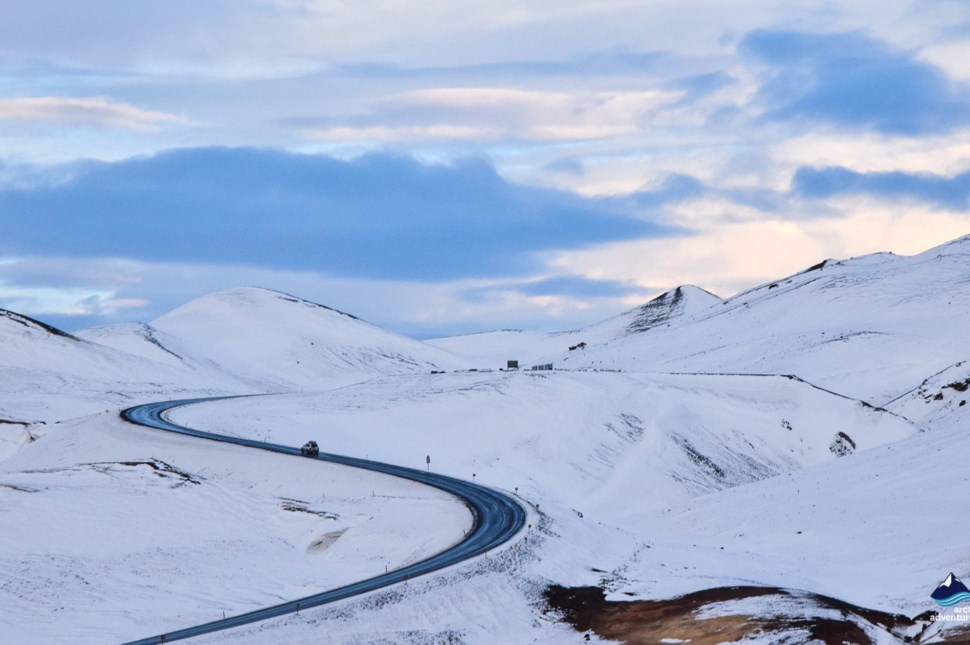 What to do at Dimmuborgir?
Hike around

 – really roam around Dimmuborgir, the area has so many different angles and sights to behold. Take it all in!

Read up on the signs 

– there is so much to learn and to discover and you'll enjoy the area so much better once you know what you are looking at. Read up!

Visit the surrounding Mývatn attractions

 – the area of Mývatn North Iceland is a paradise for those looking to experience the true magic of Iceland's geothermal energy. Don't miss it!
Where to eat near Dimmuborgir?
Kaffi Borgir

– the café on sight, the perfect spot for some warm coffee and delicious soups and cakes. They also have a fantastic gift shop worth checking out.

Vogafjós Farm Resort

 – fresh homemade food made from local ingredients. Simply yummy!

Daddi's Pizza

– a great variety of pizzas and friendly staff who really cater to their customers' needs. A good price and great value.
Where to stay near Dimmuborgir in Iceland?
Hotels
Hotel Mývatn

Hotel Gígur by Keahotels

Icelandair Hotel Myvatn

Laxá Hotel
Dimmuborgir Guesthouses, B&Bs, and Farmstays
Camping near Dimmuborgir
There are two different camping grounds near Dimmuborgir: Hlíð and Bjarg.
Hlíð camping ground is located on the north side of lake Mývatn, right by the village of  Reykjahlid and only 5 minutes walk away from the tourist information center.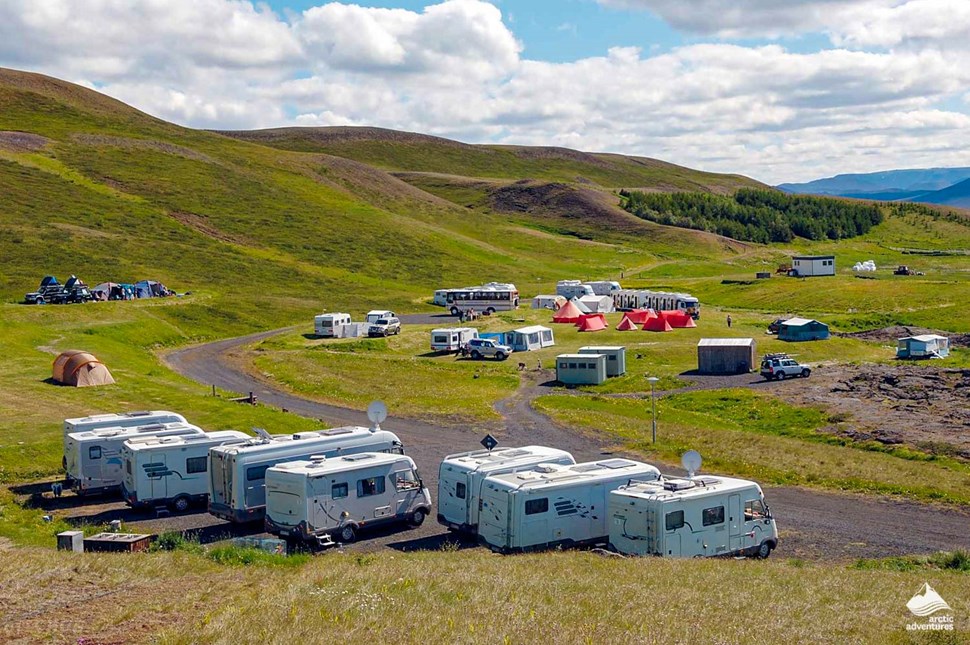 Open: All Year Round
Price: Adult (16+) per night 2000 ISK
Services on site:
Toilets
Showers
Running hot and cold water
Electricity (700 ISK)
Laundry Service
Cooking Tent
Playground
Bjarg camping ground is smaller but has a stunning view over the lake and all the basic services you might need.
Open: 1st of May to the 20th of September
Price: Adult (16+) per night 2000 ISK
Services on site:
Toilets
Showers
Running hot and cold water
Electricity (1000 ISK)
Cooking facilities
Laundry Service
Hiking Trails
Bike Rental
Souvenir Shop
Game of Thrones filmed in Dimmuborgir
The world-renowned TV series has been filmed all around Iceland but a memorable scene of the HBO series was filmed in Dimmuborgir. This is the scene where Mance Rayder's wildlings army camp was built in season three, episode 5: 'Kissed by Fire' and where Ygritte stole John's sword and lures him into a hidden cave.
The team had to take on extreme circumstances while filming as temperatures went down to about -11°C so if you are planning on visiting in winter bring warm clothes!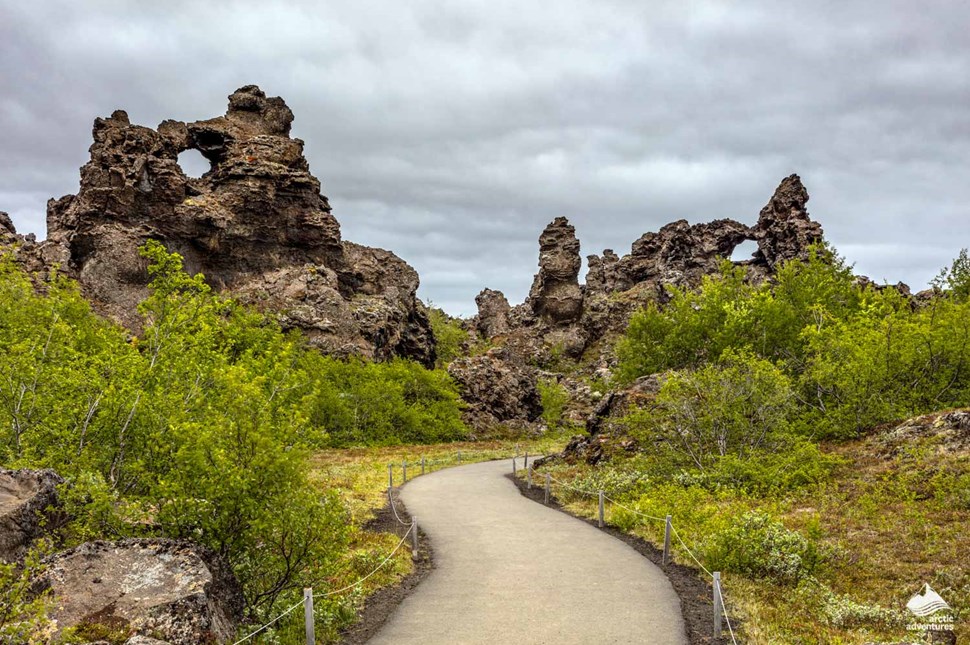 Dimmuborgir in Winter
Dimmuborgir is an extraordinary place to visit in winter, and for all you GOT fans, it's the perfect time to experience the area in the same way as in the show. But keep in mind that it can be quite challenging getting there. The roads can get slippery, and so do the trails and rocks, so be extra careful and mindful of the road conditions.
Interesting places near Dimmuborgir
Mt. Hverfjall

Reykjahlíð

Stóragjá Cave

The Bird Museum – Fuglasafn Sigurgeirs

Lofthellir Cave

Askja

 and Víti

Krafla

Skútustaðagígar Pseudo Craters

Hljóðaklettar

Akureyri