Krafla is a large volcanic system in North Iceland. The epicenter of the system is the Krafla caldera, an enormous explosion crater. The caldera is surrounded by a surreal landscape of bubbling mud pots and fumaroles.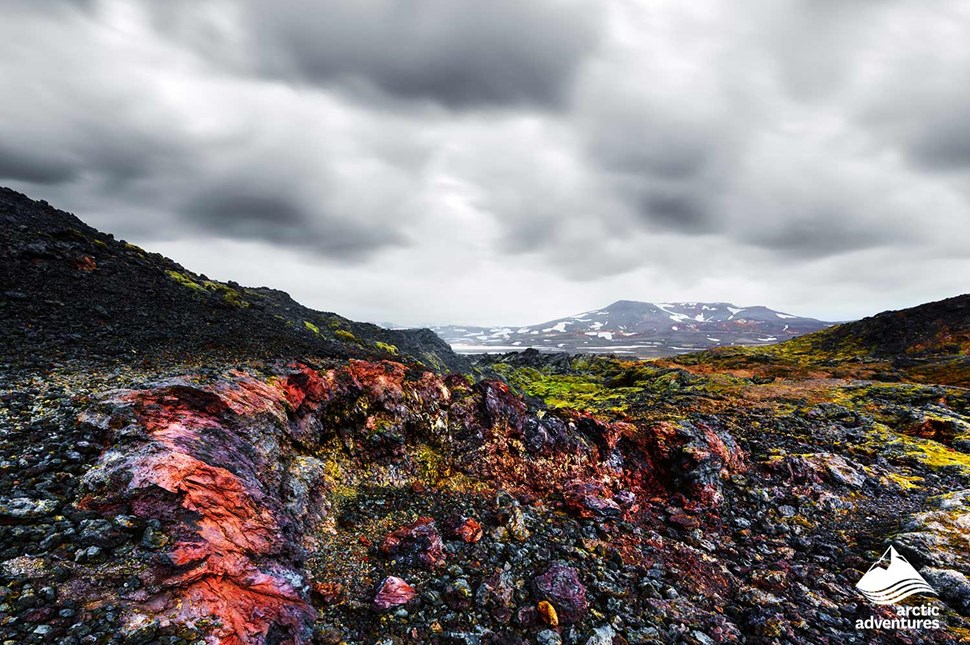 Within the caldera floats the turquoise Viti Crater. The peculiar green lake looks like a giant eye peering out of the ground. The Krafla volcano peak looms over the area, standing 2685 feet above the ground. The volcano is notorious for its violent eruptions and has blown its top 29 times in the last 1200 years.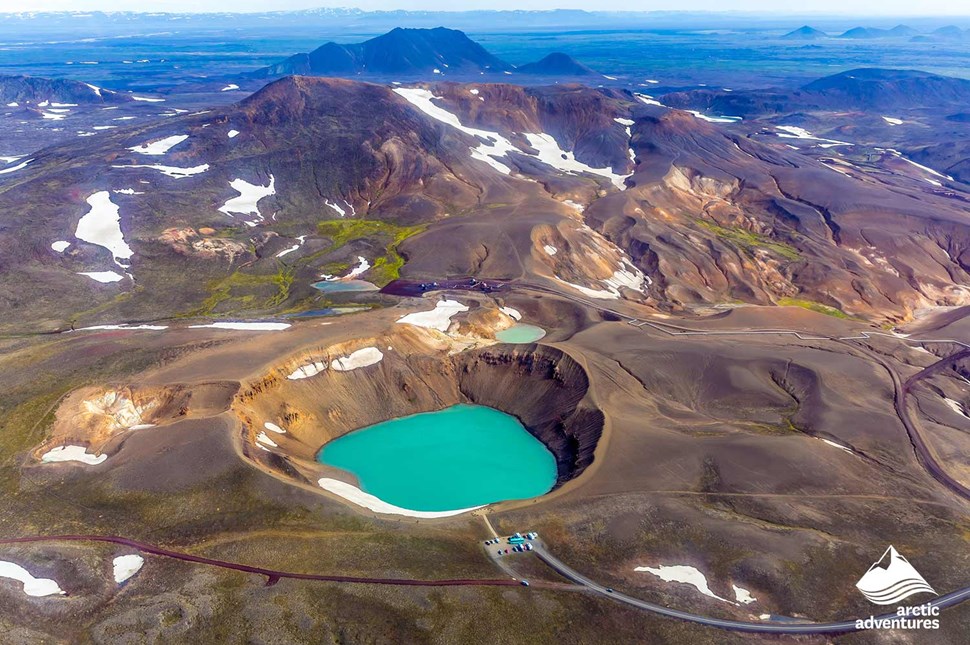 Where is Krafla?
Krafla is located to the north of Lake Mývatn in North Iceland. It's 300 miles (485km) from Reykjavik and 60 miles (98km) from Akureyri, the Capital of the North. Nearby places of interest include the whale watching hub of Húsavík (45 miles/68km) and the Mývatn Nature Baths (14miles/24km).
Eruptions at Krafla
Krafla has erupted 29 times since Iceland was first settled in the ninth century. The most famous of these eruptions, the Mývatn Fires, occurred between 1724 and 1729. The huge lava streams shot up so high that they could be seen on the other side of the country! Nobody died in the Mývatn Fires, but the toxic fumes destroyed nearby farms. 
Another series of Krafla fires flamed between 1975 and 1984. A total of nine eruptions occurred during this time. The lava flow damaged tourism and farming in North Iceland for several years. Even today, the landscape of North Iceland is altered because of these eruptions.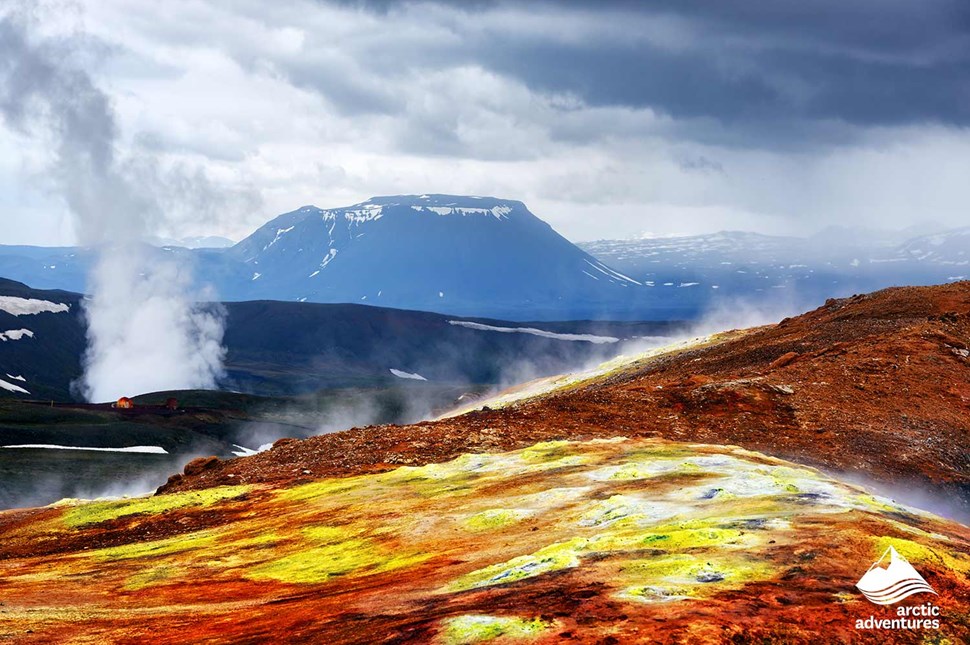 Green Energy at Krafla
Iceland is described as the greenest country in the world because of its ability to create green energy from geothermal forces. 
Krafla has played a vital role in making Iceland green. The active volcanic system powers many towns in North Iceland. The first geothermal power station was built in 1977 and the most recent power plant was built in 2006.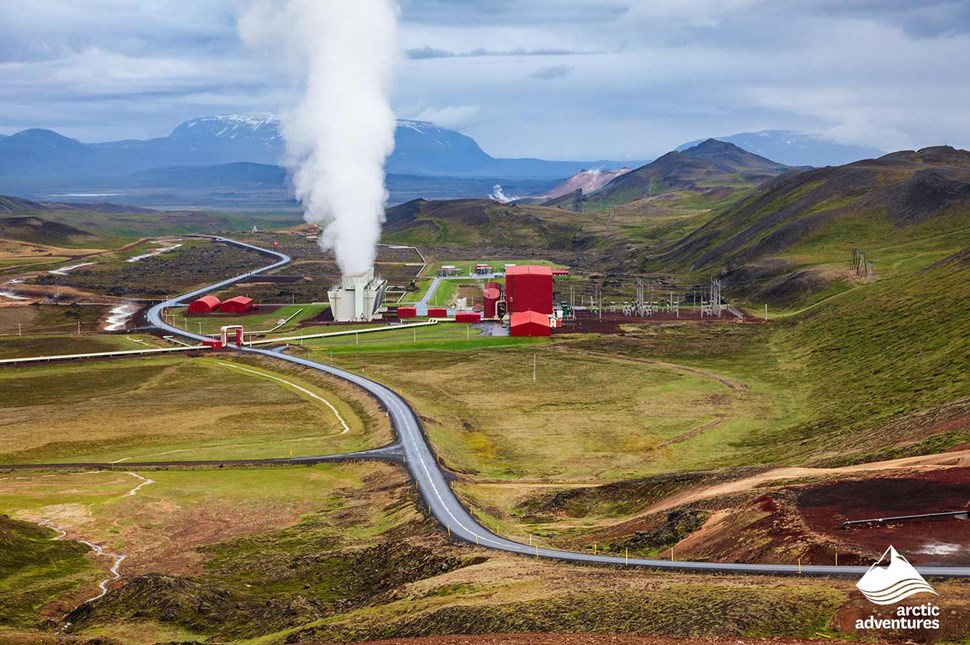 What to Do at Krafla
Walk the 30-minute trail around

Víti

Crater Lake. The path leads to a hot spring.

Marvel at the Krafla Power Station. The first power plant in Krafla is open to visitors and even has a visitor's center where you can learn more about Iceland's geothermal energy. The futuristic architecture and electric blue plumes of the station look like they're right out of a sci-fi movie. The power station is only open in summer. 

Take the short hike to Leirhnjúkur Lava Field, which is located within the Krafla Lava Fields. This is the best place in the Mývatn Area to appreciate North Iceland's colossal geothermal power. Get lost in a world of magma-covered fields, moonlike terrain, and bubbling mud pots.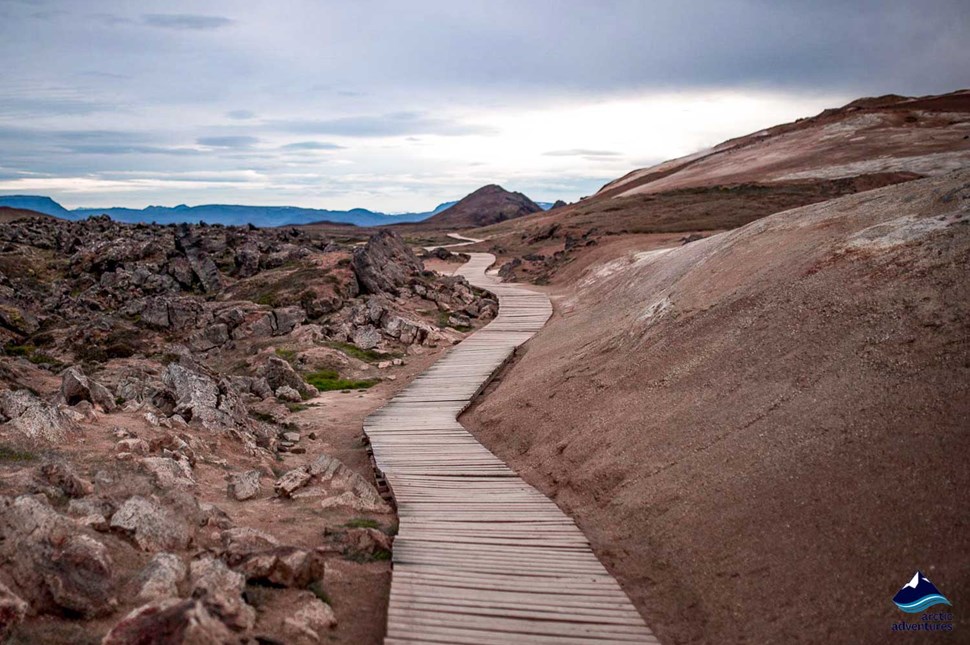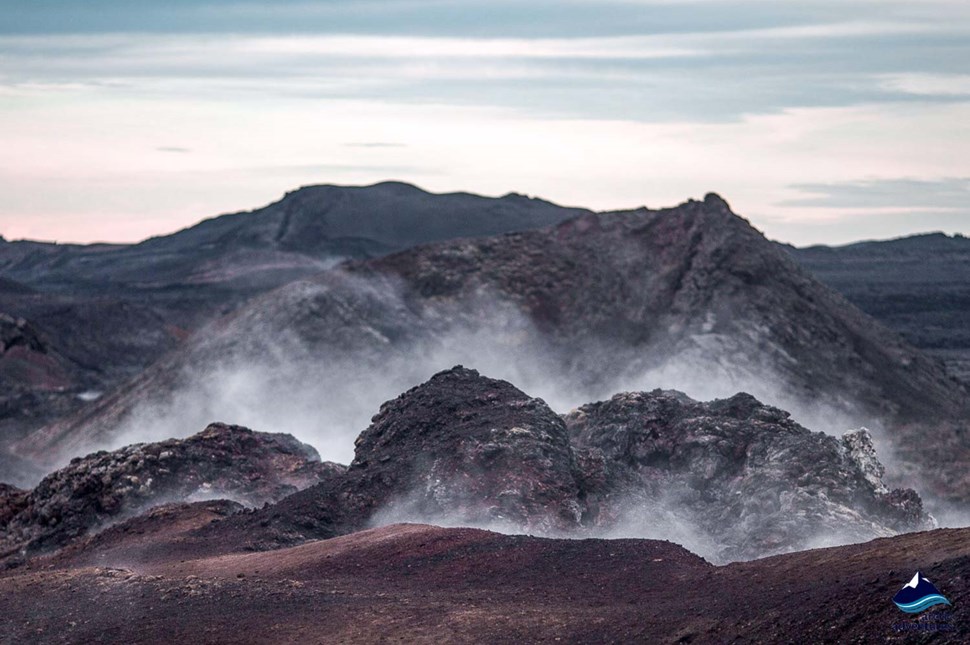 How to Get to Krafla
Reykjavik to Krafla
The quickest way to get to Krafla is to fly. The flight from Reykjavik to Akureyri is 45 minutes. You'll then need to drive one and a half hours to Krafla. Flights are run by Air Iceland Connect and depart from Reykjavik Airport. 
You can also take the 57 bus from Reykjavik to Akureyri for seven hours and then drive from Akureyri to Krafla. Finally, you can make drive 300 miles clockwise around the Ring Road from Reykjavik to Akureyri (7 hours and 30 minutes).
Akureyri to Krafla
From Akureyri, take the Ring Road clockwise for an hour and a half until you see signs for Krafla. Then take the road on your left until you reach your destination.
Lake Myvatn to Krafla
The drive from Lake Myvatn to Krafla is only 25 minutes. From Mývatn, take the Ring Road until you reach the Krafla turn off. Then turn left and continue 8 kilometers until you reach your destination.
Places to Eat Near Krafla
The nearby Lake Mývatn area is home to many excellent eateries.
Vogafjos Cowshed Café – A cozy café serving modern takes on European cuisine.
Kaffi Borgir – A trendy café serving European and Icelandic cuisine. This eatery is perfect for hungry travelers on a budget.
Daddi's Pizza – A simple pizzeria offering great value, quick service, and tasty food.
Gamli Bistro – A popular bistro known for its lamb chops.
Café Kvika – A great little café located in the famous Myvatn Nature Baths. This café offers delicious food and great views.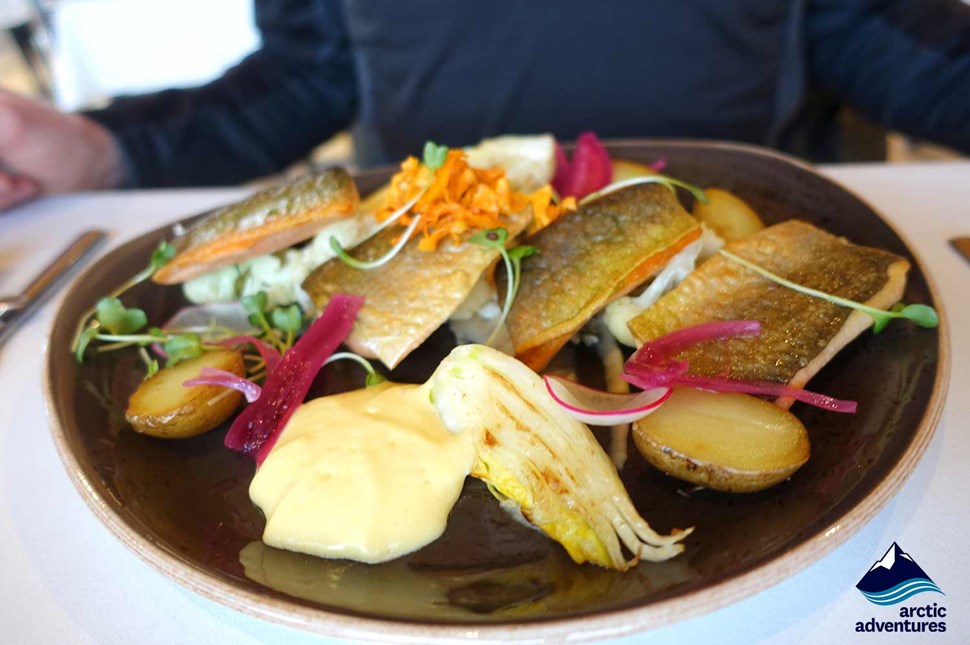 Places to Stay Near Krafla
The hotels near Lake Mývatn have stunning views and easy access to Krafla.
Fosshotel Mývatn – An excellent 4-star hotel overlooking Lake Mývatn. 
Vogafjos Farm Resort – A relaxed family-run hotel on the site of a former farm. The resort combines stunning views and good facilities.
Dimmuborgir Guesthouse – A remote 3-star guesthouse with basic facilities and scenic views.
Vogar Farm Guesthouse – A simple 2-star hotel with excellent value for travelers on a budget.
Helluhraun 13 – A simple three-star hotel that is in an excellent location for sightseeing.
Camping Mývatn – A popular campground close to Lake Mývatn. Visitors have access to  showers, Wi-Fi, and all other needed facilities.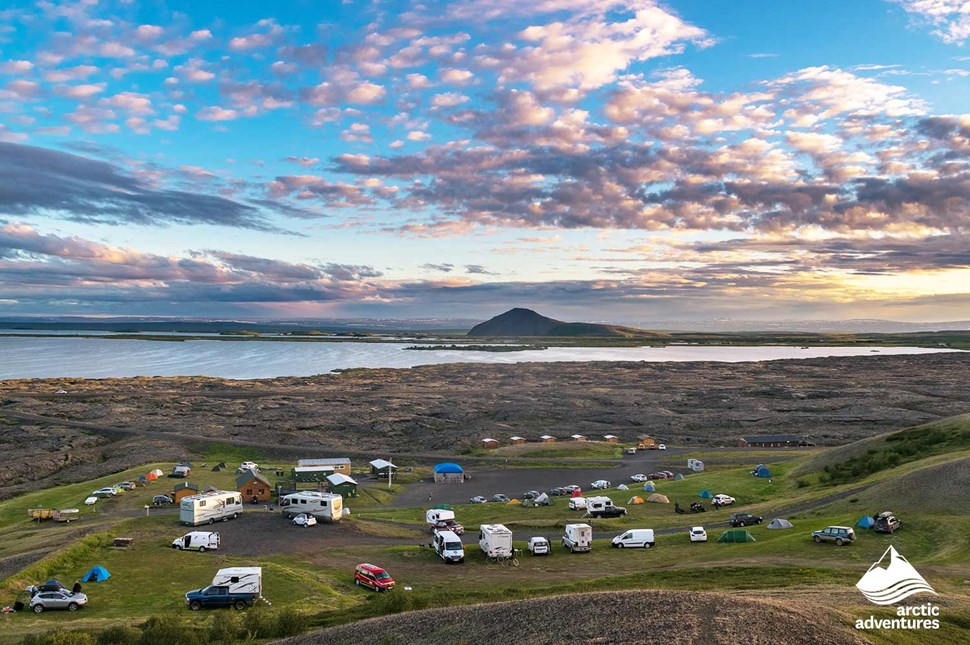 Krafla in Winter
Under layers of winter snow, the Krafla lava fields are one of the most stunning sights in Iceland. Visiting Krafla in winter is doable but you should take extra care with road conditions and walking paths. Drive carefully, give yourself plenty of time on the road, and be sure to have chains on your tires.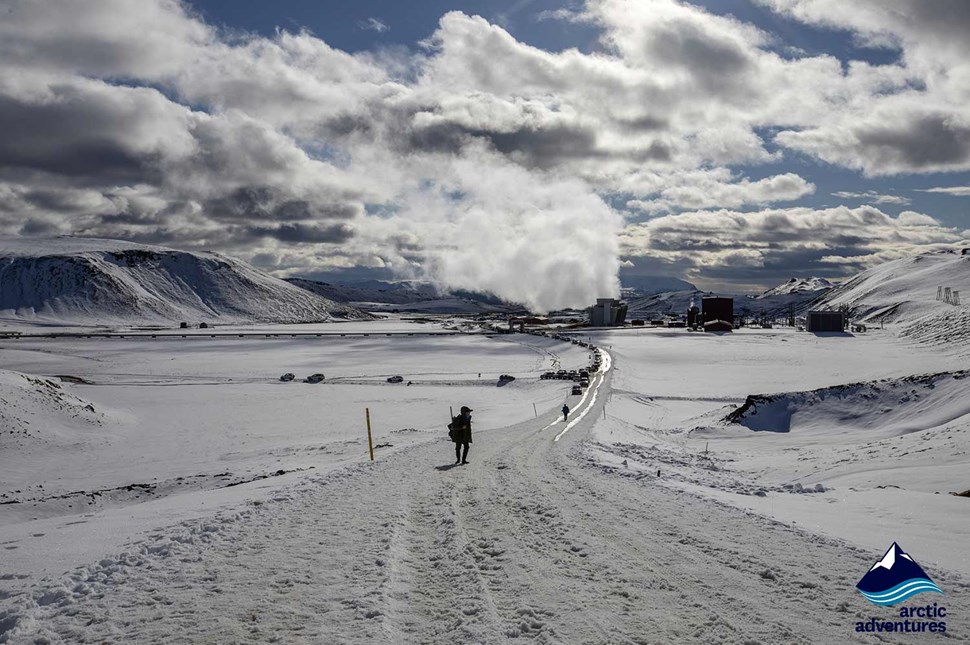 Krafla in Summer
Summer is a beautiful and easy time to visit all of Iceland's best sites, and Krafla is no exception. Road conditions are clear and you'll be able to hike through the lava fields with ease. See Víti Crater Lake wink under the Midnight Sun. 
Notable Attractions near Krafla
The Krafla geothermal area is close to the North Iceland's best attractions. 
Lake Mývatn – This remarkable geothermal lake is surrounded by some of the most spectacular scenery in the country. Take a soak in the Mývatn Nature Baths, North Iceland's version of the Blue Lagoon.
Goðafoss Waterfall – The name of this famous waterfall means "waterfall of the gods." Urban legend says that in 1000 AD, the Lawspeaker of the Parliament marked Iceland's conversion to Christianity by throwing his pagan statues into the falls. 
Grjotagja Cave – This stunning geothermal cave played a starring role in Game of Thrones.
Dimmuborgir – Known as the Black Fortress, this lava field resembles the ruins of an ancient civilization. The lava sculptures are among the best in the land of fire and ice.
Húsavík – Some of Iceland's best whale watching tours depart from this coastal village. 
Selfoss – This stunning waterfall in Northeast Iceland is a hidden gem. 
Akureyri – The Capital of the North is renowned for its cultural scene and captivating scenery. 
Dettifoss – Also known as The Beast, Dettifoss is the most forceful waterfall in Iceland. The incredible power of its roaring cascade is one of the country's most dramatic spectacles.