Around 11 % of Iceland's area is covered by glaciers, which makes it a perfect destination to explore them. It is home to 269 glaciers of different types, such as ice caps, ice fields, piedmont and cirque glaciers, and more. Read on to learn more about glaciers in Iceland or book one of the glacier tours to see them with your own eyes!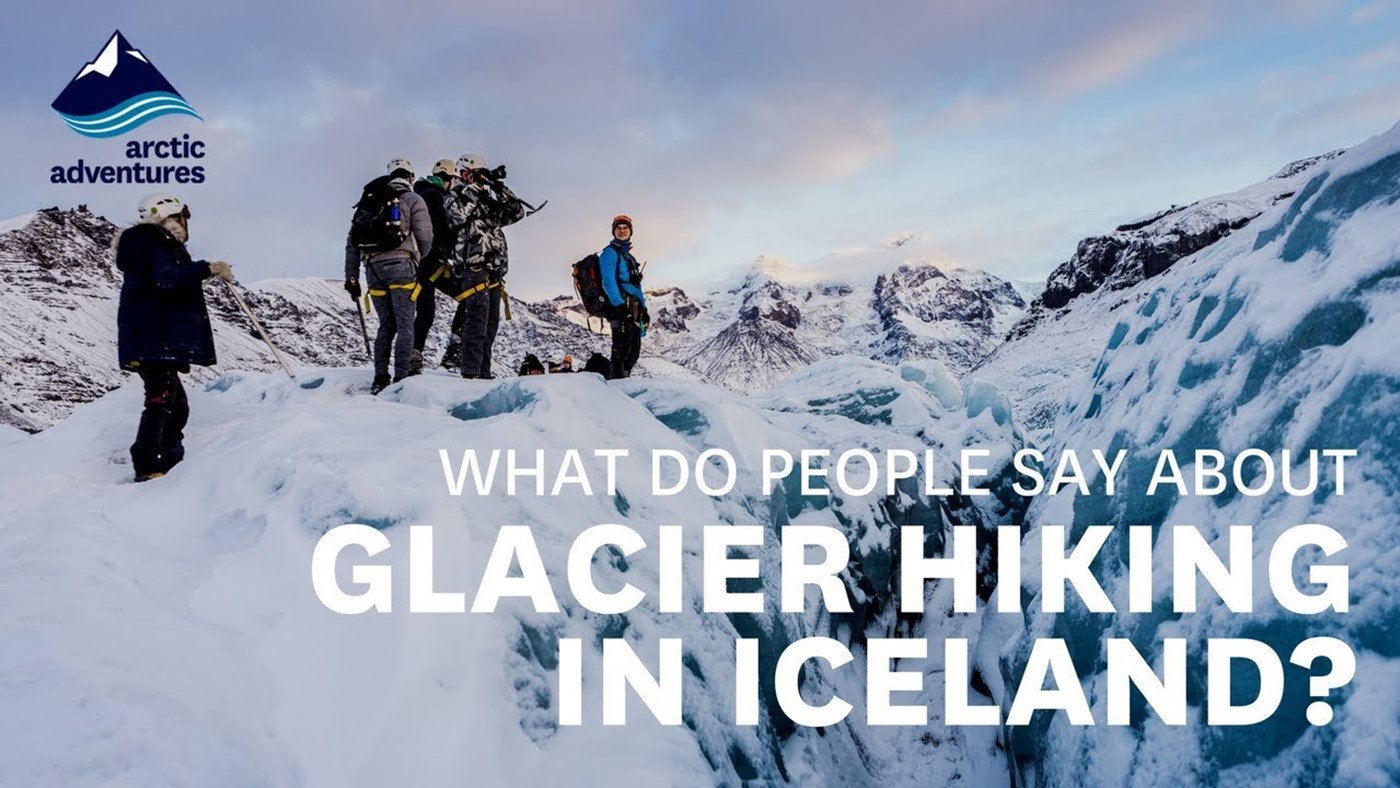 DO GLACIERS IN ICELAND MOVE?
Yes, but extremely slowly. While you might think of glaciers as a block of ice, their geology is a bit more complex than that. Ice caps are made up of fallen snow that has been compressed over many years (often centuries) into a thick and persistent body of extremely dense ice. Due to gravitational forces, the ice "reforms" or changes constantly.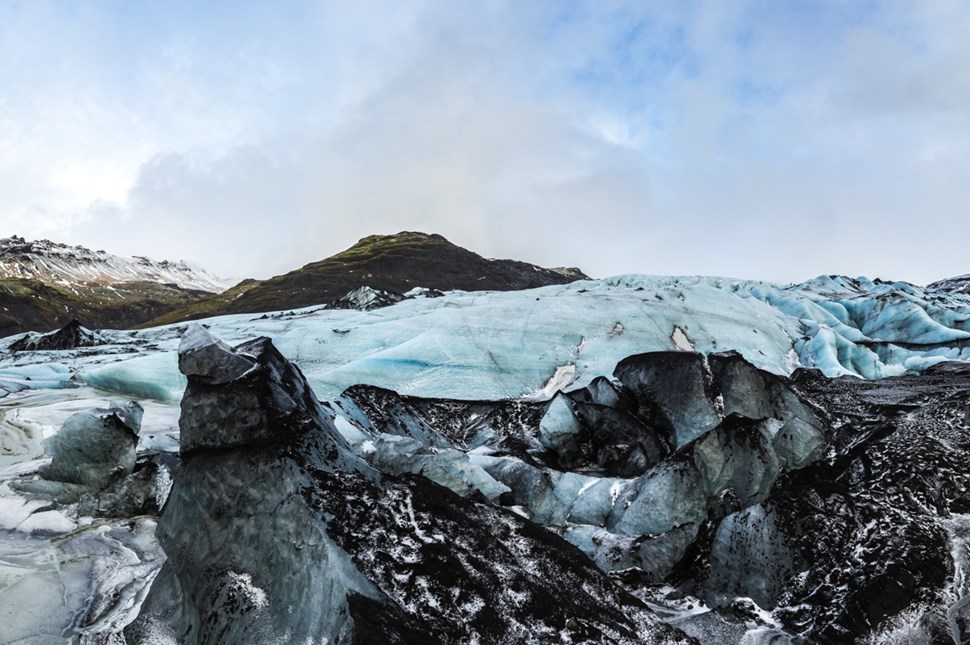 The speed of a glacier's movement highly depends on the ice thickness, basal sentiment properties, surface slope, temperature of the ice, and, finally, weather and season. The summer season velocity is often higher than winter, causing bigger glacier outlets to move as fast as 1 meter per day. But usually, the movements are extremely slow and unnoticeable to the casual observer. Now you know why we say "glacial pace" to describe anything ultra slow!
How Much Land Do Glaciers in Iceland Cover?
Glaciers cover about 11% of Iceland's land mass and about 1/10th of the dry land on Earth. Iceland is home to 269 named glaciers, most of which come in various shapes and sizes. The largest ice cap in the country, Vatnajokull, holds the title of Europe's largest glacier, covering an area of around 7,900 sq. km, about three times the size of Luxembourg.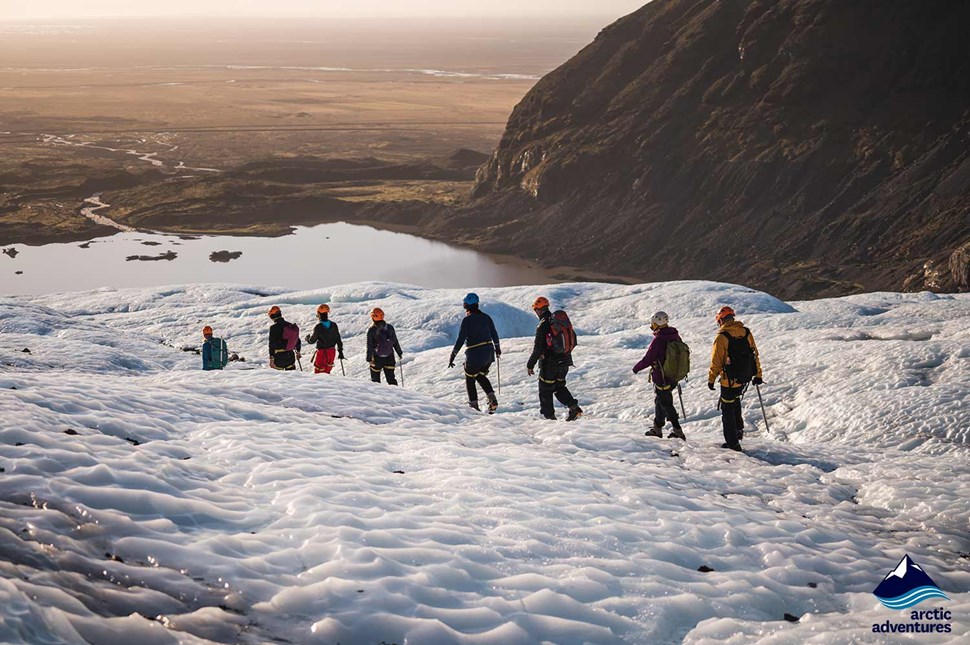 HOW DID GLACIERS FORM IN ICELAND?
For such a stunning natural attraction, glaciers are created in a surprisingly straightforward way. The simplest explanation for how glaciers are formed is through a decade-long process of accumulation and compression of snow. It occurs in conditions where snow falls in the same spot year-round, causing the layers of snow layers to become tightly packed. 
The compression then forces the snow to re-crystallize and form into "grains". If you're thinking of sugar, you're on the right track: They are similar in size and appearance to sugar grains. With time, these grains will enlarge and the air pockets between them will get smaller. This causes the snow to slowly compact and the density increases.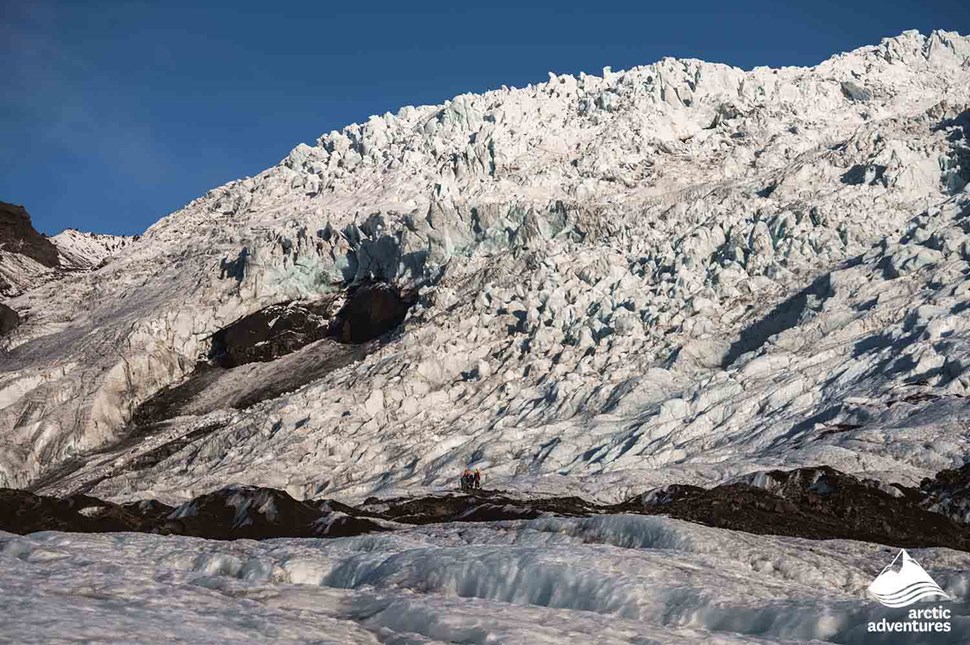 After about two years, the snow will have turned into "firn". This is the state between snow and glacier ice. Firn is about two-thirds as dense as water. The density will then continue to increase as, over time, the larger ice crystals become even more compressed, causing the air pockets to get even smaller.
WHAT ARE THE DIFFERENT TYPES OF GLACIERS IN ICELAND?
You might imagine glaciers as monolithic blocks of ice, but part of their beauty comes from their distinct features. Glaciers are as unique as the snowflakes they are made from and appear in a variety of shapes, sizes, and colors. Understanding the individual qualities of a glacier can offer greater insight into its geology and history!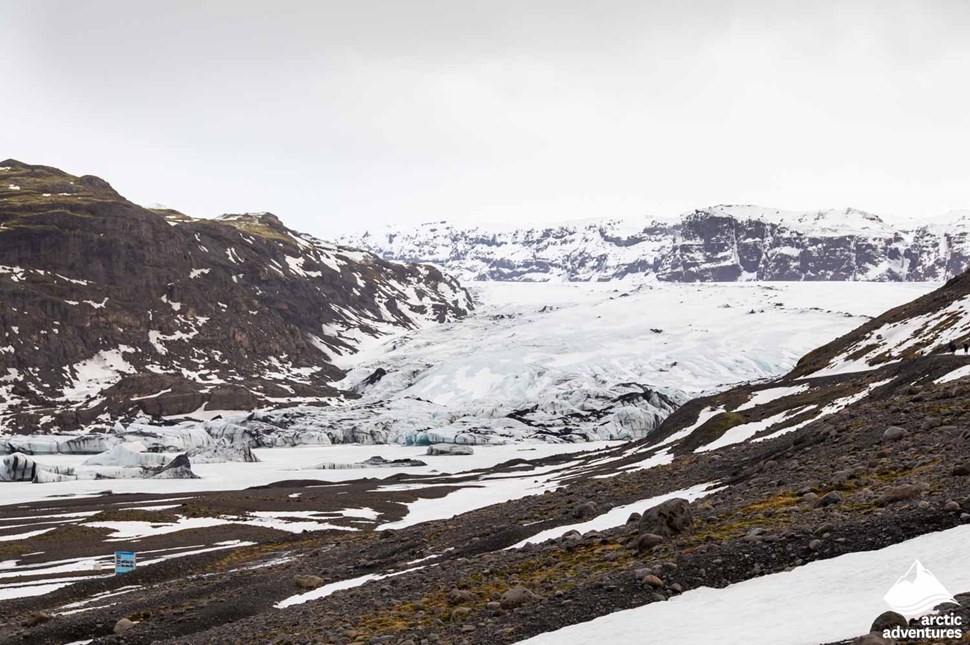 MOUNTAIN GLACIERS
As their name suggests, these glaciers develop in high mountain regions. They often flow out of ice fields that can span over several peaks or even across a whole mountain range. As you might imagine, they're particularly awe-inspiring!
Examples of mountain glaciers in Iceland:
Eiríksjökull - is located in the northeastern part of Iceland, right in the middle of the Hallmundarhraun lava field. The Eiríksjökull glacier forms Iceland's biggest table mountain with a glacier shield. Climbing the Eiríksjökull creates a real challenge even for experienced hikers.
VALLEY GLACIERS
Glaciers are often compared to rivers, and they are an especially apt reference to valley glaciers. These bodies of ice glide down valleys and can stretch for hundreds of miles. Some locals describe their shape as tongue-like as they twist and turn their way down the valley.
Valley glaciers can flow down beyond the snow line and sometimes even reach sea level. When one flows far enough to reach the ocean, it's often called a "tidewater glacier." These can then become the origin of icebergs at sea, where they can continue their journey for centuries under the right conditions.
Examples of valley glaciers in Iceland:
Sólheimajökull - this glacier, located in the southern part of Iceland, is an outlet of the Mýrdalsjökull Glacier and is easily accessible by Ring Road from Reykjavik. It is situated only 2 hours from the country's capital near the town of Vik. The most popular activities on the Sólheimajökull are glacier hiking and ice climbing.

Svínafellsjökull - this glacier, located in the southeast of Iceland, is one of the most popular glaciers in Iceland. Svínafellsjökull glacier offers a unique hiking experience. The glacier's covering the area of 10.8 sq km (4.2 sq mi) face the effect of global warming and is constantly retreating and getting smaller. Fun fact - the contrasting landscape of the Svínafellsjökull glacier was featured in the popular HBO series Game of Thrones, as well as blockbuster movies Interstellar and Batman Begins!

Falljökull - the Falljökull, or "Falling" glacier, is situated in the eastern part of Iceland. It is a popular hiking destination with very steep inclines, offering an adrenaline-boosting activity for experienced hikers.

Hoffellsjökull - the Hoffellsjökull glacier is located in the southeastern part of Iceland. It covers an area of 924.8 sq km (357.1 sq mi) and is constantly retreating. Throughout the 20th century, the Hoffellsjökull glacier was comprehensively researched by glaciologists.

Fláajökull - the Fláajökull glacier, located in the southeast part of Iceland, is an outlet of the Vatnajökull glacier. The Fláajökull glacier is popular for hiking even though it is gradually receding.

Dyngjujökull - Dyngjujökull glacier is located in the northeast part of Iceland and is best known for its seismic activity. Its name translates to "shield volcano glacier," and there have been speculations in 2014 that an eruption may occur below the glacier's surface.

Skeiðarárjökull - Skeiðarárjökull glacier is an outlet glacier on the southern part of the Vatnajökull ice cap. The glacier is quite big, but like the other glacier in Iceland, it's been impacted by global warming and has retreated rapidly over the last few decades.

Morsarjokull - Morsarjokull glacier, located in the east of Iceland, is an outlet of the Vatnajökull glacier. Morsarjokull glacier is especially famous for its glacier lagoon, Morsárlón, and the highest waterfall in Iceland at 240 meters, Morsárfoss. Morsarjokull glacier is rapidly retreating and has a high risk of avalanches.
PIEDMONT GLACIERS
Piedmont glaciers are the glaciers that spill into quite flat plains from steep valleys, then spread into bulb-like lobes. They are formed when ice streams down a steep valley and runs out into a flat plain. Some piedmont glaciers are remarkably symmetrical, and it's truly a sight to behold.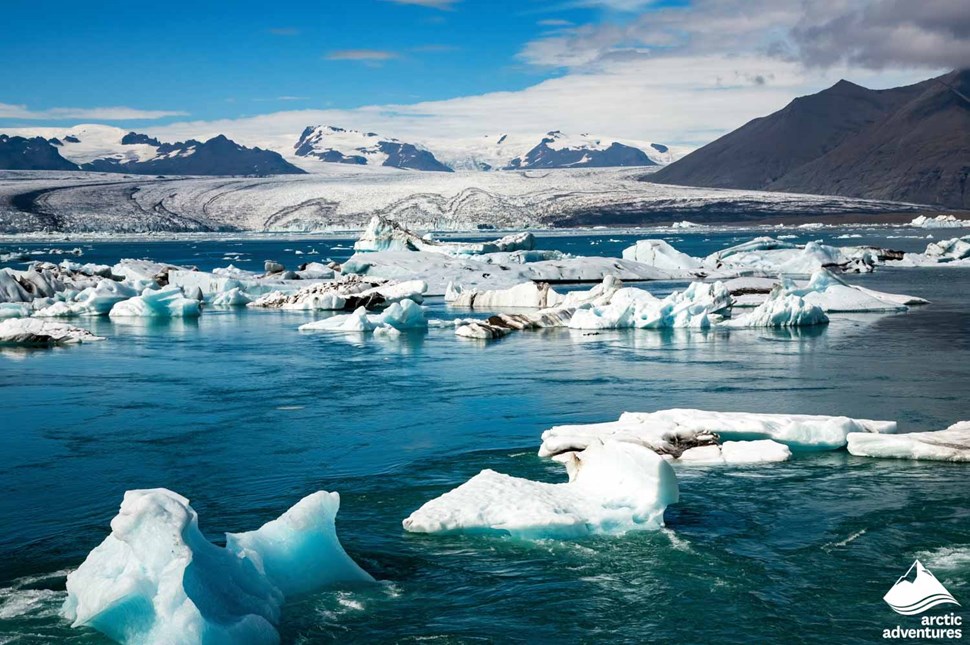 Examples of piedmont glaciers in Iceland:
Breiðamerkurjökull - Breiðamerkurjökull glacier is a piedmont glacier of a larger glacier, Vatnajökull. Located in the southern part of Vatnajökull National Park, Iceland, the Breiðamerkurjökull glacier stands at 752 meters high above sea level. The Breiðamerkurjökull glacier covers an area of 16.8 sq km (6.5 sq mi) and is retreating. The result of this glacier's retreat is the famous glacier lagoon nearby, Jökulsárlón.

Fjallsjökull - Fjallsjökull is an outlet glacie rof the bigger glacier, Oraefajokull. It is located in Vatnajökull National Park, close to Skaftafell. On this glacier, you can find beautiful ice formations and dramatic landscapes with an amazing view of the mountains nearby. There is an impressive glacier lagoon close to the glacier called Fjallsarlon.

Kvíárjökull - Kvíárjökull glacier is located in the southeastern part of the country. There's also a small glacier lagoon right next to the glacier's edge that has been forming over the last few decades.
CIRQUE GLACIERS
These glaciers are typically found high on mountainsides and tend to be quite wide rather than long. They take their pretty French name from the bowl-like hollows they occupy. In a geological sense, a Cirque is a steep-sided hollow on a mountainside or at the head of a valley, formed by (you guessed it) glacial erosion.
ICE APRONS
Ice aprons are glaciers that hang from high mountainsides and are relatively small in size. They are often wide rather than long and have been known to cause avalanches due to the steep incline on which they stand against.
ROCK GLACIERS
When glacial ice is covered by debris, it sometimes forms what we call a "rock glacier." They are usually formed in steep valleys where both rocks and soil can fall from the hills into the ice, resembling sprinkles on an ice-cream dessert!
ICE CAPS
Ice caps, often a subject of climate-related conversation, are essentially miniature ice sheets. They cover less than 50,000 square kilometers or 19,305 square miles. Ice caps mainly form in subpolar and polar regions that have high elevation and, consequently, are quite flat.
Examples of ice caps in Iceland:
Eyjafjallajökull - Eyjafjallajökull glacier is located in the southern region of Iceland. Covering an area of 77.9 sq km (30.1 sq mi), Eyjafjallajökull is the 6th largest glacier in Iceland. Like other glaciers in Iceland, Eyjafjallajökull glacier is constantly retreating.

Vatnajökull -Vatnajökull glacier, located in the southeast of Iceland, is the oldest and biggest glacier in Iceland. Although the glacier is retreating, it still covers an area of 7899.9 sq km (3050.2 sq mi), which consists of around 8% of Iceland. The thickest point of Vatnajökull is almost 1 km (950 m) long! Even though it's getting smaller every year, it still has a prominent effect on Icelandic life and culture. There are 30 outlet glaciers of Vatnajökull in total! Vatnajökull is known for impressive sights and combinations of glacial, volcanic, and geothermal activity.

Snæfellsjökull - Snæfellsjökull glacier is located in the westernmost part of Iceland. This glacier-covered stratovolcano is over 700.000 years old. Snæfellsjökull is a retreating glacier and covers an area of 10.8 sq km (4.2 sq mi). Snæfellsjökull glacier was famously featured in Jules Verne's book "Journey to the Center of the Earth" in 1864.

Mýrdalsjökull - the Mýrdalsjökull glacier is located in the southern part of Iceland and is the country's 4th largest ice cap, covering around 600 sq km (232 sq mi). It covers Katla, one of Iceland's most active volcanoes. Mýrdalsjökull glacier is open for all kinds of adventurous activities, such as glacier hiking and ice climbing. The two major outlets of this glacier are Sólheimajökull and Kötlujökull.

Drangajökull - Drangajökull glacier stands in the northwest part of Iceland, in the country's most northern glacier. It covers an area of 159.8 sq km (61.7 sq mi) and is, in fact, the only glacier in Iceland that has not retreated in recent years.
ICE FIELDS
These are quite similar to ice caps, but the difference lies in how they flow.
Like other bodies of water, the flow of ice fields is influenced by underlying topography. These glaciers are pretty easy to locate in Iceland: Langjökull, the second largest glacier in the country, is an ice field.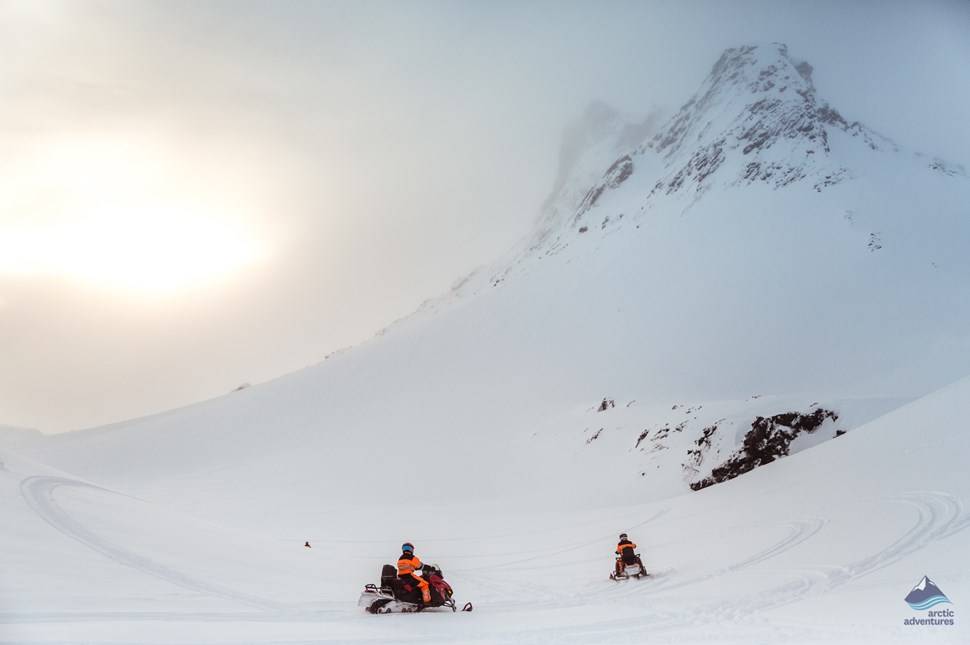 ICE STREAMS
The word "stream" suggests a small body of water, but ice streams are enormous masses of flowing ice – sometimes close to 20 meters in width and 150 meters in length. They are quite sensitive to environmental changes such as the loss of ice shelves at their terminus or a changing volume of water that flows beneath. Ice streams are set within an ice sheet, so they are surrounded by ice that is flowing very slowly.
GLACIER LAGOON
The glacier lagoon is a unique topographic feature that only appears in certain conditions. Iceland's most famous glacier lagoon is, of course, Jokulsarlon, which flows from the glacier tongue known as Breiðamerkurjökull in Vatnajokull Glacier National Park. As the ice crumbles into the ocean, it melts into icebergs, creating a pool of floating blue and white chunks of ice streaked with ash.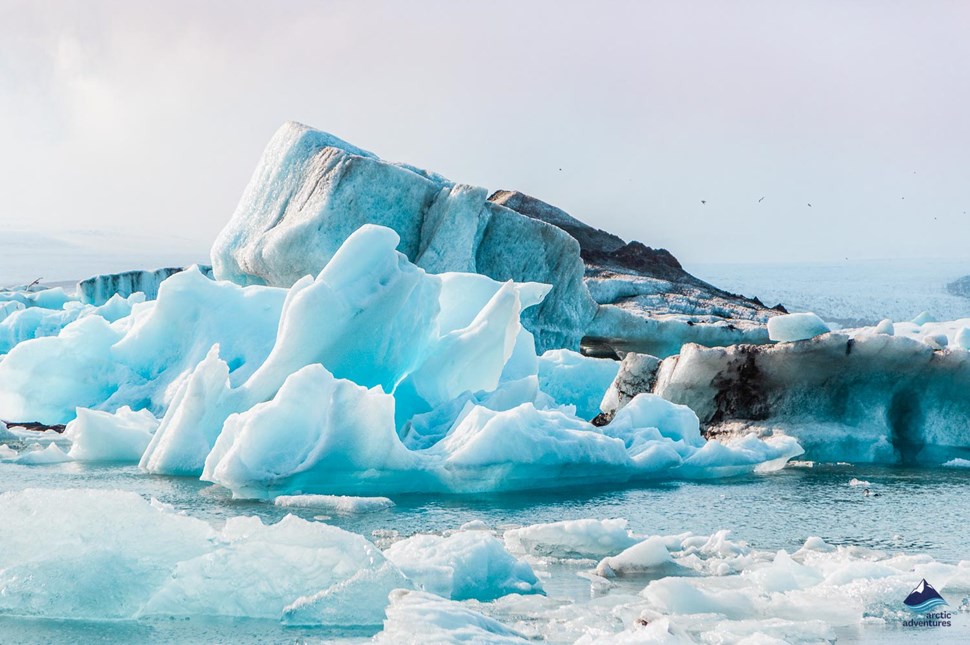 Examples of glacier lagoons in Iceland: