Iceland Highlands Tours
Small Group Guided Tours of the Highlands of Iceland
The Highlands of Iceland are Europe's last great wilderness. This pristine desert is so vast it's nearly impossible to get a handle on it. The Highlands cover almost all of Iceland's interior, or 42,000 km2, which is about 40% of the country. Join us on a tour to experience the raw beauty of the Icelandic Highlands for yourself!
The Icelandic Highlands are set 500 m (1640 ft) above sea level and are uninhabited due to the lack of fertile soil. Nevertheless, the scenery is incredibly diverse and inspires wanderlust with a single photograph. Think volcanoes, hot springs, glaciers, waterfalls, and — best of all —  almost no tourists. 
Come on an unforgettable journey with an expert guide to the untouched Icelandic Highlands! Browse our small group day and multi-day tours below.
POPULAR TOURS TO THE HIGHLANDS OF ICELAND
Discover our most popular tours to the major attractions of the Icelandic Highlands: the Landmannalaugar area and Thorsmork Valley. Click on a destination you'd like to explore.
Day Tours to the Highlands of Iceland
Choose from a wide range of guided tours and small group adventures to explore the Southern Icelandic Highlands. The area is home to Landmannalaugar, Iceland's most famous hiking destination.
Multi-Day Tours to the Highlands of Iceland
Explore the beauty of Iceland's Highlands over multiple days. We offer various multi-day tours to the Highlands of Iceland to suit everyone's taste.
Guide to the Highlands of Iceland
The Highlands cover most of the interior of Iceland and are extremely vast. High mountains, majestic glaciers, craters, and huge lava fields dominate the region. It's no surprise that the Apollo astronauts came here to train before the first moon landing. 
The stark beauty of the Highlands is something that every traveler must experience. Just be prepared to put in extra effort: the Highlands of Iceland are accessible only by off-road vehicle and only in summer. The best way to reach the area is to join a guided excursion.
Check out this guide to find out all you need to know before visiting the Highlands of Iceland.
Must-See and Must-Visit Places
The Icelandic Highlands is one of Europe's largest wilderness areas with tons of things to see — like glaciated peaks, jagged lava fields, steaming geothermal areas, and ancient volcanoes. Discover the best places to visit in the Highlands of Iceland below.
Landmannalaugar
Landmannalaugar, or "The People's Pool", is best-loved for its hot springs and hiking trails. Located in the South Highlands, Landmannalaugar has some of the most beautiful hiking trails in the country. The whole area is dotted with colorful rhyolite mountains that prove to be a big Instagram hit.
A visit to Landmannalaugar wouldn't be complete without a dip in a natural hot spring. The area is home to a huge thermal pool, with the perfect temperature of 36-40°C (96-104°F). Bathing suits and towels at the ready!
Landmannalaugar is not only the best hiking place in Iceland, but also the starting point for the Laugavegur, a world-famous 4-day trek to Þórsmörk ("Valley of Thor"). 
Þórsmörk (Thorsmork)
Thorsmork, or the Valley of Thor, is a jaw-dropping mountain valley. Come here for the best views of glacier-topped volcanoes. Thorsmork is set dramatically between three of Iceland's glaciers: Eyjafjallajökull, Mýrdalsjökull, and Tindfjallajökull. 
The top experience has to be hiking Þórsmörk Nature Reserve, an activity that takes one or two days. Thorsmork prides itself on being the part of two of Iceland's most stunning hiking trails: Laugavegur (from Landmannalaugar to Thorsmork) and Fimmvörðuháls (from Skogar to Thorsmork).
Tackle the awesome hike between two glistening ice caps on our Thorsmork Volcano Hike with pickup from Reykjavik. 
Kerlingarfjöll Mountains
Kerlingarfjöll make up a huge mountain range and are as surreal as landscapes get. Here mountain peaks rise 1,477 m (4, 846 ft) above sea level and hot springs paint rocks in various colors. The area is often called the worthy alternative to the busier Landmannalaugar. 
Make sure not to miss Hveradalir, one of Iceland's largest hot spring areas. The scenic 3-mi (5-km) hiking trail leads to Hveradalir from the Kerlingarfjöll Mountain Resort. 
Kerlingarfjöll offers hiking experiences that you won't soon forget. However, you'll need a 4WD vehicle to reach these remote mountains. You may be happiest exploring the site with an expert guide on our exclusive 3 Day Golden Circle, Kerlingarfjöll Highlands Adventure & Secret Lagoon Tour.
Hekla Volcano
Believed to be the gateway to hell in medieval times, Hekla is one of Iceland's most active volcanoes. Hekla has erupted about 20 times since settlement and remains active today. The volcano's powerful eruptions might last for a few weeks or more than a year! 
While you probably won't see any flowing lava while you're in Iceland, the view of Hekla is simply breathtaking! Nothing compares to standing in front of a powerful volcano with its snow-capped peak glistening in the sun. See the mighty Hekla on our tours to the Highlands of Iceland!
Thjorsardalur Valley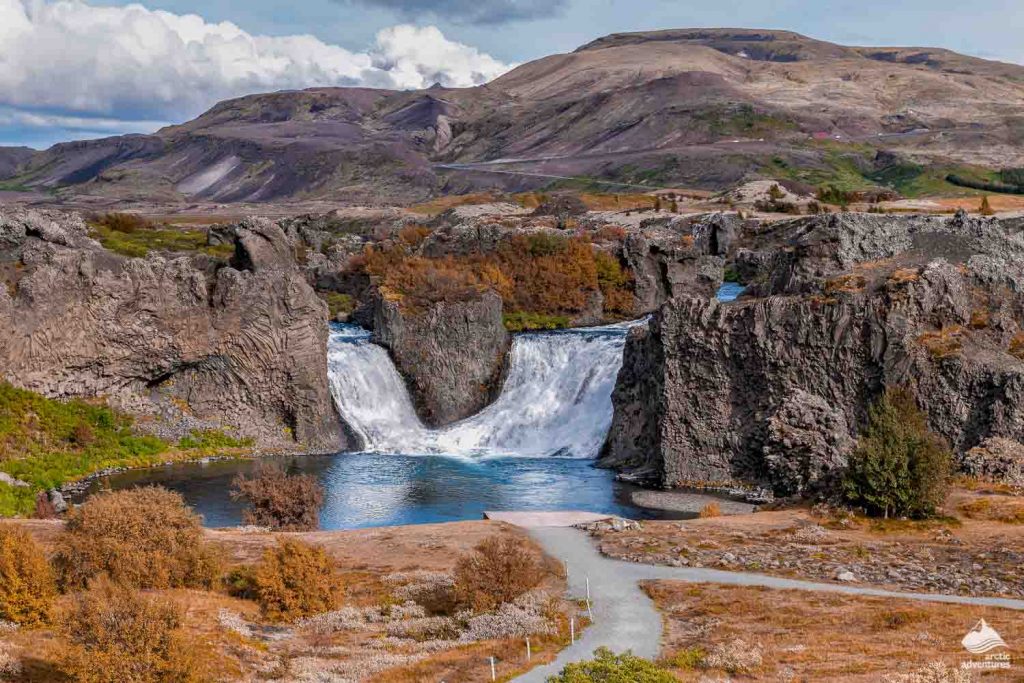 Located on the boundaries of the South Icelandic Highlands, Thjorsardalur (Þjórsárdalur) is a volcanic valley carved by Þjórsá, Iceland's longest river. The area consists of ancient Viking ruins and remarkable hidden waterfalls such as Hjalparfoss and Haifoss. 
From Thjorsardalur, Route 32 leads to Landmannalaugar. Often overlooked by tourists, Thjorsardalur with its river landscapes offers peace and tranquility. Our tip: Before you head straight to Landmannalaugar, stop at Thjorsardalur to explore Iceland off the beaten path. 
Looking for an epic winter adventure? Visit the remarkable Thjorsardalur Valley and see the Northern Lights on our 2-Day Landmannalaugar, Thjorsardalur & Northern Lights Tour.
The Highlands of Iceland – Self-Drive
The Highlands of Iceland have the most awe-inspiring roads in the country, but there are certain things you need to know before visiting this remote region. 
Firstly, you'll need a 4X4 vehicle to travel safely through the interior. When traveling Highlands routes, expect rugged terrain and glacial river crossings. 
Keep in mind that the Highlands of Iceland are very hard to access in winter. Highland roads are usually closed to traffic until the middle of June, so plan your trip accordingly. 
Other things to consider when planning a road trip into the Icelandic Highlands include:
Make sure to fuel your tank before setting out as there are no fuel stations in the Highlands. Our tip: carry additional fuel, as fuel consumption on gravel roads will be greater than on well-surfaced roads. 

Since there are very few places selling food in the Highlands, don't forget to bring food supplies. 

Off-road driving is illegal in the Highlands. Always stay on well-marked trails.

Weather in the Highlands can be unpredictable and you might experience all four seasons in one day! Snowstorms aren't uncommon, even in the summer months. Always check weather and road conditions on en.vendur.is and www.road.is. 

Don't forget to pack a good map!
The main mountain roads leading to the Highlands of Iceland are Kjölur Route (Route F35) and Sprengisandur Route (Route F26). If you're visiting the Highlands for the first time, we suggest choosing Kjölur Route, which is easier to tackle. 
Why You Should Join a Tour
While driving in the Icelandic Highlands is a great challenge, joining a tour is a safer option. 
If you're an experienced driver, go for your dream trip in the Highlands with your own wheels. Just make sure to plan your trip carefully and know how to cross a river before hitting the road. 
If you don't feel confident driving in the Highlands alone, join us on one of the many guided tours on offer. Together with an expert guide, venture into the remote highland mountains in a super jeep and feel as if you're on a distant planet. 
We offer various day and multi-day tours of the Highlands of Iceland. Check out two of our most popular activities: Landmannalaugar Safari and Thorsmork Volcano Hike and see what your perfect adventure looks like today!
Where to Stay in the Highlands
In the Highlands, you'll find cozy mountain huts and a few small camping grounds with everything a traveler might need. Find a handy list of some of the best accommodations options in the Highlands below.
The Highland Center Hrauneyjar

, located just 30 km (19 mi) away from the major Highlands attractions like Landmannalaugar and Thjorsardalur, offers rooms with either private or shared bathroom. 

Holaskogur

, located close to Landmannalaugar, is a cozy cabin hostel that has two floors and can accommodate up to 50 people. Kitchens are on both floors.

Hveravellir

consists of two hikers huts either with made-up beds or sleeping bag facilities. There is also a campsite, cooking facilities, and a small restaurant. 

Kerlingarfjöll Mountain Resort

, located in Ásgarður Valley, has a large campground for tents and caravans. The resort also offers accommodation in double rooms or chalets either with made-up beds or sleeping bag facilities.
---
FAQs
What are the Highlands of Iceland?
The Highlands of Iceland are an uninhabited, barren plateau that cover the middle of the country. The interior is often described as the largest area of untouched wilderness in Europe. Away from the tourist crowds, Iceland's Highlands Interior offers a perfect escape from the city.
The Highlands are surrounded by high mountains that stand 2,000 m (6562 ft) tall. A big part of the area is located on an active volcanic belt so expect to see hot springs, volcanoes, and lava fields. Most of Iceland's glaciers are situated within the territory. Hence glacier rivers, waterfalls, and gorges are also noticeable parts of the region.
Where are the Highlands of Iceland?
The Highlands of Iceland sit in the center of the country, covering much of the island's landmass. The whole region is divided into three parts: the Central Highlands, where Iceland's largest glaciers reign; the South Highlands, home to the famous Landmannalaugar area; and the Northeast and Northwest Highlands, where you'll find the Askja and Krafla volcanoes.
How to get to the Highlands of Iceland?
You can get to the Highlands of Iceland with your own wheels or join a guided tour. However, keep in mind that the Icelandic Highlands can only be accessed during the Icelandic summer from mid-June to September.
What car do I need to travel to the Highlands?
You'll need a four-wheel-drive to reach the Highlands of Iceland as unpaved roads and river crossings are not uncommon. Alternatively, you can ride in a super jeep on one of our guided tours.
---
Attractions in the Highlands of Iceland
Discover the diverse natural features of Iceland's Highlands. Below you'll find some of the attractions that make the Highlands worth visiting.