Does Iceland have ice caves or glacier caves?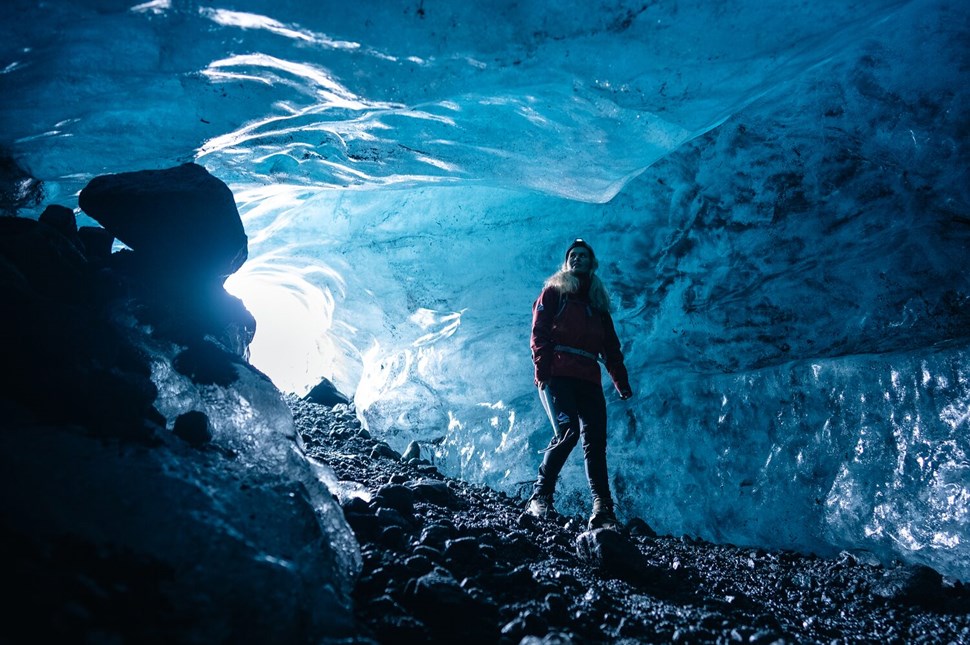 If you're wondering whether the ice caves in Iceland are considered to be real ice caves, the answer is not so straightforward. If we are to be scientifically accurate, then Iceleand's ice caves should actually be referred to as glacial caves or glacier caves, rather than ice caves.
What's the difference between an ice cave and a glacial cave, you ask? A glacial or glacier cave is formed completely within a glacier, whereas an ice cave is just a normal cave system where the ceilings and floors hold large amounts of ice.
However, most people who visit Iceland and even the locals refer to them all as ice caves, just to keep things simple.
How are ice caves formed?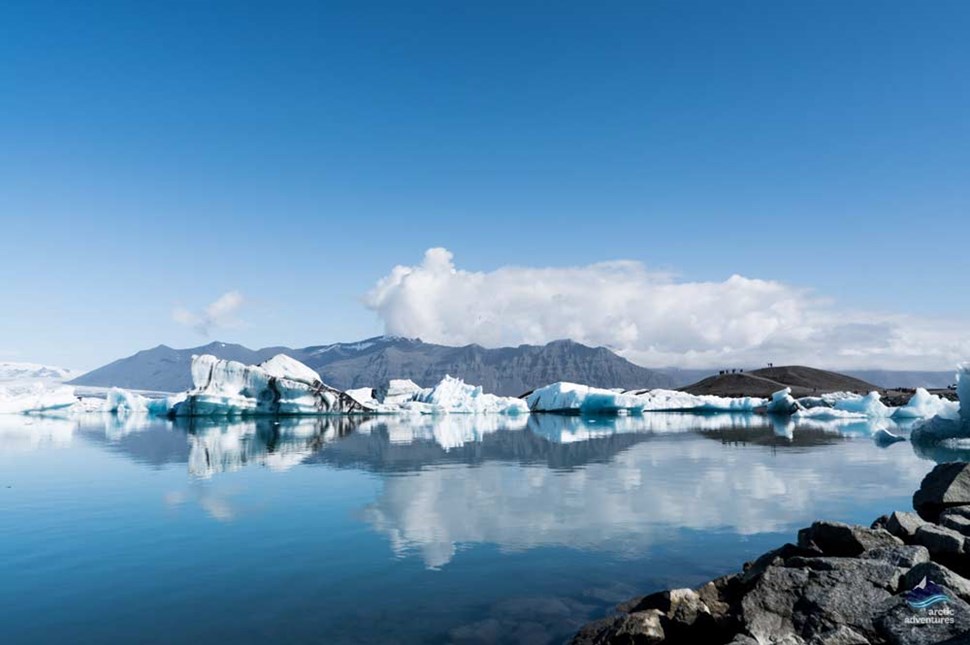 The way ice caves form is a fascinating process, and it occurs when melting water runs beneath or through a glacier, which leaves an opening in its wake. In the summer, warmer weather causes ice at the surface of the glacier to melt and drain downwards which creates vertical shafts which enable additional meltwater to reach the lower level of the glacier. These channels are far larger than most people can comprehend, with some widths reaching as much as 10 meters!
In Iceland, many ice caves are formed by a combination of surface meltwater drainage and subglacial flows caused by geothermal warmth. Warm water flows or hydrothermal rivers will also, sometimes, cause ice caves to form. For example, there is one particular ice cave in Kverkfjöll which is wholly formed by geothermal activity but this is very difficult to access.
Do ice caves change over time?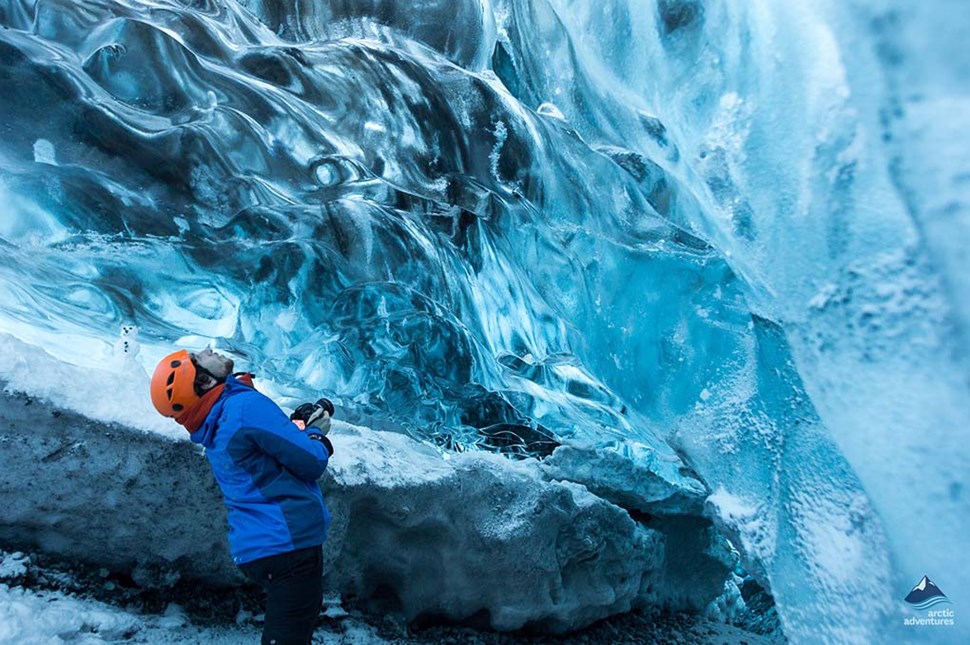 The transient nature of ice caves makes their astonishing beauty even more precious. During the winter, when an ice cave is stable and safe there will still be some changes, stunningly beautiful ice formations show up and these are continually evolving. Exceptionally cold weather will cause the ice to further harden and contract, while warm weather will cause snow and ice on the surface to melt a little. These kinds of changes make the caves even more beautiful, and certainly, more exciting for the guides, as they are presented with an entirely new adventure every single year! Occasionally, a particular cave will have to be abandoned for a short time, or for the rest of the season, if it is deemed to have become too unstable. Arctic Adventures' glacier guides are trained to put safety considerations first and foremost at all times.
The cold, winter months are not without change completely, however. Minor shifts occur within the ice caves from week to week, meaning that if you visit an ice cave at the beginning of the winter season and again later on, you might have a chance to witness these changes first-hand. The warmer seasons bring more significant changes, as old ice caves begin to wear away, and new ones begin to form by the movement of glacial waters.
At the end of each summer, Arctic Adventures' guides look forward to searching for newly formed ice caves. Older caves often break down over the summer or became structurally unsafe, but new ice caves are always waiting to be discovered! None will remain exactly the same. Every cave is different in shape, despite being crafted entirely by the hand of nature. Certain caves even have more than one entrance, making them a little more tunnel-like in structure. Others are very high and cavernous, shaped like regular caves. All of them, though, have incredible nooks, crannies, colors and ice features which make them totally unique, just like our fingerprints, each one is an individual.
Crystal Ice Caves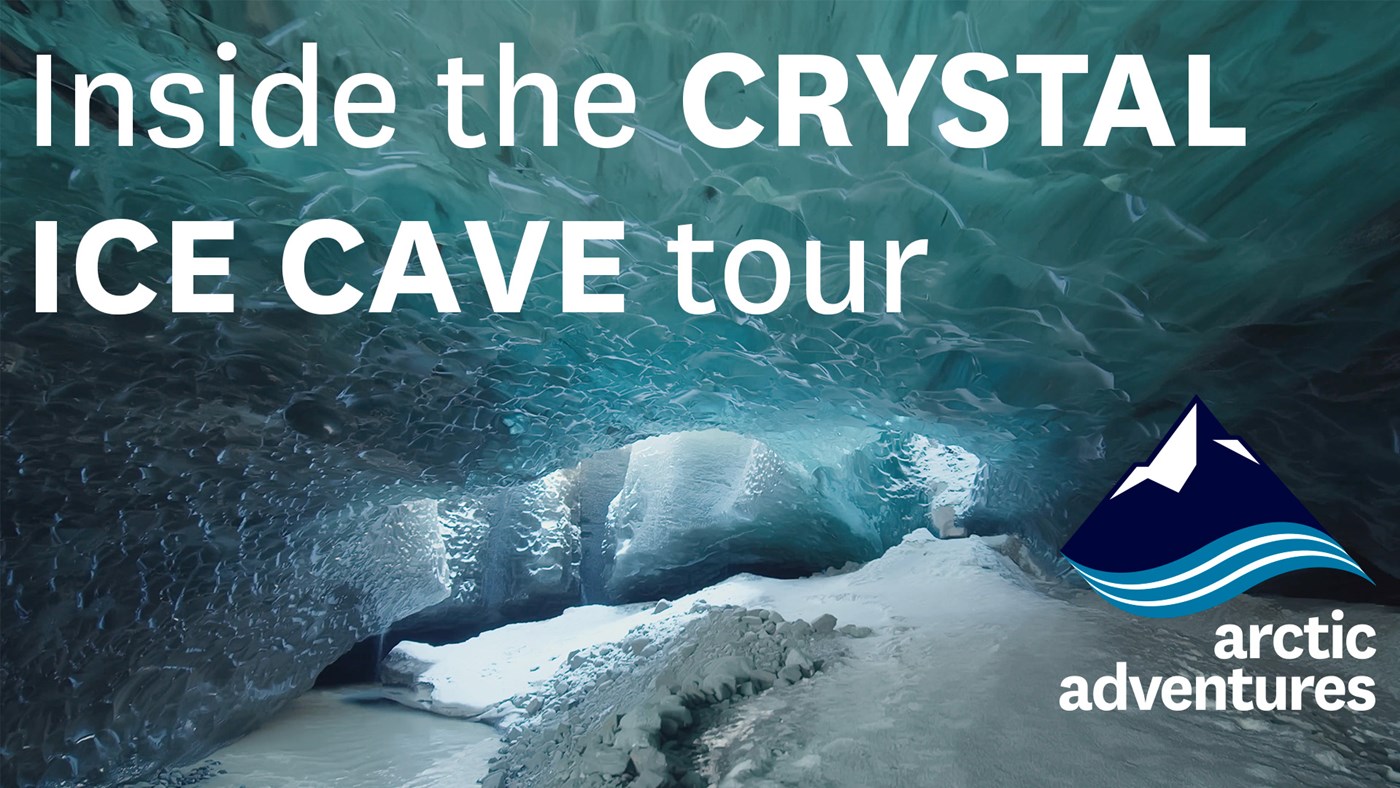 Crystal ice caves are unique in that they have nature's form of sunroof. This is technically a ceiling to the cave that is made from ice, however, it is thin enough so that light is able to shine through, filtering down into the cave, just like the sunroof of a car.
Iceland's Crystal Cave is a very famous natural structure located in Vatnajökull, the largest glacier in Europe. Since 2011, this cave has formed in more or less the same location, thanks to the reoccurrence of a large glacial river's flow every summer. Visitors to the glacial cave are struck by the brilliant sight of light pouring through thick walls of chunky blue ice. The scale of Crystal Cave is astonishing, and many people are surprised to find that it is roomy enough to accommodate up to 100 people at a time. Images of the Vatnajökull Crystal Cave have become famous across the globe and have won awards in various competitions for photographers. The Crystal Ice Cave tour from Jökulsárlón Glacier Lagoon is one of the most unforgettable and unmissable things you should do in Iceland.
Blue Ice Caves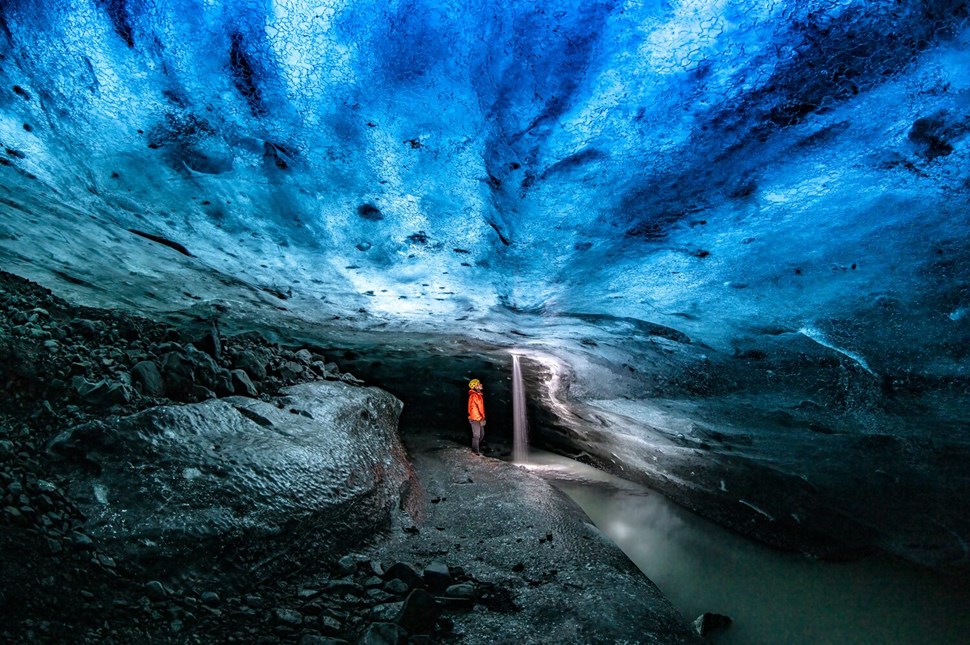 Blue ice is formed as a result of a glacier that has been compressed beneath its own substantial weight, over the course of centuries or even millennia. This weight forces out air bubbles which creates ice crystals and the blue shades the area is famed for. Sometimes there will be large expanses of shimmering transparent and crystalline ice which literally looks like a deep blue quartz crystal, with the light penetrating through. Other times, blue ice can be more opaque and solid looking. Regardless of the opacity of the ice, very deep jewel blue tones can show. Algae can become encapsulated within glacial ice which further strengthens vibrant blue hues and, on quite rare occasions, these blues can be so deep that they are almost violet in tone.
Unusual Ice Caves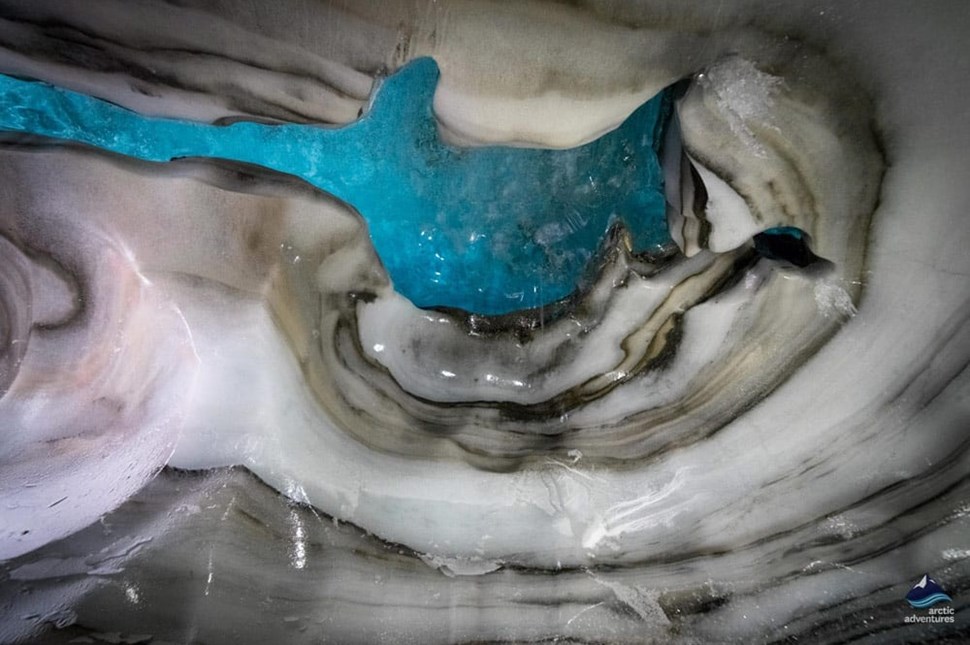 Some might argue that all ice caves are unusual, and they wouldn't be wrong. Iceland's ice caves come in a dazzling array of colors and textures, but some are more unusual than others. The star features of some, like the Crystal Cave are very well known, while other caves can consist of ice in startling hues of color, like blue, gray, white and even black. 2017´s Langjökull natural ice cave stood out as being particularly memorable, with stunning colors on display. The ice roof found here was very unique in that there is a thick rope of turquoise ice running through the ceiling. To heighten the visual contrast, gray-striped patterns, thanks to the ash left from volcanic eruptions, can also be seen alongside the turquoise stripe. Due to the remote location of Langjökull ice cave, getting there will require you to take a thrilling guided snowmobile journey. An adventure day tour is available from Gullfoss Waterfall or Reykjavík.
Black Ice Caves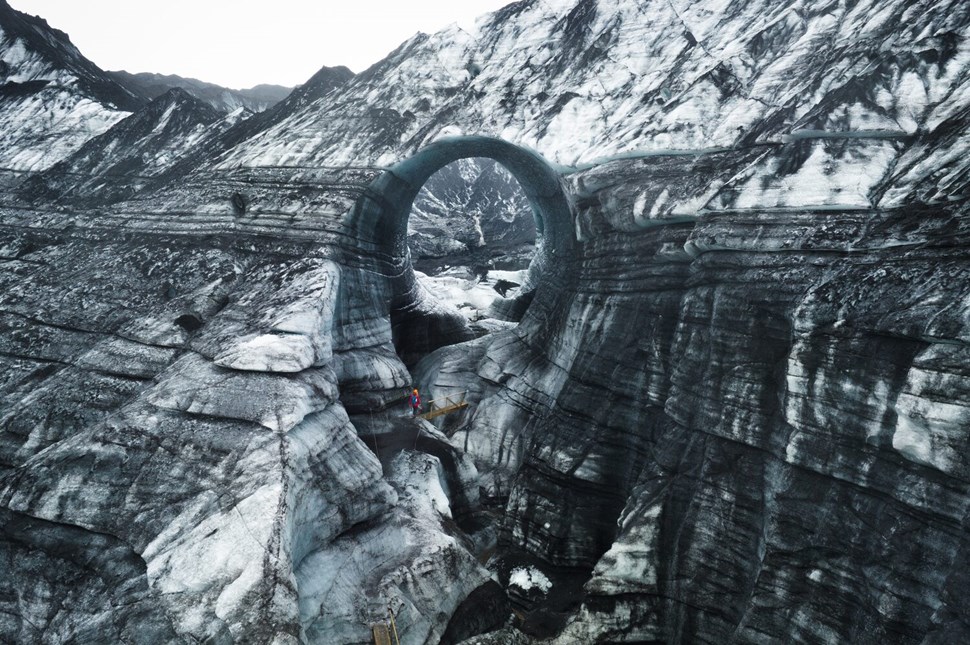 The ice within glacial caves can present itself in a number of colors, like blue, clear, white, gray and even black. It is rare for an ice cave to be made up of only one color of ice and you typically see a combination, but on some occasions, a cave consisting of only one colour of ice can be seen. The ice cave called the Durk Rubin, near Vatnajökull Crystal Ice Cave, is mainly black inside, and as a result, it is quite dark inside. While the interior of the cave is a decent size and could fit up to about 30 people, the dark interior means it's not somewhere that lots of people would gather together. But worry not - if you're eager to see another dark ice cave, you could visit Mýrdalsjökull Glacier, near the famous Katla Volcano.
HOW BIG ARE ICELAND'S ICE CAVES?
Unfortunately, this is not a straightforward answer, as the size of glacial caves in Iceland can vary drastically. During the winter of 2016, an intimate but shockingly blue ice cave appeared, which quickly became known as the Blue Diamond Cave. The small size of this cave means that fewer than 20 people can fit in it at a time, compared to the 100 people who can comfortably visit the renowned Crystal Cave.
Iceland's man-made ice caves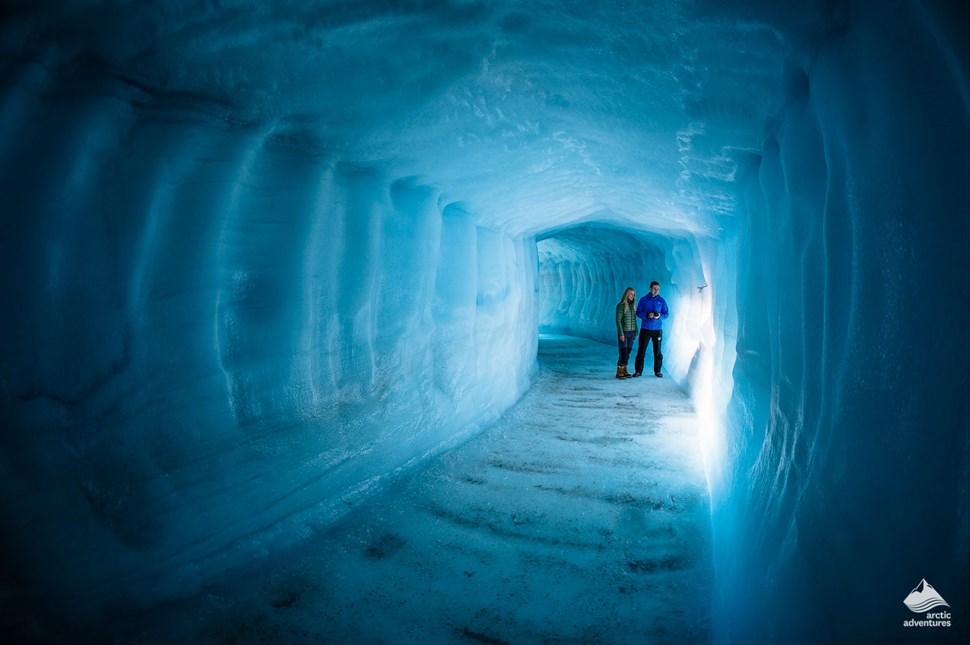 Langjökull Ice Cave is a man-made cave that even has a church complete with a chapel room built into its icy depths. This ice tunnel will take you right into the vastness of Langjökull, the second-largest glacier in Iceland. Even though this ice cave is man-made, the forces of nature create fabulous stalagmites and stalactites as well as other impressive natural ice formations. It is possible to visit this ice cave at any time of the year, meaning it can be visited as a part of a summer vacation or winter holiday. You will also get to experience the thrill of being taken very high up on the 953 sq/km icecap, giving you a real appreciation of Langjökull´s vast white wilderness.
Ice Cave Safety Tips
It's natural to wonder about the safety of visiting Iceland's glacial caves, but rest assured that any ice caves which are open to visitors and tour guides have been rigorously assessed in terms of health and safety. Ice cave tours do not begin until the winter temperatures have been cold enough for a long enough period of time that the structure will be safe and strong. These perfect conditions typically begin in early November. Our glacier guides at Arctic Adventures are experts when it comes to cave safety, so visitors can relax and know that their safety is in capable hands. Our guides will also provide all the necessary equipment for the tour, so you don't have to worry about providing anything but your sense of adventure.
It's important that anyone planning to explore an ice cave doesn't consider doing so unless you're part of an official tour or accompanied by an expert guide. Tourists who have decided to do otherwise have, sadly,  found their choice to be fatal. Svínafellsjökull glacier is home to a memorial to two tourists from Germany who died there a few years back after they decided to venture onto the glacier without a tour guide. So remember, when it comes to glacial caves and glaciers in general - safety first! Go with a guide.
Ice Cave Tours
There are a variety of ice cave tours to choose from including our two-day winter tour package which will take you to the Crystal Ice Cave in Vatnajökull Glacier. There are also meet-on-location tours, which begin at Skaftafell or Jökulsárlón Glacier Lagoon.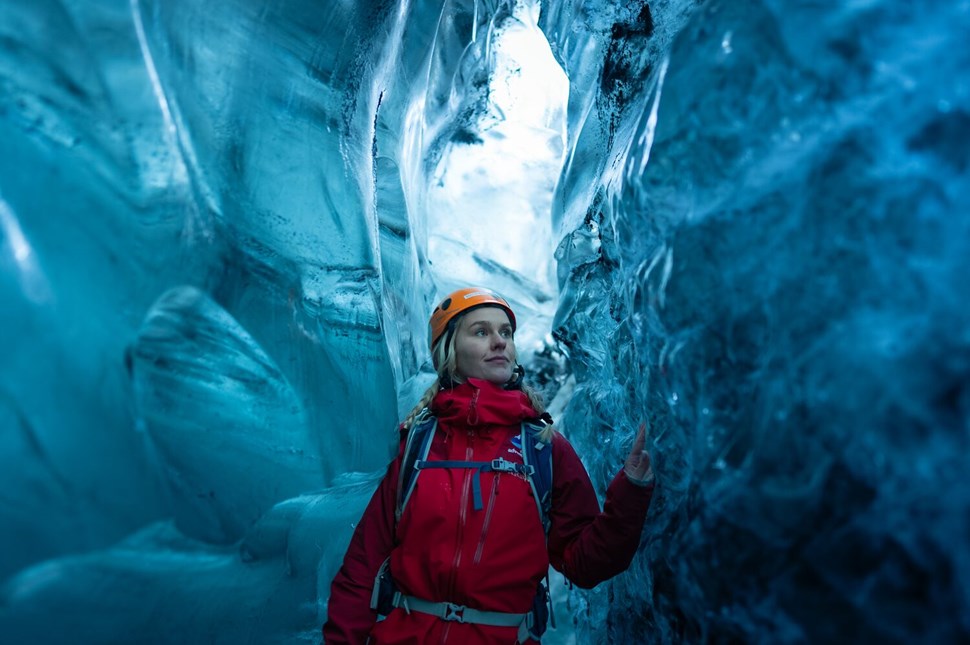 Self-driving is also a possibility, but natural ice caves can only be visited in the winter when driving conditions are at their most challenging, with snow, ice and sometimes poor visibility all contributing to the difficulty level. You should not attempt this if you are an inexperienced driver or you are not used to driving in this kind of winter weather. Journeys take much longer and staying somewhere nearby overnight before your tour is strongly recommended.
Some of the more popular ice cave experiences offered by Arctic Adventures include:
Can I see the Crystal Ice Cave in a day from Reykjavík?
In theory, if you book an early afternoon tour departure time this is just about possible. There are, though, a few things you need to think about quite carefully. Check out the road conditions at www.safetravel.is and www.vegagerdin.is – bear in mind that weather and conditions can change rapidly in Iceland. Always allow plenty of extra time; missing your tour because you got delayed on the road is a heart-wrenching experience.
If the weather forecast and road conditions say you are good to go, book your tour and plan your journey. Leave early, really early, to allow some leeway. The journey to Jökulsárlón takes 4.75 hours in the best conditions. If you have not already rented a car you should think about arranging to pick one up the day before your trip. You cannot normally collect a rental car before 07:00, or even later with many companies – there can easily be queues and delays before you get behind the wheel. The best advice we can give is to relax, stay over and arrange your meet-on-location ice cave tour for the following day! Whichever way you organize it, make sure you have good hiking boots, warm outdoor layers, gloves, hats and waterproof trousers and jackets – see our full list of things to bring to Iceland for more details.
Accommodation around Skaftafell and Jökulsárlón
There are a few country hotels, farms offering accommodation, guesthouses, hostels with dorms and private rooms and self-catering accommodation options in this area. It is always best to book in advance if you possibly can, in the ice cave season demand can be high. Check out your options at www.booking.com, www.hostel.is.
A good option in this area is Hof 1 Hotel at Hof on the edge of Skaftafell National Park. The hotel is next to a historic church and farm with views of Öræfajökull glacier, really convenient for tours with a Skaftafell or Jökulsárlón Glacier Lagoon start point.   
Private Ice Cave Tours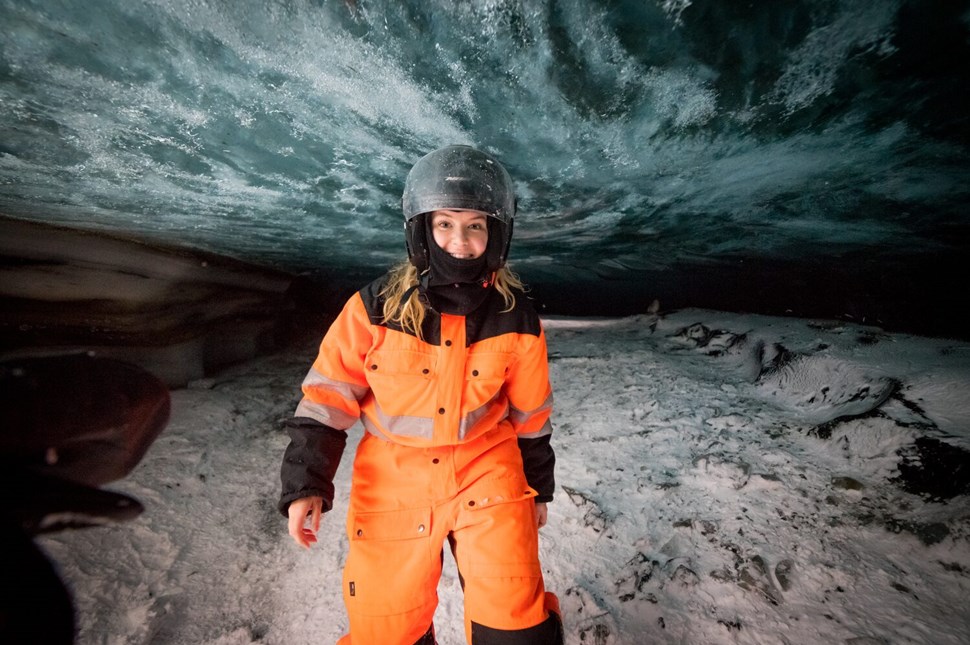 A private tour of the Crystal Cave can be arranged, but there will be other groups inside the cave at the same time. So, yes, it is possible to arrange a private tour where your guide will be guiding just you and your chosen group, but this does not guarantee exclusive access to the Crystal Cave. There are still several advantages related to a private tour. For example, you can choose how long you want to spend in the cave, or you can tailor your tour around a special interest, for example, photography.
If you have any queries or would like to book a tour, be sure to contact us and see what we can do for you!