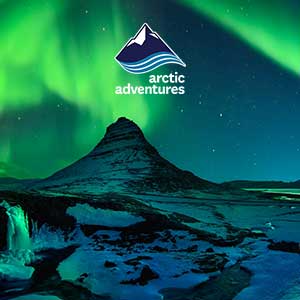 The Iceland highlight hitter, 3 days of must do's in Iceland, the famous Golden Circle and the magical South coast with all its waterfalls, glaciers and volcanoes

INSTANT BOOKING CONFIRMATION
Let's get exploring! This self-guided adventure is the perfect way to spend three days in Iceland with the comfort of your own car but an itinerary that will make sure you don't miss out on any of the must-dos.
Get a history lesson at Thingvellir National park, get amazed by nature's powers at Geysir hot springs and mesmerized at Gullfoss waterfall. Continue the tour of Iceland along the South Coast to experience beautiful waterfalls such as Seljalandsfoss and Skógafoss and the mystical Black Sand Beach Reynisfjara and to top it all off join a glacier hike on Solheimajokull glacier.
Included is a rental car and accommodation.
Availability

All Year Around
Suitable for most people in fair condition.
Tour highlights

Golden Circle
Gullfoss Waterfall
Geysir Hot Springs
Thingvellir National Park
Seljalandsfoss Waterfall
Gljúfrabúi Waterfall
Skógafoss Waterfall
Reynisfjara Black Sand Beach
Dyrhólaey Cape
View of Eyjafjallajökull Glacier Volcano
Reykjavík City
Reykjanes Peninsula
Included

Rental car for 3 days (with all basic insurances: Collision Damage Waiver, Personal Accident Insurance and Theft protection)
Accommodation for 2 nights
Breakfast at accommodation for 2 days
Perfect 3 day itinerary for Iceland + info on amazing lesser known stops
Glacier Hike on Sólheimajökull Glacier (optional extra)
Arriving in Iceland you will right away get that adventure feeling. The airport is located in the middle of a lava field on the Reykjanes peninsula where art sculptures have been built to make the area even more unique. There you will pick up your rental car for the trip and start your adventure heading East into Reykjavík. Awaiting you are amazing stops including the Þingvellir e. Thingvellir National park, a place of great history and stunning natural beauty, then the great Geysir, the one all the other geysers are named after and last but definitely not least the Golden Falls or Gullfoss waterfall.
The next day the trip is scheduled for the South Coast, there you will encounter some of Iceland's most famous landmarks such as Seljalandsfoss waterfall "the one you can walk behind" and Skógafoss waterfall, the incredible power source that marks the start of the Fimmvörðuháls hiking trail where the famous Eyjafjallajökull volcanic eruption started in 2010. Near the waterfalls you will find the awe-inspiring Sólheimajökull glacier where your included glacier hike will take place. You will meet up with a certified glacier guide and take on a new and exciting challenge of hiking on a glistening ice cap, hard to beat!
Next up is the Reynisfjara Black sand beach, one of Hollywood's most popular filming locations with all of its basalt columns and fascinating beauty. If you want to explore further the Dyrhólaey Cape is a recommended add-on and the view from it will leave no one untouched.
On day three you are back in Reykjavík and back on track to the airport, the itinerary will depend on your departure time but many recommended stops on the Reykjanes peninsula are included in the package. This tour is a memorable one and will leave you with endless stories to tell and memories to last a lifetime!
Pick-up from Reykjavik
The journey to Sólheimajökull will take you on a sightseeing trip through the South Iceland countryside, along the way we pass through some picturesque towns and villages. On the return journey to Reykjavík, we stop at the stunning Seljalandsfoss waterfall, a wonderfully graceful waterfall which drops around 60 meters into the otherwise tranquil pool below.
We will also stop at the beautiful Skógafoss waterfall. On a sunny day, you will often see a rainbow around the tumultuous cascade as it drops 60 m into the calm river below. A lovely legend tells of a chest of treasure hidden in a cave behind this waterfall – this tour will certainly leave you with memories to treasure forever!
---
Detailed Itinerary Included
√ Detailed map of Iceland with all stops
√ Easily follow daily travel plans
√ Mobile friendly design
√ Descriptions & photos for all major stops
√ Print your itinerary or share with friends
---
Information for your rental car
Pick-up: Choose between pick-up locations at Keflavik International airport (KEF) or BSI Bus Terminal in downtown Reykjavik, at flexible times.
For the best experience, we definitely recommend that you pick your car up early on the day of arrival, and return it in the afternoon or evening on your last day.
Drop-off: By default, the drop-off location for your car will be at Keflavik International Airport (KEF), no matter which pick-up location you have selected.
You can, however, drop-off the car at BSI Bus Terminal in Reykjavik, on the last day of your tour. If you prefer this drop-off location you can change it afterward (details can be found in your confirmation email).
---
Practical information
Remember to bring: Warm layers, waterproof clothing, headwear, scarf, gloves, hiking boots are essential, drivers license and some sunglasses.
What if I don't own all of these clothing items?
Don't worry, you can always rent sturdy hiking boots, waterproof jacket and pants in the booking process.
Day 1 - Arrival, Golden Circle
The Iceland experience starts as soon as you land. With the airport located in the middle of a moss-covered lava field, the view is fascinating from the get-go!
At the Keflavik airport or in Reykjavík depending on your preference, you will pick up your rental car and head out for an adventure of your life.
Today's itinerary is stuffed with fantastic stops, a lot of history and natural beauty. First up is the Þingvellir national park, most commonly known as Thingvellir. This natural wonder is a UNESCO heritage site, a wonderland of lava, rivers, lakes and waterfalls and a place where remarkable historical events have taken place. The one that it is most famous for is the founding of Alþingi, parliament making the Icelandic nation one of the first in the world to have a democratic parliament. Walk around and read the signs, the location is impressive but add to it its many stories and tales and you will be in love.
Then we are back on the road and on the way to the next Golden Circle Tour location, you will drive past the beautiful Laugarvatn lake. Home to the Laugarvatn Fontana spa, a hot pool with epic views and a nice restaurant to stop for lunch. Then you reach the Geysir, the first thing that made Iceland famous. The geyser that gave its name to all the other geysers in the world and a geothermal area of extreme charm. All around yourself you will find hot springs and smoke rising from the ground and every 4-10 minutes Geysir's baby brother Strokkur will spout up into the air creating a magical sight! This is a vision you will never forget and truly worth taking out the camera!
Next up on the itinerary is the graceful Gullfoss waterfall or the Golden Falls. This stunner originates in Langjökull glacier, Iceland second largest glacier and has carved its way through a canyon only two drops down two stories into a gorge creating the most astounding vista!
Your hotel for the night is within the Golden Circle route or the surrounding area, including the towns of Hella or Hvolsvollur. Enjoy the fresh and clean country air!
Day Highlights

Þingvellir National Park
Lake Laugarvatn
Gullfoss Waterfall
Geysir Hot Springs
Included

Rental Car
Itinerary
Accommodation
Day 2 - The South Coast, Waterfalls of Iceland and the Black Sand Beach
After waking up at your accommodation you will get a chance to enjoy a complimentary breakfast before stepping out again for an eventful day on the South Coast of Iceland. The South Coast has over the years been one of the most visited places in Iceland and there is a great reason for it. Driving along you will pass through small villages such as Hella and Hvolsvöllur with farms and flat plains surrounding them. Along the road, you have famous volcanoes and will be seeing Icelandic horses enjoying life around the Ring Road. Today you are in for a truly unique experience as you are booked on a glacier hiking adventure on an outlet glacier from the mighty Mýrdalsjökull glacier, the glistening Sólheimajökull e. Home to the Sun Glacier. You will meet you expert glacier guide at the parking lot right at the foot of the glacier and join a small group on an unforgettable experience. The guide will tell you all about the history and geology of the glacier leaving you with not only a great memory but some fun Iceland facts as well. This truly is a wonderful way to experience the true magic of Icelandic nature.
After the glacier hike, it is onwards to see more gems found in Icelandic nature along the South Coast. You will get a great view over the famous Eyjafjallajökull glacier volcano that made headlines all over the world when it suddenly erupted in 2010 stopping all air traffic. From the renowned beast runs a staggering and beautiful waterfall called Seljalandsfoss, which has before become known for being one of the stops when the television show "The Amazing Race" came to Iceland, a truly dynamic duo!
Seljalandsfoss is famous for being the waterfall you can walk behind and visiting it can easily be described as magical. The allurement continues as you take a step into the gorge of Gljúfrabúi where a hidden waterfall sits quietly in a fairytale-like setting. Gljúfrabúi means habitant of the gorge and you can truly see why when you visit this place.
About 30 minutes drive from Seljalandsfoss you will come across Skógafoss waterfall, right off Ring Road one yet another focal point appears and leaves you in awe. The waterfall falls down a mountain hill and has carved its way making the setting even more alluring, and if this wasn't fascinating enough a troll's face is found in the mountain step across from the waterfall. Legend says that the troll lost track of time admiring the waterfall beauty, the sunbeams got to it and it turned into stone.
Next up in the 3-day Iceland plan is a stop at the incredible Reynisfjara Black Sand beach, one of the most popular locations to visit in Iceland and in recent years one of the places to shoot both Hollywood movies and TV shows including Noah starring Russell Crowe, parts of Game of Thrones was shot in the area, Star Trek: Into Darkness and Rogue One: A Star Wars Story. This mystical location is home to breathtaking basalt columns called Reynisdrangar that stand tall in the ocean with strong waves and a cave that has been carved into tuff mountain Reynisfjall.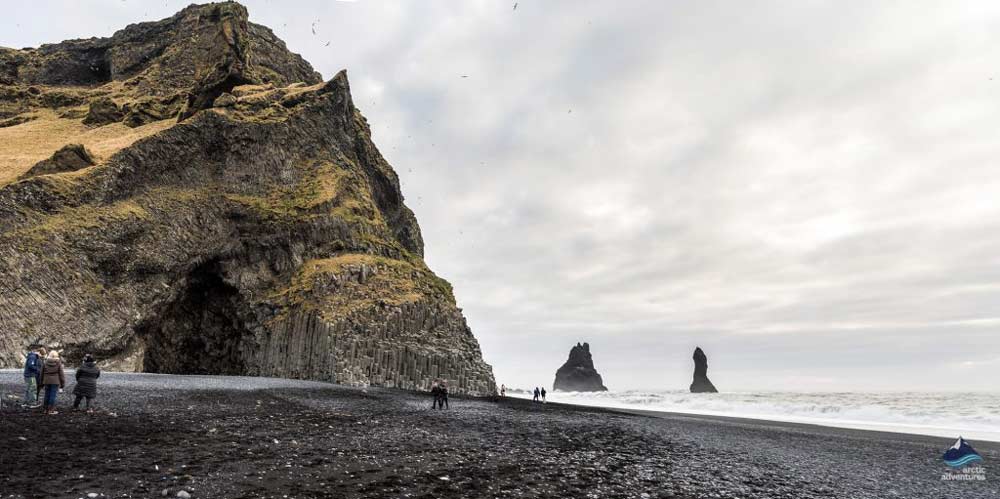 A great extra stop near Reynisfjara beach is at Dyrhólaey cape. It is a striking viewing point and a place where puffins and arctic terns nest in the spring and summer. On the top, you will find a lighthouse, typical to Icelandic culture and the charm of this foreland is simply magnificent.
The night is then spent in the capital region after making your way back from an adventurous day on the South Coast.
Day Highlights

The South Coast of Iceland
Sólheimajökull Glacier
Glacier Hiking Tour
Seljalandsfoss Waterfall
Gljúfrabúi Waterfall
Skógafoss Waterfall
Dyrhólaey Cape
Reynisfjara Black Sand Beach
Included

Rental Car
Itinerary
Glacier Hiking Tour
Accommodation
Day 3 - Blue lagoon and Departure
Today you will wake up at your accommodation and the day will plan out depending on your flight time departing Iceland. The possibilities are endless whether it is spending your last moments in the capital Reykjavík, hiking up Mt. Esja, exploring the wonders of the lava covered peninsula Reykjanes or visiting the world-famous Blue Lagoon.
If you are exploring Reykjavík some of the must-see places are Harpa Musical Hall, Hallgrímskirkja church (you can visit the tower), the Laugavegur shopping street and the pond town by Lækjargata street. All of these places are totems of the capital and numerous great restaurants, museums and other interesting points are found on this route.
If you are hiking up Esja, there is a parking lot right down by the foothill of the mountain, you can expect about 3 hours hiking the trail and an extra hour driving to and from. The view from the top is astonishing and on cloudless days you can see over Reykjavík and as far as to the Snæfellsnes peninsula, where the great Snæfellsjökull glacier sits in a field of lava.
If you are thinking about the Reykjanes peninsula you simply must visit the Kleifarvatn lake, Seltún geothermal paradise, Gunnuhver Hot Spring and Reykjanesviti lighthouse. One of the places Reykjanes is also recognized for is the bridge over the tectonic plates. There you can walk right across from one continental plate to another in just a step – fitting in one last extraordinary Iceland experience.

If the plan is visiting the Blue Lagoon just remember an admission ticket is required and needs to be pre-booked. The parking is free and it is on the way to the airport, midway between Reykjavík and Keflavík airport so basically the perfect "stopover". This is one of the places many have on their bucket list while visiting Iceland and will leave no one feeling anything but relaxed and their skin silky smooth.
Day Highlights

Reykjavík
Reykjanes Peninsula
Mt. Esja
Blue Lagoon
Included

Rental Car
Itinerary Proposals
Book this tour
Price from: 30.175 ISK
NO BOOKING FEES
FAST & SECURE PAYMENT
You have chosen: From KEF airport
Instant confirmation & Low Prices
Pick-up & Drop-off at Keflavik international airport. Note you can change the drop-off location to Reykjavik (see confirmation email for details, extra fee may apply).
You have chosen: From Reykjavik
Instant confirmation & Low Prices
Pick-up at BSI Bus Terminal in Reykjavik. Drop-off at KEF airport. Note you can change the drop-off location to Reykjavik (see confirmation email for details, extra fee may apply).