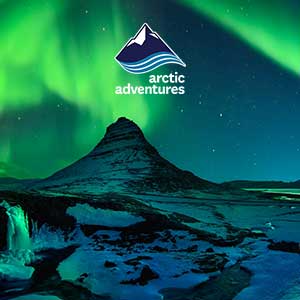 A diving tour located in beautiful surroundings at Thingvellir National Park. See for yourself why Silfra is one of the world's most unique freshwater sites! Diving doesn't get much better than this!
INSTANT BOOKING CONFIRMATION
Want to do this trip for free? Tag us @arcticadventures on your social media stories and photos during your trip and enter a chance to win a full refund. The winner will be picked once a month!
---
We take you where few diving tours in the world can – into the continental rift between the North American and Eurasian tectonic plates! Thingvellir National Park is home to Silfra fissure, an out-of-this-world subaquatic rift.
Duration

4 hours meet on location/6 hours from Reykjavík
For experienced people in very good shape.
Departs from

Reykjavik / Thingvellir National Park
Tour highlights

Small Group Experience
Þingvellir National Park (Thingvellir)
Silfra Fissure
Diving Between Continents
Tectonic Rift Valley
Scuba Diving
Included

Pick-up & drop off in Reykjavik
Guided Dive Tour in Silfra with a Certified PADi® Divemaster
All Dive Equipment Needed
All Required Safety Equipment
English Speaking Licensed Adventure Guide
Silfra Admission Fee
Hot Chocolate & Cookies
Silfra fissure in Iceland has become widely known in the last few years. Divers agree that this is one of the best freshwater dive sites in the world. Glacier water from Langjökull glacier that has been filtered through the lava field on its 50 years-long journey to the fissure is so clear that the visibility is about 100 meters. Silfra is divided into four main sections that we will explore during the tour.
The water in Silfra is at a constant 2-4 degree celsius throughout the year but all seasons have their charm under the surface. Silfra is situated in the heart of Þingvellir National Park, the founding place of the world's oldest parliament and a UNESCO world heritage site. Silfra is an otherworldly scene located in the lava field directly on top of the continental rift valley between America and Europe.
Usually one does not want to be between a rock and a hard place but in the case of Silfra you want nothing more. Experience the weightless floating through the clear glacier water going in between the tectonic plates. The slow current gives one a perfect pace to explore this beautiful area. The freshwater visibility is an unmatched specimen, so wide and long that sometimes it is only limited by the density of the water itself.
Depth varies from 10 to 40 meters. Our dive depth is limited to 18 meters by park regulations. This is without question one of the best dive tours the world has to offer. If you are a keen diver, make sure not to miss it!  Be aware that this is a challenging dive where you need to be capable of carrying heavy equipment up to 400m.
---
Meet on Location
Meeting point: The meeting point is Silfra car park in Thingvellir National Park.  Please be ready in the Silfra car park to meet your guide 15 MINUTES before your tour is due to begin.
Directions: If you are meeting us on location, the meeting point is Silfra car park in Thingvellir National Park. Click here for driving directions to where you can park your car (parking "Thingvellir P5"). To meet your guide: Walk 400m back along the road until you reach a smaller car park with all the snorkel and dive vans, and look for your guide. Please be ready in the Silfra car park to meet your guide 15 MINUTES before your tour is due to begin.
For GPS: 64°15'23.508″N 21°6'58.676″W
---
Pick-up Information
For those who have chosen to be picked up in Reykjavík, the pick-up time is at 08:30 am / 12:00 pm. Picking everyone up can take up to 30 minutes, your patience is greatly appreciated!
Available pick-up points: Arctic Adventures's pick-up list.
---
Return time
If you choose the Reykjavik pick-up option, then you will return to Reykjavík around 13:30 pm / 17:30 pm approximately.
---
Requirements
Drysuit diving experience in the form of either Drysuit certification or a minimum of 10 logged dry suit dives. You need to have dived in a drysuit within the last 2 years. Your dive guide will ask you to see proof of your certification or logbook before the tour starts.
All divers have to supply their height/weight upon booking to ensure we bring you suitable equipment. For safety reasons, all divers need to understand instructions in English and be able to communicate with the dive guide in English.
In order to participate in this tour, you have to have an Open Water diver certification or higher
Please read our Diving Handbook for more information about the tour.
Age limit: Minimum 18 years old
Weight limit: 50-120 kg
Height limit: 155-200 cm
---
Practical Information
Remember to bring: Proof of dive certification and documented dry suit experience. Warm long underwear (fleece/wool), warm woolen socks, change of clothing (just in case) and a towel.
Kindly note: We are using top quality neoprene drysuits. However, no dry suit in the world can be 100% guaranteed to stay dry unless it is custom made especially for you. There is a small chance of water entering the suit. Please bring a spare set of clothes just in case.
No Drysuit certification?
Please contact our sales department for further information or if you want to add a Dry Suit Speciality course you can take the 2-DAY DRY SUIT SPECIALTY COURSE & DIVING IN SILFRA for 95.990 ISK.  Available from May-October.

Need glasses? Since you are wearing a snorkeling/dive mask to see underwater, there can be nothing in the way of the seal to keep them from filling up with water. That is, you can not wear glasses underneath the mask. You will have to go without them, wear contact lenses or bring your own goggles with prescription.
Winter departures: If the air temperature falls below -0°C there is a possibility that the divemaster will change the tour into just one dive due to safety reasons.
Flying home? It is strongly advised to wait for a minimum of 24 hours after you last dive before getting on a flight. 18 hours is the absolute minimum. 
---
---
Please note
The National park charges a small parking fee of 500 ISK for those that choose to meet on location.
This is a challenging dive where you need to be capable of carrying heavy equipment up to 400m.
Diving in Silfra fissure
On arrival to Silfra, dive guides will give a thorough dive briefing. This will include details about diving procedures, signs and signals, national park rules, your equipment, the route, and important information on how to use the drysuit.
Once you're geared up, it's time to walk to the entrance and get in the water. Entry is via steps that lead onto a large metal platform. The water will be waist deep as you stand on the platform so you can easily acclimatize to the feeling of the cold water on your face, and have a quick drink of the refreshing water. After each diver has done a weight check with the dive guide, it's time to begin the dive!
You'll be taken through each of the four sections of Silfra, and have plenty of opportunities to have a good look around. The first section near the entrance is the Silfra Deep Crack, which is long and narrow as it winds a little to the left and right. This then widens slightly into what we appropriately call the Silfra Hall, which leads to the deepest point at 22m called the Silfra Cathedral. After the cathedral, we turn left into the Silfra Lagoon, which is incredibly beautiful and the final part of the dive. After stepping onto the exit platform, your guide will help you remove your fins and you'll have a chance to warm yourself up with roughly a 300m walk back to the car park. We can always remove your weights or even your gear if you have trouble walking with your gear on, and you can also have a rest back at the entrance which you will pass on the way back.
Once back in the car park, we'll take the gear off you and get the hot chocolate and cookies out so you can warm your hands whilst you talk through the dive.
Please read our Diving Handbook for more information about the tour.
Book this tour
Price from: 27.990 ISK
NO BOOKING FEES
FAST & SECURE PAYMENT
You have chosen: Meet on Location
You have chosen: From Reykjavik
"Iceland must-do!"
I signed up for diving in Silfra with Artic Adventures and I couldn't be more happy. They were very fast with responding to my questions and super helpful along the way. My divemasters, Mark and Hodei were so friendly, knowledgeable and super fun.

I had a smile on my face the entire time (especially after my face went numb) and would recommend anyone to these guys.

I can't thank Mark and Hodei enough and good luck with your scuba travels and adventures!
"Great day, with staff going extra mile!"
Brilliant day out scuba diving in thingvellir. Great instructors and fantastic trip. When we realised we left our camera behind they went to great effort to find it and the bus driver was kind enough to bring it back to our apartment after he was finished his drops. Great day before and after, we'd all highly recommend them!
"Incredible Silfra Diving"
What an awesome experience! This was a once in a lifetime deal. Thanks, Becca and Ed, for making the experience extra special. Super nice and fun people. What a breathtaking view!! And remarkably we stayed completely dry and warm. Would definitey recommend! 🙂 ~Jack, Laura, Carli, & Unnar
Silfra scuba diving tour - Deep Into the Blue | Average rating: 5/5 based on 9 customer reviews
"A Unique Experience!" |
By Ebru 14/06/2019
Silfra is unquestionably one of the most amazing diving spots on Earth! My guide Goran was a real expert and helped me a lot during my diving experience. At first I was a bit hesitated but I feel very secure during the dive and enjoyed the scenery Do not hesitate to go diving in Silfra. You'll have a fantastic experience. Ps. Please check out your pick up time twice before informing us. Although I e-mailed you previously to be sure about the exact timing of pick -up service, I had to wait for an hour.
"Good guide and good equipments" |
By TAKAHIRO 25/06/2019
My guides Tom and Ryan are very friendly. I have not enough experience for dry suit dives, but guides are very helpful. Also Arctic Adventures offer best orice. Thus, I had enjoyed silfra 2 dives!!! Thanks!
"Excellent!!!" |
By Teresa 11/07/2019
This adventure was amazing!!!! Would highly recommend to anyone!
"Great Dive" |
By Jodi Wood 15/11/2018
Lena was my dive guide and she was great... I had the option of two dives but because of the foul weather, we extended the dive by doing some extra exploration instead of a second dive ( and my wife who did snorkelling an hour before was waiting for me). A 45-minute dive and I was very satisfied. Like Lena said, you just have to remember where you are... between two continents. Great experience.
"Silfra diving" |
By Lee 14/11/2018
Excellent tour! Our dive guide Carl is great and caring. Very good experience!
"Silfra fissure dives" |
By Ian Lundy-Lester 01/11/2018
"I was picked up as agreed from my Reykjavík hotel, and the scenic drive to the dive site was amazing. My tour/dive-guide was Zsolti and he gave us lots of interesting facts on the way to the site. The dive kit fitted perfectly (so please fill in any pre-trip questionnaire in full - it will really help you enjoy your time at the dive site) - and I was lucky enough to get a brand new crushed neoprene suit. I dived in late October 2018 and the air temperature was -3'C when kitting up (and wind-chill on top), but Arctic Adventures had a ""Changing Room"" van to get changed in where I could easily stand up (I'm 6' / 1.83m). The water temperature in the fissure was +3'C, so it was much better to be in the water quickly to get out of the wind. Zsolti, and his colleague Tamsen, were extremely helpful, personable and funny when I was getting kitted up, and even put my dive mask on for me. 5 star service throughout. I had the option to have two dives in Silfra, and after the first one I couldn't wait to get in again. The water was VERY clear and I had a bit of mild vertigo when looking down from the platform to start with. Zsolti was a very calm and attentive dive leader and I felt very safe due to the level of experience he was clearly demonstrating. Don't think about it... get booked up and go diving in the Silfra fissure."
"Amazing" |
By Kevin 23/09/2018
Wonderful experience! Awesome staff..Thanks!!
"Breathtaking" |
By Natalie Whiteman 23/09/2018
Myself and my dive buddies dive in cold waters at home. The silfra dive was like no water I have ever seen. Crystal clear and amazing. The cold water was not even a factor once you got in and enjoyed the dive. Taz and Vlad our guides were fabulous and hope they join us on a tour in NY one day!
"Awesome dive! " |
By Karen 27/04/2018
Awesome dive! Friendly, fun, knowledgable and experienced guides. Fabulous diving experience. Small groups in the water make the experience even better as you feel like you have the place to yourself. Just the most unforgettable and wonderful experience. Thank you so much