The perfect tour for those that want to dive in Silfra Fissure in Iceland and need a dry suit certification!
INSTANT BOOKING CONFIRMATION
Want to do this trip for free? Tag us @arcticadventures on your social media stories and photos during your trip and enter a chance to win a full refund. The winner will be picked once a month!
---
Want to dive the famous Silfra Fissure, but not yet dry suit certified? No problem!
During this 2-day package, we'll suit you up with a dry suit certification in time to explore some of the clearest water on Earth.
Snorkeling Silfra Fissure has been rated one of the Top 5 activities in the world by Trip Advisor – go a step further with our Diving tour!
Availability

May. - Sept.
For people in good shape and in good health.
Tour highlights

Þingvellir National Park (Thingvellir)
Silfra Fissure
Diving in Iceland
North American & Eurasian Tectonic Plates
A Unique Experience
Included

Free Reykjavik Pick-up & Drop off
Guidance by Experienced PADI Dry Suit Instructor
PADI Dry Suit Specialty Certification Card
One Confined Water Session
Two Open Water Training dives
Two Dives in the Silfra Fissure Thingvellir
Silfra Entrance Fee
All Rental Dive Equipment + Dry Suit
Hot Chocolate & Cookies After the Dives
Silfra Fissure – Diving in the World's Clearest Water
A small ravine situated beneath the iconic Thingvellir National Park, the Silfra Fissure is consistently rated as one of the best diving sites in the world. It is famous for the crystalline glacial waters, which allows divers to see more than 100 meters in each direction and the beautiful emerald plants that populate the fascinating rocks below. It is part of the Mid-Atlantic Ridge, which cuts through Iceland and marks the spot where Europe ends and America begins. This means that in the Silfra Fissure you will literally swimming between the Eurasian and North American tectonic plates. The glacial water of Silfra is so clean and pure that you can take a small drink of it before you dive down into its gorgeous blue depths.
The dive begins via a small steel ladder: when you enter you will be fully insulated in your dry-suit, although it may take a second for your face to get used to the temperature. Then as we explore this majestic turquoise world, you will get a profound sense of the beauty that nature creates. The dive itself is divided into four parts: The Silfra Deep Crack, the Silfra Hall, the Silfra Cathedral and the Silfra Lagoon. The most famous of these is the lagoon, where the water stretches into the distance and divers can see more than 100 meters in each direction.
Silfra is a diving site that inspires awe and wonder in equal measure, the ideal place to have an unforgettable experience, which will whet your appetite for the sport and leave you wanting more.
Pick-up: You will be picked up in Reykjavík, the pick-up time is at 08:00 AM. Picking everyone up can take up to 30 minutes, your patience is greatly appreciated!
Available pick-up points: Arctic Adventures's pick-up list.
Please read our Diving Handbook for more information about the tour.
Please note
In order to participate in this tour, you have to have an Open Water dive certification or higher.
Day 1
The first day of the tour is all about learning, as our expert diving instructors teach you how to safely dive in a PADI Dry Suit. In the morning we will be in the classroom, where we will learn about diving theory, how to communicate underwater and how to manage your equipment.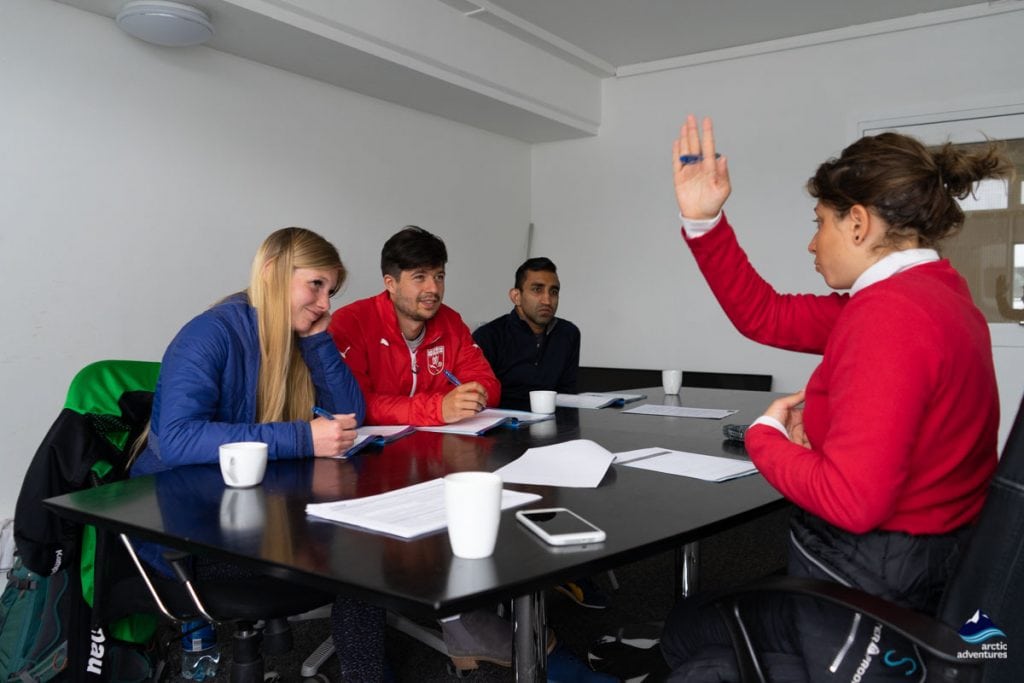 The afternoon will be spent in a local Reykjavik swimming pool, where you can practice being underwater and test all the new knowledge that you have gained followed by two open water training dives. These two dives take place in a lake or protected ocean site in the Reykjavik area depending on the weather conditions. We often go to the ocean, Lake Kleifarvatn or Lake Thingvallavatn, all amazing places to test our diving skills.
Day 2
Day two is when all the action happens, as we make the scenic journey to Thingvellir National Park, to go on two guided dives on the magical turquoise world of the Silfra Fissure.
There is no better way to put your newly gained diving skills to the test than in this spectacular underwater world, renowned for being one of the top 10 dive sites in the world.
Book this tour
Price from: 89.990 ISK