Join a Iceland diving tour into Silfra Fissure, an underwater crevice with unparalleled visibility. In Silfra, you can see clearly for 100 meters in any direction, the best underwater visibility on Earth. Explore Thingvellir National Park at the world's best diving destination when you scuba in Iceland!
Diving in Iceland Quick Facts
Iceland's freshwater dives are considered the best in the world
Silfra Fissure in Iceland has the best underwater visibility in the world at 100 meters
Iceland's cold waters require dry suits when diving
You can get PADI Dry Suit certified in Iceland in just 2 days
Reykjavik scuba diving allows you to sea dive in the Atlantic Ocean
Silfra dive site is open to divers all year round
Water temperature at Silfra is around 2-3 C
About Silfra Fissure
Silfra Fissure is the most popular diving destination in Iceland. Silfra is an underwater fissure in Thingvellir National Park, the first national park in Iceland and a UNESCO World Heritage Site. The fissure is formed by the pulling apart of two tectonic plates. Silfra is found on the northernmost edge of Thingvallavatn, the largest natural lake in Iceland.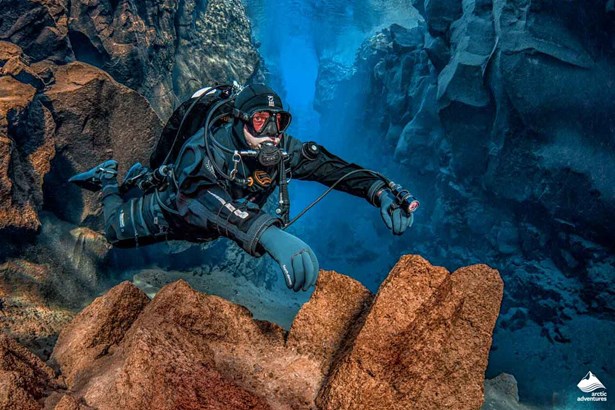 The water at Silfra Fissure is some of the clearest in the world. For context, at most diving places across the world, 30-60 meters of underwater visibility is considered extremely good. Silfra, however, has over 100 meters of visibility. We can't even fully determine how far this visibility stretches because the fissure itself isn't long enough.
If you're looking for awesome diving or snorkeling opportunities in Iceland, then Silfra should be your go-to spot.
Scuba Dive Between Two Continents
Silfra Fissure is the splitting rift between the North American and Eurasian continental plates. This is one of the only places on Earth where you can see the continents split apart with your own two eyes — and swim between them! Some parts of the fissure are so narrow that you can stretch out your arms and touch both continents at once.
You'll start by diving the Silfra Deep Crack, a long and narrow valley. Next enter Silfra Hall, a wide area covered in seaweed. Continue into Silfra Cathedral, the deepest part of the dive. The last stop is Silfra Lagoon, a shallow water space with incredible colors.
Best Time to Dive in Iceland
Diving adventures are available year-round. Freshwater diving locations in Iceland like Silfra Fissure or Lake Kleifarvatn stay at consistent temperatures throughout the year. For example, Silfra is a steady 2-4 °C in all seasons. While that may sound chilly, with a dry suit you'll be ready to hit the water. Diving Silfra in winter ensures fewer tourists and great visibility.
How to Get Dry Suit Certified
You need special dry suit certification in order to dive into the cool waters of Iceland. This may sound complicated, but there are just a couple of steps to take before you'll be free to explore cold waters throughout the world.
First you need to get your Open Water Diver certification. Many different diving schools offer Open Water Diver courses throughout the world, but the largest and most popular school is PADI (Professional Association of Diving Instructors). Courses usually last just a couple of weeks and then you'll be Open Water Diver certified!
The next step is to get Dry Suit certified. The PADI dry suit course usually takes just one day. Not dry suit certified? We offer a PADI dry suit specialty course right at Silfra Fissure! You'll get certified on day 1 and spend all of day 2 on an incredible dive tour. Become a diving pro with the help of our best Arctic Adventures diving guides.
Diving Regulations
Most people are able to get certified and go scuba diving as long as they are in reasonably good health. There are a few health regulations you need to meet in order to safely scuba dive in Iceland.
To join us for a dive in Silfra Fissure, you need to:
be at least 18 years old and understand instructions in English.
have an Open Water and Dry Suit certification, or Open Water Certification and a logbook with 10 logged drysuit dives in the last two years.
provide a health certificate if you're over 60 years old.
Fitness:
The approach to the diving site is approximately 150 meters and the return to the diving center after the dive is approximately 400 meters. You need to be able to walk that distance while wearing full equipment.
You are not allowed to dive in Silfra if you have or have had any of the following conditions:
Inability to perform moderate exercise (swimming 500m and walking 600m)
Current or previous heart disease, heart surgery or heart attack
Current lung disease
Previous pneumothorax (collapsed lung), chest disease or chest surgery
Head injury with loss of consciousness during recent years
Thrombocytopenia or other blood disorders
Colostomy or ileostomy
Epilepsy or conditions resulting in sudden unconsciousness
Obesity
You are allowed to dive in Silfra if you have the following conditions and a doctor's letter (in English) saying you're fit to dive:
Higher or lower blood pressure than normal
Type 1 diabetes
Asthma (mild to severe)
Note: – Pregnant women are not allowed to dive in Silfra.
Other Dive Sites in Iceland
Iceland has more exciting underwater worlds than just Silfra! Thingvellir National Park diving includes Davíðsgjá Fissure, also in Thingvallavatn Lake and not far from Silfra Fissure, Davíðsgjá is darker and wider than its neighbor Silfra. Near Reykjavik on the Reykjanes Peninsula, dive into the enormous turquoise Lake Kleifarvatn.
Awesome ocean dives are also on offer in Iceland. Popular ocean dive spots include Gardur fishing village on Reykjanes Peninsula, the Strýtan Geothermal Cone in North Iceland and a wrecked WWI oil tanker, El Grillo, in East Iceland.
Our Iceland Diving Tours
Our Deep Into the Blue tour from Thingvellir National Park is the ultimate scuba diving tour of Silfra Fissure. Join us in Thingvellir or choose pickup in Reykjavik and set out on an incredible underwater journey. On this five-hour scuba tour, we'll set you up with all the necessary equipment and lead you into the depths between continental plates. You can purchase photos of your dive afterward.
Still need your dry suit certification? Join our two-day PADI dry suit certification course right at Silfra! Get your certification out of the way on day one, then spend all day two practicing your new skills at the best diving spot in Iceland.