Diving Sites And Locations In Iceland
If you haven't yet learned about all of the top spots for scuba diving in Iceland, keep reading. From a fissure separating two continents to the coastal waters of the Atlantic ocean, decide what strikes your fancy and we'll take you there!
Silfra
Unquestionably the most popular diving location in Iceland, this spot awaits at Thingvellir National Park. Dive in crystal clear glacial water in Silfra fissure with unparalleled 100m visibility.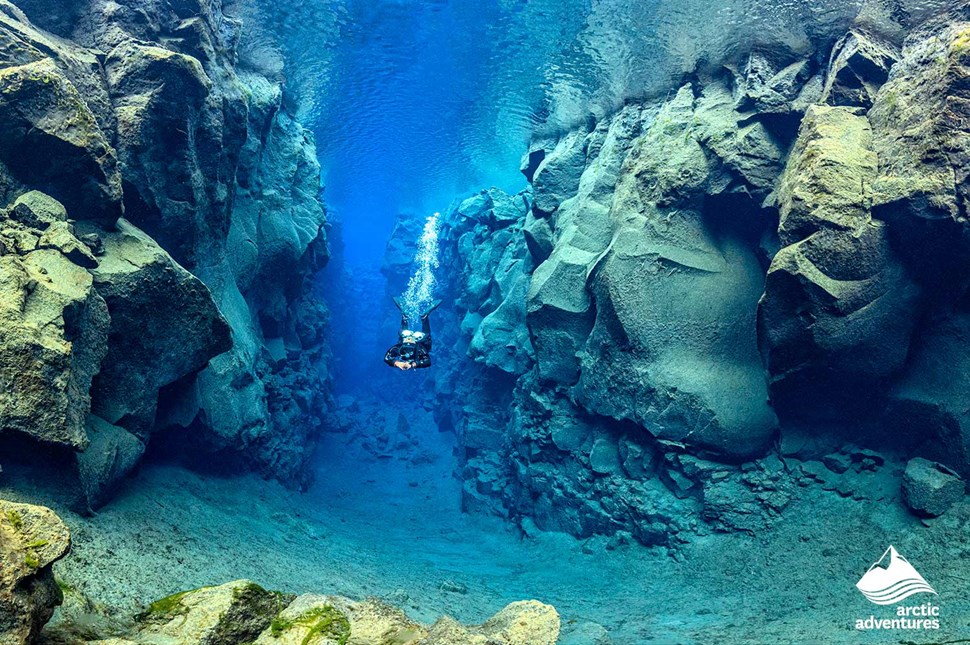 The underwater landscape of Thingvellir National Park is so unique that it is included in the UNESCO World Heritage list. This is no surprise considering that the North American and Eurasian continental plates actually meet in the Silfra fissure. There are some things you should be aware of when snorkeling at Silfra. Here are the main things you should avoid doing while there.
Ever wondered what it feels like to touch two continents at the same time when diving underwater? If you're curious to find out, Silfra is for you.
Tours available: 
For those who are not yet dry suit certified, a

2-day Silfra diving - PADI Dry Suit

course is the way to go. 





If you already hold a PADI Dry Suit certificate and have your mind set on Silfra alone, join our

half-day Silfra diving adventure.

 





If you are in for a bigger adventure, check out our Tectonic Diving tour for a whole day of diving. Silfra is one of the two featured locations.
Bjarnagjá
This magnificent fissure is located so close to the Atlantic Ocean that it blurs the line between coastal and freshwater diving. Because salt water greatly impacts the ecosystem of  Bjarnagjá fissure, it is home to unique flora and fauna such as pink anemone and lurking eels.
Historically an old crab hatchery, this 18-meter deep lava ravine now shelters an old shipwreck that you get to explore during your dive. Bjarnagjá is isolated on both ends so no waves or currents form there, resulting in a uniquely peaceful dive.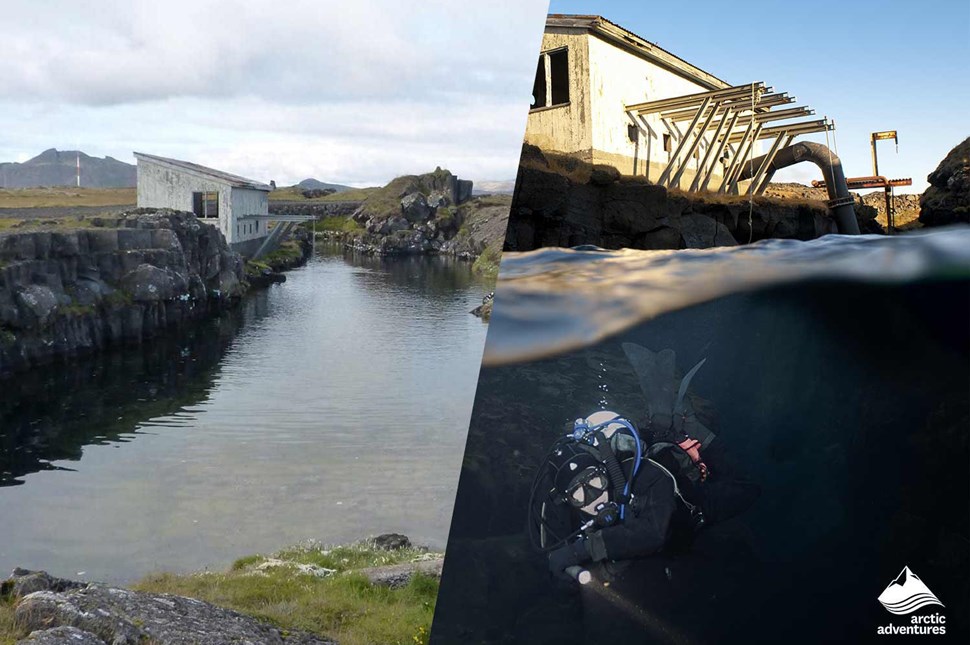 Tours available:
Explore

Bjarnagjá during our Geothermal diving tour, a once-in-a-lifetime opportunity to explore underwater geothermal activity in two different diving locations in Iceland
If Bjarnagjá alone is what interests you, you can choose it as a location for a half-day Iceland diving tour
Davíðsgjá
A darker and longer sibling of Silfra, Davíðsgjá is a monstrous crack in Lake Thingvellir. Its visibility is dependent on weather conditions but on most days it reaches an impressive 100m. Although often mentioned together with Silfra, this go-to diving site for many locals has promising sights and experiences of its own.
The size of the crack alone will leave a lasting impression. It is simply impossible to take it all in at once. The scale and underground architecture complement each other as you have plenty of space to explore massive lava formations.
Shy dwarf fish use the enormous lava rocks to keep out of sight, but you might be able to swim alongside massive trouts. If you're keen on diving in locations off the beaten path, Davíðsgjá is your dream come true.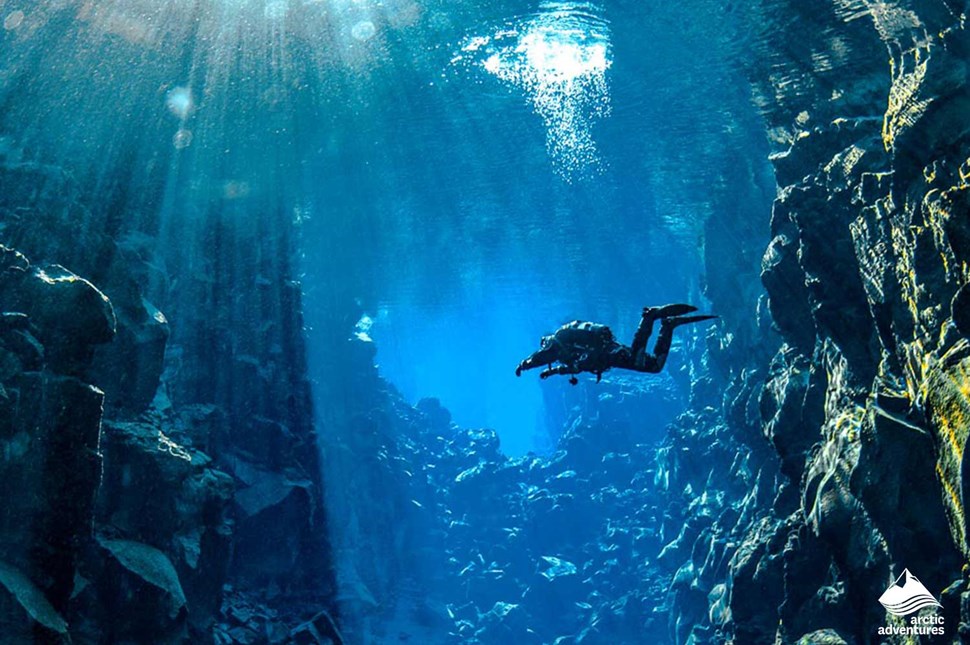 Tours available:
Combine

Davíðsgjá and Silfra into an unforgettable full-day diving adventure with our Tectonic Diving Tour.
To explore the depths of Davíðsgjá alone, book our half-day diving tour and choose Davíðsgjá as your tour location.
Garður
This old fishing pier features the highlights of coastal diving in Iceland. Garður is located at the end of Reykjanes peninsula and is rich with marine wildlife. Over 40 species of algae, a great many fish, soft corals, crabs, kelp forests and many more fascinating marine creatures call Garður home.
Since this is a coastal dive, visibility is a lot more limited than in freshwater tectonic fissures. Expect around 3 – 11 meter visibility depending on the season and tides. Still, if you get close enough to the bottom, you are likely to see camouflaged flounders with their eyes curiously poking out.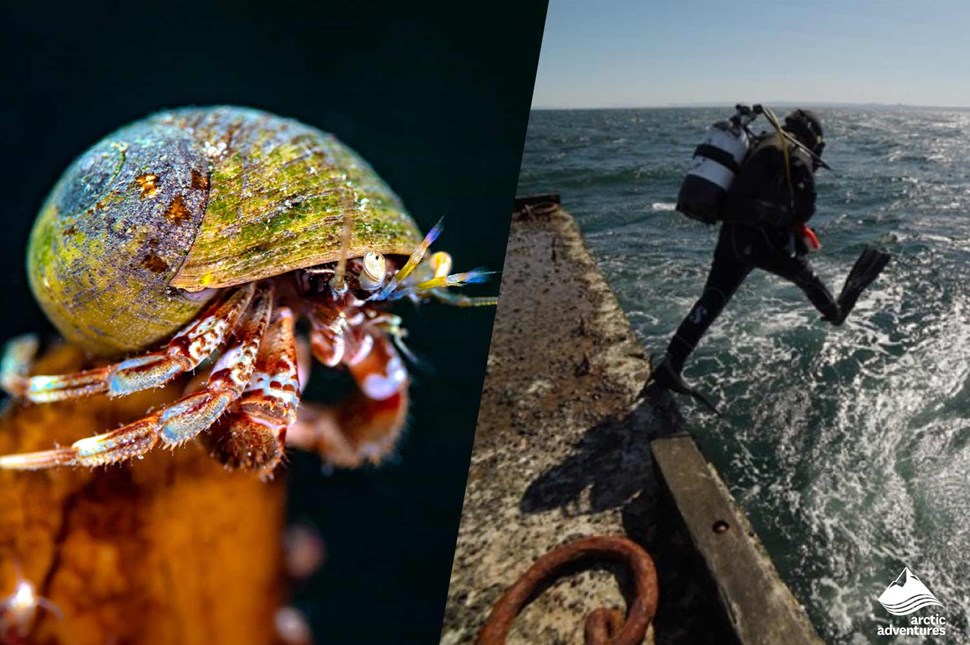 Tours available:
Explore Garður during a half-day Iceland diving trip
Kleifarvatn
A monument to geothermal activity in Iceland, this lake is one of the most remarkable diving locations. Although the smell of sulfur is not the most pleasant greeting, what lies underwater definitely makes up for it.
Bubbles that form under the lake's floor and rush up to the surface, intense rock vibrations caused by the pressure from underneath, and many more unbelievable experiences make Kleifarvatn an exceptional dive spot.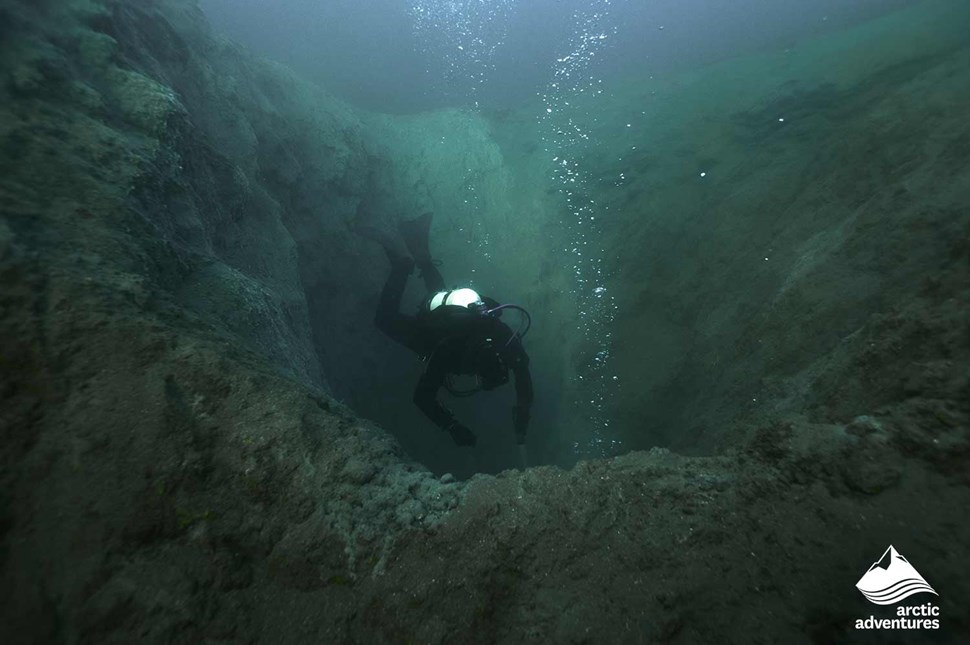 Tours available:
One of the two locations included in our Geothermal Diving tour is Kleifarvatn. Book the tour for an entire day of discoveries!
If it's Keifarvatn alone that you'd like to explore, consider a half-day diving tour at this lake.
Fisherman's Crack
This dive takes place in Lake Þingvallavatn, famous for its fissures and unique ecosystem. The lava rocks in this lake are young and porous, creating hideouts for fish and water full of minerals. The bottom is covered in vegetation and there are multiple cracks that ripped open on the sides, one of which we will explore in-depth during our dive.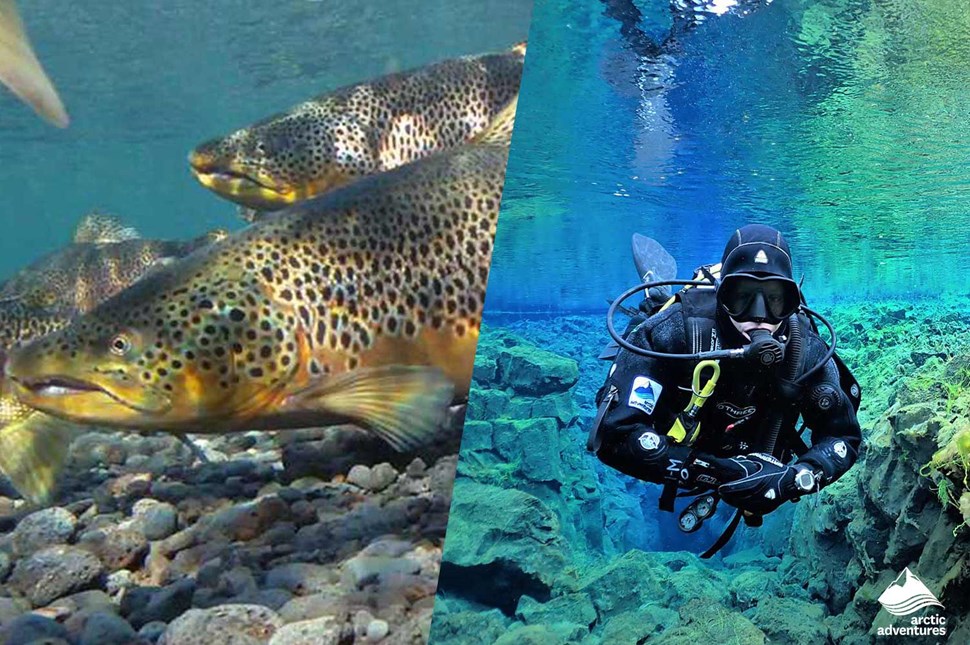 Tours available:
Fisherman's Crack is available as a half-day diving tour location or is used as a substitute during other tours if weather conditions don't permit visits to the primary sites.
Abandoned Jetty
Weave your way through the pillars of an old shipping pier in Hvalfjörður (The Whale Fjord). Starfish and sea snails are in mass force, but the true beauty here is the macro life. Many nudibranchs nest in the large leaves of kelp that have grown around the pier like ivy.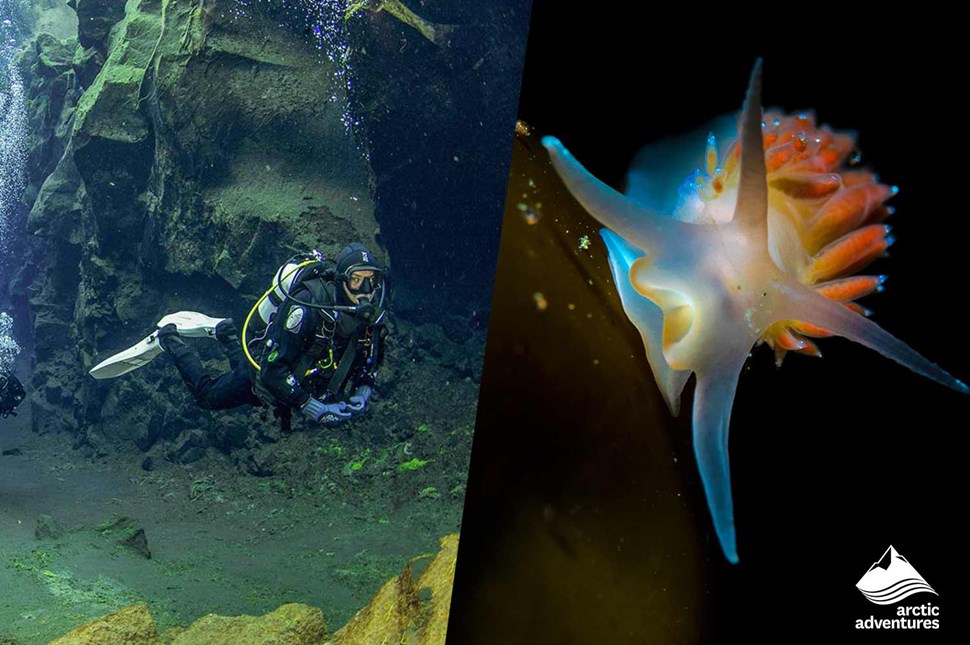 Tours available:
Abandoned Jetty is available as a location for a half-day diving adventure or can be used as a substitute location during other tours due to weather conditions.
About Diver Training And Padi Certification In Iceland
PADI is an internationally recognized diver training organization. By obtaining PADI certificates, you prepare to tackle the challenges presented by different waters.
For the most part, PADI Open Water and Dry Suit certifications are enough if you want to book a diving tour with us. But with so many PADI specialty courses and levels out there, why not turn your recreational dives into a learning experience? You can combine some of the most spectacular diving spots in the world with a new scuba diving certificate!
Here at Arctic Adventures Diving Center, we can offer any PADI training and certification you'd like to obtain. Keep in mind that most PADI courses have a minimum requirement of two participants or more. Consider requesting PADI training together with your diving buddy. After all, it's even more fun when you get to share this experience with a friend!
Read more about our PADI courses and get in touch with our team at dive@adventures.is to start planning your new adventure.
If you do not have any diving experience and PADI certification, you still can enjoy Icelandic waters by joining a snorkeling tour. Many people ask the question – what is the difference between diving and snorkeling? Click here to see our guide Guillaume answer this question!