Opened in 1952, Glaumbær Museum is Iceland's best museum housed inside turf-roofed farm buildings. Discover traditional Icelandic homes dating back to the 18th and 19th centuries. Take a walk through hobbit-like rooms connected by a central passageway. This perfectly preserved historical farm shows how Icelanders lived for centuries. Museum-goers, it's time to explore!
Looking for a truly unique experience in Iceland? You can't go wrong with visiting Glaumbær Museum, one of Iceland's secret gems. There you'll get a chance to walk on a turf farm that dates back to the Settlement of Iceland in the ninth century. Though the site is old, the buildings themselves date from 1750 and 1879 and were inhabited up until 1947.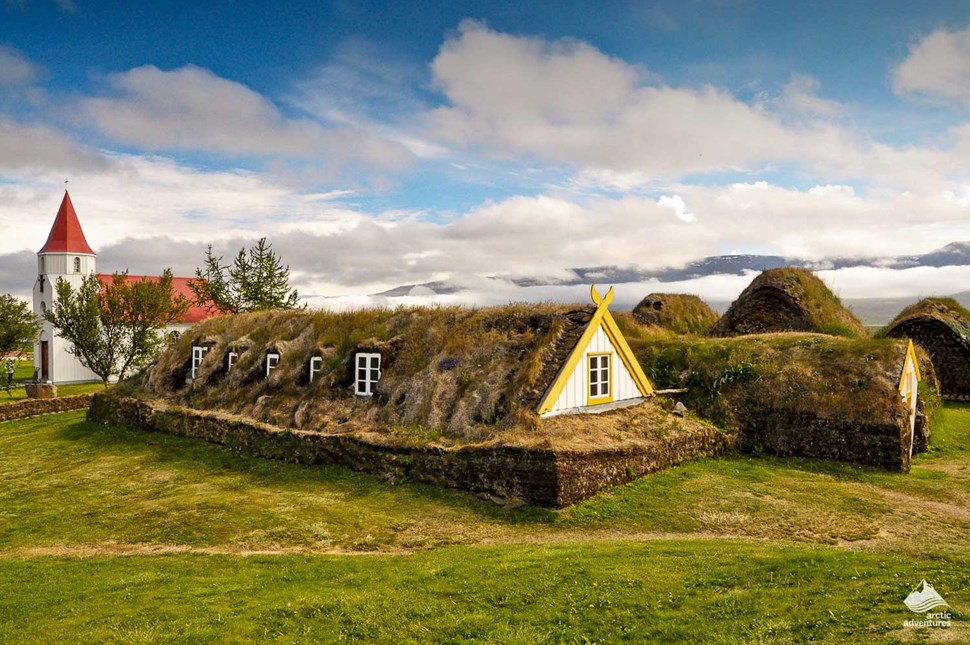 The turf-roofed and turf-walled houses shed light on stories of the past. Inside, find fascinating artefacts such as fish-skin shoes, toys made from animal bones, driftwood chests, and horsehair bags. Glaumbær will inspire awe and curiosity in those of all ages. 
Today Glaumbær is a part of the Skagafjörður Heritage Museum.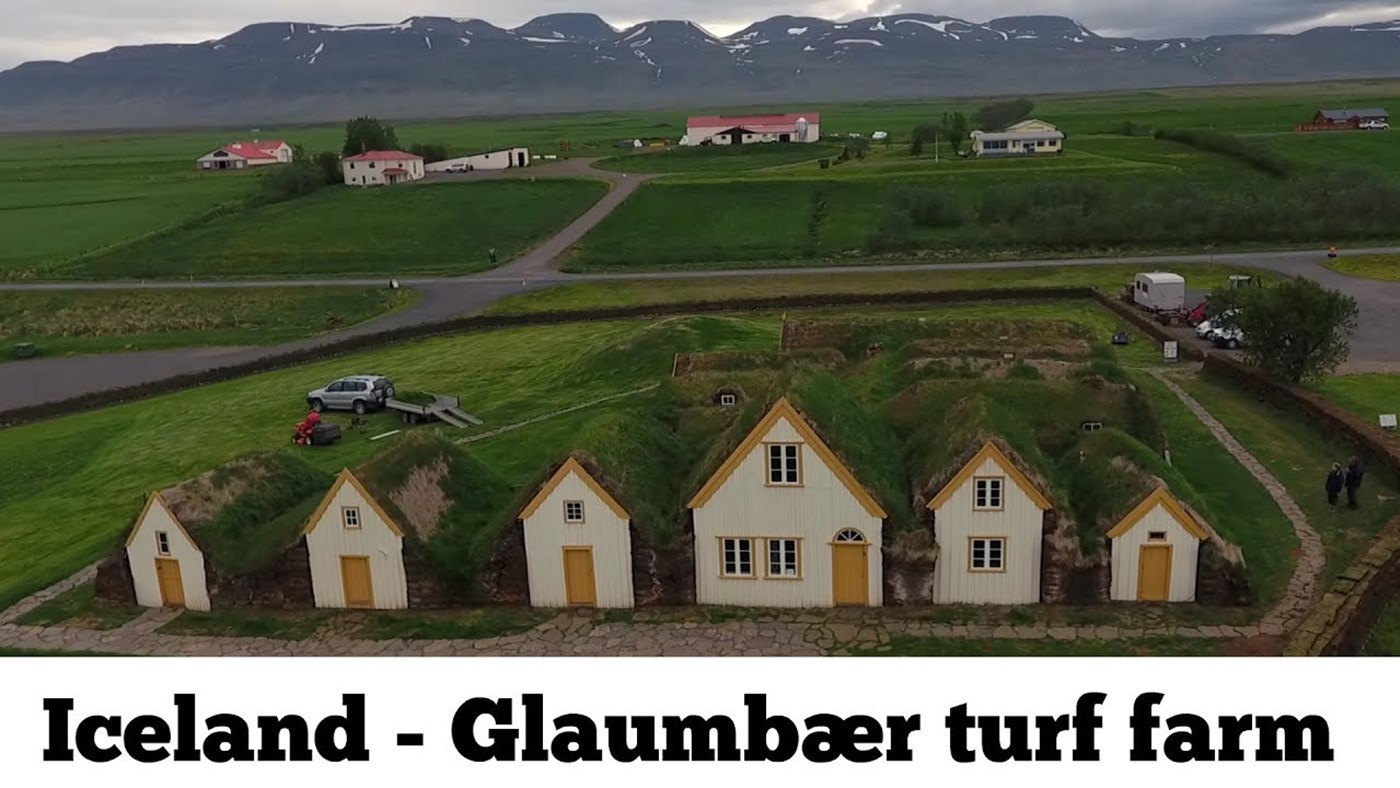 How to Get There
You'll find Glaumbær Farm & Museum in the northwest of Iceland in the Skagafjörður region. When driving north, the farmhouse is just a short detour off the Ring Road (Route 1). Upon reaching the small village of Varmahlíð, turn left onto Road 75, which will take you to the farm in about 10 minutes.
GPS Coordinates: 65.610977, -19.504644
What to Expect at Glaumbær Museum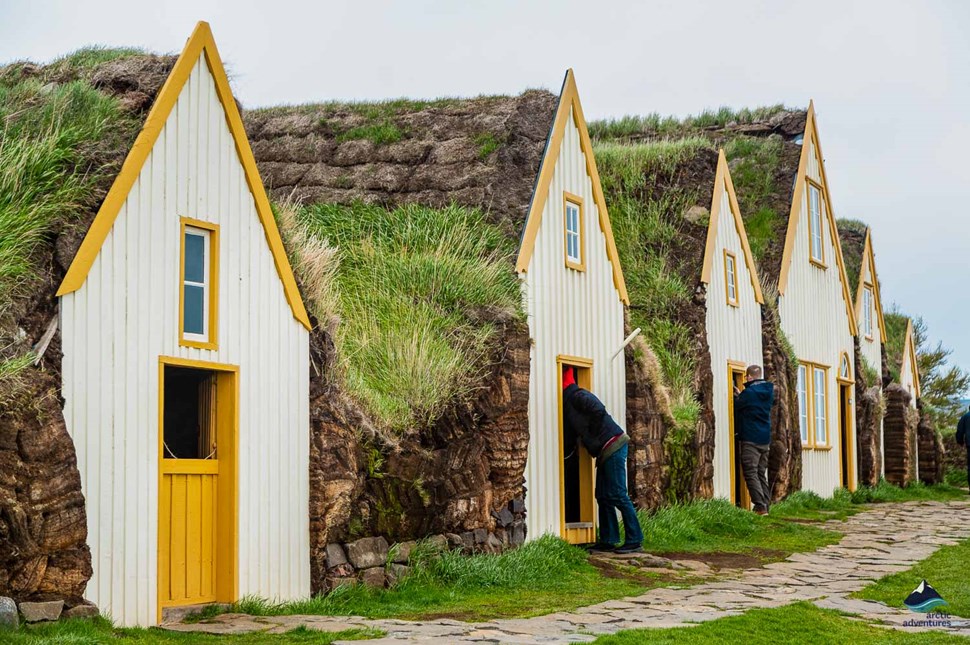 Glaumbær Folk Museum comprises 13 buildings and offers a rare insight into how Icelandic people lived in the past, with limited access to the outside world and supplies. Due to scarce opportunities to get timber for building, Icelanders used turf constructions to build their homes. They used Icelandic grass, which is very thick, for insulation.
The houses with grassy walls could last as long as 100 years. However, even the best turf houses were often leaky, damp, and dark. Brrr!  
Discover a Traditional Baðstofa
For an outsider, all the turf houses at Glaumbær might look separate but they are connected inside by a narrow corridor. One of the most interesting rooms is baðstofa, the communal living room. In this room, families spent dark nights knitting clothes and playing various games.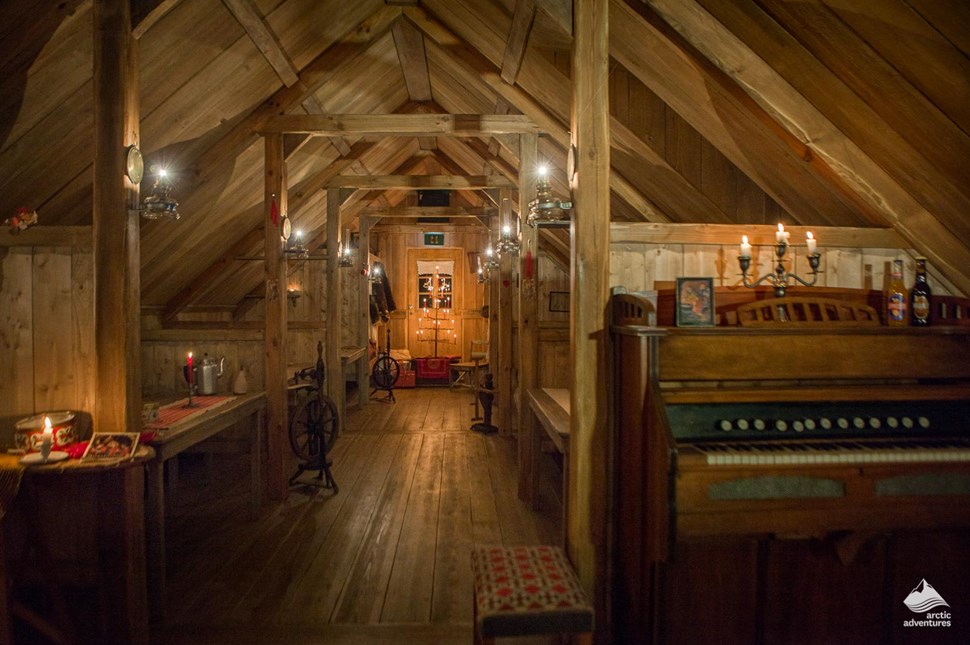 Other rooms include the kitchen, guest rooms, pantries, and storerooms. The farmhouse complex even had its own smithy workshop.
Learn About Unique Turf Constructions
Turf buildings became the main architectural style in Iceland and remained so until the 20th century. At Glaumbær turf farm museum, you'll learn why the roof slope was so critical for the whole building construction and what Icelanders used to cover windows when there was no glass. You'll also learn the different ways that Icelanders warmed up.
Let Glaumbær encourage you to think differently about this little island in the North. 
Others not to be missed at Glaumbaer…
Nearby the turf farmsteads you'll also find two 19th-century timber houses, Áshús and Gilsstofa.  These wooden houses represent the type of buildings that gradually replaced turf houses.
The white Gilsstofa houses the information centre and a museum store. The yellow Áshús contains an exhibition about the region and the quaint Áskaffi tearoom serving traditional Icelandic delicacies. Like the sound of it? It's about to get even better with sugared pancakes and steaming tea on a table covered with a checkered tablecloth.
The Áskaffi cooks use recipes passed down for generations. The café is decorated with items from the 19th century. Enjoy the cosy atmosphere and food that tastes like it did in the old days.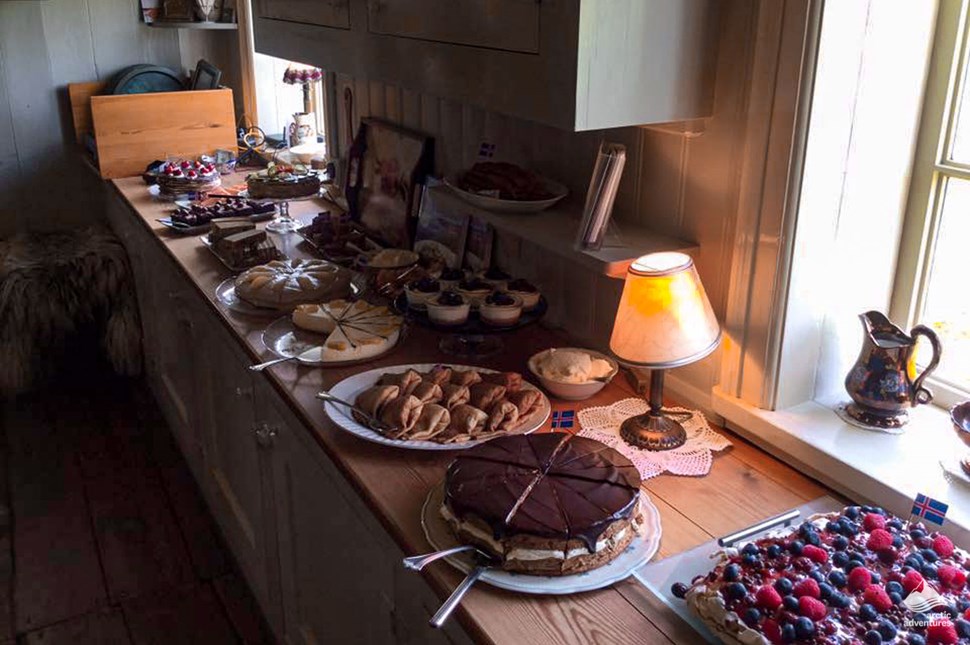 Also on site is the modern Glaumbær Church dating back to 1926. The white church with red towers will immediately grab your attention.
Glaumbær Museum Stories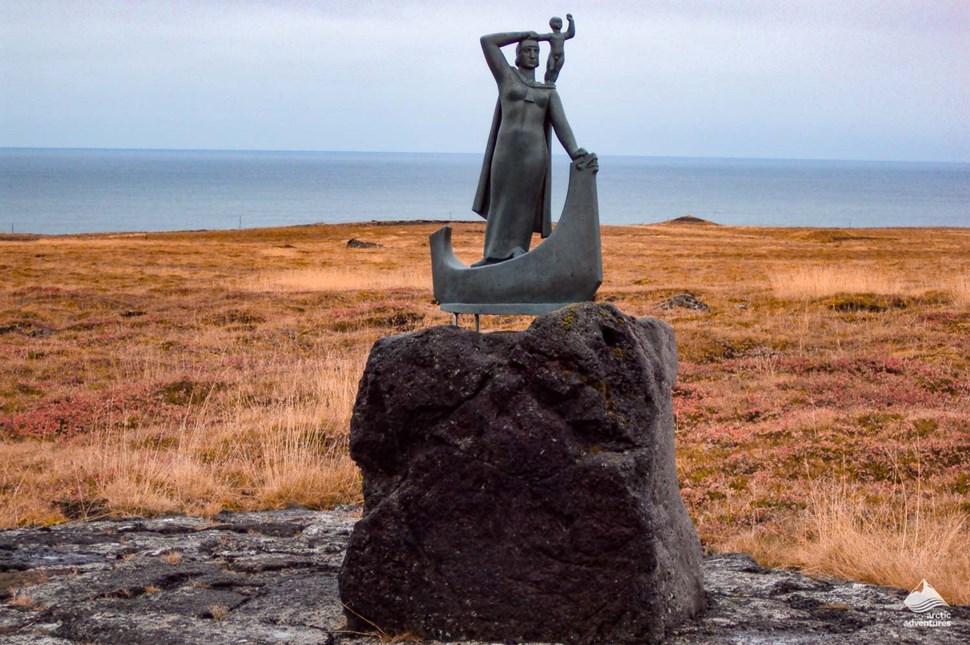 The entertaining Glaumbaer folk museum in Iceland not only shows how medieval Icelanders survived in the country's harsh environment, but is also an important historical site.
The farm was home to Snorri Þorfinsson, the first American born of European parents, in the 11th century. Snorri was the son of Guðríður Þorbjarnardóttir and Þorfinnur Karlsefni who was born while his parents were on an expedition to the Americas long before Columbus.
Snorri's mother, Guðríður, is considered Iceland's most-travelled woman of her time. The sculpture of Guðríður by Ásmundur Sveinsson can be seen in front of the Glaumbær Church. 
Glaumbaer Opening Hours
Glaumbær Museum, 556 Varmahlíð
Open 20 May – 20 Sept 9am-6pm daily
On other dates, open by appointment (call +354 453 6173)
For more information, visit the official Glaumbær website. 
Interesting Places Nearby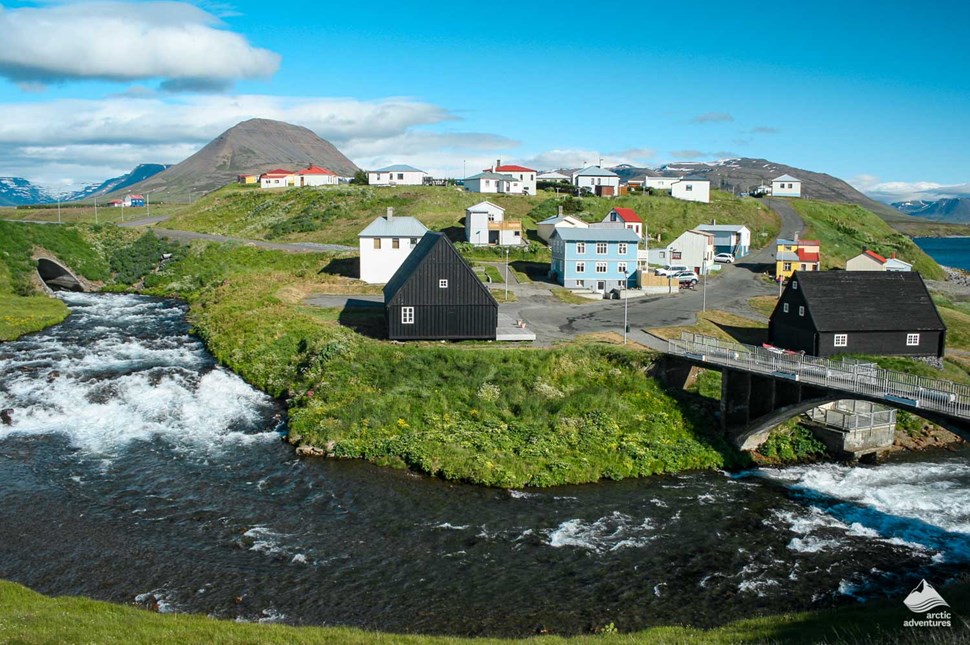 If you have some extra time, don't miss out on other hidden gems nearby Glaumbær. For scenic detours, consider the places below:
The sleepy town of 

Sauðárkrókur

 has gorgeous fjordscapes, plus good eating options.

The picturesque village of

 

Hólar

 is home to a historically important cathedral.

If you seek relaxation, then

 

Hofsós Village

 

with its thermal swimming pool is for you.