Perlan is one of Reykjavík's most famous landmarks and has been so for decades. Once a place of a swirling world-class restaurant and local favorite ice cream parlor the pearl has now been transformed into an idyllic natural exhibition where state of the art technology invites you to go deep into nature only a moment from the city center. 
Today you will find Perlan in a new costume. Now, you can visit a real-life ice tunnel, a perfect replica of the largest bird cliff in Europe, Látrabjarg. You can find Iceland's first planetarium where the uniqueness of Icelandic nature is displayed and fall deep into Icelandic history with the most knowledgeable and friendly guides.
Perlan is the perfect place to touch upon the natural wonders of Iceland without ever having to leave the city. It is famous for being kid-friendly and can easily entertain generations.
Another positive point to make about the Pearl is the accessibility but going through there with a stroller or in a wheelchair is very easy and comfortable.
Perlan's History
Perlan or The Pearl was originally not thought of as a place one would visit and enjoy. It was a place to store the city's hot water and was, at first, just a block of enormous water tanks places next to each other. The tanks had stood that way since the mid 20th century when a hemispherical glass dome was planted on top of it. Ingimundur Sveinsson was the architect of the place and his vision for multiple ways of utilizing it is still present today.
In the dome, a café and ice cream shop opened up and at the top was a restaurant. The dome would slowly turn in circles creating the most magical experience and Perlan became one of the more sought after places to visit in Reykjavik. In the beginning, six water tanks were used to store hot water but with the new design only five continued their initial purpose and one became a small museum to host exhibitions. From the year 2002 and until 2014 it housed a Viking museum but today you will find the exhibition Jöklar og Íshellar e. Glaciers and Ice Caves which is a part of the bigger exhibition Wonders of Iceland.
Perlan Today – The Wonders of Iceland
Today the pearl is home to one of the best nature exhibition you will find. Inside the buzzing capital, just minutes from the biggest shopping street and vibrant city life you are able to step into a perfect replica of an ice cave, to take in the grandness of Látrabjarg, to learn about glaciers and other geological forces, to have a visual and interactive underwater experience and to enjoy some delicious meals with impeccable views. All of this you can experience at Perlan!
One of the best things about the Wonders of Iceland exhibitions is the enlightenment of your senses as the experience isn't only visual but also felt through smell, temperatures and other intriguing elements – The attention to detail is just incredible!
Perlan Ice Cave & Glacier Museum
The first Glacier Exhibition ever to open in Perlan was the extraordinary Ice Tunnel. Only moments from the center of the capital you are now inside a man-made Ice Cave which takes you on a visual journey of the past, present and the likely future which might be for Icelandic glaciers. The Ice Tunnel is 100 meters long (328 ft) and is built with over 350 tons of actual snow retrieved from the Bláfjöll mountain area (home to Þríhnúkagígur).
Another way the Perlan Wonders of Iceland invites you to explore the glacial side of Iceland is through the impressive interactive glacier exhibition. Guests are welcomed to learn all about Icelandic glaciers from the way they form, to how they affect the land and eventually the effects of climate change. All of this is displayed through the most cutting edge technology which portrays the unique nature in Iceland beautifully.
Perlan Planetarium
The planetarium is the first of its kind in Iceland and will display different expos revolving around Icelandic nature. It is located in the old water tank which once hosted a Viking museum and will be ever changing with new and exciting ways to teach you all about Icelandic scapes and geology.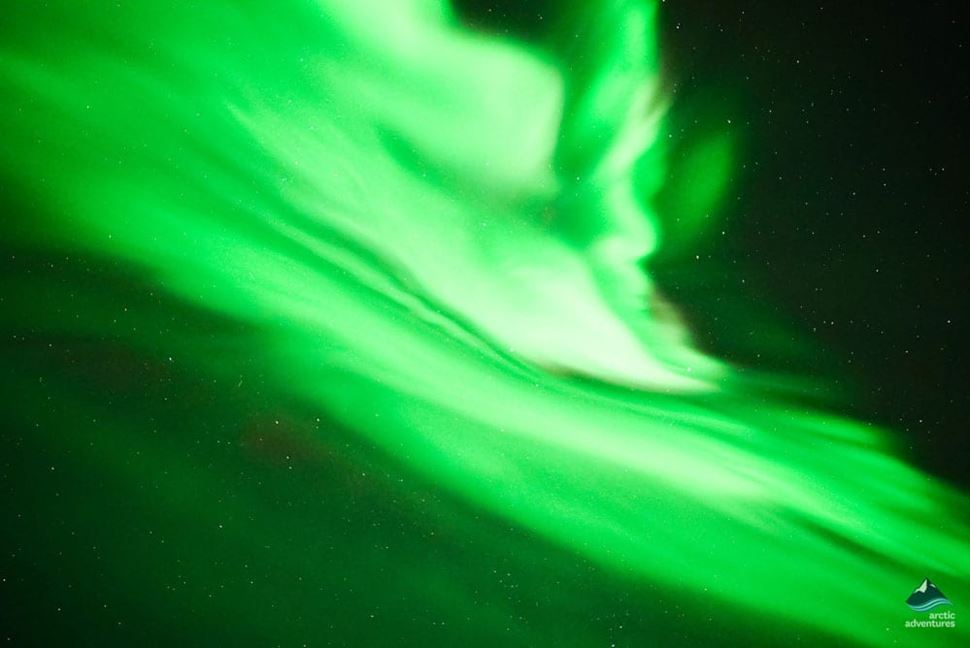 Next, the Planetarium will take on the Auroras featuring the Northern Lights in the most stellar of ways. You will learn all about them whilst enjoying the best views of these natural wonders all from in comfort of a warm cinema seat.
Perlan Interactive Underwater Cinema
No experience is the same when exploring the underworld through the cinematic powers of modern technology. View anything from a tiny algae bit to a gigantic whale in a setting that is almost too real to handle. This is one of those "pinch-me" moments you will get used to when visiting Iceland!
Perlan Observation Deck
At the top of the six water tanks lies the best observation deck you will find in Reykjavík. Located at the fourth floor and stretching all around the building it offers a splendid 360°c view over the Reykjavik and even on to the next peninsula when weather allows. From the viewing deck, you are able to see the ocean, mountains and even natural phenomenon found in Reykjavík's surrounding area; glaciers, volcanoes and active geothermal areas.
Price:
If you only wish to visit the Observation Deck the price for admission is 490 ISK (approx. 4 USD) for adults and free for anyone under the age of 15 but if you are visiting the Wonders of Iceland exhibition the observation deck is included.  
Open 9 am to 7 pm but the last admission is at 6 pm.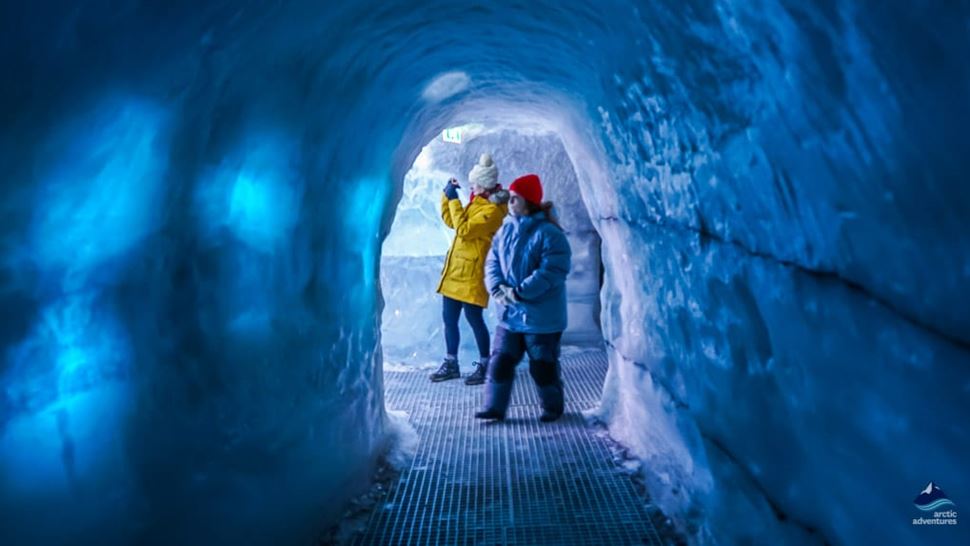 Where is Perlan?
Perlan is located at the top of Öskjuhlíð hills in central Reykjavík. Its location offers guests some of the best views of Reykjavík one can find. Nearby attraction, in walking distance from Perlan, are Nauthólsvík beach, Kjarvalsstaðir Art Museum, Kringlan shopping Mall and Hallgrímskirkja Church.
How to get to Perlan? The Free Shuttle Bus to Perlan
One of the best things about Perlan is its accessibility. Located right in the center of Reykjavík, on a towering hill you can easily spot it from anywhere in the city and the walk up to it is a pleasant one. If you are not in the mood to walk there is also the Free Shuttle option or you can park your rental right outside, it's free!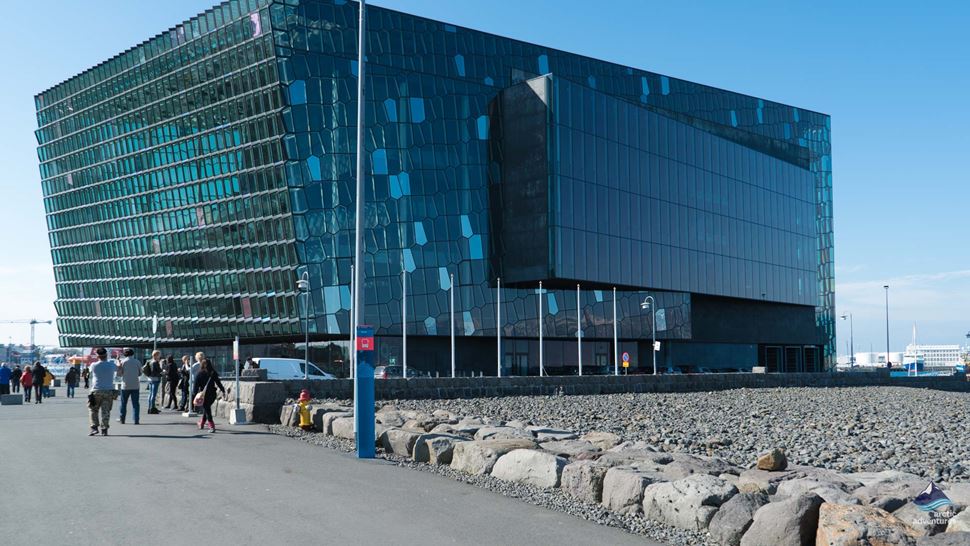 The Free Perlan Museum Shuttle leaves from Harpa Musical Hall on every whole and half hour from 10 am to 7:30 pm in the evening. It then departs from Perlan to Harpa again every quarter to and quarter past. Its last departure is at 7:45 from Perlan.
Where to eat at Perlan? | Perlan Restaurants
Út í Bláinn

 

– looking for a dinner, lunch or maybe brunch with a view? Út á bláinn has the most amazing brunch or lunch during the weekend (Saturdays & Sundays) and dinner on working days. This is a treat for your taste buds and eyes all at the same time!

Kaffitár

 – a delicious coffee shop / café franchise you can find all around Reykjavik. Try their cream cheese bagel, you will not be disappointed!
Perlan Opening Hours
Perlan is open every day from 9 am to 7 pm.
Rammagerðin gift shop has the same opening times, 9 am to 7 pm.
The restaurants have different opening times:
Út í Bláinn is open from Monday to Friday from 6 pm to 9 pm and Saturday & Sunday from 11:30 am to 9 pm.
Kaffitár is open every day from 9 am to 6 pm.
Perlan Prices | Admission Cost
Family Ticket (2 adults + 1-2 kids) = 7800 ISK
Adult (16+) = 3990 ISK
Kids (6-16) = 1950 ISK
Free for 5 and younger
Included:
Observation deck

Wonders of Iceland exhibit

Glacier and Ice Cave Exhibit

Planetarium
Observation Deck Only 490 for Adults only.
Interesting places near Perlan
Öskjuhlíð – small forest and hiking trails

Kringlan Shopping Mall

Nauthólsvík – beach and hot tub

Kjarvalsstaðir Museum

Klambratún Park

Hallgrímskirkja Church

Skólavörðurstígur Street

Laugavegur Shopping Street