Iceland is an ideal destination for thrill-seekers. The variety of fascinating geographic features is a playground for adventurers of all kinds. Whether you're keen to white water raft down roaring rivers, speed along black-sand tracks on ATVs, or climb stunning sheer ice cliffs on Iceland's glaciers, this island truly has it all. 
Ice climbing is a popular addition to a glacier hike to raise your heart rate a little bit more. But if you're used to a different climate altogether, this might be your first time tackling a frosty adventure of this nature. If you want to head onto the ice with a little bit of an idea of what you're doing, you might want to learn about the techniques used so that you're more confident with your ice axe in hand.
What Can I Expect on my Ice Climbing Tour?
When you arrive at the tour location, your glacier guide will be there to meet you and the rest of the group. Once everyone is ready, the safety explanations will begin. This will include fitting the equipment you'll need, a brief on how to properly wear and use the specialist equipment, and instructions on how to behave on the ice. Following the guide's overview, you'll make your way to the edge of the ice, which could be on foot or via minibus, depending on your location and tour.
Before setting foot on the ice, you'll put on the equipment you've been provided and follow your guide. The group will move slowly and carefully, with regular stops at interesting points on the glacier, which the guide will teach you about. The hike will lead you to the guide's chosen ice climbing location, where they will take some time to set up the anchor points and other safety features of the ice climb. Then, once the guide has "shown you the ropes", the group will usually take turns trying their hands at ice climbing before setting off on the climb.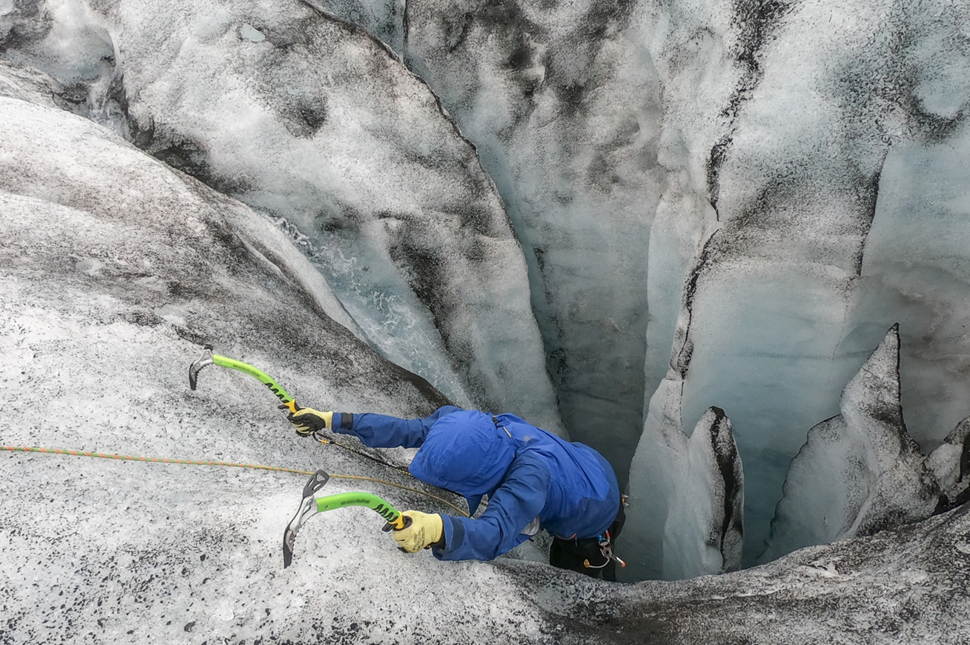 Ice Climbing Principles
The principle of ice climbing is to make your way up a steep incline of solid ice, typically starting at the top or in the depths of ice caves. The climber will use sharp crampons on each foot and two ice axes to make their way up or down the ice.
Equipment
You'll be provided with all the professional equipment you require on our glacier tours, including crampons, helmets, ice axes and harnesses. You'll be shown how to put these on correctly by your expert guide, so any questions can be directed towards them and they'll be happy to help. Even in a small group tour, it's imperative to pay close attention and fit your equipment correctly, for your own safety and for that of everyone around you.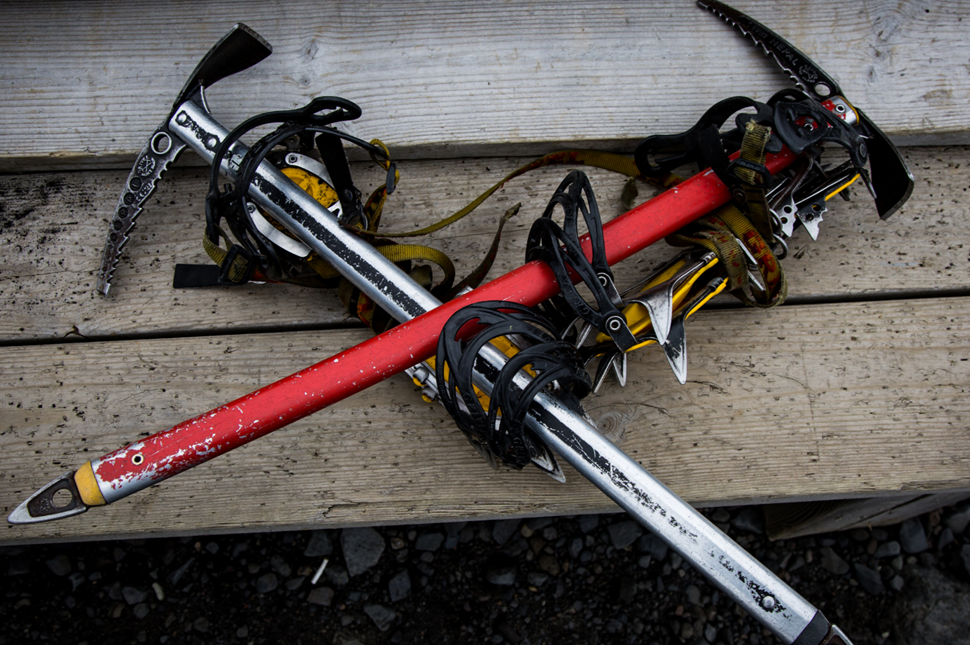 Your Ice Climbing Guides
Your guides are there to help you, and it is always best to listen to their instructions, tips and tricks for the safest and most enjoyable tour. They will ensure that your time on the ice is as good as it can be. Have fun, but also pay close attention to their words. They will point out what to avoid, even when making your way onto the ice before the climbing begins.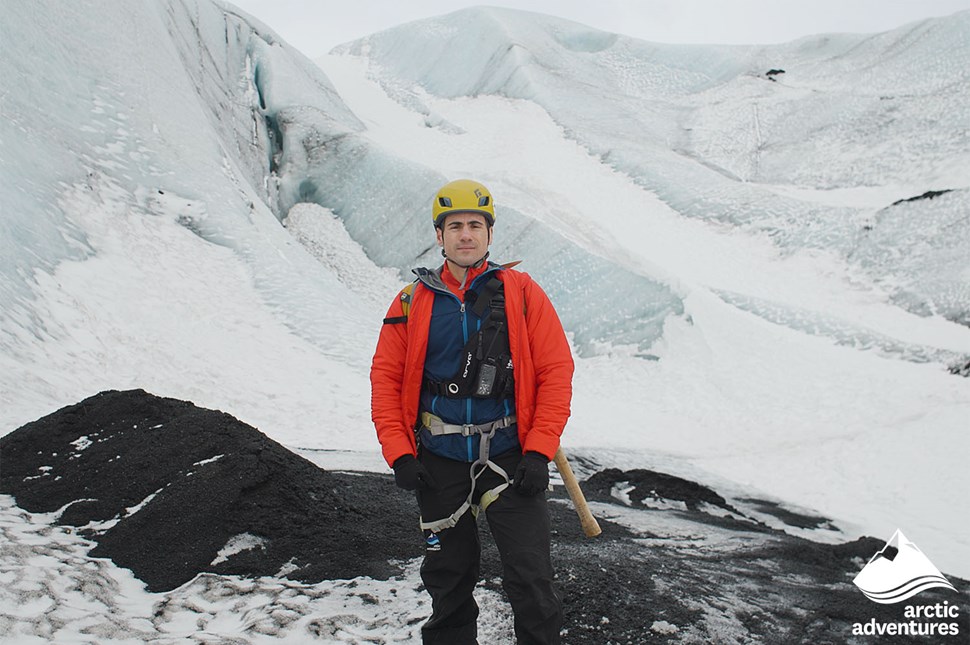 Basic Technique: Squat, Stand, Swing
When starting out climbing on vertical ice, you'll likely be asked to use the "squat, stand, swing" technique. This ensures you have at least 3 contact points with the ice at all times. Let's take a look at what this would look like.
Step 1: Squat
First things first, you'll need a firm hold with both ice axes in the ice above you, with straight upper arms. You'll then kick both feet, using the protruding crampons at the front of your feet, at the same level into the ice face. Your feet should be kicked into the ice at a level that is just above your hips before making any movements with your axes.
Step 2: Stand
You'll then plan roughly where to aim your next axe placement. This is typically between 30 and 60 cm (12 and 24 in) above your starting position. Once you have this in mind, it's time to push up to a standing position, keeping your hips close to the ice face. Halfway to your standing position, your arms should pull the axes free in a slightly upward motion.
Step 3: Swing
This is the point at which you drive your tools into the ice above you. With your elbows positioned next to your ear, swing your axe into the desired placements, making sure you're aiming for any natural crevices or old placements. Test the placements with a sharp downward tug to see if your weight will be held as you move upwards. Continue with these three steps until you've reached the top!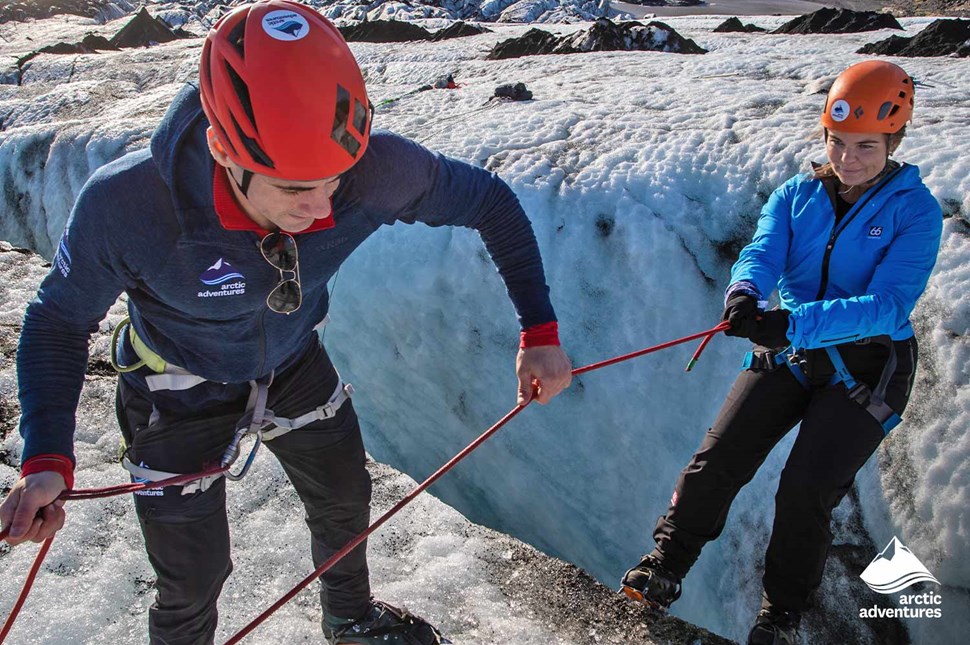 Joining an ice climbing tour is the only way to enjoy a safe and fun ice climbing experience in Iceland. We offer a wide range of glacier tours, from our basic Blue Ice Tour at the Sólheimajokull Glacier to Glacier Xtreme at Vatnajökull. Browse our exciting tours and choose the most suitable for you!