If you have a passion for photography, an interest in art, or simply want to see the sites of Reykjavik, the Solfar Sun Voyager is something you won't want to miss!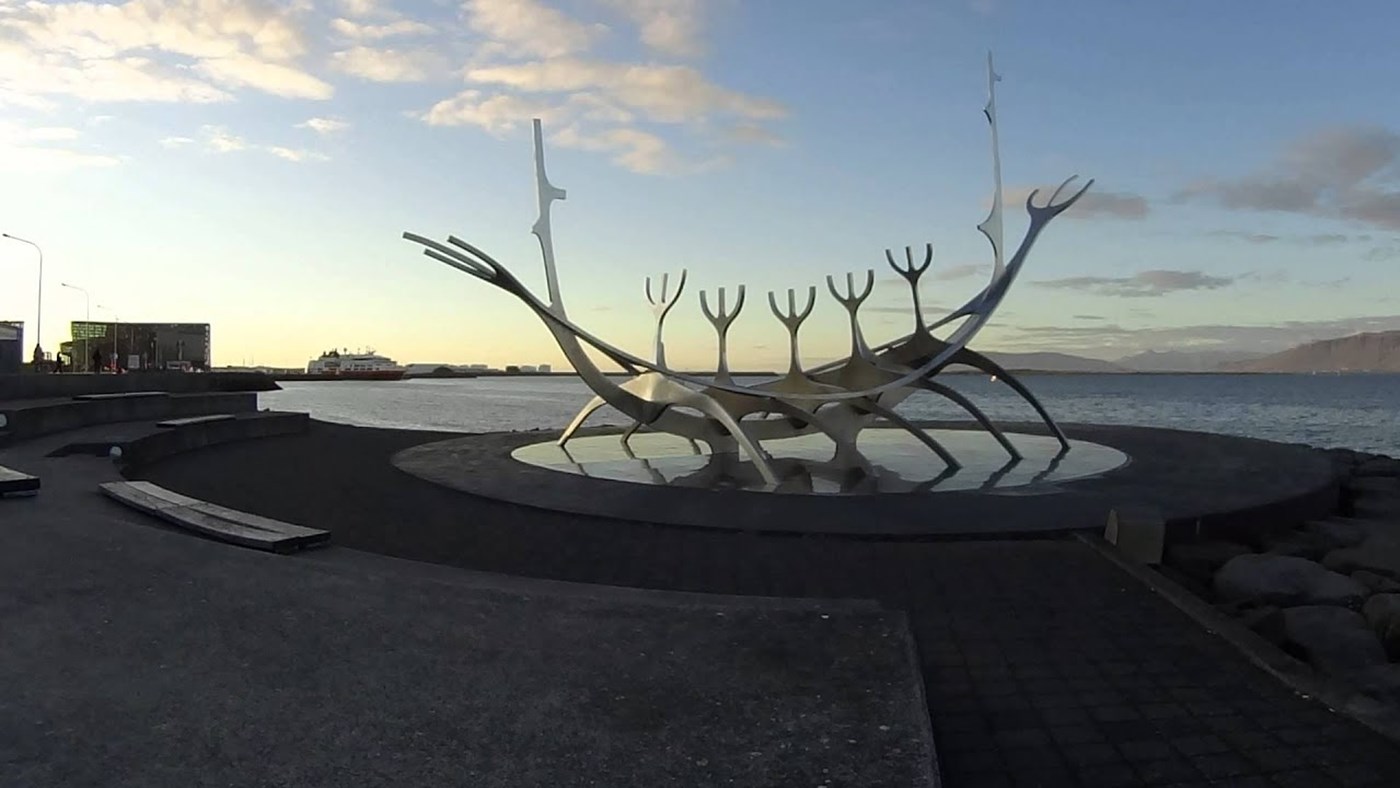 It's a common misconception that the outdoor sculpture resembles a viking ship. However, this was not the intention of artist Jón Gunnar Árnason. The steel sculpture is a dream boat that holds the promise of undiscovered territory.
It'san ode to the sun that emits a dream of hope, progress, and freedom. It portrays a symbolism of light. Solfar has certainly become an important part of Reykjavik's identity and culture.
The inspiration behind the sculpture
It's been said that Jón Gunnar Árnason visited an island called Bockholm in Finland. When he was there, he was said to have had an eerie feeling that he had been there before, but in another lifetime.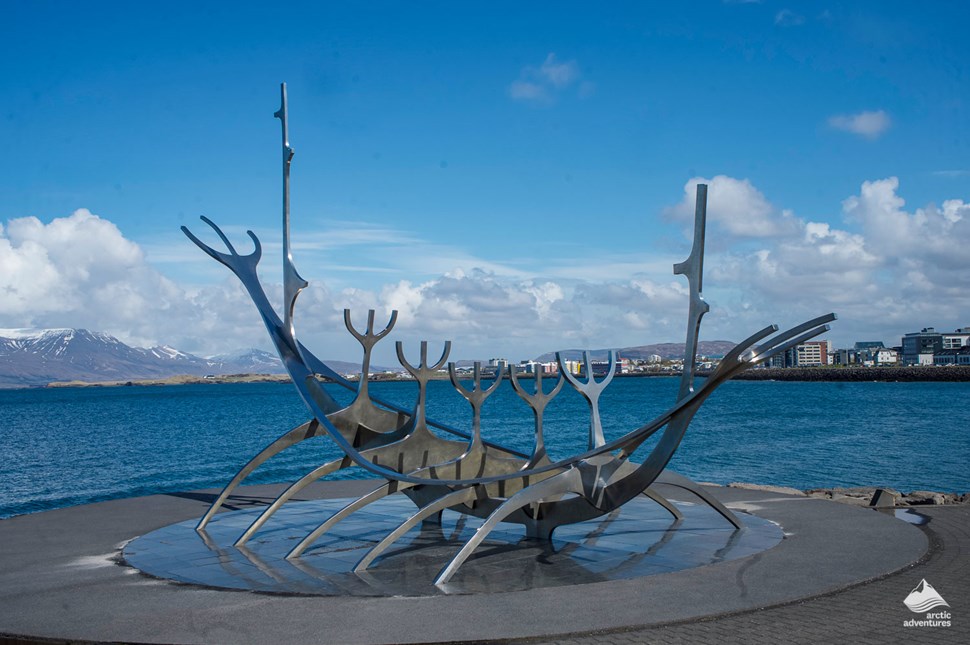 There is an ancient story of exploration that saw travelers leave from the centre of the world and head in four different directions. A set of explorers followed the sun set and ended up on a small island in the cold Atlantic Ocean. Maybe this is why Jón had a sense of déjà vu.
When Jón was in Bockholm, he looked towards the setting sun and saw a vision of a dreamboat that carried him home. Using granite rock, he carved his idea, becoming the blueprint to the sculpture that is known and loved today.
Where is Sólfarið Sun Voyager located?
On the picturesque seafront of Reykjavik the sculpture is just a few minutes from the center of the city. It is also in very close proximity of the Harpa Concert Hall. Furthermore, the sculpture is along Sæbraut – a well-known sculpture walking path.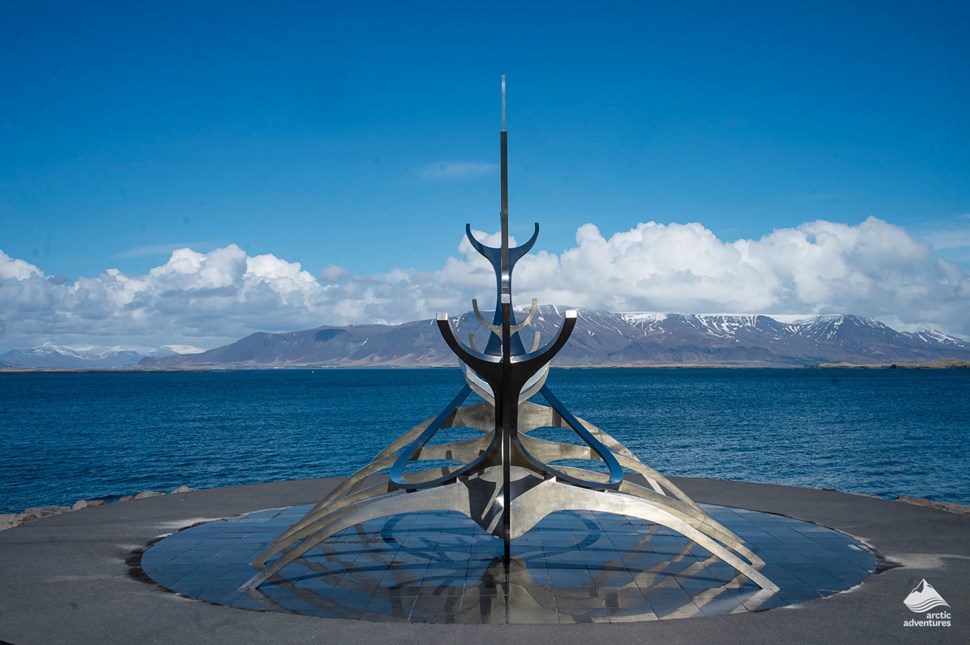 Of course, you will not be short of stunning views when you're in the area. Standing in front of the magnificent Mount Esja, Solfar creates the perfect photo opportunity. No matter what the season, this work of art is set to capture amazing photos. Taking full advantage of the midnight sun in the summer will allow you to seize the landscape in ways that would not be possible in the dark.
GPS coordinates of Sun Voyager: 64.1476° N, 21.9223° W
Sólfarið Sun Voyager in the Winter
Winter in Iceland is wonderful and the best thing about this landmark is that it is available to see all year. An advantage of visiting in the winter months is that you might be lucky enough to see the northern lights at the same time.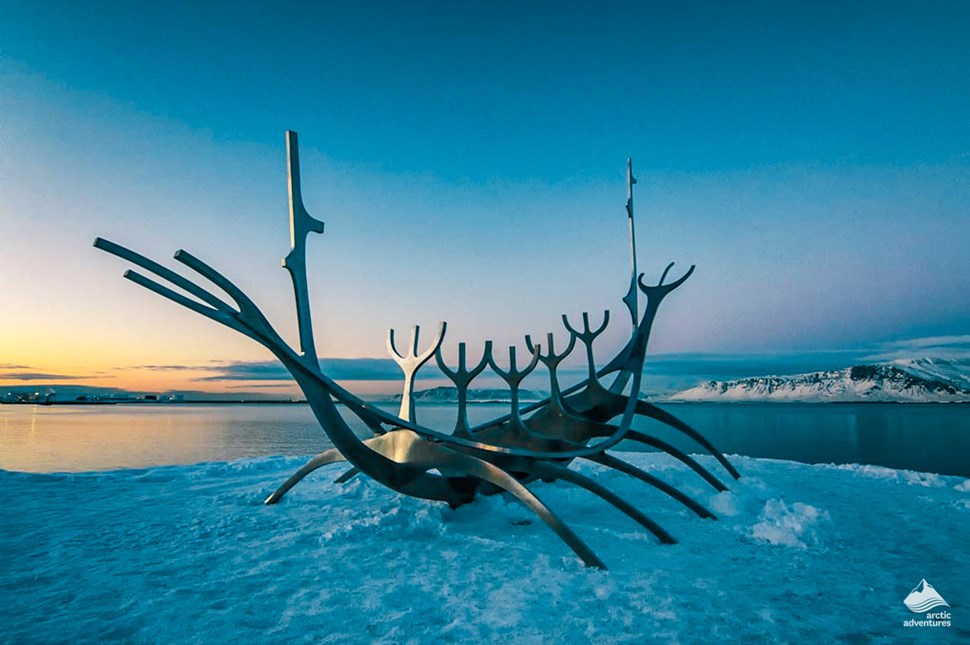 If the weather is clear enough, you'll be in for a treat. If you're an early bird then watching the sun rise behind the mountains with the sculpture in front of you is a great way to start your day.
Facts and Tips about the Sólfarið – Sun Voyager
It is free to visit, which is always an added bonus.
There is parking situated adjacent to the sculpture.
Bring your camera!
Where to stay when visiting the Sun Voyager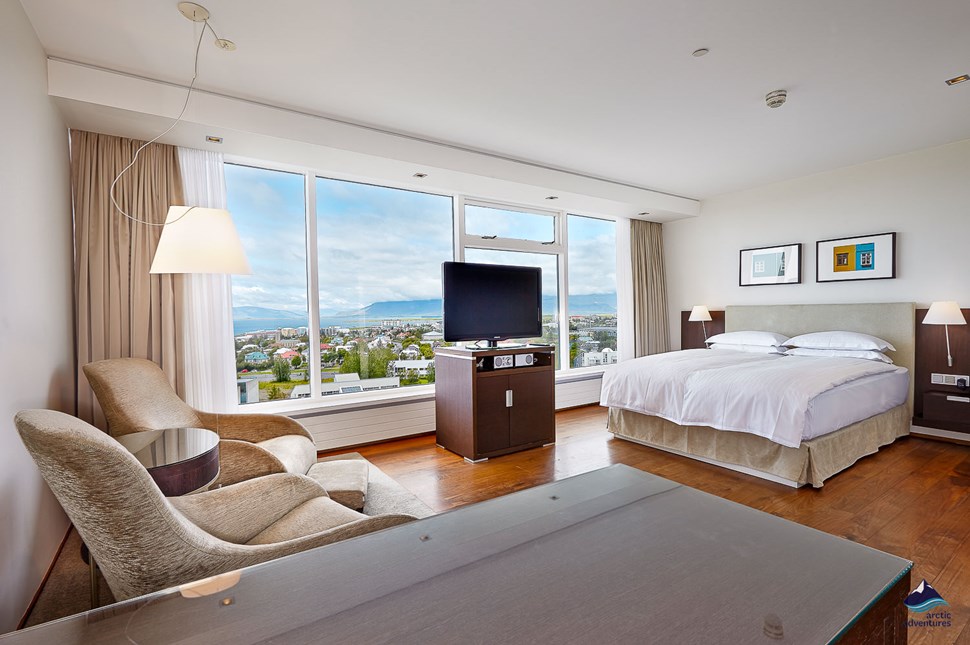 Being located in Reykjavik means there are many places to stay when visiting the sculpture, no matter what your budget.
Hotels
Hotel Klettur
City Center Hotel
Reykjavik Lights Hotel
22 Hill Hotel
Fosshotel Reykjavik
Hilton Hotels
Hostels
Reykjavik Downtown Hostel
Loft
Kex
Hostel B47
Galaxy Pod Hostel
Guesthouses
Aurora Guesthouse
101 Guesthouse
Interesting Places near Sólfarið Sun Voyager
Spending the day perusing around Reykjavik is the best way to see the sculpture. Visiting Hallgrímskirkja is another great thing to do in the city as well as Harpa. These unique buildings are a must see!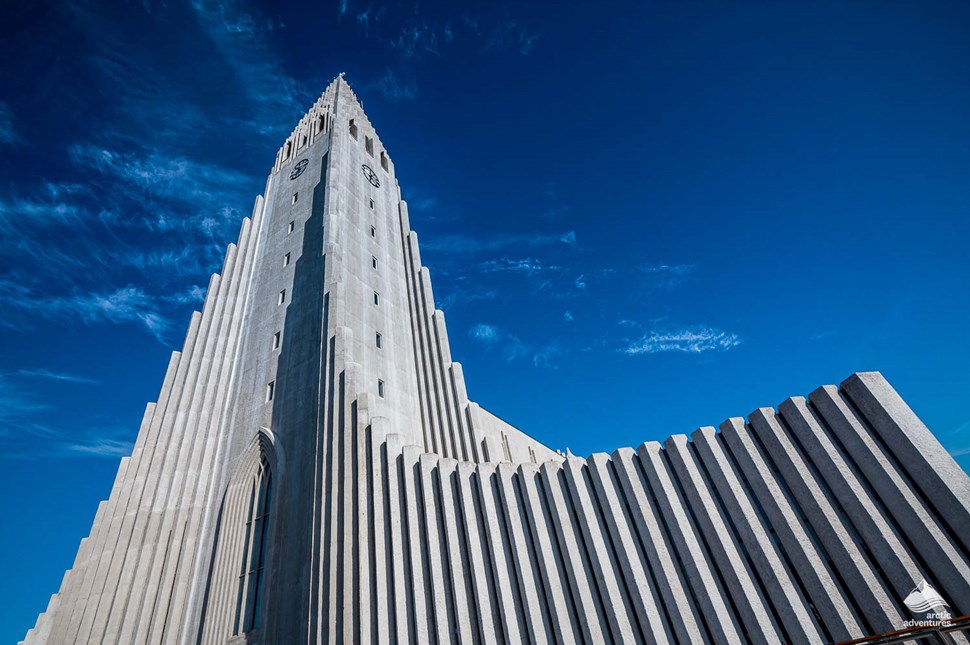 If you're into art then why not browse the Reykjavik Art Museum. Also, museums such as the National Museum of Iceland offer an insight to the town's history. If you're wanting to get to know Icelandic wildlife a little better, the Icelandic Phallological Museum is never a dull outing.
If you want a treat, we suggest a visit to Perlan. It's a futuristic glass spinning dome which occupies a fine-dining restaurant with a cocktail bar. The 360 panoramic views are second to none.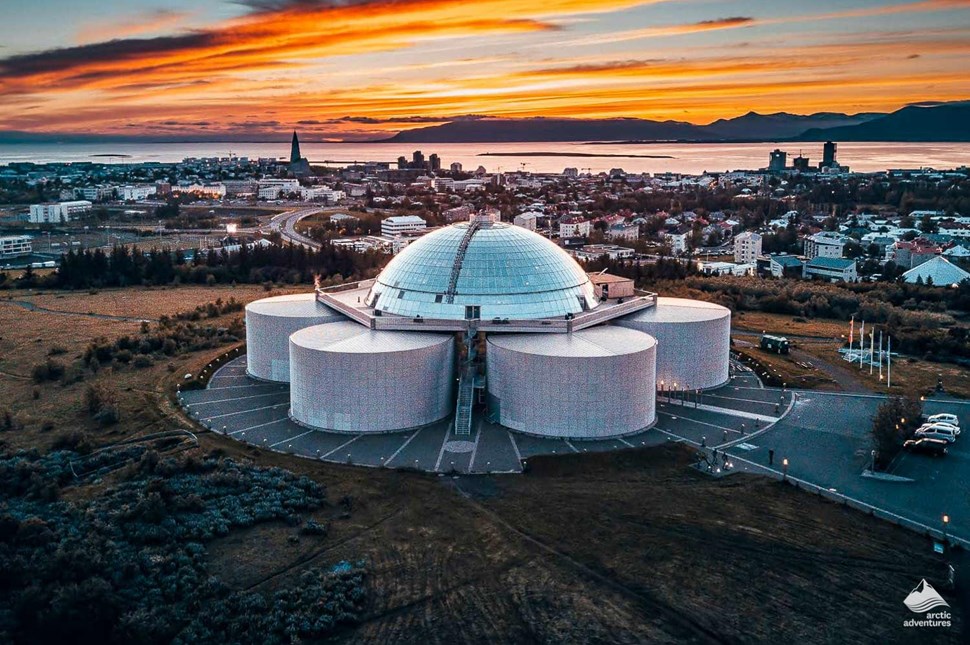 Hidden Gems not to be missed on your visit
Bíó Paradís: If you are a film fanatic then this is worth a visit.
Naustin: Want to get away from the tourist nightlife then this is your best bet.
Kópavogur Church. For a mix of scenery and architecture then visiting this church for free should be planned into your day.
Cupcake Cafe: This little cafe is sure to satisfy your sweet tooth.