All about
ICELAND
Insider info to adventuring in Iceland
Nothing says Icelandic Christmas like these 13 things
Christmas is a magical time spent with friends and family and often involves a lot of eating. Iceland isn't a very religious country but we love Christmas traditions and have a ton of them and many of them are easy for you to join in on over this merry time! Let's do Christmas Iceland style!!
13. Board Games and Puzzles
Christmas is a time to be spent with friends and family but in Iceland, you can't really go out and have a picnic in December so inside activities are the most popular ones. When the temperatures drop well below zero Celsius and the daylight is extremely limited it's best to coop up inside and play a board game or do a puzzle with the ones you love or in other cases distract relatives from asking you the questions you really don't want to have to answer.
12. Italian songs with Icelandic lyrics
Icelanders have great singers and songwriters so I am not quite sure why we have this constant need to steal Italian songs and make them into Icelandic Christmas songs but still that is a fact.
Here are a few samples of Icelandic Christmas songs:
Ef ég nenni originally Cos­i' celeste.
Ég hlakka svo til originally Dopo la tem­pesta.
Þú og ég originally Ci sara.
Þú og ég og jól originally Gente come noi.
Komdu um jól­in originally Gente di mare.
Þú komst með jól­in til mín originally Chi voglio sei tu.
Svona eru jól­in originally Quanto ti amo.
Fyr­ir jól originally vous danser.
11. Lights, Christmas lights everywhere
In the Christmas decoration department, Icelanders think "go big or go home". This might have to do with the darkness and how much the light decorations help with it or that the neighbour next door is doing it and you can't do less than him but any reason this still stands as a fantastic Icelandic Christmas facts and it's amazing.
10. Hangikjöt, potatoes, green peas and béchamel white sauce
Photo by Eldhússögur
Hangikjöt e. Hanging meat is smoked lamb usually boiled and served cold or hot in slices. On the side, you traditionally have potatoes in white béchamel sauce and green peas and laufabrauð (see below). The name comes from the old tradition of smoking food in order to preserve it by hanging it from the rafters of a smoking shed. This is simply delicious and you must try if you get a chance!
9. Aðventukrans e. Advent wreath
The tradition of four candles placed in a ring or a wreath that are lit on the four Sundays before Christmas, one on each Sunday. Many people make their own wreath which is a part of their Christmas crafts making that many take on during November/December. This is super cozy and easy to make!
8. Jólasmákökur e. Christmas cookies and a lot of them
Photo from Eldhússögur
Ahh the time of sugar and serious overeating. This is when everyone bakes like they are throwing a party for 100 people and want to have leftovers. The more types the better!
7. Hamborgarahryggur
Photo from Hringbraut
This is kind of a Gammon Steak. It is made with pig meat, glazed with sugar and often decorated with pineapple slices and cocktail cherries. This is best served with caramelized potatoes, Waldorf salad and brown sauce. It's salty, it's unhealthy… it's fantastic!
6. Jólajógúrt e. Christmas Yogurt
OH THE JOY when you first see a Christmas Yoghurt at the local grocery shop. This Christmas I bought 10 and sent pictures to all of my friends. I really thought that I would grow out of this but here I am 25 years old with nothing else in the fridge at the moment then Jóla jógúrt. IT'S JUST SO GOOD!
5. Laufabrauð e. Not sure if there is a word for it in English
Laufabrauð is a traditional Icelandic bread eaten only over the Christmas season. It's around, thin and flatbread cake that you buy at shops or bakeries and then the family gathers to cut all sorts of patterns and pictures into it and then fried in hot fat or oil. It's delicious and 100% necessary with any meal over the Christmas period. Best with butter, and a lot of it!
4. Kæst Skata e. Putrefied Skate
Kæst Skata or putrefied skate is the fish that we eat on Þorláksmessa (the day before Christmas). It's not a bad fish per se BUT Icelanders cook in an odd way and the smell, well, let's just say you can really tell from your Christmas gifts who cooked it at their home. It's tasty but also an acquired taste and only for the brave hearted!
3. Jólasveinar / Yule Lads / Santa Clauses (yes, plural)
Icelanders can never really do something halfway and our Santa Clauses are no different. One wasn't enough, we have 13 Santa Clauses, and then there are Grýla and Leppalúði who are their parents and Jólakötturinn they evil cat that will eat you if you don't get something new to wear for Christmas. The difference though is that the Icelandic Yule Lads like they are often called didn't use to be nice, they were rude men, bullies even, that stole and stalked and acted out but thankfully today that is all in the past and now they bring tiny gifts in kids shoes from the 11th of December until the 24th. Here are the names of the Icelandic Santa Clauses and the dates of their arrival:
Stekkjarstaur comes 12. December.
Giljagaur comes 13. December.
Stúfur comes 14. December.
Þvörusleikir comes 15. desDecemberember.
Pottasleikir comes 16. December.
Askasleikir comes 17. December.
Hurðaskellir comes 18. December.
Skyrgámur comes 19. December.
Bjúgnakrækir comes 20. December.
Gluggagægir comes 21. December.
Gáttaþefur comes 22. December.
Ketkrókur comes á Þorláksmessu, 23. December.
Kertasníkir comes á aðfangadag, 24. December.
2. Malt and Appelsín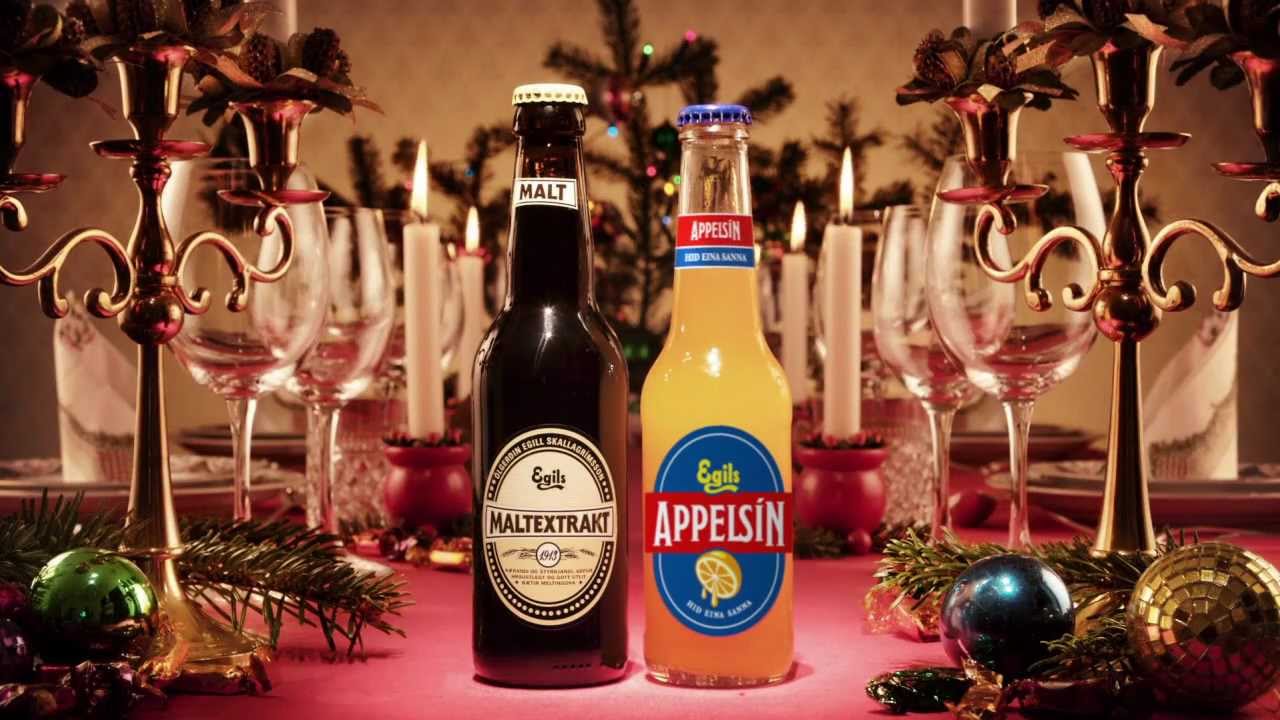 Oh, the heavenly mix of Malt and Appelsín. How to start an argument between Icelanders? Ask a group of them "how to mix the best Malt and Appelsín?" They will all have opinions on it and they will all be right because their "grandfather made it this way" or because "that's the only way to make it" anyway it's mixed though I would say it can't go wrong and if you want to go for the safe option just buy the premixed version, it's commonly loved.
1. Mandarínur
It's safe to say that the Icelandic diet over December will consist at least of 50% mandarins and clementines. They are sooo good and fresh and a great balance of the white sugar and salt overload that takes place during this time. They can be bought at any local food shop and it's really a must eat every Christmas.
Related blogs
Spending Christmas in Iceland? Or just casually traveling to Iceland in December? This blog will go over all the basic info you need for mid-winter traveling to Iceland, which tours to do and what to see in Reykjavík. Let this be the ultimate guide to how to spend December in Iceland.
December 4, 2017 , By Ragnheidur
New Year is an incredibly popular time to come to Iceland. Reykjavík is one of the most amazing places to spend New Year, this little city on the edge of the Arctic knows how to celebrate big time! See in the New Year with the most stupendous firework show - glittering fire bursts reaching out across the sky. By day you explore the incredible winter landscapes and enjoy incredible winter adventures and in the night Fireworks or Northern Lights!
December 5, 2017 , By Kay
Iceland is a land of contrasts, of glaciers and hot springs, of darkness and eternal light. When planning your trip to Iceland you should ask yourself, what is the best time to visit?
August 9, 2017 , By Ragnheidur
The Icelandic Winter Wonderland is like no other. The landscape changes completely, the horses even change their look and the views are outstanding. Northern Lights, snow, glacier, waterfalls and all the best in its winter coat.
September 22, 2017 , By Ragnheidur