Join us on a four-day adventure, exploring Iceland's most stunning locations, including the Golden Circle, Blue Lagoon, Reynisfjara Black Sand Beach and the Diamond Beach, just to name a few.
INSTANT BOOKING CONFIRMATION
Want to do this trip for free? Tag us @arcticadventures on your social media stories and photos during your trip and enter a chance to win a full refund. The winner will be picked once a month!
---
This magical four-day tour will take you to some of the most famous places in the land of fire and ice. We'll go on the iconic Golden Circle route, see Iceland's famous South Coast, explore mesmerizing ice caves, walk on vast glaciers and soak in the warm waters of the Blue Lagoon. You'll join a small group of like-minded adventurers and a friendly guide. If you're looking to spend four wonderful days traveling around Iceland, then this is the perfect tour for you.
Please note: If you're traveling with a party of 2 or more, be sure to book everyone under a single reservation. Otherwise, we can't guarantee you will all be on the same tour activity.
Suitable for most people in fair condition.
Price from

101.992 86.693 ISK
Tour highlights

Small Group Experience
The Blue Lagoon
Gullfoss Waterfall
Geysir
Thingvellir
Seljalandsfoss
Skogafoss
Reynisfjara Black Sand Beach
Skaftafell Nature Reserve
Vatnajokull National Park
Jokulsarlon Glacier Lagoon
Diamond Beach
Natural Ice Cave
Glacier Hike
Northern Lights
Whale Watching
Included

Pick-up & drop off from Reykjavik
Guided Group Tour in a Minibus
English Speaking Tour Guide
Hotel Accommodation
Private Bathroom
Breakfast
South Coast Highlights
Guided Ice Cave Tour
Whale Watching
Blue Lagoon Admission
Free Wifi on Board Your Bus
Your adventure starts with a pickup in Reykjavik. Your guide will pick you up in a comfortable minibus at a convenient location. For your first activity, we'll embark on a tour of the Golden Circle. We will then make our way to the South Coast, making stops by Seljalandsfoss and Skogafoss waterfalls. We will spend the night near Vik.
After breakfast, our first stop will be Reynisfjara Black Sand Beach. Then we head farther along the South Coast where our next attraction awaits — the breathtaking Jokulsarlon Glacier Lagoon. The lagoon is spectacular during the winter season and offers plenty of photographic opportunities. We'll also visit nearby Diamond Beach, where you'll get a closer look at the icebergs that have washed ashore. For the final stop, we'll explore a natural ice cave accompanied by a certified glacier guide. We'll stay overnight near Skaftafell and, if we're lucky, spot the Northern Lights.
Our main goal for day three will be a short and family friendly glacier hike. We'll head to the glacier where you will meet your certified glacier guide who will take you on an unforgettable glacier trek. After the hike, we will be heading back to Reykjavik.
For the final day, you'll have a few hours to explore Reykjavik after breakfast. The first scheduled activity is whale watching at 13:00 PM. We'll meet up at the old harbor in Reykjavik, within walking distance from your hotel. This classic whale watching tour will take you to the Atlantic Ocean, where you might spot minke whales, white-beaked dolphins or even harbor porpoises. After the whale watching adventure, you'll have time to wander Reykjavik on your own. To cap off an awesome 4-day expedition is a visit to the Bue Lagoon. Your transfer will drive you from BSI Bus Terminal to the silky waters of Blue Lagoon, where you'll have plenty of time to relax, a perfect ending to your four-day adventure.
---
Return time
We will return to Reykjavík between 21:00 – 22:00 pm (9-10:00 p.m.)
---
Pick-up Information
Pick up is at 09:00 am from your hotel or a nearby meeting point in Reykjavík. Picking everyone up can take up to 30 minutes, your patience is much appreciated.
Available pick-up points: Arctic Adventures's pick-up list.
---
Practical Information
Remember to bring: Warm outdoor clothing including layers, thermal underwear (top and bottom), a waterproof jacket and pants, headwear, scarves and gloves. Sturdy hiking boots or similar are essential for glacier hiking since they are the only kind of footwear that fit ice crampons. Hiking boots for the glacier hike can be rented in the booking process or at the Glacier Guides Booking Center in Skaftafell. We recommend renting in advance.
What if I don't own all of these clothing items?
Don't worry, you can always rent sturdy hiking shoes, waterproof jacket and pants in the booking process. Hiking boots, waterproof jacket and waterproof pants can be rented on location, at the Glacier Guides Booking Center, for the glacier hike. However, if you wish to rent extras for the whole duration of the tour then this must be added to your booking at least 48 hours before your tour starts.
---
DAY 1: The Famous Golden Circle Route
The first day of our adventure will take us on the world-renowned Golden Circle Route – a trio of legendary attractions that are widely considered to be the best in Iceland.
We'll begin at Thingvellir National Park – a UNESCO World Heritage Site, due to its geological and historical importance. It's the original location of Althingi – a dramatic glacial plain where a group of Viking nobles founded the first Icelandic Parliament in 930 AD. The modern parliament in Reykjavik retains its name – making it one of the oldest democratic institutions in the world. Thingvellir also hosts a seismic rift valley that marks the ever-expanding gap between the Eurasian and North American tectonic plates. A unique place that is the only land visible land border between two continents.
Our next stop will be the Geysir Geothermal area – famed for the bubbling geysers that have become synonymous with Iceland. We'll see the, now dormant, Great Geysir – which was the first geyser to appear in the English language and gives them all their name. Alongside Strokkur – the most active geyser in the area – firing boiling torrents of water up to 30 meters into the air every few minutes or so. The powerful geothermal forces beneath Iceland's surface have made it the country it is today, and the Geysir Geothermal area is the best way to see their incredible power in the flesh.   
The final stop on the Golden Circle Route is Gullfoss (the golden falls) – a stunningly beautiful two stage waterfall, that gets its name from the golden color its water takes as it cascades over the dark brown rock. Beneath it is an emerald valley and rainbows regularly form above it – making for an awe-inspiring scene.
We'll spend the afternoon on Iceland's South Coast – a place of volcanoes and glaciers that epitomizes the land of fire and ice. Our first stop will be the Seljalandsfoss waterfall – famed for its cylindrical cascade that thunders around 60 meters into a valley below. There is a secret cave hidden behind it and we'll clamber into it – to view Seljalandsfoss from a totally different angle.
We'll also stop at the equally impressive Skogafoss Waterfall – whose wider cascade tumbles down 60 meters into a pool below. We'll climb up the meandering path next to the falls – for a spectacular vista over the entire area. Skogafoss also plays a prominent role in Icelandic myth and our guide will point out the two strange rock formations that are believed to be trolls who were petrified by the dawn. Some locals also believe that a Viking settler hid a treasure chest somewhere beneath the falls – offering fabulous wealth to the person who finds it.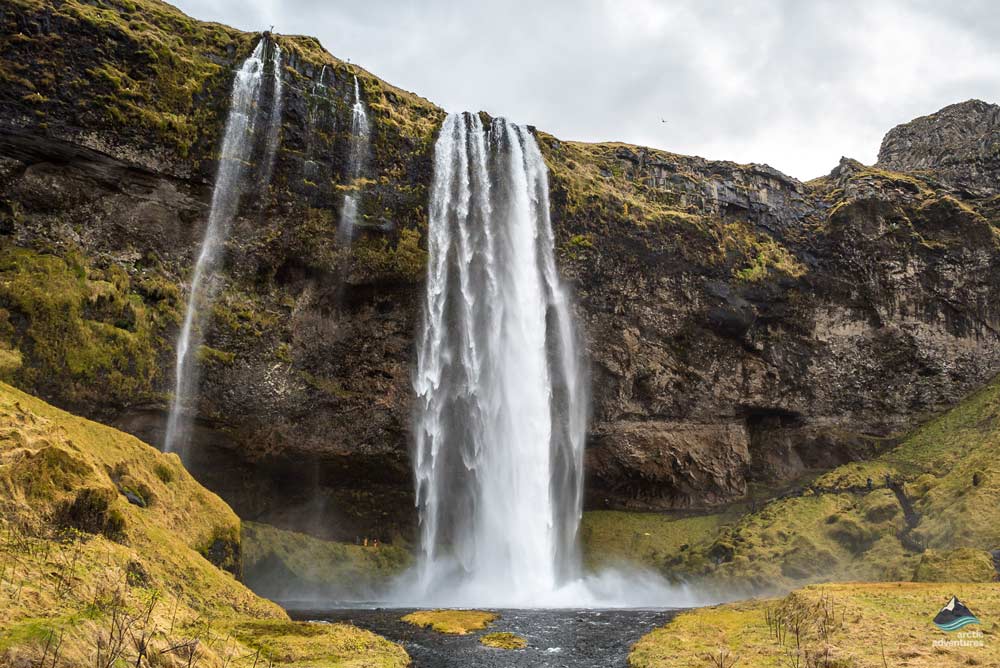 By then everyone will be tired, and we will head to our countryside hotel near the charming town of Kirkjubæjarklaustur, to get some rest. If you visit during the winter, then it is a great place to see the flickering colors of the Northern Lights.
Day Highlights

Thingvellir National Park
Geysir Hot Spring Area
Gullfoss Waterfall
Seljalandsfoss Waterfall
Skogafoss Waterfall
Vik Village
Included

Guided Minibus Tour
The Golden Circle
Seljalandsfoss & Skogafoss Waterfalls
Northern Lights (If conditions are right)
Hotel near Vik
Accommodation
Hótel Geirland
or Similar
DAY 2: Black Sand Beach, Jokulsarlon Glacier Lagoon & Ice Cave
Our day begins with a hearty Icelandic breakfast before we head out on the road towards the dark volcanic sands of Reynisfjara Beach. There we'll take in the stark contrast of the white-crested waves of the Atlantic Ocean as they wash against its jet-black sands. From the cliffside rises a cluster of basalt sea stacks, reminiscent of the Giant's Causeway in Ireland. We'll also see the Reynisdrangar basalt pillars, which rise like jagged peaks from the sea. Folktales say that they were once a trio of trolls who were turned to stone by the sun as they tried to drag a boat back to land.  
We'll then make the scenic drive to the Jokulsarlon Glacier Lagoon – passing moss-carpeted lava fields, volcanically scarred deserts and some spectacular rock formations that stand as vivid reminders of volcanic eruptions over the years. By then, you'll be able to catch sight of the majestic Breidamerkurjokull Glacier, which unfurls like a tongue from Vatnajokull, the largest glacier in the whole of Europe.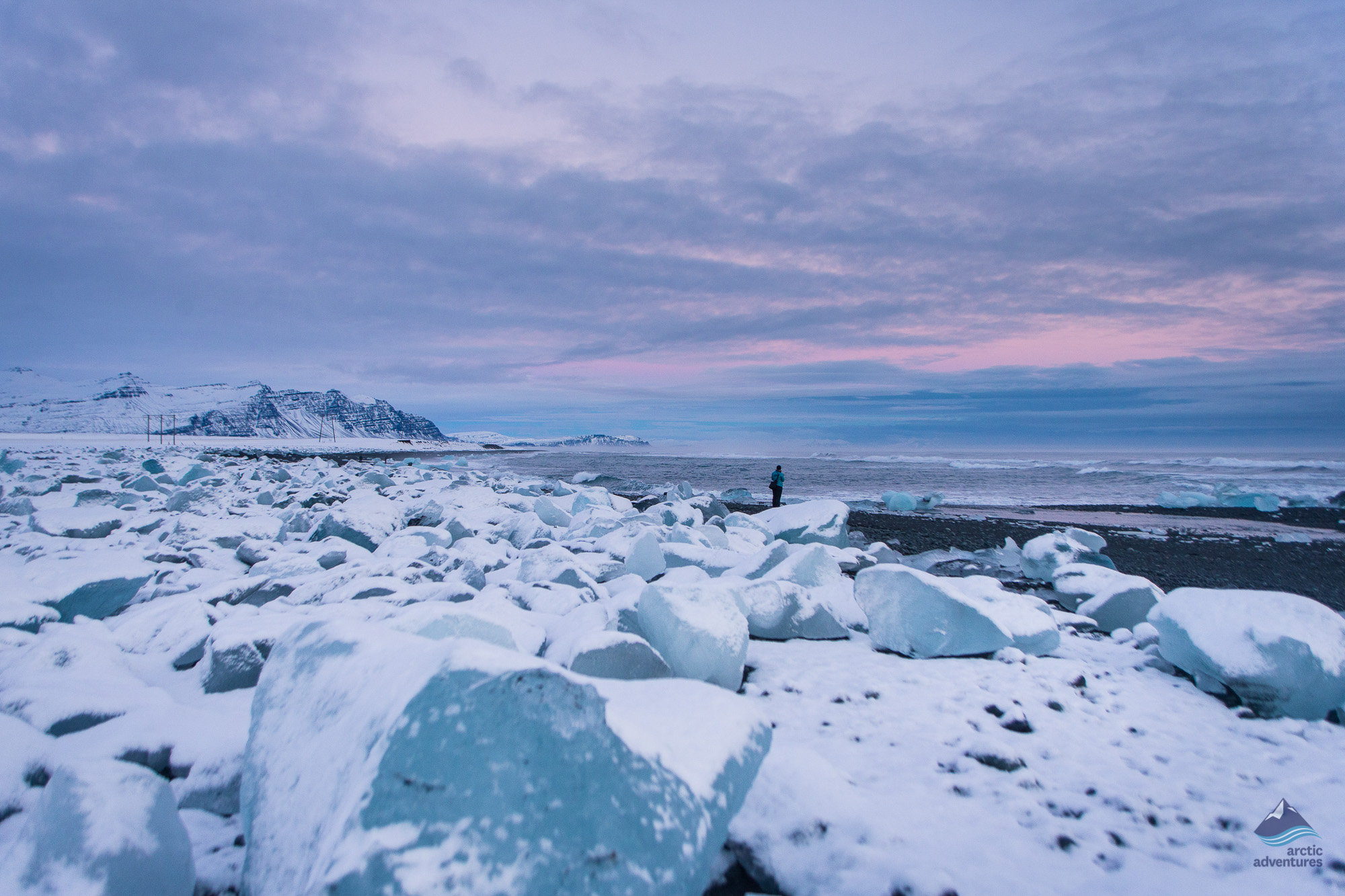 The Jokulsarlon Glacier Lagoon lies in its shadow, famed for the glittering icebergs that float across its icy-blue surface. Many of them wash up on the nearby Diamond Beach, where they shine like beautiful diamonds against the black sands. Both places are breathtakingly beautiful and will leave you with memories you'll treasure forever.
Our final stop of the day will take us deep into the icy depths of Breidamerkurjokull Glacier to a mesmerizing ice cave that is as unique as it is beautiful. Iceland's ice caves usually form over the winter months. When the meltwaters from summer freeze, they creates huge pockets and beautiful patterns within the sapphire-blue ice. As this trip is highly weather dependent, your guide may decide to move it on the itinerary or to combine it with glacier hiking. 
We'll spend the night near Kirkjubæjarklaustur again, and if it's winter, we may just see the Northern Lights. 
Day Highlights

Reynisfjara Black Sand Beach
Reynisdrangar Basalt Pillars
Jokulsarlon Glacier Lagoon
The Diamond Beach
Natural Ice Cave
Included

Breakfast at the Hotel
Guided Minibus Tour
Reynisfjara Black Sand Beach
Diamond Beach
Guided Ice Cave Tour
Northern Lights (If conditions are right)
Hotel near Skaftafell
Accommodation
Hótel Geirland
or Similar
DAY 3: Glacier Hike on Vatnajökull Glacier
Day three kicks off with an adventure in a vast, icy wilderness. We'll be hiking on the Svinafellsjokull Glacier, a living natural wonder that is constantly moving. The shifting ice carves out sinkholes, crevasses, moulins, ice ridges and other ice sculptures, molding a diverse and beautiful landscape that is unlike any other. We'll pick our way through this awe-inspiring area as our friendly guide tells you more about how glaciers have helped to shape the land of fire and ice.
From there, we'll begin the scenic journey back to Reykjavik – stopping at a number of different places along the way, depending on the weather. One of the best attractions is Fjadrargljufur Canyon, whose icy-blue streak of water is sandwiched between emerald slopes on both sides. This is a gorgeous and photogenic place that will inspire awe and wonder in equal measure.
We'll drop you back in Reykjavik between 20-22:00 (8-10:00 p.m.), allowing you to chill in the city before our final day of adventures. 
Day Highlights

Glacier Walk on Vatnajokull Glacier
Fjadrargljufur Canyon*
Included

Breakfast at the Hotel
Guided Minibus Tour
Guided Glacier Hike
Vatnajokull Glacier
Hotel in Reykjavik
Accommodation
Fosshótel Barón
or Similar
DAY 4: Whale Watching & Blue Lagoon in Reykjanes Peninsula
After a delicious Icelandic breakfast at your hotel, feel free to explore Reykjavik at your leisure. There are loads of cool art galleries, cute cafes and curious museums in Iceland's capital. We'll meet up at Reykjavik Harbour at 13:00 (1:00 p.m.) for our whale-watching tour. 
Whale watching is especially good during the winter, thanks to a low winter sun and the diverse group of aquatic mammals that visit during the colder months. It's quite common to see Minke Whales, White-beaked Dolphins, and Harbour Porpoises. If we're really lucky we might even catch a glimpse of Orcas, humpbacks, fin whales or gigantic blue whales. Seeing any of these majestic, gentle giants in the flesh is a bucket-list experience you won't soon forget. Please remember to wear warm clothing – the sea conditions can change very quickly, and it'll be very cold, even if it is warm on land.
For our final stop, we'll drive out to the legendary Blue Lagoon. This geothermally heated hot spring is widely considered to be the world's finest natural spa. Its milky-turquoise waters are heated deep beneath the surface of the earth and then filtered through volcanic rock. Enriched with minerals like silica that make your skin silky smooth, the waters are said to be extremely beneficial to your skin. Cap off your great adventure with a soak in late into the night at this enchanting lagoon. We'll transport you there and sort out your entrance ticket, so you'll only have just one thing on your to-do list: relax in its therapeutic waters.
Day Highlights

Whale Watching
Blue Lagoon
Included

Breakfast at the Hotel
Whale Watching
Blue Lagoon Admission Ticket
Special Offer 15% OFF PLUS FLEXIBLE CANCELLATION POLICY (You Can Cancel The Booking Up To 72 Hours Before The Tour Starts And Get A Full Refund)
Sale ends on 15.06.2020 at midnight (GMT)
Discounts work for travel time March-December, 2020
Promotional code: MULTIDAY15
Book this tour
Price from: 101.992 86.693 ISK per person.
NO ADDITIONAL FEES - BUY
DIRECTLY FROM THE OPERATOR
FAST & SECURE PAYMENT