Join us for this extraordinary tour and experience the unmatched North Icelandic ambiance!
INSTANT BOOKING CONFIRMATION
Want to do this trip for free? Tag us @arcticadventures on your social media stories and photos during your trip and enter a chance to win a full refund. The winner will be picked once a month!
---
Experience the wondrous North Iceland region, packed with many of Iceland's remarkable natural attractions and strong arctic characteristics. Explore the furiously steaming geothermal fields and volcanic landscapes in the Mývatn area, visit some adorable and colorful villages; age-old turf houses and churches, some of the largest waterfalls in Europe and more.
Suitable for most people in fair condition.
Price from

78.990 67.142 ISK
Tour highlights

Small Group Experience
Grábrók Crater
Hvítserkur
Akureyri
Dalvík Village
Whale Watching Tour
Glaumbær Turf House
Goðafoss Waterfall
Lake Mývatn
Dimmuborgir Lava Fields
Skútustaðir
Námaskarð Geothermal Area
Mývatn Nature Baths (optional extra)
Mt. Hverfjall view
Grjótagjá Lava Cave
Northern Lights (in winter)
Kaldi Microbrewery Tour
Included

Accommodation with Private Bathroom - 2 Nights
Breakfast Each Morning at Your Hotel
Pick-up & drop off from Reykjavík
Guided Tour in Minibus
Beer Tasting Tour
Whale Watching Tour
English Speaking Licensed Adventure Guide
Free WiFi on Board Your Bus
In North Iceland, the summer has more sun and the winter has more snow. As the north is closer to the Arctic Circle, daylight is a bit longer in summer than in the south of Iceland. For the same reason, the winter is much darker with more visible Northern Lights.
You can go fishing, whale watching, geothermal bathing, and taste some famous local craft beers. In winter, you can also try to find the mystical Northern Lights.
---
Pick-up Information
Pick up is at 09:00 am from your hotel or a nearby meeting point in Reykjavík. Picking everyone up can take up to 30 minutes, your patience is much appreciated.
Available pick-up points: Arctic Adventures's pick-up list.
---
Return time
You will return to Reykjavík around 08:00 pm approximately.
---
Practical Information
What to bring: Warm outdoor clothing, a waterproof jacket and pants, headwear and gloves. Good hiking boots are recommended.
What if I don't own all of the necessary clothing items?
Don't worry, you can always rent sturdy hiking boots, waterproof jacket and pants in the booking process. We do not rent these items from the location, they must be ordered in advance.
---
Day 1: Grábrók Crater, Hvítserkur, Akureyri, Dalvík, and Beer Tasting
We will pick you up at 09:00 am and hit the Ring Road. After a 1.5 hour drive, the day will start with a refreshing, short hike around the impressive volcanic crater, Grábrók. This crater was formed in an eruption approximately three thousand years ago and lies right next to the Ring Road.
There are two other craters formed in the same eruption that become visible once we climb Grábrók along with the seven-square-kilometer lava field that surfaced during the same volcanic event. It is a short, easy, but incredibly scenic hike and the perfect way to start our memorable adventure.
Next, we will leave the beaten path in search of a real hidden gem. After another 1.5 hour drive, we will arrive at a beautiful fjord where we will see a totally unique rock formation. Hvítserkur is a 15-meter (49 feet) high basalt stack that looks like a dragon or an elephant drinking from the water. The bizarre phenomenon stands in the water surrounded by beautiful natural scenery.
Next, you will get the chance to pamper your taste buds and discover where all the strength and energy of the Vikings comes from. We will visit a famous local microbrewery in a tiny village. The hour-long beer tasting includes a guided tour through the brewery where the owners will introduce some of Iceland's best craft beers and explain how it is made. You will even get to keep your beer glass as a souvenir!
From here, it is only a short drive to Dalvík, a small fishing village where we will spend the night in a cozy hotel. In winter, we will look at the Northern Lights forecast every evening during the tour to try to catch a glimpse of this beautiful phenomenon.
Accommodation
Day 2: Goðafoss Waterfall, Lake Mývatn, Skútustaðagigar, Dimmuborgir, Víti Crater, Námaskarð, Mývatn Nature Baths, and Akureyri
The second day will start with a drive to a stunning and historic waterfall. Goðafoss, the waterfall of the gods, was named after Iceland switching from the Norse religion to Christianity. According to the legend, the person who had the right to make Christianity the official religion of Iceland threw his statues of the Norse gods into this waterfall.
The water falls from a height of 12 meters (39 feet) over a width of 30 meters (38 feet). The waterfall has a unique shape of a half circle, making it absolutely picturesque.
After a short drive, we will reach the Lake Mývatn region. Covering an area of 36.5 km2, Mývatn is the fourth largest lake in Iceland. Countless tiny islands dot its surface, surrounded by a thrilling volcanic landscape, and home to an incredibly vibrant range of flora and fauna. This area is deservedly one of Iceland's most valuable protected nature reserves.
During our travel around the lake, we will visit the insanely enchanting Skútustaðagigar pseudo craters. These interesting geological features were formed when fresh lava entered the lake and trapped the wet sediment underneath, causing many steam eruptions. This happened approximately 2,300 years ago. Today, the picturesque, small craters are covered with grass and there are marked walking paths through the area.
We will continue by discovering some more about the region's violent volcanic history. Just a few minutes from the craters is Dimmuborgir, there is a fascinating lava field. This incredible site is loaded with massive lava rock sculptures, huge rock pillars, caves, caverns, tunnels, and lava bridges. Walking through this alien scenery feels like being on another planet or even like being in the middle of a fairy tale full of trolls and magical creatures.
After getting lost and found again on the paths of the mystical lava park, we will hit the road again. It is a short drive to a scenic volcanic crater located right in Hell itself, or at least that is what the name of the Víti Crater means.
The 300-meter-wide crater was formed in 1724 when a massive eruption took place in the Krafla Volcano. The violent volcanic event lasted for five years. The crater is filled with milky blue and green water and the ground around it is still steaming, giving it a surreal look.
Next, we will explore one of Iceland's most terrific geothermal fields, Námaskarð. The area is part of the Krafla volcano system and is highly active today. There is no fresh lava surfacing, but there are wildly bubbling hot springs, mud pots, and loud, meter-high fumaroles surrounded by poisonous soil with minerals that paint the site in extremely vivid colors. The air smells intensely of sulfur. This can be quite unpleasant, but the sights will definitely make you forget about the smell!
On our way to our hotel, we will stop at the beautiful Mývatn Nature Baths. It is often referred to as the Blue Lagoon of the North. Indeed, the color of the water is the same milky-blue as the Blue Lagoon while the entrance fee is half the price.
Enjoying a pampering bath here is an optional extra which you can do at your own cost. You will have an hour and a half to relax and enjoy the benefits of the natural geothermal water before we continue on to our accommodation in Akureyri. Those who choose to stay dry can have a meal or coffee in the restaurant and enjoy the view.
To end our long day, we will return to our hotel in Dalvík, the cute fishing village where we stayed on our first night. On our way back, we will drive through Akureyri, the capital of North Iceland. Even though it is very small with a population of fewer than 20 thousand people, Akureyri is the largest city outside of the greater capital area.
Accommodation
Day 3: Whale Watching, the Glaumbær Turf Farm, and Reykjavík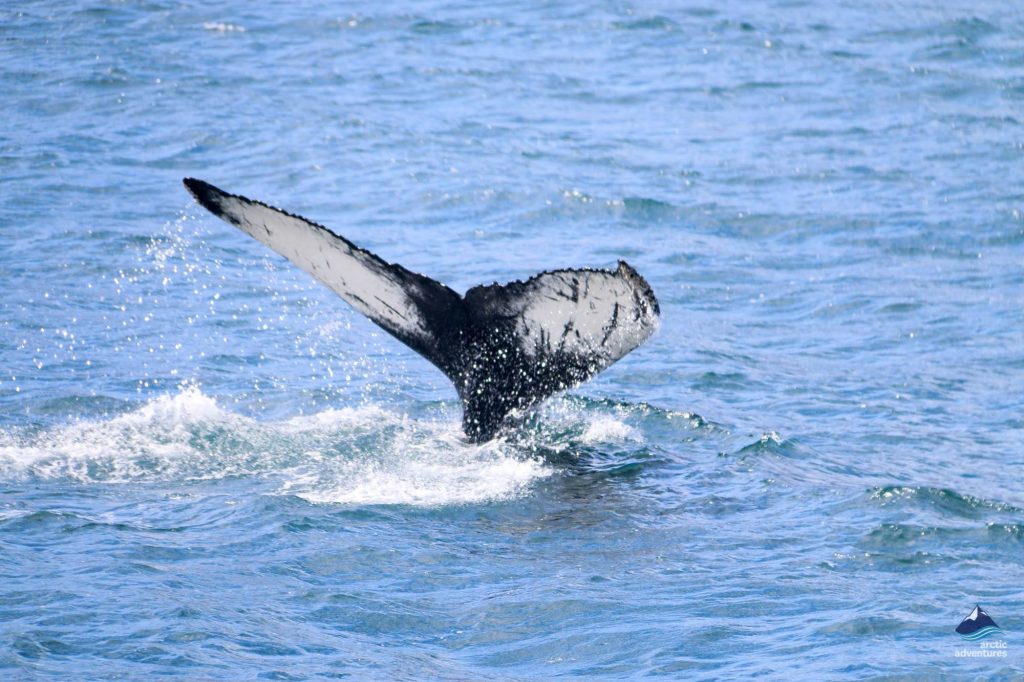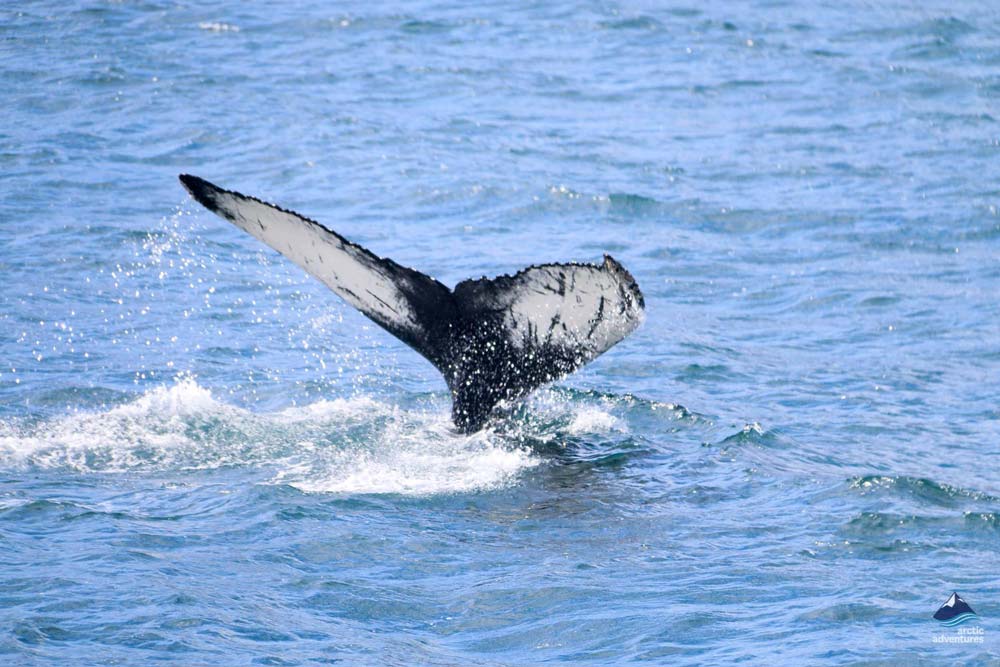 We will begin our last day with what may be the biggest adventure of the tour. We will board a boat to go on an amazing whale watching tour to see the gentle giants of the north! Dalvík is famous for its incredibly high whale watching success rates. These exceed 99% in summer, with anywhere from months up to half years in a row with 100% success rates.
We will probably see some humpback whales, as they are abundant in the bay all year round. Humpbacks are favorites of all visitors as they are not at all shy and often show off. Leaping, splashing, and approaching the boat, they are sensationally friendly to the whale watchers. White-beaked dolphins, harbor purposes, and minke whales are also often seen in the bay.

After seeing the whales, you will have the chance to grab a rod and do some sea angling on the way back to the harbor. We will barbecue the catch as soon as we arrive and share the fresh, amazing food together.
After the whale watching adventure, we will start our drive back to Reykjavík. It is a long way to go, but we will make time for a stop at the charming Glaumbær Turf Farm. The farm is made up of 13 age-old turf houses with walls built of turf layered in a herringbone pattern. The farm is said to have stood here since the Age of the Settlements (900 AD). The present buildings are newer, of course. The oldest one was built sometime in the 18th century.
Leaving the farm behind, we will head to Reykjavík, arriving at the city at around 8:00 pm. We will drop you off at your original pick-up location.
Special Offer 15% OFF PLUS FLEXIBLE CANCELLATION POLICY (You Can Cancel The Booking Up To 72 Hours Before The Tour Starts And Get A Full Refund)
Sale ends on 15.06.2020 at midnight (GMT)
Discounts work for travel time March-December, 2020
Promotional code: MULTIDAY15
Book this tour
Price from: 78.990 67.142 ISK per person.
NO BOOKING FEES
FAST & SECURE PAYMENT
Loading...