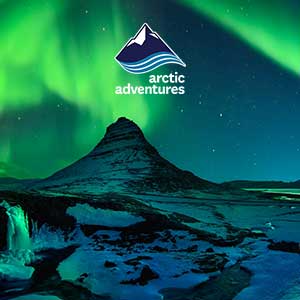 Imagine a day filled with incredible sights, a soak in a natural hot spring and watching the Northern Lights dance in the Arctic Sky in the night time. This tour is hard to beat!

Get a history lesson from your friendly guide at the geological wonder, Thingvellir National Park, walk in between the continental plates and get in touch with the Viking sagas. Next is the enchanting Geysir Hot Springs where the world-famous Geysir and fellow hot springs are based. His baby brother Strokkur puts up a magnificent show every 4-10 minutes forming an in sync awe-choir in the audience. The third stop on the Golden Circle is the incredible Gullfoss e. The Golden Waterfall, a true totem of Icelandic nature! The day is completed with a stop at the oldest swimming pool in Iceland, The Secret Lagoon, so bring your bathing suit and enjoy a soak in a natural hot pool in magnificent smokey surroundings.
The tour is then topped off with an evening Northern Lights experience, where a special Northern Lights guide will pick you up and take you to the ultimate best spot to views the lights and take complimentary photos of you to keep!
Availability

Sept. - Apr.
Suitable for most people in fair condition.
Tour highlights

Small Group Experience
Þingvellir National Park (Thingvellir)
Geysir Hot Spring Area
Gullfoss Waterfall
A Visit to the Secret Lagoon Iceland
The Northern Lights
Guided Tour in a Minibus
Northern Lights Photos
Included

Transfer to/from Reykjavik in a Minibus
A Guided Tour of the Golden Circle Sightseeing
Entrance Fee to the Secret Lagoon
An Expert Northern Lights Guide
Northern Lights Photos
Free WiFi on the Bus
Golden Circle
Þingvellir National Park

Thingvellir National Park a UNESCO world heritage site and a true geological wonder on an International scale. This is where one of the world's first parliaments was founded in the year 930 and where the Vikings made decisions, rules, and laws in ancient times. Thingvellir is also one of the locations where the continental plates meet and place of true natural beauty!
Geysir

Geysir, the name source for the noun geyser, has been a huge attraction in Iceland since day one! Today it sits quietly in Haukadalur but his baby brother Strokkur bursts up into the sky every 4-10 minutes creating the most spectacular scene! Here you will have the opportunity to walk among the bubbling hot springs and the smoke-filled air and take in the true power of Icelandic nature.
Gullfoss

Gullfoss waterfall was deservedly chosen as one of the top 10 best waterfalls in the world and attracts thousands of visitors every year. Gullfoss is fed by meltwater from the second largest glacier in Iceland, Langjökull, making it even more unique. This great two story drop can be viewed from a few different angles and we recommend to walk around and explore them!
Secret Lagoon

The Secret Lagoon or Gamla Laugin is the oldest swimming pool in Iceland located in the geothermal town of Flúðir. Locals call the pool the "Secret lagoon" as it was known only to them for very a long time but now you can visit this paradise which is surrounded by small hot springs and pools which bubble all around you as you enjoy the soak! This is an experience you'll never forget!
The Northern Lights

After the Golden Circle and Secret Lagoon experience during the day you will be dropped off in Reykjavík, there you will have a chance to fill up your energy bar and put on more clothing as the night's adventure might get a bit cold. You will be picked up again at 20:30, this time by a Northern Lights expert guide who will make sure to go to the best spot to see the Northern Lights for the night. We can not tell you exactly where this will be as the lights never play out the same but one thing is for sure, it will be far away from the city lights. Witnessing the Northern Lights, standing on a volcanic island in the middle of the Atlantic ocean is an experience you will never forget! And to make absolutely sure the guide will take complimentary photos for you to keep documenting the adventure and making sure it is unforgettable!
---
Pick-up Information for the Golden Circle and Secret Lagoon
Pick-up: Pick up starts at 09:00 am from your accommodation or a nearby authorized meeting point in Reykjavik. Picking everyone up can take up to 30 minutes, your patience is much appreciated.
Available pick-up points: Arctic Adventures's pick-up list.
Pick-up Information for the Northern Lights
Pick up is at 20:30 pm from your hotel or a nearby meeting point in Reykjavík. Picking everyone up can take up to 30 minutes, your patience is much appreciated.
Available pick-up points: Arctic Adventures's pick-up list.
Practical Information
Remember to bring: Warm and waterproof outdoor clothing, headwear, gloves and sturdy shoes. Bathing suit & towel are also essential. Packed lunch (we will also stop at a diner/restaurant).
There is no such thing as too many layers on a Northern Lights tour so keep that in mind when you get dressed for the second part of the tour.  A tripod for your camera is very useful too.
What if I don't own all of these necessaries?
Don't worry, you can always rent the necessary items in the booking process.
Disclaimer
All our tours are undertaken on the responsibility of its participants. Arctic Adventures does not assume any responsibility for accidents that are caused by its customers or can be traced to their own actions. Participants have to sign a waiver before undertaking all trips stating that they realize that all outdoor activities carry an inherent risk.
Book this tour
Price from: 17.990 ISK