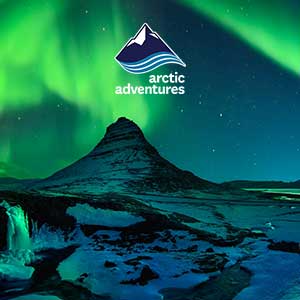 Explore the incredible ice world of the Sólheimajökull glacier on a ravishing glacier walking tour right off the beautiful South Coast
INSTANT BOOKING CONFIRMATION
Glacier Experience is a small group experience that offers an easy glacier hike on Sólheimajökull glacier with an experienced glacier guide and is available all year around. The tour offers a pick-up from Reykjavík or a meet on location at Sólheimajökull glacier. Add even more adventure to your stay in Iceland and come explore this amazing crawling glacier with us.
Sólheimajökull glacier is an outlet from the mighty Mýrdalsjökull and is surrounded by some of Iceland's most grand volcanoes and during summertime, a glacier lagoon forms in front of the glacier only adding to the charm of the location. This popular day tour is the perfect way to get in real contact with the true reason behind the name Ice-land!
The tour is offered either as a meet on location at Sólheimajökull glacier or with a pick-up from Reykjavik. Please specify which option you prefer in checkout.
Duration Overwrite

3 hours
Suitable for most people in fair condition.
Departs from

Sólheimajökull / Reykjavik
Departs from Overwrite

Sólheimajökull
Price from

9.500 8.550 ISK
Tour highlights

Small Group Experience
Glacier Hike
Epic Landscapes
Sólheimajökull (Solheimajokull glacier)
Expert Info
Seljalandsfoss & Skogafoss Waterfalls (Only on the minibus version)
Included

Guided Glacier Hike
Certified Glacier Guide
Specialized Glacier Gear
All Required Safety Equipment
English Speaking Licensed Adventure Guide
Pick-up & drop off from Reykjavík (optional)
Your Glacier Experience tour starts with an introduction to the necessary glacier equipment provided in the tour and your expert guide going over the safety rules needed to explore the beautiful Sólheimajökull glacier. Then you will take off on a short but scenic walk across the pitch black volcanic ash and sands that lay in between the Sólheimajökull glacier and it's the parking lot. The ash and sand are from the volcanic eruption in Eyjafjallajökull stratovolcano that took place in the year 2010 and is a reminder of the closeness of volcanoes and glaciers in Iceland. Truly a fantastic and unique start!

The Sólheimajökull glacier tongue originates at Mýrdalsjökull which is famously also the home to the volcano Katla. There is no doubt that the glacier is exquisite and the surrounding area as well. Your knowledgeable glacier guide will point out to you how the glacier is retreating and give you an interesting history and geology lesson to get you to understand the true magic of the glacier.
Right at the foothills of the glacier you will lace up our crampons and follow your guide to explore this otherworldly natural wonder; a rugged, raw and ever changing hub of ancient frozen water. This glacier hike is an adventure like no other, and with the rapid rate of global climate change, this popular activity is only available in very few parts of the world. You will see how the primal elements shape and affect the glacier, creating mesmerizing labyrinths of ice ridges and deep V-shaped crevasses that crisscross and scar the surface of the ice. Not to mention the big sinkholes, called "moulins", that sometimes have drilled their way through the glacier, draining the meltwater of the ice through little waterfalls and streams. The glacier also carries with it ashes of volcanic eruptions from the distant and not so distant past, you might even be lucky enough to be able to collect a little sample of the Eyjafjalljökull volcanic ash from 2010.

Add some adventure to your Iceland tour and explore an amazing crawling glacier, before it becomes inaccessible.
On our way back to Reykjavík we stop at two of the most magnificent waterfalls in Iceland, Skógafoss and Seljalandsfoss.
Seljalandsfoss waterfall
About an hour and a half from Reykjavik we will arrive at Seljalandsfoss waterfall with. The waterfall is about 65 meters (213 ft) high and can be inspected from different angles. During summer it is even possible to walk behind it to experience it from another perspective.
Skogafoss waterfall
About 30 km further up the south coast, we have Skogafoss, another majestic phenomenon, located close to the small village of Skógar. It is one of Iceland' largest waterfalls with a width of 25 meters (82 ft) and a 60 meter (197 ft) drop.
---
Pick-up Information
Pick up is at 08:00 am from your hotel or a nearby meeting point in Reykjavík. Picking everyone up can take up to 30 minutes, your patience is much appreciated. 
Available pick-up points: Arctic Adventures's pick-up list.
After pick-up, we drive in an easterly direction out of the city on our way to the glacier. Once there, you get crampons and helmet and safety instructions before we walk to the edge of the glacier over black volcanic ash. Once we reach Sólheimajökull, an outlet glacier of Mýrdalsjökull, we put our glacier gear on and set foot on the ice. Sólheimajökull is quite rugged and as we make our way over the glacier you can expect to be exploring a unique territory. Below the glacier tongue lies the fast-growing lagoon, but in the last years, it has almost doubled in size due to the retreat of the glacier. We will choose a different route down the glacier again.
The hiking part of the tour is about 2 hours with 1-1.5 hours spent on the glistening glacier.
---
Meet on Location Information
If you select the Meet on Location option, please meet your tour guide at Sólheimajökull Parking Lot.
Please give yourself plenty of time to drive from Reykjavík – there is no way you want to miss this stunning adventure on Sólheimajökull Glacier. In good conditions the journey takes just over two hours without stops, it is always worth allowing extra time so you can relax. With poor weather or road conditions, the journey will take longer. The distance from Reykjavík is approximately 158 km (98 mi).
GPS 63°31'00.48″N, 19°22'00.12W(WGS84).
---
Practical information
Remember to bring: Warm outdoor clothing, waterproof jacket and pants, headwear and gloves. Good hiking boots are recommended.
What if I don't own all of these clothing necessaries?
Don't worry, you can always rent sturdy hiking boots, waterproof jacket and pants in the booking process or on location. Booking these items in advance is recommended.
---
Please note
The stops at the waterfall are only available with pick-up from Reykjavik.
Special Deal Save 10% - Discount added at checkout
Bookings work for any travel time for Glacier Tour only without pickup
Offer ends 31.10.2019 at midnight (GMT)
Promotional code: OCTOBER2019
Book this tour
Price from: 9.500 8.550 ISK per person.
NO BOOKING FEES
FAST & SECURE PAYMENT
You have chosen: Hiking Tour only
Loading...
You have chosen: w/ Reykjavík Pick-up
Loading...
"Worth every cent"
We took part in the 90 minute glacier hike up Sólheimajökull and it was well worth every cent we paid! Well organized and they even had pants, shoes etc for rent for those who did not have it.
Very interactive and informative. One lady was not too confident and I witnessed them helping her which was very sweet.
"Great Glacier Trip, ideal for families"
Review of: Small Group Glacier Experience from Solheimajokull Glacier

As our son is 11, we chose a short glacier trip and booked with Artic Adventues as their prices seemed the lowest of the various companies who were offering walks on Sólheimajökull. The tour was well organised and offered excellent value for money. We were given full safety kit including helmets (saw other groups on the glacier bare headed). Josh, our guide, was excellent – he paced the group perfectly to ensure that we saw as much as possible without taking it too fast. He was able to share lots of knowledge about the glacier itself and the rest of the local area.
Glacier Experience | Average rating: 4.3/5 based on 13 customer reviews
"Glacier, Waterfalls and Black Beach Tour" |
By Lesley Webster 26/02/2018
I can't recommend this tour highly enough. Unfortunately due to the weather our glacier trip was cancelled however our tour guide, Sven, was amazing and made the rest of the tour fun, enjoyable and memorable. Sven is the perfect tour guide and definitely an asset to the company!
"South Coast Tour" |
By Chris Vaughn 04/04/2018
Thomas was a great guide, extremely knowledgeable about the area. The Glacier Hike was cut short due to high winds but we appreciate the concern for our safety. The tour bus was nice and comfortable although the sound system was acting up which disrupted the stories and history quite a bit. The bus was on time at our bus stop and was very accommodating to the dropoffs as well. There was plenty of time given to each location as well as time to grab a bite to eat or bring your own lunch like we did. I would definitely use Arctic Adventures again.
"A very well organised and full day" |
By Robin Walker 06/05/2018
This was very well organised tour, beyond expectations We weren't sure what the glacier walk would entail and we really enjoyed it - it was a solid bit of exercise (1.5 hours on the ice with a 360ft total.climb) but it was.taken at an easy pace so it was thoroughly enjoyable.
"Excellent" |
By Howard 08/05/2018
Over our three day visit to Iceland we jammed in several tours to get the flavour of this amazing country. At the end of our trip, both of us agreed that our glacier hike was both the most demanding and the most rewarding. Our tour guide had to deal with varying abilities, look after our safety and fill us with knowledge on this amazing natural spectacle. He ticked all these boxes and he did it with a smile on his face from start to finish despite the poor weather conditions. A truly memorable, thought provoking day with a great bunch of people, led by an experienced and knowledgeable tour guide.
"Best Tour EVER!" |
By Angelica Frias 09/05/2018
This was our only tour in Iceland and I'm so happy that my husband and I went with Arctic Adventures. Our guide was WONDERFUL!! I have family and friends visiting Iceland in August and will absolutely refer this company. Do yourself a favor and do NOT miss this opportunity of a lifetime!! Thank you for such a memorable experience. We loved it!
"Waterfalls and glacier hike tour" |
By Rita 11/05/2018
This was by far the best tour we did during our time in Iceland. All of the guides were really professional, friendly and knowledgeable. we had a really fantastic experience despite some challenging weather conditions! We would definitely recommend this tour company to other people in the future and will 100% use them when we return!!
"Great tour!" |
By Sofia 17/05/2018
I loved this tour! Definitely recommended. The Sólheimajökull Glacier is a sight to see and the hiking was worth it.
"Glacier" |
By Ihor Harbar 18/05/2018
"If you're in Iceland we should visit glacier. A Glacier Hike on Sólheimajökull Glacier was great experience."
"Amazing guide and experience" |
By Arda Müftüoglu 25/05/2018
It was an amazing experience for me to hike on the beautiful glaciers with the best guide ever: Maria. She made our experience safe, fun and unforgettable at the same time. I would totally recommend it!
"Great time" |
By Terri Keggenhoff 01/06/2018
"Our guide Maria was fantastic. ...energetic engaging! The 4 of us had a great time !"
"Must Do" |
By David Akes 06/06/2018
This is a great tour. We learned a lot about the glacier as well as glacier hiking itself. It was both challenging as well as fun. The guide was helpful, friendly, and knowledgeable. It is a must do when in Iceland and I would do it again.
"Amazing!" |
By Jaimee 07/06/2018
This is an absolutely amazing tour!! Just a heads up it's quite a workout to make it to the top but totally worth it! Glacier guide was friendly and informative! Altogether a great day! Thank you!
"Worth It!" |
By Jake G 14/06/2018
"My wife and I had a fantastic time with Attic Adventures. Definitely worth it, and especially if you are trying to see as much as possible in a limited amount of time. Our guide, Norris, was informative, personable, and very funny. Highly recommended!"