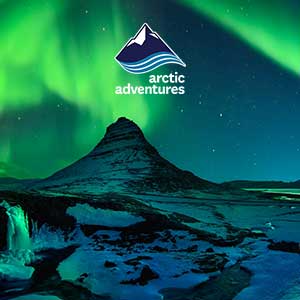 Discover the ancient lava tubes of Raufarholshellir Cave on a thrilling caving adventure!
INSTANT BOOKING CONFIRMATION
Want to do this trip for free? Tag us @arcticadventures on your social media stories and photos during your trip and enter a chance to win a full refund. The winner will be picked once a month!
---
Explore one of the longest and best-known lava tubes in Iceland on our Raufarholshellir Cave Tour. These magnificent lava tubes were formed 5200 years ago by a volcanic eruption and span an impressive 1360 m (4500 ft). During this caving excursion, you'll encounter the various colors and textures of ancient lava formations. Located just 30 minutes from the capital, it's the most easily accessible lava cave near Reykjavik and is open year-round. Delve down into the subterranean world of lava beneath the ice on this unique experience!
Suitable for those in good condition.
Departs from

Raufarholshellir
Tour highlights

Iceland's 4th longest lava tube cave
Lava formations
Icelandic lava field
Included

Pick up & drop off in Reykjavik
Guided caving tour
Flash light
Gloves and helmet
Explore the depths of Iceland's 4th longest lava tube cave on our Raufarholshellir Cave Tour. Stretching an estimated 1,360 meters (4,461 ft) long, the tunnels of Raufarholshellir make up their own subterranean universe. Magnificently colored in hues of red and purple, the chambers of the cave are a spectacular sight. Each color tells a story of the cave's history, which your tour guide will share with you along the way.
Like many Icelandic attractions, Raufarholshellir lava tunnel was born from a volcanic eruption, known as the Leitahraun eruption, in the Bláfjöll mountain range. You'll walk in the path of lava that flowed 5200 years ago.
Moss-covered lava stretches throughout the cave. Due to the popularity of the cave, the stalactites began to disappear around the 1950s. However, today you can still spot a few. In winter ice coats the cave interior and giant ice formations create a breathtaking winter wonderland.
Just a 30-minute drive from Reykjavik, Raufarholshellir lava tube cave is one of the most accessible caves in the country. There are four entrances, all within a short distance of each other. It is extremely spacious at between 10 and 30 meters wide (33 to 99 ft) and up to 10 meters tall (33 ft). Inside the tube explore the largest lava chambers in Iceland, excluding Surtshellir and Vidgelmir lava tubes in West Iceland.
Parts of the cave have uneven surfaces and are difficult to trek. We insist that all participants visiting the lava tunnel be in good physical shape. Discover the ancient remnants of a volcano on this unique tour experience. These dazzling caves are sure to excite your inner explorer! 
Lava Tubes
Lava tubes are natural canals through which lava flows below the surface following a volcanic eruption. Tubes can either be actively draining lava from the source or be extinct, wherein the lava flow has stopped and the rock has cooled. In the latter case, a long, cave-like channel is left behind.
Lava tubes form when an active low-viscosity lava flow produces a continuous hard crust. The crust thickens to create a roof over the still-running lava stream. There are only two ways for tubes to form: by forming a crust over lava channels, or from lava flows moving beneath the surface.
---
Meet on location
Have a car? You can meet us on site. Raufarholshellir Cave is located less than a 30 minute drive (approximately 30 km) from Reykjavík and is accessible by all vehicles.
Drive from Reykjavík east on Route 1 for about 18 km. Turn right onto Route 39 (Þorlákshöfn) and continue for another 12 km. The parking area will be on your left hand side. Click here for a Google Map. The GPS coordinates are: N.63º 56.407 / W. 021º 23.742
---
Practical information
Remember to bring: Warm clothes, gloves, headwear, sturdy shoes and waterproof outer layers.
If you don't own all the suggested clothing, don't worry. You can always rent sturdy hiking boots, waterproof jackets and pants during the booking process.
Please note
This tour is only for people in good physical shape. Good balance is required and sturdy hiking boots are necessary. We do not recommend this excursion for people with back, knee or other health issues.
This tour is operated with our trusted partner.
We provide you with a headlight and a helmet.
Like always in Iceland, it's best to dress in layers. Warm layers closest to you preferably wool/thermal underwear, pants sweater and on top waterproof outdoor clothing. We also recommend that you wear good hiking boots and gloves. Jeans have proven to be a bad choice.
All our tours are undertaken on the responsibility of its participants. Arctic Adventures does not assume any responsibility for accidents that are caused by its customers or can be traced to their own actions.
Book this tour
Price from: 19.900 ISK
NO BOOKING FEES
FAST & SECURE PAYMENT
Loading...