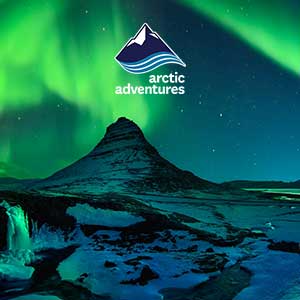 Take a journey through a frozen maze of towering ice formations, jagged ridges, and deep blue crevasses!
This tour offers you the opportunity to hike and climb at the immeasurably magnificent Sólheimajökull glacier. We will explore the crevasse riddled outlet glacier and also have the chance to test our ice climbing skills. With its amazing ice formations, sinkholes and jagged ridges, Sólheimajokull glacier is absolutely an unforgettable site to spend the day.
Duration

4,5 hours / 10,5 hours with transfer from Reykjavík
Suitable for those in good condition who are able to walk for about 4 hours at a low or moderate pace. Trails are generally of good quality and glacier travel at a relatively low angle.
Departs from

Reykjavik / Solheimajokull
Tour highlights

Sólheimajökull Glacier (Solheimajokull Glacier)
Skógafoss (Skogafoss Waterfall)
Ice Climbing (optional)
Glacier Hiking
Included

Guided Glacier Hiking
Optional Introduction to Ice Climbing
Certified Glacier Guide
Harness, Helmet & Ice Axe
This tour is available with pick up from Reykjavík or you can meet us on location at Sólheimajökull glacier car park.
This small group tour is a fabulous glacier hiking adventure – those who want to can even try ice climbing – there is nothing more sensational than ice climbing in Iceland! For beginners or those with glacier experience this is the queen of glacier expeditions, giving you three magnificent hours on the ice!   
All equipment is provided, ice axes, helmets, crampons and safety lines. Your certified glacier guide will show you how to use the equipment and give you a safety briefing before introducing you to the majestic ice wonderland, with its astonishing networks of crevasses, ridges, ice walls, moulins, and blue-hued ice. Your friendly and knowledgeable guide make sure you are always safe on the ice and share some fascinating and fun glacier facts with you. This is a frozen world, but did you know it is always moving? You may even hear the ice cracking as it adjusts beneath you!   
Sólheimajökull is an outlet glacier of Mýrdalsjökull glacier, Iceland's 4th biggest glacier. The glacier tongue is a rugged, raw and ever changing hub of ancient frozen water; truly a phenomenal place. The tour will start with an introduction to equipment and safety instructions. We will provide you with all the tools you will need for your time on the glacier: ice axes, crampons, helmets and safety lines and, of course, we make sure that you are always safe on the ice.
Pick-up from Reykjavik
The journey to Sólheimajökull will take you on a sightseeing trip through the South Iceland countryside, along the way we pass through some picturesque towns and villages. On the return journey to Reykjavík we stop at the beautiful Skógafoss waterfall. On a sunny day you will often see a rainbow around the tumultuous cascade as it drops 60 m into the calm river below. A lovely legend tells of a chest of treasure hidden in a cave behind this waterfall – this tour will certainly leave you with memories to treasure forever!

Pick up: For those who have chosen to be picked up in Reykjavík the pick up time is at 08:00 AM. Picking everyone up can take up to 30 minutes, your patience is greatly appreciated!
Don't know where you will be staying?  No worries, just choose "To Be Announced" for pick-up location and get back to us when you have further details.
Available pick-up points: Arctic Adventures's pick-up list.
Meet on location
If you have chosen to meet us on location the meeting point is at Sólheimajökull Car Park. Please give yourself plenty of time to drive from Reykjavík – there is no way you want to miss this stunning adventure on Sólheimajökull Glacier. In good conditions the journey takes just over two hours without stops, it is always worth allowing extra time so you can relax. With poor weather or road conditions the journey will take longer. The distance from Reykjavík is 158 km (98 mi).
The tour is about 4 hours with approx. 3 hours on ice, this includes the hour spend climbing.
Meet on location time: If you have chosen to meet us on location please be ready at 11:30 AM at Sólheimajökull Car Park. Distance from Reykjavik approx. 164 km / 101 mi.
GPS coordinates for the Sólheimajökull Car Park: 63°31'00.48″N, 19°22'00.12W(WGS84).
Practical information
Remember to bring: Warm layers (not cotton), headwear, scarf, gloves, waterproof jacket and pants, hiking boots are essential, it is not possible to fit ice crampons onto any other footwear.
What if I don't own all of these clothing items?
Don't worry, you can always rent sturdy hiking shoes, waterproof jacket and pants in the booking process or on location.
Please note
The pickup time will change from the 1st of October 2017 from 08:30 to 08:00. Note that the pick up can take up to 30 min.
Disclaimer
All our tours are undertaken on the responsibility of its participants. Arctic Adventures does not assume any responsibility for accidents that are caused by its customers or can be traced to their own actions. Participants have to sign a waiver before undertaking all trips stating that they realize that all outdoor activities carry an inherent risk.
Book this tour
Price from 24.990 ISK per person.
You have chosen: Meet on location
Loading...
You have chosen: From Reykjavik
Loading...
"Mind blowing and phenomenal Blue Ice Tour"
We went on a Blue Ice tour with the amazing ice climber and guide, Bori. The tour was phenomenal. His educational information was top notch, his safety guidance and oversight was spectacular. Someone did trip on our walk and cut her eyebrow- Bori handled it with finesse and extreme care. We hiked up the glacier, and the views were unbelievable. Then he set up for our ice climb into a 150 meter deep hole in the ice. It was scary, but very safe, and an adrenaline high that lasted for days. He was extremely patient with those of us that got scared, and was a really knowledgable and encouraging guide. If you are into adventures, let this be the easiest decision of your trip- do this tour. Every element was mind blowing.
"Blue Ice Glacier is the best tour Iceland offers!!"
I did the Blue Ice Glacier tour and it was the most amazing hike I've ever done! Billi is a great guide-knowledgable and funny. It's an all day tour b/c it takes 2 hrs to drive out to the south shore. You spend about 3-4 hours actual hike time on the glacier & then a quick visit to the waterfall. Words of advice- dress for cold/rain/snow b/c you will get wet. The views are absolutely gorgeous! It's rated as easy, but I'd say moderate b/c it can def be some steep climbs at times and slippery even with crampons. The ice wall climb was such a cool experience-you must at least attempt!! The guides explained the nature behind the glaciers and volcanoes and we're very laid back/funny dudes. Worth every single krona!! 🙂
"Absolutely Incredible!!"
We signed up for a glacier hike on Sólheimajökull. We expected it to be cool; however, we didn't realize just how spectacular it would be!! Our guide (I wish I remembered her name), was so knowledgable, and this adventure really felt like an otherworldly experience–truly one of the highlights of our week in Iceland. I highly recommend anyone visiting Iceland sign up for this trek!
"Amazing experience"
We booked the Blue Ice Glacier hike and climb through Arctic Adventures. Do not even bother looking at other tour companies for this as AA were amazing. The 2 expert tour guides with us, Svanur and Jakob were just fantastic. They are knowledgable, entertaining and clearly expert at what they do. The tour is perfect for those with a decent level of fitness. The ice climbing is the hardest bit if you don't have upper body strength but still worth a go. The hike part was incredible. I feel very privileged to have been able to walk up, across and into a glacier. Absolutely stunning views and a must do tour in Iceland. It was most definitely the highlight of a great holiday. You get all the safety equipment (crampons, helmet etc) as part of the tour. You need good hiking boots, weatherproof trousers and jacket with warm hat and gloves. However you can hire items. For 2 of us the tour was £360 but worth every single penny. It takes about 2 hours to get to the glacier with a stop about half way. On the way back to Reykjavik you can see the pesky ash cloud volcano along with one of the biggest waterfalls. Beautiful. We left the hotel at 08:30 and arrived back at 19:15. A perfect, most memorable day. Can't recommend enough!
"Blue Ice Tour - Amazing experience"
Our family of 5 loved our Blue Ice Tour on 12 July with Francesco. We had a lovely clear day which was definitely a bonus but the experience was enhanced by Francesco. What a great guide – knowledgeable, great company and obviously loves what he does. Walking on the glacier was great but I had to pinch myself as I sat eating our lunch at the bottom of an ice wall after having climbed it! The Blue Ice tour was one of the highlights of our trip to Iceland.
"Cool experience"
We went on a in to the blue tour. It was raining and cold but it did not matter when we got into the water. Incredibly clear water and a cool experience. If you have a chance, you should definitely try this. We had good guides who helped us from start to finish. It was really good with hot chocolate when we were done and up from the cold water 🙂