Two exciting fun-filled days in the west and two on the south coast for a scenery-packed grand four-day tour in Iceland. If you want to make the most of your time in Iceland this is your tour!
INSTANT BOOKING CONFIRMATION
Prepare for 4 day packed with all the best Iceland has to offer. Explore the magic of the popular south coast with all its stunning waterfalls and glistening glaciers before stepping into the intriguing Snæfellsnes peninsula that has been nicknamed  "little Iceland". The Snæfellsnes peninsula has been picked as the most scenic and the best winter destination in Europe and you will understand why in the first minutes of visiting.
This outstanding tour is a combination of our extremely popular 2 Day Snaefellsnes & Northern Lights tour and the 2 Day South Coast, Ice Cave, Skaftafell & Jokulsarlon tour. For the best adventure vacation ever, see the most amazing glittering jewels Iceland can offer you!
Suitable for most people in fair condition.
Tour highlights

Small Group Experience
Natural Ice Cave
Jökulsárlón Glacier Lagoon
Reynisfjara black sand beach
Hraunfossar Waterfall
Barnafoss Waterfall
Mt. Kirkjufell
Snæfellsnes Peninsula
Northern Lights
Vatnshellir Lava Cave (EXTRA)
Included

Pick-up & drop off from Reykjavík
Guided Minibus Tour
English Speaking Tour Guide
Accommodation with Private Bathroom - 3 Nights
Breakfast Each Morning at Your Hotel
Free WiFi on Board Your Bus
For full details of daily schedules and information about the places we visit on this northern lights tour Iceland please see the itinerary. This tour really is the cream of Iceland guided tours – a mesmerizing adventure all the way!
Day 1: We head out along the coastline to Borgarfjörður in West Iceland (Vesturland) to visit Deildartunguhver, the largest hot spring in Europe, before continuing on our way to Reykholt, a very important place in the history of Iceland. We visit Hraunfossar, a totally unique wide arc-shaped waterfall, the multiple cascades actually stream out through the lava, stunning! You will also see the tumbling Barnafoss waterfall, and hear the story about it. Finally, you are driven to Snæfellsnes, a stunning peninsula, where you will be accommodated for the night.
Day 2: We visit the black beach at Djúpalónssandur, Vatnshellir Cave, Mount Kirkjufell, Hellnar and explore far more of the extremely varied and incredible scenery and places around Snæfellsnes. On a clear day there are spectacular views of Snæfellsjökull, the imposing glacier made famous by Jules Verne´s Journey to the Center of the Earth. If you choose to explore Vatnahellir Cave you will get a little closer! After a fascinating day, you are driven back to the Reykjavík area where you will be accommodated for the night.
Day 3: We head along the south coast, passing through farmlands, towns and villages including Vík. We visit Seljalandsfoss and Skógafoss, two magnificent waterfalls and Reynisfjara to see the white-tipped Atlantic waves crashing onto the dramatic black sand beach. Your accommodation will be in the area around Skaftafell.
Day 4: Explore a magnificent, shimmering glacial ice cave accompanied by a qualified and informative guide. You even get to go on a glacier hike. Visit the world famous Jökulsárlón Glacier Lagoon, see the huge and amazingly shaped icebergs filling the lagoon and floating in a mystical procession to the nearby Diamond Beach. We stop at Skaftafell in Vatnajökull National Park before we return to Reykjavík.
On this Iceland northern lights tour we look out for lights each evening, hopefully, their glowing colors will paint the sky!
---
Pick-up Information
Pick up is at 09:00 from your hotel or a nearby meeting point in Reykjavík. Picking everyone up can take up to 30 minutes, your patience is much appreciated.
Available pick-up points: Arctic Adventures's pick-up list.
---
Return time
Arrival in Reykjavík is expected between 21:00 – 23:00 pm.
---
Practical Information
What to bring: Warm outdoor clothing, a waterproof jacket and pants, headwear and gloves. Good hiking shoes are recommended.
Please note
If you do not choose the single supplement you will be paired in a twin room with another participant of the same gender.
Day 1: West Iceland
Pick up is at 9:00 am from the Reykjavík meeting point you have chosen. Please note: picking everyone up can take up to 30 minutes but you do have to be ready and waiting at 9:00 am.
We will drive along the scenic west coast and explore West Iceland (Vesturland in Icelandic). The first stop of the day is at Deildartunguhver hot spring, this is the most powerful hot spring in Europe. It pumps out 180 l/sec of 100°C hot water, and the Icelanders certainly make good use of this vast quantity of hot water, using it to heat the homes and buildings in many neighboring towns. Our next stop will be at the historic site of Reykholt, here you will find a hot spring pool dating back to the medieval period, Snorralaug. This is the pool where the very famous Icelandic Saga writer, historian, and Law Speaker is reputed to have bathed, you can see this pool and even feel the temperature of the water.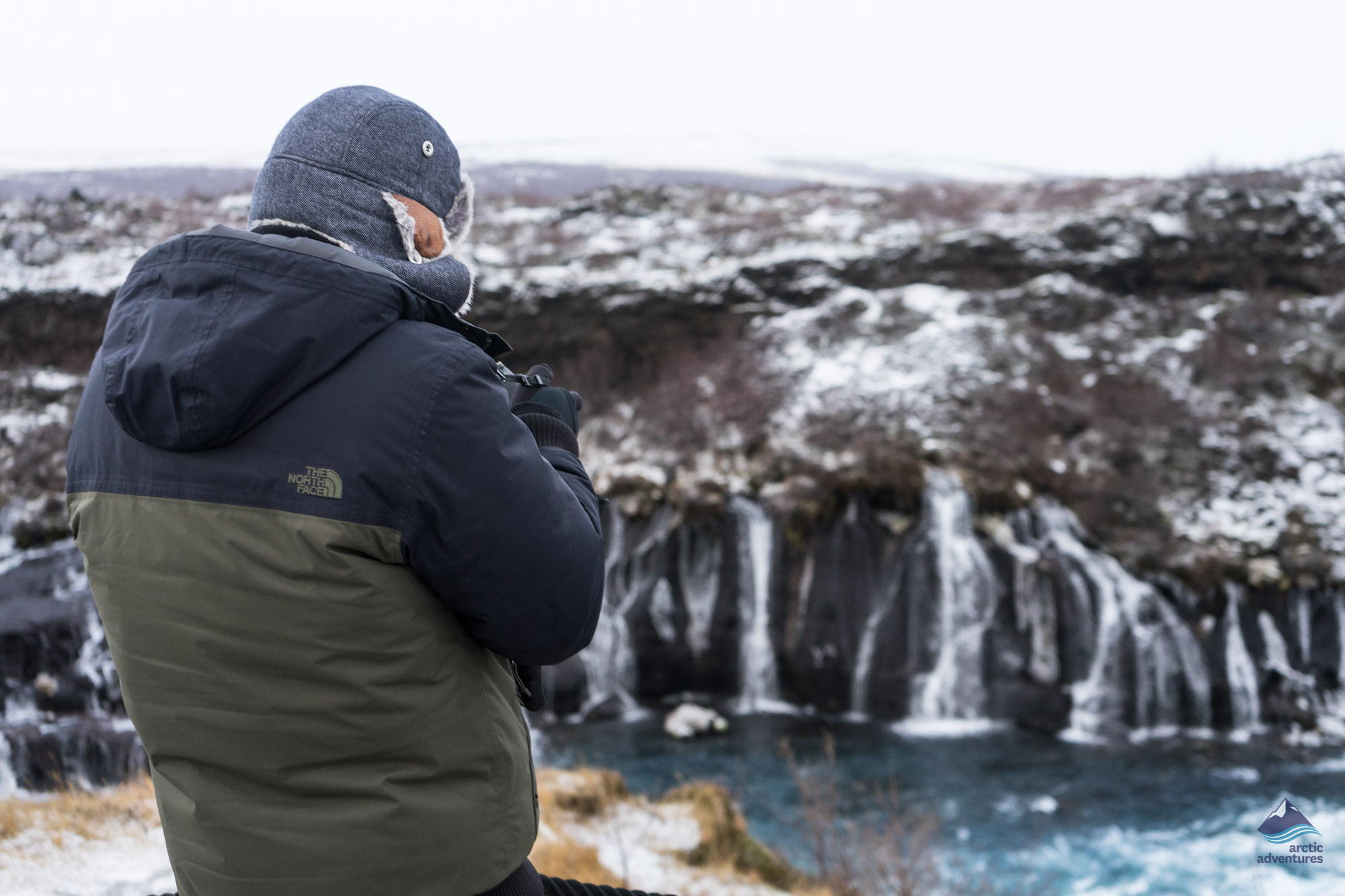 Our third stop of the day will be at the waterfalls, Hraunfossar (the Lava Falls) and Barnafoss (Children´s Falls). These waterfalls each offer something very different. You will learn why the tumbling Barnafoss waterfall is so named! At Hraunfossar you will see how the water flows out through thousands of little springs in the coal black lava. These falls form a magnificent wide crescent of tumbling cascades, the pure glacial water has flowed through lava for many years.
We then leave Borgarfjörður behind and set our course towards Snæfellsnes peninsula. We will stop to view the unique Gerðuberg basalt columns before we arrive at our hotel for the night.
If the northern lights and cloud forecasts are favorable an evening northern lights hunt will be on!
*Please note that due to weather we might have to change the itinerary and start with the South Coast instead of Snæfellsnes.
Day Highlights

Deildartunguhver hot spring
Reykholt
Hraunfossar and Barnafoss Waterfalls
Snæfellsnes Peninsula
Northern Lights Hunt (in the right conditions)
Included

Pick up from Reykjavik
Guided minibus tour to all highlights
One night at a hotel
Accommodation
Hotel Rjukandi
or Similar
Day 2: Snæfellsnes peninsula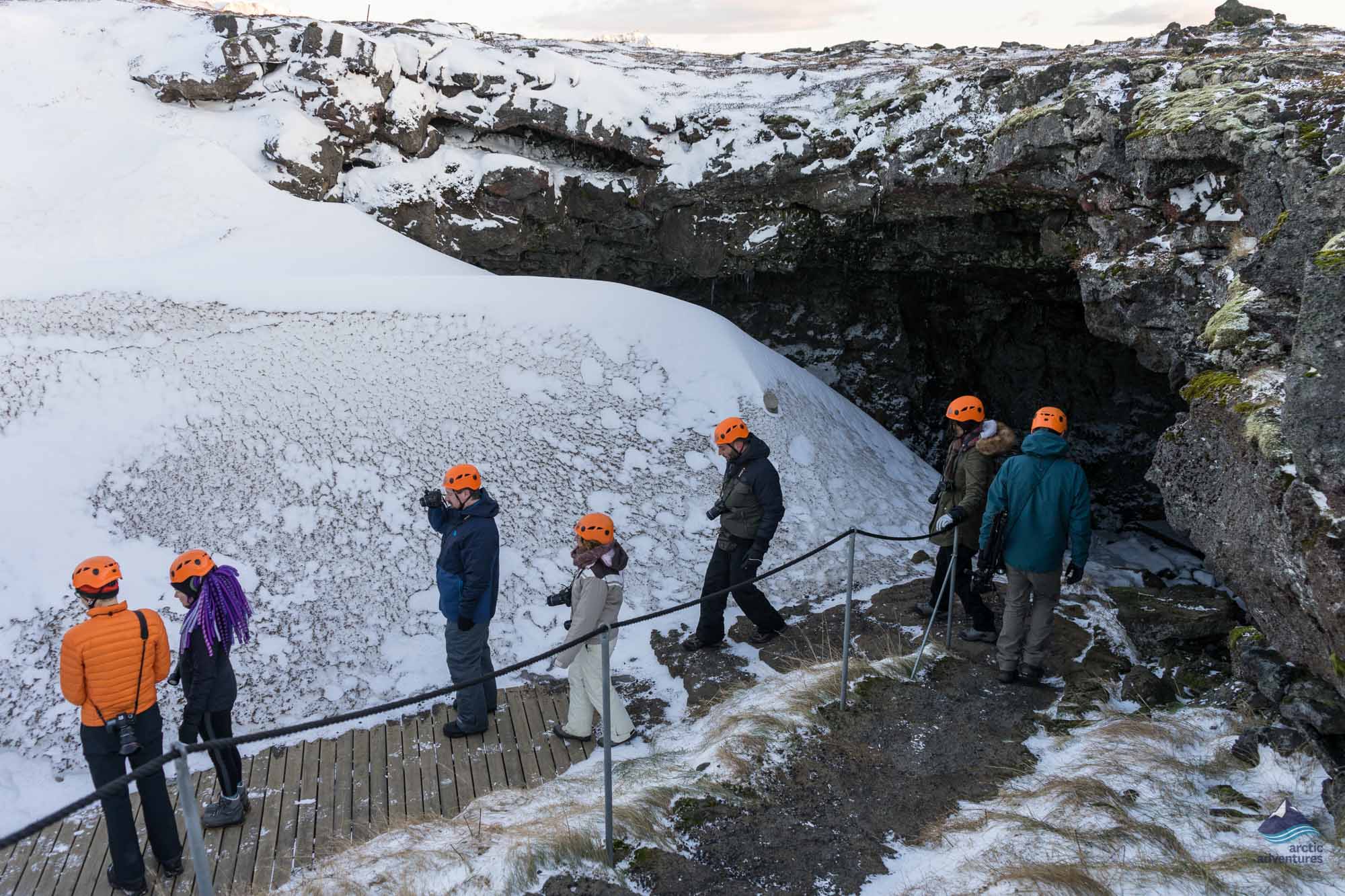 After breakfast at our hotel we will drive to the western part of Snæfellsnes which will take us through some absolutely stunning coastal and mountain scenery. Our first stop of the day is at the small and charming fishing village of Arnarstapi, here we take a short walk to explore the surrounding area. You then have the option to explore beneath the ground at the Vatnshellir Cave, which is located inside Snæfellsnes National Park. This cave is a lava tube tunnel which is around 8000 years old, your specialist caving guide will explain its formation and fascinating features. If you wish to go caving you need to book this as an extra when you arrange your tour.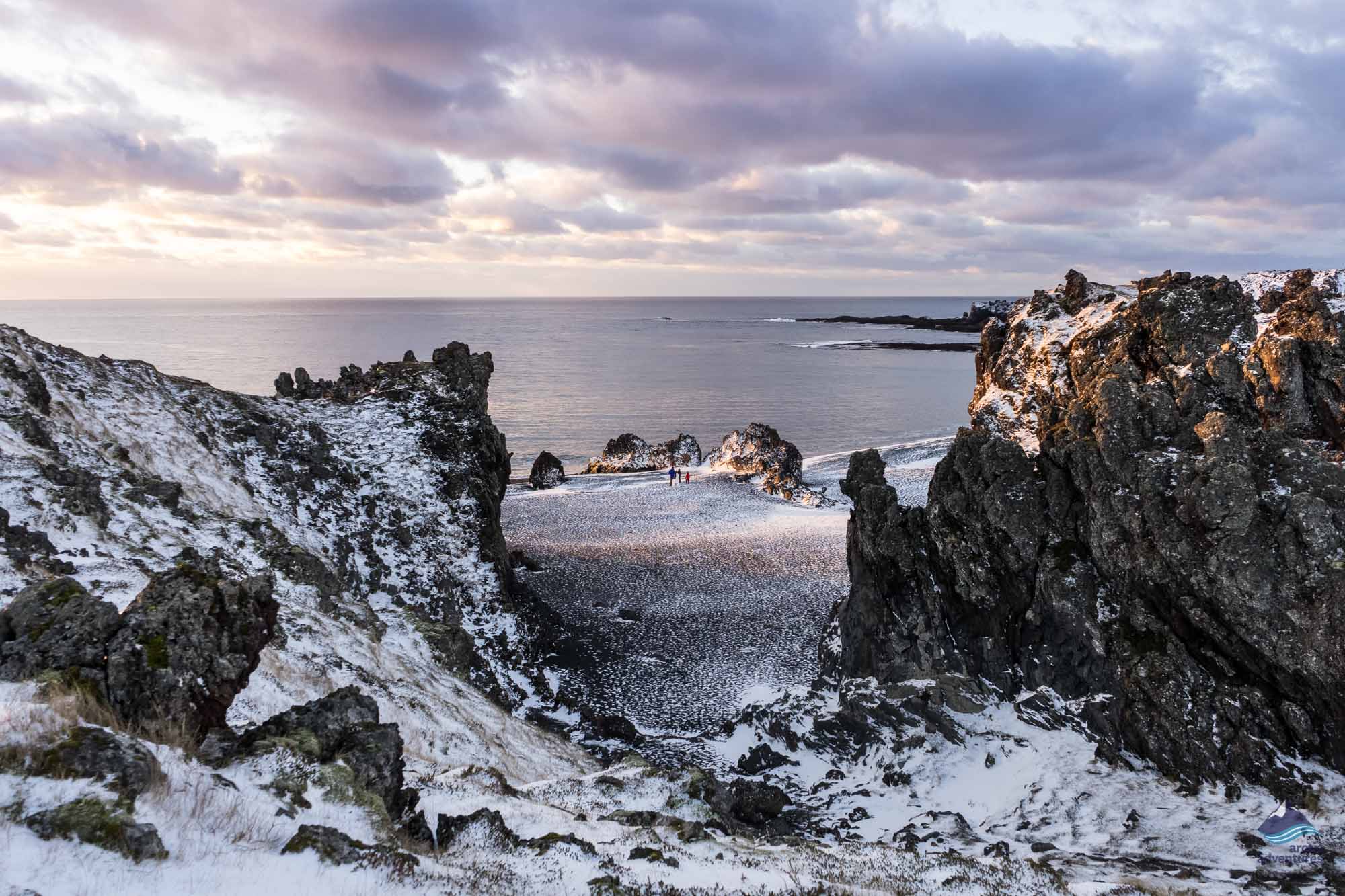 Your next stop will be at Hellnar, a really picturesque village where we stop for lunch. We then continue to the beautiful black pebble beach at Djúpalónssandur. Here we enjoy a short hike, as the shimmering silver-tipped Atlantic waves roll over the glossy black pebbles of this beach, which is framed by incredibly shaped cliffs. You will see the remains of the British trawler, Epine, which met its end here. At the head of the beach, you will also find the famous 'lifting stones'. Maybe you would like to test your strength like the Icelandic fishermen did in the olden days?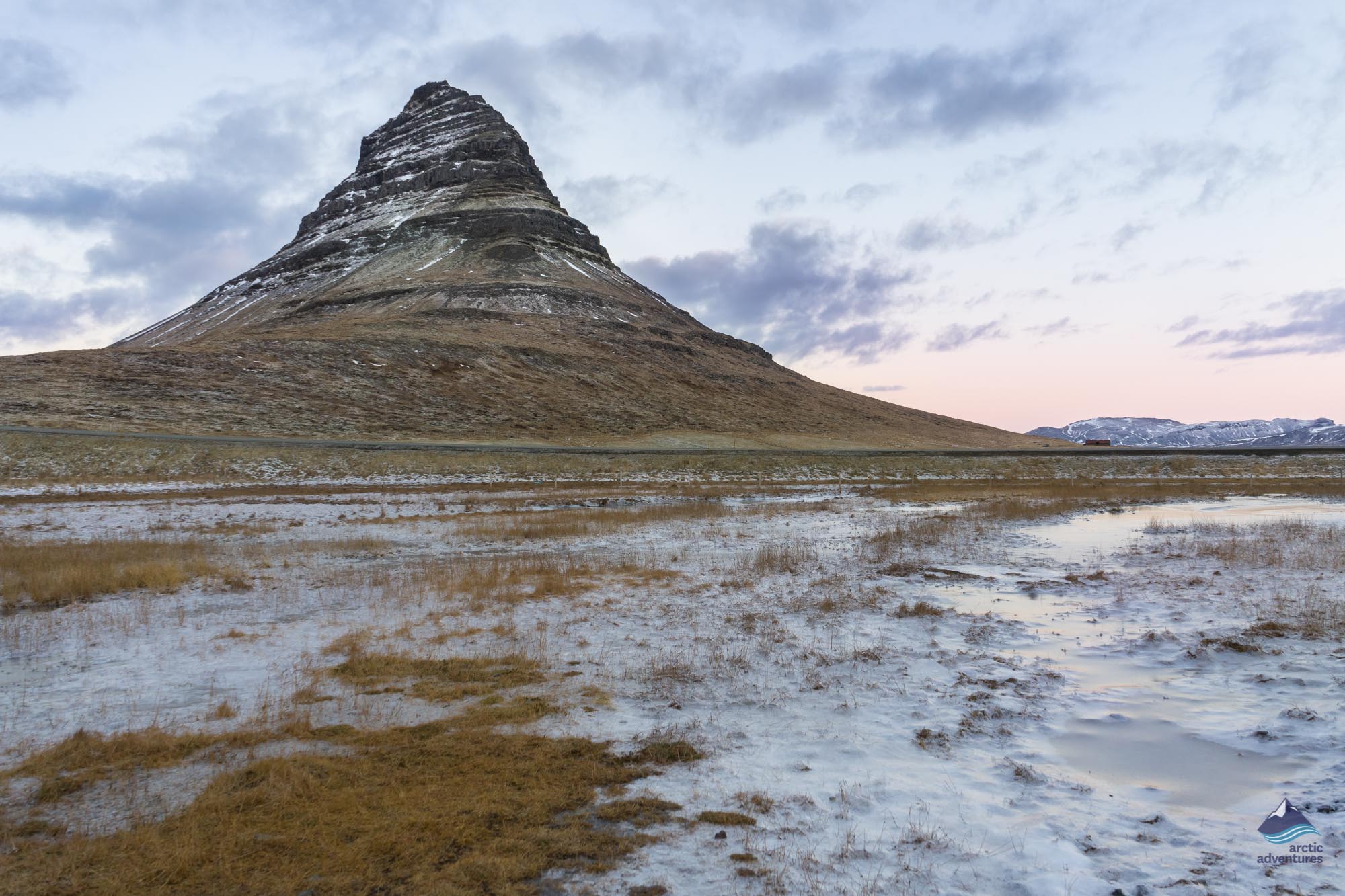 From Djúpalónssandur, we continue our journey around Snæfellsnes peninsula and our next stop will be at the famous and much photographed, Mount Kirkjufell, a favorite spot for many photographers. On our way back to the Reykjavík area, where you will be spending the night, if the forecast is suitable we will be looking out for the northern lights.
Day Highlights

Arnarstapi Fishing Village
Snæefellsnes National Park
Vatnshellir Cave (optional extra)
Djúpalónssandur Beach
Mount Kirkjufell
Northern Lights Hunt (if conditions are right)
Included

Hotel breakfast
Guided minibus tour to all highlights
All necessary caving equipment
Qualified Caving Guide (optional activity)
One night at a hotel in the Reykjavík area
Accommodation
Reykjavik Lights Hotel
or Similar
Day 3: The Grand South Coast
Today this jewel of Iceland tour packages will take you south before continuing to the east!
You enjoy breakfast at your hotel in the Reykjavík area then we pick you up and whisk you away for two days of amazing adventure sightseeing. On a dark winter morning we drive towards the slowly rising sun on the way to our first stop, Seljalandsfoss, a very unusual waterfall because you can walk behind the gracefully falling cascade. It is well worth getting a little damp for such an exciting experience!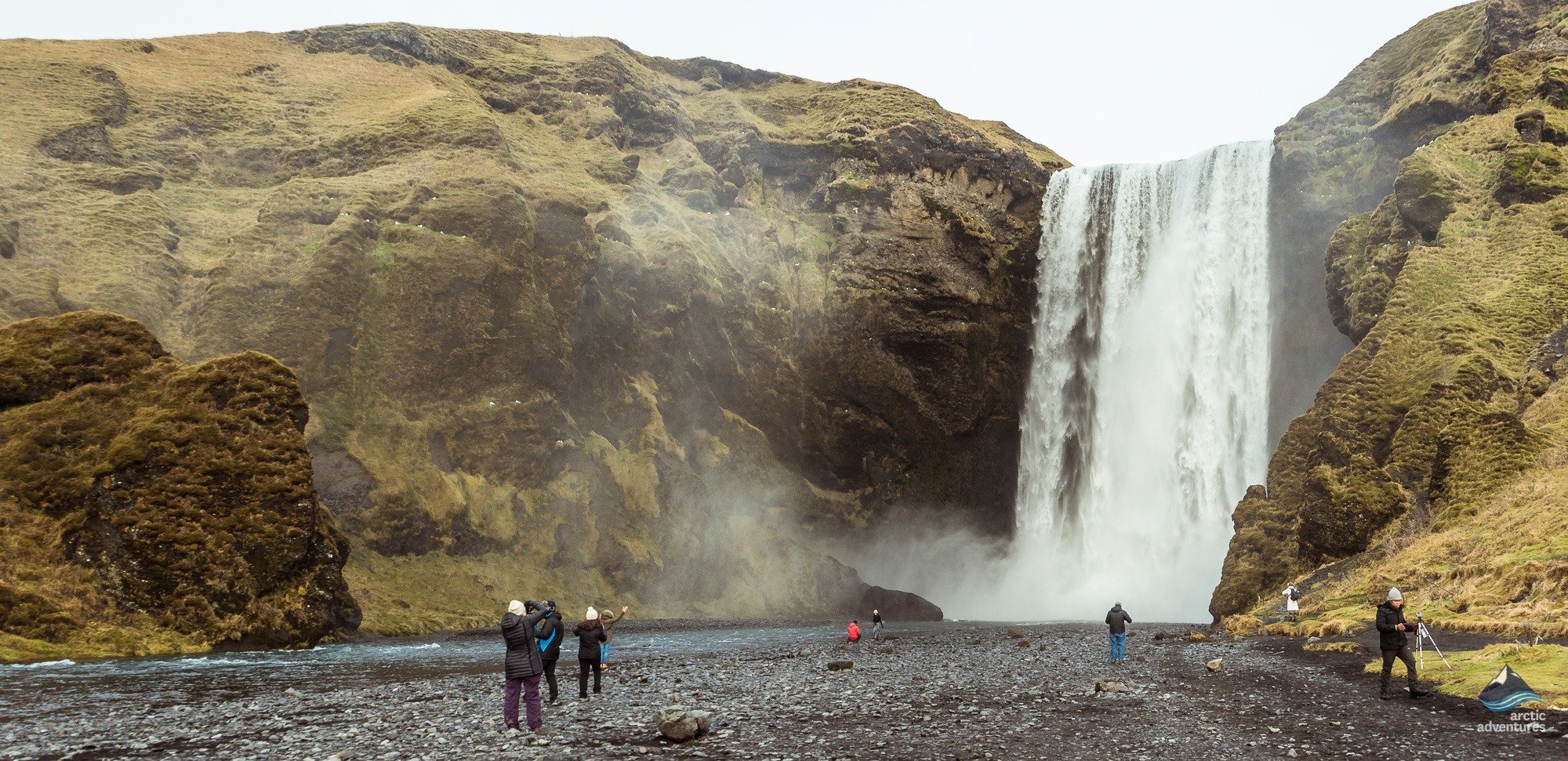 Our next highlight is another waterfall, Skógafoss, located at the foot of a very famous volcano, Eyjafjallajökull.  On a clear day, you will also get a great view of another volcano mountain glacier, Mýrdalsjokull. As we continue on, we come to Reynisfjara, a black beach where some fantastic sights, such as the picturesque basalt column formations and the famous Reynisdrangar peaks, will greet us. We will drive through the charming small town of Vík on our way to our accommodation. Throughout the entire day, you can expect to see breathtaking landscapes consisting of vast lava fields, waterfalls, black sands and glacier tongues. We will enjoy a relaxing evening, if the conditions are right we will hunt for those northern lights! The countryside close to Vatnajökull glacier, away from the city lights, is perfect for spotting this natural phenomenon. Your hotel will be in the Skaftafell area.
Day Highlights

Seljalandsfoss and Skogafoss Waterfalls
Coastal village of Vik
Reynisfjara Black Beach
Northern Lights Hunt (if conditions are right)
Included

Hotel breakfast
Pick up from your hotel
Guided minibus tour to all highlights
One night at a hotel
Accommodation
Hótel Geirland
or Similar
Day 4: Ice cave and Glacier lagoon
Today you will really get to know the glacier, venturing into the sparkling, blue/white world of an ice cave with a qualified guide, and visiting the extraordinary glacier lagoon, Jökulsárlón. Getting up close and personal with a vast glacial tongue of the great Vatnajökull glacier does not get any better than this!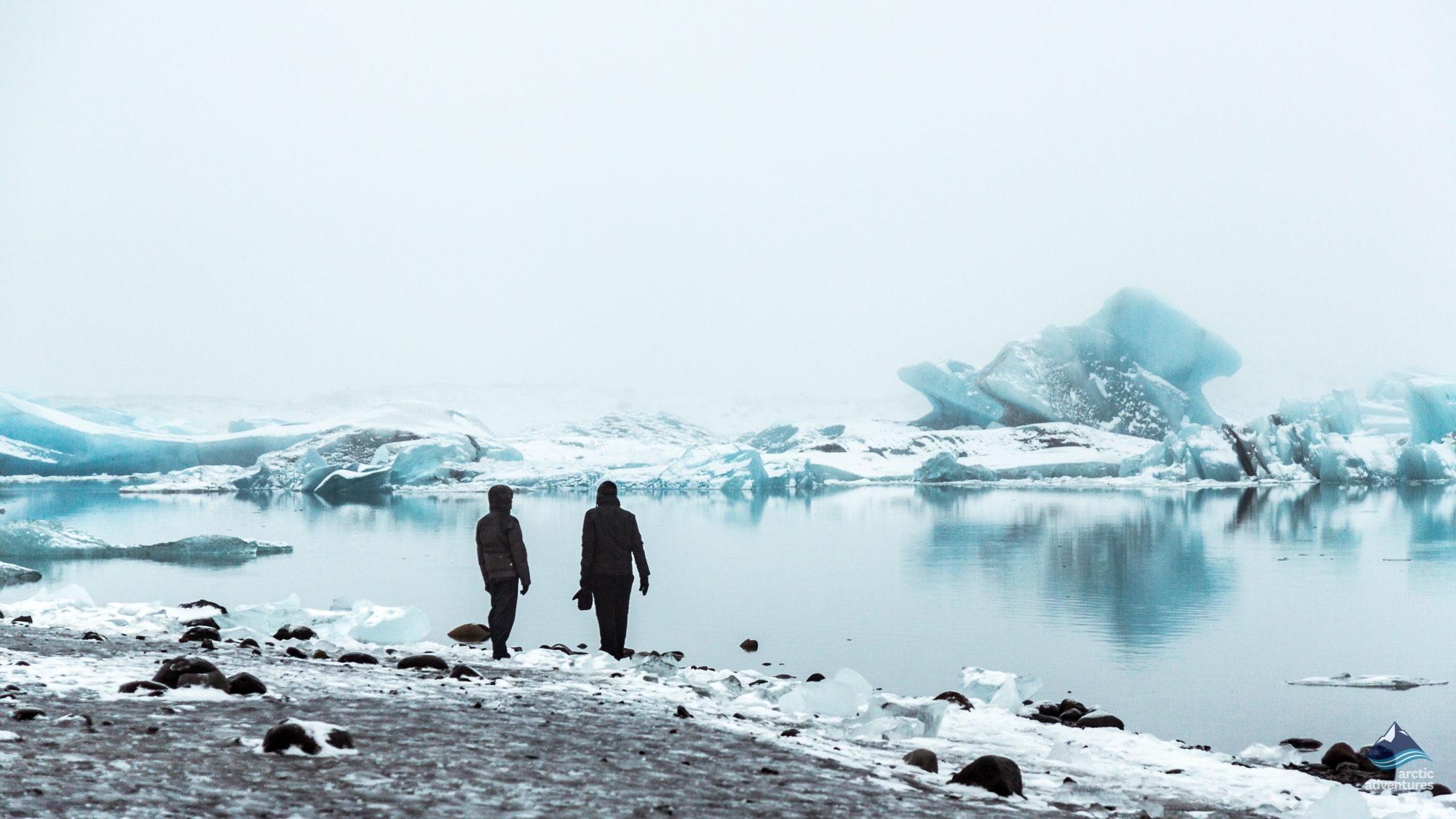 The renowned Jökulsárlón Ice Lagoon, made famous by several blockbuster movies including Batman Begins and The Secret Life of Walter Mitty, to name just a couple, is a totally mind-blowing place. Splendid icebergs of amazing shapes, some incredibly large, have calved off the receding Breiðamerkurjökull glacier. They jostle one another in the huge lagoon before gliding on their surreal and stately journeys to the Atlantic ocean. Many of these natural ice sculptures are washed onto the nearby Diamond Beach, you will see them glittering like diamonds, as they rest on the dramatic coal blackness of the beach.
Next, you go into the glacier with a qualified guide! Ice caves are fascinating. New caves are formed each winter by the melt/freeze cycle of the glacier, they are always changing, both from year to year and within each winter. The journey into an ice cave will give photographers the most amazing opportunity to capture the shimmering blue light which passes through the glacial ice. Surprisingly deep shades of jewel blue will surround you, these tones are caused by ice compression, the way we perceive light and color, and the blueness can sometimes be intensified by algae.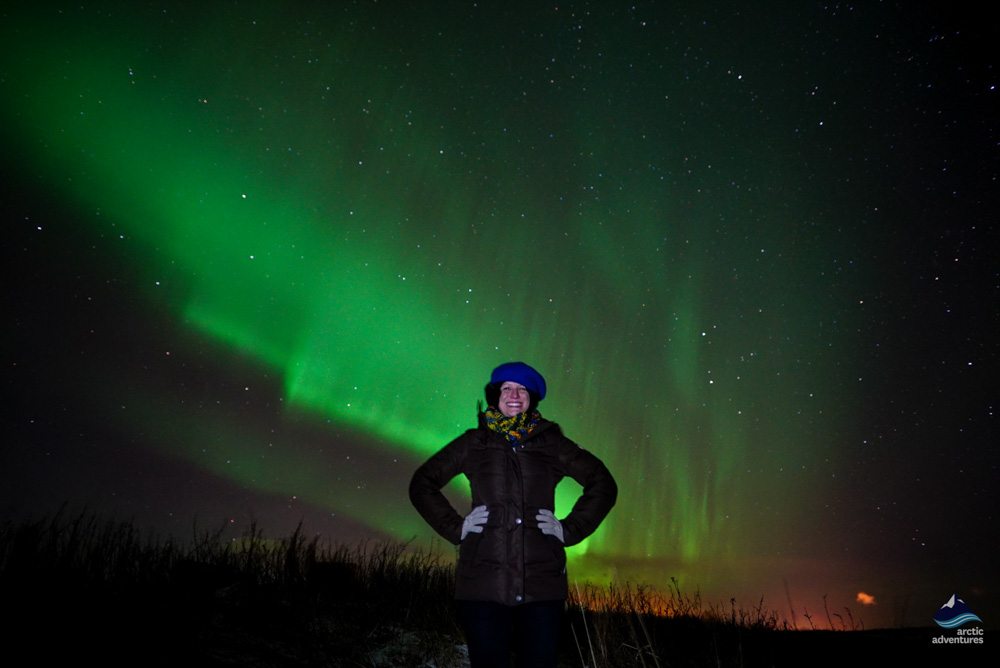 After visiting the ice cave we head towards Reykjavík. We stop at Skaftafell Nature Reserve in Vatnajokull National Park, a green area in the midst of amazingly jagged mountains and glacier-topped peaks, the splendid scenery of Skaftafell is certain to be a highlight of your tour. As darkness falls we look out for the northern lights.
We return to Reykjavík around 21:00 – 23:00.
Please note that ice caves are an ever changing natural phenomenon, it is, therefore, not possible to say we will visit a specific cave. The choice of ice cave will always be based on upon conditions and safety considerations at the time.
Day Highlights

Vatnajokull Glacier
Jokulsarlon Glacier Lagoon
The Crystal Beach (Diamond Beach)
Natural Ice Cave
Skaftafell Nature Reserve
Included

Hotel breakfast
Guided Ice cave tour
Certified Glacier Guide
All glacier and ice cave equipment
Guided minibus tour to all highlights
Drop off in Reykavík
Disclaimer
All our tours are undertaken on the responsibility of its participants. Arctic Adventures does not assume any responsibility for accidents that are caused by its customers or can be traced to their own actions. Participants have to sign a waiver before undertaking all trips stating that they realize that all outdoor activities carry an inherent risk.
Book this tour
Price from: 98.991 ISK
NO BOOKING FEES
FAST & SECURE PAYMENT
"Amazing trip! "
Had booked a 4 day tour! The south and west tour was both amazing! Especially our tour guide Oliver! He is literally the best! And thanks to him we saw one of them best Northern Lights! Thank you Oliver!
"SPECTACULAR EXPERIENCE "
Thank you to Oliver at Arctic Adventures for making our experience spectacular!! Every minute of every day & night was filled with awesome site-seeing, great walks and Breath-taking views!! The whole Trip was perfectly organised! The hotels we stayed in were very comfortable too with good food. Oliver made the whole Trip extra special by taking us to some of his favourite, yet lesser – known spots , so that we will always remember Iceland as one of the most uniquely beautiful places we have ever had the privilege of experiencing.
4 Day Northern Lights, Snaefellsnes & Glacier Lagoon | Average rating: 3.5/5 based on 2 customer reviews
"Some amazing sights, lucky enough to see Northern Lights" |
By Sandy 04/02/2018
The two day trip to South Coast turned out to be a wonderful trip thanks to our fabulous guide Micah. He really looked after us, very knowledgable and had a great sense of humour which made even the long drives passing stunning landscapes listening to cool music a lovely experience. Some amazing sights, lucky enough to see Northern Lights. The hotels were nice and comfortable. As a group we enjoyed a fun, entertaining evening too - thanks Micah;). Awesome guide - highly recommended! Only regret is I didnt have time to see and do more of Iceland - Guess I'll be back!!
"Great tour guides and amazing scenery" |
By Andrew OWEN-GRIFFITHS
Great tour guides and amazing scenery. Hotel in Reykjavík was poor and booking not done properly, but we didn't let that spoil the whole experiences