Iceland's Elephant Rock is an incredible rock formation found in the remote Westman Islands or Vestmannaeyjar. It is not one of those things that you need to 'look just hard enough' to see it but one of those sights that will have you completely astounded in a split of a second. In front of you is a petrified elephant and there is no denying it!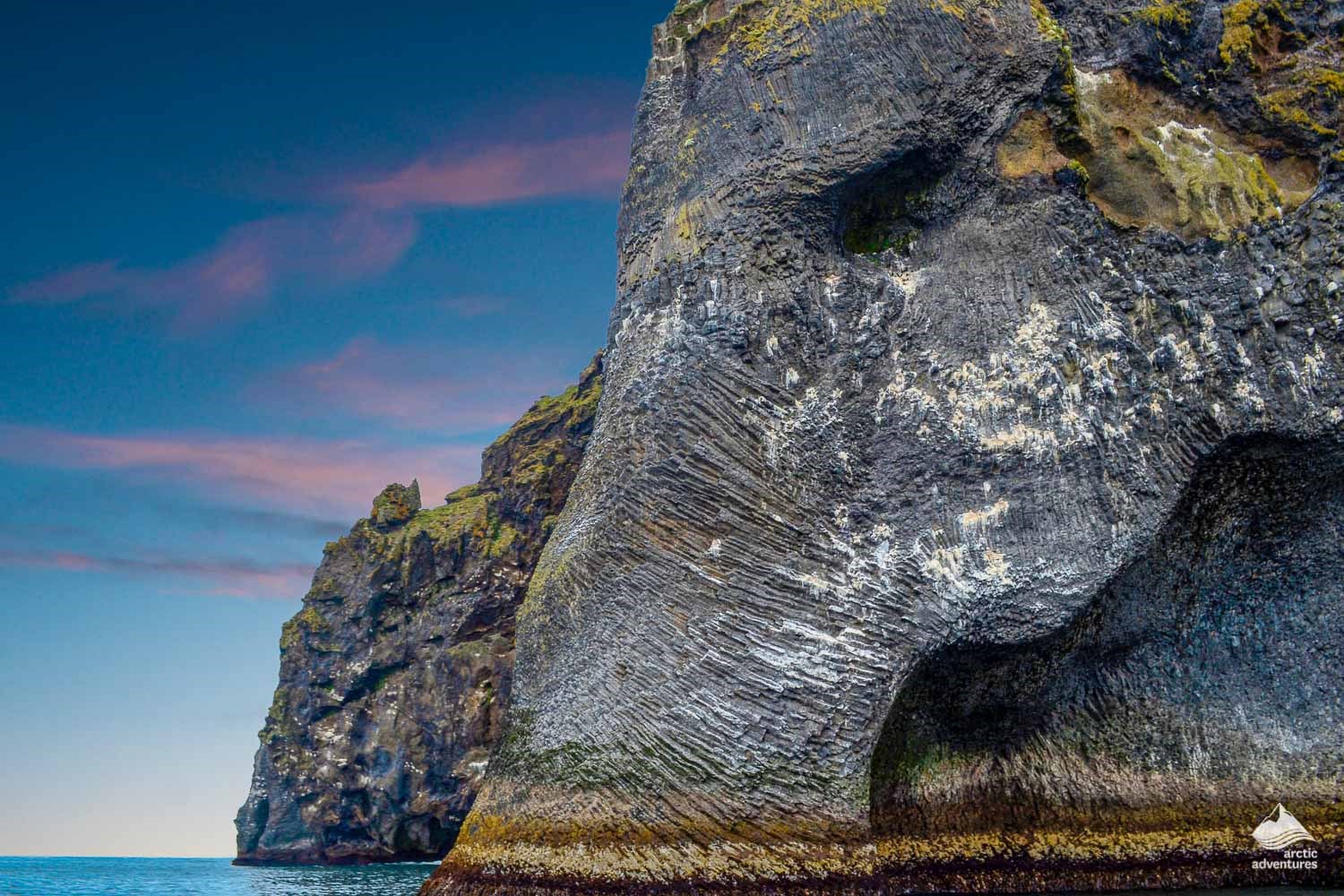 How did the Elephant Rock Form?
To believe that the enormous rock was formed naturally is quite difficult, especially once you have been face to face with the giant elephant. But nevertheless, there are no records of an elephant ever stepping foot in Iceland so we best believe it.
The Westman Islands were formed in a series of volcanic eruptions occurring under sea level. This is quite common in Iceland and its surrounding areas as the island is located right at the split between two continental plates. Subsequently, there is rather a lot of earthquakes and eruptions happening and for the locals, this is just daily life.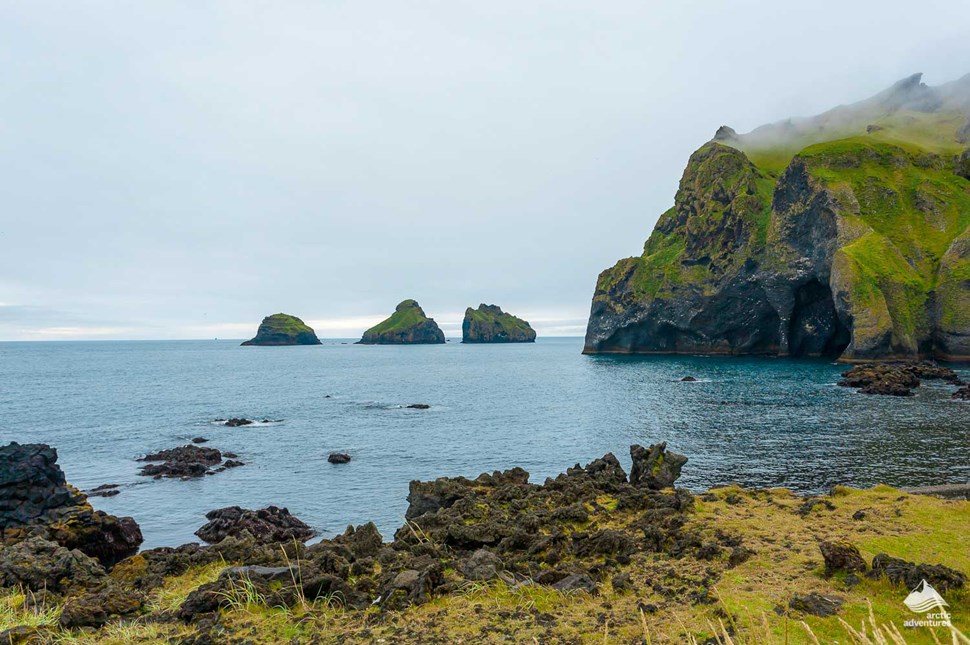 The biggest of the Westman Islands is called Heimaey, the only inhabited island of the cluster. Right at the center of Heimaey is a volcano. The volcano is called Eldfell and is quite active, often causing the locals troubles.
The last significant eruption occurred in 1973 when Eldfell went off, almost without warning, causing lava to flow over larger parts of Heimaey island. The islands had to be evacuated and the home island was left deserted until the eruption has stopped. This is one of the most memorable events in the late 19th century and was life-altering for many of the Islanders.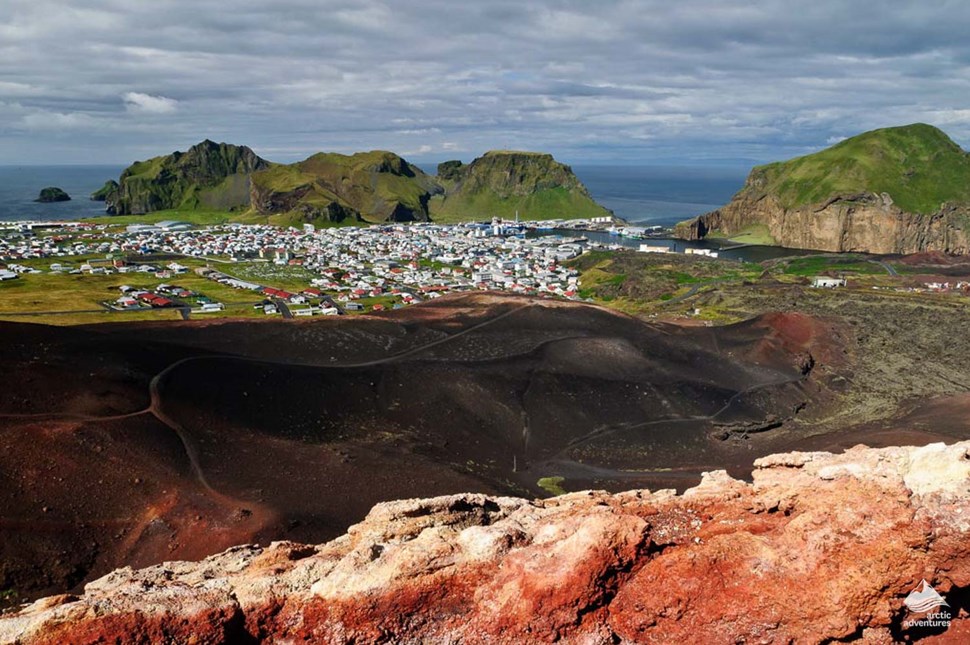 Many believe that the Elephant Rock was formed in this very eruption which enlarged the island by substantially.
If the elephant did in fact form in the eruption in 1973 that would make it relatively young but even so it has become somewhat of a token for the Westman Islands community. This basalt rock giant that hides its trunk in the cold Atlantic Sea is something you are not going to want to miss!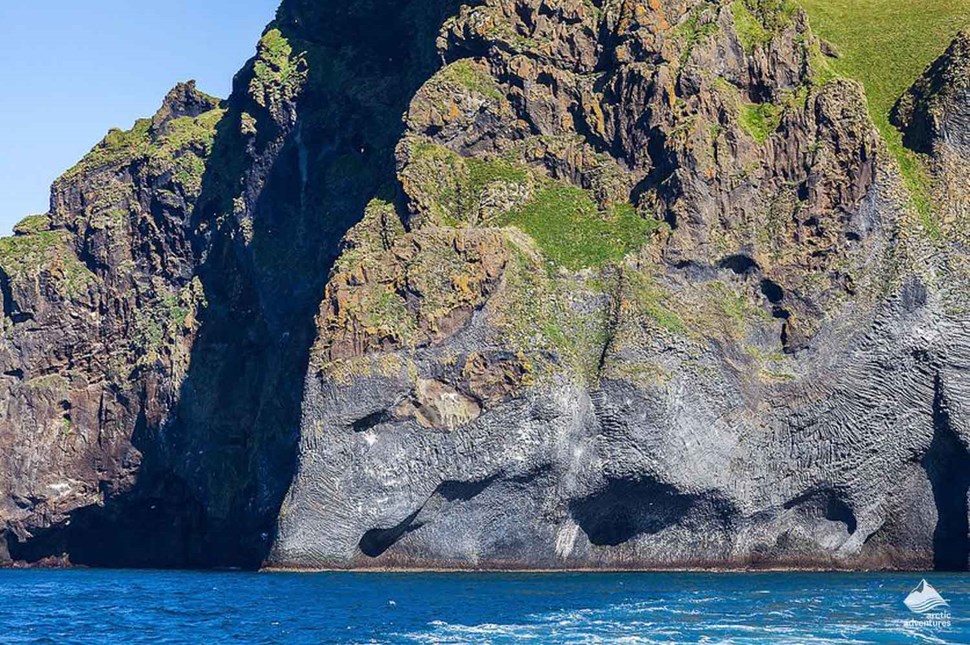 Fun Facts about Elephant Rock Iceland
There is no known record of an elephant ever stepping foot in Iceland, maybe they just stayed in the sea?

The Elephant Rock was most likely formed in 1973 in a big eruption on Heimaey Island.

There is a picture that went viral on the internet a while ago. The real Icelandic Elephant Rock, is the close-up elephant face, but

 

the aerial picture is actually another elephant rock from Asia: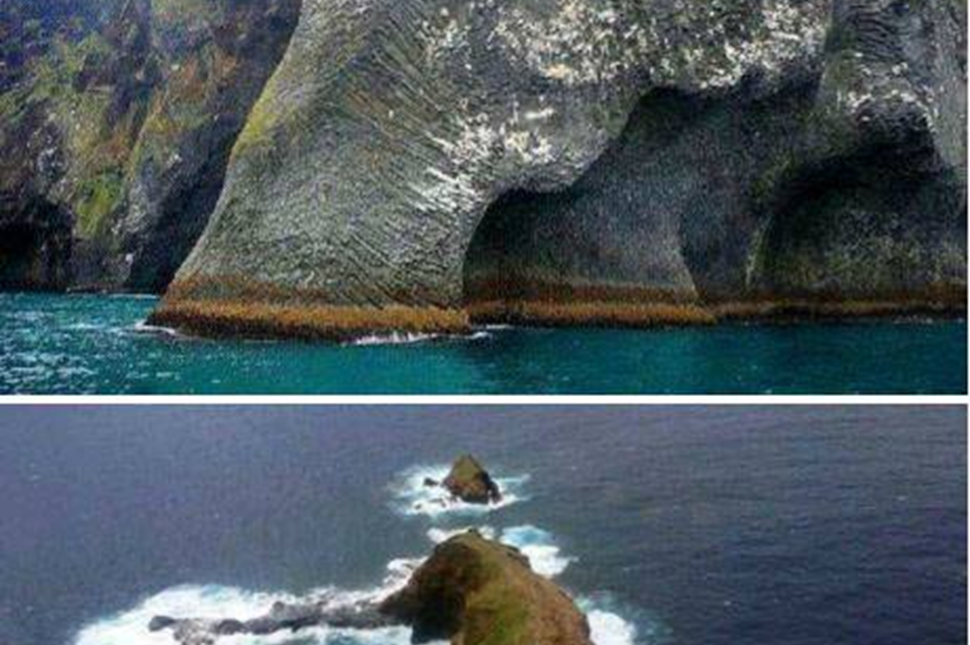 Where is Elephant Rock located?
The Westman Islands are an archipelago of about 15 islands off the South Coast of Iceland. Only one of the islands is inhabited, that is the largest of the island cluster, it is called Heimaey. The Elephants Rock stands tall out from Heimaey surrounded by other sea cliffs and smaller islands.
GPS coordinates of Elephant Rock: 63.4393° N, 20.3112° W
How to get to the Elephant Rock?
To get to the Elephant Rock you will first need to make your way to the Westman Islands. This can be done either by boat or by flying.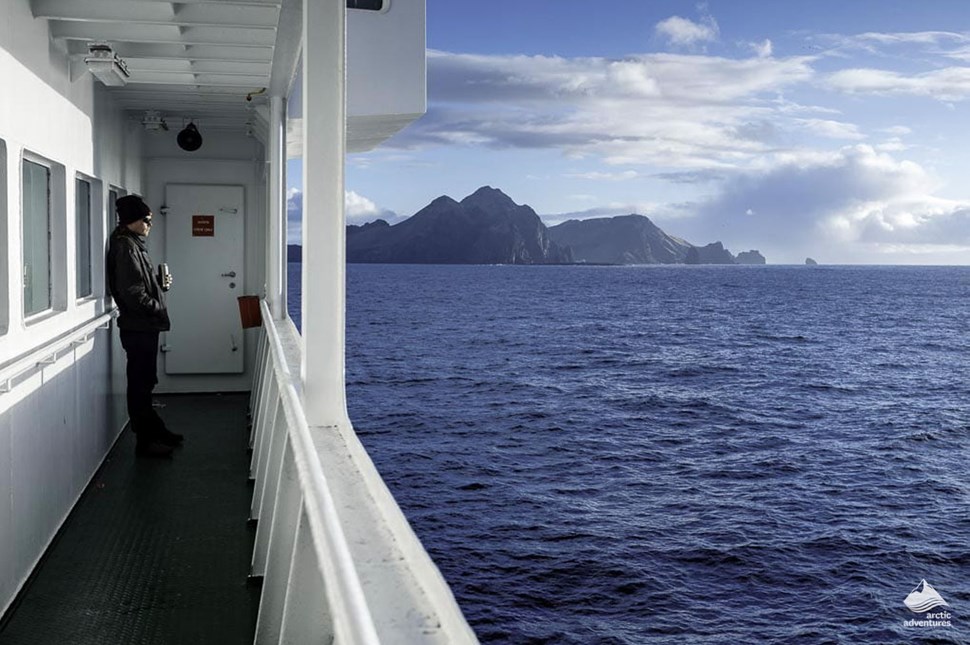 If you choose the boat option you will need to find out from which port Herjólfur (the boat) is leaving on this particular date. During summer Herjólfur is most likely to depart from Landeyjarhöfn which is located close to Seljalandsfoss waterfall but if you are planning on visiting in winter or when the weather is rougher the boat might depart from Þorlákshöfn. If it departs from Þorlákshöfn the boat ride will take 3 hours but leaving from Landeyjarhöfn only about 30.
Flying to Westman Islands is a quicker option where you catch a flight from Reykjavík and land in the Westman Islands in only about 25 minutes!
Whichever way you choose, once you have arrived in the Westman Islands you will need to book a Rib Safari tour or a boat ride around the island. There is no way of seeing the Elephant Rock walking around the island. You must go by boat. Or you can catch a glimpse of Elephant Rock during our Vestmannaeyjar Island, Volcanoes and Puffins Tour including many more amazing sights and puffin watching!
What to do around the Elephant Rock
Visit the Eldheimar Volcano Museum and learn about the eruption of Eldfell Volcano

Visit the Sæheimar Aquarium and even meet a real puffin!

Try out the swimming pool – some say it the best in Iceland

Sip on some of the locally brewed beer at Brothers Brewery

Taste the fresh fish at the local restaurants

Try out "Sprangan" a local sport where you swing back and forth while holding onto a rope attached to cliffs. This is a sport Icelanders link with the Westman Islands and considered to be the reason behind how good they are at egg picking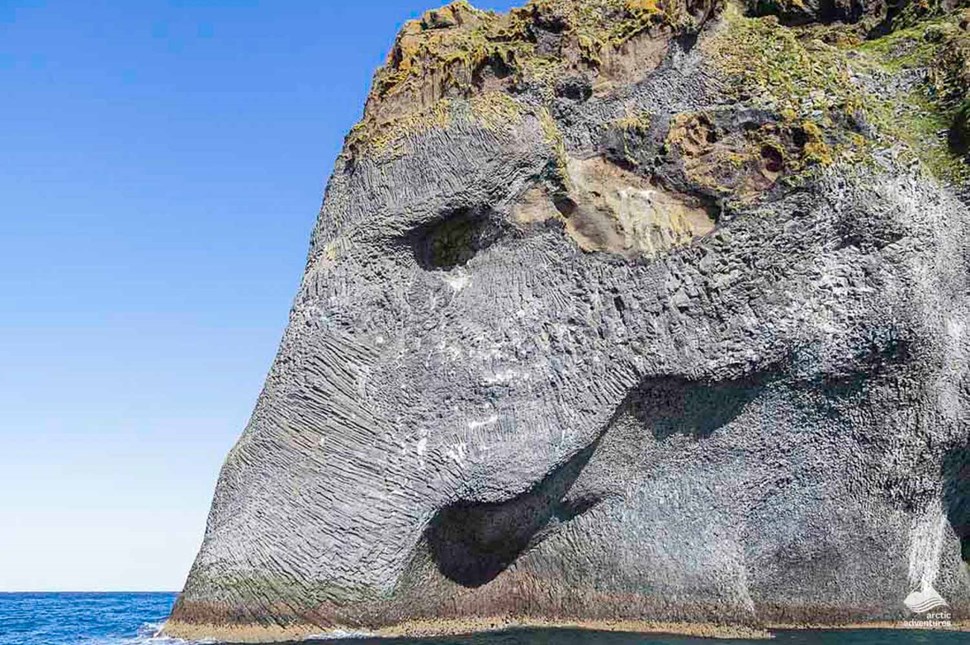 Where to eat near Elephant Rock
Slippurinn 

– an award-winning restaurant and cocktail bar. It is a bit fancy but still fair in price. Definitely, a must try!

Einsi Kaldi

 

– great variety and excellent atmosphere, friendly staff!
GOTT 

– the healthy option, great value and excellent quality. They have their own spin on standard recipes and never fail!

Tanginn

 

– this is the big black timber house you see down at the harbor when arriving and offers tasty dishes and an excellent range of options!

900 Bar 

– cheesy pizzas, burgers and all the comfort food you might need!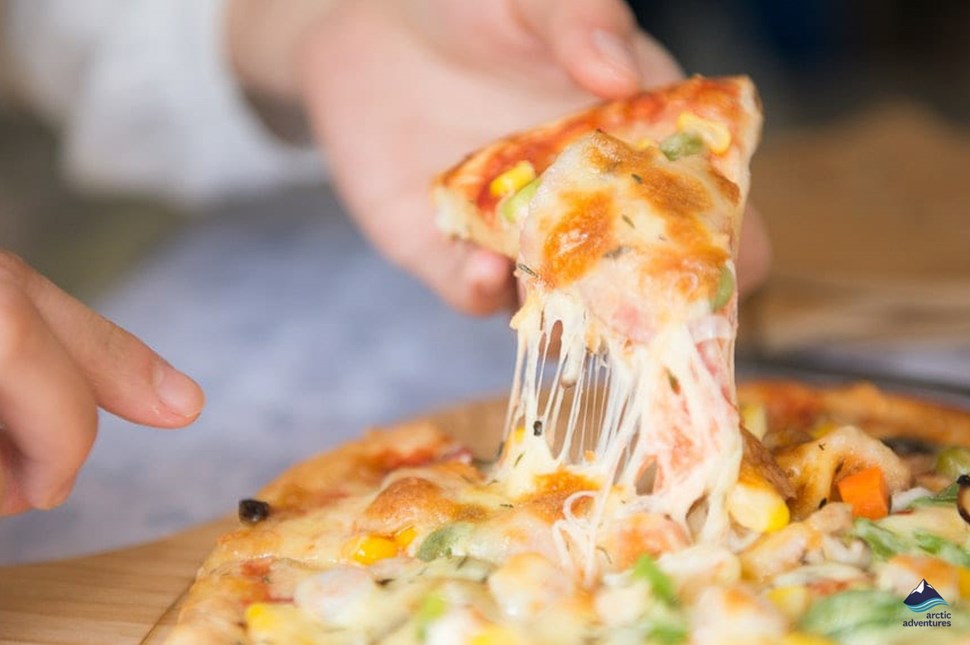 Where to stay around Elephant Rock
Hotels
Hotel Vestmannaeyjar

Hotel Eyjar
Hostels
Guesthouses, B&B and Apartments
Guesthouse Hamar

Guesthouse Solbakki

Lava Guesthouse

Eldey Apartments

Guesthouse Arny

Apartment Erna

Orange Key

Guesthouse Sunnuhóll
Camping in Westman Islands
The Camping opportunities in Westman Island are great,  you can even go glamping!
Þórsvöllur Camping Ground offers fantastic facilities including showers, running water, toilets, washing machines & dryers, well-equipped cooking stations and electricity for campers (950 ISK).
Price: 1500 ISK per adult (12+) per night
Herjólfsdalur Camping Ground a lovely place tucked away in the secluded Herjólfsdalur valley. The facilities include showers, toilets, washing machines and dryers, a cooking station, electricity (950 ISK) and a playground for kids.  
Price: 1500 ISK per adult (12+) per night
Clamping / Small Cabins is a fantastic option for those looking to get in touch with their nature site without having to drop too much comfort. There are two different housing options, one is a large barrel and the second an A-shaped cabin. They are located right next to the camping ground in Herjólfurdalur Valley.
Price: starts at 7900 ISK per night for 2 persons (without bedding).
Interesting places near the Elephant Rock
Eldheimar Volcano Museum

Sprangan

Herjólfsdalur Valley

The Folk Museum

Sæheimar Aquarium