ABOUT OUR GUIDES
All our diving guides are highly skilled and experienced and are First Aid Certified through EFR or HSE First Aid at Work. Each Silfra Diving Guide is certified by PADI, ranging from dive master to IDC staff instructor. Dive Silfra center is run strictly under DAN (Divers Alert Network) Insurance in cooperation with PADI.
REQUIREMENTS
In order to join us on a dive tour in Silfra Fissure you need to:
Be at least 18 years old and understand instructions in English.




Have an

 

Open Water and Dry Suit certification,

or 

Open Water Certification

 and a logbook

 with 10 logged drysuit dives in the last two years.


Provide a health certificate with physician approval if you're over 60 years old or have any medical issues stated in the Diver Medical document.
No drysuit experience? Check out our 2-day package including the PADI Dry Suit specialty course on day 1, and our Silfra dive tour on day 2.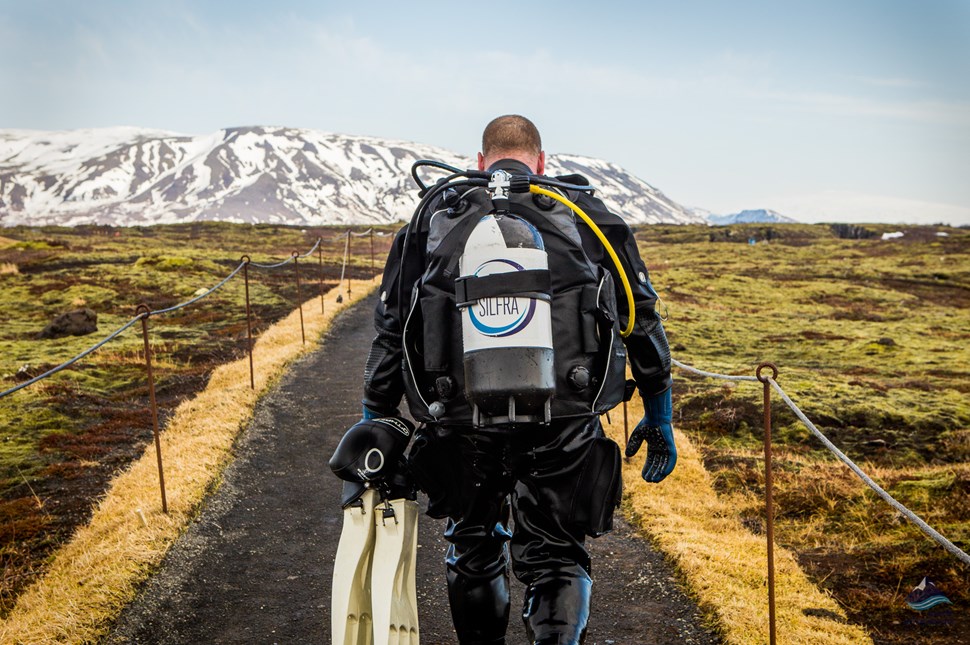 Fitness requirements:
The approach to the diving site is approximately 150 meters and the return to the diving center after the dive is approximately 400 meters, so you need to be fit enough to walk that with full equipment on. 
You are not allowed to dive or snorkel in Silfra if you have or have had any of the following conditions:  
Inability to perform moderate exercise (swimming 500m and walking 600m)  

Current or previous heart disease, heart surgery or heart attack  

Current lung disease

Previous pneumothorax (collapsed lung), chest disease or chest surgery  

Head injury with loss of consciousness during recent years 

Thrombocytopenia or other blood disorders  

Colostomy or ileostomy  

Epilepsy or conditions resulting in sudden unconsciousness  

Obesity
You are allowed to dive or snorkel in Silfra if you have the following conditions and a doctor's letter (in English) saying you're fit to dive:  
Note: – Pregnant women are not allowed to dive or snorkel in Silfra.
WHAT TO BRING
If you intend to dive at Silfra, you are required to bring the following equipment:
Base layer: thin wool, fleece or synthetic thermals (no cotton)

Wool, fleece, or neoprene 

socks

A spare set of clothes and socks to change in case you get wet  

A towel (your hair, face, and hands will get wet)  

  

Voucher (a ticket you received upon booking)

A doctor's letter if you have any of the allowed conditions above (see "Requirements" above)

Proof of Open Water and Dry Suit certification, or Open Water certification and a log book showing that you have completed a minimum of 10 logged dry suit dives within the last 2 years. The logbook needs to be in English so your dive guide can read it.
WHAT NOT TO BRING
Don't bring any

 

valuable items

 

as there are no locker rooms in Silfra. You will be able to keep your clothes, lunch or other stuff you might have on the bus.
No jewelry. We will ask you to remove any jewelry as it can tear the drysuit.
Don't bring glasses. You will be wearing a mask, which will have to seal tightly to your face. Glasses will prevent the tight seal and your mask will fill up with water. For the day, please wear contact lenses.
EQUIPMENT
We will provide you with the following necessary gear. However, you are welcome to bring and use your own equipment, as long as it is suitable for cold water diving.
Undersuit, manufactured by Waterproof or Santi, made with Nylon Taslan

Drysuit, manufactured by Waterproof or O'Three, made with Neoprene

Coldwater Regulators, by Apeks and Dive Rite, specified for cold water diving

BCD Manufacturer, by AP diving and Tusa

Weight harness – Our guides will help you find the right weight for you

12-liter tanks, made of steel

Hood and Gloves, Waterproof or 0'Three, made of Neoprene

Mask Variety of manufacturers and models. Kindly note you cannot wear glasses under the mask. Contact lenses are fine

Fins, made by Poseidon, Apeks, or Mares. Made of rubber for diving or rubber or plastic for snorkeling.
GOOD TO KNOW
The Suit: The drysuit has tight seals on the neck and wrists that stop water from getting in, which is what you want when diving in the glacial water. If you are claustrophobic, tight seals might be a bit uncomfortable, however, do not book the suit bigger than your actual size, as it won't seal tightly and we will not have a replacement on site.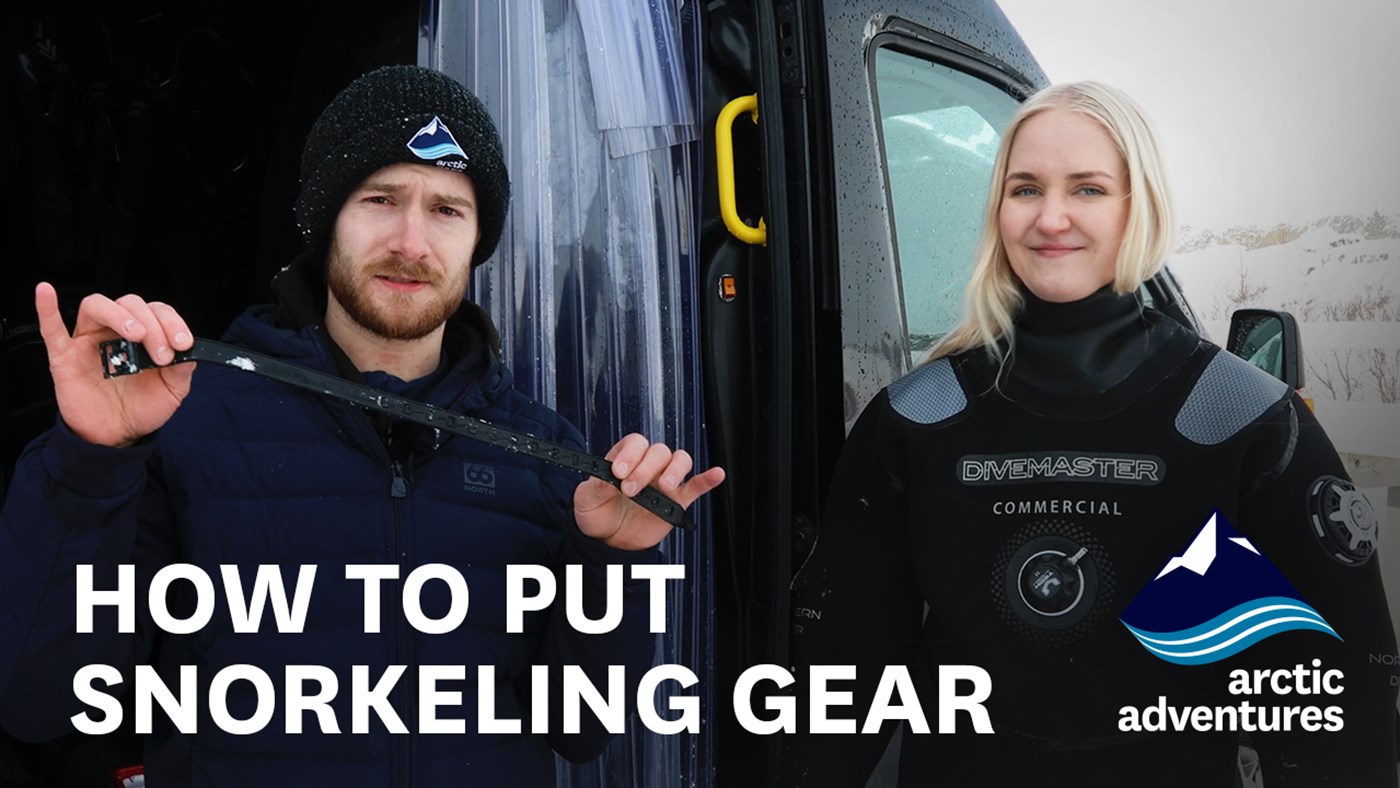 You will get wet: participants wear a hood and gloves made of neoprene, a different material than the suit, so their head and hands will get wet underwater.
Weather and water: water in Silfra is at 36°F – 39°F (2°C – 4°C)  and originates in the Langjökull glacier about 50 km away. Outside temperatures in Iceland can be quite cold too. You will spend up to 5 hours outside on a diving tour so dress accordingly and make sure you have warm thermals, a winter coat, a hat and gloves during the winter.
Safety Disclaimer: be aware that Diving at Silfra has its own inherent risks and safety measures are treated with the utmost respect. When you join the diving tour, you may be requested to sign an additional liability release. We advise you to listen to your guide's instructions and behave in a responsible manner. Those tourists who have no prior diving experience are advised to snorkel Silfra instead. Our guides reserve the right to refuse participation to any customer who they believe will not be able to complete the tour because of their physical condition, injury, or illness. In such cases, full cancellation charges apply.
WEIGHT AND HEIGHT RESTRICTIONS:
Women
155 cm – Max weight 70 kg
160 cm – Max weight 75 kg
165 cm –Max weight 80 kg
170 cm – Max weight 85 kg
175 cm – Max weight 90 kg
180-200 cm – Max weight 100 kg
Men
155 cm – Max weight 80 kg
160 cm – Max weight 85 kg
165 cm –Max weight 90 kg
170 cm – Max weight 100 kg
175 cm – Max weight 110 kg
180-200 cm – Max weight 120 kg
READ OUR HANDBOOK BEFORE YOU COME ON TOUR