Into the Glacier Vatnajökull Ice Cave Glacier & Hiking Tour
A new decade calls for epic excursions, and nothing says epic quite like Europe's largest glacier. Hike across the massive Vatnajökull glacier on this exhilarating guided tour. This two-in-one experience allows you to explore this famous glacier from top to inside.
Step inside a naturally formed ice cave. These glittering caves are ever-changing so if you visited last year you could experience a whole new cave!
Ice cave tours are only available in the winter. So if you want to witness these natural beauties, this season is the best time to go to Iceland in 2021.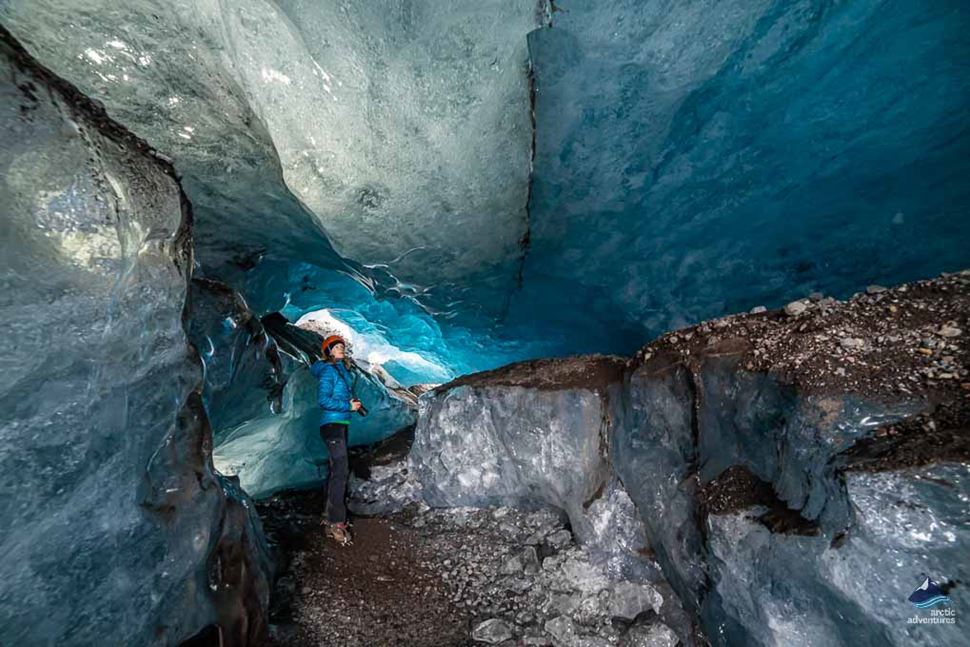 Glaciers and Waterfalls Classic Tour
Soak up the South Coast sites of Iceland on an easy sightseeing day trip. This jam-packed excursion from Reykjavik offers scenic views blended with exhilarating activities.
Highlights of this excursion include magic waterfalls, giant glaciers, and black sand beaches. Discover the famous Seljalandsfoss Waterfall on a hike behind its 65-meter cascade.
Switch out your hiking boots for crampons as our certified glacier guide takes you on a glacier hike. Trek across a 700-year-old glacier tongue on this icy adventure!
Also included is a visit to the volcanic black sand beach, Reynisfjara, voted one of the Top 10 non-tropical beaches by National Geographic. This small-group tour is ideal for short stay travelers who want to make the most of their itinerary.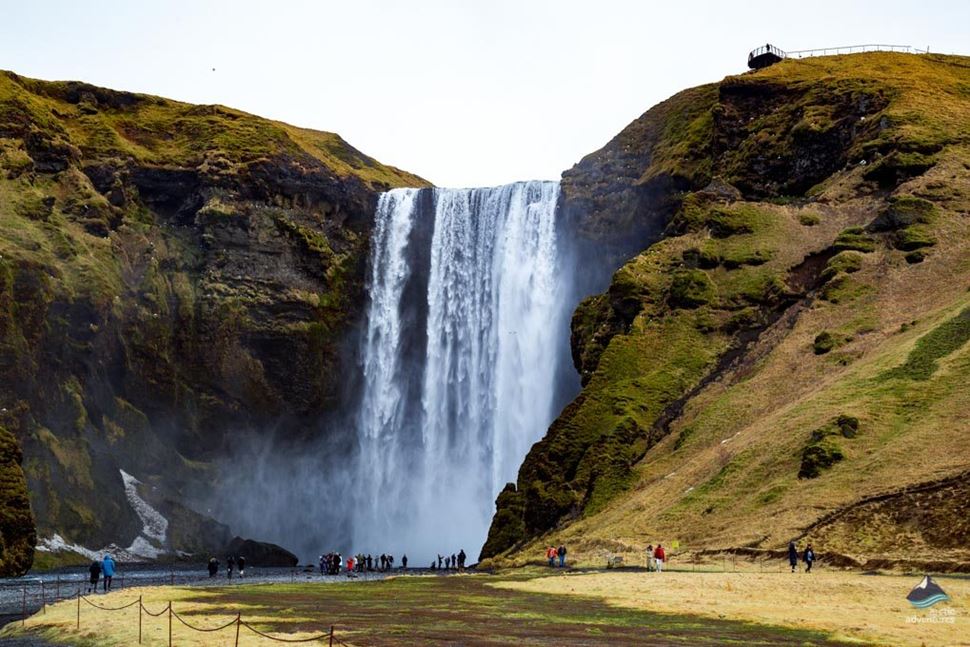 Silfra Fissure Snorkeling Tour Into the Blue
If a snorkeling excursion is not at the top of your Iceland itinerary, it should be. Snorkeling might conjure up images of warm Caribbean water, but snorkeling in Silfra Fissure has been rated one of the Top 5 activities in the world by Trip Advisor!
Silfra boasts some of the world's clearest waters, so pristine you can see down 120 meters. Enjoy the amazing visibility of these waters as our certified guides take you on a one-of-a-kind adventure.
Clear waters aren't the only feature that makes Silfra a must-do experience. Silfra is the only site in the world where you can swim between two continents! The fissure is a rift between the Eurasian and North American tectonic plates. You won't find a snorkeling adventure like this anywhere else on the planet. It's easy to see why this is one of our top Iceland guided tours in 2021.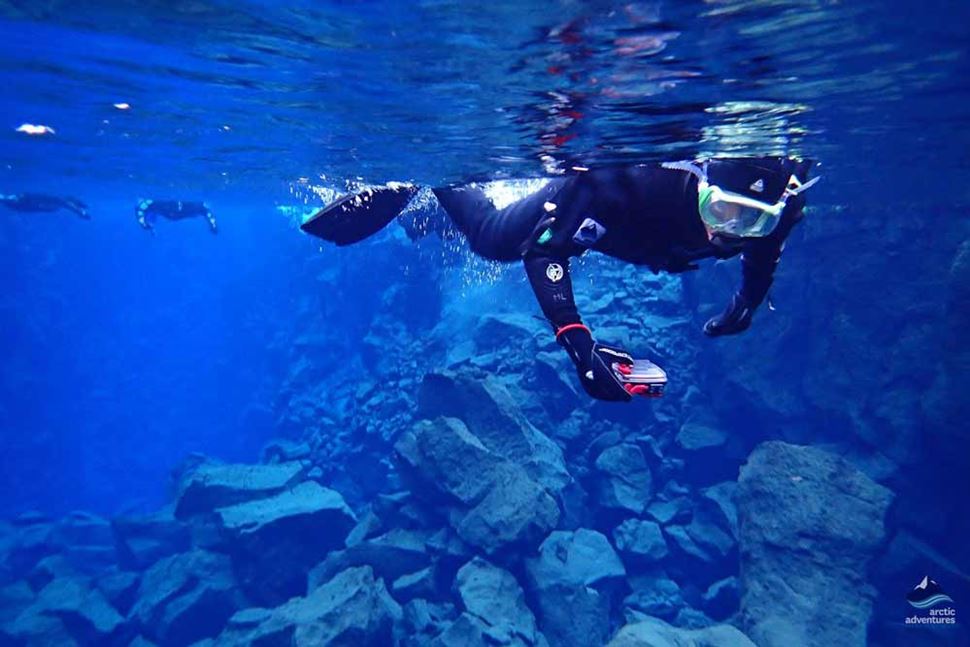 Blue Ice Glacier Hiking Adventure
Ice covers 11% of Iceland's total landmass, so why not explore some of it on a glacier hike? Trek across Sólheimajökull, an outlet glacier of Mýrdalsjökull glacier, Iceland's 4th biggest glacier.
You'll encounter the rugged ice landscapes and ice formations only found in this part of the world. Our knowledgeable glacier guides will share fun, fascinating glacier facts along the way, and you might just become a glacier expert by the end.
For those who want to take their adventure up a notch, try ice-climbing. All equipment is provided, including ice axes, helmets, crampons, and safety lines. Your certified guide will show you how to use the equipment and give a safety briefing. Whether you are a beginner or have previous experience, this glacier expedition is fun for everyone.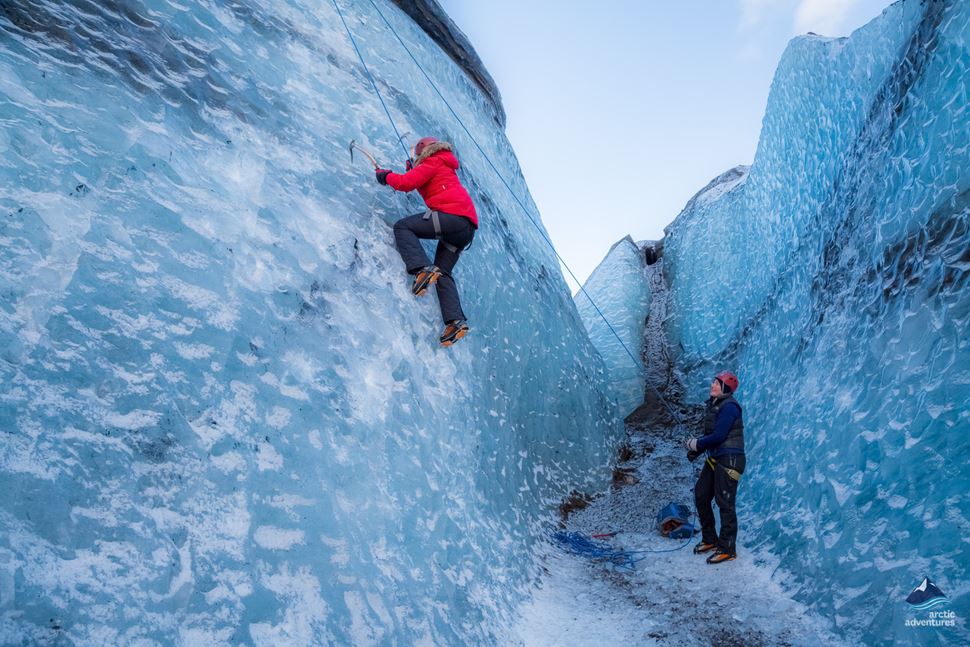 3-Day South Coast Tour
Get more out of your vacation with multi-day Iceland trips in 2021. Experience all the top highlights of the South Coast on our 3-day South Coast tour. This small-group, multi-day excursion is perfect for those with limited time to enjoy Iceland.
Hit the famous Golden Circle and its outstanding attractions. This tour route stops at Thingvellir National Park, a UNESCO World Heritage Site, where you can step between the North American and Eurasian tectonic plates! Witness spectacular waterfalls and deep canyons.
Marvel at the glittering Jökulsárlón Glacier Lagoon, with its diamond-like ice icebegs. Our certified glacier guides will take you on a guided ice-caving and glacier hike adventure at Europe's largest glacier, Vatnajokull.
Take in the diverse landscapes of Iceland, from black sand beaches to colorful nature reserves. In the evenings you'll sleep in the countryside lodgings, under dark skies perfect for viewing the Northern Lights.
River rafting tour
River rafting is a fun way to soak up and soak in Icelandic nature. Soar down the roaring waters of the Hvítá River 'White River' just below the famous Gullfoss waterfall.
The glacial waters of Hvítá originate from Langjökull Glacier, Iceland's second-biggest glacier. Over the ages, this mighty river has sculpted the landscapes. Brúarhlöð Canyon is one of the major highlights created by Hvítá. 
Spend the day exploring Iceland in a completely new way. No previous experience necessary, this tour is perfect for thrill-seekers looking to experience nature views. 
Finish off your rafting adventure with a refreshing dive into the glacial waters of the Brúarhlöð Cliffs. Worried about catching a chill from your dip? Afterward, we provide time to relax in the Drumbó sauna. Optional extras include a local lamb barbecue dinner in the restaurant and a local beer tasting session.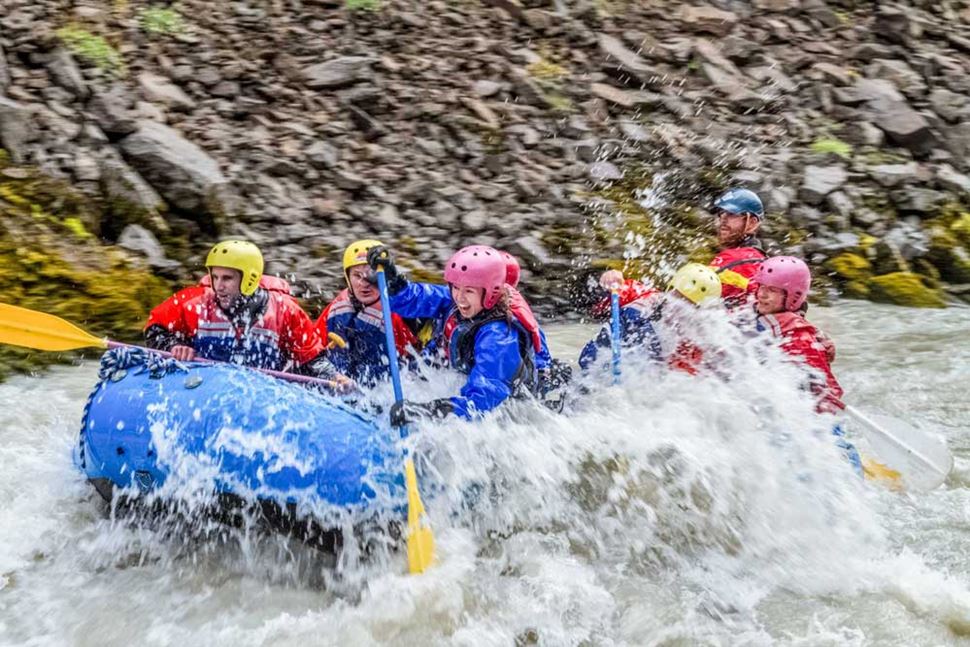 Jet Boat Adventure Tour
Speed across the Hvítá river on a speed boat adventure! This exhilarating Jet Boat tour offers thrill-seekers the chance to tour the magnificent Gullfoss Canyon in a whole new way. Hvítá or 'White River' stems from Langjökull Glacier, Europe's largest glacier.
You'll feel like an action-movie star as you blast through the basalt-cliff canyon below Gullfoss Waterfall. The extraordinary landscapes found in this area were formed by the powerful glacial waters of this river. Witness steep cliffs, whitewater rapids, open deltas, and rich local birdlife.
This blood-pumping whitewater jet boat tour begins at Drumbó Base Camp. Your expert guide will provide you with equipment and answer any questions for a safe and fun experience.
After your boat ride, shift gears to relaxation mode. Enjoy the Drumbó sauna or head to the restaurant for food and a drink.
2-Day Thorsmork & Landmannalaugar Highland Hiking Tour
Located in the southern part of the Icelandic Highlands, Landmannalaugar and Thorsmork are the ultimate hiker's paradise. Situated about 55 km (34 mi) apart, each region has vastly different landscapes. On this excursion, you'll get the chance to trek the scenic trails in both of these areas.
Instead of hiking from one end to the other – which would take at least four days – we'll enjoy one-day hikes at each side. First, discover the lush vegetation of Thorsmork. Feast your eyes on Arctic flowers, various mosses, birch forests, and a variety of wildlife.
The second part of the tour takes you to the geothermal fields of Landmannalaugar. Witness black lava fields and multicolored mountains painted in a rainbow of red, blue, yellow, green, purple, white, and black patches.
In between your trekking adventures spend the evening in a comfortable country hotel. This two-day tour is the best Iceland tour in 2021 for hiking enthusiasts!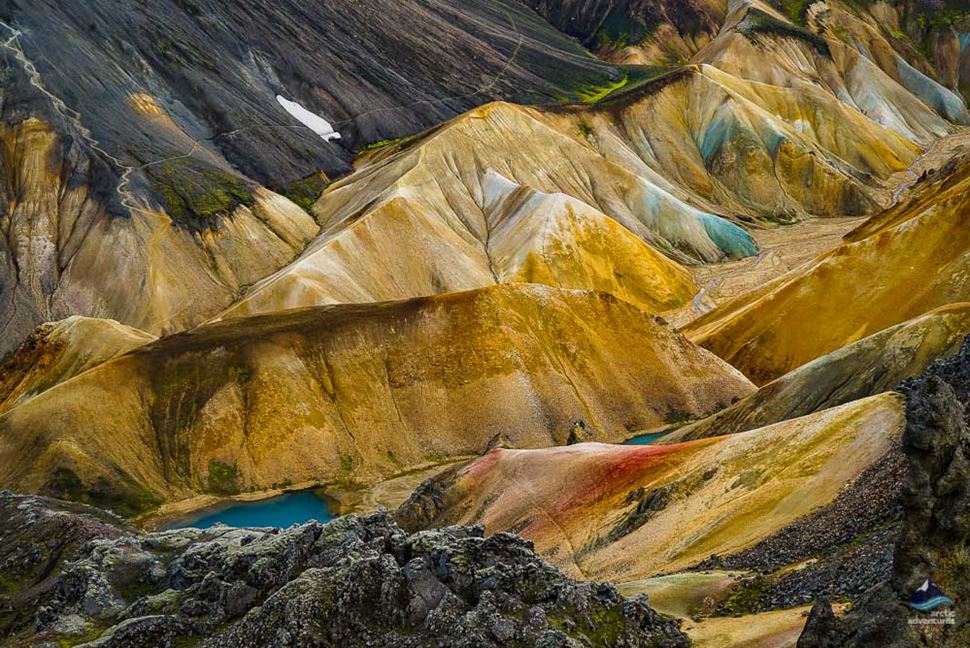 Landmannalaugar Hiking Tour From Reykjavik
Landmannalaugar is a hiker's paradise. Located in the Fjallabak Nature Reserve, Landmannalaugar is a geothermally active area filled with diverse landscapes. Admire the colorful mountain peaks, bubbling hot springs, black lava fields, and clear blue lakes.
This tour takes you over Laugahraun lava field, through Vondugil canyon and up to Mt. Brennisteinsalda a multicolored peak. The total hiking distance is approximately 8-10 km.
Discover why the highlands are home to the most stunning hiking trails in Iceland. If time allows, you can summit Blahnukur Volcano before taking a relaxing soak in the hot pool in Landmannalaugar. Cameras are encouraged for this spectacularly scenic hiking trip!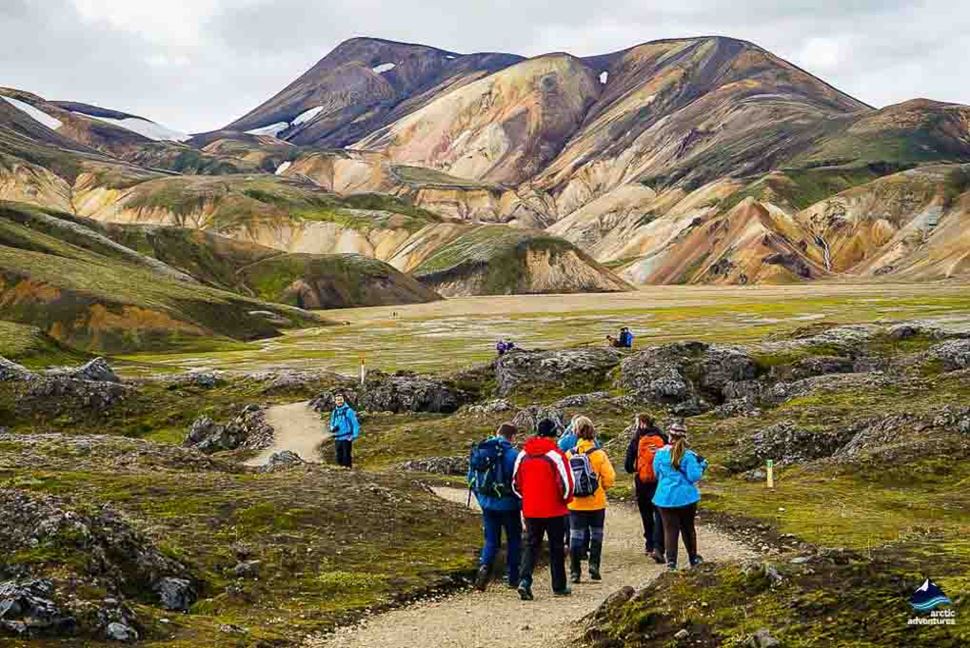 Whale Watching From Dalvik
Set out to sea for your Iceland vacation in 2021. Whale watching in Dalvík is one of our top-rated activities for wildlife lovers. Witness the majestic sea creatures of the Atlantic on this whale watching adventure.
During our boat tour, you'll encounter the great humpback whales of Iceland. Keep your eyes peeled and you may also spot pot white-beaked dolphins, minke whales, the small harbour porpoises and if you're lucky, the blue whale.
You won't want to forget your camera on this tour. This excursion has a 98% success rate for whale sightings! For a true seaman's experience, try out sea angling. At the end of the trip we will cook up your catch Icelandic BBQ-style. This family-friendly tour is perfect for people who have 'whale watching' on their bucket list!