---
---
Thingvellir is a recognized UNESCO World Heritage Site, listed for its historical, cultural and geological significance. It has been the most important place in Iceland, right from the very beginning when volcanic activity beneath the ocean began to forge this land. The Mid-Atlantic Ridge passes right through Thingvellir National Park. At some point between 16 and 18 million years ago, two great tectonic plates began to move apart, allowing magma to rise and solidify, creating the island of Iceland as we know it today.
The rugged Thingvellir Rift Valley, also known as Almannagjá, is absolutely stunning. You can walk a pathway between the North American and Eurasian continents as you explore the place where pivotal points in Icelandic history were lived out! The higher side of the gorge is the edge of the North American continent if you look across towards Thingvellir Lake (Þingvallavatn) you will be looking at the Eurasian continent. The space between the tectonic plates is now quite wide and is increasing by over 2 cm per year. Unsurprisingly, with this movement, the area is somewhat prone to earthquakes.
Whilst the last volcanic eruption at Thingvellir took place around 2,000 years ago, clues to the volcanic activity which is steeped in Iceland's ancient past can clearly be seen today. Nowadays, vibrant green moss brings color and softness to hard lava. Freshly scented birch trees, indigenous to Iceland, have, along with several other types of trees, been carefully cultivated, contrasting with the dramatic ruggedness of the gorge.        
The History of Thingvellir National Park
The threads of Icelandic society were woven into one cloth at Þingvellir. For quite some time, the various Icelandic Chieftains had felt that a national government was required and the historic Icelandic Parliament (established 930) was founded less than 60 years after Iceland was first settled by the Vikings. The Icelandic Parliament, known as the Alþing, has one factor which makes it unique, it is the oldest continuously existing national parliament in the world! In 1845 the Alþing was moved to Reykjavík. The present Icelandic House of Parliament is called Alþinghúsið, you can find it at Austurvöllur near Tjörnin / The Pond.
The Alþing was a great assembly and social occasion where tradesmen conducted their business, people socialized, fell in love, arranged marriages, forged great alliances or sometimes became sworn enemies. Recitations, speeches, and declarations of law were made from the Lögberg (the Law Rock), today a flag marks this historic spot. With the cliff of the gorge as a backdrop, it is easy to feel the dramatic sense of theatre which would have prevailed each year at Þingvellir.
Things to see and do at Thingvellir
There is no shortage of great things to see and do in and around Thingvellir National Park.
Below are some of the highlights that our experienced Arctic Adventures guides recommend:
Þingvellir Church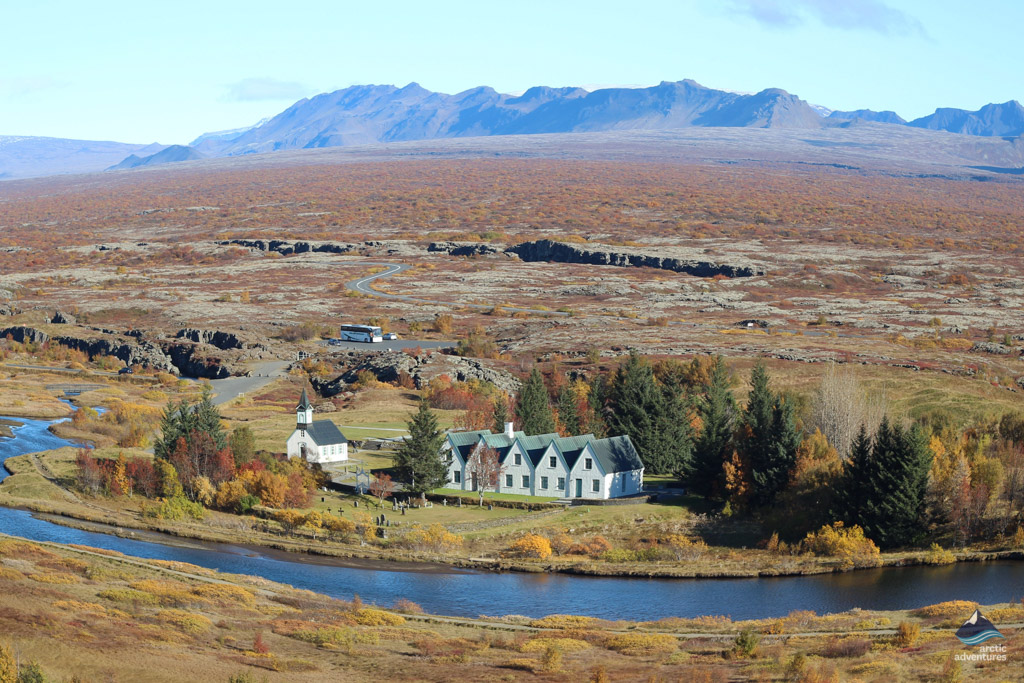 The traditional wooden church at Þingvellir is open between 09:00 and 17:00 from mid-May to early September. Particularly, when the winter snow adds an extra layer of magic to the stunning setting, making the church incredibly popular with photographers. It is sometimes possible to arrange for the church to be opened outside of the summer season. Inquiries should be made in advance at the Information Centre by email at thingvellir@thingvellir.is, or by phoning (+354) 482 2660.
Þingvellir Hiking Trails
There are numerous hiking paths within the Þingvellir ancient assembly site. Other trails will take you to see abandoned farms at Hrauntún, Skógarkot, and Vatnskot. Old horse riding trails or bridle paths include Langistígur, Skógarkotsvegur, and Nýja Hrauntúnsgata. Some other trails are solely for walkers. Again, more details are available at the Information Centre.
Öxarárfoss Waterfall
Öxarárfoss Waterfall is a very beautiful waterfall on the Öxará river. These stunningly curved falls drop into a boulder filled pool below, a uniquely beautiful sight. Öxarárfoss is just a very short walk from the car park (P2 but other car parks are also nearby) and the Law Rock (Lögberg).
Snorkeling and Diving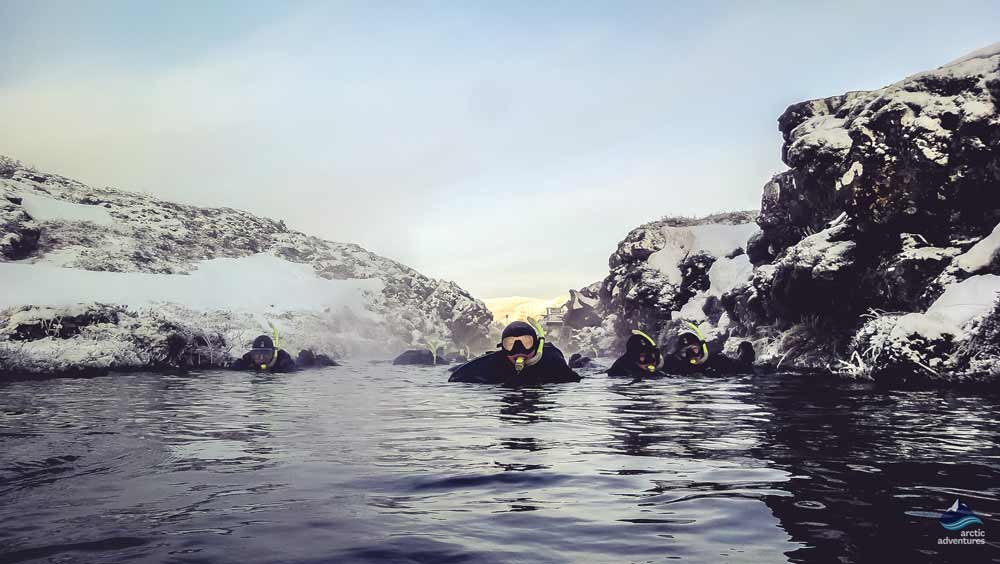 Snorkeling or diving at Silfra in the fissure between the tectonic plates is a really special experience. Silfra is consistently rated as a world top 10 diving and snorkeling location, there is literally nowhere else in the world where you can dive in between tectonic plates. Combination tours will take you to the Golden Circle and snorkeling. If you are self-driving just arrange a dive tour to fit in with your drive around the Golden Circle. Car park P5 is a few minutes' walks from Silfra.  
Peningajá – Iceland´s 'Money Gorge'
Would you like to make a wish? For over 100 years, tourists have stood on the bridge and thrown coins into Peningagjá. The name of this gorge is actually Nikulásargjá, but it is now universally known as Peningagjá, meaning 'money gorge'. So close your eyes, make that wish and cast a coin into Peningagjá!
Coins or anything else should not be thrown into hot springs, geysers, rivers, gorges or anywhere else in Iceland. You can only do this at Peningagjá!
Thingvellir Lake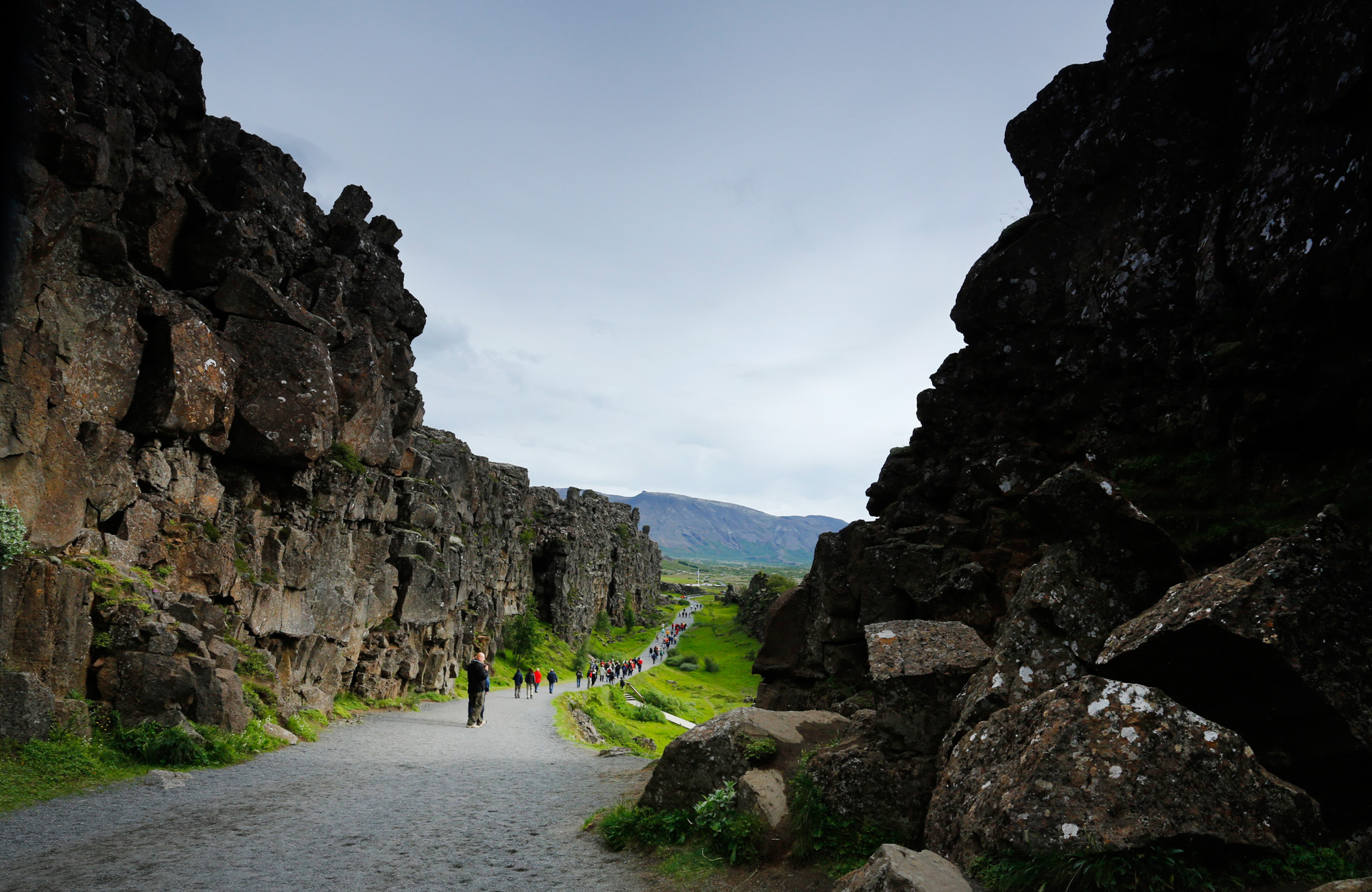 Þingvallavatn, the Thingvellir Lake is a popular angling location. However, an angling permit is strictly required for anyone who wishes to do any fishing. More information and permits may be obtained from the Pingvellir Information Centre. There are strict rules concerning the importation of angling equipment into Iceland. You will need to get a Disinfection Certificate from an approved disinfection operator. You will find the guidelines at Mast, the Icelandic Food and Veterinary Authority.
Thingvellir Information and Amenities
The Visitor Centre by the footpath at the top end of Almannagjá gorge offers a 40-minute multimedia display, available in English, Danish, French, Icelandic, and German. Admission is free, and the Visitor Centre is open 1st September to 31st May from 09:00 – 18:30 and 1st June to 31st August from 09:00 – 19:00.  
The Information Centre by the camping site at Leirar displays information about the National Park, as well as its history and nature. Maps of marked Thingvellir hiking trails and horseback riding trails are available, together with information about road conditions and places of interest. Open June to August from 09:00 – 22:00, from September to May from 09:00 – 18:00.
Camping at Thingvellir
The Vatnskot Camping Ground is beside the Þingvellir Lake, just a five-minute walk from the Information Centre. This is open from 1st June to the 30th September. There is another camping site beside the Park Service Centre which is open all year. A small fee is charged for camping at Þingvellir. During the summer months, park rangers look after the camping areas. More information on Þingvellir National Park website.  
Refreshments
The Information Centre at Leirar, near the camping site, has a cafeteria offering light refreshments for weary travelers, which is open all year.  
Car Parking and Toilets
Some car parks charge a fee of 500 ISK (less than $5 US) for a regular car. For this price, you can park all day and also use the other fee-paying car parks at Þingvellir. All major credit/debit cards are accepted. The Pay and Display car parks are:
P1 By the Visitor Centre at Hakið, near the viewing point at the upper end of Almannagjá.
P2 – There are two car parks near the assembly fields and Öxarárfoss Waterfall.
P5 – To the south of the assembly site.
Toilets are located at the P1 car park by the Visitor Center. These are open from 09:00 am to 18:00 pm. A fee of 200 ISK is payable.
Thingvellir National Park Location and Driving Directions  
Þingvellir National Park is located in the south of Iceland, around 40 km from Reykjavík. The shortest route is to follow the Ring Road (Highway 1) in a westerly direction, before turning right onto Highway 36.
GPS 64° 15,327'N, 21° 7,691'W.

This route will take you through Mosfellsdalur, a picturesque valley that is worth taking some extra time to see. In reasonable conditions, the drive should only take around 35 minutes. The Geysir geothermal area is located about 60 km from Þingvellir National Park.
---