| | | | | | | | | | | |
| --- | --- | --- | --- | --- | --- | --- | --- | --- | --- | --- |
| Size | | Population | | Language | | Currency | | Capital | | Time zone |
| 102.775 km2 | | ~346.750 | | Icelandic | | Icelandic Króna ISK | | Reykjavik area (population in the capital area ~ 221.480) | | Greenwich Mean Time (GMT) all year round |
---
---
Iceland is an island the middle of the North Atlantic Ocean. At more than 66° North, Grímsey, an island off the northern coast, actually touches the Arctic Circle! This extraordinary country was formed by subaquatic volcanic activity around 18 million years ago, so Iceland is very young with many powerful volcanoes and great glaciers. The twin forces of fire and ice have created some rare geology and sensational mountains and fjords. Some Icelanders say that it's more than just the scenery that's otherworldly. Here, you might stumble on Elf Rocks, Elf Castles, and hoofprints made from magical horses. Maybe when Jules Verne chose Snæfellsjökull as the entry point to the Center of the Earth, he knew something?
Iceland is the most sparsely populated country in Europe with more than 340,000 people in an area of around 103,000 sq km. The capital of Reykjavík, located in the Southwest, is the largest city. More than 220,000 Icelanders (2017) call the capital region home, of which 125,000+ live in Reykjavík. Akureyri in the north is the next largest settlement with around 18,620 people. There are quite a few little towns and villages, some of which are extremely remote.
You might say that Iceland is a land of extremes. We're known for our Fire and Ice; our settlement by the Vikings in 870 C.E.; the oldest continuous Parliament in the world, established in 930 AD/CE; the closest language, still in use, to Old Norse; and the great Icelandic Sagas. We Icelanders greatly value our culture, history, and language. The adventurous spirit which brought our ancestors to this land still imbue us with a sense of adventure and progressiveness to new ideas, new people and all the new experiences life has to offer. So rest assured: the Icelandic people want to welcome you to their home!
How to Get to Iceland
The best way to reach us is by air on a roundtrip flight to Iceland. More and more airlines have scheduled flights to Keflavik International Airport and we have listed few of them below. If you don't like flying or you need to bring a vehicle, you can also sail to Iceland with Norræna. 
| | | | | | | |
| --- | --- | --- | --- | --- | --- | --- |
| Icelandair | | Norwegian Air Shuttle | | SAS | | |
| EasyJet | | BlueBird | | Air Berlin | | |
| Air Greenland | | Air Atlantic | | British Airways | | |
How much does a Trip to Iceland cost?
The cost of a trip really depends on your budget and where you're flying from. Roundtrip tickets to Iceland can cost anywhere from $300 to $1200, depending on the season and your home airport. Icelandair still offers a built-in layover on your way to Europe or North America, so booking an all-inclusive trip to Iceland or weekend trip to Iceland has never been easier.
Transport in Iceland / How to get around?
From the airport, you can choose to take a bus (see Grayline or Reykjavík Excursion) or a taxi to Reykjavik. If you are planning a self-drive tour, you can choose to pick your rental car up at the airport. There are both pros and cons of renting a car in Iceland, depending on your traveling plans joining a guided tour might be the better option. You can read more about a self-drive Iceland vs. guide to Iceland tour here.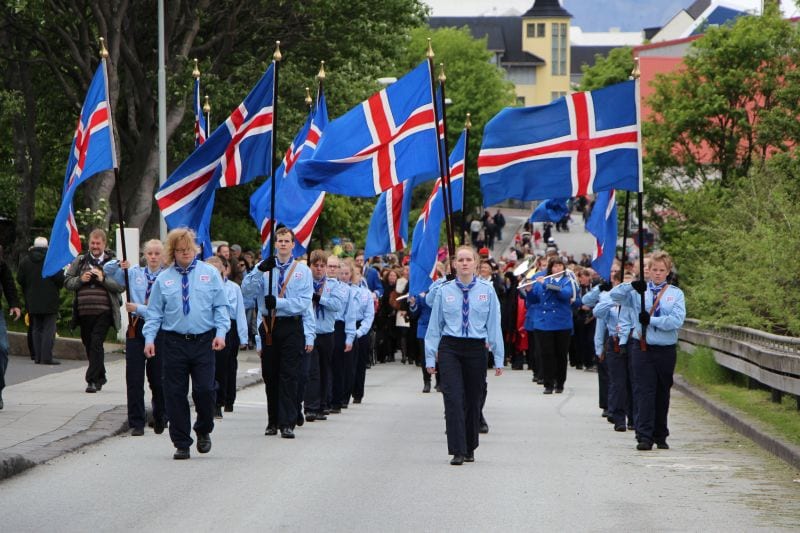 Where to stay in Iceland?
Depending on your travel plans and what time of the year you are visiting – You always have a lot of options! Camping, hotels, hostels, guesthouses, cabins, Airbnb – you name it, Iceland has got all kinds of accommodation. If you wish to travel to Iceland but do not know where you would like to stay – our multi-day tours operated in Iceland include accommodation.
A word about the Icelandic language
Icelandic is the closest language to Old Norse. This is largely due to the relative isolation of the island and also, in modern times, to the efforts of the Icelandic people. When something new arrives on the scene, new Icelandic words are often carefully formed. For example, tölva, meaning computer, was developed from two words meaning to predict and to count. Icelandic people are very talented with languages, most have a very high standard of English and they are usually proficient in a couple of other languages too. It is nice to know a few Icelandic words though:
Já/yes, the 'j' is pronounced 'y' and the 'á´ as 'ow', so this kind of becomes 'yauw'
Nei/no is pronounced, 'nay´.
Góðan daginn/Good day which is pronounced 'go-than daginn' with a softened 'g' in daginn
Gott kvöld/good evening, the 'ö' is pronounced 'ur' is little like in urgent but soft and shorter.
Góða nótt/Good night. Gothah note, with the 'ó' pronounced as in ´gold.
Takk, takk takk or takk fyrir/Thank you, the 'y' is pronounced 'i' as in 'link'.
Bless/bye, bless, bless is also often said.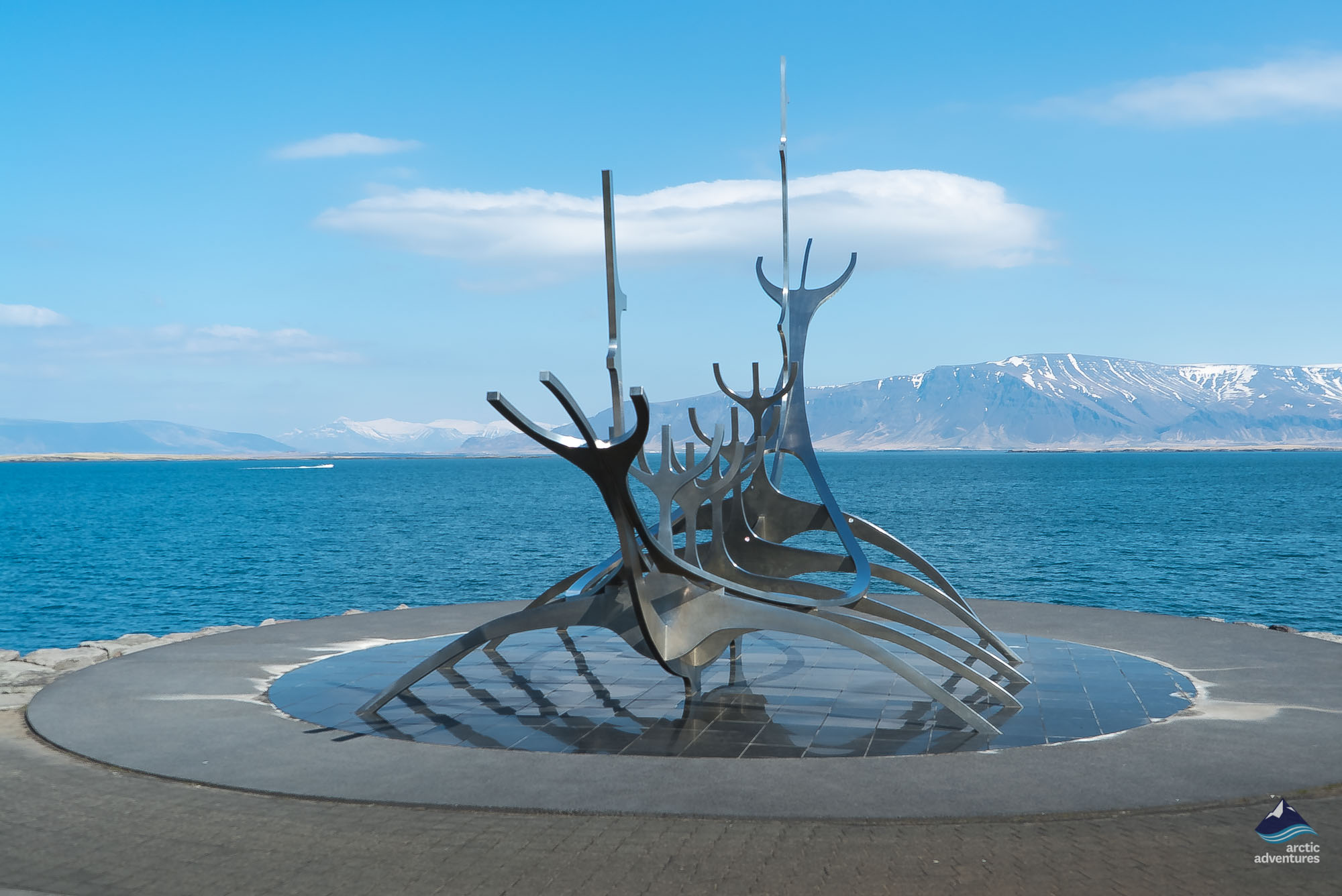 Weather in Iceland
The climate in Iceland is relatively mild despite its northerly location. The Gulf stream sends us warm currents all year around so along the coast we normally do not have severe low temperatures. The average temperature in Reykjavik is 5°C but during the summer it goes up to 12°C and down to -1°C in January. The annual downpour in the south of Iceland is quite high, or about 3000 mm, while it is about 400 mm annually in the northern part.
The weather can change fast in Iceland and the winds can be strong, especially beneath the mountains. The Northern Lights are visible during the dark winter months in Iceland, given the right conditions. Skies have to be clear and the activity level has to be high.
What to bring on your trip
It depends on the seasons and your plans what you should bring to Iceland, but always be sure to bring swimwear as well as rain- and windproof clothing. Please read the "What to bring" segment for more details about your tour.
Good things to know when traveling to Iceland
Money
Icelandic Króna (ISK) is our currency and all our prices are given in ISK. Credit cards are widely accepted in Iceland and in Reykjavik and bigger towns you should easily find ATM's.
For showers in the highlands and some toilets you need cash in Icelandic krónur (ISK), ATMs are to be found in Reykjavík and large towns. For everything else plastic is great.
Prices – Cost of a Trips to Iceland
A swim will cost you around 900 ISK, a hot dog is even cheaper, a pot of yogurt or Icelandic Skyr is around 350 ISK, after that it gets a little more expensive! You should expect to pay 2000/3000 ISK per day for lunch, and your evening meals will cost 2500/6500 ISK each. So on average, you need to budget around 7000 ISK per person per day. A beer is about 1000/1400 ISK, and wine is about 1000/1500 ISK per glass.
Water
The water in Iceland is clear and clean and can be drunk from the tap all around the country, so there is no need to spend a fortune on bottled water. You can even drink from rivers and streams if you like. Icelanders make good use of their geothermal hot water to heat their homes and shower. Sometimes there is a sulfur smell, run the cold tap a little before you take a drink and all will be fine!
Electricity
F-Type two-prong plugs are in are used in Iceland, the power supply is 230V and 50Hz. You need to use an adapter if you are from the UK, USA or another country using different plugs, voltage or hertz.
Heating
Iceland has an abundance of hot water because of the geothermal activity. We harness the heat to provide heating for our houses and we also generate electricity from the steam. As the water in most parts of the country is geothermal your shower might smell a bit of sulfur.
Alcohol
The state has a monopoly on selling alcohol in Iceland. Thus, wine, beer and spirits can only be bought in the state-run Vínbúðin stores and/or at bars and restaurants. It is a good idea to buy alcoholic beverages in the duty-free store at the airport because the prices in Vínbúðin are quite high. You have to be 20 years old to buy and consume alcohol in Iceland. If you see beer or wine in grocery shops, do not be fooled, the alcohol content of these drinks will be virtually zero!
Smoking
Smoking in public places was banned in 2007 in Iceland. Many restaurants and public places have designated outside smoking areas. Cigarettes and tobacco can be bought in many stores, gas stations, and kiosks. You have to be 18 years old to buy tobacco in Iceland.
Swimming pools
Because all the hot water you can find swimming pools in even the smallest towns in Iceland. Icelanders just love to unwind in the hot tubs after work, families go to the swimming pools to enjoy some quality time, the pool is a popular setting for a first date and some say that this is the Icelandic answer to the Brits "going to the pub". Bring a swimming suit and join the locals in the hot pot.
Manners
Take off your shoes if you visit someone, many hotels and guest houses also ask their guests to do so. Blowing your nose in company, particularly at the table, is bad manners in Iceland.
Miscellaneous
Vigdís Finnbogadóttir former president of Iceland was the first women to be elected as head of state in Europe.
Emergency
Dial 112 for police, ambulance or fire emergency. If you need some medical assistance after hours call 1170 or 575 – 0505 for dental emergency.
Lost and found
Dial 444 -1000.
Top Attractions in Iceland
There are tons of activities to try and jaw-dropping natural wonders to check out during your trip to Iceland. Here are just some of the best we recommend:
Snaefellsnes Peninsula: The northwest peninsula is known for its birdwatching, pebble beaches and lava caves.
Jokulsarlon Glacier Lagoon: No visit trip to Iceland is complete without visiting the gorgeous glacier lagoon in South Iceland.
Lake Myvatn: A turquoise lake in North Iceland.
Ice Caves: It's an absolute a wintertime delight to explore the ever-shifting ice caves on a drive from Reykjavik or in Vatnajokull.
South Coast: One of the more popular destinations, known for its waterfalls, Iceland's largest glaciers and spectacular views.
Ring Road: The Ring Road is a highway that encircles Iceland and hits most major attractions.
Whale-watching: Iceland has some of the best whale-watching in the world, available year-round, in Reykjavik and Dalvik.
Northern Lights: If you're visiting Iceland between October and May, don't miss the Northern Lights (a.k.a. Aurora Borealis) while you're here!
Hot Springs: A favorite Icelandic past time is to soak in the hot springs (natural and man-made) and chat about the day.
Golden Circle: A tourist itinerary that hits the Gullfoss Waterfall, Geysir Geothermal Area, and Thingvellir National Park.
Blue Lagoon: A spa-like lagoon known for its mineral-rich silicon waters.
FAQ
How much does a vacation to Iceland cost? Is Iceland expensive to visit?
Iceland can be one of the more expensive countries to visit on a vacation, but you don't necessarily need to break the bank. Read our post on Prices in Iceland to find out more.
What is the best tour in Iceland?
All of them! 🙂 But in all seriousness, if it's your first time planning a trip to Iceland, don't forget to visit the Golden Circle and the South Coast. No trip would be complete without a stop at Jokulsarlon Glacier Lagoon, located just off the Ring Road.
How long should I vacation in Iceland?
If you're on a layover, we recommend you spend at least 2-3 days exploring Reykjavik and the Golden Circle. Of course, if you have time, 6 days are the minimum to explore the Ring Road. Our vacation packages help to maximize your trip no matter how much time you have in Iceland.
How do I plan a trip to Iceland on a budget?
Good question! Planning ahead, booking accommodation, and shopping for affordable tours can all help you save a bit while traveling. Our Prices in Iceland blog post will have more of the details.
Is Iceland safe to visit?
Absolutely! Iceland is one of the safest countries in the world. Crime is almost non-existent. As with all countries, however, keep your valuables and belongings in a secure location. The most dangerous element in Iceland is the weather. If you're traveling without a guide, in an unfamiliar destination such as the Highlands, the weather can change quite rapidly and you might get lost or stranded. Always check the weather forecast and have the number to the emergency services on hand.
Are food and drink expensive in Iceland?
It depends where you shop! Many grocery stores are reasonably priced when it comes to local goods. Imported food and drink can cost you a pretty penny, however. If we're talking restaurants, yes, a lunch can set you back around $20. Dinner is likely to cost at least $50 per person.
What is the best month to visit Iceland?
Every month of course! It depends what you want to see while you're here, however. Do you want to go white water rafting, horse riding, experience the Midnight Sun? Come in June! If it's Northern Lights and ice caves you're after, why not swing by around November? For more on what to expect each month, check out Weather in Iceland.
Are 3 days in Iceland enough?
Enough for a few of the highlights, such as the Golden Circle and Reykjavik. If you really want to see Iceland, stay a bit longer and don't miss out on the Jokulsarlon Glacier Lagoon, Vatnajokull, a Northern Lights Super Jeep tour, and the ice cave at Langjokull.