There are endless cities, towns and villages in Iceland. Some have easy names like Vik but other tough ones like Fáskrúðsfjörður. There is an extraordinary simplicity to the living in Iceland but yet every community seems to have its own identity and own way of living. In this article, we will explain the basics of the 10 biggest cities in Iceland and teach you a little about what makes each and every one of them special.
---
1. Reykjavík
Reykjavik is Iceland's capital and houses over two-thirds of the population. It is a colorful city with an interesting history and quirky side streets. It's main shopping and restaurants street is Laugavegur in the postal code 101 but all around it you can find hidden gems. Reykjavík's main attractions are its swimming pools, Hallgrímskirkja Church, Harpa Concert Hall, the Grandi District, the city pond and the world-famous hot dog stand, Bæjarins bestu.
There is something truly fascinating about walking around in the city of Reykjavík with fresh air in your lungs and neon-colored iron curated houses at every corner. The street art is also a distinctive factor in the overall look of Reykjavík and some artists have been paid a great deal to decorate the city center.
To city's atmosphere is lively but slow paced and the locals friendly. You can easily spend days roaming around Reykjavik, the city has a special way of surprising you in new ways every day.
---
2. Kópavogur
Kópavogur is a town in Iceland located within the capital region right next to Reykjavik. It is known for its beautiful bay which gives the town's its name 'Baby Seal Bay' and for being a nice and relaxed family town. Some of the most interesting places to visit in Kópavogur are the swimming pools, Kópavogslaug and Salalaug, the mall Smáralind and Gerðarsafn – Kópavogur Art Museum. If you are looking for a cheaper accommodation Kópavogur is a good option as the ride to Reykjavík is only about 15 minutes, you can easily catch the bus (in Icelandic Strætó) or drive your rental.
---
3. Hafnarfjörður
Next on the list is the town of Hafnarfjörður, most commonly linked to being the town of lava, elves and Vikings. It is also located within the capital region but it is the westernmost point of the region. Hafnarfjörður is a vibrant village with a great town center with shops, restaurants and cafés. Basically, anything you might need and locals are known to leave the town as little as possible. Some great things to check out in Hafnarfjörður are the local swimming pools, the best being Suðurbæjarlaug, the excellent restaurants and cafés, Pallette, Brikk and Tilveran and the heritage museum Sívertsenhúsið.
Hafnarfjörður is also where Iceland's Viking festival is held in mid-June every year but all year round you can find the Fjörukráin Viking pub and really get into the old Viking age lifestyle with some Icelandic meat soup and detailed interior.
---
4. Reykjanesbær – Keflavík
Reykjanesbær is the first municipality on the list but the most recognized area is the town of Keflavík, the one that the international airport takes its name after. Once having landed at Keflavík airport Reykjanesbær is the first settlement you will see and is really a great place to spend the first night or last before your flight. The town houses many interesting museums, including the Museum of Rock and Roll, The Viking World Museum, The History Museum, The Maritime Centre and the Duushus café and art museum. The surrounding towns and villages are Njarðvík, Grindavík and Sandgerði but the municipality is located on the lava covered Reykjanes Peninsula. The most widely recognized landmark is the famous Blue Lagoon but it is located only a few minutes driving from Reykjanesbær.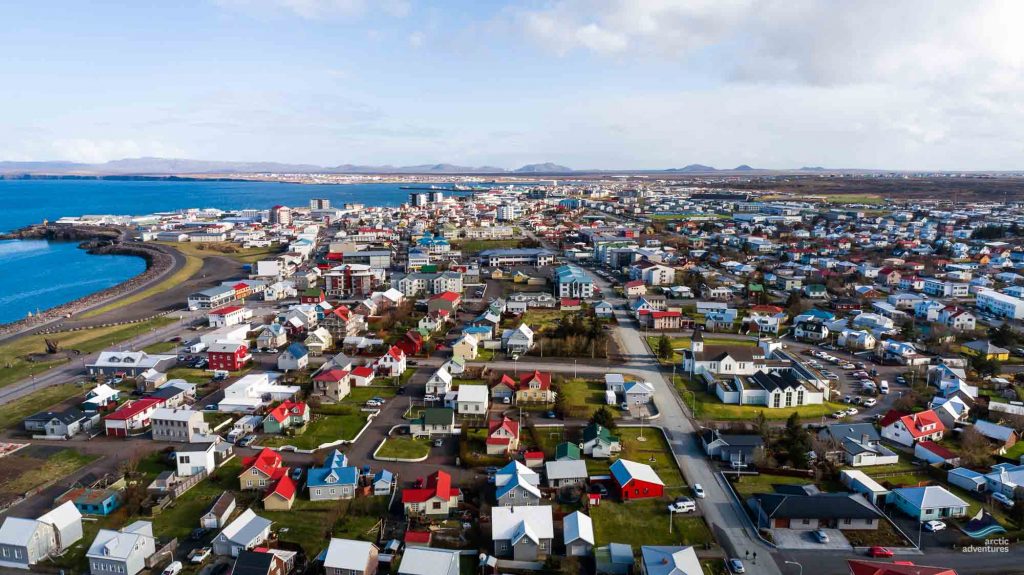 Their annual festival is the Light Festival which is a music and arts festival held during the 1st weekend in September.
---
5. Akureyri
Akureyri is the first town we mention which is located far away from the Reykjavík but it is often named the capital of the North, stating its significance and size compared to the other settlements in the North. It is a town of history, of arts, of skiing, of amazing cuisine and of Brynja ice cream, the best in the biz. Akureyri is one of those towns you can visit over and over again and still manage to discover something new and see it in a totally new light. It plays an important part in Iceland's history and has been a trading post for centuries.
In winter Icelanders flock to Akureyri to test the slopes of Hlíðarfjall and in summer they occupy the local swimming pool renowned for being one of the best in Iceland. The people of Akureyri are also known for their love of the french fry but they pretty much put it on anything, inside hamburgers and into hot dog buns. But, once you try it, it isn't hard to see why!
---
6. Garðabær
Garðabær is the town between Hafnarfjörður and Kópavogur, still located within the capital region. It is known for its extravagant houses and being home to some of the richest people in Iceland. Just recently the locals have started opening up restaurants and cafés with delicious food but it isn't long ago that the only place to get a restaurant meal in Garðabær was in IKEA.
Garðabær offers excellent opportunities for hiking in nature and the atmosphere of the town is quiet and soothing. The bus can be a bit tricky if staying in Garðabær so it is better for those who have a rental car.

Garðabær has an excellent swimming pool and now their very own Costco – so if you have a card, bring it, it can help save a lot on gas!
---
7. Mosfellsbær
Mosfellsbær is the small farm town within Reykjavík, occupied by those who are looking to find peace, big gardens and a natural connection but still stay close to Reykjavík. Mosfellsbær is home to the Álafoss factory the oldest and most prestigious wool factory in Iceland and where you can go to buy Icelandic wool sweaters (Lopapeysa), wool blankets or beautiful multicolored sheepskins. There is a lovely café right by so you can spend a lot of time there. Mosfellsbær is also the town sitting under Mt. Esja so many like to hike the mountain and then visit the town. A common combination is to stop at Mosfellsbakarí bakery and pick up some baked goodies to enjoy once you have reached the top of Esja. After having hiked Esja you should really not miss a stop at the Mosfellsbær swimming pool. It truly is one of the best!
---
8. Árborg – Selfoss
You might recognize it as the Selfoss municipality, but Icelanders call it Árborg. It is located right on the famous Ring Road and can't be missed if you are exploring the Ring Road. The first thing you see entering town is the Ölfusá River which is the most voluminous river in Iceland. Selfoss is the biggest town along the South Coast and has many great restaurants and a fantastic swimming pool. They have many interesting shops so it is also a great place to pick up some souvenirs, buy that 66°North sweater or even a wool sweater locally knitted. The Hot Dog stand down by Dominos and Subway is also a must-do stop, where you can get your carb-load going with fantastic hot dogs, subs, sandwiched and pitas.
Their annual festival is the Kótilettan which is a BBQ festival hosted in mid-June. It is definitely worth checking out!
Fun Fact: There is also an Arborg in Manitoba, Canada.
---
9. Akranes
Akranes is a little off the Ring Road if you make a turn at the roundabout just after the under-sea-tunnel of Hvalfjörður. There is something truly great about this sports town which has amazing diners, restaurants and cafés – fantastic shops and even an excellent swimming pool.
Akranes is also famous for its lighthouse the, Akranesviti lighthouse, but its lighthouse keeper is known for being exceptionally sweet and informative!
---
 10. Fjarðarbyggð
Fjarðabyggð is the only one making the list from the Eastfjords but this municipality is made up from the towns of Eskifjörður, Neskaupsstaður, Reyðarfjörður, Austurbyggð, Fáskrúðsfjarðarhreppur, Mjóafjarðarhreppur and Breiðadalshreppur. This biggest town of the municipality is Neskaupsstaður but the biggest town in the Eastfjords is Egilsstaðir, but it stands on its own. Over 7000 thousand people live in Fjarðarbyggð which is known as the only place in Iceland where wild reindeers roam.
Any of the towns would be the perfect place to stay at when exploring the Ring Road as every single one of them has that special Icelandic small fishing village charm.